The 5.11 RUSH24 2.0 Backpack: A Versatile and Durable Pack for Any Occasion
The 5.11 RUSH24 2.0 Backpack: A Versatile and Durable Pack for Any Occasion
Introduction
I'm not a backpack snob, but I am a collector. From $20 bags to $250 bags, I find uses for them all. However, there are definitely certain bags for certain scenarios you do not want to skimp on.
For an EDC or go bag, the $20 Walmart bag isn't going to cut it. I've been eyeing this 5.11 RUSH24 for exactly those purposes, so I was excited to finally check it out.
5.11 Rush24 2.0 Backpack Review
Specifications
| | |
| --- | --- |
| Total Capacity | 2,275 Cubic Inches / 37 Liters |
| Main Compartment | 20" x 12.5" x 8" |
| Max Laptop Size | 15 Inches |
| Weight | 3.84 Pounds |
Pros & Cons
Pros
Very durable – made out of 1000D nylon

Hidden CCW pocket

Fits a 15" laptop

Good capacity for daily carry

Hydration pocket

Fleece-lined eyewear pocket
Cons
Very stiff out of the box (just takes time to break in)

A tad heavier than comparables
Features
The RUSH24 has almost all of the features I'm looking for in a mid-sized go bag. I like to be inconspicuous when out and about, so it's a little too tactical looking for an EDC bag (in my opinion), but not so much that it would draw a ton of attention.
Especially in this subtle Range Green color, you wouldn't actually stick out like a sore thumb.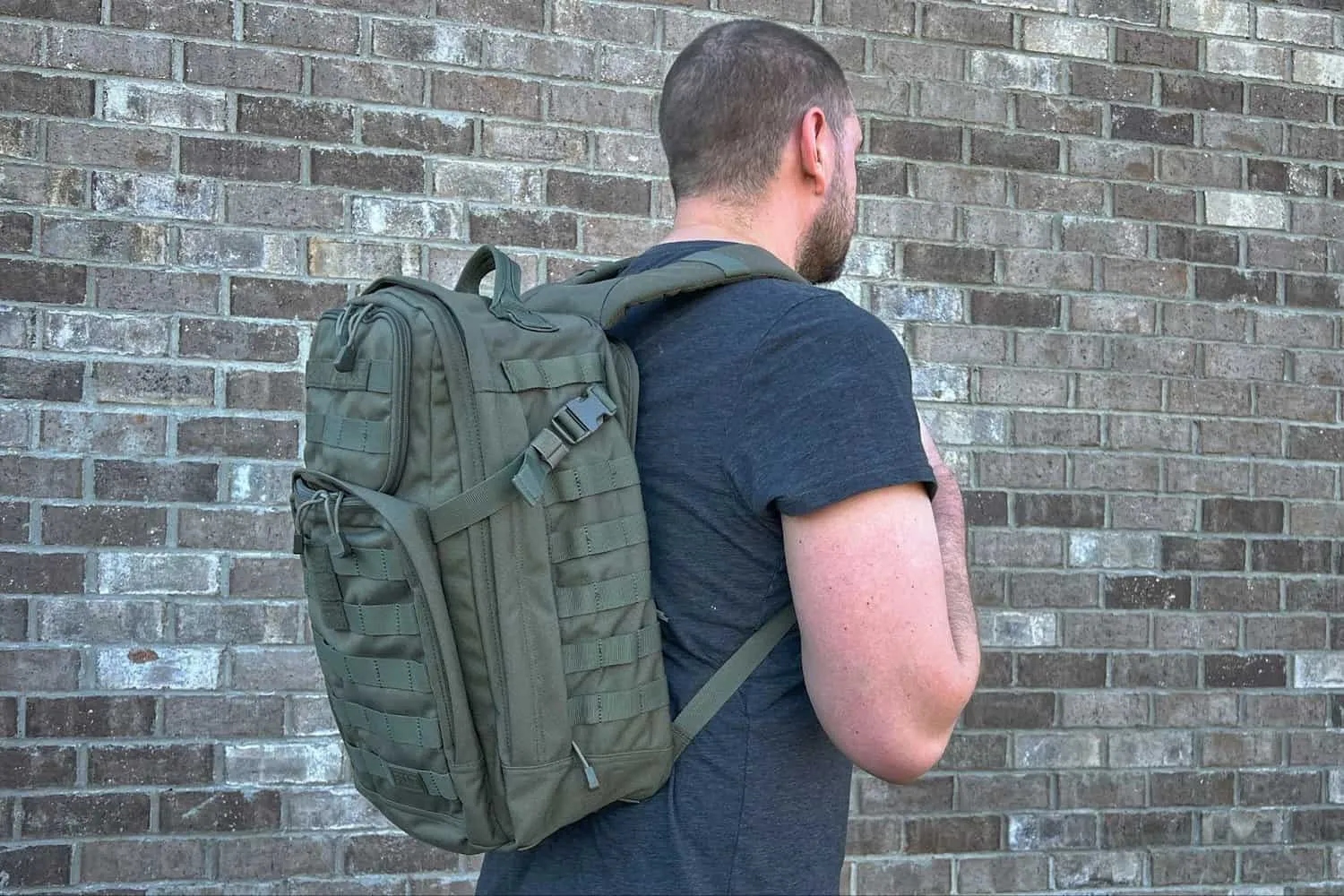 From a first impression and basic feature standpoint, it's a great size.
With a 37-liter capacity, it's big enough to fit multiple days' worth of essentials, some ammo, and more. The straps and backing have nice padding, so I don't think it would be uncomfortable for a rucking session or hike.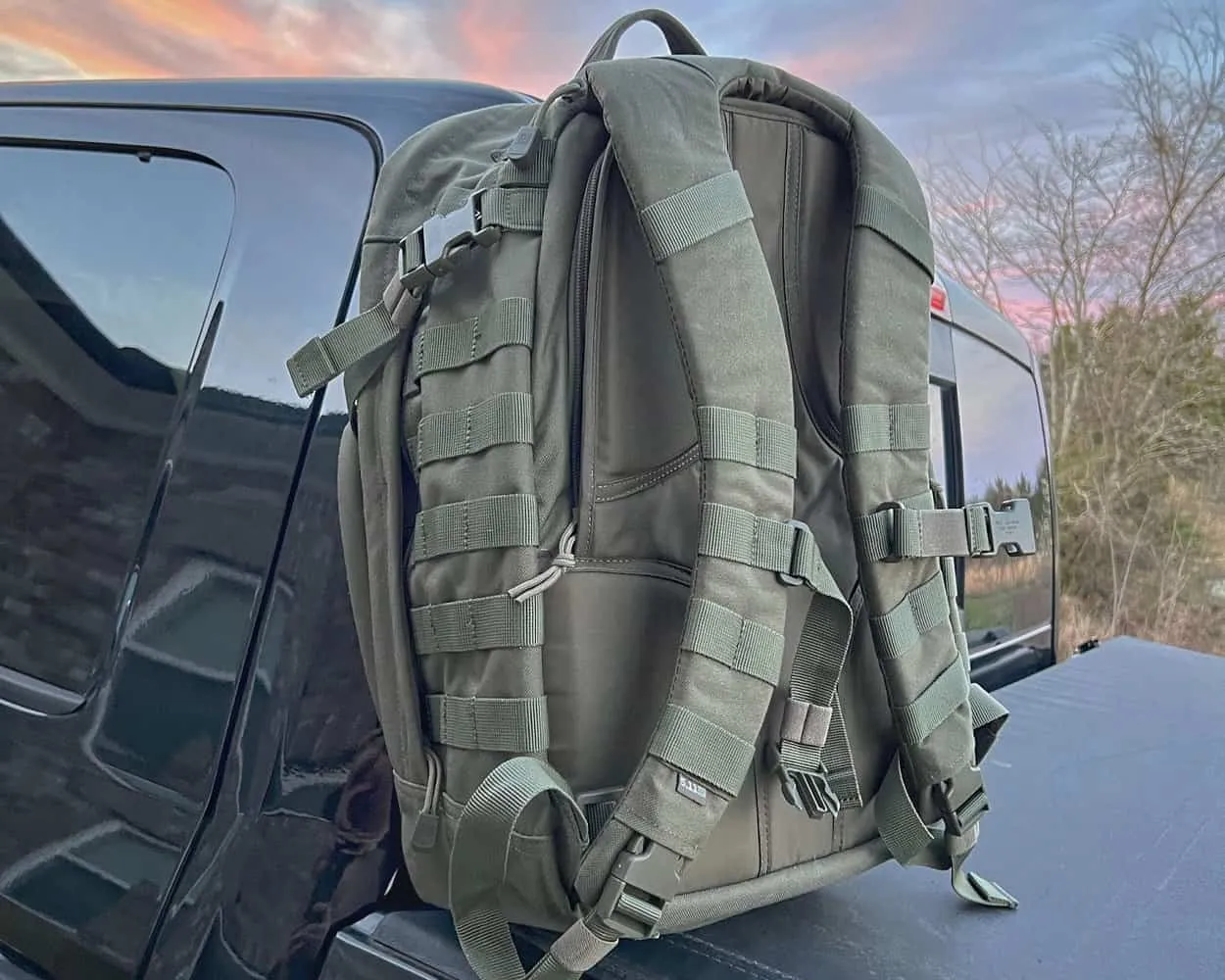 By far, my feature is the hidden CCW pocket with a loop panel. It's perfect for maintaining quick access to your firearm or knife, and it's super discreet.
I probably wouldn't have noticed it if I wasn't dissecting the bag.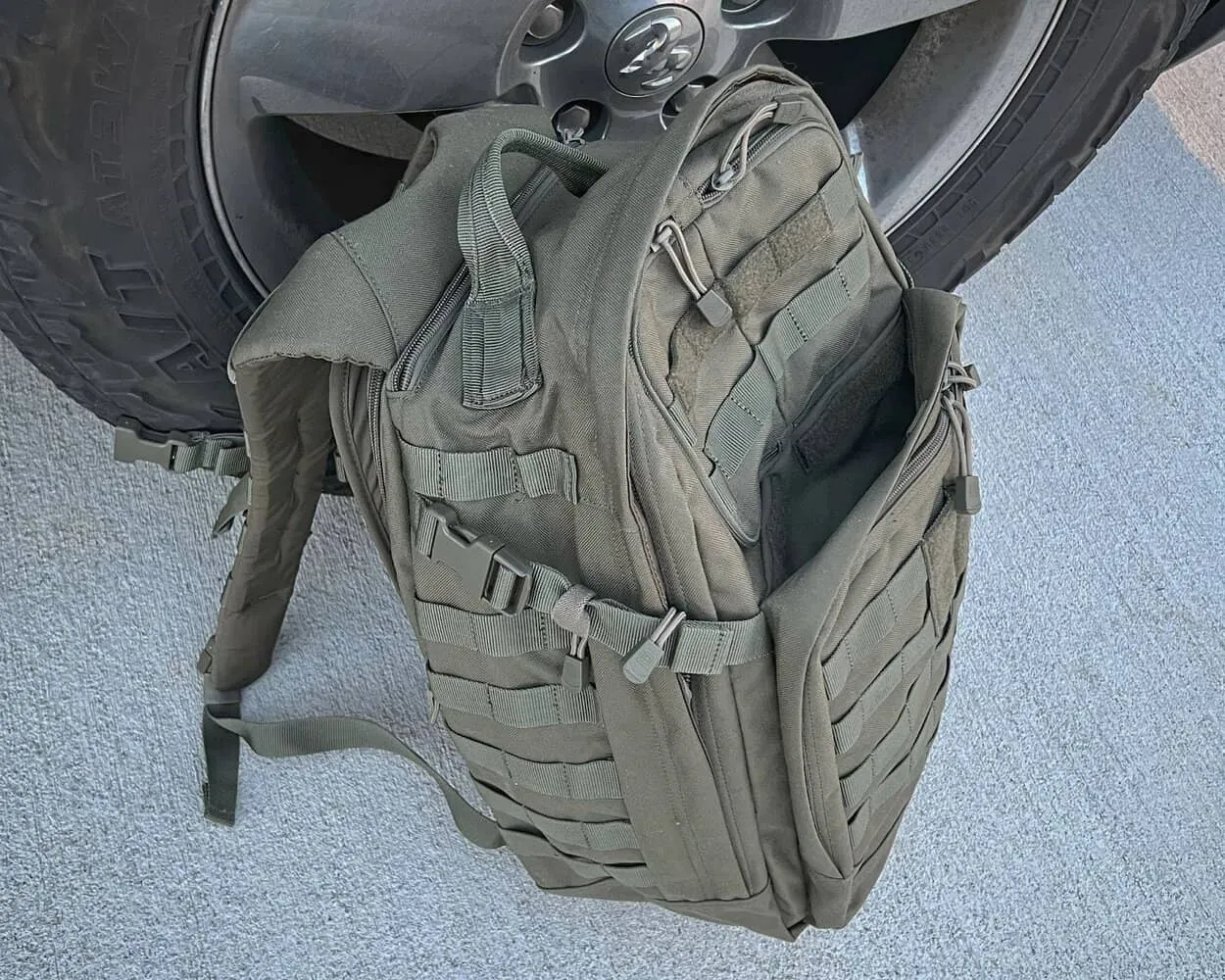 Even though I'll likely not be using this one as a daily carry, it's nice to have the padded laptop pocket. It can fit up to a 15" laptop, which is the size I use, with some room to spare.
Right above the laptop pocket is the eyewear pocket. It's fleece-lined and larger than most of my other bags.
The only thing I wish it did have, would be a rain cover that could be stored maybe below or behind the bag. But that's definitely not a deal breaker.
Conclusion
You get a lot of bag for the buck with the RUSH24.
It also comes in a smaller and larger size than this 37L version, so you should be covered regardless of your body type and size. I don't have any reservations that this bag will hold up well over time, and I can't wait to see how I can best utilize all of the compartments as I get more time with it.
If you're looking for a new bag, I'd definitely recommend adding this one to the list of potential options.
What's some of your favorite gear from 5.11 Tactical? Let us know in the comments below.