Anderson AM-15 Review: A Great Self-Defense Gun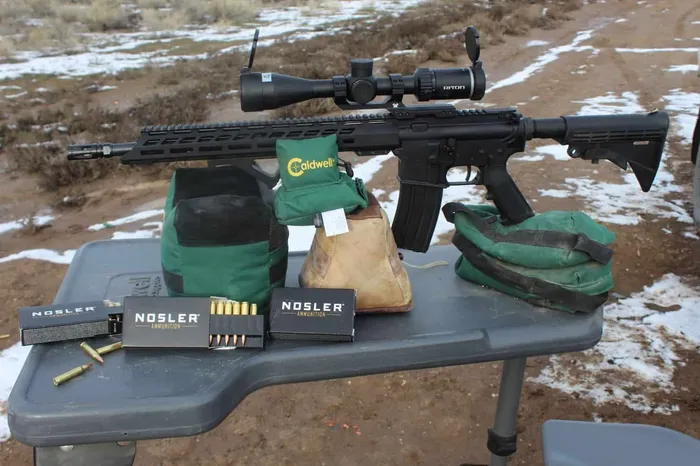 Anderson AM-15 Review: A Great Self-Defense Gun
Introduction
Today, we're diving into one of the best budget self-defense ARs, the Anderson AM-15.
We live in a wicked world, and if you even occasionally read the news, then you know that you're on your own. Disagree? Look at Uvalde, Portland, and Minneapolis. No police showed up to help unarmed citizens in those situations.
I remember a bully picking on me in the 1st or 2nd grade. I told my dad, and he said, "no teachers or police are going to take care of you," and went back to reading his newspaper. I said, "don't you care?" He said, "I can teach you how to fight, but if you want to whine, I can't help you." Over the years, I've seen how true his words were.
Just like you don't want to bring a knife to a gunfight, you also don't want to bring a small pistol to an AR fight if you get crossways in the middle of 2-3 drugged-up thugs with semi-autos. So in some instances, you might find it prudent to have an AR and three to four 20-30 round magazines handy, which brings up this review on the Anderson AM15 M-LOK rifle.  
Anderson AM15 Overview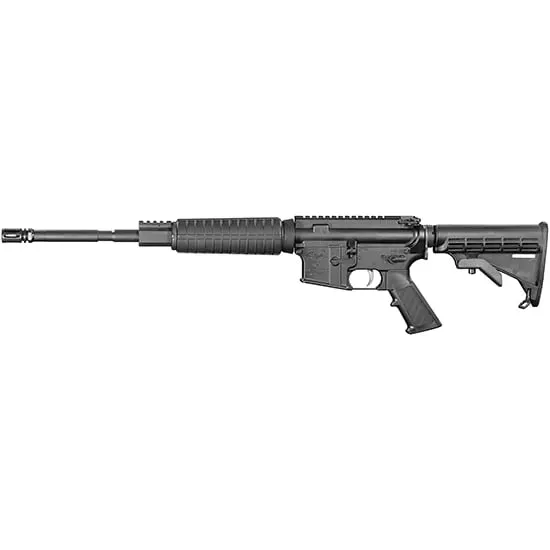 Specifications
| | |
| --- | --- |
| Caliber | .223/5.56 |
| Capacity | 15, 20, 30 ROUND MAGS |
| Weight | 8 lbs. |
| Barrel Length | 16 inches |
| Twist Rate | 1:8 |
| Country Of Manufacturer | United States |
| Thread Pattern | 1/2:28 |
| Muzzle Device | Knight Stalker Flash Hider |
Pros & Cons
Pros
Relatively inexpensive

Light weight

Accurate
Cons
It's a Plain Jane rifle. You may want a more precision made rifle.

I didn't really see anything else bad for the purpose that I got it for-a high capacity self-protection rifle..
First Impressions & Range Testing
Right when I picked up the Anderson MFG AM-15 M-LOK, I liked it and knew it'd fit the bill if it shot accurately. The first item I had to install on it was a scope. A 3-9x should work fine for my self-defense needs, but a 4-14x would work better for longer headshots, so I decided to go with a Riton Optics Primal1 4-14x 44mm scope.
How To Obtain Better Accuracy
Obtaining a good group is dependent on what ammo you choose. I've had good luck with Nosler ammo, so I tested the rifle with some Nosler 40 grain, 55 grain, and 69 grain ammo.
On the first outing, my best group was ¾-inches, which is better than you'd expect out of a factory rifle with factory ammo. But I thought it could do better if I did three things:
Clean it good. On some rifles they are really adversely affected by a dirty barrel.
At first, I mounted the scope using regular rings, but later on, I noticed that one mount was on the hand guard. Some hand guards aren't rock solid, so I thought it prudent to use a Cantilever mount, so I ordered a Vortex Cantilever mount and re-mounted the scope.  
Install an aftermarket trigger.  
How Accurate Is It?
I first sighted it in at 25 yards to get it on paper and then moved out to 100 yards. I shot all three flavors of Nosler ammo but did the best with the Nosler 55 gr. BTV. I was shooting out on the high desert, and as is usual, I encountered wind.
This day I was fighting gusts of up to 12 mph. Today I was shooting off of a Caldwell Stable Table Lite. To minimize the effect of the wind, I set up on the downwind side of my truck.
 My target was moving due to the high wind, but luckily someone had left a cooler out there, so I set it behind my target to brace it. I tell you all the above to let you know it wasn't necessarily primo shooting conditions. But despite all of this, I was able to get an 11/16 group with the Nosler 55 gr. BTV ammo. 
Ok, it is definitely a shooter and will suffice for my needs as a self-defense gun and would also qualify as a varmint gun.
It performed well on the range and would work as is to meet my needs as a self-defense gun but to enhance it to the ultimate status further, I added on some Bowden Tactical after-market parts. I will discuss these parts further below.
Reliability
Wow, I had to rub my eyes and re-measure my groups.
What started off as a purchase to have a beater self-defense rifle that I could abuse had jumped up to the upper crust of rifles I'd grab when going out varmint hunting.
In the multiple tests I've done with this rifle, I've had no malfunctions. Granted, I haven't shot thousands of rounds through it yet, but I have shot somewhere up to 10 boxes and encountered no problems at all.
I'm cautious of who I trust, but to ensure that I hadn't gotten a fluke, I checked out quite a few online Product Reviews and Youtube reviews.
They verified what I had experienced. It may be an economical, entry-level AR, but for the performance that I got out of mine, you'd have to move up to a mid-level priced AR, and even then, I don't know if you'd get this level of accuracy.
Overall Feel
I used to rodeo a lot, and one time took a bad stomping and broke a bone in half in two places on my left hand in a college rodeo. Seven months later, a horse bucked into the fence and popped my elbow out of joint.
Then later, a knife cut through the top of a knuckle and severed the tendon. My left arm works fine, but I can't turn it inside out quite as well as maybe you can, so I later added a Bowden Tactical Vertical Foregrip.
I say the above to quantify why I felt the need to add the vertical foregrip. You may not need that accessory at all, though and be fine gripping the hand guard. The only thing that would improve the overall feel for me is if the butt extended one more notch.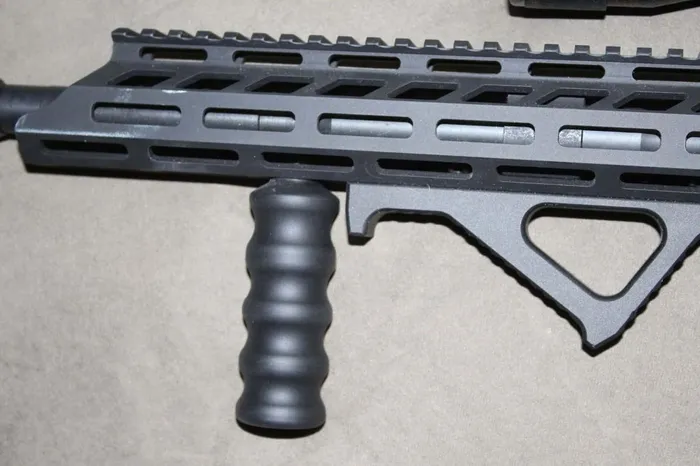 Features
Let's cover a few of the basic factory features.
Handguard
The hand guard is adequate for me. Due to the MLOK feature, I can attach all of the extra items that I may desire. Such as an angled foregrip, vertical foregrip, lights etc.
Picatinny rail
It has a full length Picatinny rail. Since the handguard is separate from the receiver, I used a Cantilever scope mount, but actually, the handguard seemed secure enough, so it probably wasn't really necessary.
Safety & Trigger
They all functioned as well as you'd expect, but I'm a little finicky about my triggers, so I put in an aftermarket trigger.
Grip
Holding it out of the box, I had as good of a grip as with any AR, but I added some parts to enhance my grip, such as the Bowden Tactical Foregrip, which I discuss further below.
Length/Weight
To fulfill my quest for a self-defense rifle, it fits the bill perfectly regarding size and weight. Sure, in a close-quarter altercation, an AR pistol would be nice, but that is not at all what I was looking for on this project.
So, in a nutshell, this category is all good.
How It Was Tested
The older I get, the more accuracy matters to me. You need a stable, comfortable set-up to shoot from to obtain the ultimate in accuracy. I use a Caldwell Stable Table and their Stable Table Lite.
For this review, I used the Stable Table Lite. I also used a variety of Caldwell sandbags. As stated above, you want to be comfortable, so you're totally focused on your shooting.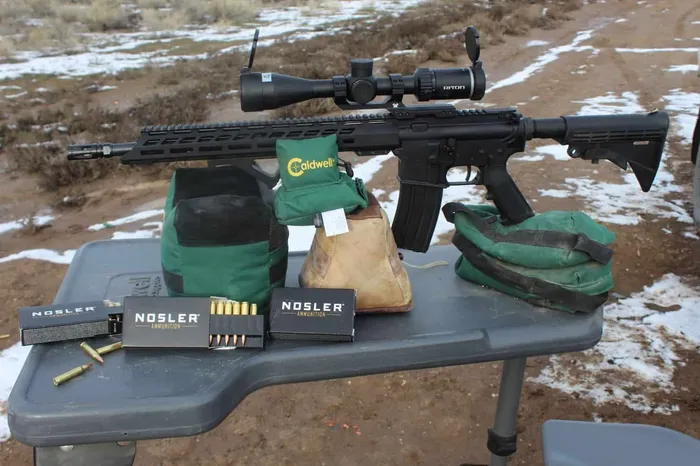 I used a Cadwell Stable Lite Table to have a steady bench (Sandbags are arranged to hold the rifle for the picture).
Here's something that has tightened down my groups. I've found that if I use Allen targets with the square bright orange boxes, I am better able to focus and get a tighter group. I can put the vertical crosshair on the vertical side of a box and the horizontal crosshair on the horizontal side.
Any white line along your crosshairs tells you that you've moved off target.  
Ammo Used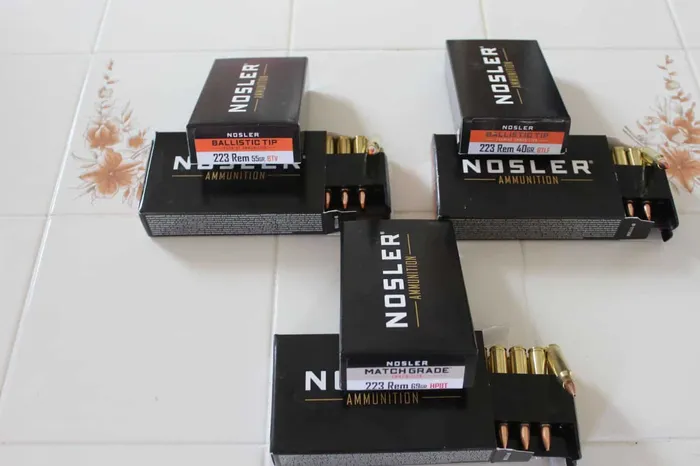 Sure, we all have ammo that we have grown to favor, but every time you get a new rifle, you must be open-minded and test a variety of weights of bullets and manufacturers. Every rifle can be different and finicky.
For this review, I tested the rifle using Nosler ammo with the 40 grain, 55 grain, and 69 grain bullets. The 55 gr. BTV Nosler ammo obtained the best group coming in with an 11/16" group. And that was under windy conditions. I was super pleased with that so I quit experimenting with different ammo after that group.  
I used a variety of Nosler ammo on this test.
Accessories I Added On
The first thing I added was a Riton Optics Primal1 4-14x44mm scope. The open sights worked as well as could be expected, but if some terrorist is holding my wife hostage with a knife at her throat, I want to be able to do a head shot, so I went with the 4-14x scope.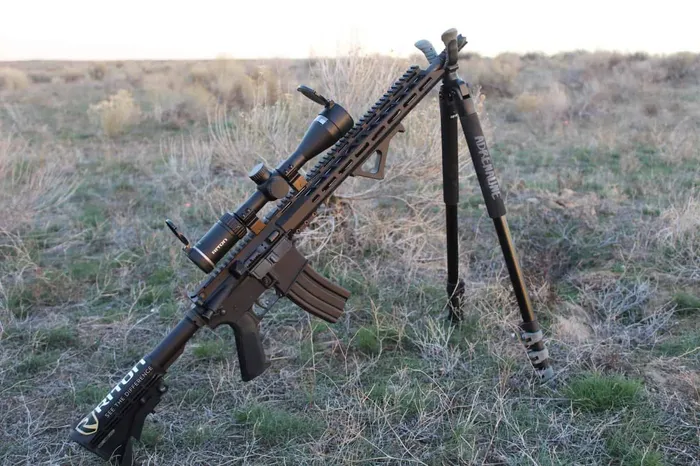 Like with all factory rifles, your accuracy can be enhanced with an after-market trigger, so I replaced the factory trigger with a Bowden Tactical Parametric trigger.
As expected, it was a lot smoother than the factory trigger. If you've never installed an aftermarket trigger, you have to try it on one of your rifles. A good trigger will enhance your accuracy greatly. Most good shooters favor a 1 ½ lb. trigger.
When it's panic in the disco, I don't mind a heavier trigger, something around a 3 ½ lb. pull, but I want it good and crisp.
I went with a Bowden Parametric trigger with a 3.5-4.0 lb. pull. It is a single-stage drop-in trigger. I like it. If you've never tried an aftermarket trigger, try one and see if your groups don't tighten down.
I needed to test a few items, so I installed both, but really you only need one of the items I'm going to mention.
First, I installed a Bowden Tactical AR-Chitect Direct Mount MLOK Micro Handstop to help stabilize my grip when shooting freehand.
Next, I installed a Bowden Tactical AR-Chitect M-LOK Angled Foregrip. I don't know, to tell you the truth, I can't for sure tell you which item I like the best. I could go with either one. Maybe I slightly favor the latter because I end up always using it.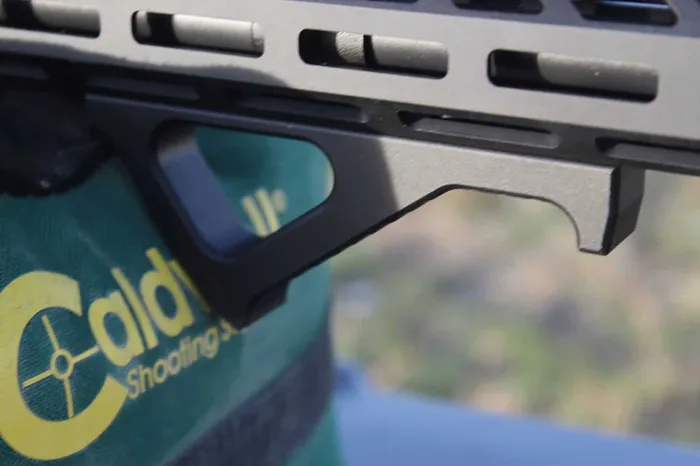 The Bowden Tactical Angled Foregrip Direct Mount MLOK allows me to have a firm/steady grip when shooting freehand.
I don't particularly like muzzle brakes due to their loud report. But no doubt, if you're shooting a larger caliber rifle, you may want to consider one to help tame the recoil.
Just to test out a muzzle brake on this rifle, I removed the factory Knight Stalker Flash Hider and put on a Bowden Tactical Muzzle Brake. It worked fine.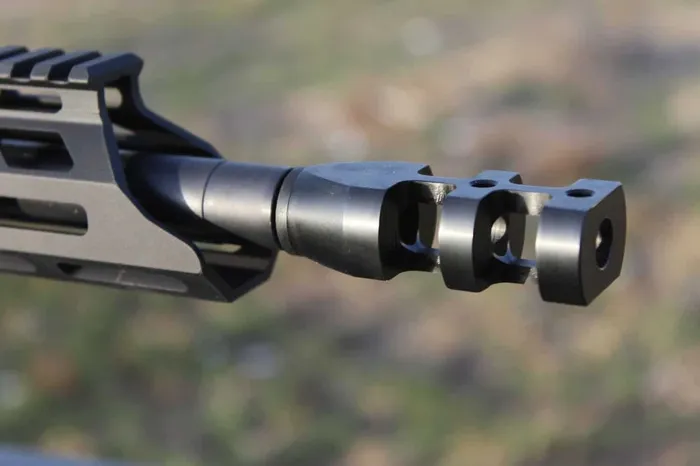 Due to the low recoil of a 5.56, you might not want a muzzle brake until you get up into some of your rifles with more recoil.
I wasn't paying attention when I first mounted the scope but later on, my son-in-law pointed out that the receiver and the handguard were two separate pieces.
Even though the handguard appeared rock solid, out of an abundance of caution, I ordered a Vortex Cantilever Scope Mount to mount my scope on.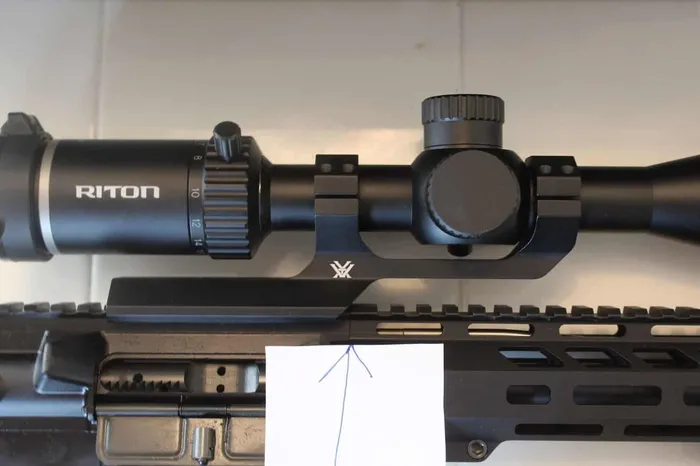 The arrow points to the gap between the receiver and the hand guard. For a super solid mount, I'd recommend using a Cantilever scope mount like this Vortex Extended Cantilever Mount.
Alternatives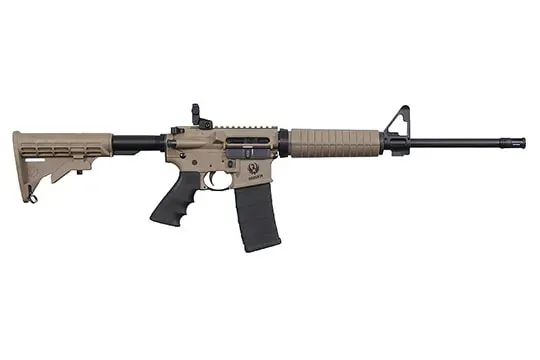 If you're also in the market for a self-defense rifle, one in the same price range is the Ruger AR556. And I had originally bought a couple of them. At the time they were only $400-$500, so they were economical.
If one got stolen out of my truck, it wouldn't have been a big deal. I figured they'd work ok for a self-defense rifle. And they would in close-quarter situations, but mine weren't accurate enough to satisfy me in 100-yard and over situations, so I got rid of them.
To my knowledge and experience, I think the Ruger AR556 would be close to meeting the Anderson AM 15 MLOK in the reliability section.
Still, when you move into the accuracy department, the Anderson AM15 breaks ahead.
CAR814 A2 Patrol 16" Rifle .300 AAC Blackout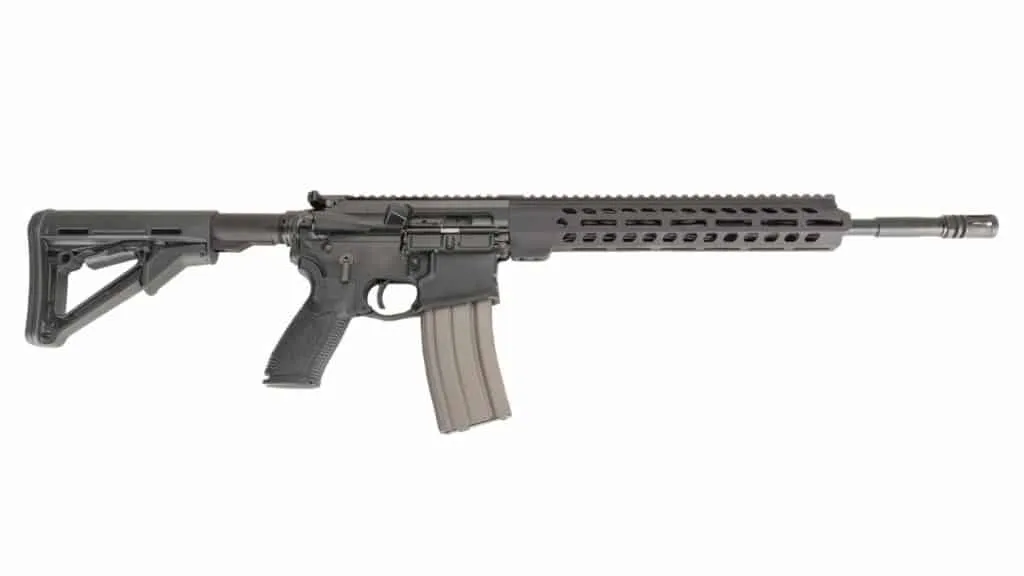 Here's another good option. I'm not an authority on the .300 Blackout, but a few years ago, Caracal sent me on a Texas hog hunt with their .300 Blackout.
On one hog, it performed unbelievably. While tracking the hog, there was a blood trail 20 feet wide. Blood had spewed 8-feet on the left side and 12-feet out on the right side. I've never seen that big of a blood trail in my life.
So if you're nervous about a smaller round like the 5.56 for self-defense, I've often thought the .300 Blackout would be a good self-defense round. I would choose it as a more aggressive-sized round for dealing with drugged-up maniacs and larger perpetrators.
AAC originally designed the .300 BLACKOUT for an 8-inch barrel. So if you decide to go with a pistol AR due to being easier to maneuver, I'd suggest going with a .300 BLACKOUT.
If you want a longer-range self-defense rifle, then you'll probably be happier with a 5.56.
FAQs
What does AR stand for?
Armalite made the first M16. The AR is derived from Armalite. During the assault ban in the mid '90s, many companies changed their rifles' names from AR to AM. So basically, they're the same.
What is the twist rate of Anderson's AM15?
The twist rate of Anderson's AM-15 is 1:8".
Is Anderson AM15 a mil-spec?
The Anderson AM15 lower is mil-spec
Conclusion
I was looking for an accurate self-defense rifle in case things went South, whether at home, in the neighborhood, or as a rifle to carry in my truck. My wife and daughter work in an elementary school.
If I had to go in and get them out right fast, I wanted a high-capacity rifle that I could grab, throw in a few magazines and be good to go. The Anderson AM15 is exactly what I was looking for. It is super accurate-way more so than I figured it would be and economical.
I wanted a self-defense rifle that was compact enough that I could throw it behind the seat of my truck. This one fits the bill. To make it more compact, slide in the butt, which cuts off 3 ¼ inches, and use 20 round mags instead of 30.
It has an MLOK handrail, so you can attach a plethora of gear: lights, fore grips, etc., and trick it out as much as you want. An added plus is that it is so accurate that it will double as a good varmint hunting rifle.
For my self-defense applications, I just didn't see any downsides.
Brady Kirkpatrick
Wed, 29 Nov 2023 08:14:39
We are glad you made the right decision! Thank you for checking out our review!
Reply
Explore more