Athlon Heras 6-24X56 FFP Scope Review: Great Features For The Price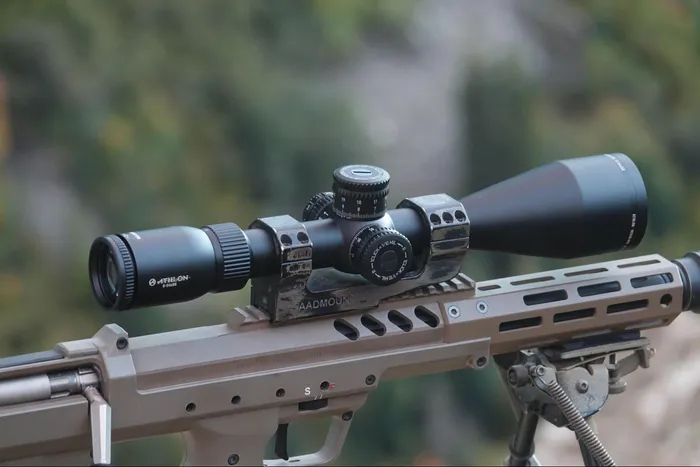 Athlon Heras 6-24X56 FFP Scope Review: Great Features For The Price
Introduction
I remember when the best features in a rifle scope would cost a guy a handsome salary. A while ago, an entry-level good scope was over a thousand dollars, and if you wanted everything, it could quickly go north of two thousand.
For those younger shooters out there, you are living in the golden age of rifle scopes because nowadays, you can get all the best features stacked deep in a scope for well under a grand.
Today, I bring another excellent example of a good scope that won't cause your wife to leave you: The Athlon Heras 6-24X56 tactical rifle scope.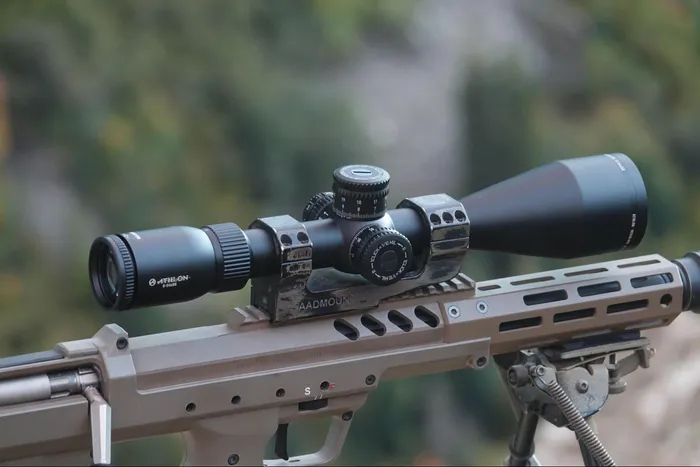 Athlon is one of many scope manufacturers importing inexpensive rifle scopes to the US market. These scopes have all the great features we marksmen look for, like first focal plane reticles, zero-stops, etc.
The Heras brings high magnification and quality optics with all the tactical features for a price that would make twenty-years-ago-me blow a primer.
I am always excited to get my hands on a new scope and see how it measures up to the others I am fortunate to own. After opening the box and playing with it for a few hours, I was already impressed. Come along with me on this ride to see how the Heras stacks up against the competition.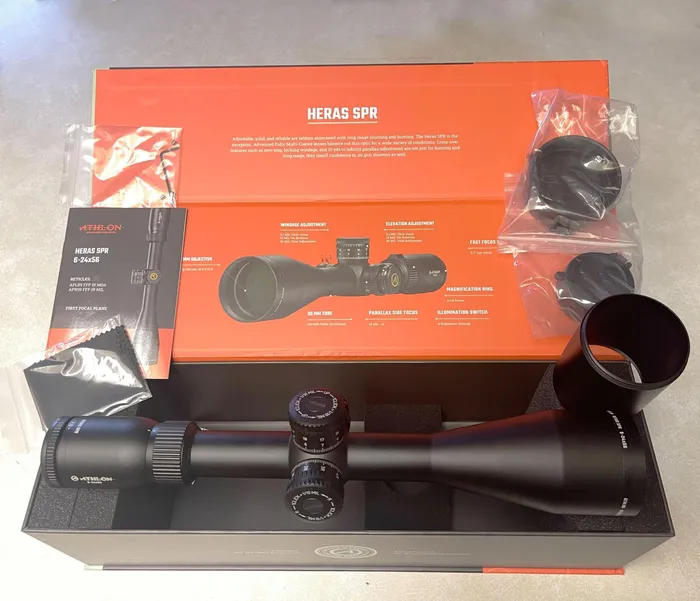 Athlon Heras 6-24X56 Review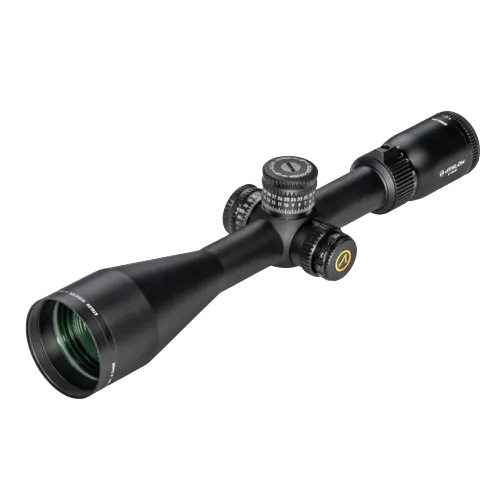 The Athlon Heras seeks to fill a spot in the ever-larger precision rifle scope market. The massive increase in precision rifle shooting has led many companies to launch new optics brands to capture some of the market. Even the big names in optics have released additional optics lines that offer customers something more affordable.
Brands like Athlon and others are bringing down the entry cost to this type of shooting, and the Heras is a perfect place to start. Like many of the other less expensive optics brands, the Athlon is made overseas. For some folks, this is a big deal; for others, not so much.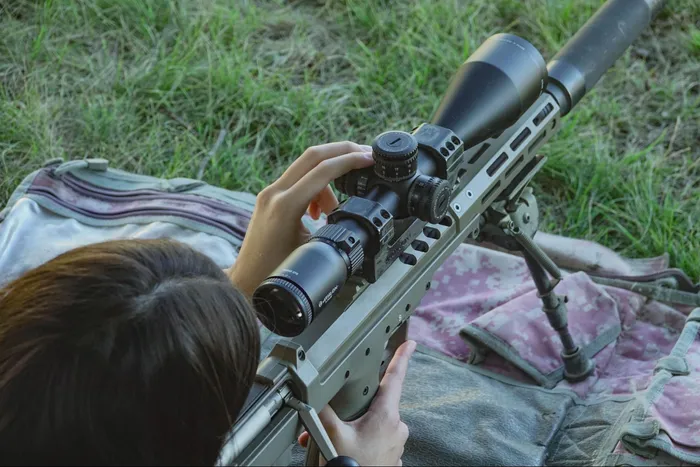 Specifications
| | |
| --- | --- |
| Magnification | 6-24 |
| Tube Diameter | 30mm |
| Objective Lens Diameter | 56mm |
| Reticle | APRS9 MRAD Front Focal Plane |
| Reticle Illumination | Red |
| Length | 14.4 inches |
| Weight | 32.3 ounces |
| Eye Relief | 3.7 inches |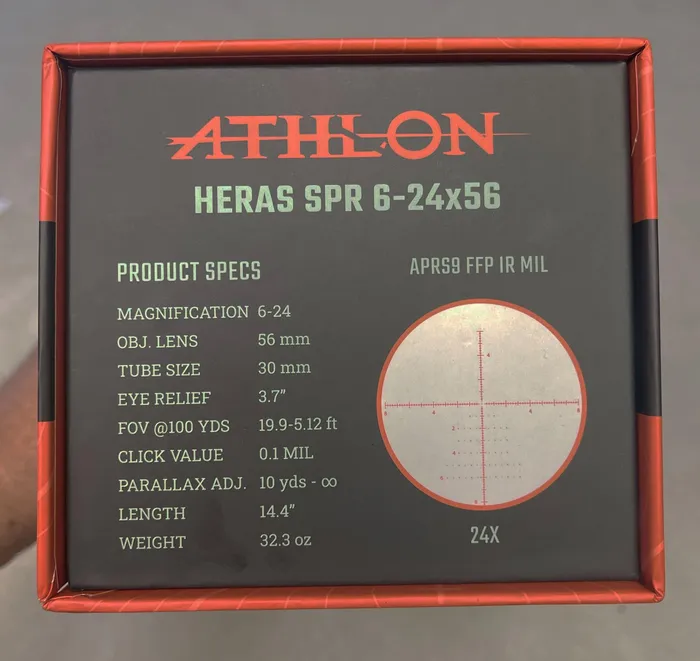 Pros & Cons
Pros
Cost-effective

High optical clarity

Detailed and useful reticle

Precision zero-stop 

10 MIL turrets (locking turrets)

Included sun shade and flip-caps
On The Range Testing
To give the Heras a good test, I decided to mount it up one of my favorite rifles: the Desert Tech SRS A2 Covert. For testing, I installed the .308 Winchester barrel for easy and predictable performance.
To fully take advantage of the scope's internal elevation, I mounted it in a 20 MOA canted scope base. The cant offset requires you to zero your scope further away from its internal mechanical limit. This allows you additional elevation capability for shooting long-range that you would otherwise not have if you used straight scope rings.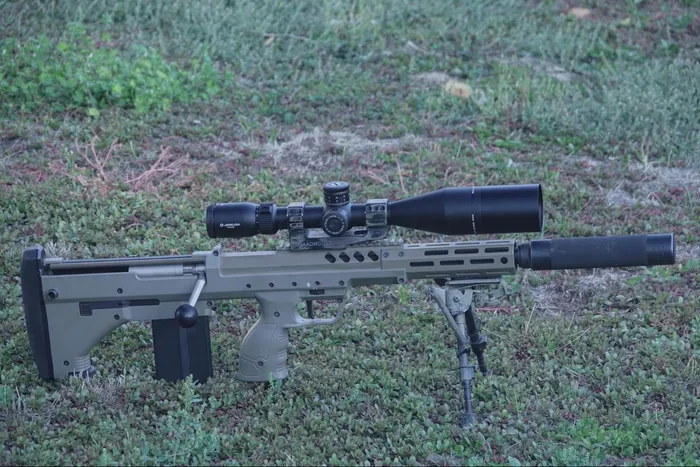 With the scope mounted and torqued into place, the rifle was ready to hit the range. But before heading out, I bore-sighted the combination. My first trip out with the Heras was an evening jaunt up into the beautiful falltime Rocky Mountains. The fading evening light would make an excellent time to see how the scope would fare in such conditions.
After zeroing the scope to the rifle, I loosened the turret screws and set the zero. You rotate the ring until it hits the stop, and then tighten up the screws to set the zero-stop. I like how this zero-stop works, using a hard stop where the protruding ring stud hits an opposing stud on the base. This makes for a robust zero-stop that isn't mushy and always stops at the same spot.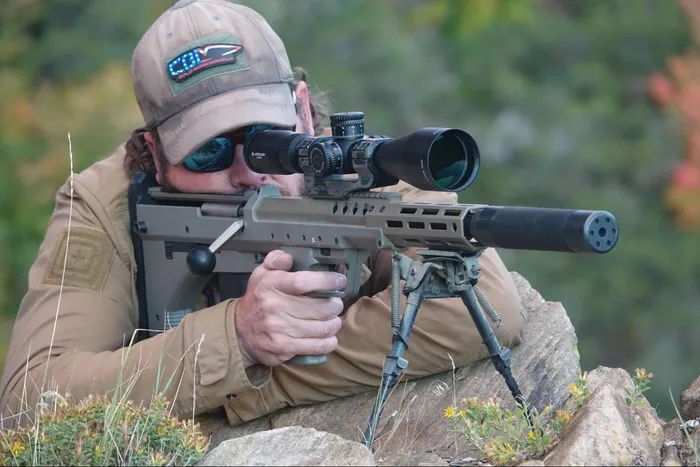 Now, it was time to see how the Heras performed. As the sun made its way behind the cloudy mountains in the west, I peered through the scope at the colorful ridges and canyons around me.
I spent some time inspecting rocks and trees from as close as two hundred yards and as far as a mile away. Using the parallax adjustment to focus the image, I was pretty pleased with how things looked. I also varied the magnification setting as I moved from one target to another to see how the image quality varied. As well as contrasting the reticle against the background to evaluate its utility.
How We Tested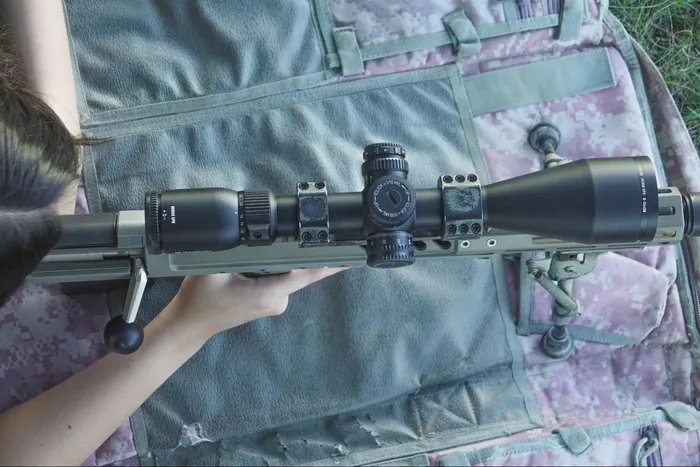 Since the Athlon Heras is likely to be used by competitive shooters and long-range hunters alike, I figured stretching it out in these Rocky Mountains would be an excellent way to test its function.
The predictable accuracy of my Desert Tech SRS and the consistency of .308 Winchester would make it easy to tell if the Heras was up to the mark. After zeroing the scope, I shot a few groups to ensure we had a baseline for accuracy.
I then stretched out the shooting to distances beyond one thousand yards to give the scope's erector a good workout. I shot back and forth between an easy target at 330 yards and another good target at 870 yards to see how I could keep consistency. Using the reticle to hold my windage correction was convenient, as these mountains' winds are hardly consistent.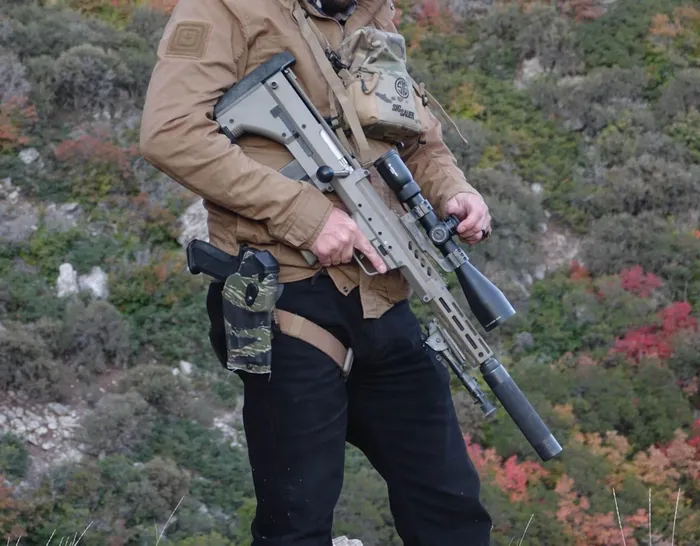 Reliability
Less expensive rifle scopes from overseas often look good but don't have the internal performance sought after by dedicated marksmen. That is one thing that is an absolute must for me. I'd rather have a scope with a lower optical performance but reliable internal mechanics.
The erector assembly inside the scope has to move reliably and consistently. Cheaper-built scopes can often suffer from inaccurate erector travel or induce cant as they are adjusted up and down in elevation or windage.
I dismounted it from the rifle to see how the Athlon Heras measured up and clamped it down to a firm workbench. With the scope keenly focused on a building outside, I measured the travel of the erector up and down as compared to the reticle values.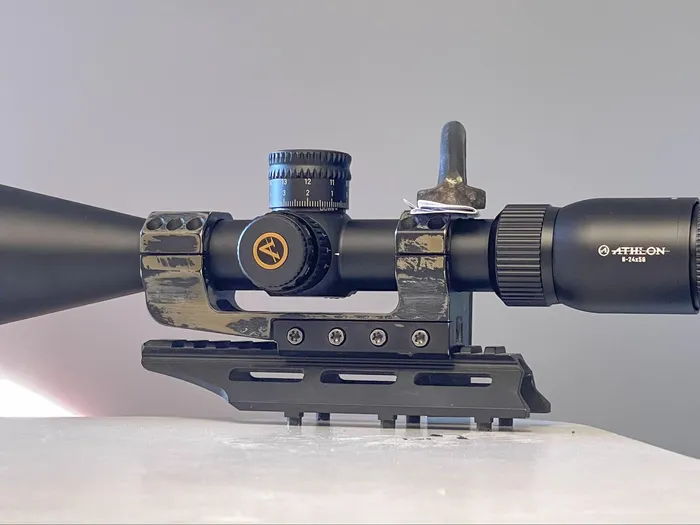 Measuring ten MRAD with the reticle and dialing ten MRAD on the turret resulted in perfect alignment. I repeated the process over and over to the entire mechanical movement of the erector and left and right movement with the windage turret.
I also adjusted the magnification to both extremes to see if I could perceive any reticle cant. To my gratification, I couldn't see enough inaccuracy to worry about. For the most part, everything stayed plumb and accurate. There may have been a tiny bit of slop when returning to zero, but not enough to concern me.
I also noted that the 30mm tube provides less movement than the larger 34mm scopes, but this would have only been an issue when dialing significant wind holds at extensive ranges.
Fit and Finish
The Heras is a handsome scope, and at this price point, you would have taken the entire market twenty years ago. The scope's finish is certainly on par with its price point, as are the control labels.
Personally, I'm not a massive fan of rounded edges, but obviously, this is a subjective opinion. It might be better due to reduced snagging points.
The lens coatings and the lenses themselves do a great job of gathering enough light to present a clear image to my eye. Even in the lower light of the evening, I found the scope to present a great image.
Like all scopes, it loses some brightness and detail at the very high end of its magnification, but that was no surprise.
Overall Feel
The feel of the scope on my rifle was great, and it wasn't exceptionally lightweight compared to some of its competition. But I certainly didn't feel like it was an issue.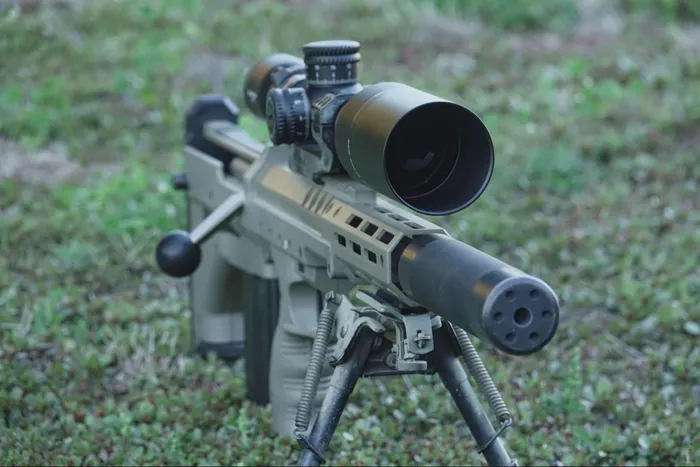 The controls on the Heras are smooth and have just the right amount of tension built in. I'm not too fond of controls that are too easy to adjust or too hard. The turrets had enough resistance to prevent accidental turning but were not too hard to adjust from the shooting position. The clicks were audible and easy to feel, if anything, too much. But this isn't a big deal.
Features
10 MIL Turrets
I am a big proponent of ten or more MRAD turrets. Many inexpensive scopes use smaller measurements like five, six, or eight MRAD turrets. With each turret rotation, the total elevation come-up can help keep track of your shooting.
For example, if your scope has five MRAD turrets, and you need to dial 12.8 MRAD, you could lose track of your rotation. Particularly because five MRAD turrets usually have five or six rotations in them, and if you lose track in the heat of competition or a hunt, this could be catastrophic.
Ten MRAD turrets are much easier to keep track of. If you dial the same 12.8 MRAD, you know you're only on your second rotation. This results in ten MRAD turrets having fewer rotations, often only having two to three total turns.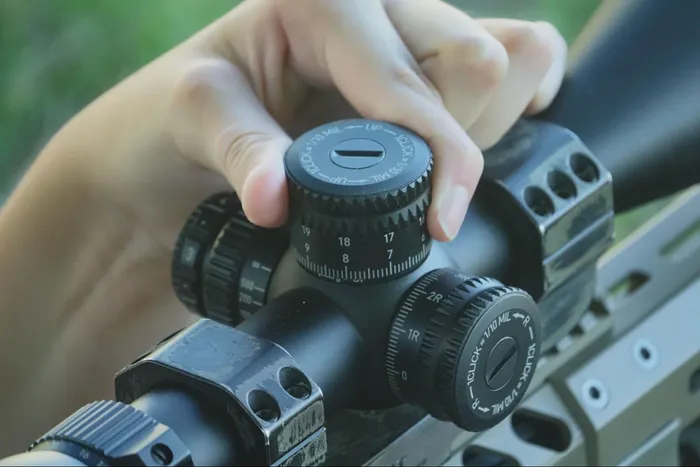 Zero-Stop
The zero-stop feature in the Heras scope creates an adjustable physical stop on the elevation turret. Once your rifle is zeroed, you can set the zero-stop so the turret will not dial below your desired zero distance.
This is very convenient as you can always know that when the turret bottoms out, you are at your zero. There is no guessing what rotation of the scope you are on or any of that nonsense.
The zero-stop was easy to set and pretty self-explanatory if you don't read the instructions like me.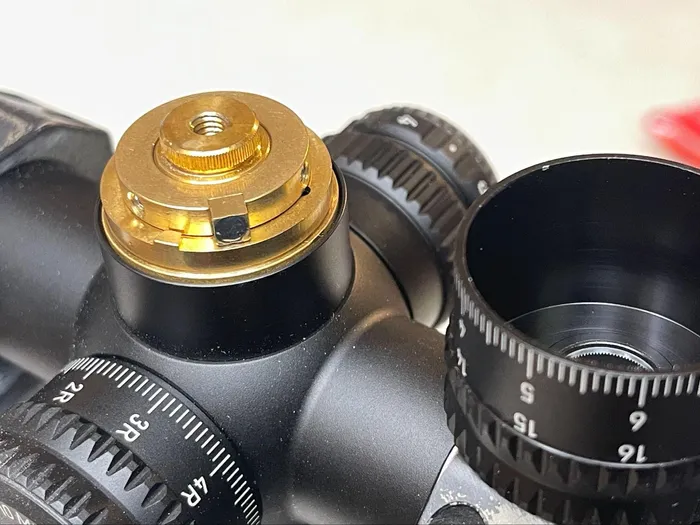 Illuminated APRS9 Reticle
Reticles are another quite subjective topic, depending on the shooter. I am not particular about any one design, as there are so many good ones out there. The Athlon reticle was perfectly serviceable. It had enough of what I liked and only a little of what I didn't.
I like the even number notations, as it's easy to get lost without them. The "Christmas tree" style drop table is handy for measuring misses and holding offsets.
The illumination is nice to have, though rarely used. I appreciate Athlon having put off settings between each illumination setting.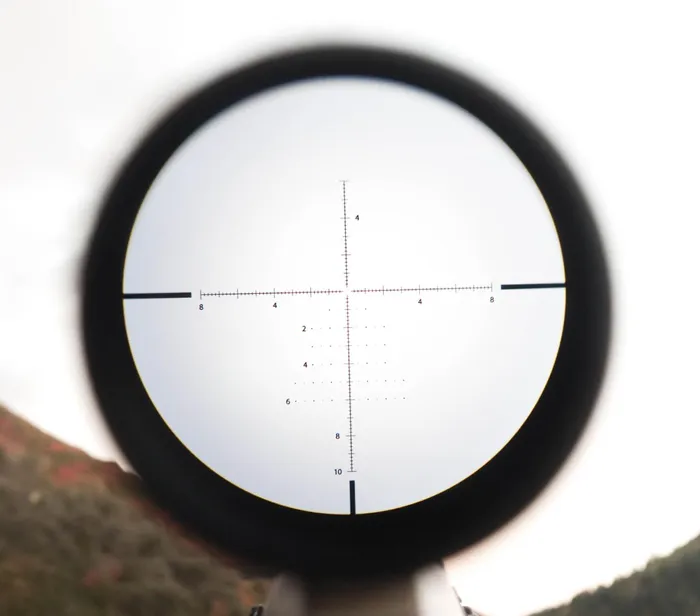 Turret Lock
The Heras uses a locking windage turret. It is engaged by pushing in on the turret itself. If you need to adjust the windage, you can pull the turret out and then adjust it before locking it again.
Score Card
Reliability (9/10)  
I found no issues with the reliability of the Athlon Heras; the mechanical systems inside the scope function flawlessly for me during testing. Despite the cold fall weather and my heavy breathing from dad-hiking, the lenses stayed clear, and the image was always bright.
Ergonomics (9/10)
Again, I couldn't find anything I disliked about the Athlon Heras's functional features. The turrets and other controls were easy to reach and manipulate.
Customization (8/10)
The Heras came with some typical accessories and others that weren't so typical. I appreciated the included sunshades, as I almost always use them. Athlon also included flip-caps; they are cheap Chinesey, but they work.
The Heras would be unstoppable if it had the added benefits of a 34mm tube.
Appearance (8/10)
The Heras looks like just what I would expect for the price. I mentioned I don't care for the rounded edges, but that's just me. I gave it an eight out of ten, not because there is anything wrong with it, but because my trained eye can spot a Chinese scope and its finish from a thousand yards away.
Value (9/10)
There are very few things about this scope I don't like. The few gripes I have about the scope all but vanish when you look at the price tag.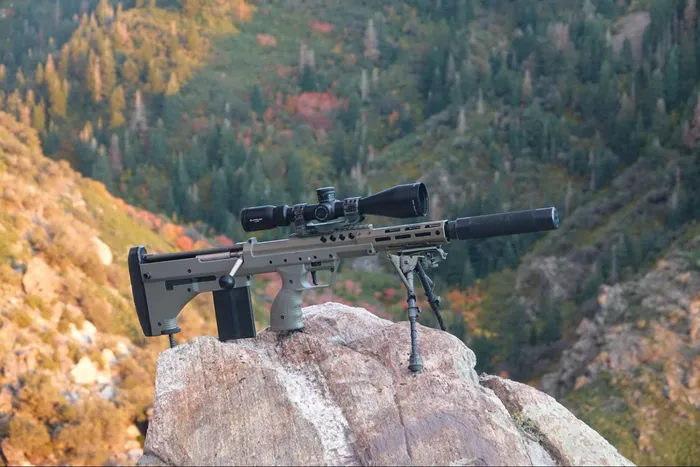 Accessories
A good scope mount is necessary for any riflescope; AADland Engineering manufactured the one I used here. But I also strongly recommend something like a Warne MSR mount or something comparable like the Burris P.E.P.R. mount. A one-piece mount is not a must, just make sure you get something high-quality.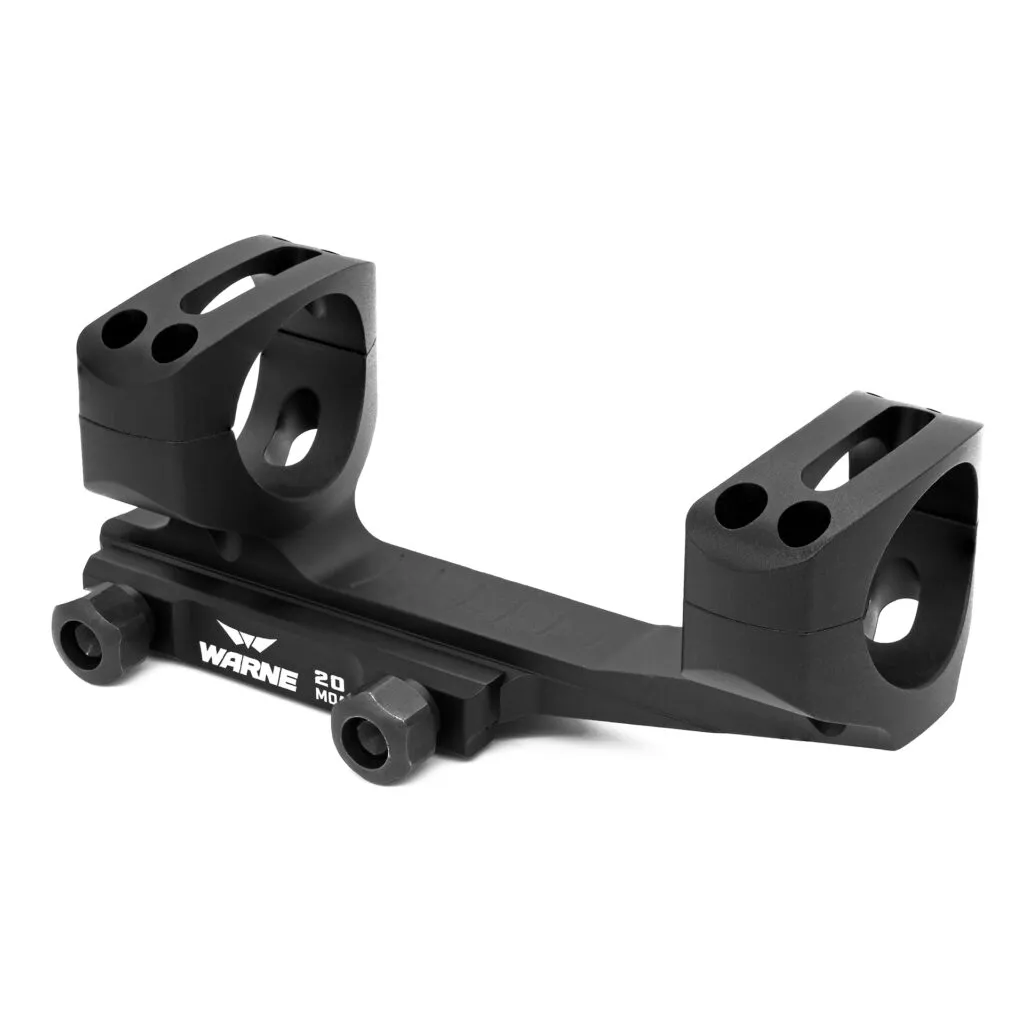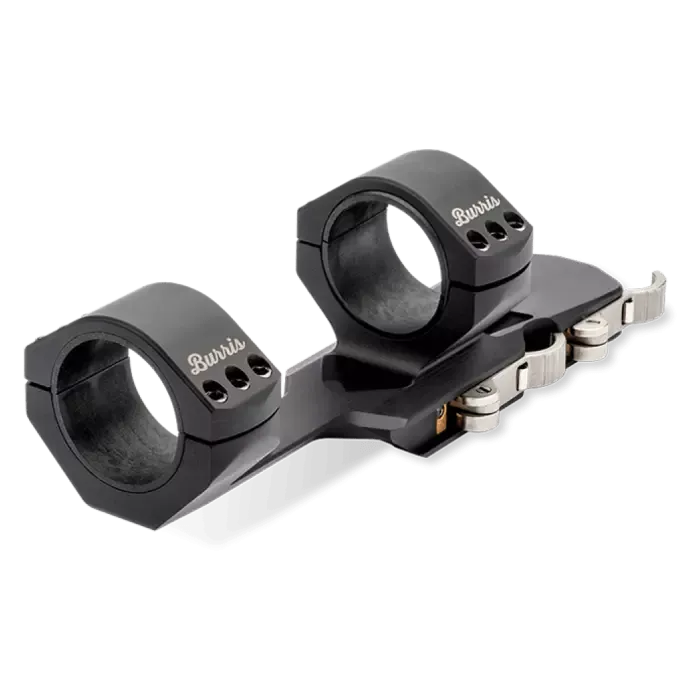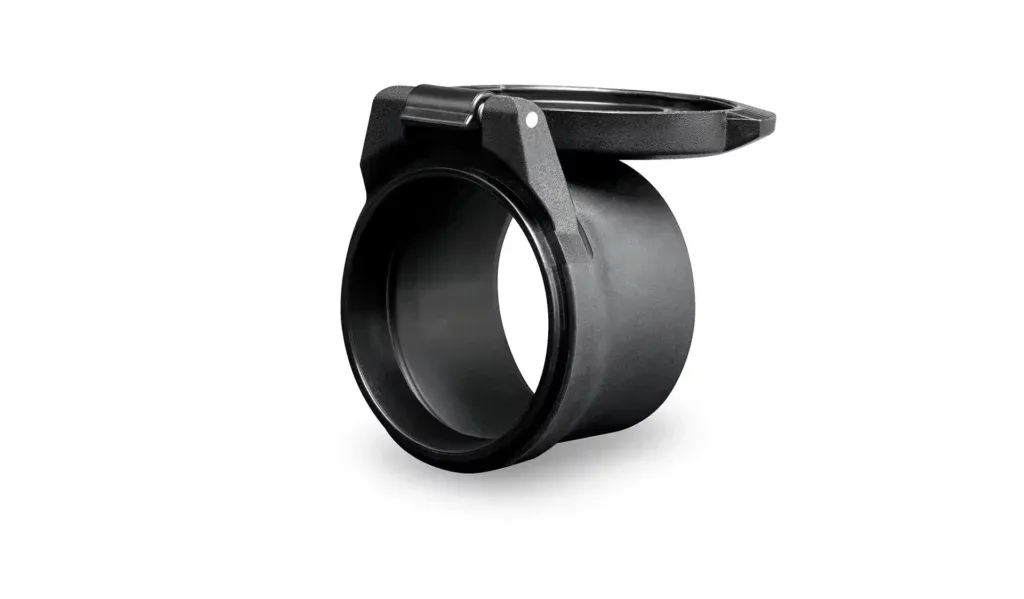 If you don't trust the cheap flip-caps that come with the scope, you can always upgrade to something better. The Vortex Defender caps are a step up from the widespread Butler Creek ones. But either of them will keep your lenses clean.
Alternatives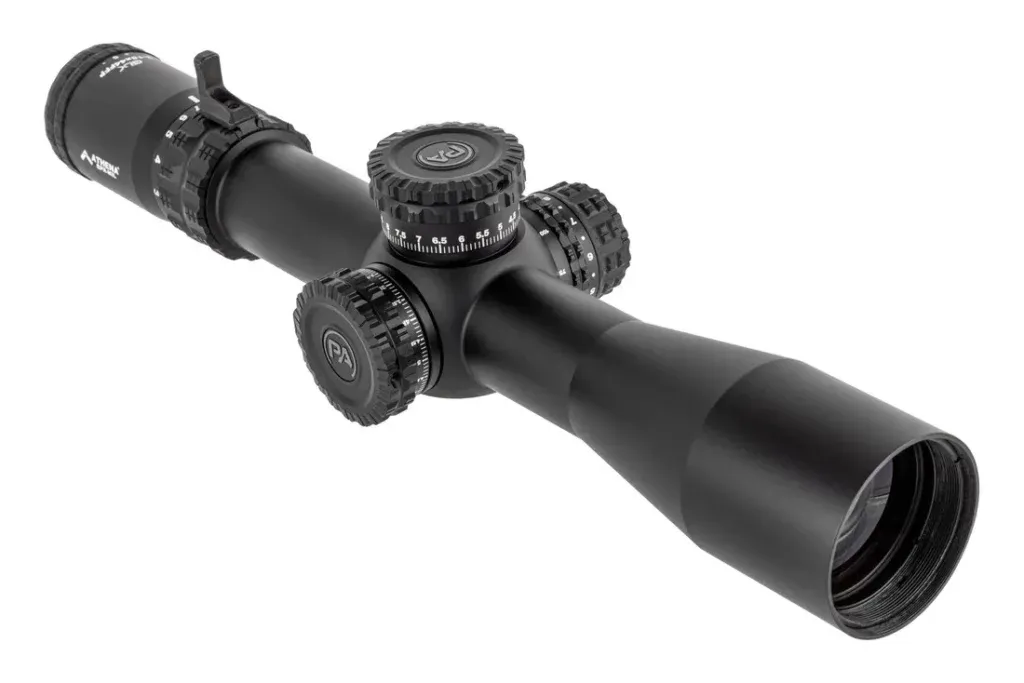 With slightly less magnification, the PA GLx is another outstanding choice. Much like the Athlon Heras, I was very impressed with the features and performance, considering its price point.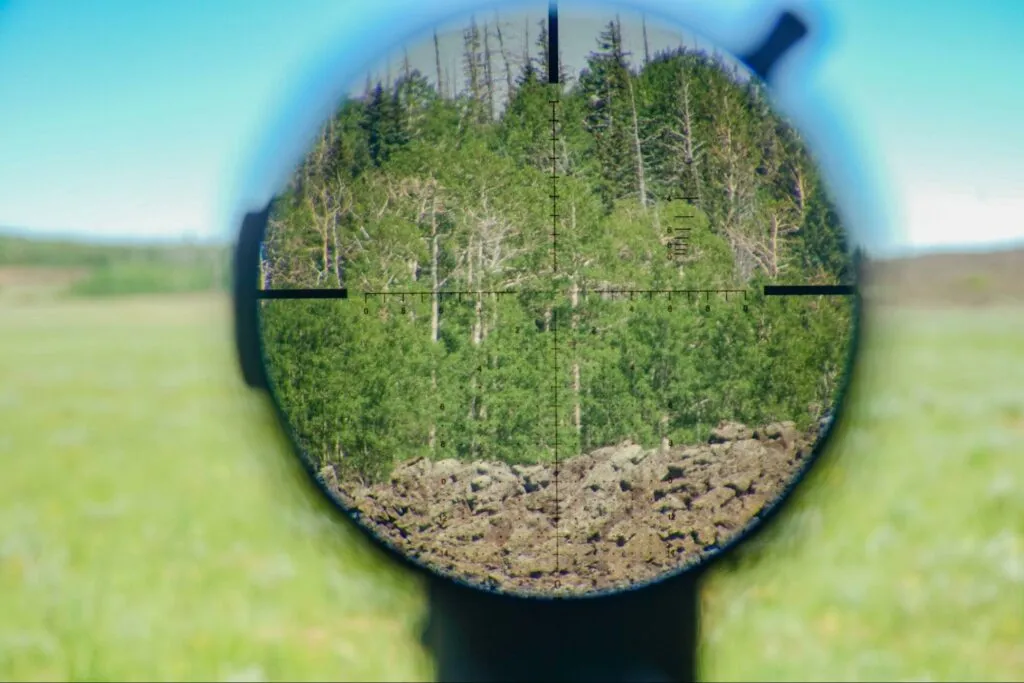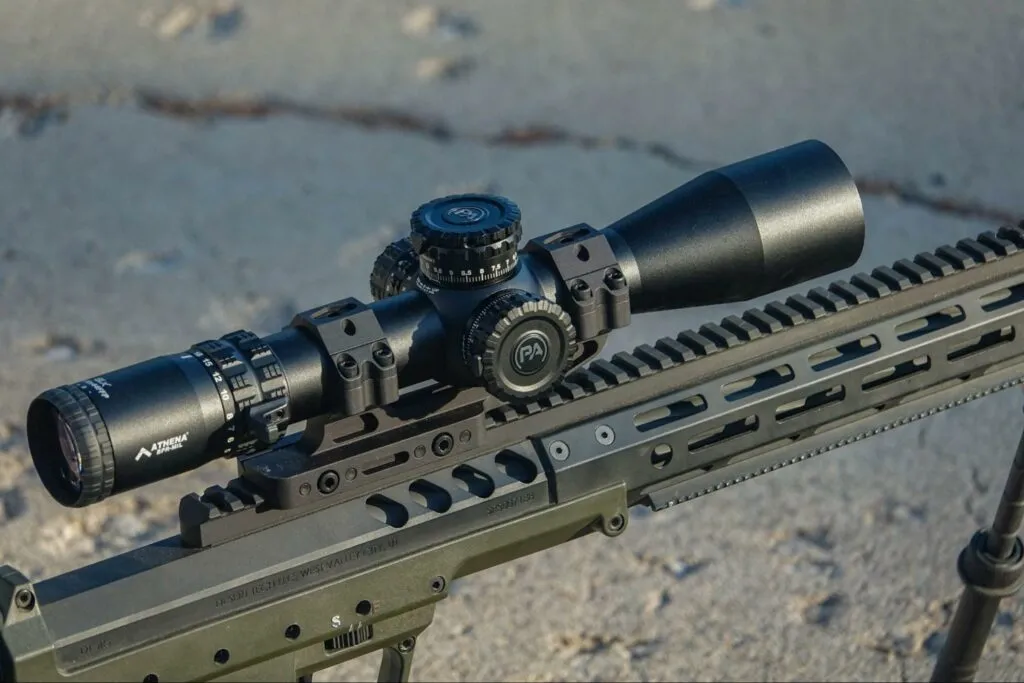 You can read more about that scope in my Primary Arms GLx 3-18 review here.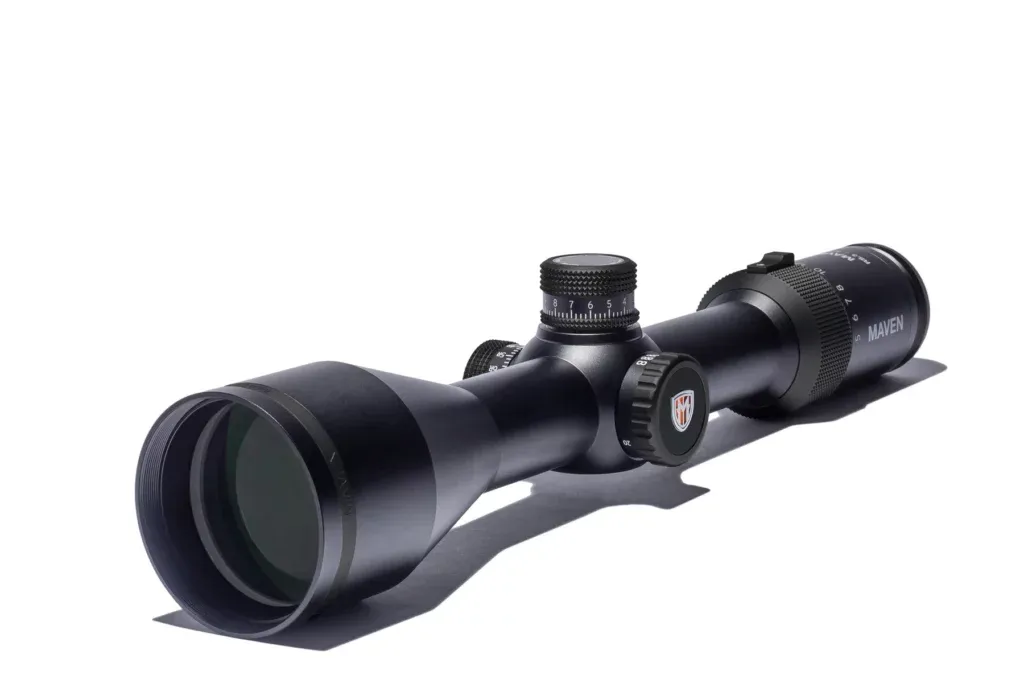 Another great scope we have reviewed here on Gunmade is the Maven RS.3. While a little bit more expensive, you also get a little more magnification. And you also get a scope made in Japan vs. China, something many folks might prefer.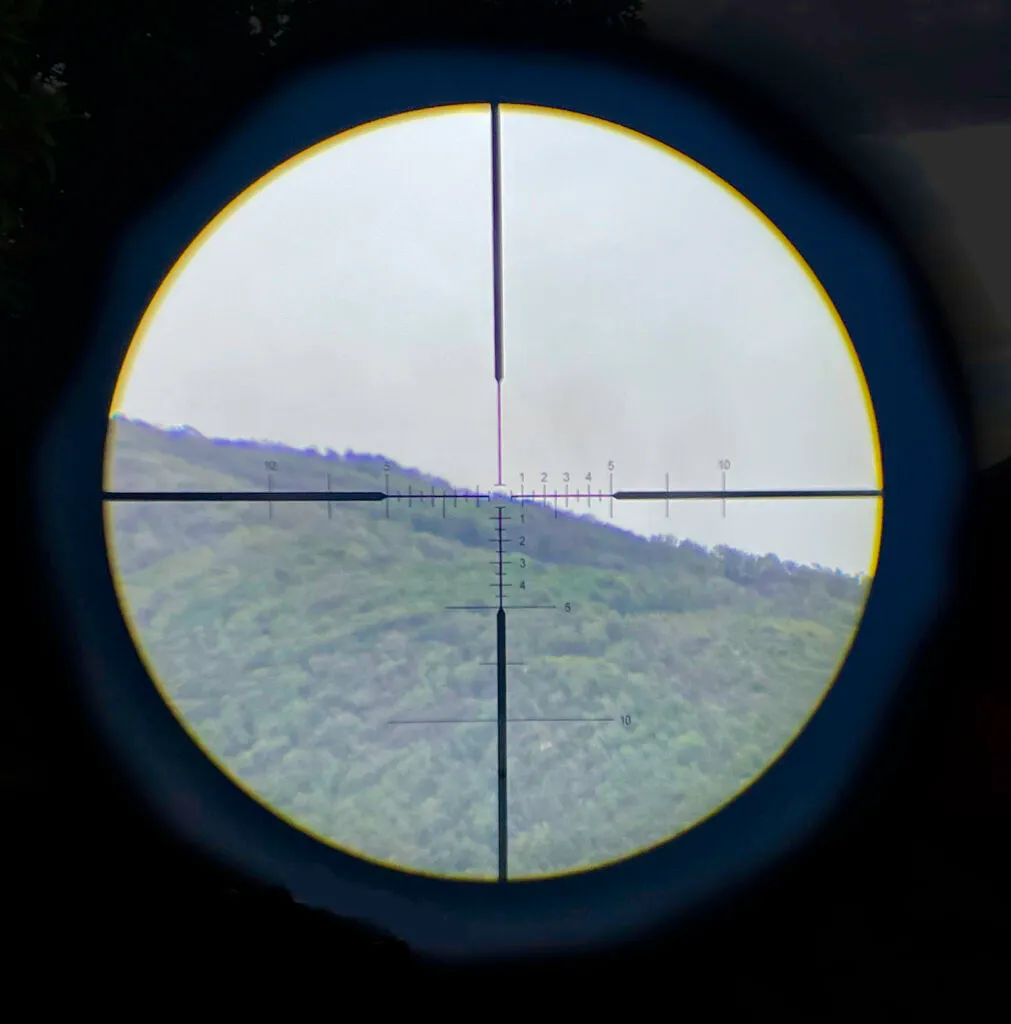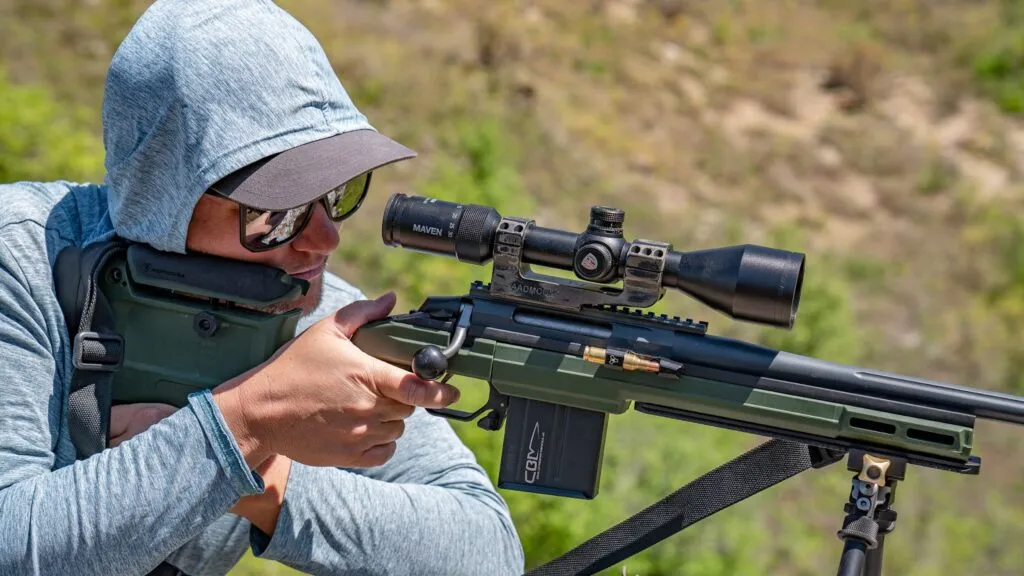 Conclusion
I've heard many folks talk about the Athlon line of rifle scopes over the past few years, and my first experience with this one has been quite positive.
For a very competitive price, you get a rifle scope that performs well both optically and mechanically. The ten MIL turrets and zero-stop are fantastic features for a scope at this price.
And if that wasn't enough, the 56mm objective certainly gives a bright and clean image. If you are an aspiring competition shooter or looking into perfecting your long-range hunting game, this scope would be a great tool to add to your collection.
Let us know your experience with Athlon Optics and what rifle you would mount this scope on, down in the comments.
Explore more