Battle Belt Setup Guide: Organizing for Optimal Function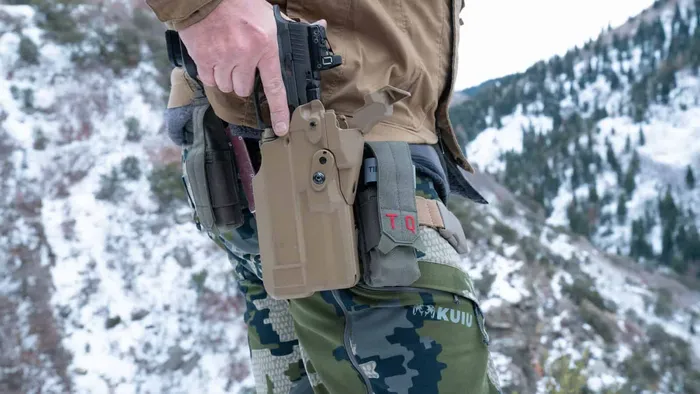 Battle Belt Setup Guide: Organizing for Optimal Function
Introduction
Depending on your profession, you might call it a battle belt, gun belt, or some other belt variation. Today we are going into the detail of putting a gun belt together, something I recently finished.
As I navigated through all the different options, I figured this might be something others would do, so I documented the process in the hopes of saving you time and money.
Shooting has become part of my profession. While you may or may not need a gun belt for your daily work, I hope that by the time I'm done sharing my experience, you will have a good idea of how you would do it yourself.    
Unless you do any professional soldiering, law enforcement, or security, a gun belt will likely be recreational for the most part. It will likely be another part of your equipment when shooting at the range or in competitive events like two or three-gun matches.
I am by no means a competition pistol shooter, but I do enjoy practicing the skill. A proper gun belt is extremely useful for becoming proficient in shooting pistols and any kind of tactical discipline.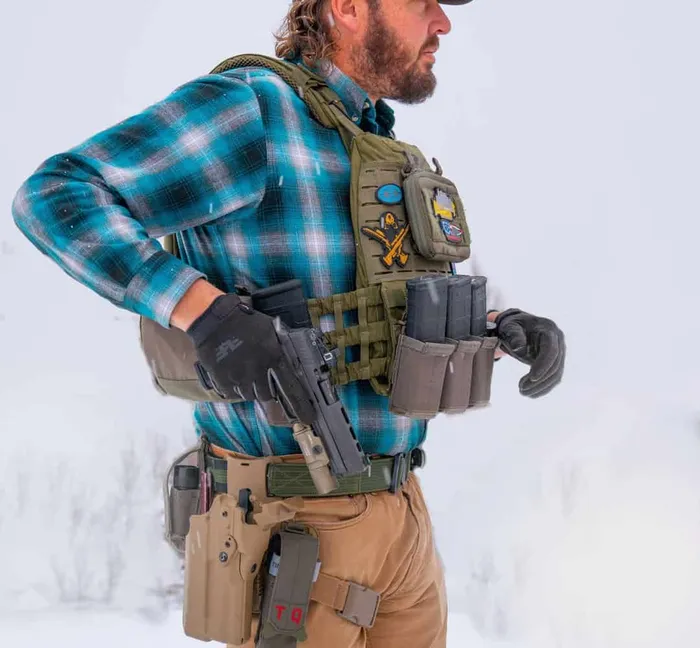 Why Use A Battle Belt?
Battle belts are designed to help carry the weight and force of waist-bound shooting equipment. Not only do they carry the weight, but they also help distribute it with a degree of comfort.
A good belt also helps keep vital and life-saving equipment where you want it to be. Besides just your pistol, battle belts also have room for extra ammunition, knives, and other tools you may need depending on the task before you.
A good belt is customizable to fit the accessories and tools you need in the places that best fit your practice. With practice and time, you will likely change and adjust it until it perfectly fits your needs.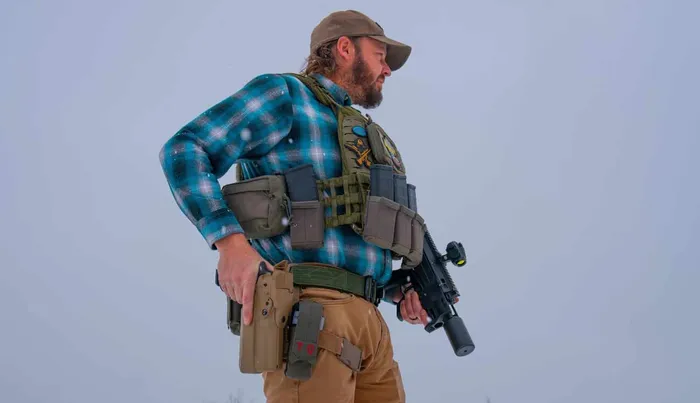 Questions To Ask Yourself
What kind of shooting will you be doing?
What pistol will you be running from your belt?
What kind of pistol and how many magazines will accompany it?
Will it be used in conjunction with a rifle/carbine?
Will it be used with other gear, such as a tactical vest or plate carrier?
First Thing: The All-Important Pistol & Holster
Find a quality holster that properly fits your pistol. There are many good options from companies like Safariland or Blackhawk.
Remember, these are not CCW holsters; they are for retaining your pistol under heavy movement and activity.
Good retention holsters are not exactly cheap, nor are they particularly compact. But they are well worth their cost and come in various styles and retention designs to keep your pistol safely at your side.
Select a Belt
There are a great many good choices to be had for a gun belt. Safariland and Blackhawk make belts for their holsters, but there are plenty of others like Blue Force Gear or Crye Precision.
With so many options, you may want to handle a couple before choosing one. After looking around, I decided to go with a 1.75-inch belt from the guys at Lead Devil.  
There are two-layered and single-layered belts. I went with a two layered belt. They work by using a velcro under the belt that goes through your belt loops on your pants. The outer belt then attaches outside your belt loops by velcro to the inner belt and buckle in the front. It is a very robust system.
The outer belt has molle loops around the circumference to install whatever accessories or gear to the belt and the inner belt keeps your pants up and serves as a foundation for the load-bearing outer belt.
When selecting a belt, follow the manufacturer's instructions on measuring yourself. A proper fit is vital to both function and comfort. Remember the size of your belt when selecting accessories. You can't put 1.5-inch accessories on a 1.75-inch belt.  
The belt should fit fairly snug to keep your pistol and other gear from flopping around as you move.
Note: wearing a gun belt properly may be all the inspiration you need to get in better shape. They fit and work better when your "middle area" is trimmed.
What Goes on My Gun Belt?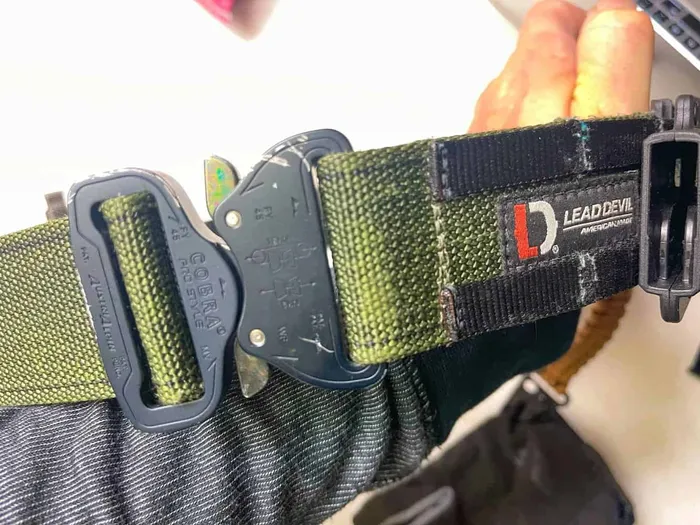 Holster
Obviously, the first priority should be your holster. Find a comfortable position on your belt that fits your draw location and attach the holster, either threading the belt through it or using the molle attachments.
I found it took some time to ensure I had my holster placed properly.
My pistol is a Sig Sauer P320 X5 Legion, and I bought the Safariland 7304RDS holster for it. The holster accepts both the pistol and the Surefire X300 weapon light in front, but after using the holster for a few days, I realized I needed a lower ride height.
I added a Safariland Cantable belt loop that added a few inches of drop, and I also added to it the Safariland Quick Locking System that allows the holster to detach from its base. I've come to find this very convenient.
The whole pistol and holster are easily removed from the belt. This also allows you to swap multiple holsters for different firearms to and from your belt. I adjusted the thigh strap that came with my holster for a better fit and to keep the holster as secure as possible.
Believe it or not, I actually wore the belt like this eight hours a day for over a month, making little adjustments here and there until I felt I had a perfect fit. I was constantly drawing my pistol to see what would make a smoother draw and holstering.
Magazine Pouches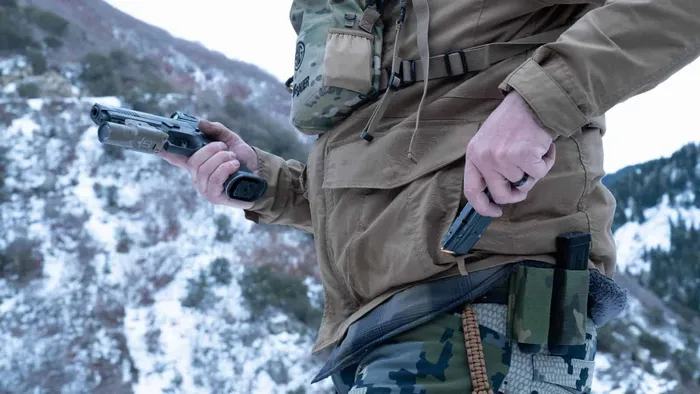 A good battle belt will surely carry extra magazines for your pistol. I bought a couple of different options to try. The first was a pair of Tacos from High Speed Gear. I liked them, but I ended up swapping them out for a one-piece double mag pouch from Esstac. The HSG Tacos seemed to have more catch points and were easier to snag on things during movement. The Esstac pouches were smoother and had a nice exterior.
Position your mag pouches where they best fit your draw. This is another reason I like the Lead Devil belt. The molle allowed robust attachment of my accessories without sacrificing velcro engagement with the inner belt. Reducing the velcro engagement between the belt layers reduces the rigidity of the whole system and induces flopping.
If you incorporate a rifle mag pouch or two on your belt, you can attach it the same way via molle in whatever position you see fit. I run my rifle mags on my plate carrier, so I didn't add any to my gun belt.  
Sharp Edges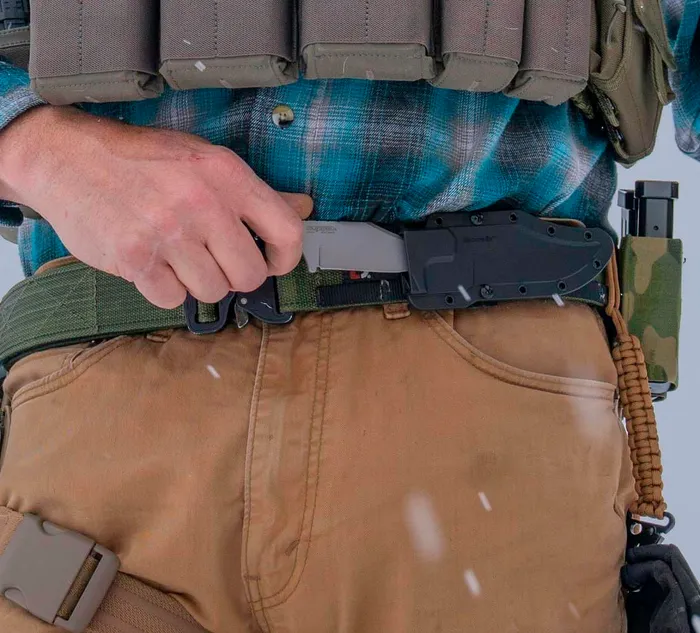 Many guys put knives on their gun belts, whether for cutting tasks or when they run outta magazines. I actually run two knives on my belt; the main one is a Cold Steel Mini Tac.
The second one is just a cheap Gerber folder hooked into the molle behind my holster for things like digging sardines out of the can. I like the idea of having both options, one blade is kept in pristine razor sharp condition while the other is a day to day cutter.
Both are kept in convenient locations on the belt for quick and easy access, they also attach to the molle of the Lead Devil outer belt.
Flashlight
Besides the X300 on my pistol, I also keep a good flashlight on my belt. The Cloud Defensive MCH 2.0 Micro goes in a small 5.11 carry pouch behind my right kidney. I don't often shoot in the dark, but if I need to, I sure want to have the tools to see what I'm shooting.
Tourniquet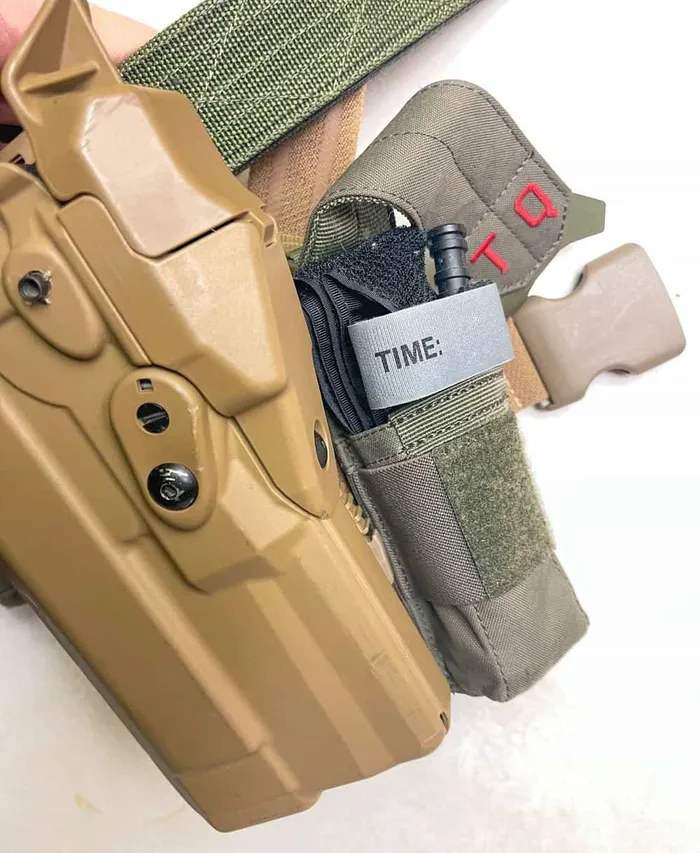 A tourniquet is a must-have if you do any shooting. We've all seen how fast things can get ugly. Plate carriers and battle belts are often kitted out with tourniquets; the main reason is that they are typically used by folks who shoot and may get shot at.
Having a tourniquet immediately available can be the difference between life and death. Many professional soldiers getting shot at have multiple TQs on their kit, and they have them close.
I have one in my IFAK (Individual First Aid Kit) on my plate carrier, and I keep another one attached to my gun belt just in front of my holster. This way, it is very close should I need to use it on myself or some other unfortunate person.
It's kept neat and tucked away by a 5.11 TQ pouch.
Drop Pouch
Drop pouches are also a common accessory to run on gun belts. They are typically used as a catch-all for things you need out of your hands quickly but don't want to lose. Empty magazines, batteries, or Twinkie wrappers can all get tossed in to be policed later.
I personally don't run a drop pouch on my belt because I have one on my plate carrier. The one I have is a roll-up velcro type to stay out of the way until you need it.
Tether
Lastly, I have a 550 cord braided tether on my left side. It has a snap hook convenient for gloves, keys, or anything else you want to keep handy. It also can be unwoven and used as cordage in an emergency.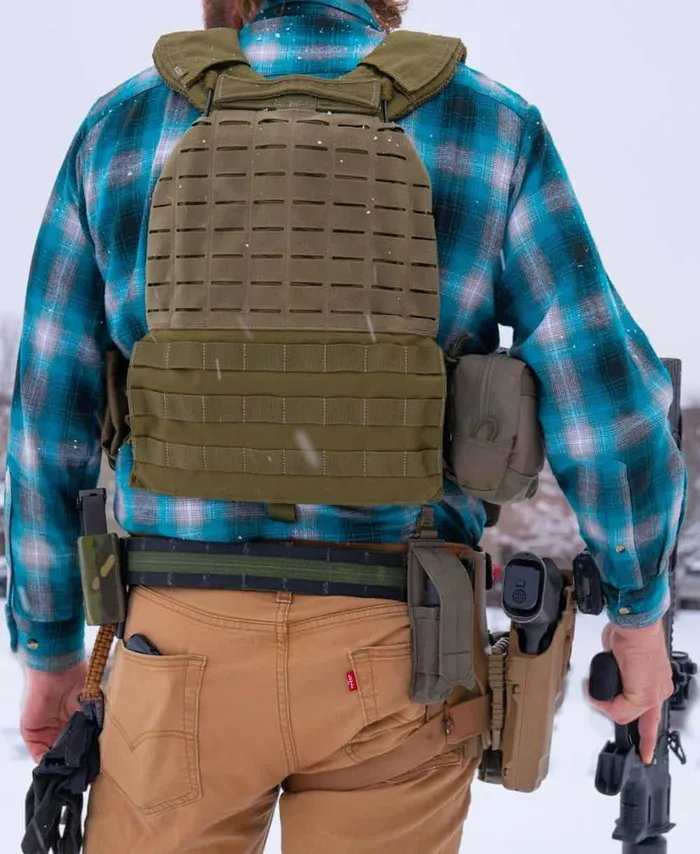 Frequently Asked Questions
Does a battle belt go through belt loops?
Some battle belts go through belt loops, and others go outside the belt loops. I prefer the two-layered outside-the-belt loop type with an inner strap that goes through the belt loops.
How tight should a battle belt be?
A belt should be tight enough to keep your equipment secure and close without being uncomfortably tight. The better shape you are in, the more comfortable they seem to fit. I do find that the wider belt seems more comfortable for guys like me who are a little round in the middle.
How much weight does a battle belt hold?
That can depend on how you set it up. Some belts come wide, and with padded load-bearing surfaces, a good belt is undoubtedly strong enough that you could be picked up by it.
Conclusion
If you're a gear queer like me, you will likely enjoy the process of putting all this together. I hope what I have done has shed some light or given you ideas for your own belt build.
I would strongly recommend doing what I did if you can; for the better part of two months, I wore my gun belt every day to work. This allowed me to make adjustments for comfort and practical use, adjusting the angle of my holster, and so on. The familiarity I gained from wearing the belt for such a long time made me very comfortable using the system at the range.
Don't be afraid to try different belt accessories to find the one that fits your needs best, and if you have any questions about the subject, feel free to drop them in the comment section.
Make sure you share your battle belt build with us when you finish it, and share this with your gun buddies!
Explore more