Beretta 92X Performance Review: 92 Reasons Needed?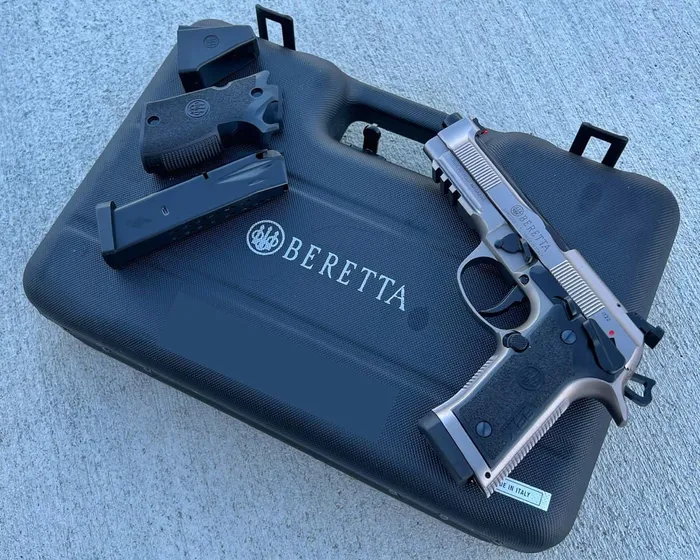 Beretta 92X Performance Review: 92 Reasons Needed?
Introduction
I recently reviewed the Beretta 92FS and was left with a mixed bag of emotions. While I enjoyed shooting it, the lack of "modern" touches and the awkwardly placed safety turned me off. So, when I had the chance to test out one of these 92X Performance pistols, I jumped at it.
This model has been out for a few years, technically since 2019, and has since had an optic-ready version released as well. I would have loved to mount an optic on this to see even how much more accurate I could be with it, but testing it with the standard sights was a better test of accuracy anyways.
I didn't have to put many rounds through this one before I knew I liked it. However, it's not without its flaws, in my opinion. Here is a closer look at the 92X Performance model for you to enjoy.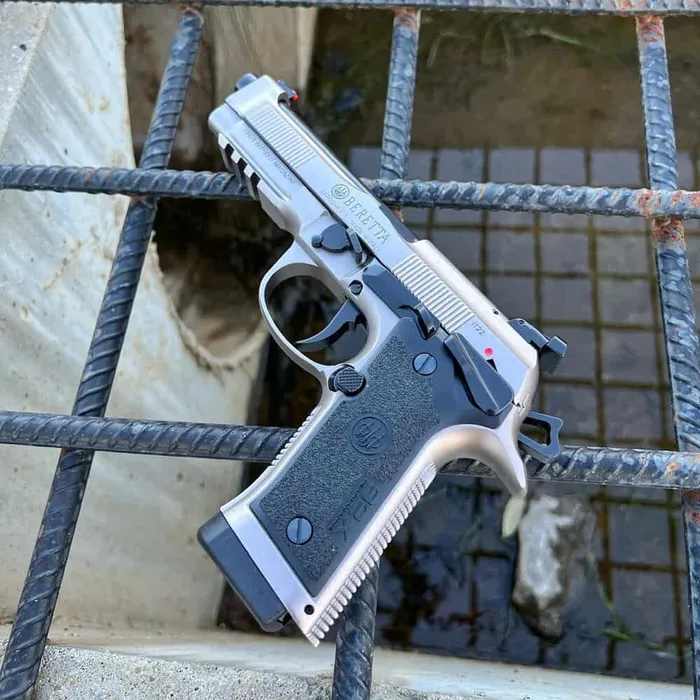 Beretta 92X Performance Review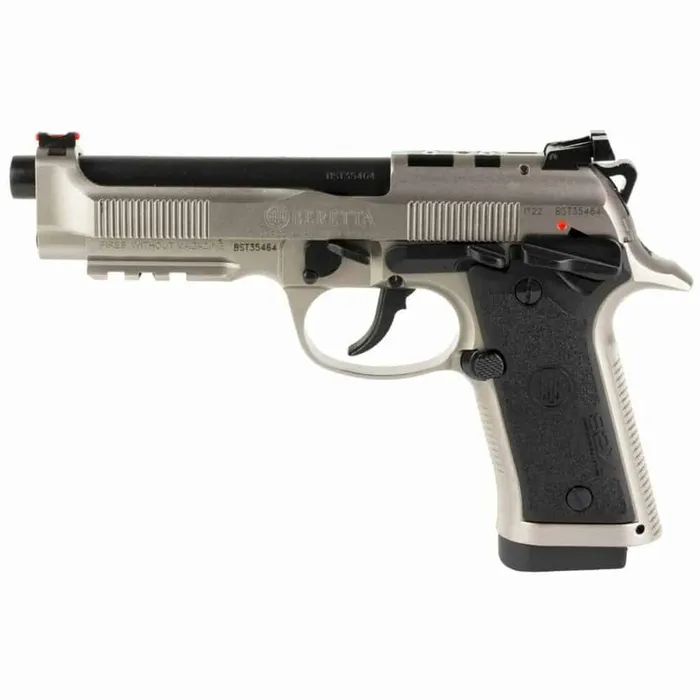 Specifications
| | |
| --- | --- |
| Caliber | 9mm |
| Capacity | 15+1 Rounds |
| Barrel Length | 4.9 Inches |
| Action | DA/SA |
| Overall Length | 8.7 Inches |
| Width | 1.8 Inches |
| Height | 5.8 Inches |
| Weight | 47.6 Ounces (unloaded) |
Pros & Cons
Pros
Fantastic trigger

Extremely accurate right out of the box

Ambidextrous/reversible controls

Very well balanced and flat shooter
Cons
Pricey – but not WAY out of line with other comparables

Capacity to size ratio – seems like it should hold more than 15 rounds
From Box to Range
In the Box
I'd like to start off by saying that this is by far one of the nicest cases I've received a gun in for a very long time. I actually thought it was coming in the standard blue Beretta plastic case, so the fact that it came in this beautiful locking case was a nice surprise.
In the case, you'll find two magazines, a mag loader, and a nice grip attachment. I didn't even bother messing with the grip as I was too excited to shoot it.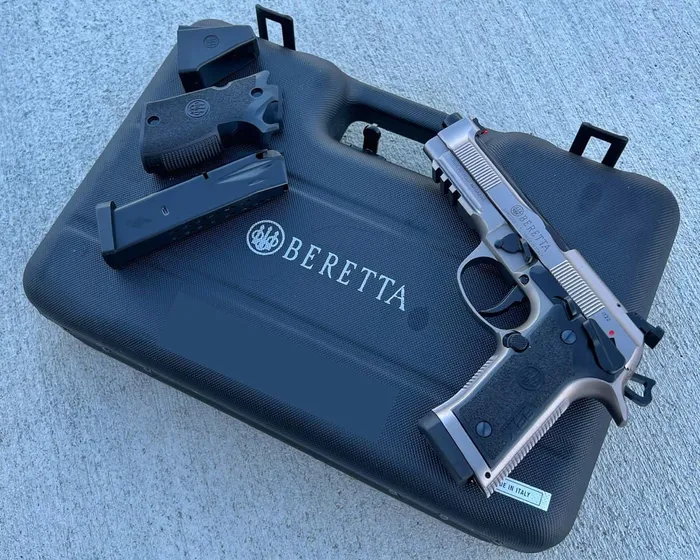 Reliability
So far, I've put 230 rounds through this gun and experienced two malfunctions. Early in the round count, I had two stovepipes, but then it was smooth sailing.
I've read that people have had quite a few issues within the first few hundred rounds, but I would consider the two that I had pretty standard.
The gun came COVERED in lubricant, which may have helped with the reliability, but it was actually too much, and I had to wipe down the exterior of the gun before shooting.
I wouldn't have any long-term concerns, especially after several hundred more rounds to pass the "break-in period."
Accuracy
I'm not a pro shooter by any stretch, nor did I consider my shooting to be great throughout the entire time I had with the 92X Performance, but it was consistent and repeatable.
Within 15-20 yards, I was very happy with my groupings from the start. I could maintain two or so-inch groupings while shooting rather quickly, but had to take my time at 25 yards or further.
Even at 25-30 yards, though, with slowing down my follow-up shots, my groupings didn't expand all that much.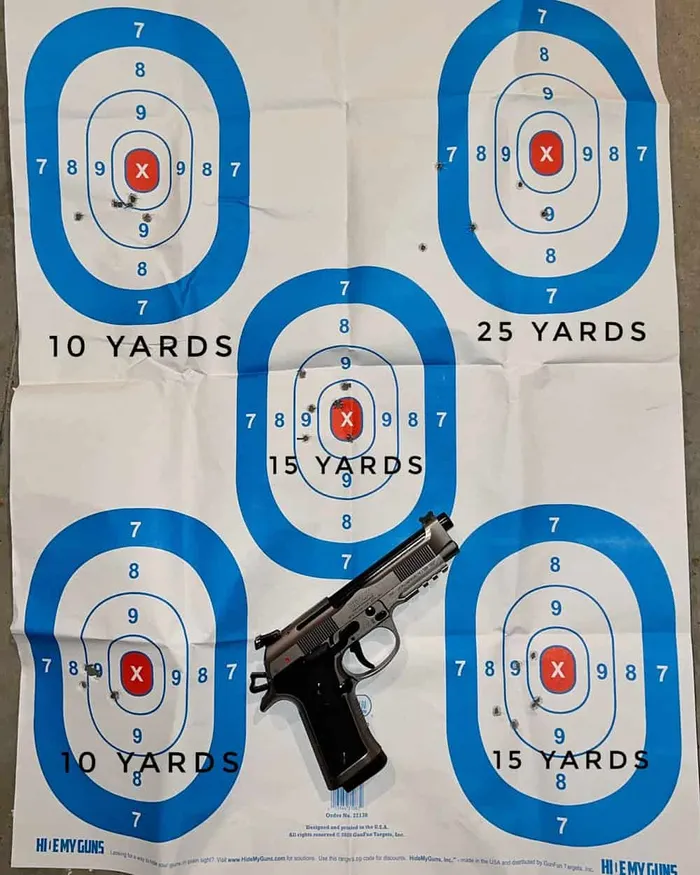 Overall Feel
It feels…great. The heavier weight, paired with the sizable grip, leaves you feeling like you have a much larger gun than you really do. That's not a bad thing, either. It's a comfortable shooter and very well-balanced.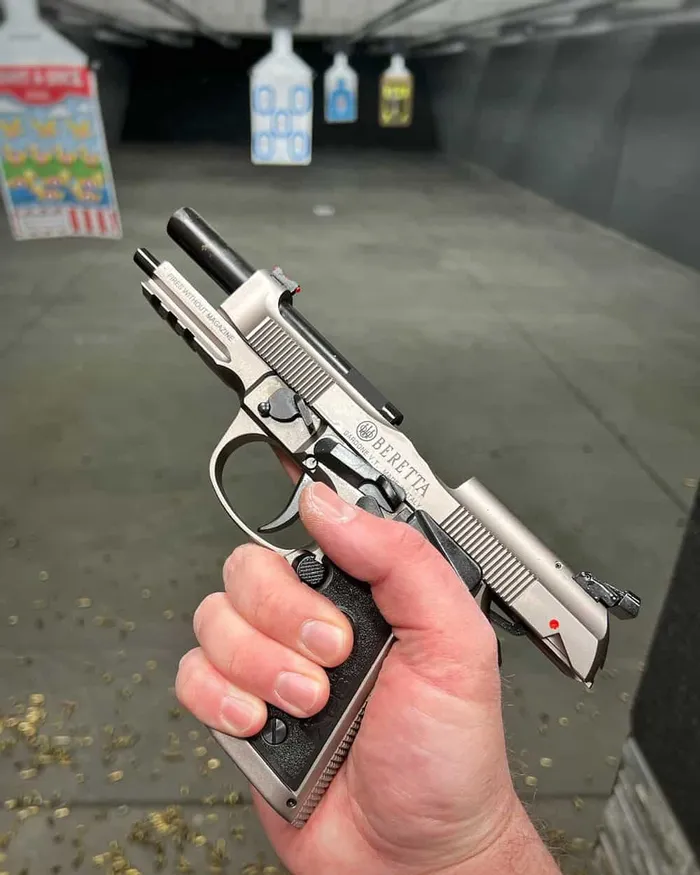 Features
Grip
I found the grip to be very comfortable. I always talk about having extra large hands, but that's because many guns are difficult for me to get a secure grasp on with all of my fingers. That's not an issue with this gun. Even with the magazine removed, I can rest all my fingers on the grip. The grip texture is aggressive without being irritating, and I had no issues maintaining a consistent grip while shooting.
The beavertail at the top and the trigger guard undercut both help push the comfort level to the max.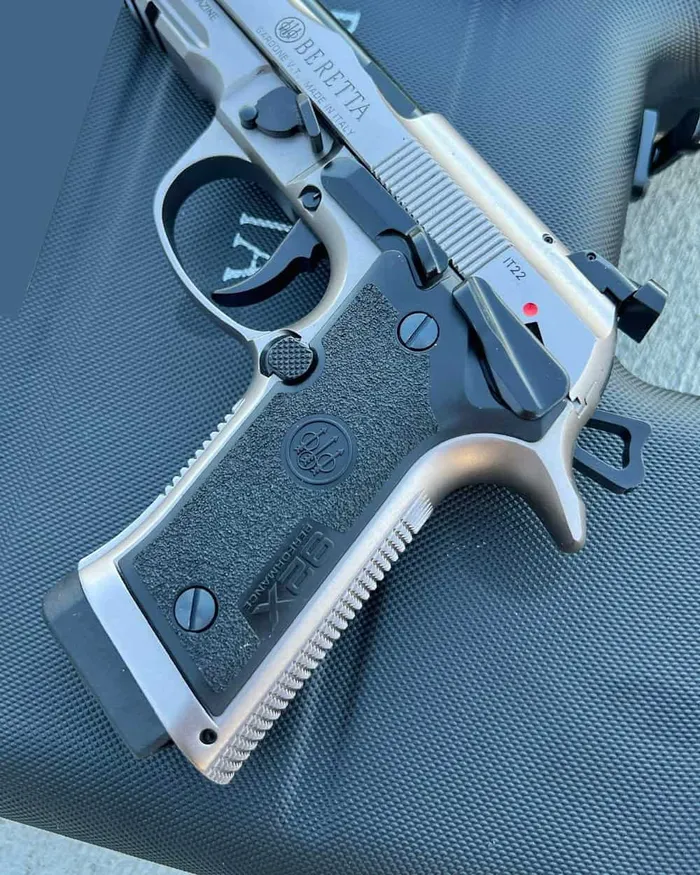 Sights
These sights were a nice change of pace from the white dot setups I've been shooting a lot lately. It comes with a serrated black rear sight and a red fiber-optic front dot sight.
The front sight was easy to align quickly in both daylight and some crappy lower-light range settings.
I've really come to appreciate the blacked out rear sights to help provide that contrast with the front. In addition, the sights are fully adjustable if need be, but I didn't have to adjust them whatsoever.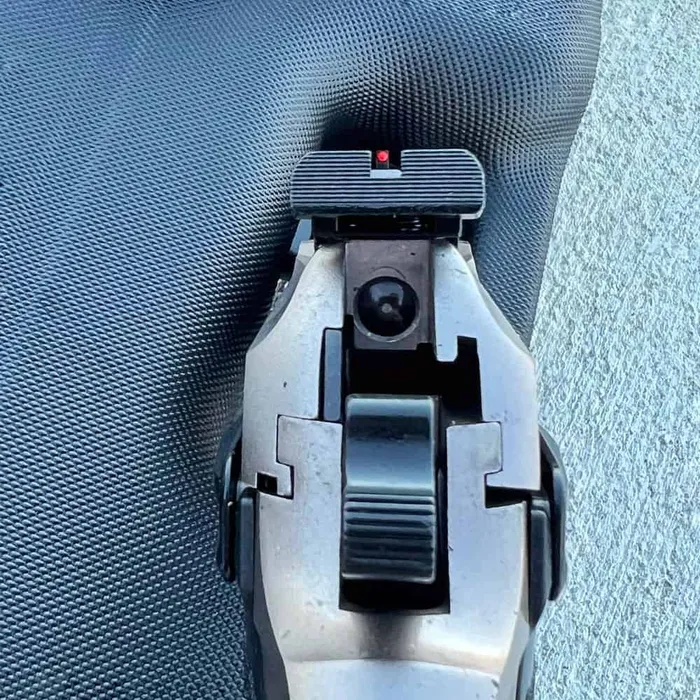 Slide and Rail
The Brigadier slide stands out right away as you first lay eyes on the gun. The deep cut runs the majority of the slide and helps to mitigate weight where possible. The slide sports a silver Nistan finish that looks great with the black accents on the gun.
It comes with front and rear slide serrations which is nice, but they definitely leave some to be desired. I wish that the serrations were much more aggressive.
The addition of that wonderful accessory rail opens up your possibilities to an endless amount of lights and lasers, if you wish to add them. If only this model was optics ready!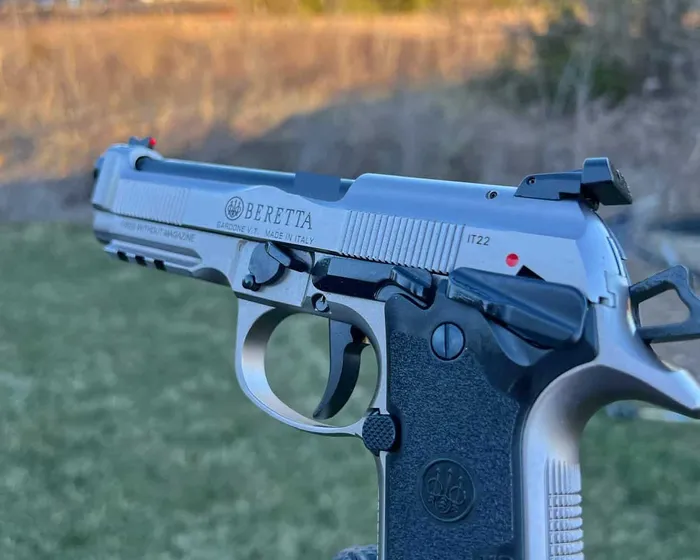 Trigger and Controls
Many who shoot this gun go on and on about how great the trigger is. I'm going to join those people. This SA/DA trigger is one of the better ones I've shot, probably ever, or at least since I can remember.
Beretta's "Xtreme-S" trigger system is made for competition shooting. In addition to the trigger being extremely smooth and seemingly lighter than the 92FS, the trigger components are specially designed to minimize friction and wear from constant shooting. The reset is also very short and helps keep your follow-up shots going down range as quickly as you can shoot them.
As you can see below, the controls are oversized and well-placed. The safety is ambidextrous, and the mag release is reversible. Thankfully, the safety has been moved to the frame instead of up on the slide, like the 92FS.
All of the controls were easy to manipulate, and the mag release always spit the magazine right out.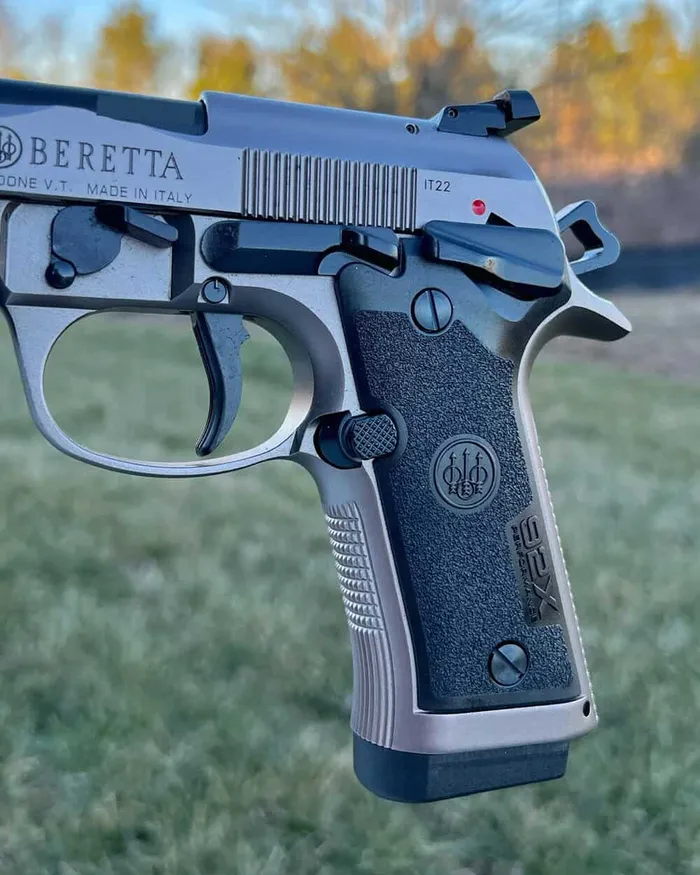 Magazine
You get two steel 15-round magazines with the 92X Performance that function and run fine. I have no issues with the magazines themselves, but I feel like they could stand to be redesigned to fit a couple more rounds.
With the larger size of the gun, it feels like a 17-round magazine would be more appropriate. I'd gladly tack on a little bit more weight to the already heavy gun if it meant I could carry a couple more rounds.
Accessories
Since this model has the accessory rail; you can go ahead and throw on many of your favorite accessories.
You've probably seen me recommend this light in many other reviews. I do so because of its value. It's affordable, and it's a workhorse.
It puts out 1,000 lumens, for an hour and a half and seems indestructible after what I've put some of mine through. It even comes in a couple of different colors if you want to get fancy with it.
Just like I suggested in my 92FS review, a quality holster is a must, especially with a larger framed gun like the 92X Performance.
Alien Gear Holsters makes an extremely comfortable hybrid holster that gives you a soft and cooling neoprene backing, with a woven nylon and spring steel core.
On the outside of it all, you'll have a custom-molded shell to securely hold your 92X Performance. You can also easily swap shells to reduce the need of having several different full holsters for several different guns.
Alternatives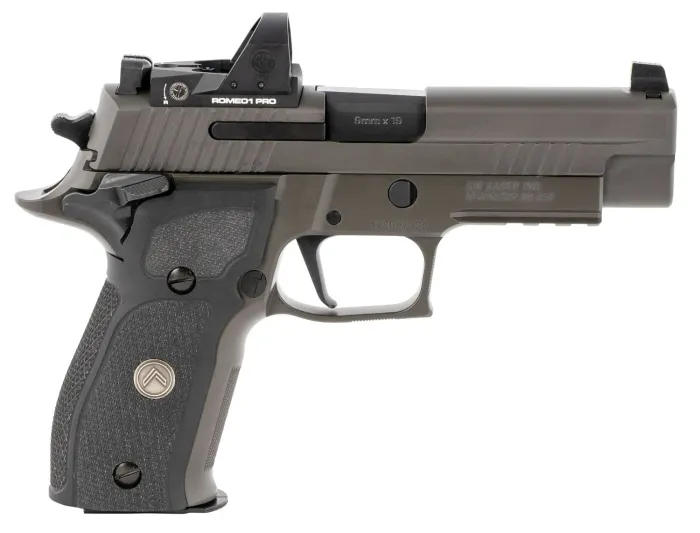 This is one of the first guns that will likely pop up if you start to google "Beretta 92X vs….". I've talked with many folks at the range who swear by the P226.
I have very limited experience with it in full transparency, but they are known to be very reliable and accurate, just like the 92X Performance.
Even better, though, you'll save a few hundred dollars to spend on some other goodies like ammo and accessories.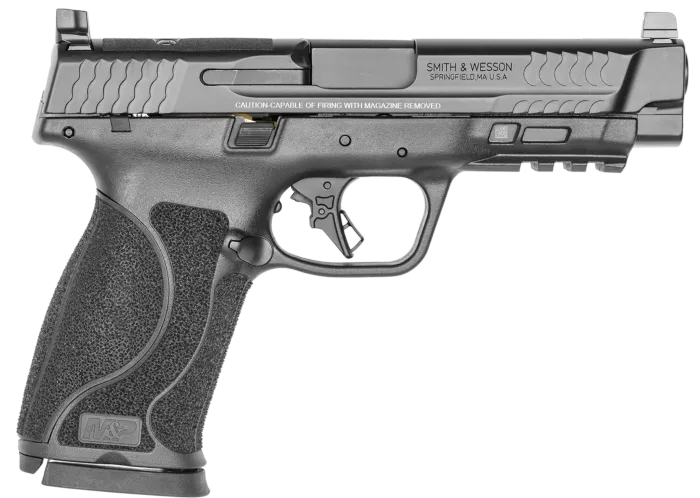 Here is a curveball. The M&P M2.0s are very different from the 92X Performance. But they are similar in the fact they also offer solid performance and the same 15+1 capacity.
The differences, though are that they are lighter, come optics-ready, and cost several hundred dollars less.
If you're nervous about dropping the money on a 92X Performance, you can always consider a more standard semi-automatic 9mm like the M2.0.
FAQs
Is the 92X Performance optic ready?
This specific 92X Performance model is not, but Beretta does offer one that is.
Is the Beretta 92X Performance worth it?
Depends on what you're looking for. If you are looking for a fast shooting and accurate competition gun, it would be more worth it than if you are simply looking for a reliable concealed carry gun.
What is the Beretta 92X Performance made of?
The frame and slide of the 92X Performance is made out of steel with a gray Nistan finish.
Score Card
Reliability (8.5/10)  
While I only had two malfunctions, I also didn't put a ton of rounds through it. I took half a point off due to some negative reviews I've read or heard from others though, who put many more rounds than I did through theirs.
Ergonomics (9/10)
Very well-balanced and comfortable shooting gun.
Customization (7/10)
Lots of light, laser, and grip options. You may not find as many sight options as your Glocks or S&Ws. It also isn't optic-ready.
Appearance (9/10)
The two-tone color scheme looks great on an already attractive gun.
Value (7/10)
Yes, it shoots well. But so do many others for much less.
Conclusion
The Beretta 92X Performance brings the updated and modern features that I was hoping for to the table while maintaining the high level of accuracy and reliability that you'd expect.
I'd probably go for the optics-ready model, but you'd have a great gun on your hands either way. If you're looking for a competition pistol or a straight-range time champion, I suggest checking out the 92X Performance for yourself.
The Beretta 92 series come with a hefty price tag, but also a high level of performance. Do you feel the price is justified? Let us know in the comments!
Explore more