Beretta APX A1 Carry Review: A Solid Single Stack 9mm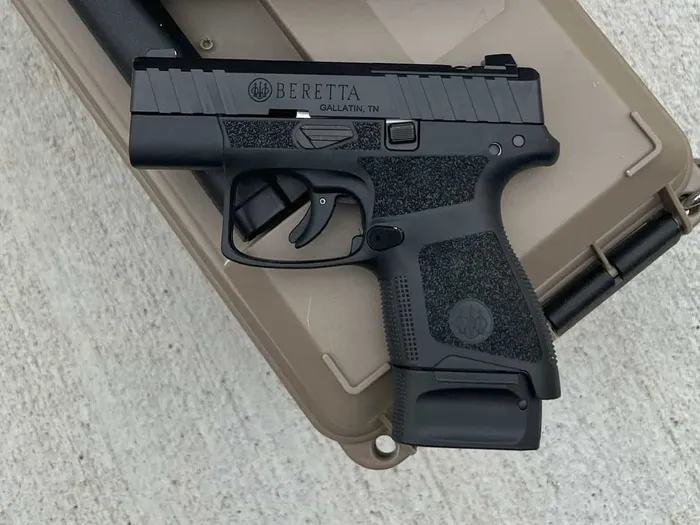 Beretta APX A1 Carry Review: A Solid Single Stack 9mm
Introduction
Until I received the APX A1 Carry for this review, the only APX I ever handled was the full-size one.
I was hesitant about the A1 Carry being too small for me, but with the extended baseplate it comes with on the 8-round magazine, I figured I'd give it a shot.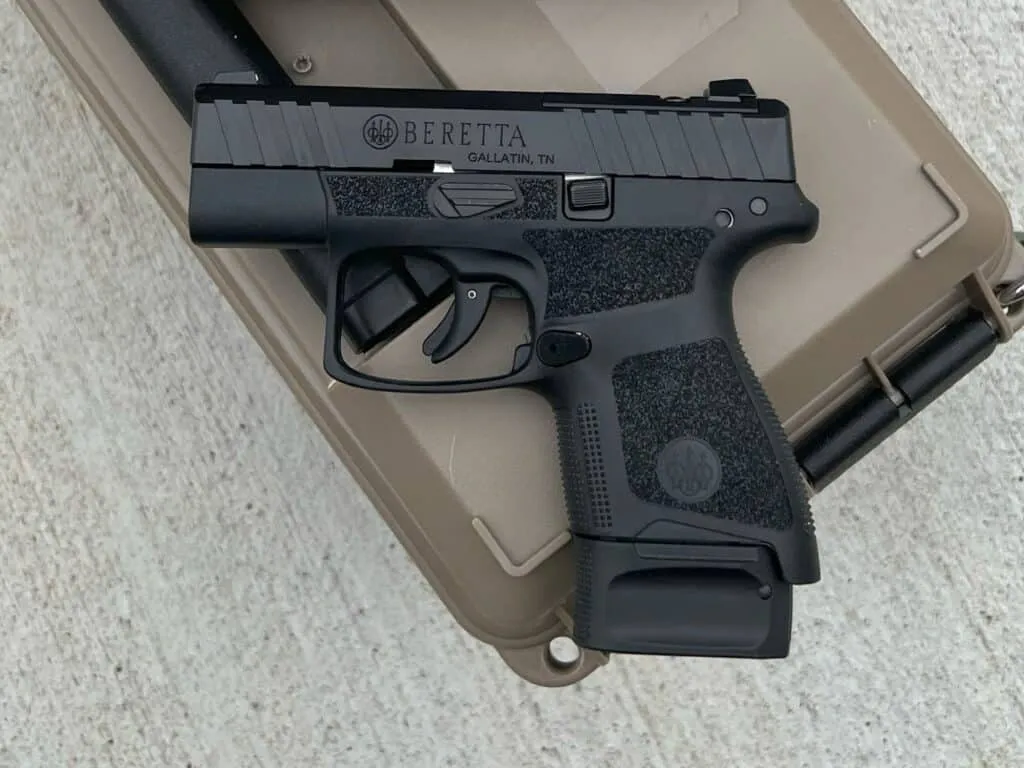 Beretta lightened and shortened the trigger pull from the previous model and added the optic-ready slide to keep up with consumer demand. Pair those changes with the reliability and quality you can expect from Beretta, and you have a concealed carry contender on your hands.
Beretta APX Review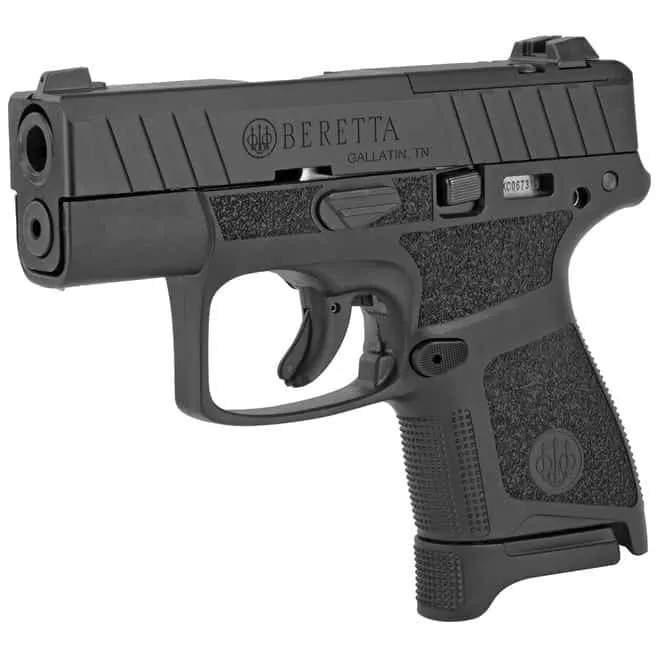 Specifications
| | |
| --- | --- |
| Caliber | 9mm |
| Capacity | 8+1 |
| Barrel Length | 3 Inches |
| Overall Length | 5.63 Inches |
| Width | 0.9 Inches |
| Height | 4.17 Inches |
| Weight Unloaded | 19.8 Ounces |
Pros & Cons
Pros
Very easy to conceal

Reliable and not picky on ammo

Affordable – often found between $300-$400
Cons
Difficult to maintain accuracy (could just be shooter error and large hands)

Lack of ambidextrous controls

Low capacity – but to be expected from a gun this size
First Impressions & Range Report
Right after unboxing, I immediately loaded up the 8-round magazine to see how it felt in hand. To my surprise, it fit.
I'm glad I wound up getting one sent to me to review because I likely would have skipped over it otherwise with fear of it being too small.
Reliability
Out of the 175 rounds I put through the APX, I had one failure to eject. It cycled the rest of the 115-grain FMJs and 124-grain JHPs fine, though.
Aside from that one malfunction, the only other issue I had was the slide not locking back a few times after the last round.
Accuracy
I have no issue admitting that I'm not the best shot in the world.
However, I was barely even a good shot with this gun out past 10 yards. I was consistently shooting low and to the left, which I read online that others had a similar issue and wound up having to adjust my aim much more than normal.
I'm not sure if I can blame it on the sights necessarily or just simple shooter error.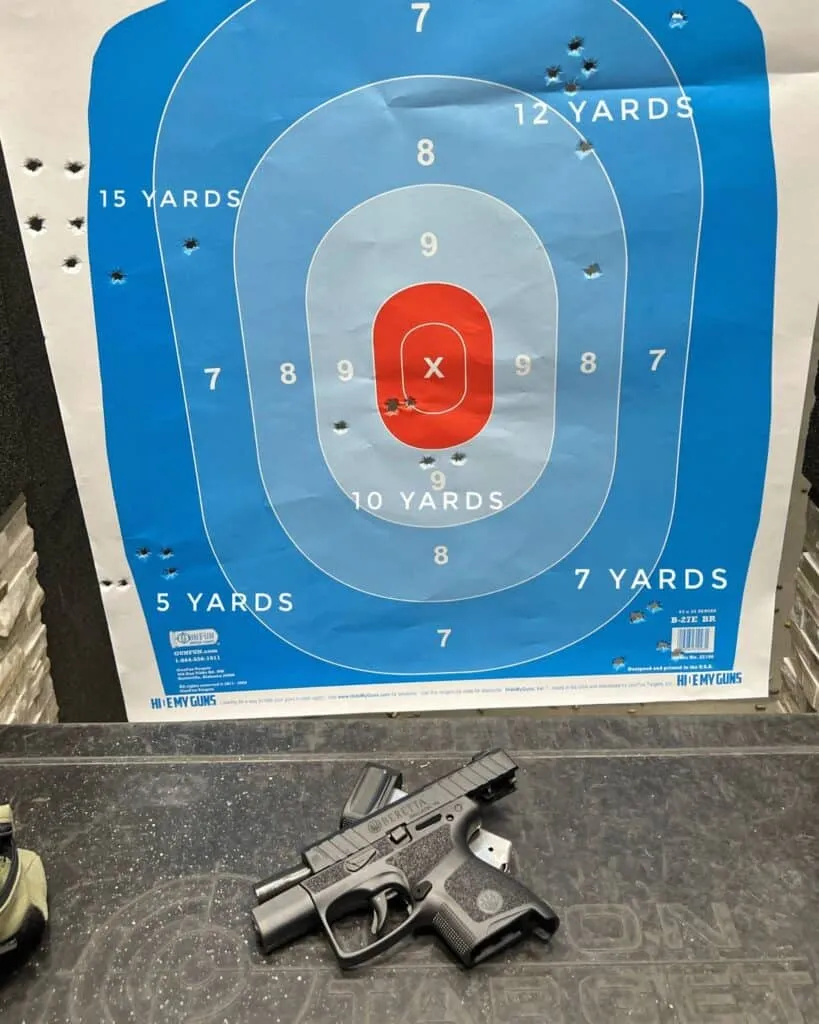 Overall Feel
Even though this is a single-stack magazine, the grip itself has a decent girth to it.
The grip texture is aggressive enough to help maintain a firm hold on the gun, while the magazine base pad extensions help to fit all your fingers on it.
Without the extensions, I would probably be screwed, though, with my pinky hanging off.
Features
Trigger
While I've never shot the standard APX Carry, I have read that the trigger on this A1 version is a decent improvement over it.
I still wasn't overly impressed with the trigger, though. The pull seemed longer than you'd expect, and the pull weight seemed a bit heavy for the gun.
It did have a nice break and quick reset, though, which made for easy follow-up shots.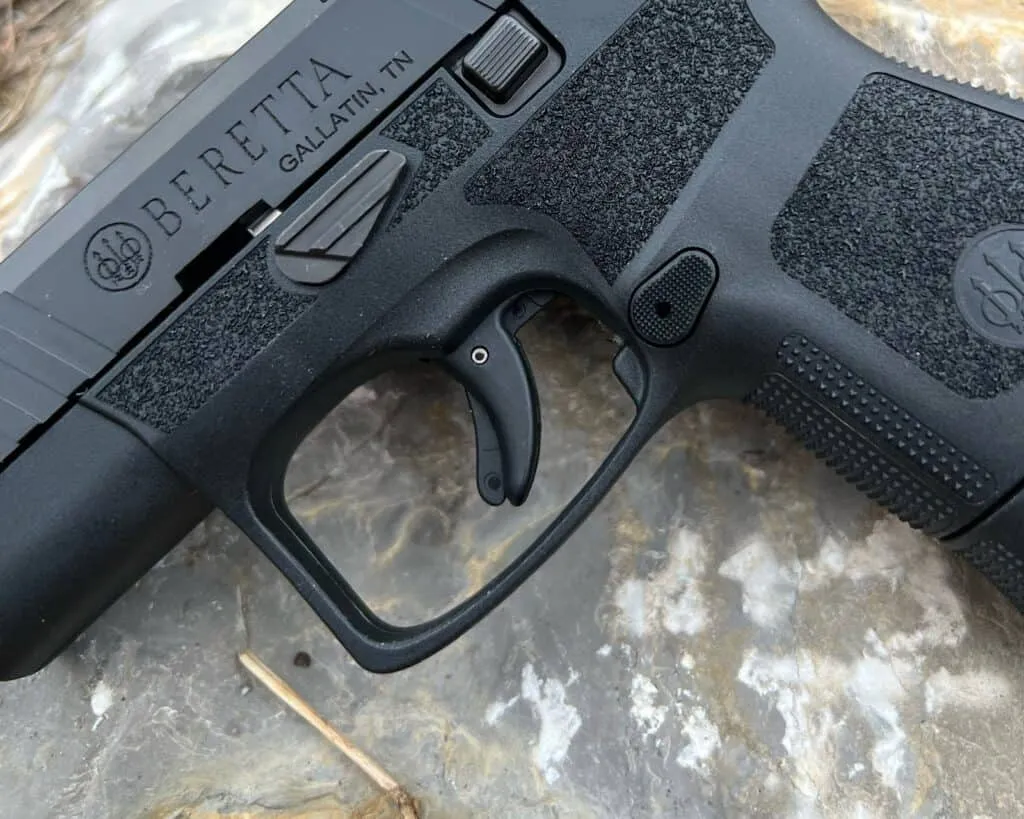 Controls
The controls leave some to be desired. The mag release is at least reversible, but you won't find any ambidextrous controls here.
I also had difficulty manipulating the slide stop at first, but it did seem to loosen up after a few swipes.
A nice aspect of the controls is the ability to disassemble the gun without having to pull the trigger, thanks to the deactivator, which is always an appreciated feature.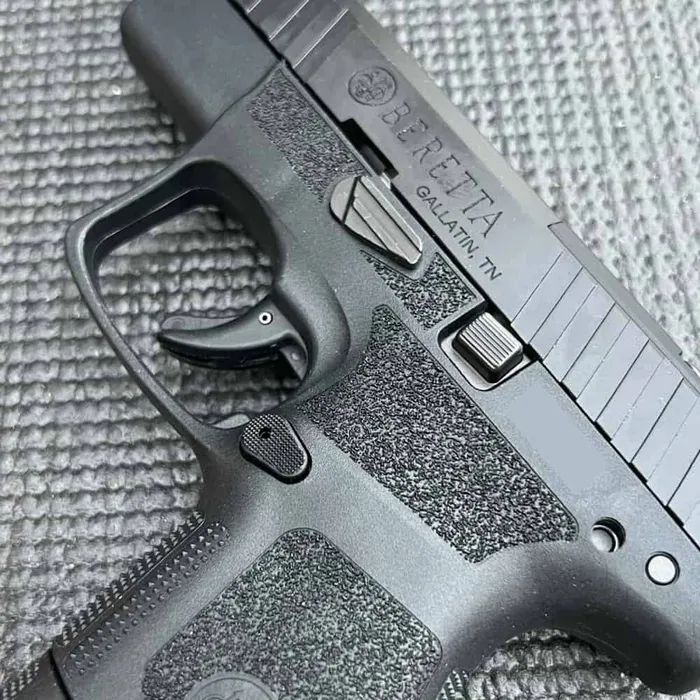 Sights
At this price point, I didn't expect anything fancy when it came to the sights.
You get a blacked-out and serrated rear sight paired with a standard white dot front. I would definitely recommend swapping out that front sight for a night sight.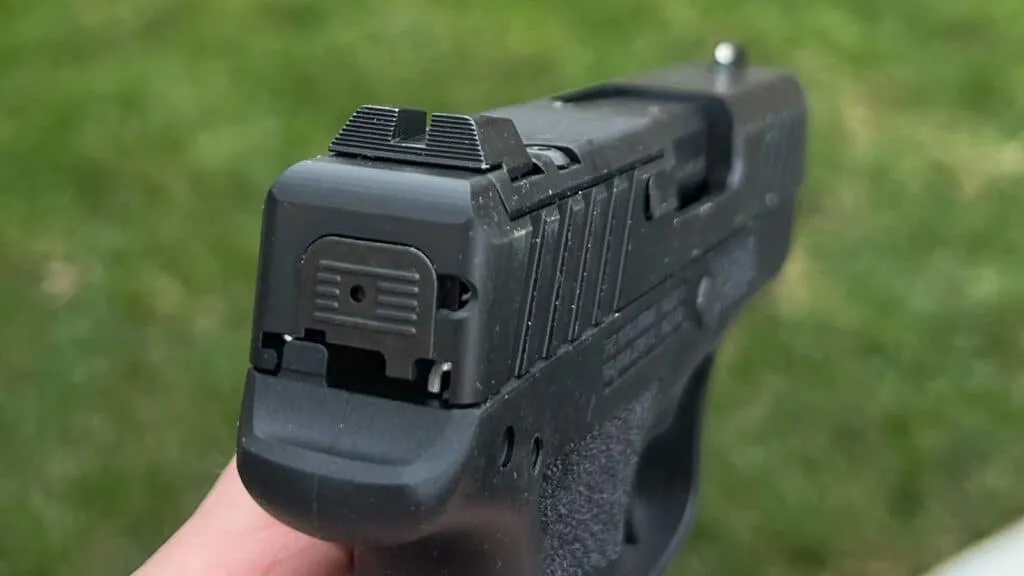 Magazine(s)
I'm not sure why Beretta even bothers with a 6-round magazine if they include an eight as well, but it does come with one of each and a flush baseplate.
Well, I mean, I do know why, in case someone wants to shave off that inch or so off of the magazine, but I'll take the extra rounds any day.
I always prefer to have witness holes on my magazines, which these do, and they are very easy to load, so overall, they are solid magazines.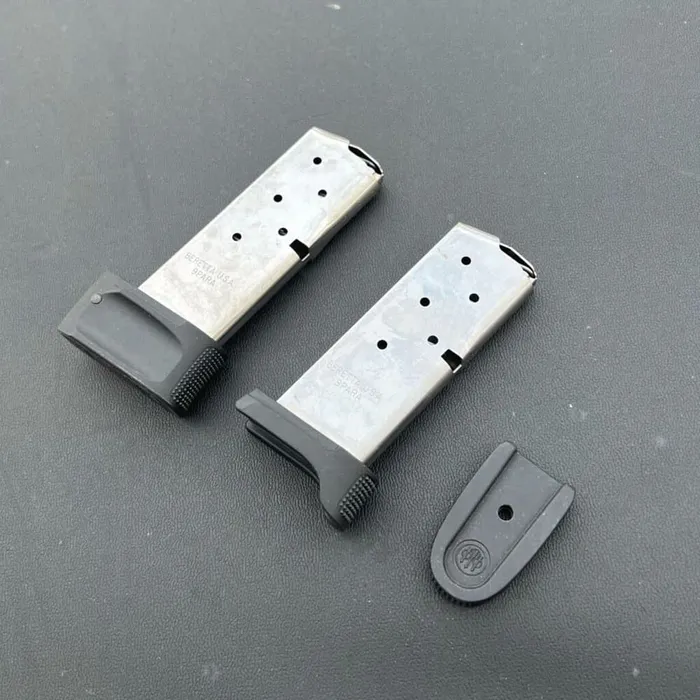 Slide
If you press check your gun often, you're in luck.
The slide comes with both front and rear slide serrations. They are relatively aggressive and do help with the racking and checking.
You'll also notice that the slide is optic-ready. With the rise in popularity of pistol optics over the last couple of years, I'm assuming most of the guns we see coming out will be cut straight from the factory.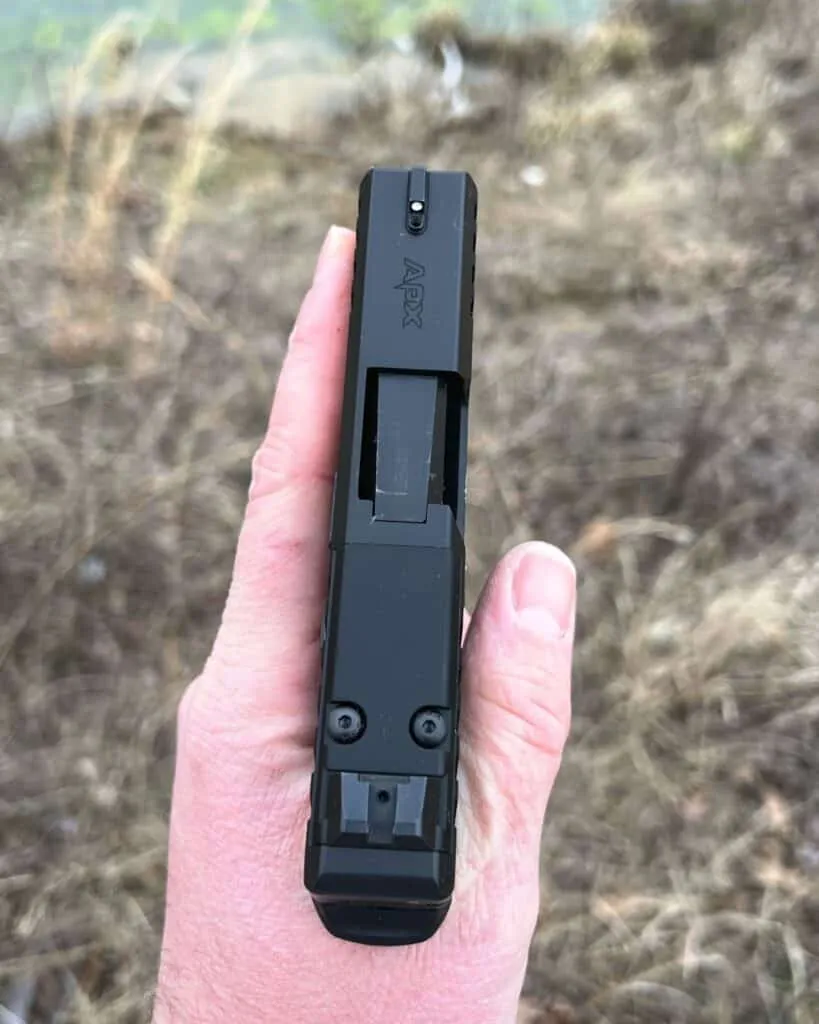 How We Tested
I brought the APX A1 Carry with me to the range a few different times since it takes a while to keep reloading those small six and eight-round magazines.
I kept my shooting distances within 15 yards, as I wouldn't see this gun being ideal for anything out much further than defensive distances.
Ammo Used
Many of my most recent 9mm reviews have been primarily fed by 115-grain Blazer Brass FMJs, but I also always try to put at least a mag or two of defensive rounds through each gun to see how they handle it.
I put some 124-grain Armscor JHPs that went through it just fine. I also shot a handful of 115-grain American Eagle FMJs without an issue.
Score Card
Reliability (9/10)  
I had to knock a point off for that one failure.
Ergonomics (8/10)
It's more comfortable than it looks but still too small for my taste.
Customization (7/10)
No accessory rail limits your light/laser options, but the slide is optic ready, so you're covered there.
Appearance (8/10)
It's an all-black pistol.
Value (8.5/10)
With the price point often under $400 and even $300 once in a while, I would say the value is there.
Accessories
The Cloak Tuck 3.5 IWB Holster by Alien gear is a great option if you carry it for extended periods of time due to its adjustability.
It has adjustable cant, ride height, and retention for maximum user comfort. You can also swap the kydex shell while keeping the neoprene backing so that you don't have to keep adding extra holsters to those you probably already have lying around.
Choose between a 4 MOA or 8 MOA red dot and either way, you'll get an average of two to three years of battery life.
The body is made from aerospace-grade aluminum, and the clear polymer optic is said to withstand ten times greater shock impact than others that use glass optics. I've had one on a different gun for almost a year now and have enjoyed shooting with it quite a bit.
Alternatives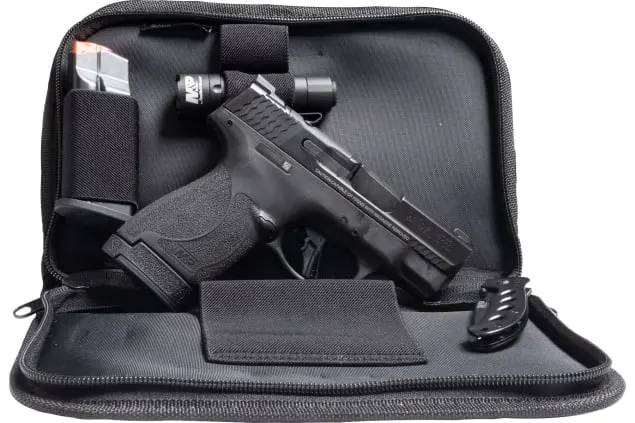 When someone is looking for a micro-compact, the Shield Plus is one of my most frequently recommended.
It's a great balance of size and capacity, where it's very easy to carry, but you still get a 13+1 capacity. It has a nice flat face trigger, is optic-cut from the factory, and comes with night sights depending on the exact model.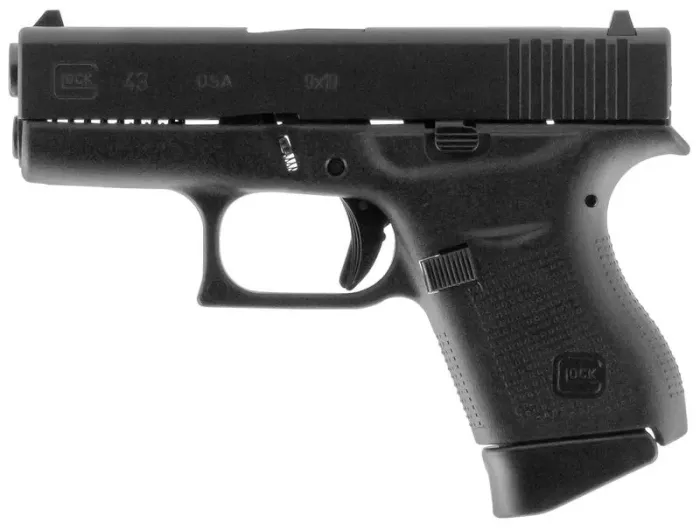 Some people are Glock people…and that's all good!
Often, you'll see guns in this size category being compared to the Glock 43, and for a good reason.
It's reliable, extremely compact, and comes with familiarity to those already on the Glock platform. The downside is that you only get a 6+1 capacity, though.
Conclusion
If you have small to medium hands and are looking for an ultra-discreet carry option, I would say the APX A1 Carry is a solid option to check out.
It functions well, comes with an "extended" magazine, and is ready to accept some of the popular optics out there such as the Shield RMSc.
I even see them drop under $300 sometimes, so keep your eyes peeled if you decide to pick one up and enjoy that extra money for some ammo or accessories.
Explore more