Bergara B-14 HMR Carbon Wilderness Review: Accurate, Adjustable, and Affordable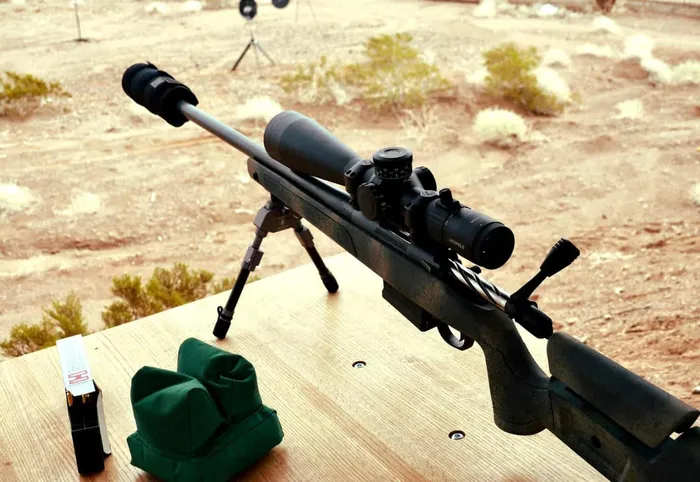 Bergara B-14 HMR Carbon Wilderness Review: Accurate, Adjustable, and Affordable
Introduction
Bergara has long been known for its accurate barrels and, therefore, its extremely accurate rifles, which is why today, we are reviewing the Bergara B-14 HMR Wilderness.
Now with the new CURE Carbon barrels mated with a buttery smooth B-14 action all nestled in a mini-chassis, the B-14 HMR Carbon is ready to hunt and compete at a very attractive price.
Bergara guarantees sub-MOA accuracy with this new platform, and my short time with the rifle at SHOT Show 2023 did not disappoint.
The B-14 HMR Carbon Wilderness weighs in at just 7.5 pounds, with a No. 6 carbon barrel with a Bergara muzzle brake, and can accept 5/8×24 threaded suppressors.
The SHOT Show demo was equipped with a Dead Air Nomad can that made the gun extremely easy to shoot. Finally, the B-14 HMR Carbon Wilderness has a fully adjustable stock that can be adjusted for length of pull as well as the height of the comb.
Time on the guns is brief at SHOT Show Range Day, but at least you get a feel for the platform and its potential. While I did not shoot groups and compare ammo for accuracy with the HMR Wilderness Carbon, I did put rounds downrange at 900 yards.
With perfect elevation dialed into the Leupold Mark 5 HD, 4 of 5 shots landed dead center in the steel plate. The first shot was just off the left edge, not enough hold into the rather substantial wind on Monday.
With the Dead Air Nomad 30 suppressor, I could see all hits with the easy-shooting 6.5 Creedmoor.
All in all, this is a great rifle for the hunter and those wanting to get into the PRS (Precision Rifle Series) game.
Bergara B-14 HMR Carbon Wilderness Review

If you look at all the precision carbon-barreled rifle world offerings, you will immediately see the value of the Bergara B-14 platform.
Bergara produces carbon barrels that will compete with any manufacturer of carbon barrels regarding accuracy and longevity at a price point that allows more shooters to enter the market.
For example, a similar platform from Proof Research lists for $9,300. H-S Precision rifles with similar features will set you back $5,700. The Bergara starts at $1,850! That's a lot of performance and features for the money!
The ideal customer for the Bergara Wilderness Carbon platform is the backcountry hunter who needs precision for long-range, ethical shots on big game.
But this is also a platform for the shooter looking to test and develop their skills in the PRS game. Weighing in at only 7.5 pounds before optics, bipod, and ammo, this gun fills many niches for many rifle shooters.
Certainly, any rifle purchase is a big decision and a sizable investment for many. Consider what the primary role of this new rifle will be; hunting or competing, or both.
Do you need the ability to add a brake or suppressor? Is the adjustable stock a necessity? Is having a lightweight, extremely accurate rifle critical – more so than a heavy rifle?
If you are looking for a new rifle to add to your stable, look no further. The Bergara HMR Wilderness Carbon is worthy of your consideration and your investment.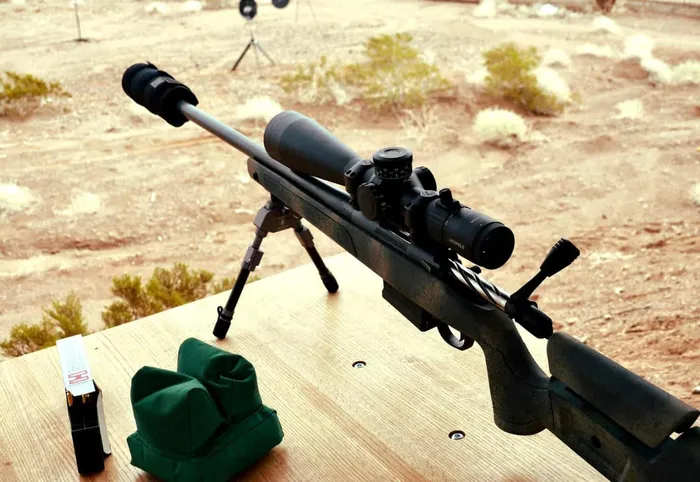 Specifications
| | |
| --- | --- |
| Caliber | .308 Winchester, 6.5 Creedmoor, 6.5 PRC, 300 Win Mag |
| Capacity | 5-round AICS magazine; 3-round 6.5 PRC |
| Weight | 7.5 Pounds |
| Action | Bergara B-14 |
| Barrel | Bergara No. 6 Carbon Barrel available in 20, 22, or 24 inches depending on caliber. 5/8 x 24 threaded Omni muzzle brake. |
| Stock | HMR molded with a mini chassis. Fully adjustable comb and length of pull |
Pros and Cons
Pros
Price Point: Allows entry to the carbon-barreled platform for more shooters
Fully Adjustable Stock: Set up the stock to properly align your eye with your choice of optic and your length of pull
Carbon Fiber Barrel: saves weight and provides for repeatable long-range accuracy
AICS Magazines: provides easy loading and reloads. Compatible with many aftermarket magazines
Cons
Weight: might be a little heavy for a dedicated backcountry hunting rifle
No Optic Mounting Rail: the Remington-type action is known for it stiffness and accuracy, but this gun deserves a rail with some elevation built-in
On The Range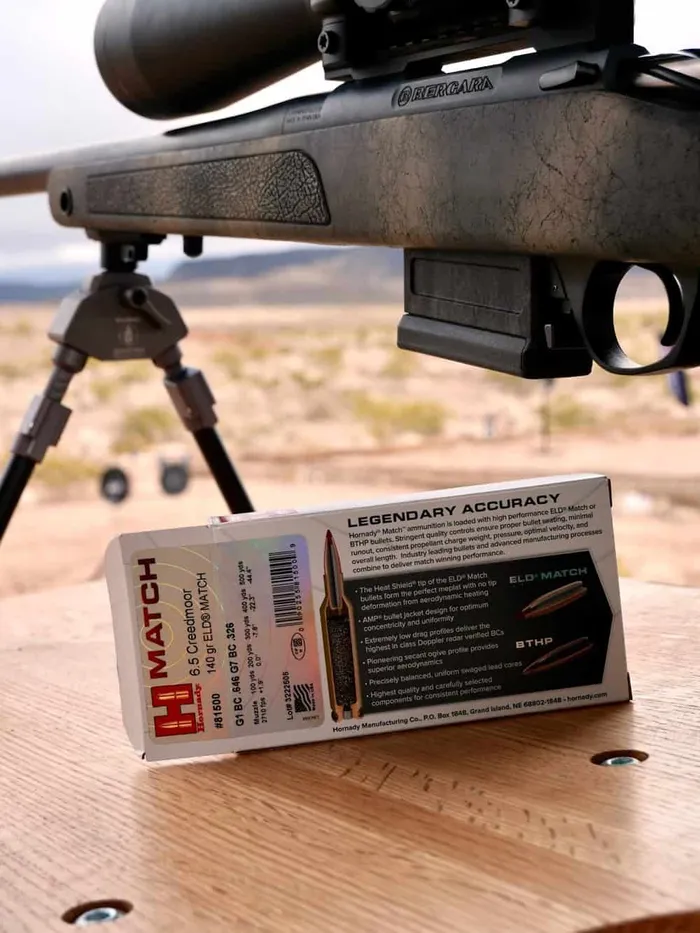 To be fully transparent, I only had a little time with a few shots at SHOT Show. That said, I really liked the rifle.
The fully adjustable stock was easy to fine-tune so I could get a good cheek weld and see clearly through the Leupold MK 5HD scope.
The stock has what Chad Shearer described as a soft-touch finish. It wasn't sticky, but it wasn't slick either. It was comfortable and easy to maintain position with the firing hand, and my head didn't move off the glass during recoil.
The near-vertical pistol grip was very comfortable, making smooth trigger squeezes easy. The push-to-fire safety lever on the right side of the gun was easy to push forward to fire and pull back to engage the safety.
The bolt knob is oversized but not huge. Cycling the action without moving my eye from the scope was easy, and the action is very slick and easy to use. Empty cases ejected easily, and the next round chambered with very little effort.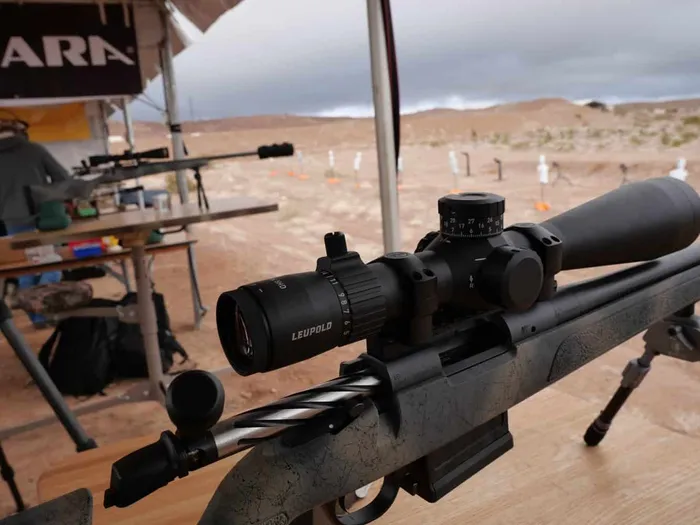 The trigger was awesome! No uptake, no overtravel, and the break was very clean. This trigger is factory set at about 3.7 pounds, but the demo gun was tuned down to 2.8 pounds and made it very easy to send consistent rounds downrange.
As mentioned earlier, I did not have a chance to shoot groups with this rifle in this setting. Bergara guarantees sub-MOA accuracy with this platform. I am sure that with quality factory ammo or tailored handloads, the Bergara B-14 Wilderness Carbon will produce very small groups at 100 yards.
The four rounds I put on steel at 900 yards went into a tight little group not more than six inches, and that was in a steady, full-value wind.
Reliability
The short time I spent with the B-14 was perfect. The stock adjusted easily and maintained the adjustments. The safety functioned properly, and the trigger was a joy.
No issues with feeding, firing, or ejecting were experienced.
The unique structure of the carbon barrel allows heat to bleed off quickly and the rifle to continue to deliver accurate rounds downrange.
Accuracy
As stated earlier, I was very happy with my results with the rifle. My experience with the Hornady ELD Match ammo has always been outstanding. Paired with this rifle, I am absolutely certain you will achieve the sub-MOA guarantee group after group.
It should also be noted that this rifle had a Dead Air Nomad suppressor attached rather than the standard brake. I saw no reduction in accuracy with the can.
Overall Feel
The rifle starts out at 7.5 pounds. For this demo day, it was dressed up with a fairly large Leupold scope and rings, a bipod, and a suppressor. Still, it did not feel overly heavy and balanced well for carry.
The stock provided a sure grip without feeling tacky. The action was smooth and fast, and the trigger was great.
Overall, a great-looking and great-feeling rifle.
Features
AICS Magazines
The AICS (Accuracy International Chassis Magazine) magazine system is a nice touch for a rifle that can fill the role of a long-range hunting rifle and a competition platform.
To be able to quickly load, reload, and have an extra mag available is very handy. The platform also means you can find aftermarket magazines for the rifle much more readily than a proprietary magazine system.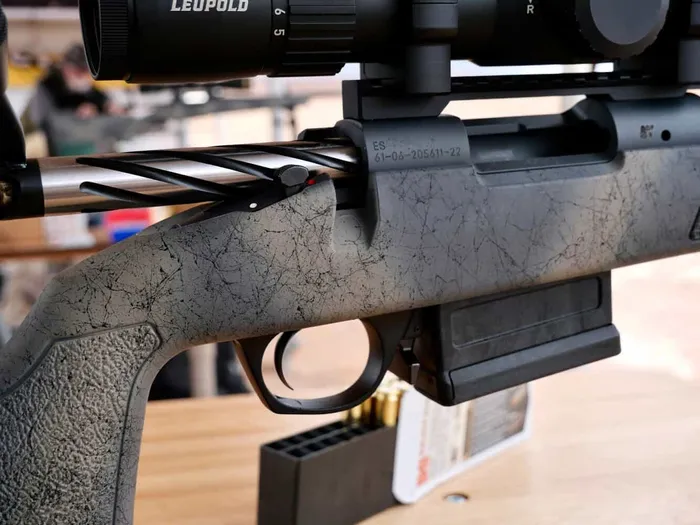 Adjustable Trigger
Being able to tune the trigger to your needs and preferences is a great feature. It is quite simple, and the Owner's Manual has great instructions and graphics showing the procedure.
The trigger is factory set at around 3.7 pounds but can be tuned down to 2.8 pounds or increased to 4.4 pounds if conditions require wearing heavy gloves or an added safety measure is desired.
Fully Adjustable Stock
The HMR fully adjustable stock is a great feature. For smaller shooters being able to shorten the length of pull is very nice.
Likewise, if you are hunting or competing in cold weather and have multiple layers on the stock can be fine-tuned to match your clothing system. The cheekpiece can be raised or lowered with a single adjustment knob.
The stock also features sling swivel studs and standard quick-release mounts for push-button sling swivels.
Accessories
Where to start? There are so many great optics out there. This is really a personal choice depending on the primary role of the rifle.
However, the new Burris Veracity Precision Hunter was getting a lot of attention at SHOT Show. At a very competitive price point and some super cool features, I am thinking about putting one of these on my backcountry rifle.
For a backcountry hunting rig or competition, a compact bipod is very handy.
The industry standard is Harris, and it would be a worthy addition to the Bergara B-14 Wilderness Rifle.
The Bergara B-14, with good rings, is a sturdy platform to mount your new optic.
However, if one is inclined to stretch this rifle's range and capability, a Picatinny rail with a little extra MOA built-in allows greater elevation adjustment in your scope before needing to use the reticle hold-over marks.
Warne makes a great weight-saving option for the mountain hunter.
Score Card
Reliability (10/10)  
Again, I only spent a short time with this rifle but had no issues with loading, firing, extraction, or with the safety or trigger.
Ergonomics (10/10)
With a fully adjustable stock and the Soft-Touch finish, the rifle handled very well.  All controls were easy to access and use while keeping my cheek on the stock and my eye aligned with the scope and on target..
Customization (9/10)
There isn't much that needs to be done with this rifle.  With the addition of a Picatinny rail with some built-in elevation, a bipod, and a muzzle device, this rifle is good to go for any situation you might find yourself in.
Appearance (10/10)
The Sniper Grey Cerakote action, fluted bolt, and hand-painted camouflage stock make for a very nice-looking rifle.
Value (10/10)
With an MSRP of $1850, the Bergara B-14 HMR Carbon Wilderness is a fantastic value and not out of reach for many shooters.
Alternatives

This rifle is a dedicated lightweight hunting rifle.
While it does not have the stock adjustability of the Bergara B-14, it does come in at only 6.3 pounds and comes with a sub-MOA accuracy guarantee. It is available in 19 different chamberings and sports a Christensen Arms carbon barrel.
We took the Christensen Ridgeline FFT for a test if you want to read more about it.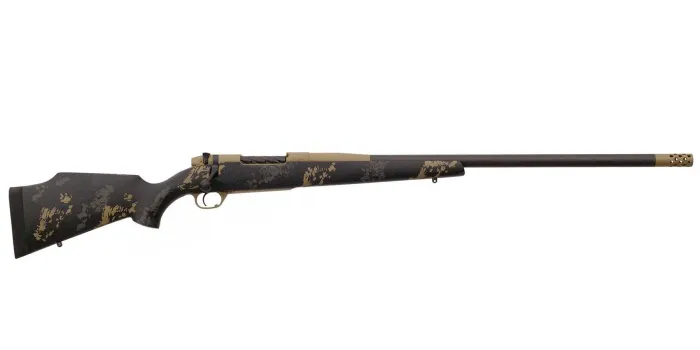 Weatherby Mark V rifles are known for their good looks, strong actions, and performance in the game fields worldwide.
The new Carbonmark Elite weighs in at 7.1 pounds and features a carbon stock with an adjustable comb and vertical pistol grip.
The carbon barrel is guaranteed to produce sub-MOA groups and features standard 5/8 x 24 threads to accept the muzzle device of your choice.

Proof Research is known for its accurate barrels. The Elevation MTR is built for the mountain hunter and the competitor. With a Proof carbon fiber barrel and composite stock, the Elevation MTR weighs around 6 pounds 7 ounces and has a sub-MOA accuracy guarantee.
FAQ's
How accurate is the Bergara B-14 HMR Rifle?
The Bergara B-14 HMR Wilderness Carbon comes with a sub-MOA guarantee. From what I experienced at 900 yards, the B-14 is fully capable of MOA accuracy with quality factory ammunition.
What is the range of a Bergara B-14 HMR Rifle?
This question is very subjective. The effective range of any rifle depends on the cartridge it is chambered in, the quality of the ammunition, the optic system being used, and the shooter behind the gun.
Can the B-14 make hits on steel at 1000 yards? Yes. Can the rifle be used to take big game at responsible ranges? Yes.
Is the Bergara B-14 HMR series any good?
Without doubt, these are fine rifles.
Bergara is known for producing some of the best barrels in the world. Their world-class machining capability, expert craftsmen and women, and quality control at every step ensure the rifle you buy will be of the best quality, look good, and shoot even better.
Final Thoughts
After handling the rifle at the range and seeing the performance in less-than-optimal conditions, I can say that I am impressed with these new rifles.
For the shooter who is shopping for a hunting rifle capable of stretching the range a bit if needed, or the shooter who wants to dip their toes in the world of PRS by mortgaging the house, the Bergara B-14 HMR Wilderness Carbon should be near the top of their list.
With an accuracy guarantee, a fully adjustable stock, AICS-style magazines, carbon barrel, and a superb trigger, today's discerning rifle shooter is getting a very capable rifle platform at a very competitive price.
If you have a B-14 or have had the opportunity to shoot one, let us know about your experiences below.
Explore more