Best 10mm Pistols In 2023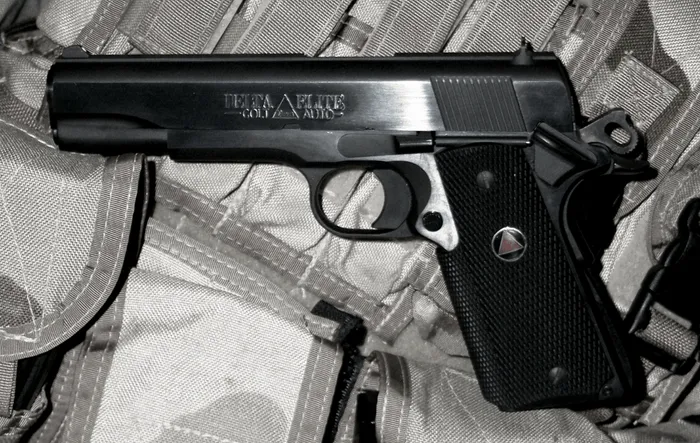 Best 10mm Pistols In 2023
The world is dominated by 9mm pistols, which is why many people underestimate the 10mm. 10mm pistols, however, are designed to deliver superior external ballistics, an extended range, and more precision. Behold the best 10mm pistols – the ultimate semi-automatic cartridge.
Best 10mm Pistols
Knowing what you're looking for in a 10mm pistol can help you make your decision, but this information alone is probably not enough. I remember when I was looking for my ideal 10mm. I had the information, but I didn't have the experience. So, I went out and tried many of them.
Hoping that it will help you find the perfect gun for you; I've rounded up five of my top 10mm pistol choices. I've tried them all and each one is special in its own way.
The Glock G20 was first released back in 1990. After three decades, this model remains very popular. Of course, it has since undergone different iterations and changes.
This Glock is a light pistol. When empty it's only 1.6lbs. This has left room for a double-stack mag (where bullets are stacked in two rows for a higher capacity). Even when loaded, with a double-stack mag and 15+1 bullets (15 in the mag, one in the chamber), it weighs less than 2.5 lbs. There are many 10mm pistols that weigh this much empty.
The G20 isn't the biggest gun you'll ever see. However, it's not built for concealed carry either. You can find an IWB (inside waistband) holster that fits, but it's not going to be comfortable, and the bulge may be apparent. But, then again, the G20 was never built with concealed carry in mind.
In build, the G20 is largely plastic. This doesn't mean that it isn't resilient, though. Glock sure knows its plastic, apparently, as this model will function and look perfectly even after years of active use.
In itself, the G20 is very accurate. Add a red-dot sight and you just might be able to hit your target at 100 yards.
The factory trigger isn't bad, but it won't blow your mind either. It has a 5lb pull, which is a bit too much. Most likely, you'll want to replace it with something lighter.
Pros
Lightweight
Double-stack mag
Very accurate
Comfortable
Cons
Not the best factory trigger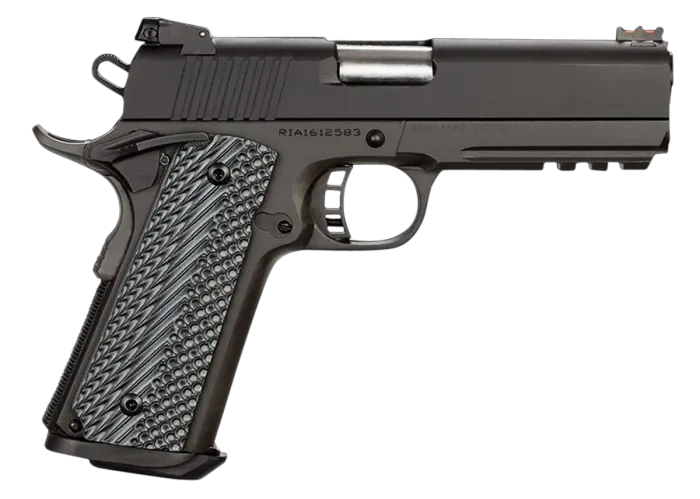 At 2.5 lbs., the Ultra MS isn't the lightest gun I've ever tried. However, when loaded, the weight only goes up to 2.73 lbs. This is due to the polymer 8-round mag (7+1) that comes with it. The Ultra MS isn't really a battlefield fit, but for self-protection and concealed carry purposes, it is more than enough.
The Ultra MS isn't custom-built or cutting-edge. It's an everyman's gun and that's all it strives for. This, however, is not a small feat. You have to have a reliable weapon that's not going to choke up when you need it. The Rock Ultra MS has that performance and reliability.
For a reasonable price, what you get is more than bang for the buck. Although it's widely regarded as a midsize weapon (hence the "MS" in its name), the Ultra MS is a relatively small weapon that's easily concealed inside an IWB holster.
Don't let its size fool you, though. It's still a 10mm gun that packs a punch. It's very accurate and convenient to use, as the recoil remains reasonable. Finally, the trigger pull is adjustable from four to six pounds. You can swap the trigger, but the stock one is decent enough.
Pros
Fairly lightweight
Compact
Inexpensive
Accurate
Cons
7+1 single-stack magazine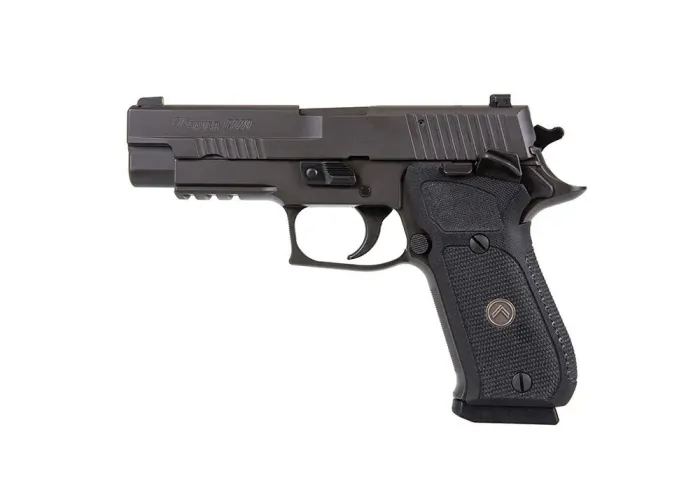 Quality, reliability, and accuracy are the buzzwords going around the SIG Sauer P220 Centerfire. Sure, this isn't an American brand, but we all know how good the Germans are with their build quality.
The P220 is made of stainless steel, which should add up in weight, but somehow it doesn't. The P220 sits at a reasonable 2.4 lbs.
SIG Sauer P220 Centerfire isn't the shortest 10mm pistol on the market. This, however, isn't necessarily a bad thing, as the extra barrel length helps this gun to handle the 10mm caliber with better aplomb. That plus the barrel weight helps to lower the recoil.
The gun also features an accessory rail that is a decent platform for a variety of upgrades.
A very cool thing about the P220 is the TRUGLO TFO front sight. The front sight is luminescent so firing in dim conditions has never been easier. That's what you get for going with a German pistol.
This SIG will work for self-protection and may be one of the best 10mm pistols for medium-sized game hunting (deer, boar).
Oh, and don't expect this one to work well as a concealed carry – it simply isn't intended for that.
Pros
TRUGLO TFO Front Sight
Reliable
Accurate
Low recoil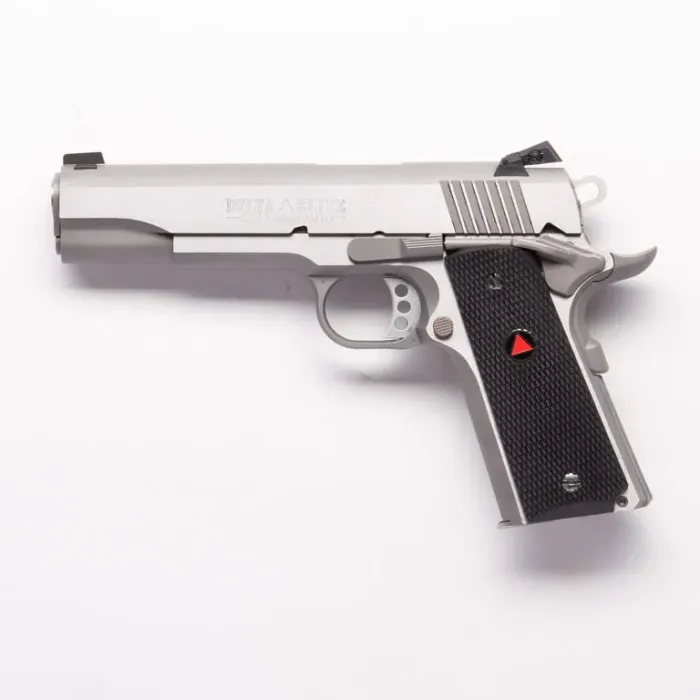 Expect a perfect build and feel from the Colt Delta Elite. This pistol simply feels tough and solid. Although there is a lot of stainless steel in the build, the gun is fairly light at 2.3 lbs.
Still, despite its reasonable weight, the Delta Elite isn't a gun that's intended for concealed carry. There are many matching OWB (outside the waistband) holsters, but don't expect you'll be able to conceal this weapon. But many people don't have any problems carrying it out in the open, as long as it's allowed in the state.
The composite grip ensures that the gun will remain exactly where you want it in your hand. It also ensures maximum comfort when using it and a solid grip.
The trigger isn't any technological marvel, but it works. If you want a trigger that caters to your needs and preferences perfectly, you're going to have to get an upgrade.
The Colt Delta Elite isn't the cheapest 10mm pistol either. It's not exorbitant but don't expect to find it new for less than $1,000.
Pros
Durable
Accurate
Lightweight
Good grip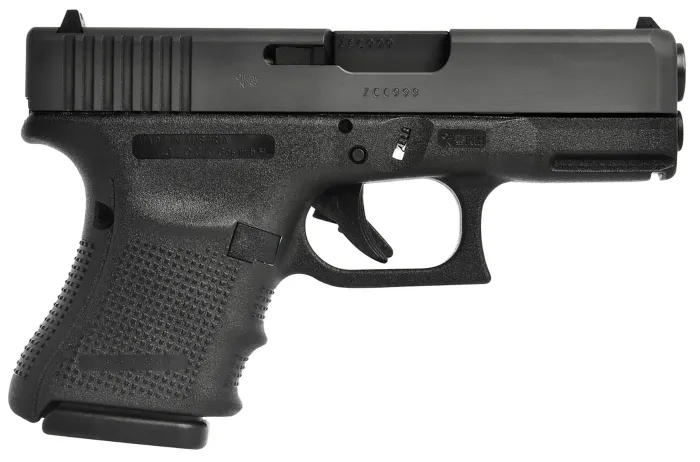 When you look at the size of the Glock 29, the last thing that comes to mind is "10mm caliber." But that's exactly what it is. This Glock might be of a diminutive stature, it might be even light and cute, but it has the punch.
The Glock 29 sits at staggeringly low 1.6 lbs. Yes, this is ridiculously light for a 10mm. Loaded, the weight goes up to 2 lbs., but that's really nothing. In addition, the standard mag capacity is 10+1, which is another thing you'd never have guessed by looking at the weapon.
Concealed carry is definitely possible with this 10mm pistol. With an IWB holster, a T-shirt would cover the weapon. Even if you go with an OWB holster, you still might be able to conceal it with relative ease.
Now, the only real downside to this pistol is that it might feel a tad uncomfortable for people with large hands. With that said, there isn't a small firearm in the world that will fit a big hand perfectly. An above-average to average-size hand will find this pistol very comfortable.
Although its barrel is somewhat short, the Glock 29 is pretty accurate. Add in the durability and reliability and you can have yourself one mean gun. Many celebrate the Glock 29 as the best 10mm pistol in existence.
Pros
Extremely light 10mm
Ideal for concealed carry
Durable
Reliable in the field
Accurate
Cons
Not as good for people with large hands
Looking for the Perfect Weapon
Although the difference is a measly millimeter, 10mm pistols pack a lot more punch than the 9mm. Building on that, these pistols are also highly versatile. You need to be aware of a couple of things first when comparing the best 10mm pistol from different manufacturers.
For a start, don't expect a far superior weapon to the 9mm. A 10mm handgun will bring a lot of benefits. However, you should expect more recoil. It won't explode in your hand, but an amount of extra recoil is to be expected.
What's cool about 10mm pistols is that they're excellent practice weapons – learn how to tame a 10mm and a 9mm will be very easy to master.
You should also note that the 10mm pistol has been built to outperform any other semi-automatic handgun on the market and in every way possible.
Here's a list of things to keep an eye out for when selecting the best 10mm pistol. Keep in mind that you need to know what you're looking for.
Accuracy
Yes, 10mm pistols have inherent accuracy. In general, this accuracy is a significant improvement over a 9mm or smaller-caliber pistol. Not every 10mm will outperform the best 9mm model, but only as a rule of thumb, and it can be highly dependent on the operator.
Also, 10mm handguns have a flat trajectory, which is the basis of the enhanced accuracy.
Then again, the kickback is definitely higher with 10mm weapons. Realigning the target for repeated shots will take more time. But these are the basics of recoil.
Build
With firearms, it's critical to purchase a well-built model. No legal firearm owner is going to pick affordability over reliability (that may be different with illegal firearm owners).
Stainless steel and titanium are always a good choice, but there are other materials that work.
Another important factor is the grip. If you have sweaty palms or find yourself in terrible weather conditions, you don't want your pistol to slip out of your grip.
Dimensions
Some pistols are large, and others are compact. The larger pistols usually pack more punch. This is important depending on what you want to use the pistol for. If you want to keep it at home for protection and take it to the range only occasionally, the size is fairly irrelevant.
However, you may want to use it as a concealed carry or everyday carry (EDC). In that case, you may want to go with a more reasonable size.
Weight
Although larger guns tend to be heavier, there are exceptions. The weight is important for more than one reason. First, it's going to make a difference as a concealed carry. The second is that the gun's weight influences its accuracy. The heavier the gun, the smaller the recoil. However, heavy weapons will tire you out and that's going to affect your accuracy. The point is that there are trade-offs and you may have to try them out.
Barrel Length
The longer the barrel, the better it's going to handle the 10mm rounds. Longer barrels give the gun more control over the bullet, boosting its accuracy, range, and stopping power. However, longer barrels contribute to the gun's weight, so you have to take that into account as well.
The Trigger
Typically, the pull of a trigger is measured in pounds (lbs.). Some people prefer it to be heavier. As a rule of thumb, a pull of between 3 and 4 lbs. is ideal for most shooters. But that's not all. It's important that a pistol doesn't have too much creep. That's the distance that the trigger travels without activating the firing mechanism.
Finally, the trigger shape should be ergonomic and convenient. An odd trigger shape might make the weapon feel awkward. However, this varies from person to person – some people may prefer a trigger that's straight as an arrow.
Conclusion 
Every pistol on this list has its perks and benefits. However, the Glock G29 is the definitive winner in my book. It's even lighter and more compact than the Glock G20, it sports a bigger mag than the Rock Ultra MS, and it's much cheaper, yet it's more reliable than both the SIG Sauer P220 Centerfire and the Colt Delta Elite.
The Glock G29 may be ideal for concealed carry, but it won't let you down if you want to have a gun in your bedside drawer for personal protection. It's a light 10mm pistol and compact too. It's affordable, one of the most accurate, and durable. The Glock G29 might just be the best 10mm pistol out there.
Explore more