The 8 Best .270 Rifles To Buy [2023]

The 8 Best .270 Rifles To Buy [2023]
Cover Photo Credit – I, Arthurrh
If you're looking for a hunting rifle for deer and elk, there's no beating the iconic .270 Winchester caliber.
Today, I'll showcase the best .270 rifles of 2021 and their features, and we'll also talk about the .270 Winchester caliber and discuss important points why it remains a top-choice caliber among hunters.
The .270 rifles I've rounded up are all kinds of all-purpose rifles, high-end, or budget options, but best believe you won't go wrong with either of them. So, we'll discuss what they offer and how they may suit your style.
First, let's highlight some details about the .270 caliber.
Why the .270 Winchester Caliber?
From a hunter's perspective, the reason why the .270 Winchester is popular for intermediate size game is that it's a well-balanced cartridge when recoil, accuracy, bullet drop, velocity, muzzle energy, windage, and ammo price is in question.
With the .270 Winchester, you get pure ballistic harmony.
Here's why it's so popular among deer hunters:
Great price value in comparison to other cartridges
Flat shooting at 300-400 yards
Mild recoil and lower pressure
Reliable and accurate with 1 MOA (minute of angle) out of most popular rifles
Enough to take down 90% of all US-territory game
You can find it in literally any gun shop you step foot in
The deer hunting champion of calibers has been around since 1925, first launched by Winchester specifically for the Winchester Model 54 bolt action rifle, and popularized as a household name by the famous hunter, outdoorsman, and writer, Jack O'Connor.
He was a staunch proponent and you can say that he made the .270 cartridge big.
Much like the popular European 7×64 caliber, the .270 Winchester is a non-military caliber. Because of its smaller diameter, the bullet has better penetration, ballistic coefficient or wind shedding, optimum velocity and energy, and much less recoil than the .30-06 and the .308.
Originally, Winchester Repeating Arms Company's first conception and idea for the cartridge was to neck down the once-famous .30-03 parent caliber, to a smaller diameter to cater to the ballistics suitable for deer hunting (.277-inch, in contrast to the .308-inch diameter of the .30-06).
What was the idea? Simple: higher velocity and fewer production costs.
Check out our best .30-06 rifles guide if you're keen on this caliber.
Lower Muzzle Energy – Higher Velocity
Simply put, in comparison to the larger .30-06, the .270 has lower muzzle energy but higher velocity.
During its first years, the .270 Winchester with a 130 grain bullet broke new grounds for hunters when it surpassed a measured muzzle velocity of 3,000 ft/s with a bullet drop rate of 18 inches at 400 yards. This was a huge deal at the time of the 1920s.
It was an instant hit—a smaller and faster bullet, cheap brass materials, and excellent commercial value at that time. Things become clear how it quickly gained momentum (pun!) among hunters, and it still remains strong.
If you're going fox or coyote hunting, there's a little debate that's been going on forever: the .22-250 Remington vs. .243 Winchester conundrum.
Comparing Deer Hunting Cartridges
Of course, you can take down deer with a .30-06 with no problems, but there's a higher chance of ruining the meat with this powerful caliber. That's why the .270 and .308 are for hunting deer that's around 150 to 600 pounds in weight.
With the .270 Winchester, you don't need anything more or anything less if you're tracking deer, elk, whitetail, moose, ram, pronghorn, or even wapiti.
Technically speaking, the good folks of the Great Depression era wanted a bullet that delivered dinner via 3,000-feet-per-second muzzle velocity. There's no point in hunting scrawny fawns with a bigger bullet.
The .308 Winchester and—let's say—the 6.5 Creedmoor caliber are no doubt great contenders for hunting elk and deer as well. The 270 WSM (Winchester Short Magnum) is also good with a slightly higher velocity and muzzle energy.
If you want to take down game heavier than 600 pounds, a 30-06, 6.5 Creedmoor, or a .308 rifle is slightly better favored.
I figure that the .308 Winchester is favored because it has a much higher velocity when hunting deer. Keep in mind that the stopping power depends on bullet speed rather than weight, so keep an eye on those ammo boxes and grain sizes.
We'll leave cartridges and physics for another time. Let's browse some rifles.
Best .270 Rifles

Pros
3-position thumb safety
Compact and lightweight design
Free float barrel
Large claw, mauser-type extractor
High-quality fit, furniture, and finish
Reliable bolt action
Unmatched accuracy
Classic hardwood stock feel
Cons
Safety is a tad noisy
Might be expensive for some
I admit, I'm pretty biased about the Winchester Model 70 as a top pick (all thanks to Jack O'Connor, may he rest in peace). But, hear me out; I've heard nothing but praise and haven't heard or seen a single bad comment about this rifle.
It's a reliable and accurate deer hunting boomstick that's priced in the mid-range.
It has a 3-position thumb safety, the furniture feels nice, it's lightweight with its 7 pounds, and the traditional aesthetics are practically the cherry on top. Cartridge extraction is smooth and reliable with its mauser-type claw extractor.
In combination with a .270 cartridge, the recoil is perfectly manageable for both rookies and veterans, so this is one of the reasons why it's my top-choice recommendation for anyone willing to shoot elk in the middle of the forest. You can always grab some recoil pads if you want.
The trigger break is clean and the traditional hardwood stock feels good. Just find some proper ammo, set up some cool optics, and you're all set.
The only downside of the three-piece thumb safety is that it's a bit too noisy for the forest. Other than that, this is a rifle to pass down to future generations.
If you're willing to spend more dollars on a Winchester brand, check out their highly versatile Winchester Model 70 Super Grade version with a 24-inch barrel and steel integral sling swivel studs. The difference is in the decorative steel crossbolt, recessed target crown, and shadowline cheekpiece eye relief which makes it easy to align your eye with the scope.
You can also check out the new Winchester XPR if you want a budget option, but with a lower round capacity and Winchester's famous MOA trigger system.

Pros
Lightweight
Ambidextrous safety
2-piece picatinny rail
Integrated swivel mount
Progressive comfort stock feels great
Leave it to the Italians to make every design extra fancy. Here's the Benelli Lupo, the Ferrari of bolt action rifles.
Benelli first introduced this very comfortable bolt action rifle in 2020. Lupo stands for 'wolf', but we're going for deer with this 7-pound lightweight .270 rifle with an adjustable trigger and 22-inch threaded Crio-style barrel.
It has an integrated swivel mount, progressive comfort system for recoil reduction, high-quality frame, adjustable shims, and adjustable synthetic stock that feels just like it should. You can adjust the stock for length of pull, drop, cast, and cheek weld if you think the recoil is too much.
What you get is a three-shot sub-MOA shooting, and that's a Benelli guarantee. Additionally, the alloy chassis holds the action and barrel firmly, and I personally love the smooth 5-round detachable box-style magazine.
This rifle is rather expensive, but the features are all there. You can find it in .300 Winchester, .30-06 Springfield, and .270 Winchester calibers.

Pros
One of the most lightweight rifles on the list
Crisp 3 to 5-pound adjustable trigger pull
Smooth 60-degree bolt lift
Magazine is easy to remove
Bolt unlock button
Comfortable glass recoil pad
Great value
Cons
Mediocre finish coating quality
Here's Browning with their 6.5-pound X-Bolt Composite Stalker .270 rifle.
I don't know how they managed to keep the weight down; it really makes it feel like a high-end deer rifle. The manufacturer is well-known for its top-tier deer rifles, and the X-Bolt series proves it.
Browning went for a long-range accuracy rifle with smooth cycling, solid recoil, and composite stock with glass bedding with the X-Bolt Composite Stalker. The short 60-degree bolt lift and detachable magazine allow quick and easy cycling and reloading.
You can easily mount a scope with the drilled and tapped receiver, whereas the finish is anti-glare so as not to spook any game. Though the finish could use a little more work, it's still a solid hunting rifle either way.
What I like most about this rifle are the textured grip panels that work well in the rain and the 22-inch barrel with a 1:10 twist rate. It's blued, it's crowned, and it's free-floating which offers solid precision. Combine that with the smooth adjustable trigger, you can be sure you'll get a high-quality hunting experience with the .270 cartridge.

Pros
Solid durability
Smooth bolt action
Accurate at 500 yards with 130 grain rounds
Cons
Heavy in comparison to the other rifles (7.5 pounds)
Installing a scope mount can be difficult
The Remington Model 700 CDL is a standard of centerfire rifles. This model has seen action in the woods as well as the warzone, used as one of the most versatile sniper rifles.
It's one of the most accurate rifles on this list, all thanks to the X-Mark Pro trigger system.
It has a recessed bolt inside the counter-bored breach of the carbon steel 24-inch barrel, solid steel-machined receiver for sturdiness, and its cylindrical design offers comfortable bedding for the stock. This is why it feels so easy and offers better accuracy and shot placement.
With a 7.5-pound weight, it's pretty heavy, and there have been reports that scopes are difficult to install on this rifle, but the walnut stock surely looks good, doesn't it?
You can also check out the Remington Model 700 SPS if you're into camo designs. This one is slightly lighter and has a cushioned SuperCell™ recoil pad.

Pros
Comes with a Vortex Crossfire II 3-9x40mm scope
Reliable spiral-fluted bolt action mechanism
Adjustable trigger
Available in many other caliber options
Lots of aftermarket options
This list isn't complete without Mossberg.
Here's the Patriot with a synthetic build and a Vortex Crossfire II 3-9x40mm scope.
It's 42 inches long, has a 22-inch fluted barrel with a 1:10 twist rate, weighs 7.5 pounds, has a 5+1 capacity, detachable box magazine, a synthetic design with a blued finish, and a very low price. Pretty standard stuff, right?
But, most people overlook that the Patriot line of rifles has a top-of-the-line spiral-fluted bolt action mechanism and a user-adjustable trigger for maximum efficiency.
The Patriot comes with a Vortex Crossfire II 3-9x40mm scope with a dead-hold BDC reticle which is good for hunting at varying ranges. With the proper ammo and shot placement, the Patriot can take down deer with no problem at 400 yards.
What's more, this model is available in different calibers from .22-250 Remington, .350 Legend, .450 Bushmaster, the brand new 6.5 PRC, and the .375 Ruger.
If you want a more traditional feel, get yourself a Patriot Walnut model.
Honorable Mentions
Here are some really cool rifles that are either difficult to find, or didn't quite make the cut. This doesn't mean I won't recommend them.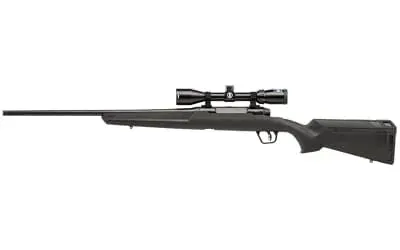 Pros
Smooth, adjustable trigger
Comes with a reliable Bushnell scope
Detachable magazine
Stainless steel barrel
Comfortable black synthetic stock
Cons
Adjusting the scope can be difficult
Heavy
Do you want some scopes with that order? Here's Savage Arms with their Axis II XP rifle.
This is a popular one and it's pretty trustworthy with the .270 crowd. It's suitable for those of you who like to do on-the-fly adjustments. It weighs around 7.5 pounds with the scope.
What's best about the Axis is that it comes with a high-quality Bushnell Banner 3-9x40mm Scope that's perfect for the 300 to 500-yard range. Additionally, it works great in low-light conditions and it's windage- adjustable, though it's slightly stiff.
It has a very comfy matte black synthetic stock and the magazine is detachable. The rifle has an adjustable Savage Arms AccuTrigger, and if it's gritty for some, it's pretty easy to adjust.
This 22-inch stainless steel barrel is easy to clean and has a 1:10 twist rate.
This one is worth every penny, not just because of the free Bushnell scopes. It's a literal bang for your buck (the pun is real).
The Savage Arms 110 Storm Bolt Action Rifle is more costly, but they have models for left-handed hunters. The soft grip fore-end and pistol grip surfaces are what sell it.

Pros
It's a lever-action rifle!
Fast follow-up shots
High-quality finish and build
Lightweight
1-MOA guarantee
Cons
Lever action might not be for everyone
Hey kids, wanna see some lever action? Of course you do.
Here's another Browning, the BLR Lightweight lever-action rifle for those of you who like to keep it classy or if you have too many bolt-action rifles (if that's even possible). You'd be surprised what this rifle offers when it comes to deer hunting.
It's a 22-inch barrel bolt-action rifle with a 1:10 twist rate and a drilled and tapped receiver for scope mounting.
But what's interesting is that even though it's a bolt-action rifle, it's still a 1-MOA rifle that shoots straight and feels great. The polished blued finish, traditional walnut stock and forend, and comfy polymer recoil pad give you an edge in follow-up shots if you ever come across a situation that needs 'em.
Despite the different mechanisms, it's a great 7.2-pound lightweight option with excellent reliability and ergonomics. This is for those of you who like to relive the frontier days, minus the bank robbing.

Pros
24-inch rifle for extra muzzle velocity
Great value
Smooth magazine removal
Drilled and tapped receiver
Built and manufactured in Spain, the Bergara B-14 Hunter with a synthetic, glass-fiber polymer stock and matte blued finish is on the wishlist of many hunters who are looking for something exotic.
Everything about this rifle is smooth. The magazine removal, the action with a coned bolt nose, a breech that offers smooth action and smooth feeding, and—of course—the sliding plate extractor that makes things easier when cycling and ejecting.
It also has a drilled and tapped receiver for mounting optics.
The 24-inch 4140 Chromoly steel barrel is finished in matte blue and gives an edge in precision, muzzle velocity, and long-range hunting, but it's also available in 22-inch (short action).
The molded synthetic glass-fiber polymer stock is bedded with integral pillars for comfort and ease of operation. It's one of the most secure and stable bedding that money can buy, and the Bergara molding process with steel pillars ensures this.
The green color with tan and black spots is perfect for woodland hunting, and it almost feels like camo. The SoftTouch coating looks great too, and won't mind a little rain, either.
If you can find this beauty, grab it.
Buyer's Guide for the Best .270 Hunting Rifle
You're obviously hunting medium-size game when looking for a .270 Winchester rifle. So, it's pretty straightforward, right? Just pick a decently priced one and call it a day.
But, there are so many great options that even I had a tough time cramming all the good rifles while leaving out some that were—in all honesty—awesome rifles with superb reliability.
There are so many interesting brands and models on the market today. I can completely understand if you have a tough time choosing.
Just follow these criteria and you'll be fine.
Price (and Reliability)
While your budget plays a big role in choosing your .270, keep in mind that (unless you're hard-pressed to do so) you shouldn't always sacrifice quality.
The most important part is trying it before you buy it; get to know how the rifle feels in your hand, check the trigger, see if the safeties, optics, and bolt suit your style, and only then decide on your purchase.
Saving a few bucks and making compromises in these aspects is not a very wise decision. Saving money on optics is one thing, but reliability is ultimately the more important factor.
Polymer or Wooden Stock
There are two common types of materials that crowd the market for hunting rifles: polymer, as one of the most common buttstock materials, and wood, the more aesthetically pleasing counterpart.
Polymer composite stocks are lightweight and very durable. They can take a beating, withstand shock, and have no problem with harsh weather conditions.
Wooden stocks have a different feel, and let's be honest, that hardwood walnut is pleasing to the eye. However, they require a lot more maintenance if you want to keep that nice sheen and shape. I recommend it to those of you who find joy in regularly cleaning your rifle.
Here are our Gunmade.com picks for best gun cleaning kits and best gun oils, CLPs, and solvents, if this is your thing.
Additionally, rifles like the Browning X-Bolt Composite Stalker have a glass-bedded stock which helps with recoil and weight, but there really isn't much of a difference from the other two.
Barrel Length, Sub-MOA Guarantees, and Twist Rate
The .270 Winchester's recommended target range is from 100 to 500 yards. The overall accuracy depends on the length of the barrel, and both the 22-inch and 24-inch barrels work just fine.
It's also effective up to 1,000 yards if you consider the bullet weight and drop rate in your shot placement. There are rumors that some hunters have been able to surgically take down buck at 900 yards, and it's really not that unbelievable when you consider the 3,000 ft/s muzzle velocity.
I recommend you go for rifles that have a 1:10 or 1:9 twist rate if you're willing to buy 90 grain or 150 grain bullets. For heavier loads, go for the 1:8 twist.
Additionally, you've probably heard about the sub-MOA (minutes of angle) guarantee.
Some manufacturers guarantee you that their rifle has exceptional accuracy. The term 'sub-MOA' means that a rifle's accuracy will hit a group of three to five shots that are no less than 1 inch apart from the two last points at 100 yards.
If a rifle has a sub-MOA guarantee, grab it.
Overall Weight
Typically, a .270 Win rifle weighs from 6.3 to 7.5 pounds. But, this entirely depends on your preference.
Heftier rifles withstand more shock and kick less, and this also affects how you shoot.
There's not much science behind it, but I recommend you take the middle road and pick a 7-pound rifle.
Mounting Optics
Finally, an important factor to consider is optics and how easy it is to adjust and mount them.
Look for rifles with drilled and tapped receivers if you're looking for sturdy mounting. The Savage Arms Axis II XP is already mounted with a high-quality Bushnell scope, and you can find pretty good deals with this combo.
Vortex Optics have the Viper HS-T Second Focal Plane Riflescope if you're hunting within the 1,000-yard range. Additionally, a good Leupold scope like the VX-6 7-42X56 (34mm) Side Focus CDS Target TMOA Plus Riflescope does a pretty good job within this range as well.
Check out our rifle scope guide for more options.
FAQs
Here are some frequently asked questions about the .270 Winchester rifles.
Is the .270 Rifle Cartridge Suitable for Beginner Hunters?
With the manageable recoil, cheap ammo price, excellent velocity, and bullet drop rate, I'm pretty sure that a .270 Winchester rifle is definitely a great place to start if you're a rookie deer hunter.
How Long Is the Barrel of a .270 Rifle?
Most rifles have 20 to 24-inch barrels; you can also find a lot of 22-inchers.
The overall length of the rifle tends to be around 40 inches.
How Far Can a .270 Rifle Shoot?
The .270 Winchester rifle shoots like a breeze between the 200 to 500-yard range. It retains around 900 fpe (foot-pounds of energy) at 500 yards, while 100 fpe is enough to kill a deer with proper shot placement.
From a hunter's perspective, it depends on your skill.
How Much Does a .270 Drop at 100 Yards?
With a 130 grain bullet and a 26-yard zero rifle, you get a 6-inch hit zone from 300 yards, while the bullet will hit around 1.5 inches high at 100 yards. Once again, it mostly depends on the bullets and windage, but there are lots of other factors too if we're splitting hairs.
Does a .270 Shoot Flat?
One thing is for certain, the .270 has a flatter trajectory than the .30-06 if you have the rifle zeroed at 100 yards.
A 130 grain bullet with 3,000 fps muzzle velocity drops around 3 inches at 200 yards, 11.5 inches at 300, and 50 inches at 500 yards.
How Precise Is a .270 rifle?
A .270 rifle works well within the 500-yard range, but some skilled hunters can reach 1,000-yard targets with bullets they're comfortable with.
The average ballistic coefficient of a .270 is between 0.337 to 0.508 and has an average supersonic reach of 1,100 yards.
Is a .270 More Powerful Than a 308?
No. A .270 isn't more powerful than the .308 because the .270 is a lighter bullet and the .308 delivers more energy.
However, the .270 shoots a flatter trajectory, despite the 200 fpe difference at 100 yards.
Conclusion
Almost 80% of buying a bolt action rifle in the .270 Winchester is convincing yourself that you need a .270 Winchester rifle. Everything else is how convenient a rifle feels in your hand.
What you need to know is that the .270 Win is a 'win-win' situation in deer hunting. It's the traditionalist method that has consistently proven itself for almost a hundred years.
Like I said before, I had a really hard time rounding up these rifles because I was forced to scratch off some interesting Fauchi, Weatherby, and Browning models. All of these rifles are reliable, accurate, and work like a charm, and you won't go wrong picking other choices by yourself.
Ultimately, you get a nice little flat trajectory with superb velocity and less recoil with a .270 rifle, while going for a .308 is probably a better choice if you're hunting heftier game like moose or elk. Just remember that a round is as good as the rifle that fires it, and I recommend you look for 90 and 150 grain ammo that's suitable for a 1:10 twist rate.
It's a well-balanced, cost-effective cartridge, built to take down game between 150 to 600 pounds with a well-placed shot, and until evolution finds a way to thicken deer skull and skin, .270 caliber rifles will remain a top choice among hunters for a long, long time.
Explore more