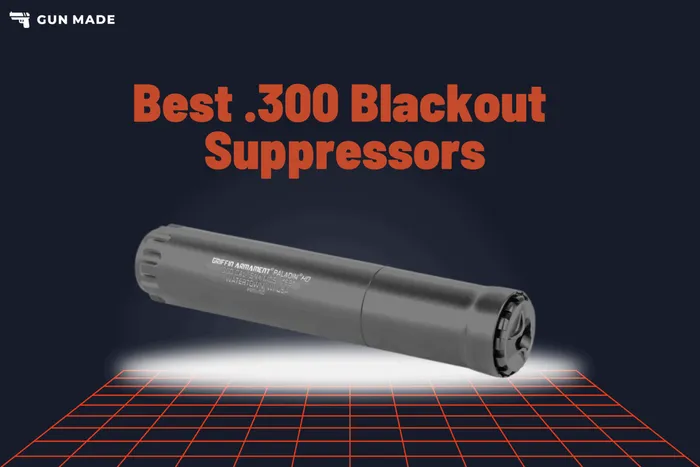 5 Best 300 Blackout Suppressors: Tinnitus Preventor Showdown [2023]
Introduction
Do you hear that? If you can't, then you probably need a suppressor for your rifle. If you've recently delved into 300 Blackout ownership, buying a suppressor is the next step in updating your kit.
Not only are suppressors fun and help protect your hearing, but the 300 Blackout is also an ideal candidate for one.
There are many kinds of suppressors out there, but which ones work best for your application? What makes 300 Blackout a good candidate for suppression? Why are my ears ringing so badly? Keep reading to learn more about our best picks for the best 300 Blackout suppressors!
Best 300 Blackout Suppressor & Recommendations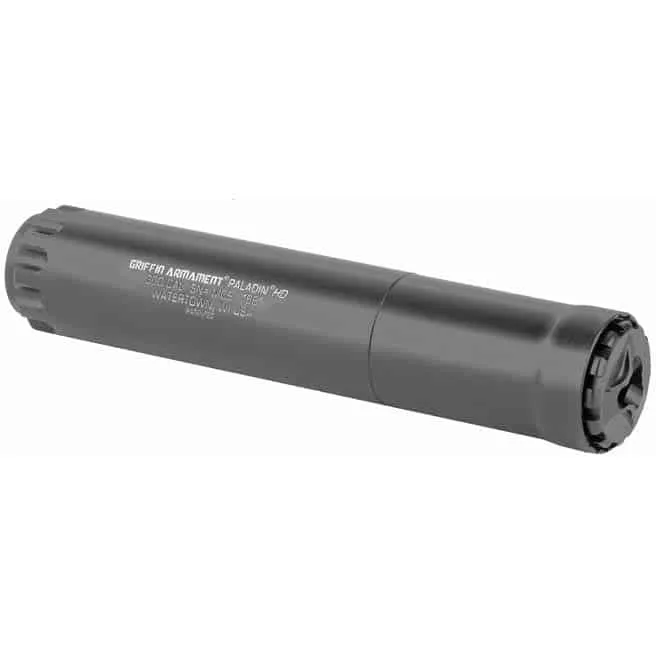 Specifications
| | |
| --- | --- |
| Caliber | Up to 300 WIN MAG |
| Diameter | 1.5" |
| Weight | 14.5 oz |
| Length Added | 6.3" |
| Full Auto Rated | Yes |
Pros & Cons
Pros
Lightweight

One of the quietest 300 BLK suppressors

Compatible with all taper mount muzzle devices and direct thread adapters
Cons
Longer than some other competitors
With all of the options available, it's hard to pick one that is "the best" so we'll have to settle for what we feel is the best overall 300 Blackout suppressor. That title belongs to the Griffin Paladin HD .300 Silencer.
Featuring a 17-4 stainless steel tube and 6AL4V titanium baffle stack, it's rated up to 300 Remington Ultra Magnum. It offers a Ratchet-Lok front cap which allows the Paladin to be fully disassembled for cleaning.
In addition to having compact dimensions and low weight, it is also one of the quietest 300 Blackout suppressors out there, registering 123dB with 220-grain Remington subsonic ammunition. A Taper Mount EZ Brake is included with the package and disassembly tools for maintenance.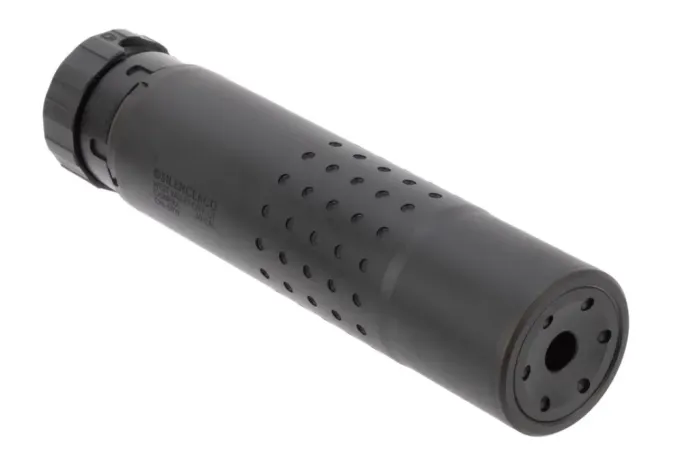 Specifications
| | |
| --- | --- |
| Caliber | 5.56 NATO to 300 RUM |
| Diameter | 1.57" |
| Weight | 19.9 oz |
| Length Added | 6.08" |
| Full Auto Rated | Yes |
Pros & Cons
Pros
Multi-caliber rated

Extremely durable design able to handle hot ammunition

Jack of all trades with good size, suppression, and versatility

No barrel restrictions
Cons
Not as quiet as other suppressors

Larger diameter than other suppressors
While not the lightest, thinnest, or quietest, the SilencerCo Chimera 300 is still within a few points of the runners up, and does everything well. Extremely well built using Cobalt-6, Inconel, 316 SS construction, it offers unsurpassed durability.
Not only is it full auto rated, but it also has no barrel restrictions, allowing it to be used on 300 Blackout pistols and full-length rifles. It is compatible with rounds as large as 300 Remington Ultra Magnum, meaning that it will be there for you when you're ready to upgrade.
It is advertised as having sound readings of 125.6 dB with 300 Blackout, also making it very quiet. Not just a .300 suppressor, it's also rated for 5.56 NATO, making it multi-platform capable, and was designed with short barrels and full auto in mind.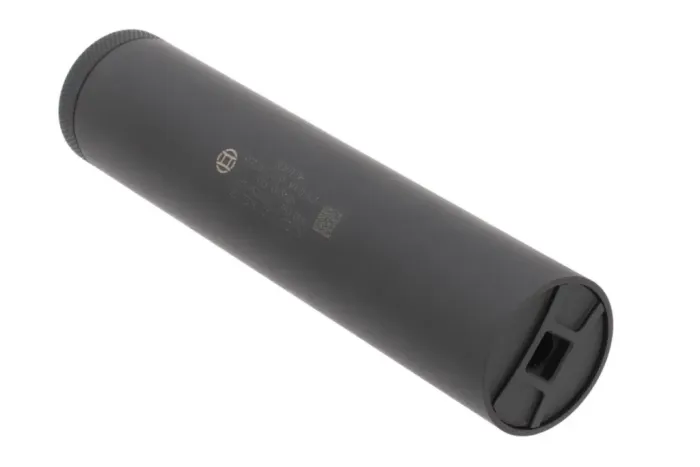 Specifications
| | |
| --- | --- |
| Caliber | .30 |
| Diameter | 1.5" |
| Weight | 14.0 oz |
| Length Added | 6.7" |
| Full Auto Rated | Yes |
Pros & Cons
Pros
Specifically designed for 300 Blackout

Lightweight and compact

Two-piece design for user cleaning
Cons
Not optimal for barrels shorter than 7.5"

Concerns about frequent cleaning
Many suppressors are designed for multiple calibers, but the Gemtech GMT-300BLK was designed from the start for 300 Blackout. It is a direct-thread design with Gemtech's patented G-core construction, which enables easy maintenance.
Both the tube and core are built using 6AL4v Titanium. It offers sound attenuation of 28-30dB, with a tested sound of 124 dB.
It does have some notable drawbacks. It requires a threaded barrel to use, possibly increasing overall costs. Some users complain that, while easy to clean, it sometimes gets dirty quickly, reducing its performance.
While it lacks the versatility of multi-caliber suppressors, the Gemtech GMT-300BLK is a great option for a dedicated 300 Blackout platform.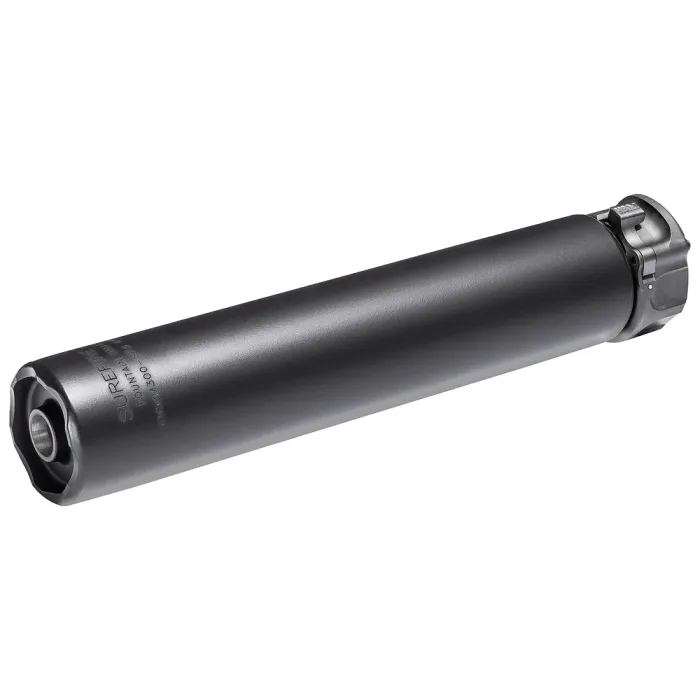 Specifications
| | |
| --- | --- |
| Caliber | 7.62 mm / .308 / .300 Blackout |
| Diameter | 1.5" |
| Weight | 20.0 oz |
| Length Added | 5.4" |
| Full Auto Rated | Yes |
Pros & Cons
Pros
Baffles optimized for subsonic ammunition

Optimized for 300 Blackout carbines with barrels below 10"

Most compact suppressor
Cons
Heavier than competitors

Not good for longer barrels

Not optimal for supersonic ammunition
Offering a sound rating of 126 dB out of a 5.5" barrel using 220 grain subsonic 300 Blackout rounds, the Surefire SOCOM300-SPS is one of the best options if you're looking for a compact suppressor. It was specifically designed to be used with short barrels and subsonic ammunition.
It features stainless steel construction with Inconel baffling and is manufactured with computer-controlled welding techniques, ensuring durability. That durability translates into being rated for full auto use.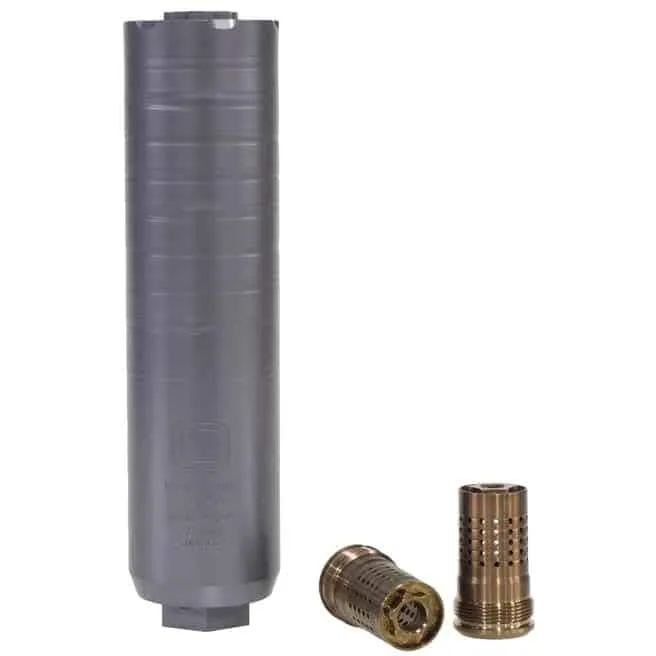 Specifications
| | |
| --- | --- |
| Caliber | 7.62 NATO/300 BLK/300 WM |
| Diameter | 1.75" |
| Weight | 11.8 oz (w/o 2oz muzzle brake) |
| Length Added | 6.9" |
| Full Auto Rated | Yes |
Pros & Cons
Pros
One of the lightest 300 Blackout suppressors

Designed by one of the original 300 BLK cartridge designers
Cons
Bulkier than its competitors

Not a lot of specific 300 Blackout attenuation data
While not specifically designed for 300 Blackout, the Q trash PANDA is an intriguing choice. The founder of Q originally started at Advanced Armament Corporation (AAC), the company which originally designed the 300 Blackout cartridge.
The Q trash PANDA is a popular choice for other 7.62/.300 caliber rifles, so no doubt it should be considered for use with 300 Blackout. If it has any drawbacks, it would be its size, being larger than other offerings. However, it is also the lightest suppressor in this review at under 12 oz without the muzzle brake.
Another drawback to the PANDA is the lack of 300 Blackout-specific attenuation data. No doubt it will do a good job at suppression, but it's best to have hard data on hand so the consumer can make the best comparison.
How We Chose our Top Picks
It can be difficult making a top-5 list like this because there are so many good options to choose from. So many great American companies have started offering suppressors over the years, and the increased competition has narrowed the performance gap. Often it's a matter of brand loyalty when it comes to choice.
Brand aside, when picking a suppressor, one doesn't JUST focus on sound attenuation. Other factors, like size, weight, and fit, must also be considered. As our roundup has shown, the suppressors with factory data are all within 3 dB or so of each other, a difference you won't likely notice.
By taking all of these factors together, we can better understand each suppressor's strengths and weaknesses. We understand that buyers have different criteria when it comes to "best for them," which is why we organized our results the way we did.
Why Use a Suppressor?
We often get used to things that aren't good for us. With regular foam earplugs, gunshots can be loud, but we tell ourselves it's not that bad. That's true for one or two shots, but how many rounds do you shoot per range session?
The average rifle, unsuppressed, measures a whopping 160dB of sound. The threshold for physical pain can be as low as 120dB, and permanent hearing loss can occur above 110 dB. Once your hearing is damaged, it can never be repaired.
Foam earplugs are good for 20-30dB of noise reduction, but that still means 130-140dB of noise from your rifle. With a 30dB rated suppressor and hearing protection, you can bring your gunfire down to 110dB, still rather high but acceptable within moderation.
With subsonic ammunition, the benefits are even greater. Typical subsonic 300 Blackout ammunition has a rating of around 140dB. Subtract 30dB from the suppressor and another 20dB for your earplugs, which brings us below 100dB to the ears, safe enough for a prolonged shooting session.
Common Suppressor Myths
Silent But Deadly
A common movie trope is seeing a guy put a suppressor on his pistol, pull the trigger, and hear a quiet, high-pitched squeak that is nearly inaudible to anyone else. That is absolutely not true, as we have shown in the previous section.
Even subsonic weapons can be really loud, and suppressors aren't magic. For instance, instead of an explosion, they can be suppressed to the level of a car door slamming. The silent and deadly James Bond trope has been around too long for perceptions to change, so enjoy the fantasy on the big screen, but take reality with you to the range.
Range and Accuracy Concerns
There is a lot of scuttlebutt on the internet about whether suppressors reduce the accuracy of a firearm or not. In general, with modern suppressors, there seems to be no appreciable difference in accuracy between suppressed and unsuppressed firearms.
However, every gun is different, and one weapon might respond to a suppressor better than another one. It is best to try out your setup both with and without the suppressor to see for yourself. Older suppressors were designed in such a way that there were some accuracy problems. New ones are built with better materials to much higher standards.
As for range concerns, the barrel length is a much greater factor in range than a suppressor. A suppressor merely redirects gas that has already been expelled from the barrel, so the bullet has already stopped accelerating by the time it leaves the muzzle. A suppressor in no way reduces the range of the projectile.
FAQs
What FPS is subsonic for 300 Blackout?
While it depends on air temperature, the rule of thumb for subsonic is a speed below 1,100 feet per second.
What barrel length is best for 300 Blackout suppressed?
Generally, the longer the barrel, the higher the speed of the bullet, so having a shorter barrel is generally better than a longer one for suppression. Ammo load is also a large factor in suppression.
How far can a suppressed 300 Blackout shoot?
A suppressor operates by redirecting gasses that would have already left the barrel, so a suppressor neither adds nor subtracts from range.
Conclusion
There are dozens, if not hundreds, of different suppressors, but few are specifically optimized for the 300 Blackout cartridge. Optimization isn't enough sometimes, though, and size, along with versatility and sturdy construction, are also major factors to consider.
That's why we chose the Griffin Paladin .300 Silencer as our best overall pick. It has the best sound attenuation for 300 Blackout, while also being compact, lightweight, and easy to service.
The SilencerCo Chimera 300 was the best overall value due to its versatility, also being designed for 5.56, along with its durability and size.
The Gemtech GMT-300BLK is the best specialty suppressor, as it was specifically designed for short barrel, subsonic 300 Blackout applications.
The Surefire SOCOM300-SPS Suppressor was the best compact offering as it was the smallest of the bunch, with a lot of good features to boot.
Q's Trash Panda is an honorable mention as the company founder also helped develop the 300 Blackout cartridge. There is little data available about the trash PANDA with 300 Blackout, but it's light weight and pedigree should warrant a closer look.
Whatever you choose, we hope you find the best suppressor for your 300 Blackout application!
Explore more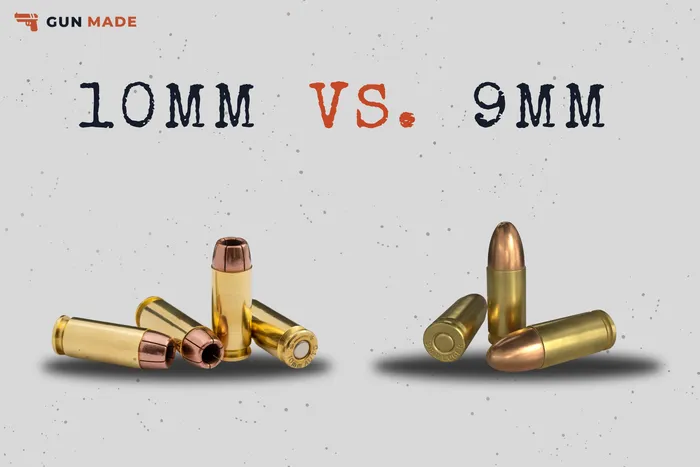 Why was the cartridge developed, and how does it stack up against the popular 9mm Parabellum? Keep reading to learn everything you wanted to know about 10mm vs. 9mm! What you buy depends on what your mission is. 10mm Auto is a powerful cart...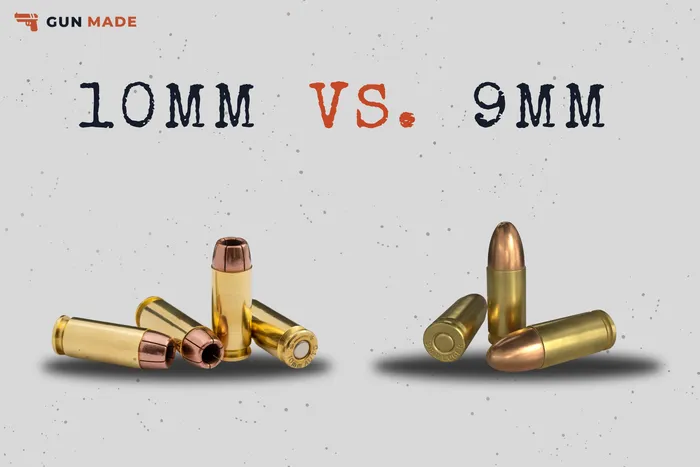 Why was the cartridge developed, and how does it stack up against the popular 9mm Parabellum? Keep reading to learn everything you wanted to know about 10mm vs. 9mm! What you buy depends on what your mission is. 10mm Auto is a powerful cart...