The 5 Best .357 Sig Pistols [2023]: The Little Round That Could
The 5 Best .357 Sig Pistols [2023]: The Little Round That Could
If you don't want to read this arduously long article, or if you're at the gun store and the guy (or gal) behind the counter is waiting for you, here's a short list.
Introduction
Ahh, the .357 Sig. A great cartridge, but what is the best .357 pistol out there? The round itself will perform, but if you match it with a pistol that doesn't do it justice, you may as well throw rocks at your adversary.
I mean, I wouldn't want to be stoned to death, but you get my point.
Are you on a quest for the best pistol chambered in .357 Sig? So am I, or, I was? Now we're here.
It's been quite a task since .357 Sig is not a round you hear in most circles when conversations for the best pistol round come around.
But is it effective? More effective than a 9mm or .45, maybe? Can .357 Sig de-throne the legendary pistol rounds?
Well, like Hanson from Scary Movie 2 said, take my hand. Let's find out.
Warning, it's pretty Sig Sauer heavy. About three pistols in here from Sig. They did make the round, after all.
Best .357 Sig Pistols Roundup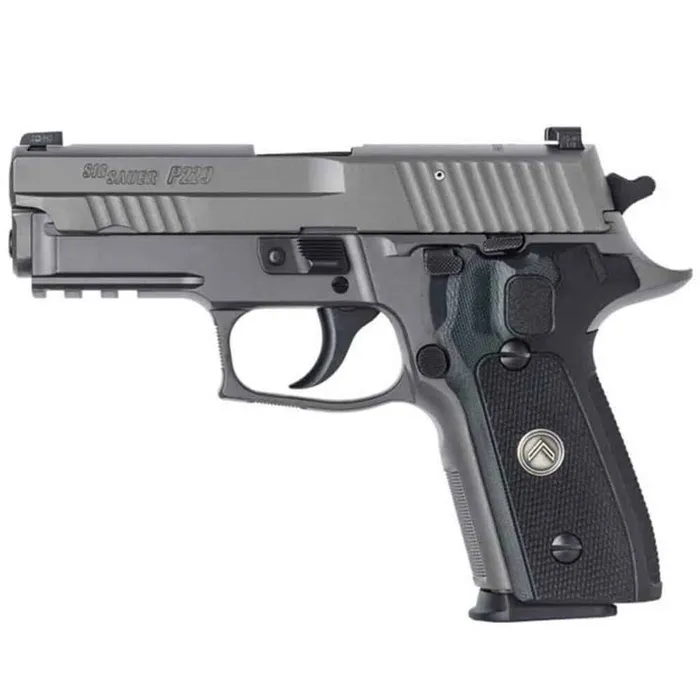 Specifications
| | |
| --- | --- |
| Caliber | .357 Sig |
| Capacity | 12+1 |
| Weight | 2.1 lbs |
| Length (Overall) | 7.1 Inches |
| Trigger Pull Weight | 4.4 Ibs (SA) and 10 Ibs (DA) |
Pros & Cons
Pros
GrayGuns adjustable trigger

G10 grips with aggressive stippling

Upgraded X-Ray sights
Cons
Pricey

Controls are hard to manipulate at times

Discontinued
Take everything you love and hate about the P226 Legion (see more below) and give it a compact frame.
Oh, and add a bit of width to it, but not enough to make it unbearable when concealed.
Personally, this is my favorite pistol chambered in .357 Sig for many reasons. I prefer carry-sized guns unless the situation calls for a full-size, and the P229 Legion not only looks amazing, but it shoots great as well.
It still has the X-Ray sights for fast acquisition, the good ol' GrayGuns adjustable trigger, and the G10 grips are still beautifully aggressive, but it's both open and conceal carry-friendly. And you don't have to have a larger framed body to do it comfortably.
Aside from the .357 Sig variant being discontinued, I can not find anything that I dislike about this gun. And I've asked a lot of people. It shoots well, feels great, and would be a dream for anyone who wants a concealed carry pistol that isn't polymer and striker fired.
All in all, I would say that the P229 Legion in .357 Sig is among one of the best concealed carry guns on the planet. But, since everyone, including Sig Sauer, is neglecting the round that they created, they can be hard to come across.
It's still available in 9mm, but the .40 S&W and .357 variants are discontinued. If you can find it, get one, you won't regret it.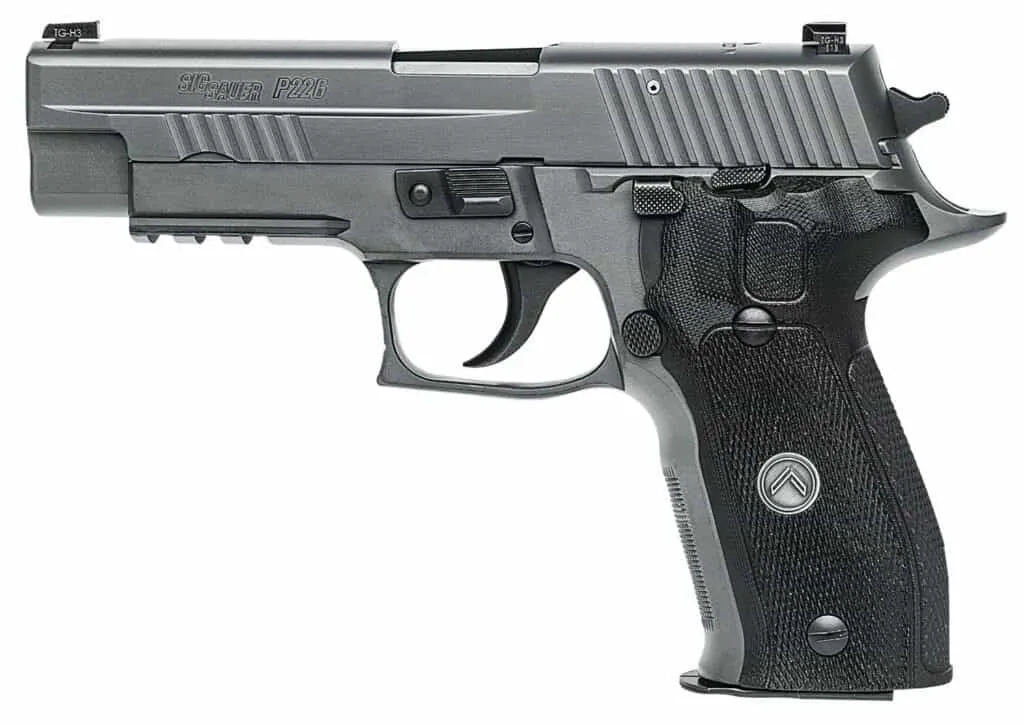 Specifications
| | |
| --- | --- |
| Caliber | .357 Sig |
| Capacity | 12+1 Rounds |
| Weight | 2.1 Ibs |
| Length (Overall) | 7.7 In |
| Trigger Pull Weight | 4.4 lbs (SA) and 10 lbs (DA) |
Pros & Cons
Pros
GrayGuns adjustable trigger

X-Ray Night Sights

G10 grips with aggressive stippling
Cons
Pricey

Controls are hard to manipulate

Some people have issues with the finish
The P226 in itself is a proven platform. Since 1989, the P226 has been the preferred firearm for the U.S. Navy SEALs and has seen almost as much action as General Patton. They use the 9mm round, though.
The P226 Legion is a step above the rest, like a high-end car that is fully loaded. It comes with a bunch of goods to ensure you get the best out of whatever round you shoot it with. Allow me to explain.
Where most Sig pistols come with SigLite Night Sights, the Legion comes with X-Ray sights that allow you to shoot with better accuracy. The difference is like night and day. Try it for yourself.
The P226 Legion also comes with G10 grips, which aid in getting a better grip on the firearm.
The stippling on the front and back of the grip is aggressive, so getting a good grip will not be an issue. In the grips, you see the logo for the Legion line.
The trigger is also upgraded with a GrayGuns P-SAIT (P-Series Precision Adjustable Intermediate Trigger), which is meant to be adjustable. GrayGuns makes some of the best triggers on the market.
The trigger is single action (hammer back) and double action (hammer forward), and the trigger pull weight for both is 4.4Ibs in single action and 10Ibs in double action.
One thing I do not like is how the slide release and some other controls have been shaved down to mitigate snagging when drawing the pistol. They can be hard to manipulate if you have big fingers. And, honestly, this pistol is made for people with bigger hands.
The P226 Legion is a big gun. It is best suited for open carry unless you think you can conceal it comfortably.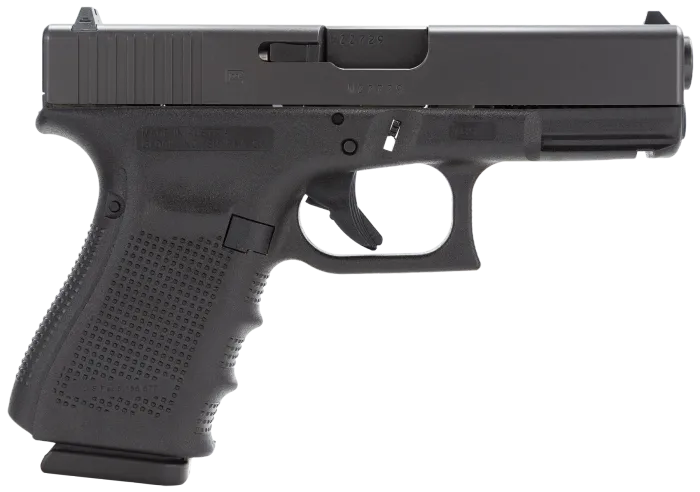 Specifications
| | |
| --- | --- |
| Caliber | .357 Sig |
| Capacity | 13+1 |
| Weight | 1.5 lbs |
| Length (Overall) | 7.3 In |
| Trigger Pull Weight | 5.5 lbs |
Pros & Cons
Pros
Adjustable backstraps

Changeable barrel and recoil spring for shooting .40S&W 

Works with Glock 40S&W mags
Cons
As with any Glock, I recommend aftermarket sights 

No manual safety

No optic cut
Shooting a Sig round out of a Glock feels kind of weird to me. I would never have thought of pairing the two together, but Glock could not miss the opportunity.
Why not? The .357 Sig round is super reliable. Just like a Glock. Pairing them together also feels like a cheat code. I've seen guys on the range pump 8,000 rounds through a Glock chambered in .357 and not have the slightest malfunction.
One of my favorite features on Glocks chambered in .357 Sig is how easy it is to convert it over to .40 S&W and get back in action. Let's face it, .357 Sig is hard to find and expensive. Being able to switch it over to a common round makes it easier to enjoy.
Not to mention the magazines being interchangeable. From what I've seen, you can use .40S&W magazines with .357 Sig and vice versa. Nothing new, but we love it.
Another feature we love is the interchangeable backstraps on the grip. .357 Sig can be a bit snappy, and if you don't feel comfortable with the grip, you won't be effective.
With the adjustable backstraps, you can switch them out to fit your hands better. That's not something we see on other pistols, but it does help a bunch when you got big or small mitts.
Best For Small Hands – Glock 33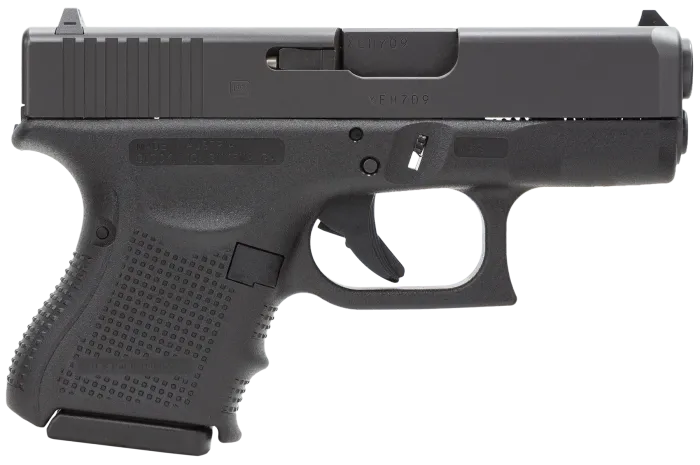 Specifications
| | |
| --- | --- |
| Caliber | .357 Sig |
| Capacity | 9+1 |
| Weight | 1.4 lbs |
| Length (Overall) | 6.5 In |
| Trigger Pull Weight | 5.5 lbs |
Pros & Cons
Pros
High mag capacity in a small gun 

Adjustable backstraps

Larger magazines work with larger hands
Cons
Aftermarket sights are recommended

No optic cut

No manual safety
For those of you who either want a great summer carry gun, or a pistol that will accommodate the size of your hands or something for the ladies out there getting into concealed carry, there is the Glock 33.
The Glock 33 is a sweet little pistol, if I may say so myself. It holds almost as many rounds as pistols twice its size, and it's all wrapped up in one tight little package.
Like the Glock 32, you can switch out the barrel and use a .40S&W barrel, which will also work with the .357 Sig magazines. Just remember, there will be a bit more kick with the .40S&W. Not that much, but a bit noticeable.
Still, being able to swap out the barrels and shoot a not-so-different round is a huge plus. As I said above, with the G33, the .357 Sig round is expensive and hard to find. .40S&W, not so much.
Glock does offer magazines that extend the grip for those who want a little bit more from their G32 while not sacrificing the sub-compact size of the pistol. A few more rounds won't hurt, right?
All in all, the Glock 33 is the perfect concealed carry handgun that will serve you with a comfortable EDC pistol no matter what the season is. Just make sure you train with it; small pistols are a little harder to get used to with hoppy rounds like .357 Sig.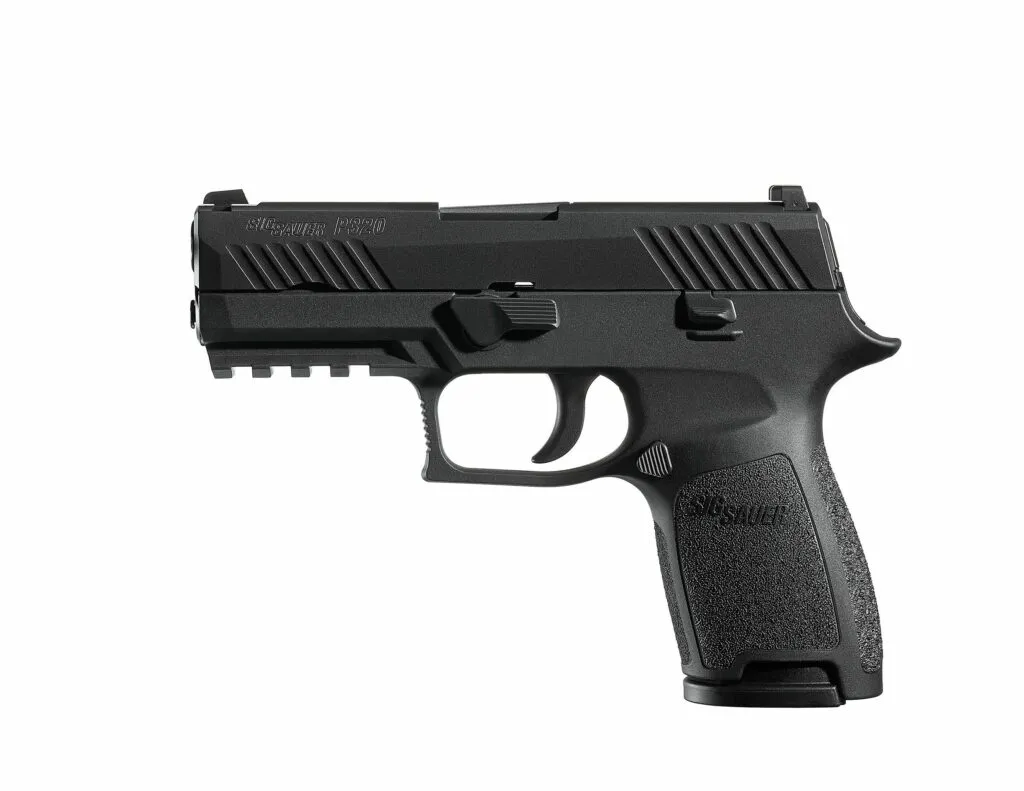 Specifications
| | |
| --- | --- |
| Caliber | .357 Sig |
| Capacity | 10+1 |
| Weight | 1.0 lbs |
| Length | 7.5 |
| Trigger Pull Weight | 6.5 lbs |
Pros & Cons
Pros
Great magazine capacity

Great for small and large hands

Aftermarket magazines with higher capacity
Cons
Trigger leaves you wanting more

Can be hard to find 

Discontinued
I know, I know. Another Sig Sauer pistol.
What can I say? They make the round.
You may have thought the Glock 32 would have been the best for concealed carry, but since it is tiny and leaves a hanging pinky. Not cool.
The P320 Compact can accommodate hands both big and small, isn't uncomfortable to carry (unless you add a TLR-1 on it as I did), and has a great magazine capacity.
And, the aftermarket realm for the P320 is almost as big as that of the Glock; you won't have an issue finding parts.
One of the issues I have with the P320 in .357 Sig is that it is discontinued. It's hard to find, and when you do, it's out of stock. Since .357 Sig isn't the most popular round on any market, Sig Sauer decided to discontinue their pistols chambered in the round.
That, and the trigger itself, feels like a dud. On Glocks, when you dry fire, you get a nice tactile click. You think, "Wow, that is really hitting that primer."
On the Sig, it's as if the trigger is asking you, "Are you sure?" when the trigger breaks. Not a fan.
They do sell conversion kits, which allow you to essentially change your 9mm or .40S&W into a .357 Sig. Another thing I love about the new line of Sig pistols – the modularity.
Although finding one can be tricky, if you get the chance to add the P320 in .357 Sig to your collection, do it. .357 Sig is a great defense round, and the P320 is a great concealed carry option.  
How We Chose our Top Picks
Finding the top picks when you have a round that is as unpopular as .357 Sig is easier than you would think. Glock and Sig Sauer were the primary manufacturers of firearms chambered in the round, except for one or two H&Ks and Smith & Wessons.
Since Sig Sauer made the round, this article is Sig-heavy.
Of course, these pistols had to be reliable, so the manufacturer of the round was a no-brainer. Since Glocks are reliable, I checked in with some guys at the range who knew a bit about them and watched one fellow knock out a few thousand rounds flawlessly through his Glock 33.
High magazine capacity, for the size of the pistol, was essential. You will find the pistols in this article owning that feature. Especially that little pocket pistol Glock 33.
Reliability, high magazine capacity, and high modularity. These are the things that make this article.
The .357 Sig Buyer's Guide 
I'm going to take a wild stab in the dark and say that you're here because you want to add a pistol chambered in .357 Sig to your rotation of concealed carry guns. Or, you could be curious.
Either way, we're going to dive into the deep end with .357 Sig. We'll compare it to popular concealed carry rounds, dive into ballistics a bit (I don't want to bore you away), and discuss a few other topics that would make this paragraph too long.
Without further ado, let's dive deep.
.357 Sig vs. 9mm
Believe it or not, the .357 Sig and 9mm or more similar than you think.
Essentially, a .357 Sig is a 9mm in a bottle-necked .40 caliber case. All it really does is give you enhanced reliability and a faster 9mm round. Higher ballistics, 9mm round, .357 Sig.
Back in 1994, Sig Sauer introduced a round that would reinvent the ballistics of the .357 Magnum but put it in a semi-automatic pistol. Well, they could have used +P (extra pressure) rounds, but that would have been too easy.
"Let's make a new round instead," said the guy in the black suit at the board meeting at Sig.
Okay, I don't know if that's how it went, but Ted Rowe knew those cowboys missed their .357 Magnum, which was a great marketing point.
Really, the .357 is a hybrid cartridge of the 9mm and .40S&W. The .357 Sig has higher numbers on the ballistic chart, but it's still pushing a .355 diameter bullet at the target. Just a bit harder.
.357 Sig vs. .45
I mean, the .357 Sig moves significantly faster. Around 400 feet per second faster, with a lighter bullet.
I find the recoil on a .45 more favorable than the .357 Sig since the latter is just super snappy. Did someone say muzzle rise?
Pistols chambered in .357 Sig typically hold more ammo in the magazine, but that is to be expected with a smaller round. The fact of the matter is the .357 Sig round is faster, but the diameter of the .45 bullet is what makes it a great round for stopping a target in its tracks.
It's 9mm vs. .45 all over again…
Advantages of .357 Sig
Take the 9mm cartridge, enhance the feed reliability, and slap on a .40 S&W casing. Who doesn't want a faster and harder-hitting 9mm round?
It's a happy medium between the two.
It is more accurate than .40 S&W out of most pistols, penetrates better than .45, and uses a lightweight 9mm bullet. It was issued to many police officers and state troopers in Texas, Delaware, and Kentucky to replace the .45 and did one heck of a job.
Add that to the enhanced feed reliability, and it will leave you questioning why anyone would want to get rid of the round. Well, your guess is just as good as mine.
Disadvantages of .357 Sig
Every great round has its kryptonite.
The 9mm is quick, light, and has low recoil but lacks stopping power.
The .45 has stopping power but is big, slow, and has more recoil than the 9mm.  
For the .357 Sig, it fell short of completing the task it was created for – competing with the .357 Magnum. Now, buying a pistol chambered in .357 seems like a fool's errand. The round is hard to find, and the manufacturer of the round all but gave up on it.
Poor little guy.
Since the hype around the round seems to be dwindling down to a few great shooters who know what a great round feels like, ammo is becoming scarce, and everyone is focusing on 9mm and .45. I see some hype circling the 5.7×28 round as well.
It's a great round. It just fell short.
Do I recommend the .357 Sig?
If you can find the ammo reliably, then, of course. Why not?
At the very least, buy a pistol capable of swapping barrels between .357 Sig and .40S&W. The magazines are interchangeable for the most part.
It's like having two pistols in one.
FAQs
Is the .357 SIG as powerful as the .357 Magnum?
No, this is why the .357 Sig was discontinued by Sig Sauer. It fell short of hitting the mark.
Is Sig better than Glock?
No. And Glock isn't better than Sig Sauer. Blocky Glocky is like a Toyota; it will run no matter what. Slim Sig is like a Lexus. It's a Toyota, just better looking.
Is .357 Sig better than 10mm?
Faster, yes. Smaller, yes. Does it hit harder? Not a chance. If I had to put a bear down and I had my choice of the two, please hand me the 10mm.
Conclusion
While the .357 Sig may have been short-lived, the community behind it is huge. It is a great round that gives you the best of both worlds between 40S&W and a 9mm. I would recommend it to anyone who can find the ammo locally and doesn't mind swapping the barrel to a .40S&W when they can't.
While Sig makes the round, I urge anyone wanting a pistol chambered in .357 to look at the P229 Legion. Although expensive, it is a beautiful handgun and will do what you need it to.
If you don't want to spend that much for a pistol chambered in a scarce round, I recommend the Glock 32. I've seen it perform. It will do you just fine.
What do you think of the little round that could? Let me know down below.
Happy shooting!
Explore more