5 Best .40 S&W Pistols In 2023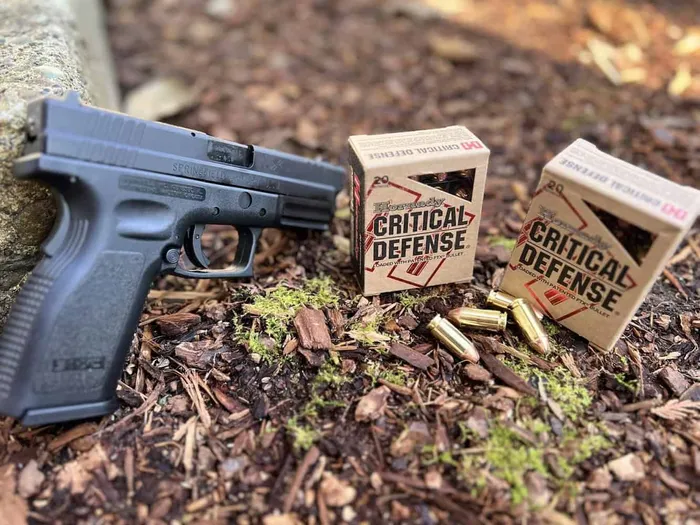 5 Best .40 S&W Pistols In 2023
Beginning our search for the best .40 S&W pistols was like setting our sights on a target 50 yards out, a challenge we were prepared for. Like a marksman recalling stories of his first rifle, we brought memories of previous gun hunts, aiming to hit the bullseye again.
The .40 S&W reminds us of the old tales of gunslingers—strong, reliable, and compact, just right for any duel.
The idea was simple: help you find a pistol you can rely on without getting tangled up in technical jargon. The .40 S&W is like that sweet spot—it's powerful yet not too bulky, making it a solid choice for many gun owners. Through real hands-on testing, we got up close and personal with different models, getting to know what makes each tick.
Now, among the bunch, the Glock 23 Gen 5 really caught our eye—it quickly became our favorite. It stood out like the legendary Colt .45 in the Wild West; a beacon of trust and performance.
As we delve deeper into the details in the following sections, you'll get to ride along on our exploration journey. We'll share the nitty-gritty of why the Glock 23 Gen 5 won us over and why some other models could also be worthy of your attention.
Our aim? To make your journey towards picking a .40 S&W pistol a smooth ride, sprinkled with useful insights. So, as you read through our findings, we hope to make your decision-making a tad bit easier and, hopefully, more enjoyable.
We're here to provide a clear, easy-to-follow guide in your quest for the right .40 S&W pistol. So, hop on, and let's unravel this together!
Why Go For .40 S&W?
Someone might want to buy a 40 S&W handgun for its balance of power and control, as it offers more stopping power than a 9mm with its larger diameter and heavier bullets, yet remains manageable in terms of recoil.
Additionally, the .40 S&W strikes a perfect middle ground in capacity and concealability, making it a versatile option for both range shooting and self-defense.
Born out of the desire for a balanced approach, this caliber offers a blend of the venerable 9mm and .45 ACP characteristics. If you are deciding which sidearm to pick, let's delve into the advantages of the .40 S&W and how it fares against the more popular 9mm.
Striking a Balance: Power and Control
Punch: The .40 S&W packs more punch than the 9mm, courtesy of its larger diameter and often heavier bullets. It's a step up in stopping power, making it a choice among many law enforcement agencies.
Control: Despite its heft, the .40 S&W remains relatively easy to control, especially with modern handgun designs that help mitigate recoil. This middle-ground recoil provides a nice blend of power and control, making it a practical choice for both new and seasoned gun owners.
Capacity and Concealability: The Middle Child Shines
The .40 S&W shines bright when it comes to a balance between capacity and concealability.
Capacity: While it doesn't hold as many rounds as a 9mm, the capacity is ample for self-defense situations and stands tall against the more hefty .45 ACP.
Concealability: Handguns chambered in .40 S&W are often of a comparable size to their 9mm counterparts, making them just as easy to conceal.
Versatility: Ready for the Range or Danger
The .40 S&W provides a versatile platform, ready for both range shooting and self-defense.
Range Time: Many find the .40 S&W a fun round to shoot, offering a bit more challenge than the 9mm due to its snappier recoil.
Self-defense: Its proven stopping power makes it a reliable companion in perilous times.
Comparing Apples to Oranges: .40 S&W vs 9mm
Though they might seem to serve similar purposes, there are key differences between the .40 S&W and the 9mm.
Recoil: The .40 S&W has a noticeably snappier recoil than the 9mm. This can be a double-edged sword, offering more feedback while shooting, yet may require more practice to handle proficiently.
Capacity: 9mm handguns typically have a higher capacity due to the smaller diameter of the rounds. However, the .40 S&W compensates with its higher stopping power per round.
Cost: 9mm ammunition is generally more affordable and widely available than .40 S&W. However, many believe the .40 S&W's added punch justifies the extra cost.
Bullet Diameter: The .40 S&W has a larger bullet diameter (0.4 inches) than the 9mm (0.355 inches), contributing to its greater stopping power.
Best .40 S&W Pistols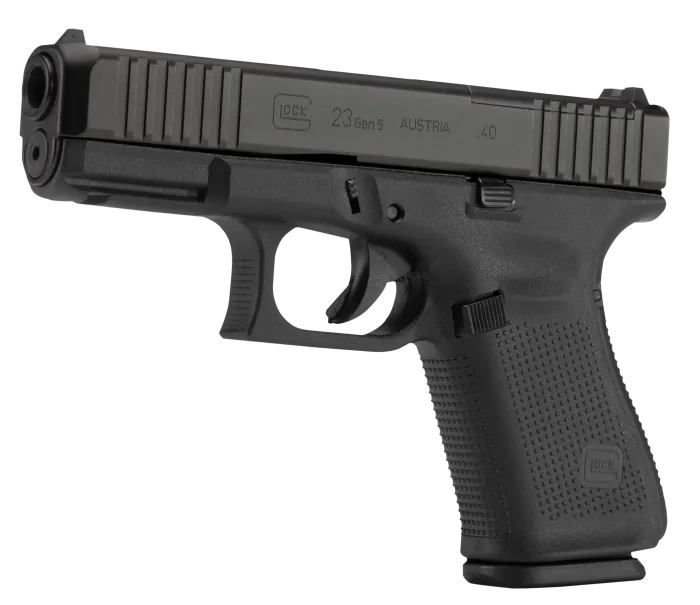 Specifications
| | |
| --- | --- |
| Manufacturer | Glock |
| Model | G23 G5 MOS |
| Caliber | .40 S&W |
| Barrel Length | 4.02″ |
| Overall Length | 7.28″ |
| Capacity | 13+1 |
Pros & Cons
Pros
That Glock reliability – they go BANG

Millions of accessories are available

Accurate out of the box

Easy to maintain & super durable
Cons
Slightly more recoil than your average compact 9mm

Slide isn't optic cut (although Glock does have an MOS version available)
Our experience with the Glock 23 Gen5 was exemplary, showcasing why it is significant in the market for .40 S&W pistols and our favorite .40 caliber Glock.
The ease of handling and the characteristic reliability synonymous with the Glock brand were apparent from the get-go. Despite the slightly higher recoil than compact 9mm pistols, the Glock 23 delivered consistent performance, which we found to be essential for a personal protection firearm.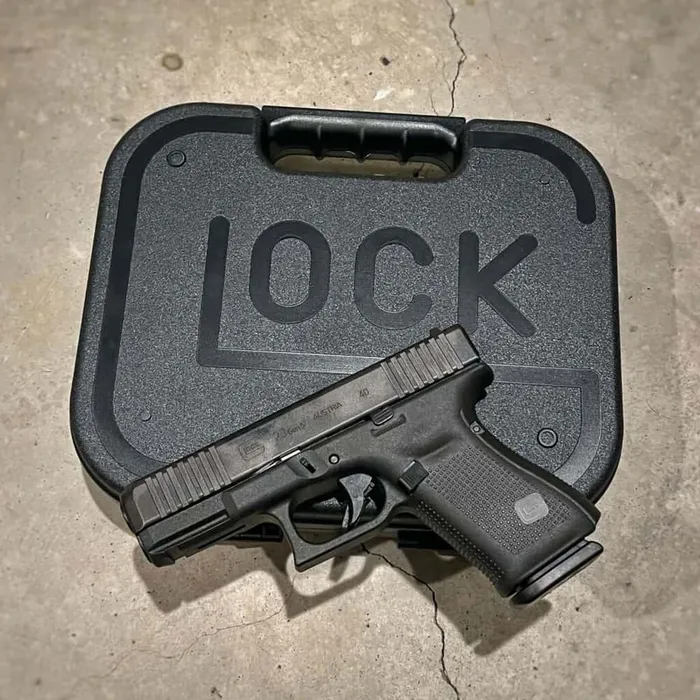 The vast array of accessories available for customization and its innate accuracy straight out of the box significantly contribute to its appeal. The simplistic maintenance requirements and remarkable durability add to its allure, making it a worthy contender for anyone considering a .40 S&W chambered pistol.
During our range time, the Glock 23 performed flawlessly, cycling through 180 rounds without a hiccup, a testament to its reliability. Although we didn't have defensive ammo to test, the Glock 23 cycled 165-grain Speer Lawman TMJs and 180-grain Blazer Brass FMJs seamlessly.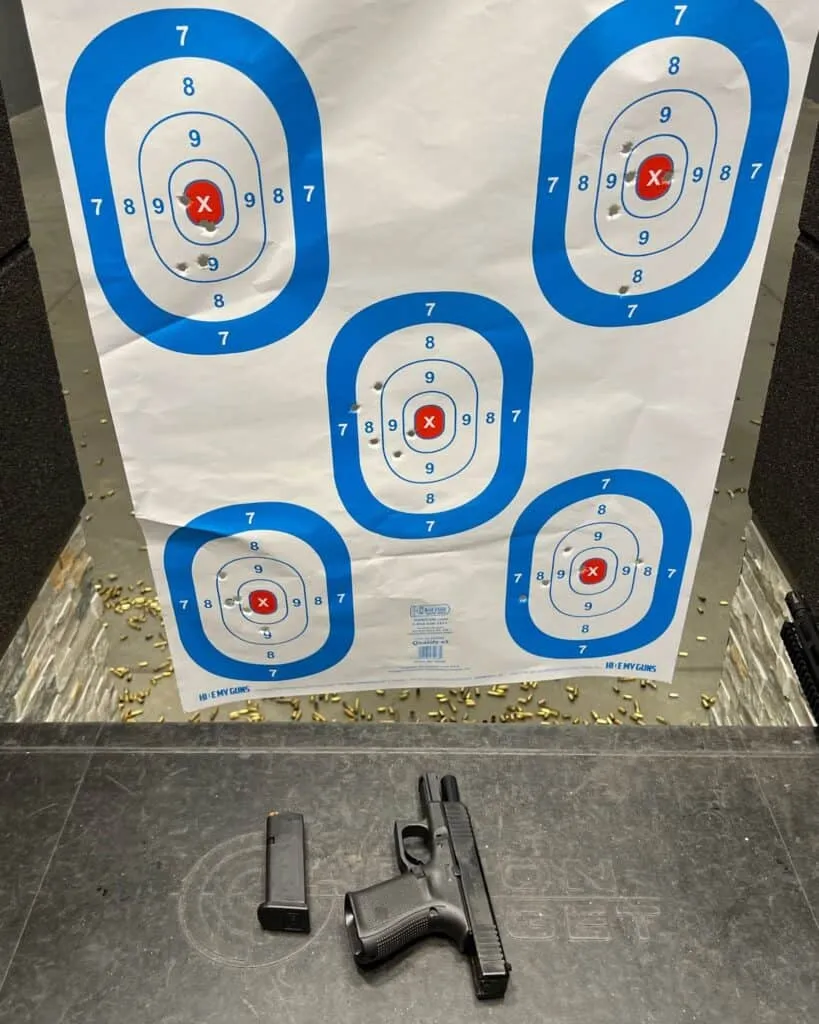 The accuracy was commendable, with initial groupings slightly to the left, but with adjustments, the accuracy improved significantly, mainly as we got accustomed to the recoil.
The Glock 23 felt comfortable in hand, and the transition from a Glock 19 to this was quite seamless. The absence of finger grooves in the Gen5 model provided a comfortable grip, making it a solid "do it all" gun, apt for various hand sizes.
The Gen5 upgrades notably enhance the Glock 23's functionality. Adding front slide serrations facilitates easier press checks, although the absence of an optic cut slide in this model was a minor drawback.
However, Glock offers an MOS version to cater to the optic preference. The trigger on the Gen5 is smoother and lighter, providing a satisfying shooting experience.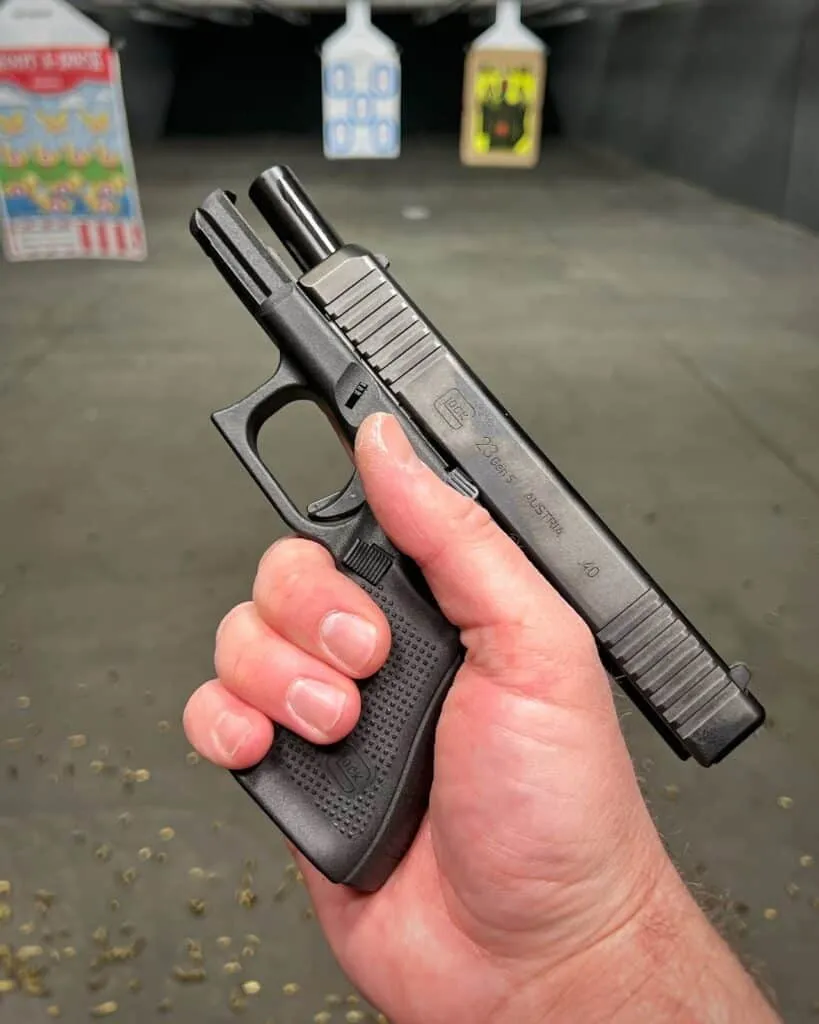 The vast availability of aftermarket parts allows for extensive customization, catering to personal preferences. The Streamlight TLR-7A and Night Fision Night Sights are accessories that can significantly improve the Glock 23's self-defense or duty use performance.
Our time with the Glock 23 Gen5 it has affirmed its standing as a top-tier .40 S&W pistol, with its reliable performance, ease of customization, and ergonomic design, making it a strong contender for anyone looking to invest in a .40 S&W pistol.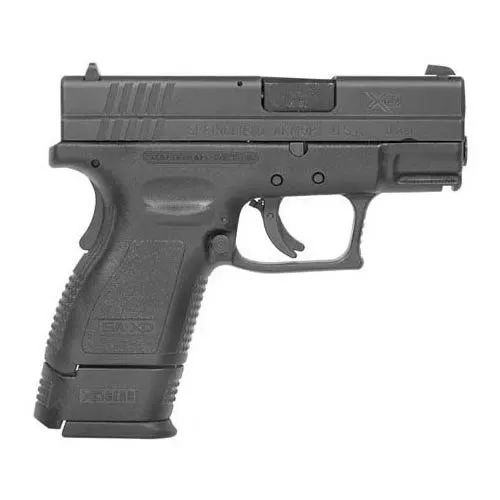 Specifications
| | |
| --- | --- |
| Manufacturer | Springfield Armory |
| Model | XD 3 Sub-Compact |
| Caliber | .40 S&W |
| Barrel Length | 3″ |
| Overall Length | 6.25″ |
| Capacity | 12 |
Pros & Cons
Pros
Loaded chamber indicator

Great trigger

Dual recoil springs

Good grip angle

Sights are exceptional
Cons
No optics cut

Magazine release requires grip adjustment
Our encounter with the Springfield Armory XD-40 was nothing short of a revelation. Despite our initial reservations about the .40 S&W cartridge, based on previous experiences, the XD-40 made us reconsider.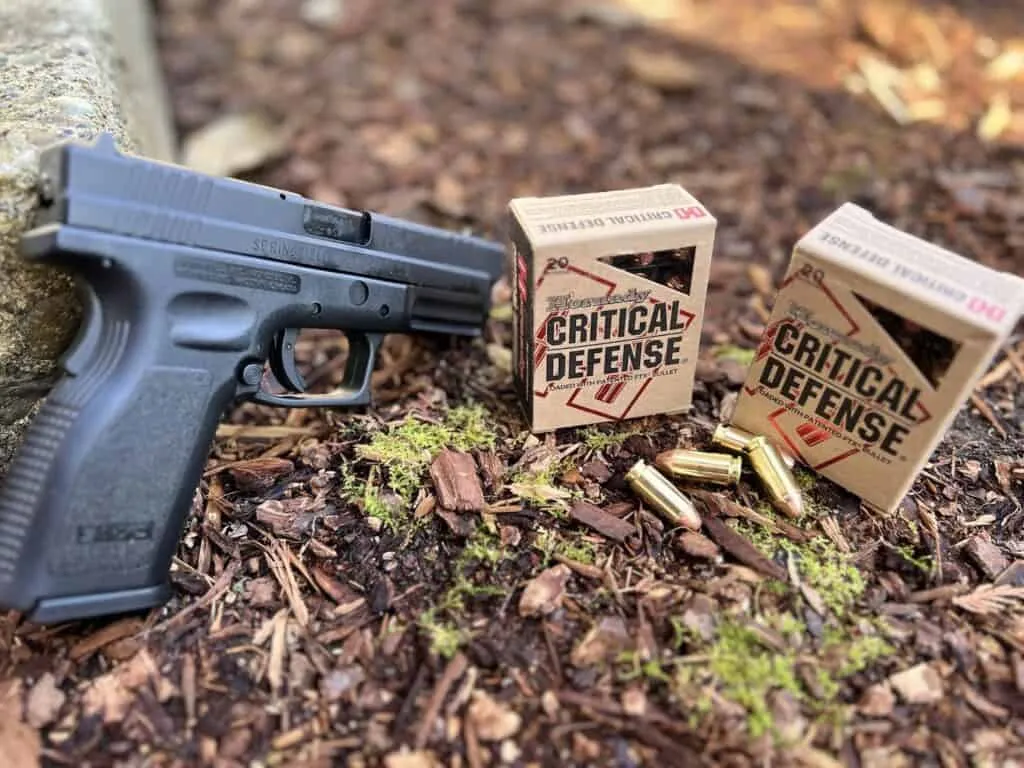 The remarkable aspect of our shooting experience was the manageable recoil, often a concern with the snappy .40 S&W round, especially in compact pistols. However, the XD-40 seemed to defy this stereotype. The dual recoil springs made keeping the pistol on target almost as effortless as with our 9mm Sig Sauer. The recoil was substantially subdued, making it friendly even for shooters new to the .40 S&W.
The XD-40 didn't just shine regarding recoil management; its overall build and features were equally commendable. The trigger was a standout feature, offering a smooth pull with a clear break and reset point, enhancing the shooting experience.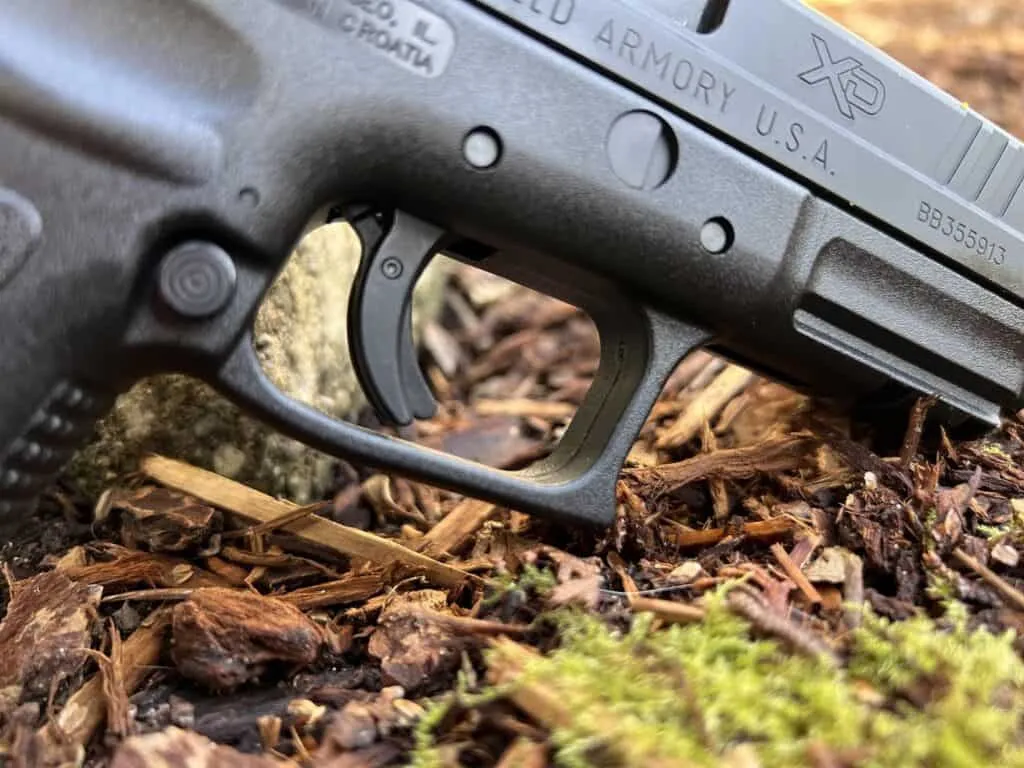 The grip safety added an extra layer of protection, ensuring the pistol only fires when intentionally gripped, a feature we found unintrusive and sensible for a self-defense weapon. The iron sights were another highlight, aiding in achieving high accuracy even for relatively inexperienced shooters. Our time on the range was a testament to the XD-40's reliability; it performed flawlessly, handling various ammo types without a hitch.
The overall feel of the XD-40 in hand was reassuring; it felt well-balanced, solid, and ready for action. Although the lack of an optics cut and a slight adjustment needed for magazine release were minor drawbacks, they didn't overshadow the positive aspects of this pistol.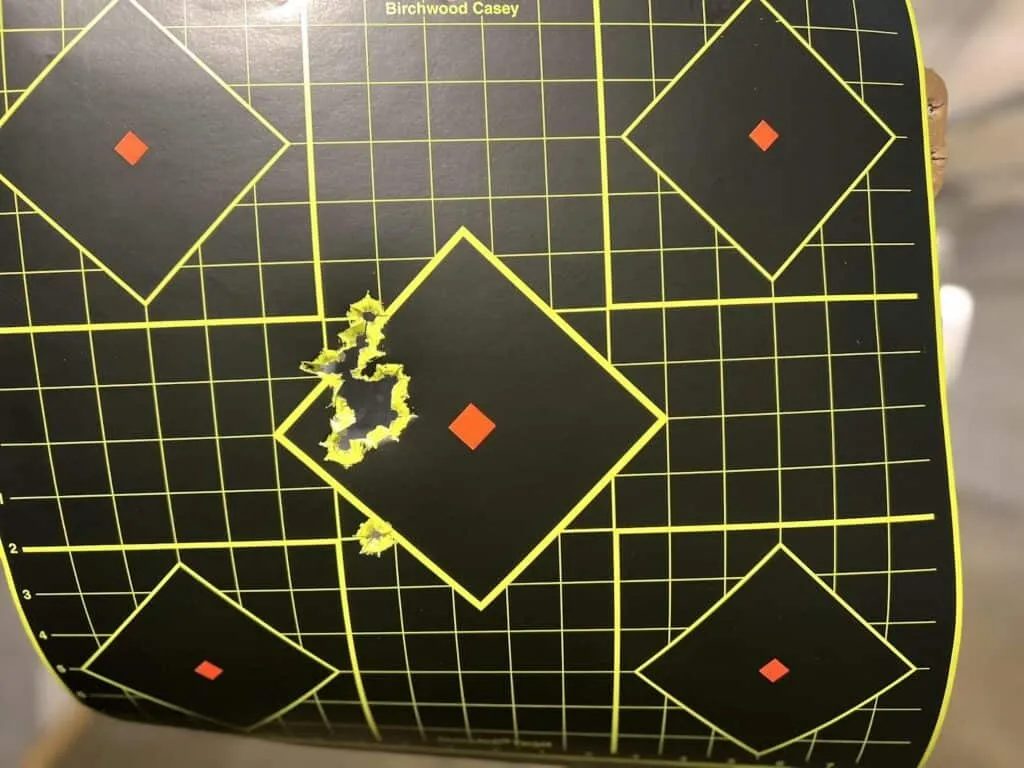 The XD-40 is more than just a basic self-defense pistol; it's a reliable companion for those seeking a higher caliber option without breaking the bank. The balance between its performance, features, and price point makes it a compelling choice for anyone looking to venture into the .40 S&W territory.
Our day at the range with the XD-40 was a delightful surprise, altering our view on what a .40 S&W pistol can offer, especially when crafted with the user experience in mind.
We tested and reviewed the Springfield Armory XD-40 and agreed it was a no-brainer to add to our list of best .40 cal pistols.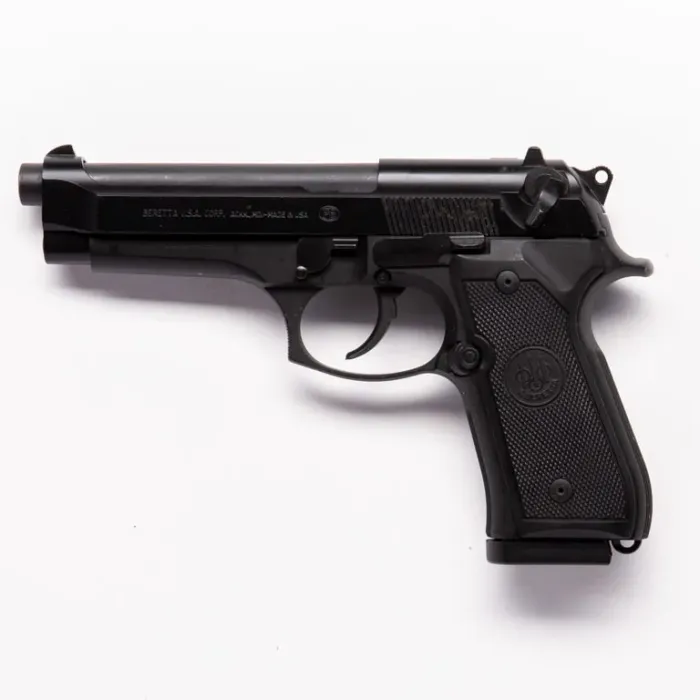 Specifications
| | |
| --- | --- |
| Manufacturer | Beretta |
| Model | 96A1 |
| Caliber | .40 S&W |
| Barrel Length | 4.9″ |
| Overall Length | 8.5″ |
| Capacity | 12+1 |
Pros & Cons
Pros
Compact and lightweight
10+1 round capacity
Bruniton finish
Picatinny rail
Great accuracy
The 96A1 has a lot going for it. The pistol comes with a 10+1 capacity and possesses great firepower. This Beretta is also accurate, reliable, and safe.
The disassembly is smooth, which makes maintenance much easier. I particularly like the recoil buffer; it minimizes the stress on the other components and improves the pistol's durability.
This Beretta's barrel is fashioned from cold-forged steel, and its precision is machined to improve the accuracy. The open slide closes the barrel, and this is a common engineering solution in the 90-series pistols.
The fact is that this reduces the pistol's overall weight, and the 96A1 comes in at 34.4oz unloaded. The enclosed barrel also minimizes backward momentum and makes the gun more reliable.
This model has a Bruniton finish that has excellent corrosion resistance. There is also a Picatinny rail, so you can easily mount tactical lights and after-market optics.
You might think that all the characteristics add to the size. But this is one of the most compact among those that have a shot at the title of the top-rated .40 cal. pistol. The total length is only 8.5", and the barrel is 4.9". This makes the Beretta perfect for concealed carry.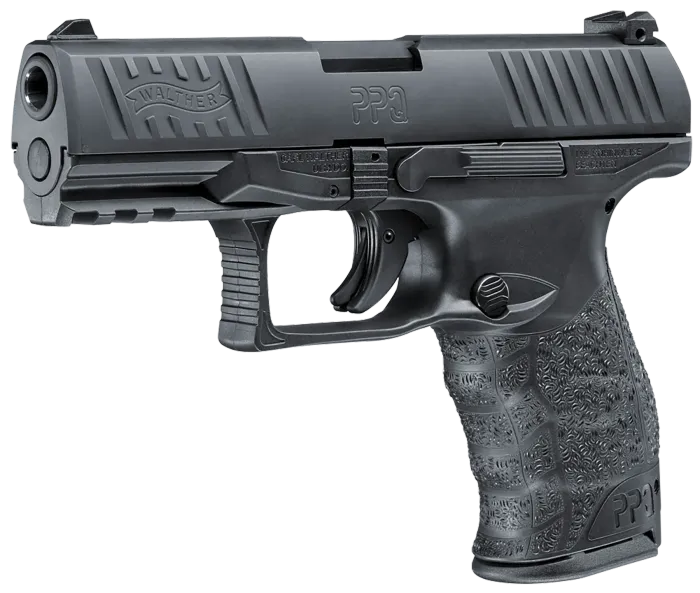 Specifications
| | |
| --- | --- |
| Manufacturer | Walther |
| Model | PPQ M2 |
| Caliber | .40 S&W |
| Barrel Length | 4.2″ |
| Overall Length | 7.2″ |
| Capacity | 10+1 |
Pros & Cons
Pros
Tenifer-coated slide and barrel
Increase muzzle velocity
Racking serrations on the slide
Cons
No manual safety
Long take-up
What pistol does 007 James Bond use? It's called the Walter PPK. It's not exactly the M2, but you get the idea. And then, there is the German engineering.
The M2 has a Tenifer-coated slide and barrel. The barrel is 5" long and enough for greater muzzle velocity. The PPQ's sight radius is also quite long, which helps to line up the sights quickler and easier.
This pistol is designed for ambidexterity. This characteristic applies to the rear and front slide serrations, the slide stop, and the magazine release.
The grip fits like a glove, regardless of hand size or side. The M2's frame is a polymer, and it makes the gun lightweight, durable, and corrosion-proof. The slide is stainless steel and serrated front and back.
The M2 also features a Picatinny frame to mount tactical accessories. But it does not have a manual safety. To offset this, Walther included two drop safeties in addition to a firing pin block.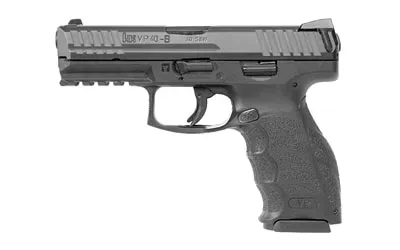 Specifications
| | |
| --- | --- |
| Manufacturer | Heckler and Koch (HK USA) |
| Model | VP40 |
| Caliber | .40 S&W |
| Barrel Length | 4.1″ |
| Overall Length | 7.34″ |
| Capacity | 13+1 |
Pros & Cons
Pros
Good ergonomics
Great fire control
Minimal recoil
With a striker-fired system and a polymer frame, this H&K has hard to rival ergonomics. For instance, the charging handles are at the rear, relative to the slide. And for me, this is superior engineering for ease of operation.
However, the VP trigger is perhaps even more impressive in its crisp and smooth action. As you fire the pistol, you're going to discover that there's almost no take-up. And the trigger allows you to take advantage of the gun's mechanical accuracy.
You get superior fire control, particularly when shooting repeatedly at the same target. Furthermore, H&K found a clever solution to counter the recoil in rapid firing mode.
The trigger guard is undercut, and the pistol is equipped with a tang on the backstrap. This design nudges you to grip higher, closer to the centerline axis, and, in essence helps to buffer the recoil.
This pistol is also lightweight and compact. The round capacity is 13+1.
Other highlights include three-dot sights, slide serrations, polygonal bore, and charging supports. Combine that with an affordable price, and you can hardly go wrong with the H&K.
If you like this option, go check out our HK VP9 review for the 9mm option.
About .40 S&W Pistols
.40 S&W firearms are popular, and many have been advertised as must-have pistols in your arsenal. With so many .40 cal pistol brands to choose from, it's critical to make an educated choice and pick one that suits your needs. 
How to Choose the Best .40 S&W Pistol
The size, construction, capacity, and grip of a .40 caliber pistol can greatly influence its handling, accuracy, and reliability. This guide will explore the key features to consider when selecting a .40 cal handgun.
Construction
The construction of a .40 cal pistol is instrumental in ensuring its longevity and functionality. Commonly, these pistols boast a robust polymer construction paired with stainless steel slides, providing a harmonious blend of durability and reduced weight. However, the construction materials can vary significantly across different manufacturers.
Material Quality: The mantra 'the sturdier the material, the more durable the weapon' holds true. However, ensuring that the materials used don't hinder the gun's performance is paramount.
Design Dynamics: The design should encapsulate the ability to withstand the larger caliber's recoil while maintaining a compact stature for everyday carry. A delicate balance between durability and compactness is the hallmark of a good .40 cal pistol.
Size
The size of the pistol plays a pivotal role in its manageability and recoil distribution. Here's how:
Grip & Recoil: Larger pistols often offer better grip and distribute recoil force more evenly, making them easier to handle. However, smaller models shine in this arena if concealability is your priority.
Purpose Driven: A larger pistol might serve you well for personal protection or home defense. Conversely, the compact models are the go-to for concealed carry, offering a discreet yet powerful solution.
Capacity
The capacity of a .40 cal pistol can range, but here's a general guideline:
Standard Capacity: A 10-round magazine is usually deemed sufficient for various needs, balancing firepower and convenience.
High-Capacity Options: Models are offering higher capacity, which could be a boon in high-stress scenarios. However, compact .40 cal pistols might offer lesser capacity, around eight rounds, due to their size.
Grip
The grip is more than just a handle; it's your interface with the firearm. Here's what to consider:
Material: While polymer grips are common, some models may offer rubber or wooden inserts for enhanced handling.
Design: Checkered patterns and finger grooves can significantly improve grip stability. An angled grip is often recommended for a better shooting posture.
Attributes that Differentiate .40 Cal. Pistols
Characteristics that separate the great .40 cal. Pistols from the duds are comfort, accuracy, and adjustability. These also have to do with features like the construction of the gun.
Comfort
If a pistol feels comfortable in your hand, you become more confident. But with guns, there's no such thing as a model that fits all. And there are different ways a gun can feel right.
For example, a pistol with a good weight distribution should feel more comfortable. Some users prefer a heavier pistol for its better balance and confidence. After that, there is the grip.
As said, the grip is preferably angled in a pistol. But it's even more important for you to have a firm hold on the pistol. And some smaller models might be too clunky to hold if you have bigger hands.
Accuracy
Right off the bat, all the pistols featured in this write-up have exceptional mechanical accuracy. But the pistol sights can help with your aim and doing it faster, too.
You will want a pistol that allows you to configure the sights for faster target acquisition and increased accuracy. These are two different settings on a sight.
Some .40 pistols even feature a night sight, which might be helpful for home defense in the dead of night. But this is one of those extras you might not need.
Another thing that can improve your accuracy is the rifling assembly. Some have really tight barrels, and this may affect the grouping size. As you might have guessed, the tighter the barrel, the tighter the grouping.
Adjustability
The ability to tweak and customize your pistol can be empowering, especially for aficionados.
Sights Adjustment: Swapping or adjusting the sights can be a safe starting point for new gun owners looking to customize their pistol.
Mechanical Modifications: Tread cautiously with mechanical modifications unless you have a solid understanding of the firearm mechanics.
Where To Buy .40 S&W Ammo
One of the most important aspects of owning a 40 S&W pistol is finding the right ammo for your needs.
Whether you are looking for target practice or self-defense, you must consider factors such as bullet weight, velocity, energy, and price when buying 40 S&W ammo. Fortunately, there are many online sources where you can find a wide selection of 40 S&W ammo from various brands and manufacturers.
Here are some of the best websites to buy 40 S&W ammo online:
Conclusion 
All the pistols tested are neck and neck in attractiveness. They are extremely accurate, easy to operate, and suitable for everyday carry. And then there is the Glock 23.
This gun feels like a deadly extension of your arm. It grips perfectly no matter how you hold it, and the loaded-chamber indicator is something you will cherish.
As a Striker Fire action pistol, it helps you get really tight clusters. And it still baffles me how little recoil there is in light of the gun's weight and firepower. Lastly, the Glock 23 Gen 5 comes at a price that's hard to beat—the best .40 cal pistol for the money in my book.
My second favorite is, by far, the Springfield Armory XD-40.
Explore more