5 Best .45 Pistols In 2023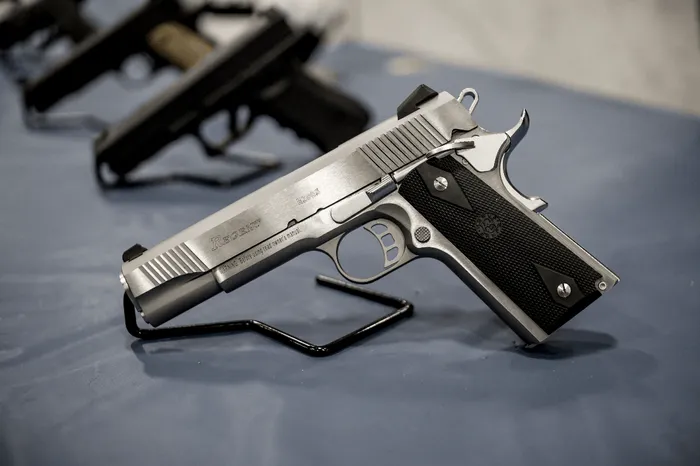 5 Best .45 Pistols In 2023
The .45 ACP (Automatic Colt Pistol) is one of the most popular pistol cartridges in the U.S. It picked up its fame for its customizability, versatility, and long-lasting reputation.
And if you're looking to add one of these to your arsenal, you're at the right place. Let's find out what is considered the best .45 pistol on the market.
About the .45 Pistol
The .45 has been making rounds for over a century. It's a thick and slow cartridge that managed to overcome numerous others. And still, it's as influential as it was during the First World War.
How come?
You'd have to travel back to 1905 and look at the US soldiers during the Moro Rebellion. At the time, the .38 Long Colt was the regular sidearm. However, it proved ineffective in close-quarter combat.
It propelled the military to come up with a larger caliber (.45 Colt) which proved highly successful. All that paved the path for John Browning's Colt 1905 to see the light of day, and the rest is history.
It's a gun designed with the expressed purpose of close-combat self-defense. The fat bullets have proved to be potent against any foe. They're found in a wide range of future events that shaped the world.
That reliability and versatility allow the 45 caliber handgun to thrive in today's environment too. And if you're looking for a piece for self-defense, you may have found it.
Who Is It for?
First of all, I always recommend a .45 ACP pistol for those who are new to pistols and firearms. It's a perfect entry-level gun overall that will introduce you to the world of firearms. Additionally, it will provide you with the necessary protection.
Most of the time, in target practice or rifle training, you'll start out with a .45 ACP. Glock even published a step-by-step guide for .45 pistols, including the parts and overall tips on how to use it.
Furthermore, if you plan to carry a gun (with a permit, of course), this could be a top choice. This portable gun is easy to holster and always on alert. It's simple to load, quick to fire, and provides the best quick defense.
I've also seen some cool and wacky designs in .45 pistols. That's because it's one of the most customizable handguns around. Ask anyone with a Glock if they have ever customized it and they'll probably confirm. If you'd like to add a touch of personality to your gun, you're going to enjoy the .45 pistol.
Pricing
There's no fixed price for a .45 handgun. All reputable manufacturers, including Glock, Sig Sauer, and Ruger, offer a wide range of prices.
If you're on a tight budget, you can find a decent pistol in the $500 price range. But you're going to have to pay attention as some of these pieces may be of lower quality and without the more desirable features.
For instance, the grip is particularly crucial for the ACP. I've communicated with my contemporaries about the .45 a lot. Every time they opted against buying one it was because the girth of the grip was too big. And this could be a common problem among the cheaper ones.
On the other hand, you can find a reasonably decent handgun in the $600-700 range. Of course, if you're looking for something more serious, you can easily find them for north of $1,000. Not to mention, I can name some that cost as much as a motorcycle.
Ease of Cleaning
I'll tell you why the .45 ACP can be messy. It can have a bunch of fancy accessories and things that require maintenance. Thus, the more expensive pistols may seem appealing. However, they're going to come with more work.
If you think you won't have time for tidying up your handgun thoroughly, it's best to opt for a less-complicated model, even if it's cheaper and has fewer features.
Also, you should consider the extra maintenance costs of a more expensive gun. Off the top of my head, you'll need to purchase at least a lubricant and a cleaning kit.
Size
.45 pistols usually range from small to full-sized. However, even the biggest pistols could have a somewhat slimmer frame and appear smaller than they are.
If you want a smaller frame with lighter recoil, you should always go for a smaller gun. Moreover, they are easier to conceal and carry. If you're a woman, you can carry it in your purse, for example.
On the other hand, if you're comfortable with the recoil and want a more powerful gun, you should always go to the full-sized model. They are also a bit heavier, but I've never had a problem holstering it and keeping it on my belt.
Best .45 Pistols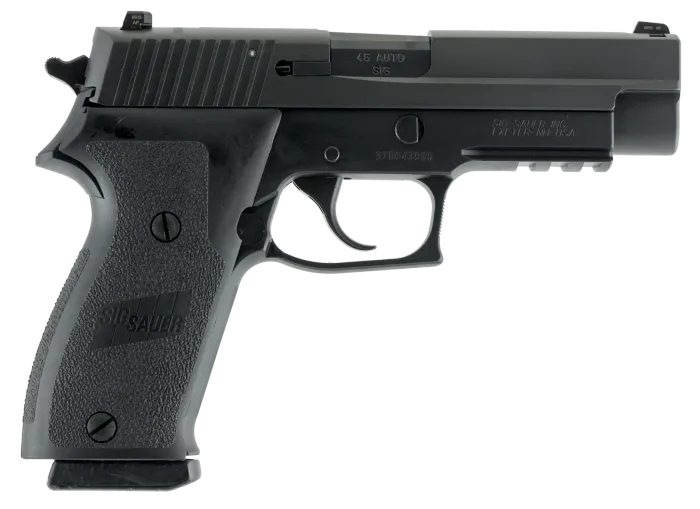 Sig Sauer released its first P220 in 1975 and immediately set the standard for .45 ACPs. I still meet gun enthusiasts who love comparing modern .45s with the P220, which tells a lot.
From the aesthetic perspective, this gun looks like a common semi-automatic pistol. It has a stainless steel frame shrouded with a long-lasting black finish.
I immediately noticed that the pistol sits well in my hand − you know that the pistol's 'got it' when it fills you with confidence.
Moreover, I noticed that the single-action trigger is pretty light, which worried me at first, to be frank. However, I quickly realized that it's not going to shoot by accident thanks to the extremely safe de-cocking lever. It's based on this that I believe this gun is perfect for beginners, even ones with little experience carrying a firearm.
On the other hand, I can't say that it's the lightest gun to carry. In fact, it's a bit of a heavyweight compared to some more recent .45 models (and harder to conceal). A suitable holster could solve this issue, but there may be better handguns for the purpose.
However, if you want to carry it in a revealed holster or use it only for home defense, it's one of the best around.
Overall, the price matches the quality that this gun brings. So, if you want a durable and reliable piece of protection, consider the P220.
Pros
Comfortable fit
Powerful
Good safety mechanism
Decent price-to-quality ratio
Cons
Big and inconvenient for concealed carry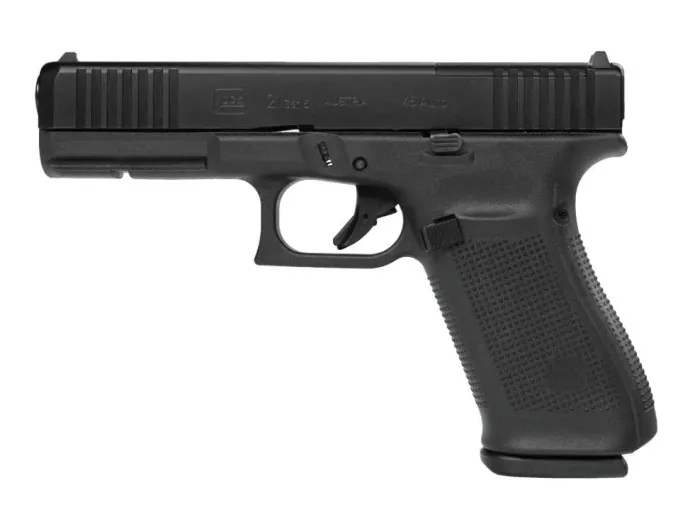 You want a .45 caliber handgun, but you're tempted by the Glock's high-capacity magazines? I can tell you that the Glock 21 combines the two in the best possible way.
First, it comes with either 13-round or 10-round magazines (depending on country/state laws). These extra bullets could come in handy or at least make you feel safer.
Also, it's a full-sized service gun with a 4.6" barrel length. It has a nice feel to the grip and is easy to carry.
I especially like the dual-recoil spring mechanism that allows you to rapid-fire while prolonging the longevity of the piece.
Everything aside, I enjoy the customizability of this gun. Like any Glock, it offers a plethora of potential modifications.
For instance, there's a modular backstrap that enables you to customize the grip according to your hand size, gloves, etc. You can tweak a bunch of things, swap something out, add something else, and completely personalize it.
Glocks could be tricky when it comes to performance and this one doesn't fall behind. The drawback can surprise you at first, especially if you've never fired a Glock before. Luckily, it's easy to get accustomed to it.
Overall, you've got the sheer power and accuracy packed into an accessible and long-lasting gun.
For more information, check out our Glock 21 Gen 5 review.
Pros
High-capacity magazines
Dual recoil spring mechanism for faster shooting
Highly customizable
Affordable
I'd recommend this S&W to those who prefer smaller, budget-friendly guns.
It looks fantastic. First up, the polymer framework provides resistance and durability. Additionally, the stainless steel coating perfectly blends with the rough, sandpapery grip texture. This type of grip prevents the gun from slipping and always keeps you in control.
With a 3.3" barrel length, it's one of the smallest .45s on the market. All of this makes for a petite and elegant gun ideal for concealed carry.
At first glance, this gun is as powerful as its larger counterparts, and it comes with a 6-round magazine. The problem here is that the small and thinner frame could mess up the accuracy. Of course, it's nothing that training won't take care of.
The model comes with or without a standard thumb safety. This indicates that you can use only the well-positioned side-lock for safety.
The price makes this one of the best .45 pistols if you're looking for compactness.
Speaking of compact, check out our guide on the best compact 45s.
Pros
Cheap and portable
Comes with a carry
Great grip texture
Whether you're left- or right-handed, the Springfield Armory will fit you to a tee. Although it's small, I'd still put it in the subcompact category. That's because I didn't have any trouble maneuvering the controls which sometimes happens with small pistols.
Regarding the controls, you'll find the exposed hammer on the back that allows you to switch between single- and double-action.
Furthermore, you don't have to lower the hammer while squeezing the trigger to switch between the two actions. It made my life much more comfortable as I've heard stories about accidental discharges that caused a lot of trouble.
On top of that, I found this gun particularly potent for its size. I managed to hit targets from over 200 yards away. The XD-E packs a punch, so the smaller frame can cause aggressive and snappy triggers.
Also, I've got to point out that this gun is also low maintenance, so if you want a practical and portable gun at an affordable price, you should definitely check it out. Sometimes there are deals and you might be able to find it at a cheaper price.
Pros
Ambidextrous
Powerful and portable
Affordable
Taurus 24/7 G2 .45 ACP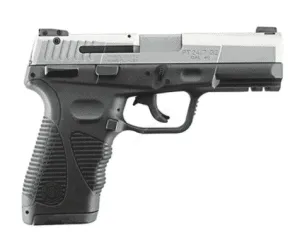 It'd be unfair to look for the best .45 pistol and not include a Taurus. The Brazilian manufacturer has always been up there, and this little explosive piece is proof enough.
Just from looking at it, it seems a bit shorter and smaller than any other .45s I've come across. However, it has an extended magazine capacity which makes the grip a bit longer.
Despite being a double-magazine gun, you won't notice any grittiness in the grip. It's pretty comfortable to handle and easy to conceal.
I've noticed that it packs more features than its counterparts. For instance, the 24/7 recoil spring mechanism makes the recoil tamer than that of some other handguns. Furthermore, there's a telescoping metal guide rod that aids in this.
I was somewhat surprised by the accuracy of this pistol. Considering it's another small-frame gun with power, I've expected the rounds to scatter around the target. However, I managed to keep my precision in little to no effort. It's probably the most accurate out of all the small .45s I've ever tested.
But here comes the bad news. The trigger on the 24/7 is a bit too heavy for my taste. It's fine if you're using it for recreational target practice. But I wouldn't feel the safest knowing that I need to make an effort to pull the trigger if I'm in danger.
All things considered; the Taurus 24/7 is a very decent pistol. It's safe, light, and equipped with an extended magazine. If you can get used to the heavier trigger, you'll feel much safer with this gun around.
Pros
Extended magazine
Feature-rich
Conceal carry
Good price
Conclusion 
All the above guns have distinct features and prices. And it's far from easy to pick the top .45 pistol among them. If I had to choose, I'd go with Sig Sauer's P220 as best for the money. Call me old-fashioned, but it packs everything I like in a gun.
It's comfortable to grip and extremely powerful. I like its safety mechanism, which allowed me to relax and enjoy the smoothness of a single-action trigger. Also, it comes at a fairly reasonable price and it's a favorite gun of many. On top of that, it doesn't require much maintenance at all.
Of course, if you think you'll have trouble concealing it or carrying it at all, you may choose a smaller one from the list.
Explore more