Best 6.5 Creedmoor Muzzle Brake [2023]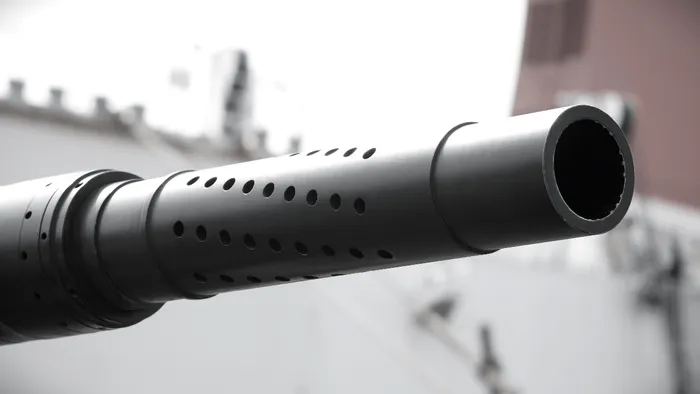 Best 6.5 Creedmoor Muzzle Brake [2023]
So, after thinking long and hard, you've finally decided to purchase a long-range 6.5 Creedmoor rifle rather than an AR-15. This is an excellent hunting option and it's neck-and-neck with the Winchester .308 caliber.
While 6.5 Creedmoor rifles deliver a powerful impact with outstanding accuracy, the recoil can be overwhelming for some.
Not to worry though, because muzzle brakes solve that problem. Once installed, they greatly reduce the recoil and offer better handling when shooting.
In this guide we'll talk about muzzle brakes, how they work, some of their upsides and downsides, how to find the most suitable one for you, and answer some of the most important questions so you won't have to browse all day.
What Are Muzzle Brakes and How Do They Work?
Simply put, muzzle brakes are carefully constructed aftermarket parts that are used to redirect and channel propellant gasses in order to decrease kickback and felt recoil when firing.
One of the most popular long-range hunting rifles is the 6.5 Creedmoor and the Winchester .308 caliber.
Gun enthusiasts and hunters wage a timeless war to decide which one is better, but it's really just personal preference.
The Difference Between 6.5 Creedmoor and .308 Winchester
The 6.5 Creedmoor has a much longer barrel than the .308 Winchester rifle, while the .308's muzzle velocity is greatly compromised with a 16-inch barrel, so it's really up to the gun owner to decide.
The 6.5 Creedmoor caliber semi-automatic rifle offers great customization and aftermarket options to increase its accuracy, add more power, and of course, reduce that aggressive recoil.
Some folks are worried that the muzzle brakes might break their rifle's scope, and this is a major issue because you might be tempted to go for a more durable aftermarket scope. Others dislike how they make their rifle even noisier.
However, going for a quality muzzle brake offers you more benefits than hindrances, and we'll discuss this issue below.
The Characteristics of the 6.5 Creedmoor Round
Conceived by Hornady in 2007 as an upgraded version of the .30 TC round (and this was based on the .308 Winchester), the 6.5mm Creedmoor round was designed to focus on high energy retention, long-range precision shooting, and a flat trajectory that disregards all manner of gravity laws.
Just joking about the last one of course, but it might as well be one of the best rounds for deer, boar, elk, and bear hunting. It's popular among hunters and competition shooters alike.
You can check out our top AR uppers picks if you're having trouble choosing some.
If you're looking for decent, easy-to-load, 1200 yard shooting rounds with low recoil, give the 6.5mm Creedmoor a go.
Different Types of Muzzle Devices
You can find many threaded muzzles on the market today, and they work great with lots of different attachments that increase the performance and handling of your rifle.
You might come across some terms like 'rise eliminator', 'flash suppressor', or 'silencer', and I personally tend to avoid using these terms because they complicate things a little.
Let's keep things simple. Common types of muzzle devices are:
Muzzle Brakes 
The ports of muzzle brakes redirect the muzzle blast to decrease recoil by up to 85% and this can be very beneficial for people with shoulder problems.
It is specially designed to redirect the channeled gasses from the propelled bullet, and a part of the gasses goes through the sides of the muzzle, which dampens the blast and reduces recoil. 
Contrary to popular belief, muzzle brakes do NOT reduce muzzle flash and make the gun much noisier.
There are two types: chambered and radial.
Chambered muzzle brakes are also named 'compensators' and use different open ports through which the gas channels and dissipates the recoil. It also reduces the vertical kickback.
Radial muzzle brakes use smaller ports and holes that keep the muzzle in place and work together to reduce recoil.
Flash Hiders 
Flash hiders, or flash suppressors, are different from muzzle brakes and do not reduce recoil, but they redirect the fire and reduce the flash caused by the blast. Perfect for night hunting, they are either multi-pronged or with slitted ports, and the most popular ones are the military-grade A2 flash hiders with a solid bottom. They also make your rifle look cool.
Suppressors 
Suppressors reduce felt recoil by trapping the gas to prevent further expansion.
In contrast to the muzzle brake, which channels the gas through its ports and holes, suppressors negate recoil impulse via trapping the gas.
Some people call suppressors "silencers", and this is inaccurate because silencers decrease the sound from the blast. Suppressors won't silence the blast like in those Hollywood action movies.
Why Do I Need Muzzle Brakes?
They don't just reduce recoil. They increase handling and ease of operation, and this is of great benefit for competition shooters and professional hunters.
When you need to reload quickly while still having good scope and recoil mitigation when aiming, there's no other option than to go for a decent muzzle brake.
Hunters and competition shooters go for heavy recoil rifles like the .450 Bushmaster, .338 Lapua, and .300 Winchester Mag, for instance.
Rifles like the Sig Sauer CROSS rifle or Ruger Precision Rifle offer great precision and efficiency and they are a popular choice for game hunting and competition shooting.
But, the thing is, these things kick like a mule.
Making on the go adjustments while aiming down the sight with a scope is very important. That's why muzzle brakes help with the recoil, kickback, and handling, so you won't have to deal with stressful positioning problems or adjustment issues.
Now let's get right to it without further complicating things. Here are our top picks for 6.5 Creedmoor muzzle brakes to help you narrow down your options.
Best 6.5 Creedmoor Muzzle Brake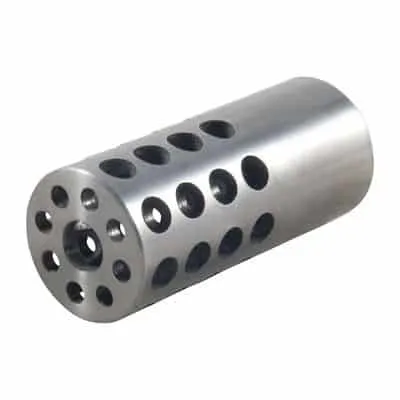 Pros
Best value
Durable stainless steel construct
Excellent rust and corrosion resistance
Up to 45% recoil reduction and muzzle rise
High-quality multiple venturi gas redirection technology
Prevents blowback
Cons
Heavy
Might be expensive for some gun owners
There's a reason why you see the Vais 6.5 Creedmoor Muzzle Brake on many lists.
It's a bit pricey but offers some of the best recoil and muzzle rise reduction money can buy.
The stainless steel Vais 6.5 Creedmoor Muzzle Brake uses a sophisticated gas redirection technology with its carefully placed holes and perpendicular and horizontal expansion chambers that equally disperse recoil with minimal muzzle blast.
It's meticulously designed to regulate gas flow that also decreases blowback and increases the muzzle brake's longevity. This one goes well with .264/6.5 mm calibers and 5/8-32 threads.
On the downside, it's slightly heavy, but it doesn't hinder handling at all. Overall, the Vais is a very durable muzzle brake that can serve you for a very long time. You can either choose a parkerized finish or a matte finish, and both offer great corrosion resistance.
Although it's a bit pricey and heavy, it's easy to install at the end of the barrel, it perfectly fits any 6.5 Creedmoor rifle and the price is actually a great value for your money.
It's a great choice for those of you looking to spend a little more on a high-quality muzzle brake with efficient gas redirection technology.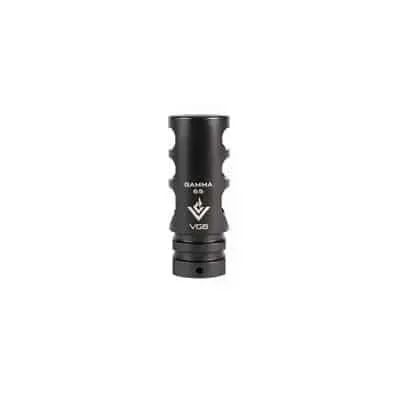 Pros
Compensator/muzzle brake hybrid
Recoil reduction and no rearward kick
Affordable
Rust and corrosion resistance
Highly durable stainless steel construction
Bead-blasted stainless steel or black nitride finish
Cons
Crush washer complaints and issues
Might not fit all 6.5 Creedmoor rifles
In contrast to the Vais muzzle brake, the VG6 Precision Gamma 6.5 Muzzle Brake is a versatile budget option and it's actually a hybrid muzzle brake/compensator. Two birds with one stone for a great price.
What this means is that it reduces muzzle flip or kickback as well as the recoil, and this can be of great benefit to most 6.5 Creedmoor rifle owners that are looking for kickback and recoil reduction.
It's a heat-treated 17-4ph stainless steel construction with excellent durability as well as rust and corrosion resistance. The muzzle brake is lightweight and durable, so you won't have to worry about straining your rifle.
There have been some complaints about the muzzle brake not being compatible with some rifles, so mind the diameter and sizes. It fits most 264/6.5mm rifles, as well as .308 Winchester, 6.5 Grendel, and 6.8 Remington SPC rifles with 5/8-24 threads.
You can pick between a bead-blasted and a black nitride matte finish.
What's awesome is that it comes with a crush washer for tighter fitting, but there have been some customer reviews and complaints about the quality of the crush washer. It's recommended that you buy it separately if you need one.
The VG6 Gamma Muzzle Brake is for those looking for a durable, cost-effective, and versatile muzzle brake that offers both recoil and flip reduction, and this increases the overall accuracy and handling. A double-edged axe of a muzzle brake, it's definitely a top-shelf budget option if you're a first-time buyer.
It's somewhat similar to the Precision Armament – M11 Severe-Duty Muzzle Brake. Let's take a closer look.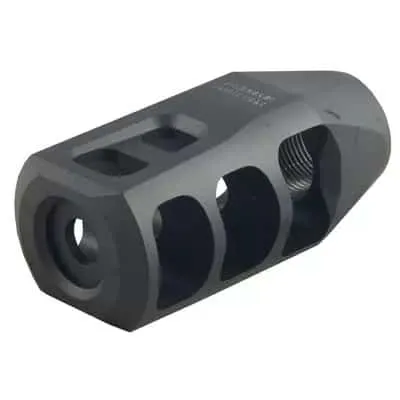 Pros
Easy handling and installation
You get to choose from a DLC matte black or stainless steel finish
Precision CNC machinery for high durability and longevity
Heat and corrosion-resistant 400-series stainless steel
Very tolerant threads machined as bore aperture
Recoil and muzzle flip reduction
Cons
Crush washer not included
This piece of stainless steel machinery is another great muzzle brake option for a solid price.
The Precision Armament M11 Severe-Duty Muzzle Brake fits most .264/6.5 mm calibers. It's great if you're looking for a muzzle brake that reduces flipping and recoil. Its specific design is heat and corrosion resistant, built from 400-series stainless steel.
It's built with high-tolerance Class 3 threads and machined according to the same long-range bore aperture operation that works perfectly with the threads.
The Precision Armament M11 Severe-Duty muzzle brake utilizes two symmetric and two front baffles with compensation and gas reduction that channels the blast sideways. It works by redirecting gas sideways and upwards for excellent recoil and drawback reduction.
The Precision Armament M11 is available in DLC (diamond-like carbon) matte black or stainless steel finish, and also comes with wrench flats on top for easy installation.
The Precision Armament M11 Severe-Duty Muzzle Brake doesn't come with crush washers, but it's still a great option if you're looking for a durable, user-friendly, and easy-to-install muzzle brake that will serve you for a very long time.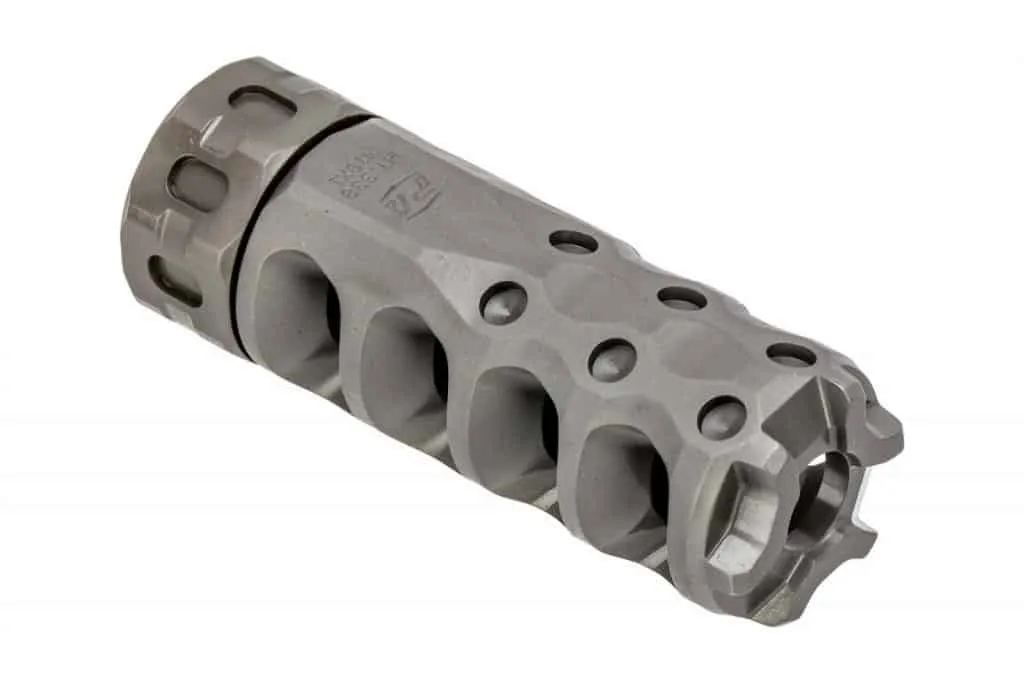 Pros
Compact, lightweight design
Heat-treated CNC stainless steel design
Universal lock nut ensures easy installation 
Effective flash hider
Up to 85% recoil reduction
Cons
Doesn't include a crush washer
Very loud for a muzzle brake
Here's a great one from the same manufacturer, Precision Armament.
The Hypertap Muzzle Brake by Precision Armament comes with impressive recoil reduction while maintaining a decent 35-degree blast baffle angle and bore clearance that prevents blowback.
What this means is that there's less gas blowback, better handling, and increased precision, and it's definitely one of the best muzzle brakes you can find on the market.
The Hypertap muzzle brake is suitable for a 6.5mm Creedmoor barrel with 5/8-24 RH TPI threads, just like most of the other models on the list. The minimum recommended barrel length is 14.5", and it's compatible with other 6.5mm Creedmoor Barrels.
It offers great recoil reduction and near-total movement elimination, all thanks to its tunable gas biasing, piloted drill-out ports, multi-directional gas biasing, PVD coating, advanced convergent-divergent (CD) port geometry, and gas-dynamic design.
The downsides are that there are no crush washers, and it's one of the loudest muzzle brakes on this list. Still, the Hypertap offers zero flash increase, a cleaning-friendly and compact design, and a Lonbond® CrCN finish for your aesthetic needs.
It weighs nearly 5 ounces, and the heat-treated 400 series 17-4 stainless steel design offers longevity and durability for an excellent price.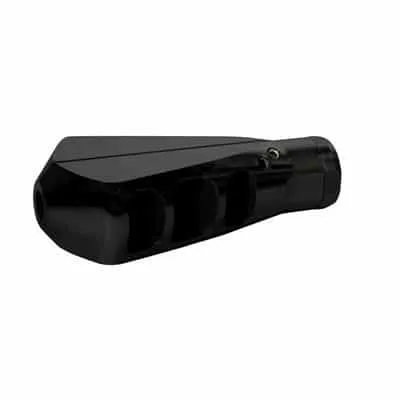 Pros
Downward force jet nozzle technology ensures great recoil reduction
Compatible with most 6.5 Creedmoor rifles
Great aesthetics
Includes crush washers
Here's a great one that's suitable for 264/6.5 mm (.264) with 5/8-24 threads.
The Lancer Systems Viper Brake is perfect for long-range shooters that are looking for recoil control and muzzle rise negation.
It's a high-quality ⅝ x 24 TPI threaded muzzle specifically designed for the 6.5 Creedmoor rifle, as the muzzle offers a solid blast chamber with four jets that can be easily modified.
It also has crush washers for easy installation and a dozen jet nozzles with various sizes for more customization options.
You can choose between stainless steel finish or a black nitride finish.
It's not exactly a budget option, but it offers reduced recoil and lots of customization options.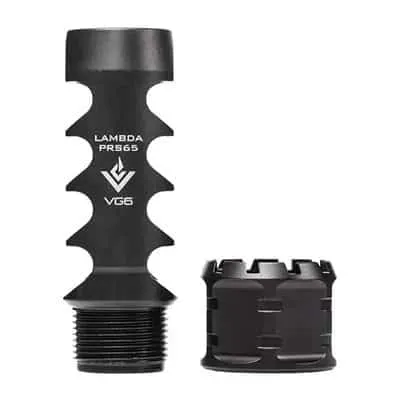 Pros
Lightweight and easy to install
Durable, reliable, and offers longevity
The Aero Precision Lambda PRS65 Precision Muzzle Brake is a great stainless steel option for those of you who are looking for a tight muzzle brake that doesn't need jam nuts to keep it in place, and don't like to bother with the hassle of constant adjustments. It screws on tight and doesn't loosen up.
Can fit most ⅝-24 TPI threaded muzzles and you have reduced recoil all thanks to the two-piece four-chamber design.
Pick the Aero PrecisionLambda PR65 Precision Muzzle Brake if you're in need of a model that won't loosen up easily. It's an extremely sturdy muzzle with a tight fit, perfect for any hunter that doesn't want to bother with constant re-adjustments.
It's not cheap, but this is a great option if you're looking for sturdiness, reduced recoil, and .308 compatibility.
You can choose between all-black stainless steel and bead-blasted stainless steel finishes that have corrosion resistance.
Advantages & Disadvantages of Muzzle Brakes
Not every aspect of muzzle brakes offers improvement.
Using them usually means a trade-off between how much your shoulder hurts and how much you can tolerate loud blasts in your ears and dust in your rifle.
Here are the advantages and disadvantages of muzzle brakes.
Advantages
Recoil Reduction – It's obvious that this is the main advantage of muzzle brakes. Installing one on your 6.5 Creedmoor rifle is definitely a good idea, because these rifles have a very powerful kick, and the massive recoil can be a hindrance for most hunters.
Allows Shooting Larger Calibers – Powerful hunting rifles like the 6.5 Creedmoor have a massive kickback and impair your handling and accuracy. That's why you should go for muzzle brakes in order to shoot larger calibers with ease.
Disadvantages
They Increase Blast Noise – Muzzle brakes channel the gas expansion in such a way that every round fired produces really loud sounds.
I've seen shooters reaching for the Aspirin after using long-range rifles with muzzle brakes. These loud blasts create serious headaches, and I strongly recommend using earplugs if the blasts are unbearable. Tinnitus is no joke.
Kick Up Dust – Most muzzle brake users I know really dislike them because of the dirt and dust that's kicked up after each shot. They kick up a lot of dust and cleaning the muzzle brake every time after shooting is frustrating for some.
Buyer's Guide for 6.5 Creedmoor Rifle Muzzle Brakes
You can't really go wrong with a muzzle brake if you pay close attention to design, construction, and compatibility.
Most of the muzzle brakes that you'll find on the market offer top-notch recoil reduction and usually do the job just fine with no major issues.
Keep in mind that, while a muzzle brake will reduce recoil and make it possible to fire a larger caliber bullet for big game hunting, there are some drawbacks. For example, it can increase the noise output of your firearm and kick up dust on the side of the brake.
Here's what to look out for when choosing your 6.5 Creedmoor muzzle brakes.
Design and Construction
This is probably the most important one because it all boils down to longevity and durability.
Great muzzle brake design means perfect hole alignment and geometry, gas expansion technology, 35-degree blast baffle angle, and drill-out ports that offer movement elimination.
Rust, corrosion, and heat resistance are also important, so pay attention to their construction. Great muzzle brakes have those 400 series, heat-treated 17-4ph stainless steel constructions with excellent durability.
Try to look for muzzle brakes that are made of heat and corrosion-resistant material. They are almost always over the $150 mark, so I recommend you browse this price range when you're checking out Brownells or Sportsman's.
Most muzzle brakes have a somewhat similar design and use gas expansion technology that offers great recoil and movement reduction, so you should always thoroughly read and compare the gas expansion characteristics of the muzzle brakes of your choice.
Flexibility
Ease of installation and function is another important characteristic. You should look for flexible Creedmoor muzzle brakes that can be installed on your rifle barrel easily without the help of a gunsmith.
Some muzzle brakes fit like a glove, others require serious elbow grease to install without breaking or tightening too hard, so be mindful of this.
Looking for crush washers, or shims can also be beneficial if you're not in the mood for gunsmithing and the hassle of installing complex muzzle brakes.
Price
As strongly as I believe that the quality of aftermarket customization options is only reflected by the price, going for muzzle brakes higher than $200 is definitely unnecessary.
Most of these high-quality muzzle brakes usually go for around $100 to $150 and work just fine.
FAQs
Do Muzzle Brakes Make Rifles Louder?
Technically, muzzle brakes don't increase the blast sound, but the redirecting gas expansion of the muzzle brakes does. Get yourself some ear protection for safety from the loud blasts.
If you're looking for powerful game rifles that are less noisy, you should check out our .30-06 rifle buyer's guide.
Does a 6.5 Creedmoor Need a Muzzle Brake?
It's a good idea to put a Muzzle Brake on your 6.5 Creedmoor if you want to reduce kickback and recoil. This is important for better handling and accuracy.
6.5 Creedmoor semi-automatic rifles have high energy retention and a flat trajectory that offers efficiency while hunting game at long range.
Can You Put a .308 Muzzle Brake on a 6.5 Creedmoor?
It's alright if you put a .308 Muzzle Brake on a 6.5 Creedmoor rifle. There have been no known major issues with this, but it's highly recommended that you stick with the suitable caliber.
If you're looking for high-quality .308 ammo, check out this guide.
Do Muzzle Brakes Improve Accuracy and Reduce Recoil?
Yes, a muzzle brake would improve the overall accuracy of your Creedmoor 6.5 rifle because of its recoil reduction characteristics.
Some models can reduce recoil by 90%.
What Is the Difference Between a Muzzle Brake and a Compensator?
Muzzle brakes reduce recoil and slightly lessen the muzzle flip and movement, while a compensator channels the gas expansion and greatly lessens movement, but has a smaller recoil decrease.
Will Muzzle Brakes Damage the Scopes of My 6.5 Creedmoor?
Yes, because of the rifle deceleration, they may damage your scope, as many common scopes are not very durable to withstand muzzle brake stress.
Look for durable scopes as backup aftermarket options.
Do Muzzle Brakes Affect the Velocity of a 6.5 Creedmoor?
They do. They can slightly increase the bullet velocity on 6.5 Creedmoor rifles by a dozen fps (feet per second).
How Tight Should a 6.5 Creedmoor Muzzle Brake Be?
I recommend you hand tighten your muzzle brakes to 10:30 and 12:00, as a good standard measure that won't overtighten common muzzle brakes.
How Much Does It Cost to Put a Muzzle Brake on a 6.5 Creedmoor?
Creedmoor 6.5 muzzle brakes usually cost between $100 and $200, but you can also find lower prices in used sections on aftermarket websites.
Conclusion
Muzzle brakes are a good go-to aftermarket option if the recoil proves too much for your shoulder and shooting experience.
For 6.5 Creedmoor rifles, they are definitely a nice solution for that problem, and while some may not like how loud they render your rifle, as well as the risks of damaging your scope, it's still a viable trade-off.
Choosing the right muzzle brake for your 6.5 Creedmoor rifle, AR-15, or bolt-action rifle doesn't have to be complicated. I highly recommend you go for the pricier options because they are exceptionally durable and offer longevity. Just look for a suitable caliber and barrel.
Stay safe and shoot straight!
Explore more