Best 6.5 Grendel Uppers & Buyer's Guide [2023]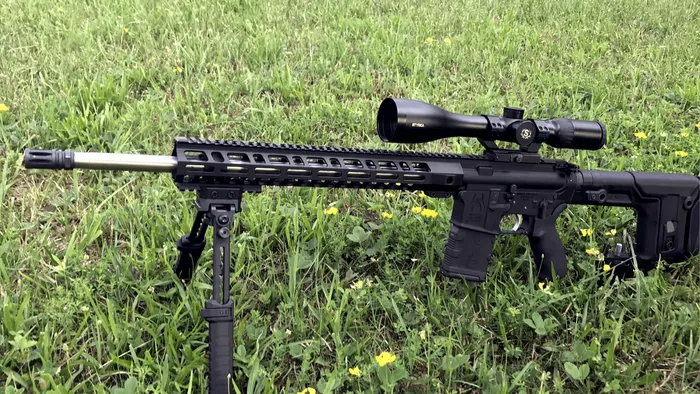 Best 6.5 Grendel Uppers & Buyer's Guide [2023]
So, you want to up the ante on your AR-15 rifle, but the .223/5.56 doesn't reach your desired ranges.
Here's a simple fix. Why not try a 6.5 Grendel caliber?
No, I don't mean buying a whole AR-15 rifle with a 6.5 Grendel barrel. I mean completely switching your .223/5.56 upper with a 6.5 Grendel upper.
Today, I'll talk about the best 6.5 Grendel uppers that you can find on the market today. We'll take a closer look at what they have to offer, how they'll work with your AR-15 rifle, and compare them so you'll see if it's the right fit for you.
The venerable 6.5 Grendel is a certified jack-of-all-trades type of caliber that's specifically made to appease long-range hunters while adding more power to your shot. It's much more powerful compared to the 5.56 NATO, and it still works just as smoothly in your AR-15 rifle.
Personally, I tried out the Palmetto State Armory 20-inch 6.5 Grendel Upper as a recommendation from a friend, and I was really surprised with this popular hunter's choice.
Over these past few months, I've had the chance to try out several 6.5 Grendel uppers besides the PSA 20-inch.
Most of them are based on my personal opinion, forum skimming, reviews, and overall popularity among hunters.
Their prices vary greatly, but every single one of them retains its absolute value, and picking one out just depends on your preference and budget.
Additionally, I added a little buyer's guide for the 6.5 Grendel so you'll have a better understanding of what to look for or whether you need it or not.
Let's check out my absolute favorite.
Best 6.5 Grendel Uppers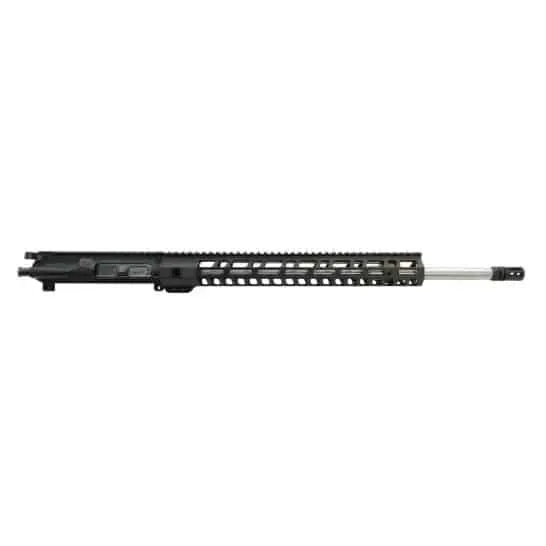 Pros
Lightweight and durable construction
Affordable
Excellent PSA value with high-performing characteristics
Has an M-Lok free-float handguard with anodized finish
Full-auto bolt
Lightweight handguard
Affordable
Cons
Charging handle isn't ambidextrous
Limited rail space
A2 flash hider could be better
Leave it to Palmetto State Armory to take care of all your AR-15 needs, and you'd be lying to yourself if you think their 6.5 Grendel uppers are simple budget options.
Since it's PSA we're talking about, there are a dozen of these uppers with different lengths, handguards, and features. But, we'll stick to the most popular option: the one that I chose for my AR-15.
The PSA 20″ Rifle-Length 6.5 Grendel 1/8 Stainless Steel Upper is a mouthful, and it's as long as its name. This high-performing upper is made from an aircraft-grade 7075 T6 aluminum, and it looks like a standard M4 receiver with a regular charging handle, dust cover, and bolt assist.
The PSA 20" 6.5 Grendel Upper has a free-float handguard, an adjustable gas block, and a 9310 nitride-coated bolt carrier group that's fully automatic.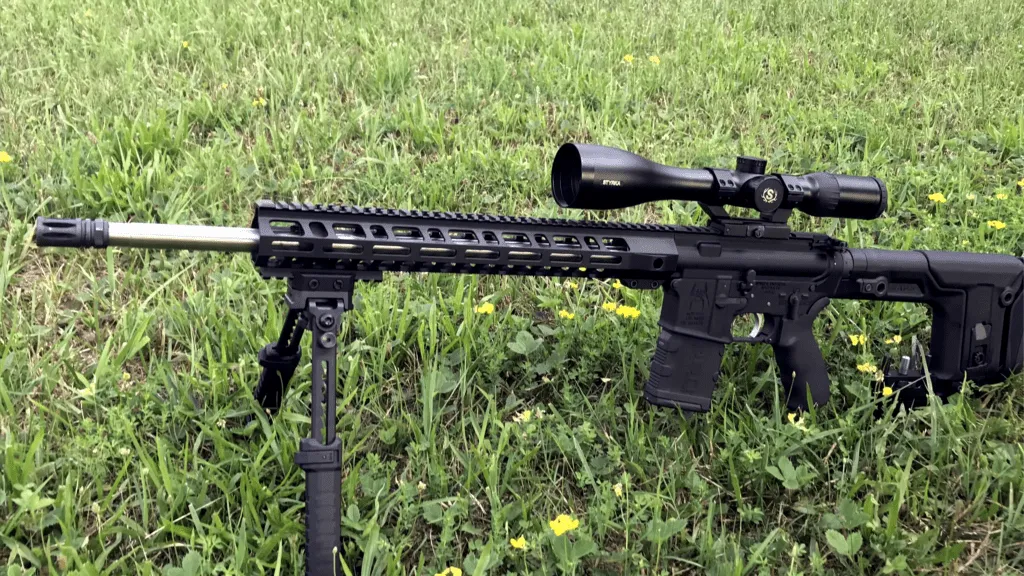 What I most like about the PSA 20″ is the birdcage-style muzzle device to which you can install some aftermarket parts. Keep in mind that this is a standard A2 muzzle break, and your aftermarket customization needs to fit the 5/8-24 thread.
Most importantly, the PSA upper has a perfect 20-inch barrel length that's flexible enough for mid- to long-range application, and it can still perform well for shorter ranges.
The barrel with a 1:8 twist rate is 416R stainless steel that offers excellent heat tolerance. This is what makes it a fantastic choice for any hunter or AR-15 enthusiast.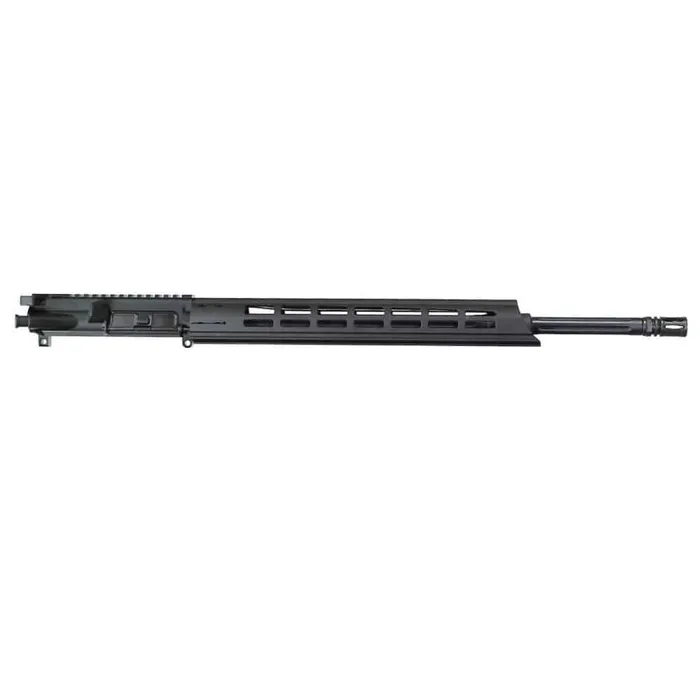 Pros
Made by the man himself, Bill Alexander
High-performing 6.5 Grendel upper
1:9 barrel twist and 5/8-24 RH thread offers optimal stability
Lightweight for an 18-inch barrel
Superb reliability with multiple models and kits available
Coming in at a very close second, I have the Alexander Arms 6.5 Grendel Upper.
Since Bill Alexander himself played a major part in creating the blueprint for this versatile cartridge, it's only fair to put the fantastic Alexander Arms 6.5 Grendel Upper as the runner-up. Unveiled around 2003, it's an outstanding piece of machinery.
We did say "played a part" because Bill Alexander, a British-American armorer, actually created the whole thing alongside Arne Brennan and Finnish ballistician Janne Pohjoispää—a very competent bunch who knew what they were doing.
It has a fluted barrel with a 5/8-24 RH thread that's perfectly tailored for this cartridge, especially when 130-grain bullets are in question. The Catalyst Arms Fast Track handguard with M-LOK slots offers multiple functions with its full-length Arca rail on the bottom for  bipod options.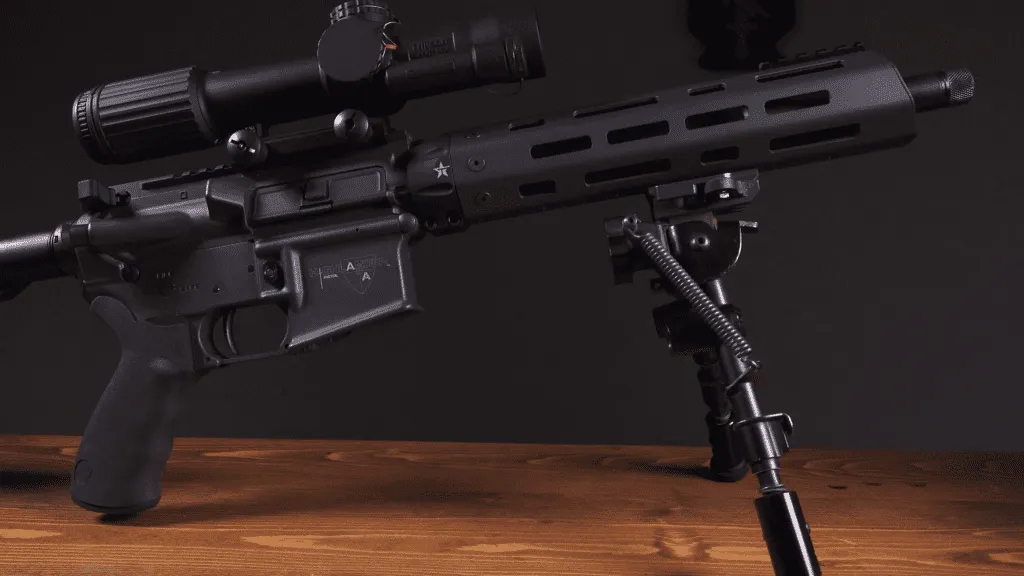 The thing is, this team went with a 18-inch stainless steel barrel with a 1:9 twist on the upper, and they claim that this twist rate is one of the most—if not the—optimal configurations for stabilizing a 6.5 Grendel bullet to reach more than 700 yards.
This specific twist and barrel length, alongside its full build for optimal ballistics, an A2 flash hider, Raptor ambidextrous charging handle, and a sleek, black anodized finish are what makes your rifle shoot 6.5 Grendel bullets on point with unwavering precision.
The Alexander Arms 6.5 Grendel Upper comes fully assembled, but there's also a kit version complete with bolt carrier, 6.5 Grendel bolt, a gas block, and Mil-Spec charging handle. You can customize your kit with other parts if you think you have a better barrel to combine it with.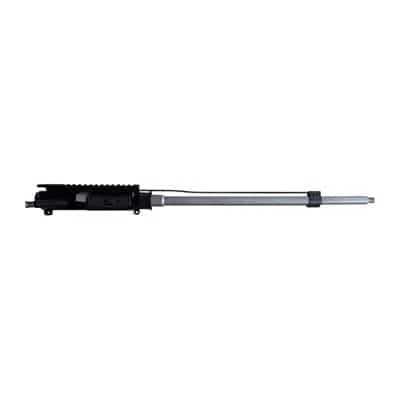 Pros
Excellent price with a great value
16-inch barrel with a 1:8 twist is optimized for the 600-yard range
Readily assembled straight from the package
Can be assembled with other parts
Standard ½-28 muzzle device compatibility
Cons
Starter kit
Doesn't have a BCG or a charging handle
As one of the most straightforward, no-fancy-stuff, budget 6.5 Grendel upper with just the essential construction, the East India Match 18″ is a fantastic addition for your AR-15 platform.
Made by Sons of Liberty Gun Works, the East India Match Barrel Starter Kit is made for turning your AR-15 rifle into a long-range powerhouse, and for an insanely low price at that when compared to the value you're getting.
It has a 7075-T6 aluminum machined upper, a 4140 steel gas block that's nitride treated, and stainless steel melonite gas tube.
The 16-inch barrel with a ½-28 muzzle device and a 1:8 twist works perfectly with its overall construction with a Mil-Spec MIL-A-8625F anodized finish, while the interior has a dry film lube.
The low price is because it doesn't come with a BCG (bolt carrier group) or charging handle, and yet, it's still one of the most popular budget options you can find.
There's no handguard either, but it's a solid assembly kit that comes ready to go with a GI barrel nut. You can easily take it down and combine the parts to your liking.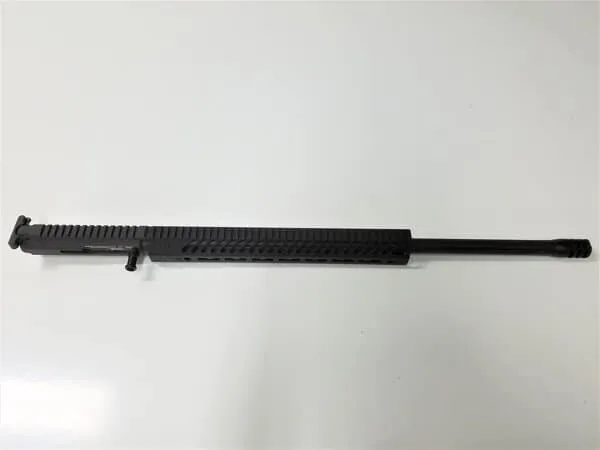 Pros
Ultimate in 6.5 Grendel upper technology
Comes with 3 different modification settings you can pick and purchase
Top-shelf construction, parts, machining, and finish
Competition-grade quality barrel rifling and precision
For the premium option, I personally think that the Precision Firearms Neptune IX takes the cake, as it's not too expensive but still feels like a premium sharpshooter's instrument.
For long-range hunting, you have your 1:8 twist, 20-inch barrel, mil-spec charging handle that works uniquely with a side charging upgrade.
The mechanism operates smoothly to no end, not to mention the sleek aesthetics and the Seekins Precision SPR3 15-inch rail system, which opens up a window of aftermarket opportunities in upgrades and red dot sights. Additionally, it accepts Picatinny-style rings as well.
For your long-range hunting and shooting, the Neptune IX has a Superlative Arms adjustable gas block, nickel-boron bolt carrier group (BCG) mil-spec finish, and your standard hard-coat, black anodizing for anti-scratch or rusting.
Of course, it also has the stuff you can't go without: the forward assist, shell deflector, and thickened aluminum construction for durability and a lightweight feel.
Since Precision Firearms have a long history of dealing with 6.5 Grendel rifles, you can be sure that they know their upper receivers well.
Out of their complete arsenal, the Neptune IX is undoubtedly the most versatile and complete upper for your AR-15 platform.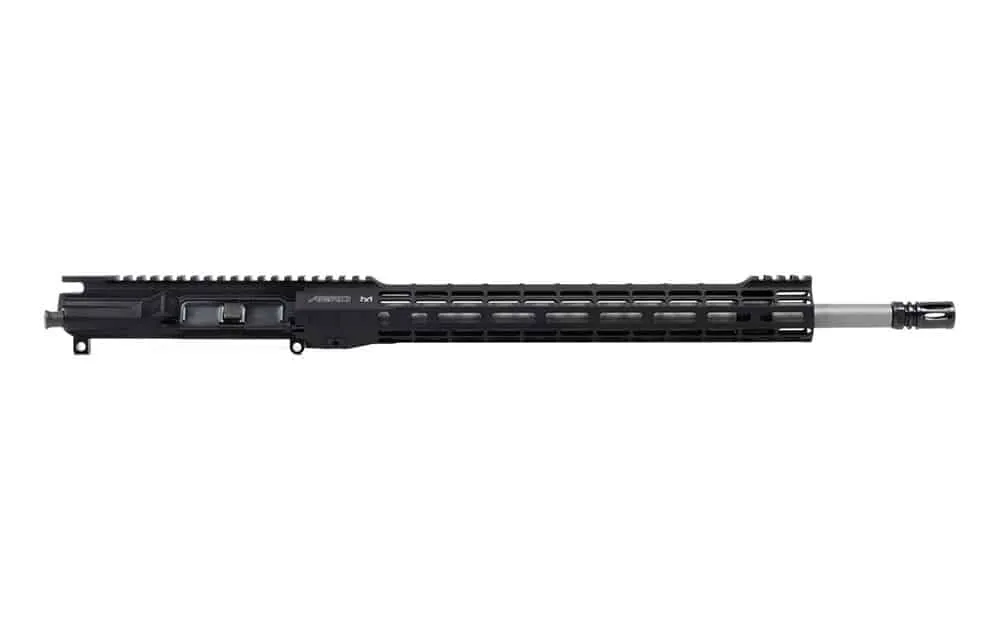 Pros
Superb precision around the 200-yard range
High-quality materials with great value
Lightweight
Extended feed ramps
Seamless rails
Comes with built-in sling sockets
Comes in two colors and finishes
Cons
BCG not included
Charging handle not included
This list isn't complete without an Aero Precision upper.
Aero Precision has such high-quality goodies with a certified abundance, it's no wonder they have so many 6.5 Grendel uppers to boot. To give you a better idea, they make parts for other 6.5 Grendel manufacturers.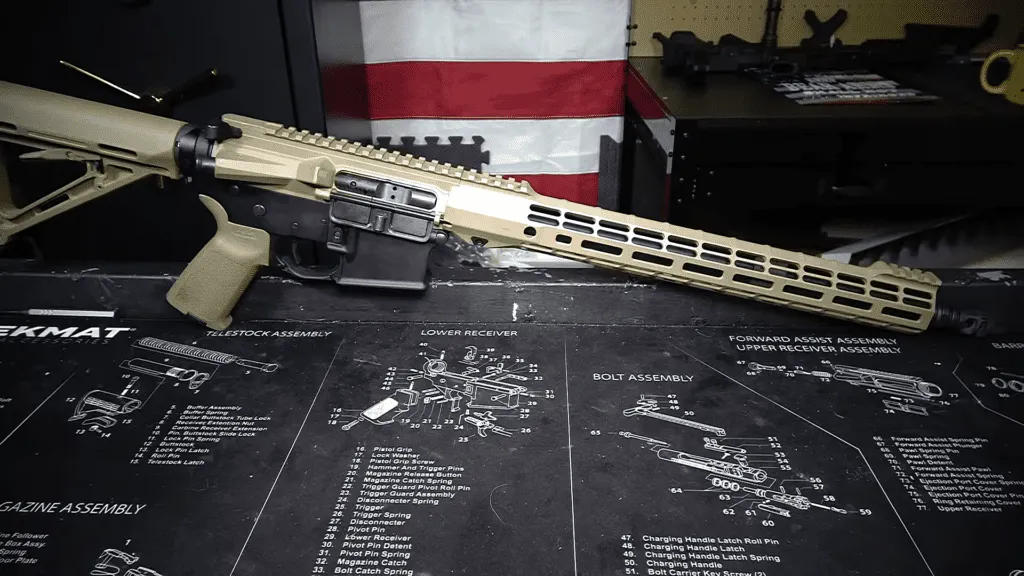 Though their MAE1 18-inch upper isn't as expensive as the Neptune IX, what it offers feels like it's right up there with the high-end products.
Machined with AE high-precision technology, the MAE1 18-inch stainless steel barrel has your standard 1/8 twist rate, a 5/8×24 threading for your A2 style birdcage flash hider, sockets for your AR-15 slings, and a fantastic handguard of your choice.
I recommend the Atlas S-ONE M-LOK Handguard that comes in either black or tan. It's also worth noting that the Picatinny rails fit perfectly with it. Anyway, what's great about the handguard and overall construction is that it went through a lot of redesigns to perfect the weight reduction. Aero Precision painstakingly shaved off some excess parts and rails to achieve this.
Additionally, it has extra feed ramps, and the upper receiver has gone through enhanced forging with well-placed cuts. Despite not having a BCG and a charging handle, you get a dust cover and forward assist that's already built on the receiver.
The gas block is housed by a low-profile gas tube so that the rail isn't too high and lines up perfectly with the rifle-length receiver. This is deliberate, and you can really feel the difference when compared to other receivers.
Honorable Mentions
Here are some very interesting 6.5 Grendel kits that didn't quite make the cut among my main choices but are still great options that are worth checking out.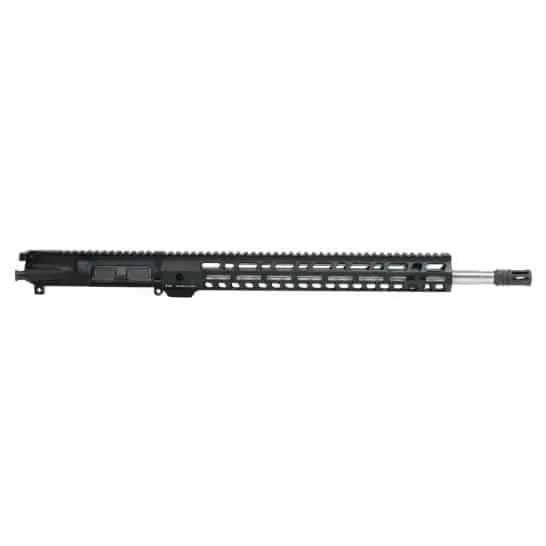 Pros
PSA quality 18-inch upper
Affordable and always in stock
Great for new users of the 6.5 Grendel
Comes with BCG and a charging handle
Cons
Known issues with the adjustable gas block
As an entry-level 6.5 Grendel upper, here's another PSA recommendation. If you're a newcomer to the 6.5 Grendel, this one is your best bet because it's affordable, easy to install, and has all the essential features that allow you to enjoy the cartridge at a 300-yard range.
While your 6.5 Grendel upper works best on the 20- to 24-inch barrel length for that much-needed propelling power, the 18-inch barrel version is just as good.
With an M4 barrel extension, a highly reliable rifle-length gas system, an adjustable gas block, a 9310 nitride coated bolt and BCG, A2 flash hider, and a charging handle, it offers what some high-end uppers don't have.
The downside is that some customers have had known issues with the adjustable gas block not allowing the rifle to fire—this issue is related to the top rail that's set too low. Naturally, fixing the rail will require a gunsmith, but I'm sure it'll be a cheap and easy fix.
Overall, this 18-incher has all the bare necessities for rookies, while close- to medium-range hunters will greatly appreciate the quality stainless steel tube. Though not as powerful as a longer upper, the 416R stainless steel barrel and 1:8 twist work like a charm, and anyone can use it for hunting and other purposes.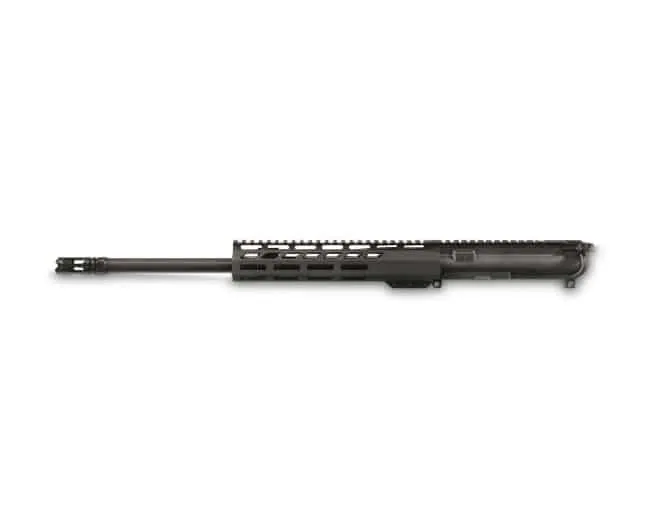 Pros
Lighter barrel than most uppers
Very affordable
16-inch barrel with solid accuracy
BCG and charging handle included
Unique Knight Stalker flash hider
Want an even shorter upper?
Anderson is well-known for the $50 dollar lowers they offered back in the day. They make superb quality AR-15 platform parts, and it took a while before people began noticing the sheer quality. They even have a great, budget-friendly AR-15 that we reviewed. Guess what they have in store now?
The Anderson AM-15 6.5 Grendel Upper is here to cater to your close-quarter combat needs with a 16-inch barrel, comprising a mean machine that performs brilliantly on the field. It's highly functional, and it's probably one of the most lightweight 6.5 Grendel uppers on the market.
The 16-inch 4150 CmV steel barrel with 5/8×24 threads splits the difference between the .223/5.56 and the 7.62 NATO with really low recoil. The forged upper receiver is pure 7075-T6 construction, and the gas system is carbine-length.
Moreover, there's an M-Lok handguard and a brilliant little Knight Stalker flash hider. Most importantly, however, you get a BCG and a regular charging handle that work excellently at such a low price.
Though not entirely bareboned, you can be sure you'll shoot subgroups at the 500-yard range if you're a skilled marksman or at 300 yards if you're a casual shooter. Whatever the case, both hunters and AR-15 enthusiasts will make great use of this upper.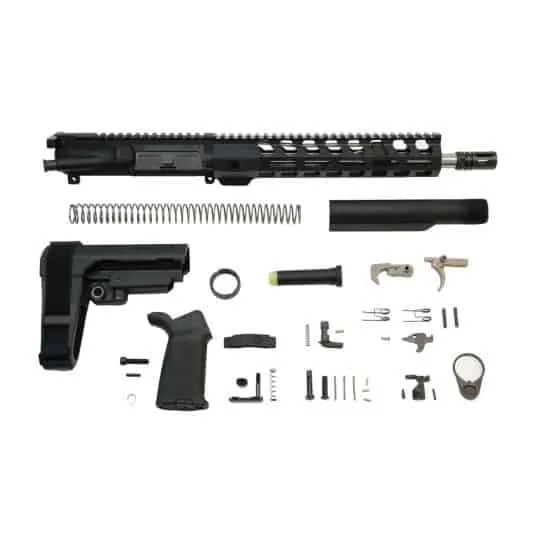 Pros
The best 6.5 Grendel pistol kit platform
High-quality materials and finishes
PSA reliability and customization
Comes with various parts
Adjustable tactical pistol brace for enhanced handling
Cons
Consult your local laws before purchase
Here's something if you want to ding 1 to 1.5-inch sub-MOA groups at a CQB range: a 6.5 Grendel pistol kit upper! Yes, you heard me, and we're once again talking PSA.
The PSA 12-inch 6.5 Grendel Pistol Kit is an amazing upper if you want to turn your AR-15 into a self-defense powerhouse. It has everything besides the lower receiver, and it's still reasonably priced.
With a 12-inch 4150V stainless steel barrel with a 1:8 twist, an M-Lok MOE (Magpul original equipment), an EPT (enhanced polished trigger), and your standard PSA SBA3 Tactical adjustable pistol brace, you'll have everything you need to drive tacks down at 100 yards like it's nothing.
PSA's pistol kit is definitely not for hunters, but a skilled gunman would make great use of this ingenious pistol kit if a lightweight firearm is in question.
I strongly recommend this one if you want a truck gun or a home defense platform. However, I advise you to check your laws for the SBR (short-barreled rifle) tax stamp and ATF compliance.  
It's a better idea to go with a pistol brace rather than a stock because you never know what they do with those laws nowadays.
Buyer's Guide for the Best 6.5 Grendel Uppers
To answer everyone's question of "why choose the 6.5 Grendel over the .223/5.56?", I'll just say that it offers more power and absolutely milks the ballistic factors from the AR-15 platform to make good use of the barrel, mechanism, and the overall physics behind it.
Simply put, the 6.5 Grendel cartridge is shorter yet has a larger diameter, making it more powerful than the 5.56 NATO. It's not to be confused with the 6.5 Creedmoor, which is a hunter's pick for long-range buck and elk hunting.
What's more, by using a proper upper with the right barrel, you'll get to effortlessly reach those yards that the 5.56 barely does, and this is what makes it a popular choice among hunters.
While it's logical for some folks to buy a rifle in the 6.5 Grendel cartridge rather than going through the hassle of DIY uppers, us casual AR-15 shooters like to enjoy pimping our platform with the features we truly need, be it hunting, range fun, or the property protector path.
What to Look For in a 6.5 Grendel Upper?
Before anyone asks, it's not that it's hard to pick out the best 6.5 Grendel upper. Most of the popular options you find on the market are excellent and do their job just fine.
But, you need to take careful consideration of what you actually need and what a particular upper may offer.
The thing is, we're talking about a whole upper here. We'll be here all day if I begin structuring every feature, part, and finish in this buyer's guide. Maybe one day, I'll do an "Ultimate Guide" to 6.5 Grendel Uppers.
For now, let's stick to your basic needs when looking for one. Mainly the barrel.
Let's start with the barrel's twist rate.
Twist Rate
The twist rate of a barrel refers to how many inches it takes for the bullet in your barrel to travel before it completes a full rotation.
For example, a barrel with a 1:8 twist rate means that the bullet travels 8 inches before it rotates.
I'm not a physics or ballistics expert, but I know this affects how the bullet travels, its overall velocity, acceleration, and power. Additionally, the bullet weight and grain type of your ammo play a very important part in the twist rate.
A good rule of thumb is to know that a 1:9 twist rate works great with 160-grain bullets, while rifles with a 1:8 barrel twist like to eat 140-grain bullets.
The 1:8 barrel is known for having no problem with most bullets, so I suggest you stick to this twist rate.
Durability
Nothing much to say here.
To truly know what to look for, I can say that you absolutely need to stick to stainless steel barrels no matter what. They offer solid rust resistance, top-tier ballistic performance, and longevity to boot.
Everything else is just too sketchy for me.
Barrel Length
Finally, the barrel itself.
The barrel of your upper is the most important part. Everything else—the flash hider, bolt carrier group, charging handle, rails, and handguards—is just personal preference.
If you're looking for long-range hunting, go for 20-inch barrels or longer. These longer barrels make sure the bullet gets enough acceleration to propel and reach longer yards and, in turn, exert more power for proper shot placement and accuracy.
The 16- to 18-inch range is a decent middle ground that's great for both hunting and home defense.
If a truck gun is all you need, a 6.5 Grendel upper with a 14-inch barrel takes away 400 fps from your bullet but offers more handling and better CQB performance.
Finally, stick to fluted barrels if you want shorter ones. They have specific contours on the inside that make them lighter and can cool off more easily after a shooting session.
Conclusion
The 6.5 Grendel is truly a do-it-all round that's somehow still underrated by everyone apart from hunters and your die-hard AR-15 fanatics. I wouldn't go as far as to say that it's a .223/5.56 replacer, but it's slowly heading there.
In terms of performance, the 6.5 Grendel seriously smokes the 5.56 NATO in a ballistic comparison, but this is not why most folks are turning towards 6.5 Grendel uppers.
Simply put, it's better to snag just a necessary upper than to go for a full-sized rifle, especially if you're just curious and prefer to mod your platform. Perhaps you just like building your firearm Legos, and I'm all for it.
If you're new to the 6.5 Grendel or you're looking for a well-balanced upper just for general use, I'd say that it's not a bad idea to go for the PSA 20-inch 6.5 Grendel Upper.
The reason why I'm telling you to check the PSA inventory out is that they have loads and loads of barrel lengths, handguard lengths, different twist rates, threadings, and essential stuff like the variety of charging handles and, most importantly, BCGs.
Another excellent choice is the Aero Precision M4E1 6.5 Grendel Upper, which is a complete upper that offers fantastic capabilities and benefits for a hefty price. If you're serious enough for a rifle that will meet the long-range shooting standard, I strongly recommend that one as well.
Stay safe, and shoot straight!
Explore more