5 Best 9mm Speed Loaders [2023]: Save Time and Energy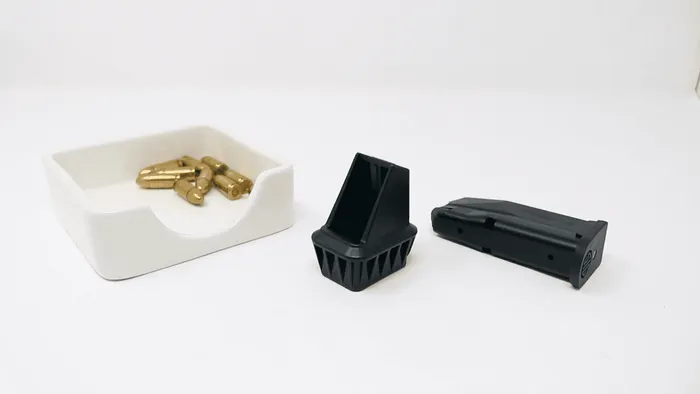 5 Best 9mm Speed Loaders [2023]: Save Time and Energy
Introduction
If you own a 9mm semi-automatic pistol and have spent any amount of time at the shooting range, you know the thumb pain that can come with trying to load numerous magazines. Trying to push a 9mm round down against a tough spring and then slide it back to secure it in the magazine can really be tough, especially as you get to and past the 10-round mark.
A speed loader can help! We are here to show you some of the best 9mm speed loaders on the market today that can alleviate that thumb pain at the shooting range. If you don't know where to start looking for speed loaders, let us do the work for you and give you some great options that will fit any shooter's needs.
We will be looking at the operating process of each speed loader, its durability, versatility, and the cost of each. As avid shooters, we can relate to the annoyance of trying to shoot with sore thumbs and struggling to fully load a magazine. It's not fun.
So let us show you some of the best options to make loading your 9mm magazines easier and faster; that way, you can spend more time shooting and less time getting frustrated loading your magazines.
What is a Speed Loader?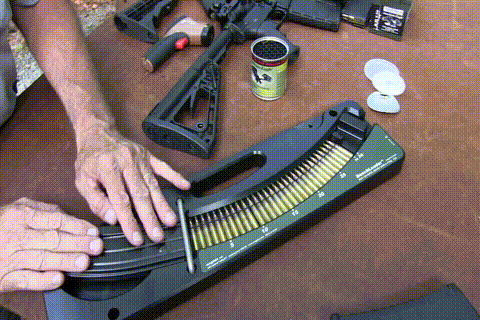 Speed loaders are simply a device that can be used to reduce both time and effort in reloading a firearm. If you have ever had to load a 15-round magazine without the use of an aid, then you know it can be very difficult to continue shoving rounds in it without destroying your thumb.
Types of Magazines
Double Stack Magazines
Double-stack magazines have become very popular in the last couple of decades due to the popularity of concealed-carrying semi-automatic pistols. A double-stack magazine uses two staggered columns that operate in a zigzag pattern and utilizes space in the magazine both vertically and horizontally.
Typically, a double-stack magazine holds about 1.5 times the ammunition as a single-stack magazine in the same vertical space.
Extended Magazines
Extended magazines, also known as high-capacity magazines, is simply a magazine that can be attached to a firearm or pistol that holds more rounds of ammunition than the original design of the firearm. Several types of extended magazines, like drum magazines or longer magazines, tend to be used more popularly with pistols like the 9mm semi-automatics.
Best 9mm Speed Loaders & Recommendations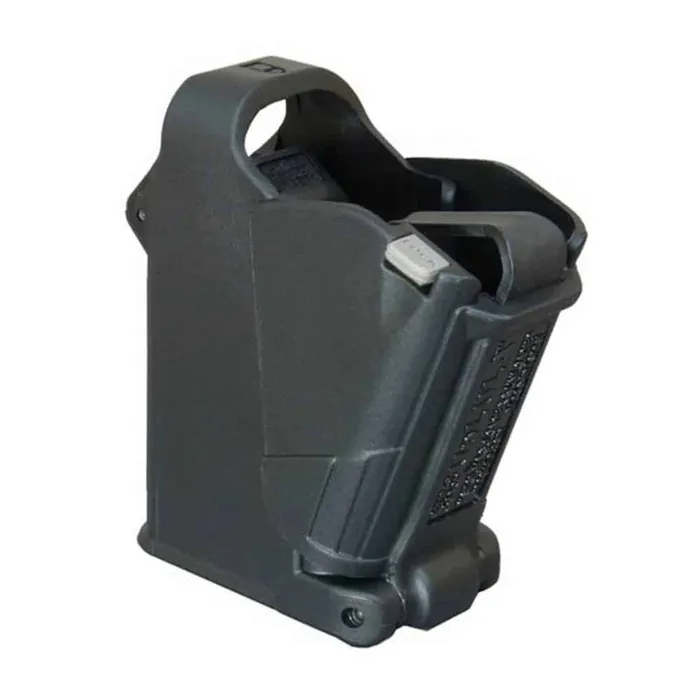 Specifications
| | |
| --- | --- |
| Calibers | 9mm Luger up to .45ACP |
| Magazine Types | Single & Double Stack |
| Weight | 0.8 Ounces |
| Operating Function | Squeeze Lever |
Pros & Cons
Pros
Universal fit to most magazines and a wide variety of calibers
Durable and Easy to use
Great for those with different calibers and brands of pistols
Cons
Higher Cost than most other speed loaders
The UpLULA Universal Loader by MagLULA is the best overall speed loader for 9mm because of its universal fit to a lot of different brands of pistols and also to a wide variety of calibers as well. Having a single piece of equipment that can work for multiple pistols is a huge bonus to most shooters.
This product is made with military-grade materials to be durable and can load any caliber from 9mm Luger to .45ACP. It easily adjusts to any size of magazine. It operates by pushing the spring of the magazine down and then placing the bullet in the rest. Squeezing the lever then pushes the round down into the magazine. Then the next round can be inserted, and the process can be carried out again.
Once you get the hang of the movements, the speed comes quickly, and it won't wear out your thumbs. You will quickly be able to load single and double-stack magazines. Any serious shooter should have one of these in their range kit!
At $35, the price point is a little on the higher side, but its durability and versatility to be used with a wide variety of firearms and calibers make it worth the cost. You can also purchase the UpLULA in multiple colors.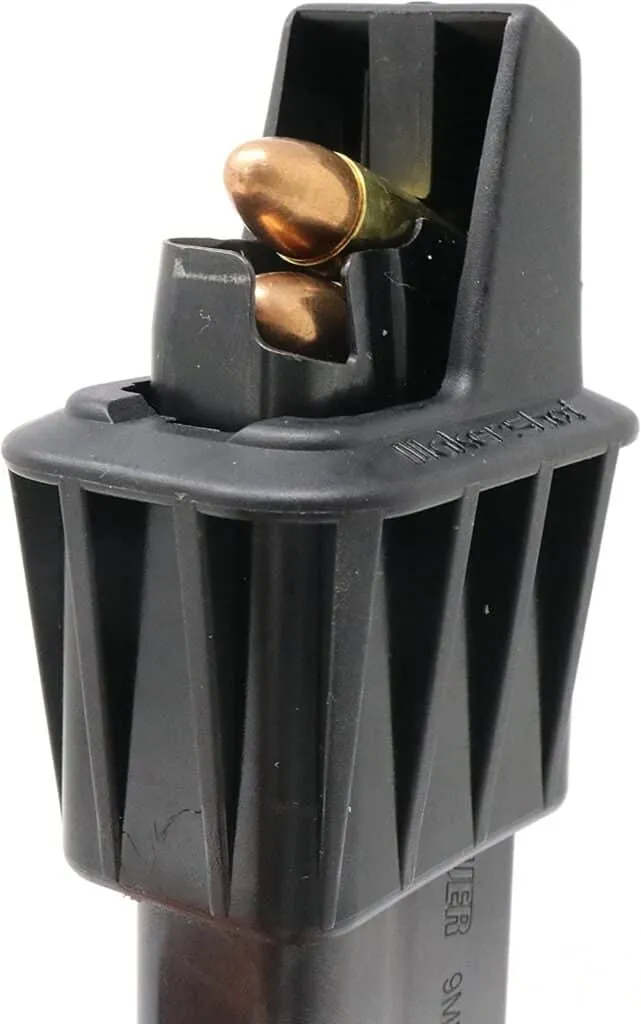 Specifications
| | |
| --- | --- |
| Calibers | 9mm, .40, .380 (Specific by Brand & Caliber) |
| Magazine Types | Single & Double Stack |
| Weight | 3.04 Ounces |
| Overall Size | 1in x 1in x 2in |
| Operating Function | Push Slider |
Pros & Cons
Pros
Simple in design and use
Best Value on the Market
Lightweight and Easy to have in shooting kit
Cons
Not Universal
Need a speed loader for specific calibers and firearm brands
Not only does the MakerShot Magazine Speed Loader have the best pricing on the market at only $16, but it is also such a simple design that has no moving parts. It works well for loading both single and double-stack magazines and is made of a solid polymer material.
It is small, compact, and lightweight. A shooter can easily stow this speed loader into their pocket on the go. The MakerShot simply slides over your magazine, allowing you to quickly push down the spring with your thumb and start sliding the primer end of the bullet into the magazine. Once it is started, the user releases their thumb and can finish sliding the bullet fully into the magazine.
This takes the pressure off the user's thumb to try and push the bullet down and in against the spring of the magazine. This is especially useful in double-stack magazines that tend to have a stiffer spring.
At first, users might not feel like it is a speed loader, but once a rhythm is found, it really cuts down on the time it takes to load a magazine.
The major pitfall of the MakerShot is that it is not a universal speed loader. You need a loader for different calibers and brands of pistols. This can be costly if you have multiple firearms that you want speed loaders for. However, if you are a casual shooter or have a single 9mm pistol, this speed loader would be perfect!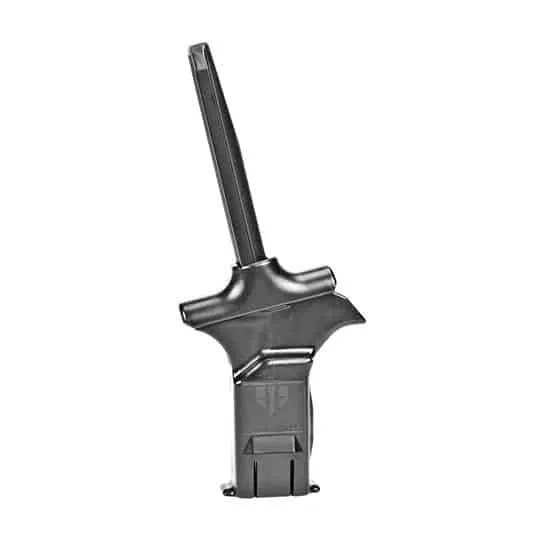 Specifications
| | |
| --- | --- |
| Calibers | 9mm & .40 |
| Magazine Types | Single & Double Stack |
| Weight | 3.04 ounces |
| Overall Size | 13.5in x 1.5in x 6.2in |
| Operating Function | Push Slider |
Pros & Cons
Pros
Fastest speed loader on the market
Never have to touch your ammunition
Load multiple rounds of ammunition all at once
Cons
Need a little more strength to operate than others
Bigger in size than other speed loaders
Multiple pieces for operation
The Elite Tactical System (ETS) CAM Universal Speed Loader is by far the fastest speed loader on the market for 9mm pistols. It has the ability to load multiple rounds at once and can cut down your loading time tremendously. At $30, it is on the higher end of the market in price, but it is well worth it in exchange for speed.
It operates without having to physically touch your ammunition if you use boxed ammunition in quantities of 50 or 100 rounds. It has a tray that slides along the rim of the rounds and will lift them out. Once hooked into the slide, the slide then goes onto the loader track that is already attached to the end of your magazine. A plunger slides over the end and then pushes all the rounds of ammunition into the magazine in a quick motion.
The explanation of the operation makes it sound more complicated than it actually is! The only downside to the setup is having multiple pieces of the speed loader, and you need a bit of strength to operate. It is the fastest speed loader that can load an entire magazine in one go motion.
The ETS CAM is durable as it is made out of strong polymer material, and due to its design, there is no risk of damaging or breaking your magazine. It works great with both single and double-stack magazines. It is a bit bigger in size compared to most of the others on the list, but it is well worth it for the ease and speed that it provides.
If you do a lot of shooting and are looking for speed and ease of reloading your magazines, you can't go wrong with the ETS CAM Speed Loader!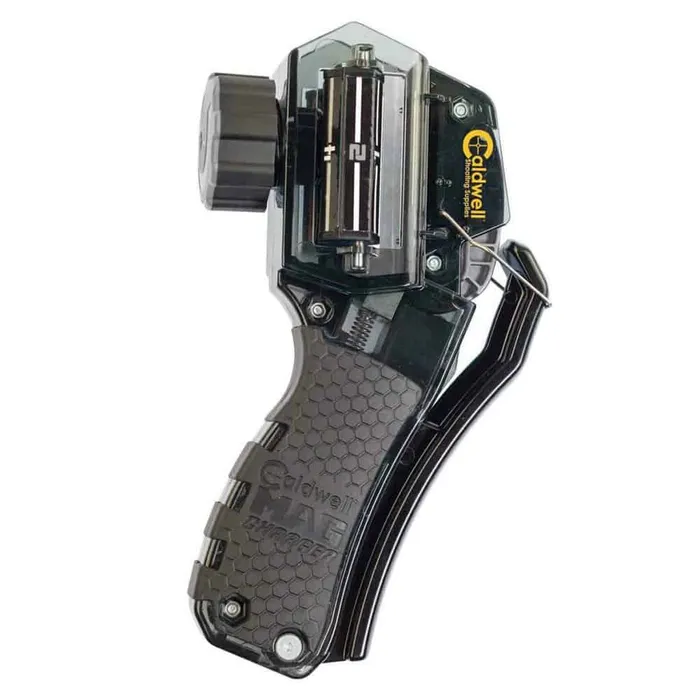 Specifications
| | |
| --- | --- |
| Calibers | 9mm, 10mm, .380, .357 Sig, .40 S&W, .45ACP |
| Magazine Types | Single & Double Stack |
| Weight | 8 ounces |
| Overall Size | 9.3in x 6.7in x 2in |
| Operating Function | Squeeze Lever |
Pros & Cons
Pros
Universal for many caliber types and brands of pistols
Adjustable and easy to use without much strength needed
Easy use once mounted on magazine
Cons
Takes time to get familiar with the operation of the loader
Multiple steps to use for a single magazine
A bit pricey for the complexity
The Caldwell Universal Loader is a highly adjustable speed loader that is durable and stabilizes the magazine to help with speed of loading. It is on the higher end of the market in terms of pricing at $35, but it is worth it for its adjustability and versatility. It can be used with all different models of pistols and a wide variety of pistol calibers.
It is a bit more complex on the operation side, but speed will come once you get the hang of it and know the proper settings to use on the shims. It has adjustable shims that rotate on each side to adjust the size of the magazine. The magazine then slides into it, and then the knob on the back is tightened to keep the magazine stable and lined up for loading.
Once the magazine is secured in the loader, pulling the handle once will start to depress the spring inside the magazine. The user can then simply set their round in the magazine and squeeze the handle to push it down. Repeat this process until the magazine is full and then remove the magazine from the loader.
The Caldwell Universal Loader is made of sturdy polycarbonate, making it durable and long-lasting even though it has many moving parts. It is on the bigger side and can be intimidating to look at. The Caldwell Universal Loader is a great piece of equipment for any serious shooter that spends a lot of time at the shooting range with a variety of pistols.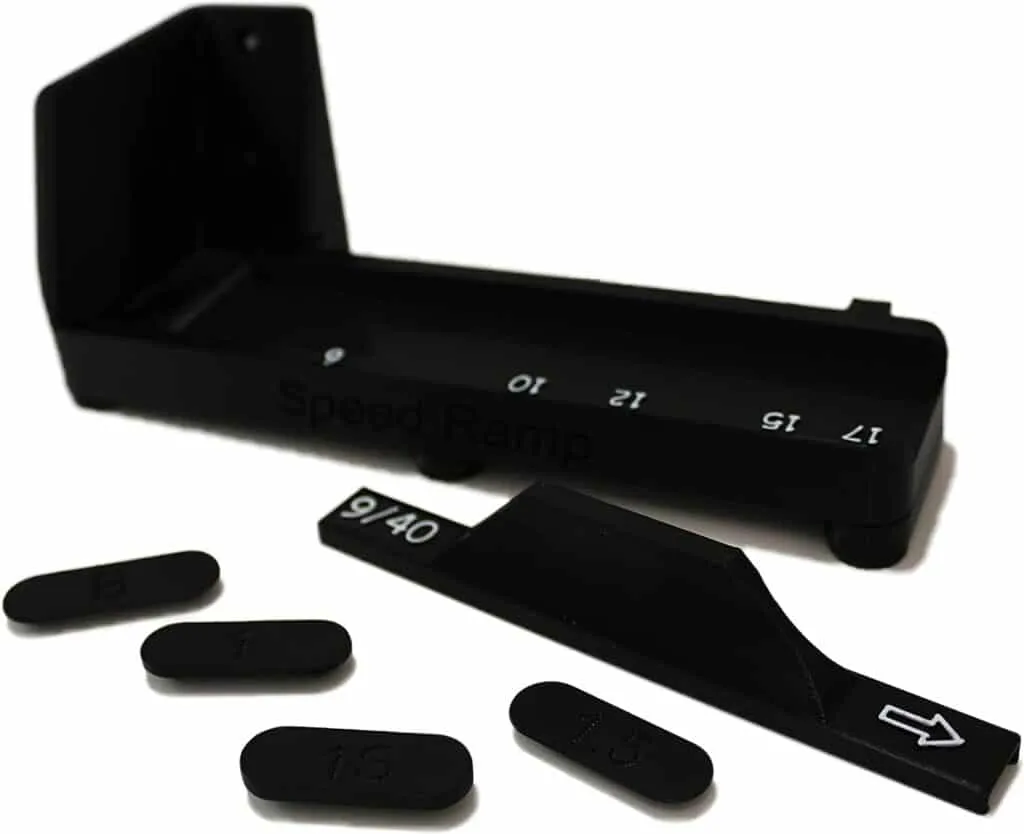 Specifications
| | |
| --- | --- |
| Calibers | 9mm, .40 S&W |
| Magazine Types | Single & Double Stack |
| Weight | 4.1 ounces |
| Overall Size | 7.5in x 3.5in x 3.5in |
| Operating Function | Hand & Ramp |
Pros & Cons
Pros
Simple and easy to use
No moving pieces
Easy to move and load a lot of rounds quickly
Cons
Bigger in size compared to others
Need a flat surface to use
A bit expensive for the simplicity
Parabellum Designs Speed Ramp Loader is a newcomer to the speed loading market, but is very simple in design and operates well with little effort. There are no big moving parts, but it does have multiple pieces to allow for quicker loading. Currently, on the market for $35, this simple speed loader might feel a bit overpriced, but time will tell.
It is versatile and can be used with any type of 9mm or .40 S&W magazine for any semi-automatic pistol. Instead of using your thumb to push the spring of the magazine down, this loader allows the user to push the magazine down and then slide it forward to load the round into the magazine. The operator provides all the movement, but it doesn't take much strength.
The user will use a slide to put over the rim of the round of ammunition and then can be lifted out of the 50 or 100 round box of ammunition. The rounds are then laid into the ramp of the loader, with the bullet facing away from the user. The slide is removed, and the user will use the finger of their left hand to keep the bullets pushed against the magazine guide.
Using their right hand, the user operates the magazine, pushing the open end down the guide ramp towards the bullet, which depresses the spring. The magazine then slides forward to finish inserting the bullet into the magazine. Pulling the magazine back up slightly, the rest of the bullets are pushed with the left hand, and the process is repeated until the magazine is full.
Up to 17 rounds of ammunition can be loaded onto the ramp at one time, which works well with most standard magazines. The Speed Ramp does need to be used on a flat, solid surface, which is perfect for shooting ranges that have benches or tables, but it is not as portable as other loaders.
The Parabellum Designs Speed Ramp Loader is in its 4th Generation, but that is because the designers that created it are constantly trying to improve it through their own designs. These are actually made using a 3D printer but are still very durable and made with quality in mind.
How We Chose Our Top Picks
When choosing our top picks for this review, we looked at the versatility, durability, and complexity of the use of the speed loader. We tried to take a hands-on approach to review when we could, but we also relied on product reviews from people who have used the products. With this information, we were able to compile our list to give you the best information possible.
9mm Speedloader Buyer's Guide
If you want more information about speed loaders to help you search before purchasing, this section will help you out. Find all the information you might need or want.
History of the Speed Loader
Since firearms were invented, the creators and users of them have been and continue to try to find ways to reload quicker. As time has gone on, reloading quicker has been a pressing issue due to war and ways of life. Today, outside of war and competition, loading magazines faster is more of a luxury than a necessity.
In the late 1800s, speed loaders were first made to speed up reloading six-shot revolvers with the invention of a contraption that would hold six bullets in the correct pattern to open the cylinder, dump the used brass and load six bullets at once. This was popular and is still used today for revolvers.
As semi-automatic pistols were created and became more popular, speed loaders needed to adapt and that has led us to the several different designs we have today. Some are more complex than others, but they all serve the purpose of making reloading faster and easier.
How Does it Work
Each speed loader works differently depending on the design, but the premise is the same for all of them. The goal is to make it easier to depress the internal spring of the magazine so that it is easier to insert the bullet into the magazine.
Some will continue to use the thumb but allow a more clear path for the bullet to enter the magazine. Others will use a lever or pusher to insert the bullet while depressing the spring.
Considerations When Purchasing
There are a few things that you want to consider when purchasing a speed loader.
First, make sure that you are buying a speed loader for your correct brand of gun/magazine and caliber.
Secondly, you want a durable, reliable product that is worth the money that you are spending on it.
Finally, know how much you will use it and if your chosen style fits your needs. If you only shoot a couple of times a year, you don't need anything fancy that will break the bank. On the other hand, if you shoot a lot, it might be worth it to buy a more expensive, elaborate loader to save you time and frustration.
FAQs
Do speed loaders damage magazines?
If you use them properly, your magazines should not be harmed in any way.
Are speed loaders worth it?
Absolutely! They are worth it just to make your shooting experience more enjoyable while avoiding frustration and sore thumbs.
How does a magazine speed loader work?
It depresses the spring of the magazine, making it easier to insert the bullet into the magazine.
Conclusion
We sincerely hope these reviews have helped you and pointed you in the right direction. Find that speed loader that fits your needs and budget the best and pull the trigger. You won't be sorry that you did. And your thumbs will thank you as you spend more time at the range shooting instead of loading magazines.
Explore more