The 5 Best 9mm Suppressors and Reviews [2023]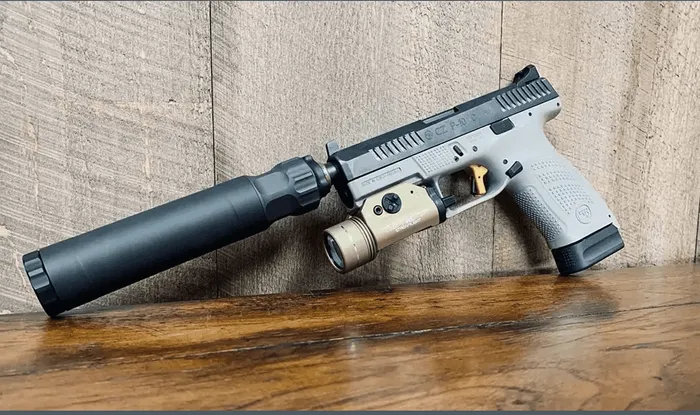 The 5 Best 9mm Suppressors and Reviews [2023]
Introduction
You might be in the market to finally get a suppressor for your 9mm pistol. If you do a lot of shooting or shoot on your own property, a suppressor can be a great option to cut down on the sound of your pistol. Now, don't be confusing a suppressor with a "silencer" that you see in the movies. A suppressor cuts down on noise, but it doesn't eliminate noise altogether.
Buying the right one for your needs is vitally important, as all suppressors have a mandatory $200 Federal Tax Stamp applied to them, which drives up the cost. The process for getting one is also somewhat detailed, as you have to deal with the Federal government approving the purchase. So choosing the right one is essential.
Let us help you with your search and point you in the right direction so that you don't waste your time and money making the wrong purchase. We supply reviews for various options that will meet the needs of any shooter and the features they put at a premium when purchasing a suppressor.
Best 9mm Suppressor & Recommendations
We will review and give recommendations for the best 9mm suppressors on the market, dividing our top picks into several categories that meet the needs of every shooter who might want something a little different out of their suppressor.
Some of the main features we looked at were size, ease of use, caliber options, sound reduction, and of course, price. Suppressors already come with a built-in $200 Federal Tax, so keep that in mind for any suppressor you may wish to purchase. That tax also had a big impact on these reviews, especially for versatility and price when it comes to using a suppressor for more than one firearm.
Jump into the reviews and see which suppressor might fit your needs and give you the most bang for your buck.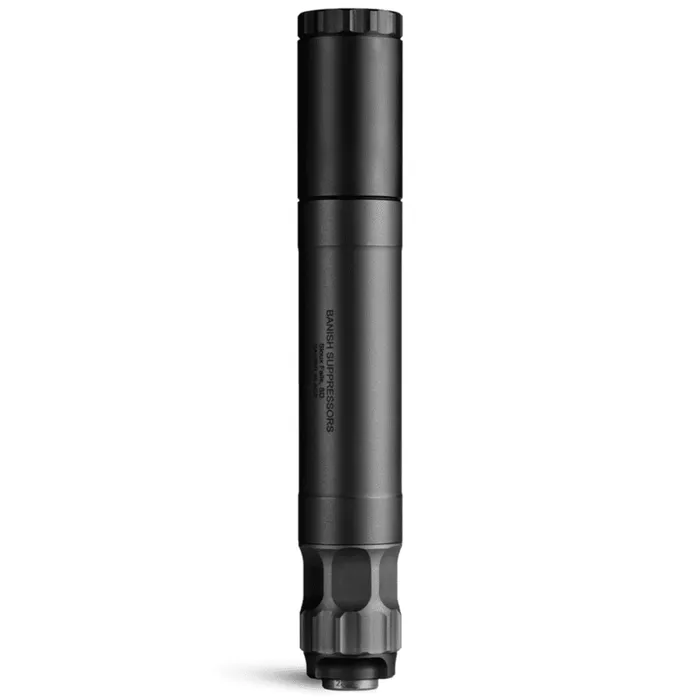 Specifications
| | |
| --- | --- |
| Length | 6.7" or 8.6" |
| Weight | 9.6 or 11 ounces |
| Diameter | 1-⅜" |
| Sound for 9mm | 36 Decibels reduction |
| Caliber Range | Rimfire to .45ACP |
Pros & Cons
Pros
Large range of calibers supported
Adjustable baffles for size adjustment
No tools for easy disassembly, reassembly, cleaning, and changing firearms
Cons
Large Diameter may cause a need for different sights
Need different pistons for different firearms (sold separately)
The Banish 45 Is by far the best overall suppressor for shooters who want or need a suppressor for a multitude of handgun calibers. With a $200 Federal Tax Stamp needed for the purchase of every single suppressor, having a suppressor that can work with a ton of different guns can really go a long way. The Banish 45 fits that mold perfectly for almost any shooter at a price point of $950 before the tax.
With an interchangeable piston system, the Banish 45 suppressor can be swapped between firearms easily without needing any tools. To make it even nicer, the Banish 45 works with any caliber of round, from small rimfire rounds like a .22LR all the way up to a .45ACP, giving it great range.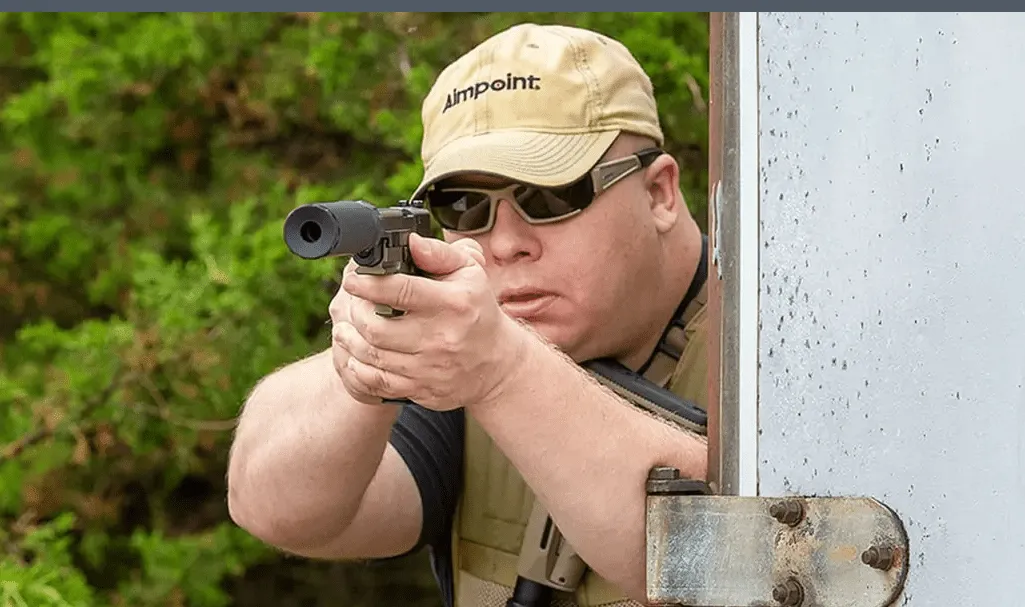 The easily adjustable baffles allow the shooter to change the suppressor's length and weight and make it easy to clean. This modular suppressor is made of titanium and aluminum for durability and weight reduction, making it a popular suppressor for any shooter. It has a direct thread-on attachment style but will need different piston attachments for swapping the suppressor between calibers, which can drive up the cost a little more depending on how many pistons you need for all your various firearms you intend to use this with.
This type of suppressor is ideal for 3-gun competitions and/or regular target shooting. It will help protect shooter's hearing with at least 36 decibels of sound reduction, as well as help reduce recoil for better, quicker second-shot accuracy, improving the shooter's overall accuracy.
The only slight downside to this suppressor is that it is almost two inches in diameter, which can make it hard to use stock sights on a pistol. The user may find themselves needing to upgrade their sights to ensure they stay accurate with a suppressor attached. This is a pretty common issue with most suppressors, not just the Banish 45.
This is truly as close as one can get to a one-size-fits-all type of suppressor, easily making it our choice for the best overall 9mm suppressor.
Specifications
| | |
| --- | --- |
| Length | 4.85" or 7.8" |
| Weight | 8.7 or 12.7 ounces |
| Diameter | 1.37" |
| Sound for 9mm | 121.4 Decibels in Full Configuration with subsonic ammo |
| Calibers | Pistols up to 9mm, 300BLK Subsonic, 350 Legend |
Pros & Cons
Pros
Different length configurations
Interchangeable with different guns and calibers
Best bang for your buck at $611
Cons
Dirties easily, need to clean a lot
Need multiple pistons for easy change between firearms
We chose the Rugged Obsidian9 for the best value 9mm suppressor, but it was not based simply on the price. When it comes to suppressors, you most definitely get what you pay for. There are definitely cheaper suppressors than the Rugged Obsidian 9, which comes with a cost of $611, but cheaper doesn't always equal value.
Getting the bang for your buck for a suppressor specifically for your 9mm pistol was the key component here. The Obsidian 9 gives you some versatility and flexibility while still reducing the sound of your pistol. It supports a number of different calibers and can be used in two different configurations, a full or short configuration, depending on your needs. It is also extremely well-built and easily taken apart for simple cleaning and configuration changes.
When it comes to accuracy, some suppressors have a tendency to mess with your shot, but the Obsidian 9 is easily adjusted to help make your shot dead on every time.  It is also adjustable for the size and weight that fits you best on that day. It has a short option at 4.85 inches in length at only 8.7 ounces, or it has the full configuration at 7.8 inches and 12.7 ounces. In the full configuration, a 9mm round puts out only 121.4 decibels. That is almost 40 decibels lower than an unsuppressed 9mm round.
All these qualities easily make the Rugged Obsidian 9 the best value 9mm suppressor on the market!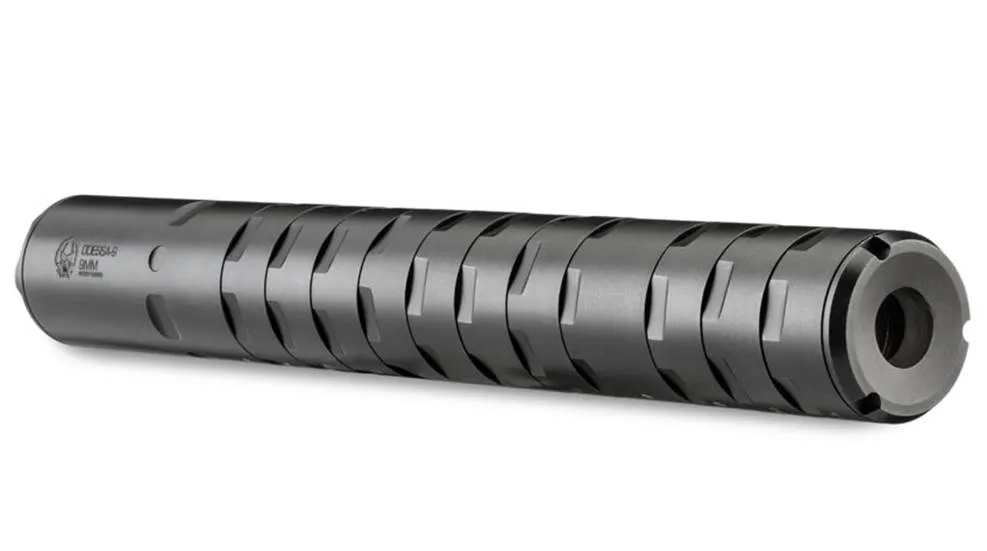 Specifications
| | |
| --- | --- |
| Length | 2.75" to 7.75" |
| Weight | 7.4 to 10.6 ounces |
| Diameter | 1.1" |
| Sound for 9mm | 122 Decibels with subsonic ammo |
| Calibers | 9mm, 22LR, 22MAG, 5.7×28, 32Auto |
Pros & Cons
Pros
Utilize Stock Sights
Adjustable lengths between 2.75" and 7.75"
Tight shot groups due to dampening wobble and recoil
Cons
The smaller the length, the higher the sound decibels
Unique procedures for assembly and cleaning
The Odessa 9 by Dead Air is our pick for the best sized 9mm suppressor because it has the capability of being one of the smallest suppressors on the market, but it also can be used as a full-sized suppressor as well. It has a lot of versatility in size thanks to its adjustable baffles. It can be 2.75" at its smallest and 7.75" at its full size but can be used at any size in between those two as well.
This suppressor also has a very small diameter of only 1.1 inches, allowing it to be used with standard stock sights that come on most pistols. This avoids additional costs for raising sights or getting new sights.
The Odessa 9 also increases shootability, which any shooter will greatly appreciate. With its wobble and recoil dampening, the Odessa 9 was actually tested by multiple shooters who reviewed that the suppressor gave them tighter groups than without the suppressor. This is a huge upside for this suppressor.
Keep in mind, however, that the smaller the Odessa 9, the less sound dampening it has. So you will be trading size for sound, but it is adjustable enough that the user could play with it until they get the right combination of both size and sound dampening.
The last slight downside to the Odessa 9 is the unique assembly and cleaning procedures that it comes with. Due to its unique design, the Odessa 9 comes with its own set of instructions that are very important for the user to read and know when using the suppressor.
If you want a smaller size but also want adjustability and versatility in a suppressor, you can't go wrong with the Dead Air Odessa 9 for $759.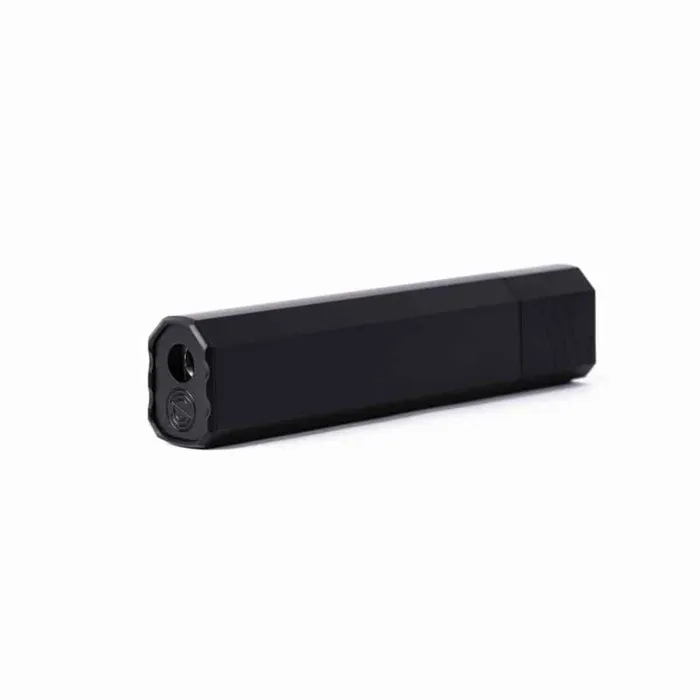 Specifications
| | |
| --- | --- |
| Length | 7" |
| Weight | 9.8 ounces |
| Diameter | Polygonal style, Not Round |
| Sound Reduction | 127 Decibels with standard ammo 121 Decibels with subsonic ammo |
| Calibers | 9mm |
Pros & Cons
Pros
Sleek Design with added size to muffle more sound
Lightweight for the length and size of the suppressor
Good recoil reduction
Cons
Interferes with standard sights
Not as versatile in size or caliber types
The SilencerCo Osprey 9 is a very uniquely designed suppressor in that it is not round like most other suppressors but instead has a polygonal style body with added size. This added size allows the Osprey 9 to hold more gas, thus lowering the number of decibels that escape it. This means more sound reduction, and it's one of the best on the market by a long shot.
Along with more sound reduction, the Osprey 9 does a fantastic job cutting down on recoil, allowing for better grouping shots and quicker, more accurate follow-up shots. On the downside, the suppressor does not work well with factory sights, but it is slightly better than most of the other suppressors on the market due to its design.
Overall, the Osprey 9 is a great suppressor if one of the most important things to you is simply cutting down the amount of noise your pistol makes. Its sleek design will also fit right in with any pistol at a reasonable price of $714.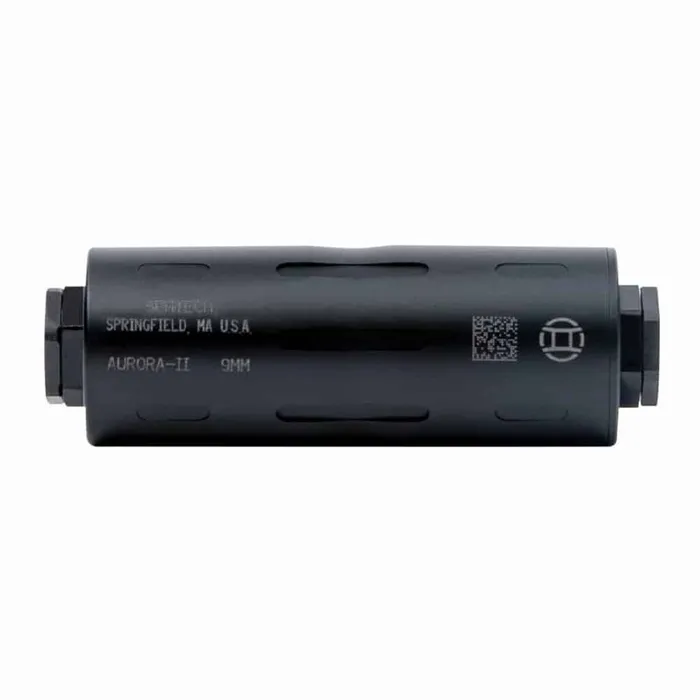 Specifications
| | |
| --- | --- |
| Length | 3.5" |
| Weight | 3.5 ounces |
| Diameter | 1.125" |
| Sound Reduction | 137 Decibels |
| Calibers | 9mm |
Pros & Cons
Pros
Small in size and weight
Great Price at $399
Made with military grade materials for durability
Cons
Needs to be re-packed by manufacturer
Not for everyday shooting
Not versatile for different calibers
The Gemtech Aurora II comes in as the honorable mention for this review. Now, this is not a typical modular suppressor, but instead uses wipes that go inside the tube of the suppressor. These wipes are usually good for 15 to 25 shots before the wipes need to be repacked. This is much different than the other suppressors on the list.
The downside to this is that the suppressor has to be sent back to the manufacturer to be repacked with new wipes, which can be an inconvenience, but at $399 for this suppressor, it's a lower-cost option. Now, this suppressor would probably not be the first choice for most regular shooters. Instead, this would be a great, small option for your nightstand pistol or the pistol you might carry in your vehicle.
With its small size, low weight, and smaller diameter, it is quite the small, sleek suppressor for special situations like home defense. This is also more like the style of suppressors used by the military.
9mm Suppressor Buyer's Guide
When it comes to buying a suppressor, there are some very important things to consider, which we will address below. One of the biggest things that we want to bring up and highlight is the $200 Federal tax stamp that is placed on the purchase of each suppressor. This quickly drives up the cost of a product that can already be quite expensive.
That is why it is so important to choose a good quality suppressor and try to get it right the first time because doing it over can be a major pain in the rear end. If you are an avid shooter with multiple firearms you wish to suppress, we highly suggest that you get one of the suppressors that supports a larger range of calibers with ease. That will definitely get you the most bang for your buck when purchasing a suppressor.
Types of 9mm Suppressors
Today, there are basically two different styles of suppressors on the market: the monocore and the stacked baffle. Both of these types come in different forms with different functions. Monocore suppressors are one-piece and are very simple platforms. Stacked baffles are very versatile and adjustable, allowing the user to change the size, weight, and sound suppression to their liking.
What to Look for in a 9mm Suppressor
When looking for the right 9mm suppressor for you, there are a number of different things that we suggest you take into consideration. First, know which of your firearms you want to suppress and then go from there. Next, know what your main factors are for getting a suppressor.
You want to look at sound suppression that meets your needs, size, and function of the suppressor, and how it will change how your pistol shoots. Some suppressors will require you to change your sights, as many don't work with factory sights on more pistols.
Ultimately, you need to find the one that works the best for you and what your intended uses are of the firearm. Most shooters have different preferences, and suppressors will not be any different.
Cost of 9mm Suppressors
Cost of suppressors will vary based on model, materials used, and a variety of other factors. Some can cost as little as $300-$500, while others cost $700-$1,000 or more.
Also, remember that no matter the cost of your suppressor, you will have to pay a set $200 Federal tax stamp for each suppressor. So keep that in mind when considering the total cost of purchasing a suppressor.
How We Chose our Top Picks
We carefully choose our top picks through quality reviews by those who have used suppressors the most. With current gun laws and high tax stamps on suppressors, first-person hands-on reviews were not possible for this review. However, the information gathered was based on the size and weight of the suppressor, its versatility, performance of lowering the decibels of shots, and price.
Based on these criteria, the top picks were chosen in a comparison of factors, leading us to pick the best suppressors in various different categories. There are many quality suppressors on the market, but we felt that these were the best of the best.
FAQs
Why should you consider a 9mm suppressor?
Suppressors can go a long way in dampening the sound of gunfire while also giving the shooter better accuracy due to reduced recoil. If you are a frequent pistol shooter, the reduced sounds can help save your hearing in the long run when coupled with good hearing protection.
What is the quietest 9mm suppressor?
The SilencerCo Osprey 9 is the quietest 9mm suppressor sounding off at 127 dB with standard 9mm ammunition and 121 decibels with subsonic ammunition.
Does the length of a suppressor matter?
Typically, the longer the suppressor, the better it is at suppressing both sound and recoil.
What suppressors do Navy SEALs use?
Navy SEALs use the MK-23, which was specifically built for military use and is repackable to enhance performance.
Conclusion
There you have it. Our review list, recommendations, and useful buyer's information are all wrapped up in one nice spot for you. Choose a suppressor wisely and take into account everything that you want out of that suppressor. With the $200 tax stamp, you don't want to be second-guessing yourself as you make that final purchase.
The Banish 45 is a great option overall for any shooter, as it is versatile, quiet, and accurate. But there are a lot of options out there. If you don't particularly settle on any of the suppressors we reviewed, hopefully, we gave you enough information and guidelines to point you in the right direction.
So find that right suppressor for you, eliminate some of the harmful noise at the range, increase your shooting accuracy, and above all else, have fun. Happy shooting!
Explore more