7 Best Ammo Safes to Properly Store Your Ammo [2023]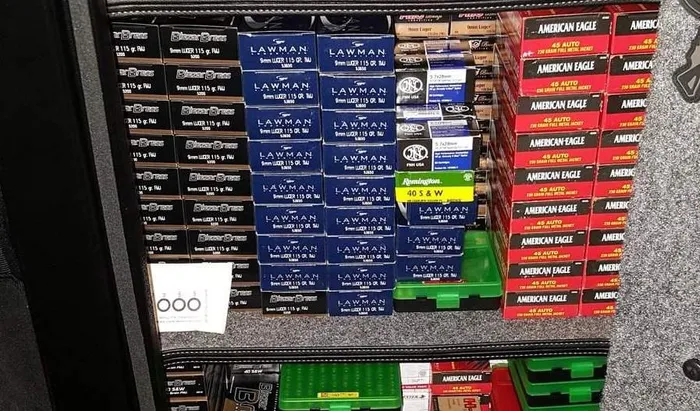 7 Best Ammo Safes to Properly Store Your Ammo [2023]
Introduction
If you're looking for a new ammo safe, we will help you narrow down your choices by discussing the seven best ammo safes on the market today! Picking out an ammo safe can be tricky. The market is rapidly evolving, and new technologies are allowing manufacturers to build and design stronger and more secure safes than ever before.
This is great news considering that many gun owners have been buying and stocking up on ammo for the last couple of years. And although it's nice to have a long-term supply of ammo, you need to store it correctly.
We will be reviewing the best ammo safes that we could find by giving you a summary of each safe, its pros and cons, and its specifications. If you're a lifelong gun owner like me, you already know the importance of storing your ammunition properly so that it can last decades.
After reviewing many different ammo safes on the market, we recommend the Magnum Fireproof Home Ammo Safe as the best overall ammo safe for your home. There are many other good safes as well, which we will cover in the rest of this review.
Best Ammo Safes & Recommendations
Below you will find the best ammo safe recommendations for the following categories: best overall, honorable mention, the best value, best large capacity, best compact, best biometric, and best cabinet. There is something for everyone on this list!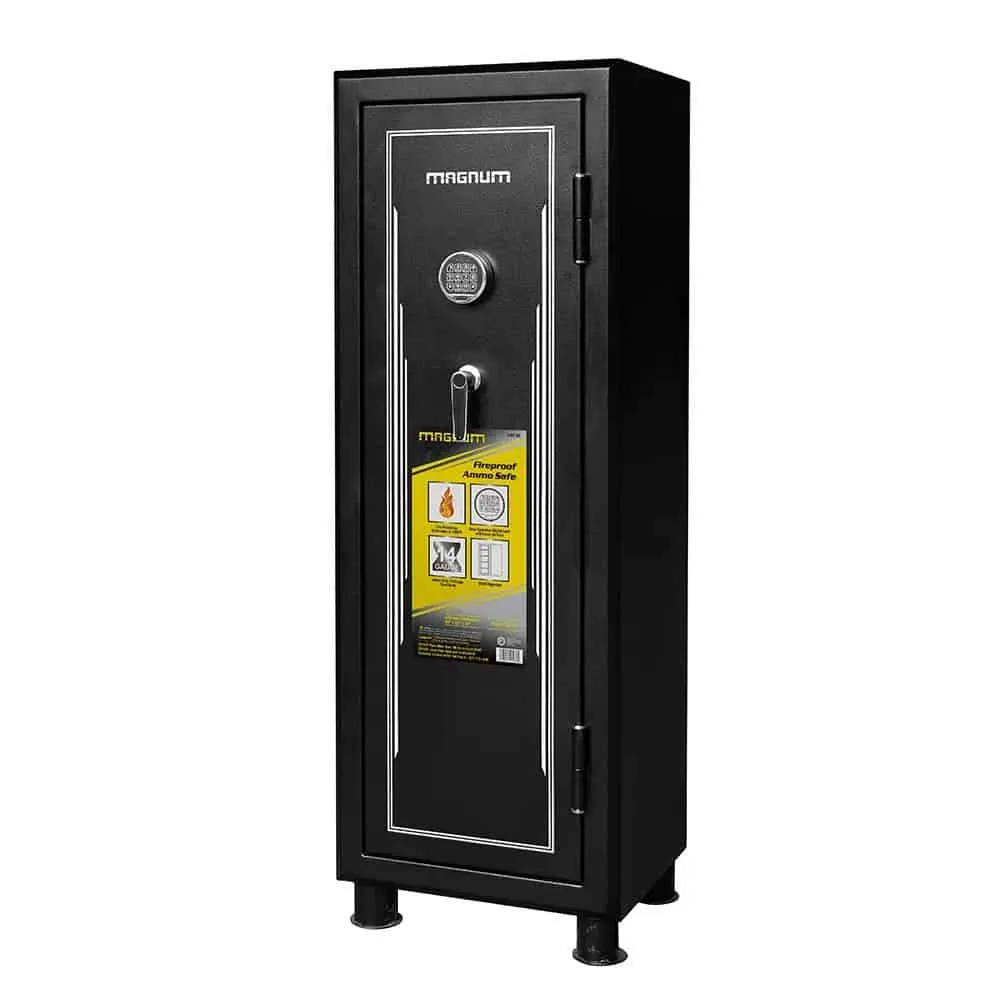 Specifications
| | |
| --- | --- |
| Fire Rating | 1200F for 30 minutes |
| Waterproof Rating | No |
| Exterior Size (H, W, D) | 60in x 22in x 18in |
| Weight | 257lbs |
Pros & Cons
Pros
Secure and fireproof safe
Heavy duty steel construction
Ample storage room for ammo and other important items
Keyed and digital locking features
Cons
Not waterproof
No hole for an electrical cord
No lighting or biometric lock
We rated the Magnum Fireproof Home Ammo Safe as the overall best ammo safe that you can own. This safe has five shelves, is fireproof, and is constructed out of heavy-duty 14 gauge steel. This safe is much heavier duty than cabinets. It also has a lot of storage for all of your ammo needs, with room to spare for firearms, extra documents, or other important personal items. The shelves can hold an impressive 100 lbs a piece, so there is no need to worry about putting too much weight on them.
This safe has a digital and keyed entry platform to ensure that you are never locked out. One last important and unique feature of this safe is that it has legs. This means that even though the safe is waterproof, it will take a couple of inches of water from the floor up to reach it. This will help keep your ammo safe in minor flooding events.
Although this safe is large, it will allow you neatly organize all of your ammo. If you're like me, you don't like your ammunition in a jumbled mess or having to dig the one box you are looking for out from the back of the safe. With this safe, you won't have to do that. The Magnum Fireproof Home Ammo Safe is affordable and can hold all of your ammo in one place.
Specifications
| | |
| --- | --- |
| Fire Rating | No |
| Waterproof Rating | No |
| Exterior Size (H, W, D) | 59.5in x 24.25in x 22 |
| Weight | 270 |
Pros & Cons
Pros
Extremely robust gun cabinet that is much better constructed than most
Built well enough to deter thieves
Made in the United States
Large capacity ammo safe
Cons
Shelves are not adjustable
Not fire rated or waterproof rating
Only has keyed entry
The Liberty Safe Ammo Can was designed specifically for your ammo storage needs. This is considered an ammo cabinet but is extremely well-made and constructed in the United States. It has three shelves that can hold up to 125 lbs a piece and dual locking bars that help deter thieves and their pry attacks. It also has 11 cubic feet of internal storage to hold your ammo and more.
There were only a couple of negative things said about this robust ammo cabinet. Some reviewers were disappointed that the shelves were not adjustable, but this shouldn't be an issue for most people. In addition to the lack of adjustable shelves, this ammo cabinet only has keyed entries. This shouldn't be a problem because most people don't need to get to their ammo quickly, but it is something to consider.
That said, this safe is incredibly well-made, has excellent reviews, comes with a 5-year manufacturer warranty, and has a key replacement program just in case you ever lose yours! If you're not overly concerned about fire protection, this is a great and good "bang for your buck" ammo storage solution.
One thing to be cautious of is the recent Liberty Safe debacle. Make sure you read up on it before deciding to support Liberty Safe.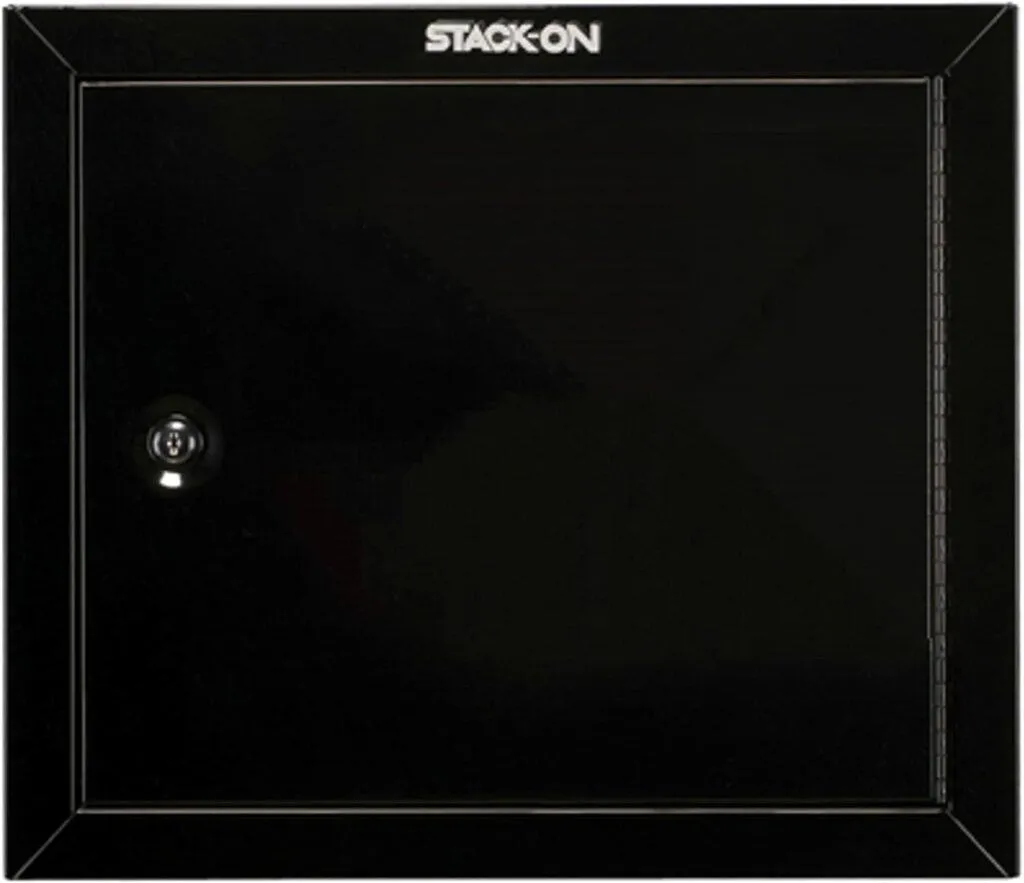 Specifications
| | |
| --- | --- |
| Fire Rating | No |
| Waterproof Rating | No |
| Exterior Size (H, W, D) | 21in x 18in x10in |
| Weight | 24.9lbs |
Pros & Cons
Pros
Affordable and good "bang for your buck" ammo storage cabinet
Three removable shelves that allow you to stack heavy ammo
Mountable ammo cabinet
Cons
Only keyed entry
Thin metal compared to other more expensive cabinets and safes
Shelves are made of plastic
The Stack-On GCB-900 Steel Pistol/Ammo Cabinet a great value for buyers looking for a more affordable option. This ammo and gun cabinet comes with two removable shelves and a keyed lock. Its locking mechanism was also designed to firmly secure the door. If you have more delicate items that need a bit of padding, look no further. This ammo cabinet has a foam-padded bottom.
Although the most affordable and albeit well-made but featureless ammo cabinet, it does what it's supposed to do very well. This cabinet is also mountable and can be mounted to other Stack-On gun cabinets.  It has over 1,000 reviews on Amazon with an average of 4.7 stars. There are some poor reviews on Amazon, and most of them concern purchases upset about the thin metal or the plastic shelves.
These are both good points to consider, and if you want a more heavy-duty cabinet, then you may want to look elsewhere, but you also need to be ready to shell out a couple more benjamins as well. The Stack-On GCB-900 Steel Pistol/Ammo Cabinet is a great option for someone that is looking for great value at a low price. It's also plenty small enough to place in a bedroom on top of a dresser, in a closet, or anywhere else you can think of.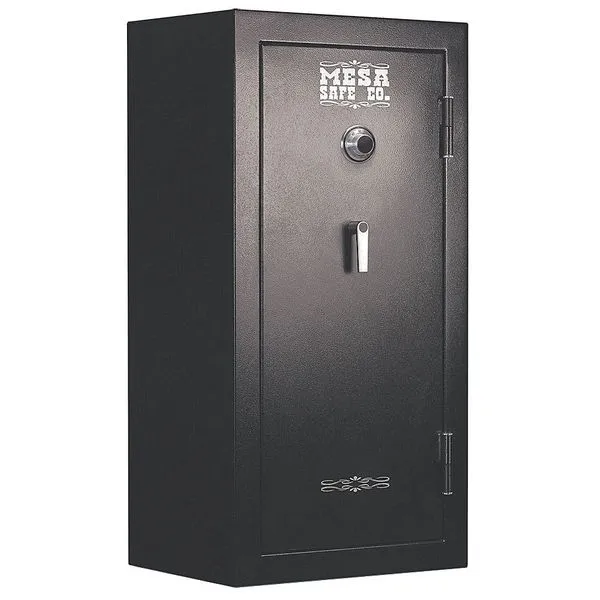 Specifications
| | |
| --- | --- |
| Fire Rating | 1200F for 30min |
| Waterproof Rating | No |
| Exterior Size (H, W, D) | 59in x 30in x 24in |
| Weight | 506lbs |
Pros & Cons
Pros
Heavy duty fireproof safe
Emergency key system
Burglar resistant with built-in antitheft features
Electronic lock
Cons
Cost
Weight
Not water rated
The "MGL Series" Ammo Lite Gun Safe is a true American-made gun safe designed to protect your ammo from fire, burglars, and kids. This safe is constructed from 100% steel and even sports an electronic lock and an internal power strip for all your accessory needs. The internal power strip is perfect for adding lights and a dehumidifier.
This safe is not meant for the casual shooter or hunter but for the serious shooter or hunter that invests large amounts of money, time, or both into their ammo. It's not cheap, costing around $2,500, but its design and construction are more than worth it. The body of this safe is made out of heavy-duty 12 gauge steel.
This safe has more than enough room, with nearly 18 cubic feet of interior storage for all your ammo needs. It also has four heavy-duty shelves. If you have a "buy once, cry once" attitude and are looking for a great safe with nice features that is fully secure and fire rated, then this one is for you.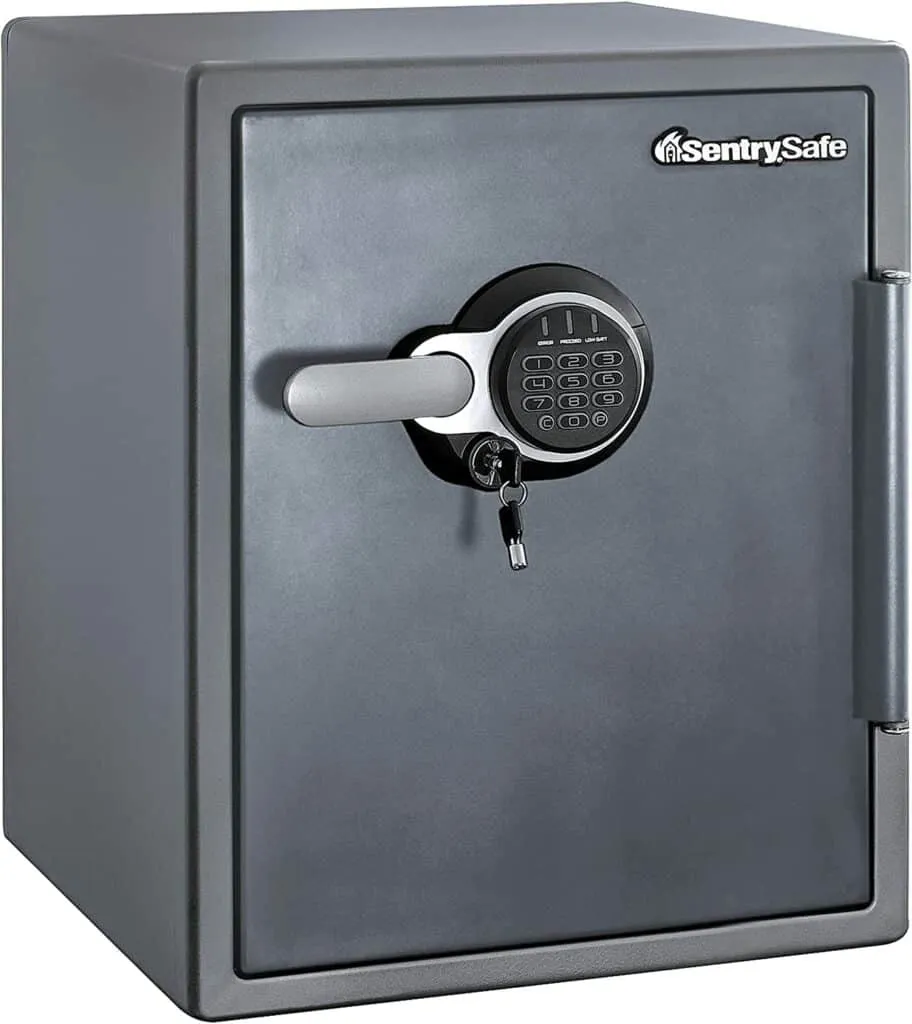 Specifications
| | |
| --- | --- |
| Fire Rating | 1700F for 1hr |
| Waterproof Rating | 24hrs in 8in of water |
| Exterior Size (H, W, D) | 23.8in x 18.6in x 19.3in |
| Weight | 125lbs |
Pros & Cons
Pros
Tough fireproof and waterproof compact safe
Two entry methods
Lots of useful features
Cons
Should use desiccant inside to prevent moisture buildup
Waterproofing is compromised if it's bolted down
Permanent non-customizable master code
The SentrySafe SFW205GQC is the perfect compact safe for those that don't want or need the additional space that the larger safes offer. Although compact, this safe still has plenty of room to store ammo and an additional handgun or two. It's also loaded with additional features.
It has two removable plastic drawers, is fireproof, waterproof, and drop-tested, has an interior light, is mountable, has a digital keypad, and has a key. It's also a very heavy-built safe weighing 125 lbs. This safe has thousands of reviews on Amazon, with 92% of them being four stars or better. What's more is that if you don't like the size of this safe, they also have other smaller size options including a 0.82 cubic foot safe and a 1.23 cubic foot safe.
That said, there are a couple of drawbacks to this safe. Some reviewers didn't like that plastic was used in its construction. For example, the drawers are plastic, as well as the interior of the safe. Additionally, some didn't like the hinge on the outside of the door.   We think this safe is perfect for the person wanting to store smaller amounts of ammunition but still wanting a secure waterproof, and fireproof safe.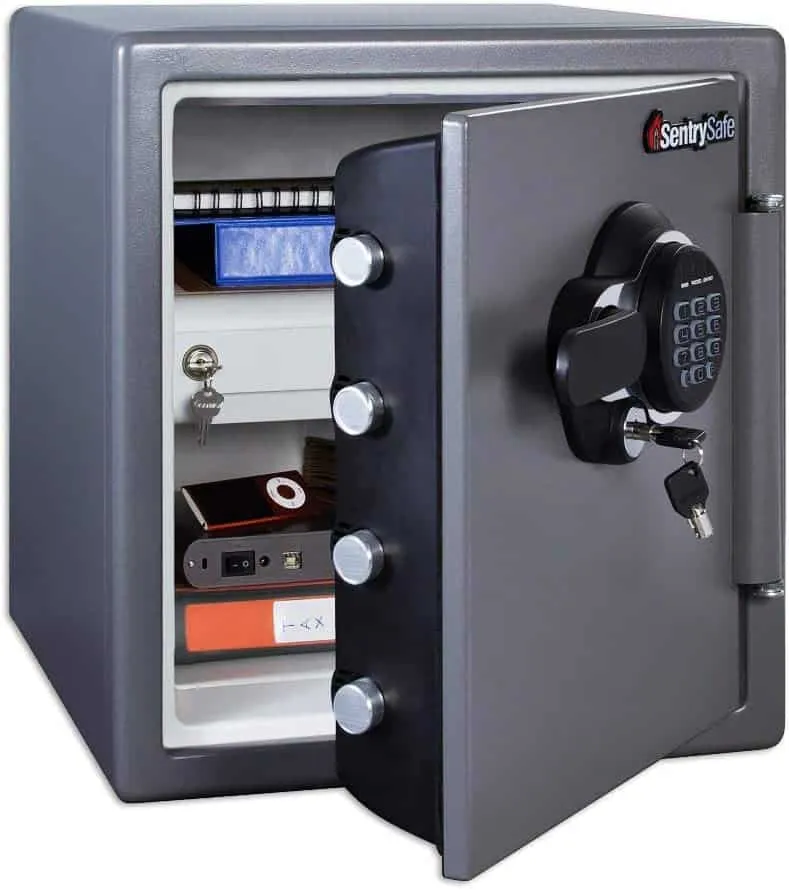 Specifications
| | |
| --- | --- |
| Fire Rating | 1700F for 1hr |
| Waterproof Rating | 24hrs in 8in of water |
| Exterior Size (H, W, D) | 17.8in x 16.3in x 19.3in |
| Weight | 86lbs |
Pros & Cons
Pros
Three entry methods including biometric, digital keypad, and key.
Fire, water, and drop rated
Lots of useful features including built-in LED lights
Cons
Should use desiccant inside of it
Waterproofing is compromised if it is bolted down
Some of the units come dented
We picked the SentrySafe SFW123BTC as the best biometric safe. With 1.23 cubic feet of storage, it has enough room to store plenty of ammo. This is one of the most compact safes on our list. This safe is filled with features. These features include interior LED lights, an organizational tray, backup entry methods including a digital keypad and a key, a key rack, and a door pocket.
Its biometric lock is capable of storing up to 10 different fingerprints. This is a great feature. Not only can you set it up to allow other trusted people to unlock it easily, but you can also add multiple fingerprints from an individual. This increases the effectiveness of the biometric lock if you frequently have dirty hands or injuries that won't allow the biometric lock to read fingerprints.
Another nice feature of this SentrySafe is that the company will replace your safe if you are unfortunate enough to have a fire. It also comes with a 1-year manufacturer warranty. This safe will make it quite difficult for thieves to break into and provide the security you want to store your valuable ammo. One thing to keep in mind is that with these completely sealed safes, it's a good idea to use a desiccant inside to help reduce the amount of moisture inside the safe.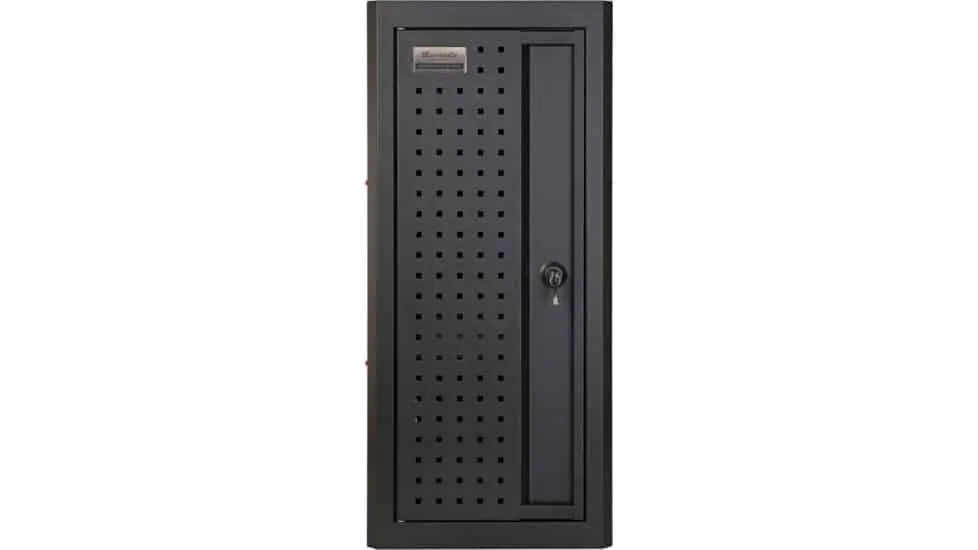 Specifications
| | |
| --- | --- |
| Fire Rating | No |
| Waterproof Rating | No |
| Exterior Size (H, W, D) | 44in x 18in x 12in |
| Weight | 49lbs |
Pros & Cons
Pros
Fully customizable modular safe
Can bolt multiple safes together to increase storage
Unique design allows for increased airflow
Comes with a lot of useful accessories for storing ammunition
Cons
Potential burglars can see into the safe
Only keyed entry
No fire or water resistance
The Hornady Welded Ammo Cabinet is one of the most unique ammo storage units in our review. This ammo cabinet sports Hornady's Square-Lok system, which allows you to fully customize this ammo cabinet. You can even bolt multiple cabinets together to create a workbench and increase storage. This cabinet comes with additional accessories that include two adjustable shelves, a magnetic motion light, three ammo cans, floor and shelf mats, and even ten magnetic reusable labels for the shelves.
The shelves are heavy-duty and can support up to 100 pounds of weight a piece. One of the neatest features of this cabinet is that the door is reversible and can be set up to open either from the left or the right. Although this cabinet doesn't have a fancy digital or biometric lock, its keyed lock is sturdy, and the entire cabinet can be either bolted to the floor or even into studs.
Something to consider is that this safe is very "breathable." This can be good and bad depending on your environment. If you live in a very humid environment, you will have to control the humidity in the entire room that your safe is in. If you live in a dry environment, the additional airflow should actually help keep your ammo safe for years.
Buyer's Guide: How to Choose the Best Ammo Safe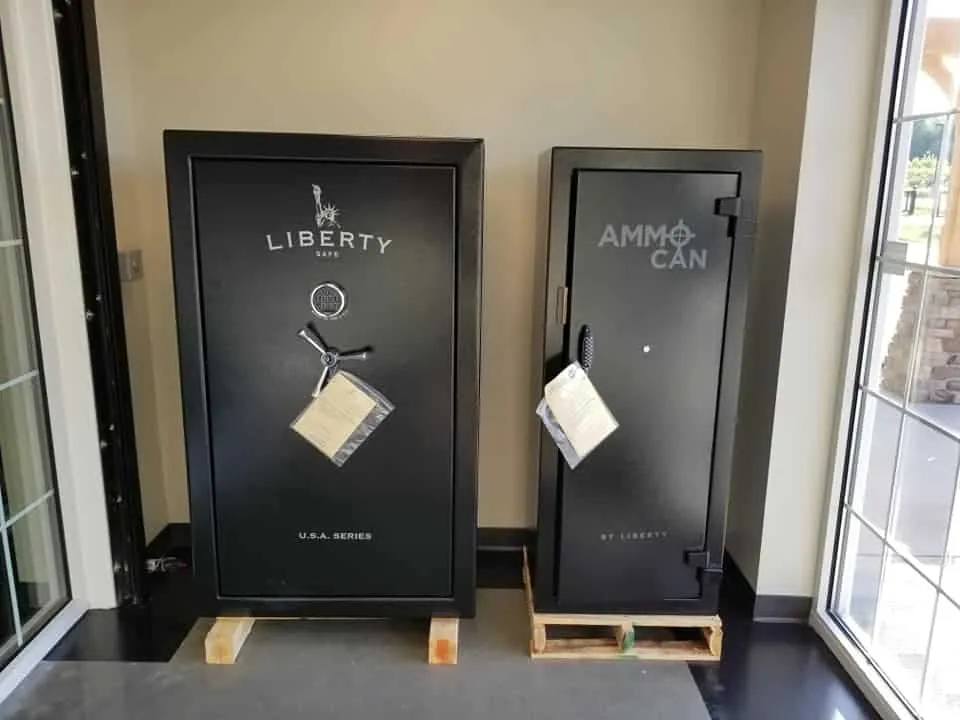 Choosing an ammo safe can be a daunting task. There are a lot of safes and cabinets on the market, but there are really only a few specifically designed to hold ammo. That doesn't mean that the other safes and cabinets won't work, they most certainly will, but the safes specifically designed to hold ammo will contain features that make the safe easier to use for ammo storage.
Next, we will cover why you should store your ammo properly and how to do it, the best features to look for in an ammo safe, common problems when storing ammunition, and what to do if you can't afford an ammo safe or even an ammo cabinet.
Why You Should Properly Store Ammo
The short answer is if you don't properly store your ammo, it won't last very long and can even cause issues with your gun, including failure to fire and misfed rounds. If you don't store your ammo properly, it will likely eventually lead to issues with moisture that can corrode the ammo and ruin the powder and primers. Your ammo may also get damaged if they get jostled around in its container and banged around.
In this short video, you will learn valuable tips on how to store ammunition properly so it will last for years. You can take the knowledge you learn from the video and apply it to store large amounts of ammo in cabinets and safes.
Best Features in an Ammo Safes
The best features we like to look for in an ammo safe are:
Ample amounts of storage space
Fireproofing
Sturdy and secure build
Multiple locking mechanisms
Room to add in a desiccant or to run a dehumidifier to help control the amount of humidity that the ammunition is subjected to
These features will allow for safe and long-term storage of your ammo. Small safes or even ammo cans without some of these features can excel at ammo storage as long as they are strong enough to hold the ammo and the humidity around them can be controlled.
What If I Can't Afford An Ammo Safe?
Some of you may be wondering what you should do if you can't afford one of the ammo safes or gun cabinets in this review. Let's be honest; some of them are quite pricey, even if they are worth the cost. Not everyone can afford one. The good news is that you are not out of luck.
While we recommend a sturdy lockable safe, there is a very affordable and simple way to store ammunition. Any tote or box capable of sealing tight and is strong enough to support the weight of your ammo will work, but remember, if it is airtight, you could also be sealing in moisture, and moisture ruins ammunition. Make sure to use desiccant pouches to help lower humidity levels.
How We Chose our Top Picks
We selected what we considered the seven best ammo safes today by doing a deep dive into Google, reading forums, blogs, and reviews on Amazon and manufacturer websites. Additionally, we selected our top 7 ammunition safes based on personal experience. Further, we considered the ammo safes' and cabinets' features and prices. We wanted to give you the best "bang for your buck" options.
We eliminated anything with bad reviews, poor construction, and that was too small to be of much use for ammo storage. Importantly, we wanted to include products with a wide variety of features across a wide price range to ensure that everyone could find a safe that fit their budget and needs.  
FAQs
How long can ammo be stored in a safe?
If stored properly, ammo can be stored almost indefinitely. You should be careful about heat, humidity, and solvents used to remove copper from barrels. If you do these things, your ammo should last a very long time.
Should ammo be stored in a fireproof safe?
In a perfect world, all ammunition would be stored in a fireproof safe. This is because ammunition can fire during intense heat. That said, most people don't store their ammo in a fireproof safe, but it is a good idea.
Is it better to store ammo loose or in a box?
It's best to store your ammo in a box. If stored loose, the ammo can bounce around and get damaged. Additionally, it's essential to store your ammo in a dry, cool place and preferably with desiccant packs that will help reduce humidity.
Conclusion
All of the ammo safes and cabinets in this review are perfect for ammo storage. The primary differences between them are their different sets of features and storage space. Our top pick is the Magnum Fireproof Home Ammo Safe. We chose this safe because it has all of the necessary features to safely store ammo at home, including fire resistance, multiple opening mechanisms, ample space so that your ammo isn't a jumbled mess, and durable, heavy-duty construction.
Hopefully, this guide has helped point you in the right direction, and you are now well on your way to purchasing a new ammo safe that will meet all of your needs and safely store your valuable ammunition for decades.
Explore more