Best Ankle Holsters [2023]: Top 5 with Buyer's Guide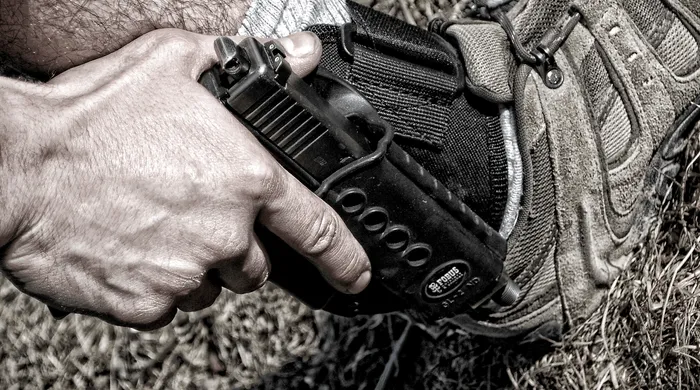 Best Ankle Holsters [2023]: Top 5 with Buyer's Guide
Are you looking for a better way to conceal your handgun? Or do you want to carry a reliable backup with you at all times? Either way, getting the best ankle holster for your favorite small-caliber piece is often the best way to go. Let's review some tips that can help you pick out a comfortable and secure holster. In addition, here are some of our favorites. 
What Is an Ankle Holster?
An ankle holster is a method of concealing your backup weapon. It's used for self-defense and in law enforcement for situations when the primary weapon is no longer viable for firing. Typically, you wear such a holster on the inside of your ankle opposite to your main draw hand.
How to Pick the Best Ankle Holster
There's a lot more than the cost when it comes to picking the ideal ankle holster. Sometimes concealment and utility don't go hand in hand. And, not all guns fit equally well in the same holster. So, here are some buyer's tips I can share with you.
Materials
There are two materials commonly used in ankle holsters – nylon and leather. Although the latter is flashy, durable, and comfortable, nylon is more popular these days. It's cheap and can also be very durable. Especially when you consider the oft-used reinforced stitching.
That said, leather is always the superior material in terms of durability. And it may also provide more comfort since some nylon holsters come with rough edges. But this is where brand and craftsmanship can make a difference.
You can sometimes find holsters made of elastic or stretchy fabrics. Durability is not their primary attribute. That said, the elasticity presents another benefit, and that's providing a good fit for a variety of small-caliber handguns.
Of course, with a low resistance to wear and tear, a stretchy holster is not something you want to use for extended periods of time. This type of material can get to the point where it causes slipping. Neither exposing nor losing your gun is something you want to worry about.
Support
All ankle holsters have support straps to maintain a proper pistol position. Yet the designs vary greatly. For example, calf straps connect through vertical straps. They go up and around the calf, at various heights. This is considered a more secure strapping and support mechanism.
Although nylon is the material of choice for holsters, it's not usually the go-to material for the straps. A nylon strap can be very inconvenient when walking for long periods. That's because they dig deep into your skin, or even rub the edges of the holster in.
Most manufacturers seem to prefer Velcro and neoprene support systems. These provide comfort and a quick way to strap and unstrap your ankle holster.
Snaps are enjoying some popularity too. Mostly for the added quality that plastic or metal components bring to the table. I also think that snaps should improve your drawing speed. Others may appreciate snaps because they don't snag on clothes. Some may like that they are silent.
As with anything else, it often comes down to personal preference. But what is essential is having a dependable support system. The last thing you want is a wobbling holster and a gun that you can't deploy quickly.
Drawing Comfort and Design
Here's something you may not realize. An ankle holster doesn't have an ambidextrous design. So, you need to make sure you pick the right drawing style for yourself. All manufacturers indicate whether the ankle holster is for right- or left-handed users.
Why is this so important? Well, drawing your gun from an ankle holster is hard enough. Not having your gun positioned optimally makes things even worse. And it can mean the difference of life or death in self-defense situations.
Pricing
Many things can affect the cost of an ankle holster. And if you are to use one, I would recommend paying a bit more, at least for comfort. In general, leather holsters are more expensive than nylon holsters.
But that doesn't mean you can't find plenty of nylon holsters that cost a lot too. Expensive models tend to be sturdier and protect your gun better. At the same time, having smoother edges and higher quality straps makes holsters more pleasant to wear.
Extra Considerations
Not all ankle holsters come with magazine pouches. However, I sometimes find this a useful design feature.
You may ask why?
Consider the size of the pistol that goes into your ankle holster. Most backup handguns are tiny guns that may not hold more than six or seven bullets. In tricky situations, you may need to reload your backup firearm too.
Thus, an ankle holster with a magazine pouch makes more sense. It could cost you more, but it's also a situational feature, so no one is saying that you have to pay for the extra case.
Best Ankle Holsters
This DeSantis ankle holster is one of the best on the market. It's big enough to hold and conceal a Glock 43. It wraps only around the ankle and provides good support while also creating more comfort.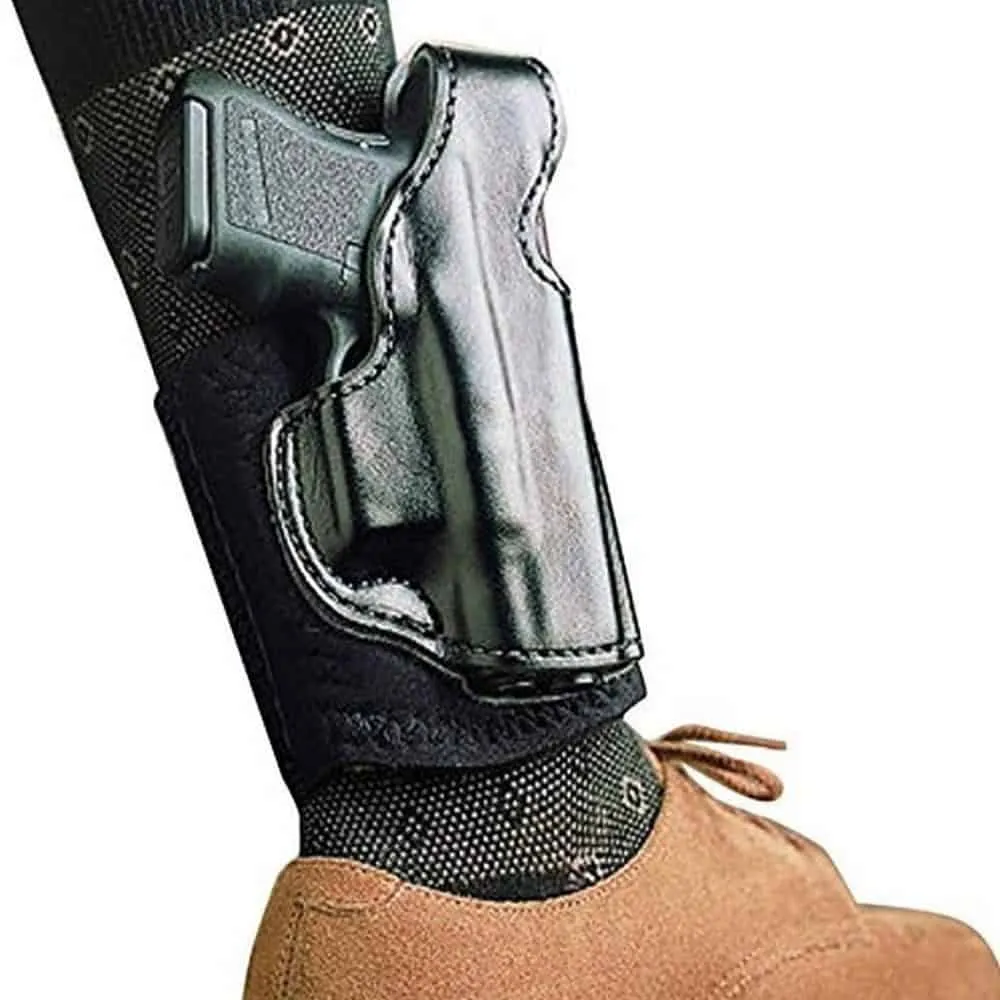 But it's not only the less constrictive nature of the design that makes it a solid choice. You may also appreciate the leather build. It creates a durable pouch for your gun, one unlikely to cause slipping or repositioning.
The neoprene leg band fits nicely and contains padding for extra comfort. As well as sheepskin for durability. You should also know that this holster is for right-handed users.
This gets better the more you practice drawing from it. That's because the snap is stiffer initially but does get smoother once you break it in. You may also find this one of the best Glock ankle holsters if you need to wear one for more than half a day, because you won't feel much discomfort.
Pros
Very secure fit
Sturdy leather holster
Foam-padded strap
A high degree of comfort
Cons
Not available for left-handed users
This ankle holster comes in four sizes so it can fit a broader range of concealed handguns. The smallest pistol you can holster would have a 2" barrel. But, you can also use it as a Glock 26 holster or for other compact 9mm and .40 caliber firearms.
Uncle Mike's does a good job of pleasing almost anyone. I also like that you can order left- and right-handed models. Both have equal availability, which is always a plus.
In terms of support, it's a hit or miss with many users. I appreciate the extra stability and reliability of a vertical calf strap system. However, some may find it constrictive. That said, the overall build seems sturdy enough for a soft knit fabric holster.
The reinforced thumb break is a nice touch too. As is the hook and loop adjustability. It does help get a proper fit, regardless of the size of your leg.
Pros
Good sizing variety
For left- and right-handed users
Sufficient adjustability
Comfortable wear with the foam padding
Cons
Not ideal for super-fast drawing
If you don't mind using a calf strap design, then this could be the best ankle holster for you. The ambidextrous style is a rarity and easily worth the extra buck. But I admit that the straps and the design itself are bulkier than expected.
Still, the ComfortTac is a one-size-fits-all ankle holster. So, I do recommend it for a variety of handguns including the Glock 19, 26, and 43. Even an S&W Bodyguard fits nicely. And if you ask me, this could be the best Ruger LCP ankle holster on the market.
The adjustable calf straps and extra padding make this a comfortable holster. On top of that, the breathability of the neoprene helps with temperature regulation. Perhaps the cherry on top is the magazine pouch.
The holster offers stability and security. And it does so without compromising your drawing speed. I also like the extra sturdy retention straps. They have a quick-release system but do a great job if you have to run.
Pros
Adjustable size and fit
Swift and quiet draw
Magazine pouch included
Ambidextrous style
Cons
Slightly pricier
Bulky design
This model is one of the most complex ankle holsters on the market. It's a two-piece design with tons of adjustability. Although its design is rather slim, It can be challenging to conceal a handgun with this holster if you're not wearing baggier pants.
The ShapeShift is a modular holster system. It comes with custom molding, a trigger guard, and adjustable retention. It also allows changes in size and height and can hold a greater variety of handguns.
The fact that there are no strict limitations regarding the pistol carrier gives this ankle holster great utility. You can use a more powerful backup on tactical operations. What is interesting is that for all its complexity it lacks a magazine pouch.
That said, the lack of one helps slim down the design. After all, the molded holster shell is bulky. The material has a good feel, but it's not the most comfortable choice by any means. With that in mind, the Coolvent neoprene fabric helps with temperature regulation. And I don't find the edges too rough either.
Pros
Modular ankle holster
Extra reliability due to the molded hard shell
Adjustable size, height, and retention
Trigger guard for added safety
Cons
Not the best for concealment
It's slower to adjust than most
The main reason this is one of my favorite straps is its lightweight design. It's also compact and ideal for weapon concealment, unlike other more complex systems. The thick leather is dependable and long-lasting.
For a calf strap holster, it's quite small. But the two adjustable straps make it easy to get a comfortable and secure fit. I want to point out that this may be a tiny and easy to conceal holster, but it's not great for a variety of handguns.
If you prefer using small caliber firearms, then this could be a good fit. Drawing your gun is easy, fast, and silent. The double stitching is great and increases the longevity of the holster.
One gun that I find particularly suitable for use with this ankle holster is the Beretta 3032 Tomcat. It's a light and easily concealable self-defense weapon that has sufficient stopping power and accuracy for its size.
Pros
Affordable and durable
Ideal for a Beretta Tomcat
Adjustable calf and ankle straps
Promotes fast and silent drawing
Cons
Limited compatibility with small caliber pistols
Final Recommendation
There are some great ankle holsters available today for any firearm owner. But it's hard not to declare the ComfortTac ankle holster as the winner of this debate. Its range of adjustability is truly impressive.
I also like the fact that it's a one-size-fits-all model, so there's no fuss, no muss in figuring out what gun to use it with. Its ambidextrous design may hurt the concealment factor a bit but offers much more in return. And let's not forget the handy magazine pouch that so many manufacturers leave out of their ankle holster designs.
Explore more