Best AR-15 Ammo: Different Ammo For Different Shooting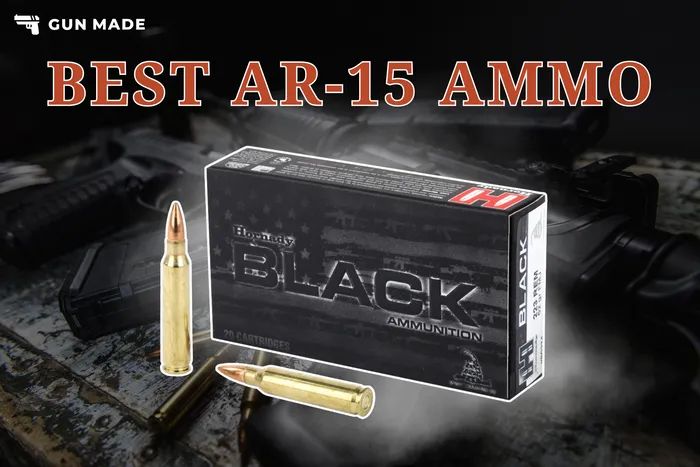 Best AR-15 Ammo: Different Ammo For Different Shooting
Finding the best AR-15 ammo is a mixture of finding out what you like and what your rifle likes. Sure, you may love 55-grain PMC ammo due to its cost-per-round and ability to buy in bulk, but does your rifle perform its best with that ammo?
Are you really getting the most out of your rifle with the ammo that you've chosen? If you've shot different types of ammo through your rifle, then you've probably seen which ones it likes and which it doesn't.
There's a reason for that. We will discuss why a rifle may prefer one-grain weight or type of ammo over another. I will explain what "grain" means in regard to ammo in a minute.
We will also discuss how your barrel length, twist rate, and gas system length dictate which ammo is the best for your AR-15.
Whether it's a budget build or a Noveske, having the right ammo will ensure you get the most out of your rifle. We all want to be more accurate; there is no doubt about that. Let's highlight our biggest tips when shopping for ammo for your AR:
Test Various Ammos: Experiment with different ammo types to find your rifle's preference.
Consider Ammo Specs: Pay attention to grain weight and bullet type for optimal shooting.
Balance Cost and Quality: Choose ammo, balancing cost-effectiveness with performance needs.
Understand Barrel Impact: Know how barrel length and twist rate affect ammo performance.
Be Mindful of Usage: Select ammo based on specific use: precision, hunting, or defense.
So, let's chase the MOA.
Best AR-15 Ammo & Recommendations
EXPERT TIP: Remember, the 'best' ammo is subjective; what works for one might not for another. Always test a few rounds yourself.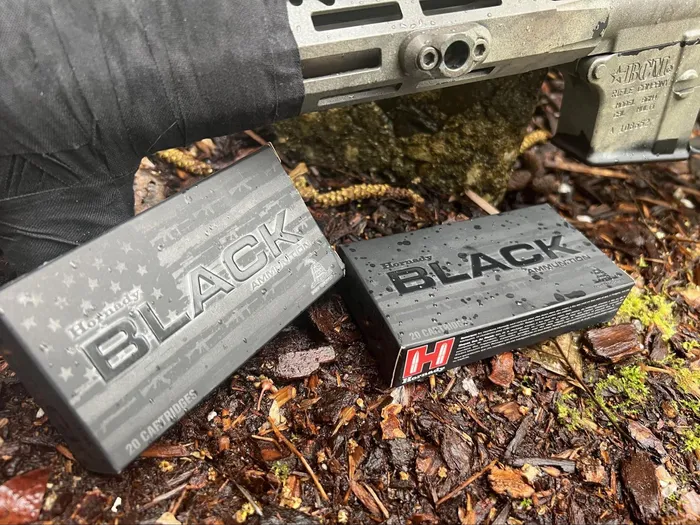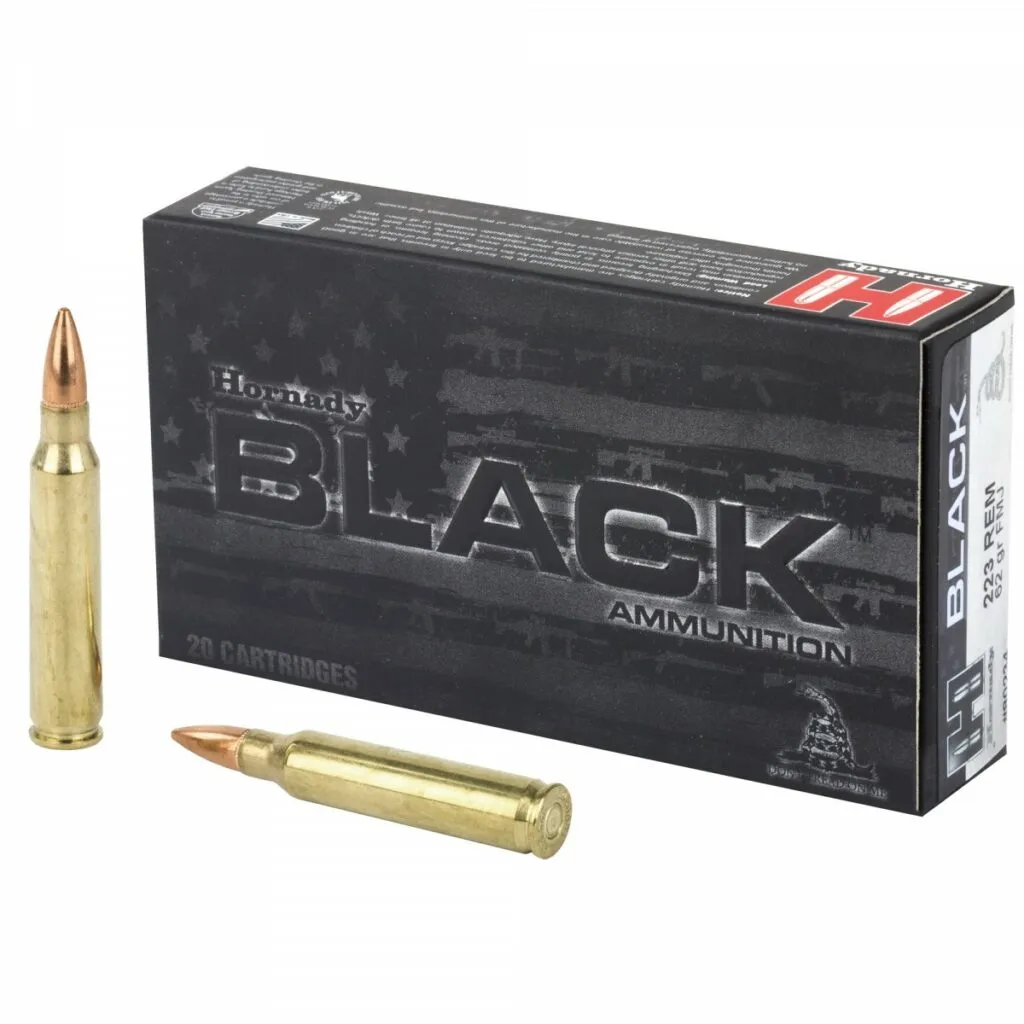 Specifications
| | |
| --- | --- |
| Weight | 62 Grains |
| Bullet Type | Hornady |
| Bullet Tip | FMJ |
| Muzzle Velocity | 3,060 FPS |
Pros & Cons
Pros
It is inexpensive compared to other rounds of this tier

Consistent, no issues with feeding or firing typically

Cleaner burning propellants (so you don't die from lead poisoning)
Cons
It still costs more than your everyday PMC ammo.
Hornady Black 62 Grain ammo is a do-it-all round. Since it's not designed for light armor piercing, it isn't banned at the range. You won't have to worry about getting kicked out of the range for tearing up its backdrop.
And you can still reap the benefits of shooting a higher grain that works with most barrel twist rates. Win-win.
Hornady sent me a few boxes of Black 62 Grain ammo for a few reviews I was working on. That led to me purchasing a bulk order due to how well they performed with my BCM Recce MCMR 14 with a 1:7 twist rate.
For me, Hornady Black performed the best out of every round I fired. And it's not as expensive as some premium all-around loads on the market.
It's the "Jack of all trades" of factory-loaded ammunition. It thrives in multiple roles (which Hornady intended) and is consistent across the board regarding performance and efficiency.
It's not the cheapest per round, but if you're looking for great performance at a decent price, this is it.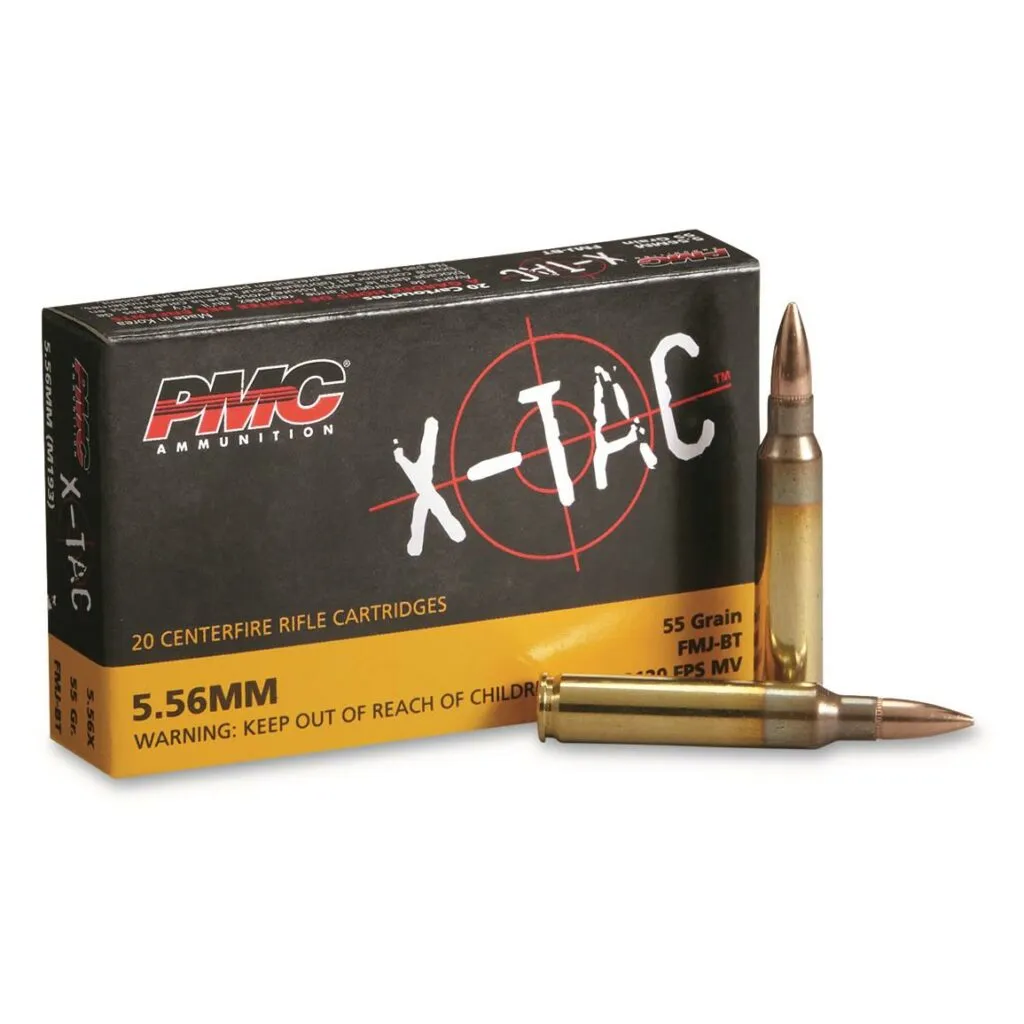 Specifications
| | |
| --- | --- |
| Weight | 55 Grain |
| Bullet Type | Boat Tail |
| Bullet Tip | FMJ |
| Muzzle Velocity | 3,270 FPS |
Pros & Cons
Pros
Easy to buy in bulk at a great price

Reliable, no issues with feeding or firing 

Great for training indoors and outdoors
Cons
South Korea made (Con to some)
PMC X-Tac 55 Grain is the ammo that I use for practice. Mind you, I'm not shooting for distance; the 5.56×45 wouldn't be the round I choose for long-distance shooting. I'm not that good.
This ammo is cheap, it's consistent, and I've never had an issue with the 3,000 rounds that I've put through my rifle. No malfunctions or any issues. It's always been smooth sailing.
I find it slightly undergassed in my rifle, but only by a tiny amount.
The best accuracy I ever got from my rifle with 55-grain PMC X-Tac is about 2.5-MOA at 80 yards using an EOTech EXPS3 with a 3x Magnifier. I got 1-MOA with Hornady Black. So I'm sure I could have done better.
But, as far as practice and range days go, PMC X-Tac 55 Grain, having a low cost-per-round and high reliability and consistency, gets my support as the best 5.56×45 value range-day ammo.
EXPERT TIP: For budget shooters, consider the cost per round but also factor in reliability and consistency.
Best AR-15 Ammo For Precision Shooting  – Black Hills SMK 77 Grain (5.56mm NATO MK 262 MOD 1-C)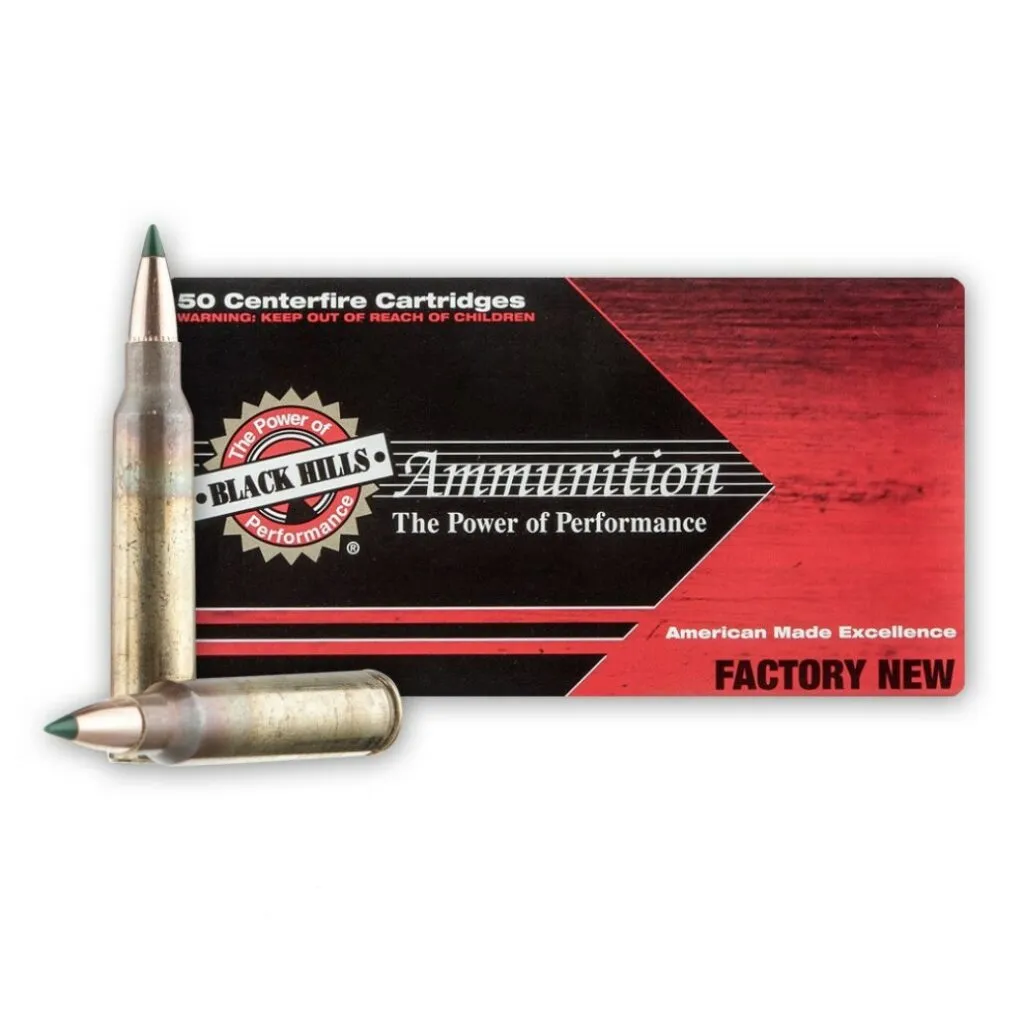 Specifications
| | |
| --- | --- |
| Weight | 77 Grain |
| Bullet Type | Sierra MatchKing |
| Bullet Tip | Open Tip |
| Muzzle Velocity | 2,750 FPS |
Pros & Cons
Pros
It is considered the longest shooting AR-15 round next to AMAX 75 Grain from Hornady (Discon.)

Comes in .223 Remington and 5.56×45

Open-tipped bullet design stabilizes in flight and increases accuracy

Designed for use by military personnel
While 5.56×45 is hardly the round to use for accuracy in the distance, Black Hills SMK 77 Grain rounds are the best factory load for getting good groupings past the normal distances for 5.56×45.
Black Hills uses Sierra MatchKing open-tipped bullets and Barnes shell casings to get you sub-MOA accuracy as far as you can reach consistently.
The SMK ammo is now known as MK 262 MOD 1-C, intended to be used on the battlefield, offering better consistency and stopping power from the heavier round. It uses the same Sierra Match King bullets but is available in bulk packs—good news for you new distance shooters.
It's not the cheapest ammo, but you get what you pay for.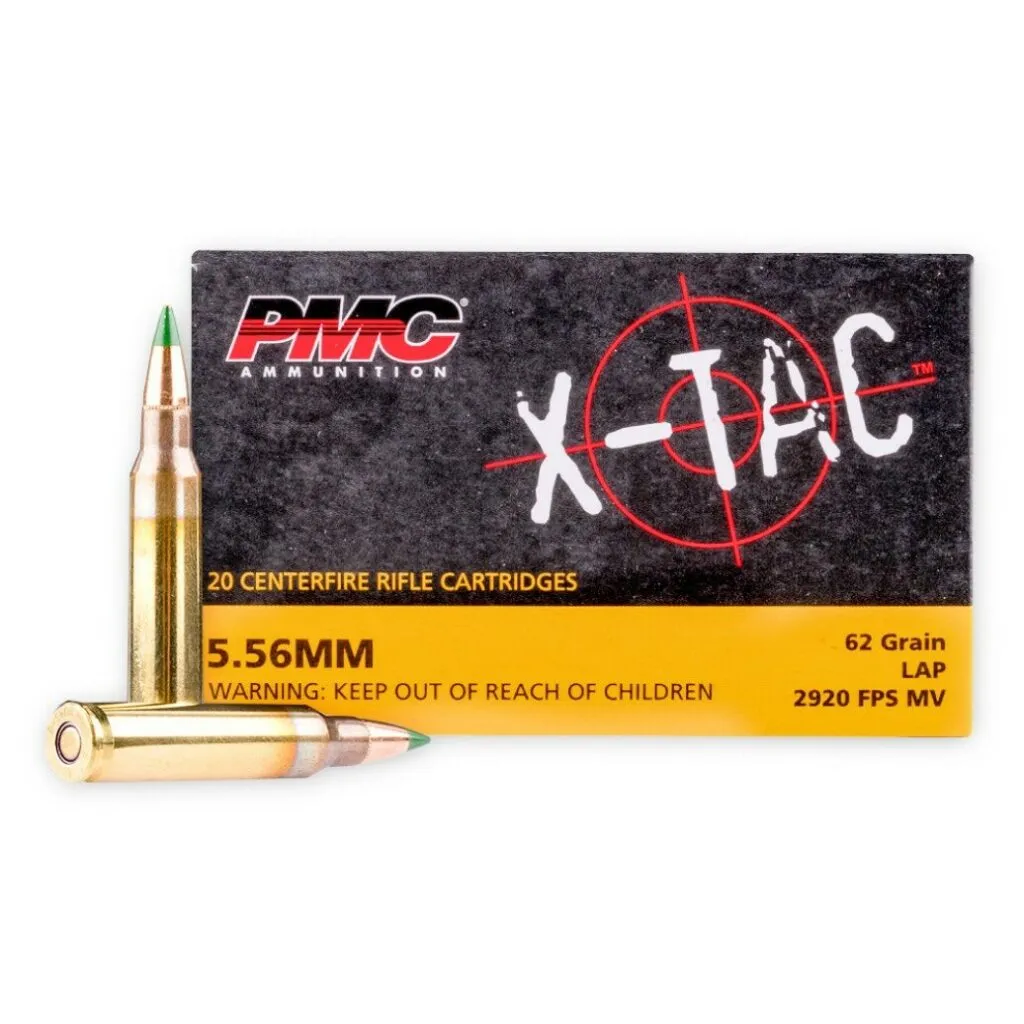 Specifications
| | |
| --- | --- |
| Weight | 62 Grains |
| Bullet Type | Regular |
| Bullet Tip | FMJ, Steel Core, Light Armor Piercing |
| Muzzle Velocity | 2,920 FPS |
Pros & Cons
Pros
Effective against soft body armor 

Inexpensive and of good quality

Easy to find in bulk

Reliable
Cons
Can't shoot at indoor ranges

Not as versatile as regular ball ammo
Another PMC product? Yes.
There aren't many companies that make M855 ammo (that are good, anyway), so picking PMC M855 62-Grain ammo makes sense to be chosen as the best in this category.
I have only put a few hundred rounds of this stuff through my rifle, give or take 400 rounds, but it's a very reliable load. I usually keep this stuff in the reserves for a rainy day.
Also, if you reload, the brass works well for it.
For consistent penetration at a low price, I'd go with PMC X-Tac M855 62 Grain. Even though it's not American-made, PMC is a great company offering cheap but good-quality ammo.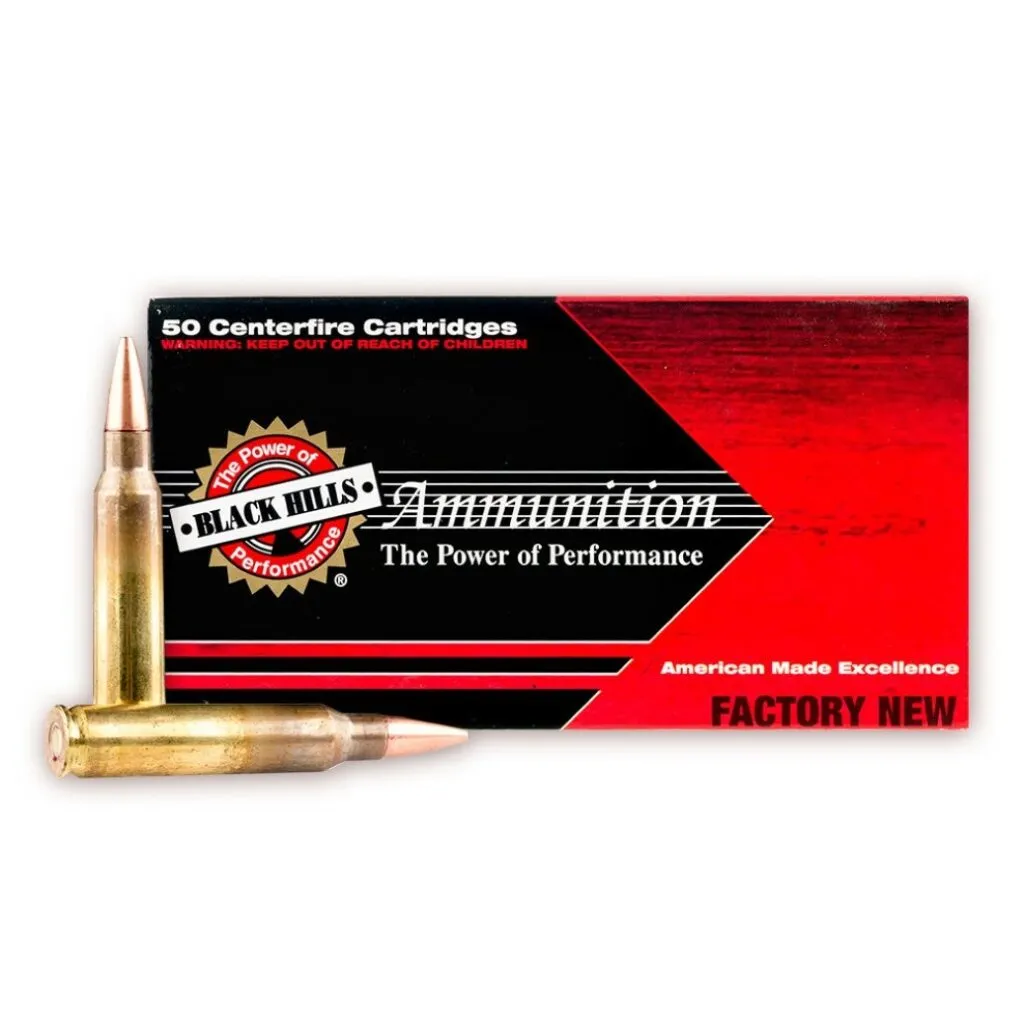 Specifications
| | |
| --- | --- |
| Weight | 62 Grain |
| Bullet Type | Boat Tail |
| Bullet Tip | Barnes Triple-Shock X |
| Muzzle Velocity | 3,025 FPS |
Pros & Cons
Pros
Barnes TSX is praised for it's hunting ability

Leaves a nasty wound channel in its wake

Not as expensive as other hunting rounds
Hog and Coyote hunting is a great pastime. To do it effectively, you will need a round that provides consistent expansion at mid-range distances. You don't want to go half-cocked against a bunch of angry hogs.
I wouldn't advise it, anyway.
Black Hills 62 Grain TSX ammo uses Barnes TSX bullets, which hunters praise due to its consistent expansion, capable of putting down hogs and coyotes with little fuss.
Still, I'd give them two more to be sure.

As you can see from the above graphic, the wound channel from the TSX round won't let the hog get too far before sending it into shock and subsequently dying. But that's if you get a broad shot. A headshot, however, would be a different story.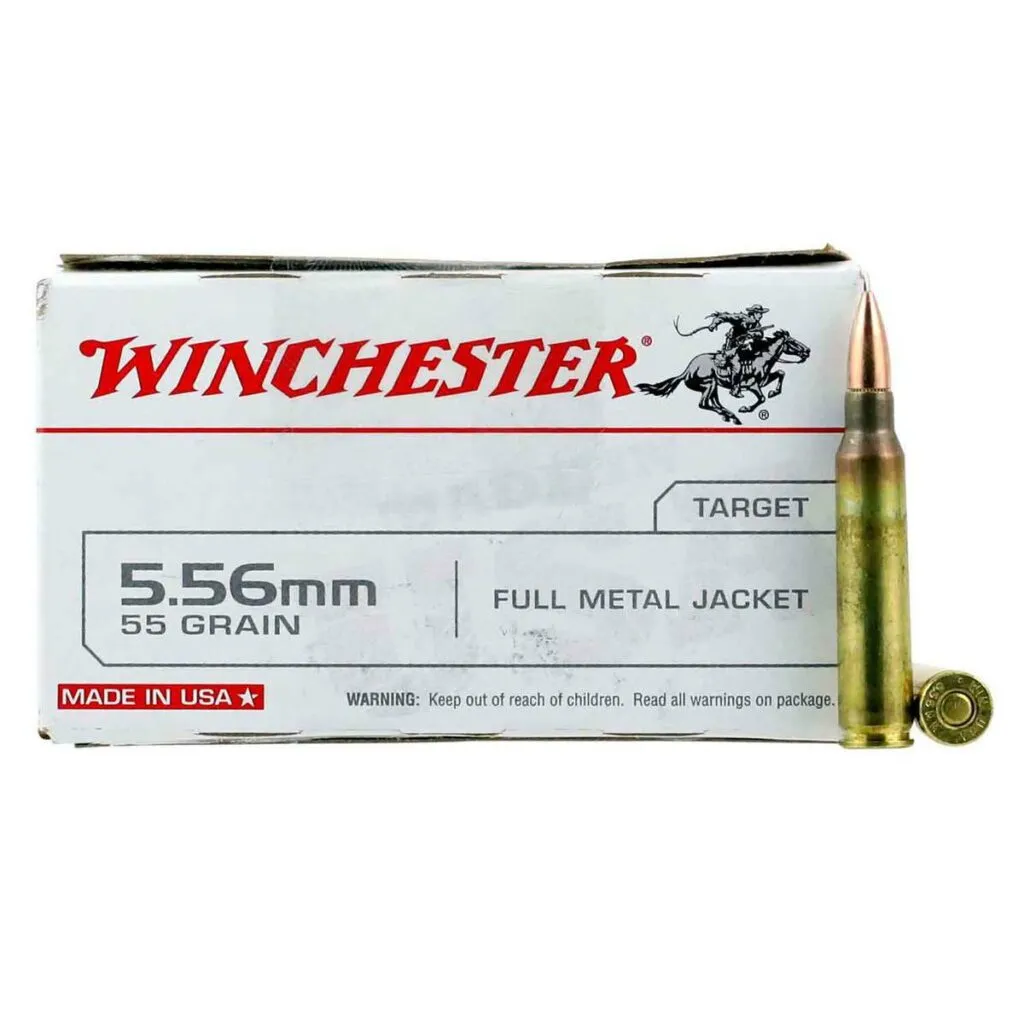 Pros & Cons
Cons
Expect some of your ammo to be bad 

Quality control is terrible
Okay, so I have had some pretty bad luck with Winchester White Box. I'm not an anomaly. My buddy Collin has also had his fair share of primers falling out and bullets coming away from the shell casing due to bad crimping, both inside and outside of his rifle.
The bottom of his Walmart-brand ammo can is filled with 748 powder from rounds that have come undone.
I know that some folks have had good luck with White Box. I did, too, when I was shooting M855 rounds out of my M16A4, but the quality has decreased over the years, and I'd hate to see you waste money on rounds.
Cheap and horrible. Definitely not a good mix.
Best .223 Ammo for AR-15s
.223 Remington is typically more affordable than 5.56×45, so you can save money and train simultaneously. It's also suitable for self-defense if you get the right load.
If you're looking to save money by shooting .223 instead of 5.56×45, then here are some options to choose from.
Remember: You can shoot .223 Remington out of an AR-15 rated for 5.56×45, but not the other way around. 5.56×45 has 62,000 PSI compared to .223 Remington's 55,000 PSI (Per SAAMI). You don't want to overpressurize your chamber. It only goes one way.
If you want the best of both worlds, here is an article about .223 Wylde.
Okay, I know you've had enough PMC recommendations for today, but the guys in my shooting group and I typically buy this stuff in bulk. When we put our money together, we buy about 5k rounds at a time in battle packs.
And all of those 5k rounds go smoothly. Not one malfunction (unless user-related) and all consistent rounds.
The fact that they come in battle packs makes me favor them even more. It's easy to stow two packs in a day bag or anywhere else, and they all stay together.
Not having to worry about loose rounds is a huge plus. Have you ever had a stray round find its way into your luggage? I have. I never made that mistake again.
If you want to save money and have a great range day with .223 ammo, you can't go wrong with PMC Bronze.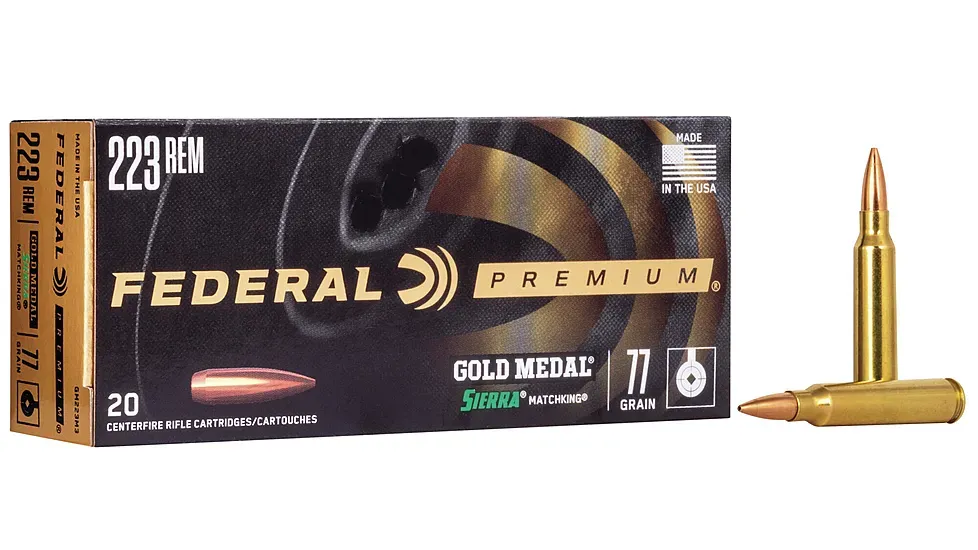 While you're not necessarily saving too much money on ammo with the Federal 72 Grain BTHP, it is one hell of a home defense round that gives you the power to put an attacker down and the accuracy for clean follow-up shots. But you also have lower hard-surface penetration—more than enough to put your unwelcomed guest in the ICU, though.
BTHP stands for Boat Tail Hollow Point, which means it's made for accuracy while still providing spread on impact. The heavier weight aids in creating a more significant amount of shock to the receiver.
More weight and expansion = a lousy day for the bad guy.
It's not the most expensive .223 Remington self-defense ammo on the market, which is another huge plus.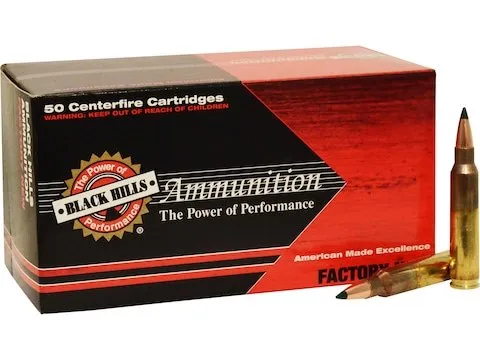 Again, you're not saving much, if any, money here.
These are similar to the Black Hills 77 Grain SMK rounds we mentioned before. However, out of a .223 Remington barrel, the 77 Grain Open Tip Match ammo from Black Hills is a stellar option for those who want to get the most accuracy out of the smaller round.
If you want even more distance and accuracy, run the 5.56×45 variant of this ammo through a .223 Wylde barrel.
How We Chose Our Top Picks
I've been shooting and testing out different sorts of ammo for a long time now. I've shot almost every type of ammo you can think of, from Wolf Gold to Hornady Match and Nosler. I've shot the cheapest to the most premium ammo, to the ammo that is more expensive than it should be.
I've also enlisted the assistance of my friends who are constantly attempting to make their AR-15 perform better, no matter how much it costs. And this is what we've found.
Oh yeah, and countless hours of research, too.
Best AR-15 Ammo Buyer's Guide
Here are some things to consider before you seal the deal and purchase your ammo.
What Is Grain Weight In Ammo?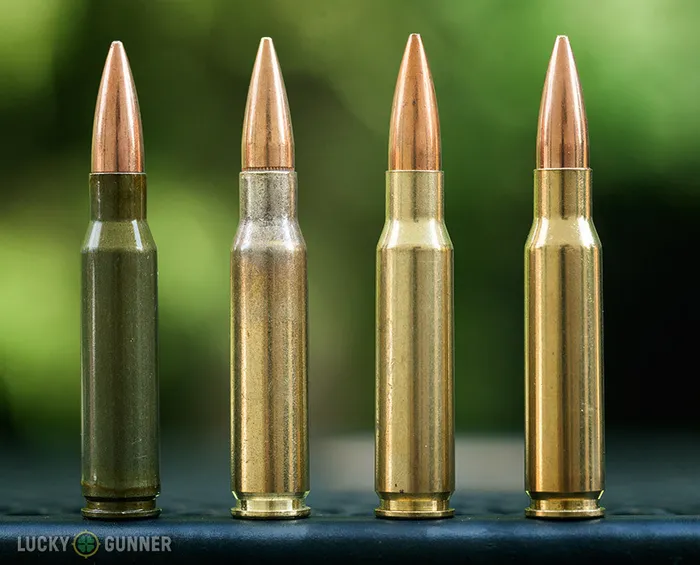 A lot of new shooters think that "grain" refers to the weight of the powder inside of the casing, but grain weight actually has to do with the bullet itself. The simplest way I can put it is this:
If you have 55-grain ammo, the weight of the bullet is 55-grains on the scale. If you have 77-grain ammo, the weight of the bullet is 77 grains. So on and so forth.
The bullet is, you know, the projectile that comes out when you shoot your AR-15.
The case typically weighs about 94 grains. However, all of this can vary depending on the manufacturer.
All you have to worry about is the grain weight of the bullet itself if you aren't hand-loading your ammo and how your barrel twist rate performs with that weight.
How Does The Barrel Effect Ammo Performance?
Barrel Twist Rate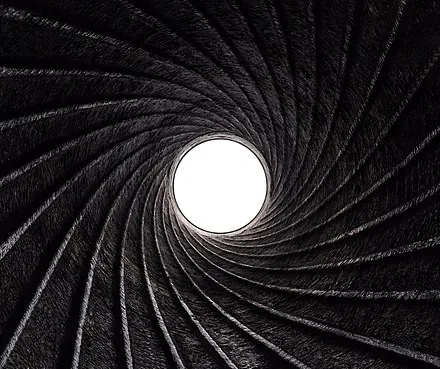 Certain barrel lengths and twist rates work better with different grain weights. As you can imagine, heavier grain weights are made for shooting larger targets or carrying kinetic energy over a longer distance.
The most common twist rates are:
1:14 – This was the twist rate of the old Vietnam M16s and is rare to see on AR-15 barrels. They are typically found on older rifles and tend to favor lighter rounds like 55 grain or lighter.
1:12 – Still pretty uncommon in today's barrels, but can stabilize 62-grain rounds out a longer 20+ inch barrel for small-game hunting purposes.
1:10 – Now we're getting into the more common findings. 1:10 twist rates are suitable for stabilizing rounds up to 69 grains, whether matchgrade or anything else.
1:9 – Now we're taking advantage of the heavier rounds. 1:9 is capable of stabilizing most 70-75 grain ammo and capable of working with lighter 55 grain ammo as well. It won't overstabilize a 55-grain round, so you can practice with this twist rate and get optimal performance out of heavier rounds.
1:8 – This is the most versatile of all barrel twist rates. A 16-inch barrel with a 1:8 twist will stabilize up to 80 grains. Sometimes, it can overstabilize rounds lighter than 55 grains, but usually not the 55-grain round itself.
1:7 – This is your run-of-the-mill barrel twist since it was adopted by the U.S. Military when they started using the M16A4. This short twisting rate does best with 62-grain rounds and above. You can still practice with 55-grain, but it will overstabilize the round over a distance.
Sidenote: 1 = 1 twist, the subsequent number (14, 12, 10, 9, 8, 7, etc) is the inches for every one twist of the round. So, if you have a 1:10 twist rate, the bullet makes a full rotation every ten inches.
Barrel Length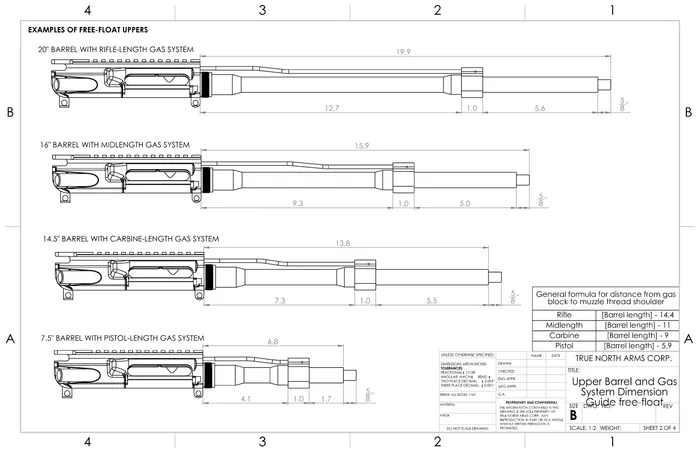 Barrel lengths with shorter twist rates (say a 20-inch barrel with a 1:7 twist) can have an over-stabilizing effect on light rounds, which can force the round to be more susceptible to spin drift (when the round veers in the direction it spins)
Likewise, a shorter barrel with a longer twist rate will destabilize heavier rounds. This can cause them to tumble and drop off quicker (Odds are you aren't aiming for accuracy at long range with a short barrel anyway).
The challenge is to find the happy medium where you have a barrel length with an appropriate twist rate to get the most out of the shot. The barrel length has to work in conjunction with the twist rate and the grain weight of the round for you to get optimal performance.
Mind you, 5.56×45 was designed to be shot from longer barrels. However, 55-grain ammo was used when developing the AR-15 platform. Like anything else, developments have been made to the platform and the round, making them more versatile.
I have a 14.5-inch barrel with a 1:7 barrel twist on my BCM Recce MCMR. I'm not necessarily worried about the accuracy at long distances, so I usually shoot 55-grain ammo. But I still have the capability of loading a 77-grain round and making good shots at 150 yards.
Again, it's not like I will be typically shooting that far with that rifle. I don't hunt with 5.56×45.
Takeaway: If you're aiming for accuracy, longer 18-20-inch barrels with a 1:9 twist rate will serve you better at longer distances than a 12.5-inch barrel with a 1:7 twist.
Barrel Material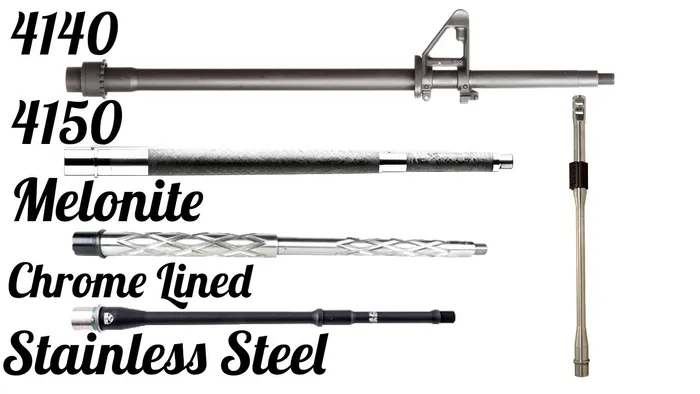 Accuracy depends on many things. And just because you're shooting 77-grain Nosler Match Grade doesn't mean your barrel was made to handle that amount of goodness. Unless you're throwing a custom barrel on your rifle, you may find that a stock barrel won't help you accomplish the accuracy you're aiming for.
Pun intended.
There are two barrel materials you typically see being used in AR-15 barrels.
Carbon Steel and Stainless Steel. The former is meant for hard use, while the latter is intended for long-range accuracy.
What I'm trying to tell you is that you shouldn't be shooting for accuracy out of a Carbon Steel barrel. Likewise, you shouldn't be laying down the hammer with your stainless steel barrel.
Let's compare the two.
Pros and Cons of Carbon Steel
Pros
Last longer than Stainless Steel 

Stronger and more durable than Stainless 

Handles sustained fire and heat better than Stainless 

Less expensive than Stainless 

Lighter than Stainless steel
Cons
Less accurate than stainless steel

Accuracy degrades quicker 

Rusts easier
Pros and Cons of Stainless Steel
Pros
More accurate than Carbon Steel 

Better for hunting 

Maintains accuracy better 

Easier to clean

It doesn't rust as quickly
Cons
It doesn't last as long 

More expensive 

Won't handle sustained fire as well
Granted, all of this depends on the quality of the barrel. You can't throw a budget stainless steel barrel on your build and expect to reap all the benefits of the material. Likewise, a cheap stainless steel barrel can hurt accuracy rather than help it.
Gas System and Buffer Weight
Since ammo ultimately impacts how well a rifle runs, you can expect that the ammo you choose will affect how much you get out of your AR-15 in terms of performance and reliability.
Since the buffer weight pushes the bolt carrier group back and can easily be too heavy to do so, that will also come into play.
Although your barrel length has more to do with how well your buffer spring and gas system, do their job, the gases being forced back come from the bullet.
I wrote a whole article on gas systems, so if you want more information on that, here it is.
Simply put, heavier-grain bullets are going to be gassier than lighter ones. It's simple. The heavier the round, the more gas it takes to propel it forward, which means it can be loaded differently to achieve this.
And since the round is heavier, it's causing more pressure inside the chamber. There's nothing to be worried about, though. It's all within SAAMI Standards.
Here's a chart for barrel lengths and buffer tubes and the best way to pair the two.
| | | | |
| --- | --- | --- | --- |
| Barrel Length | Gas System Length | Port Distance From Chamber | Buffer Weight |
| 10 Inches or less | Pistol | 4 Inches | H3 |
| 10-18 Inches | Carbine | 7 Inches | Carbine or H2 |
| 14-20 Inches | Mid-Length | 9 Inches | H2 |
| 18-20 Inches Or More | Rifle | 12 Inches | H2 or H1 |
This chart is meant to give you an idea of the ways you will need to customize your rifle depending on the length of the barrel length and the ammo you want to use.
Remember, longer barrels with heavier buffers will be sluggish in cycling due to the lack of gas coming back. If you're suffering from failure to extract or sluggish chambering, your buffer weight/spring may be too heavy.
If you're suffering from too heavy recoil and aggressive cycling, they can be too light.
Either can be solved by changing the grain weight or load. But if you're dead-set on a particular grain weight, you must make some changes to your setup.
Here is a full article on piston driven vs. direct impingement if you want to know more about the operating systems of AR-15s.
Steel vs. Brass Ammo: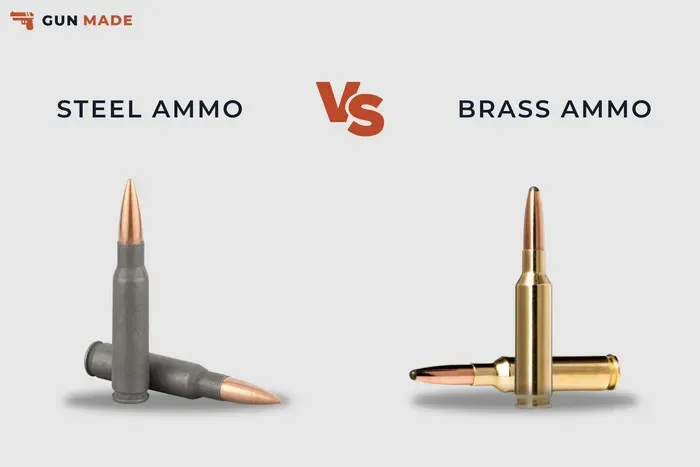 Okay, so the main issue here is price. Steel, being cheaper than brass, naturally means steel case ammo costs less per round. However, I'm just going to be brief and say that shooting steel ammo from your AR-15 will cost you more later on than if you shoot brass.
Steel ammo is meant for AK-47-style rifles that are overgassed for reliability purposes. Since it's over gassed, the extraction on most AK-style rifles is violent, and it rips that round out with intent. Not to mention that the AK-47 was tested and developed with old steel ammo from the war.
The AR-15, on the other hand, was developed and tested with brass.
Since brass is softer than steel, you will sometimes see the rim of the casing ripped off by the ejection in an AK pattern rifle.
Meanwhile, shooting steel ammo in your AR-15 will cause it to wear quickly, which is why I said it'll cost you later on.
For all intents and purposes, I would stick with brass ammo for your AR-15.
Here's a full guide on steel vs. brass ammo if you want more information.
What Is Hand Loading?
Handloading takes tools, time, and know-how. The result is the ability to save money and play with the formula a little. In essence, you're making your own rounds.
Handloading is typically done by precision shooters and those who have the time to sit there and measure the amount of powder going into the round, clean the brass to make it easier to work with, shape it, and all the other things that make a round.
It also takes money. If you want a solid system, you'll spend a good amount of money upfront. You must also buy powder, shell casings, primers, and bullets to assemble the whole thing.
Israeli Conflict Impacts AR-15 Ammo Prices
When war comes about, the cost of ammo goes up. It's simple supply and demand.
Before the Israeli conflict, ammo prices for 5.56×45 floated around 40 cents to $1.30 per round, depending on the manufacturer, grain weight, and whether or not you bought in bulk.
Nowadays, we're seeing it more around 60 cents to $2.00 per round. Again, this depends on the manufacturer, grain weight, and bulk prices.
You may want to take advantage of low ammo drills and dry firing and take it easy on the reserves if you have any. If you don't have any, buy 1,000 rounds and be mindful with your shooting.
Commonly Asked Questions:
Can I Use .223 Remington In My 5.56×45 Rifle?
Yes, you can shoot .223 Remington out of your 5.56×45 rifle. You cannot shoot 5.56×45 out of your .223 Remington rifle, though.
The reason for this is the pressures associated with each round. .223 Remington has a max pressure of 55,000 PSI, whereas 5.56×45 is typically around 62,000 PSI. Simply put, do not do it.
What Is The Primary Advantage Of Hollow Point Ammo For Self Defense?
Hollow-point ammo is great in many ways. One, the expansion of the bullet causes a larger wound cavity inside of your target, which sends their body into shock quicker than if you shot the attacker with an FMJ round that doesn't expand.
It also aids in making sure the round doesn't over-penetrate and hit something you don't intend to.
Is .223 or 5.56 Better For Home Defense?
It depends on the round that you are shooting. I'd much rather shoot an intruder with Federal 72 Grain BTHP .223 rounds than with PMC 55 Grain FMJ 5.56 rounds.
It always depends on the load. Some 9mm rounds are better for self-defense than .45 ammo due to the spread. Like I said, it depends on the round.
A 77-grain .223 round designed for home defense will be better than a 55-grain 5.56×45 round designed for the range.
Conclusion
Finding the best AR-15 ammo comes down to understanding what you want to accomplish with your AR-15 and branching off from there. What could be the best ammo for one shooter may not be what's best for you and your pursuits, especially if you're aiming for precision shots.
So, take your time and test a few different types of ammo. Buy a box and hit the range. Once you find what suits you best, buy more of it.
Be good and take care.
Explore more