Best AR-15 Drum Magazine & Buyer's Guide [2023]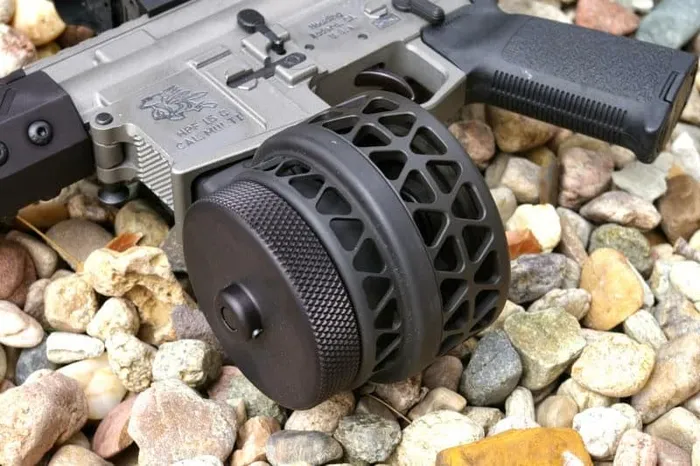 Best AR-15 Drum Magazine & Buyer's Guide [2023]
When it comes to serious AR-15 rifle modding, it's always a good idea to upgrade your optics, stocks, and maybe invest in some cool flashlights as well.
High-capacity magazines are no exception.
If you enjoy rapid AR-15 unloading but hate reloading, there's a .223/5.56mm NATO-caliber drum mag for that.
Drum magazines are a godsend for a lot of AR-15 enthusiasts. They won't turn your AR rifle into a Thompson (that's wishful thinking right there), but they do give you a new dimension of shooting at the ranges.
So, if you're willing to stock up on some serious round capacity enhancement, here are some of the best AR-15 drum magazines with various features and different capacities, and all of them are from prominent manufacturers.
I rounded up the best drum mags in terms of reliability and function, and we're going to talk about what makes them a worthy choice, what to look for when buying one, and help you choose between polymer and metal drum magazines.
The 5 Best AR-15 Drum Magazines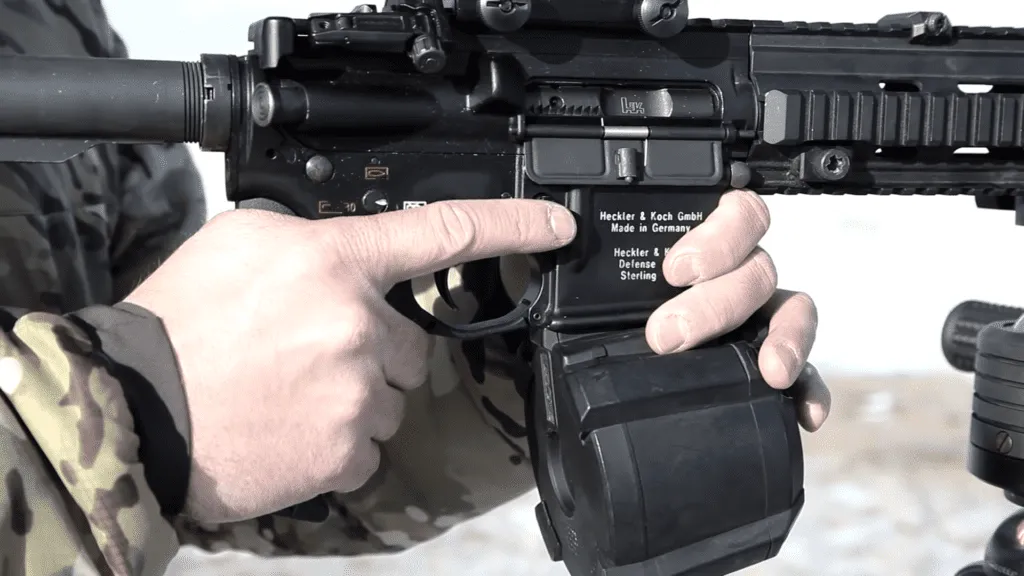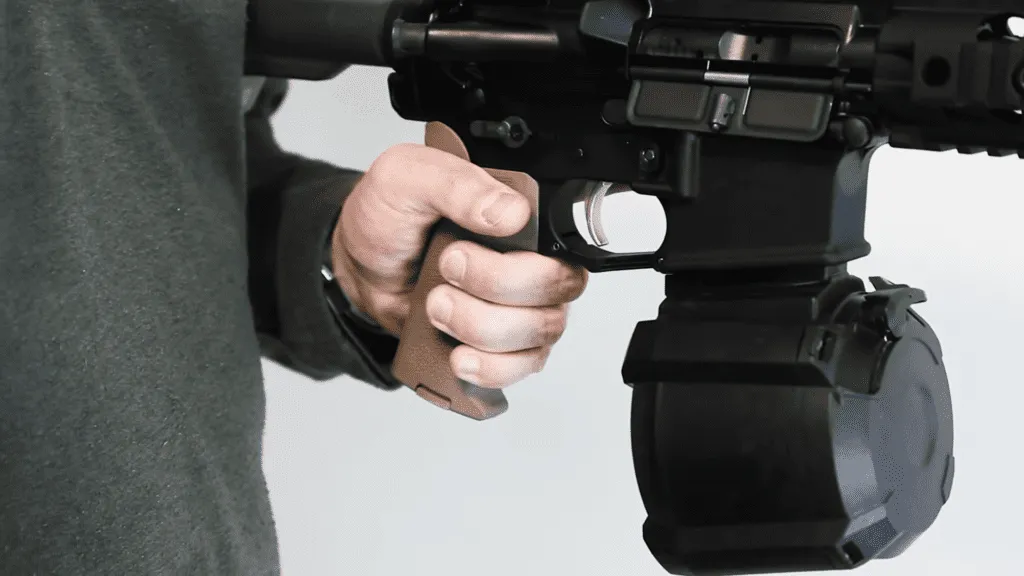 Pros
Great value
Durable and lightweight reinforced polymer
Last-round bolt hold-open feature
Round count indicator
Easy maintenance and cleaning
Cons
Heavy
Bulky, so it's awkward carrying a spare
For years, it was impossible for manufacturers to figure out a way to make a drum mag that holds out against drop tests while sustaining constant feeding reliability.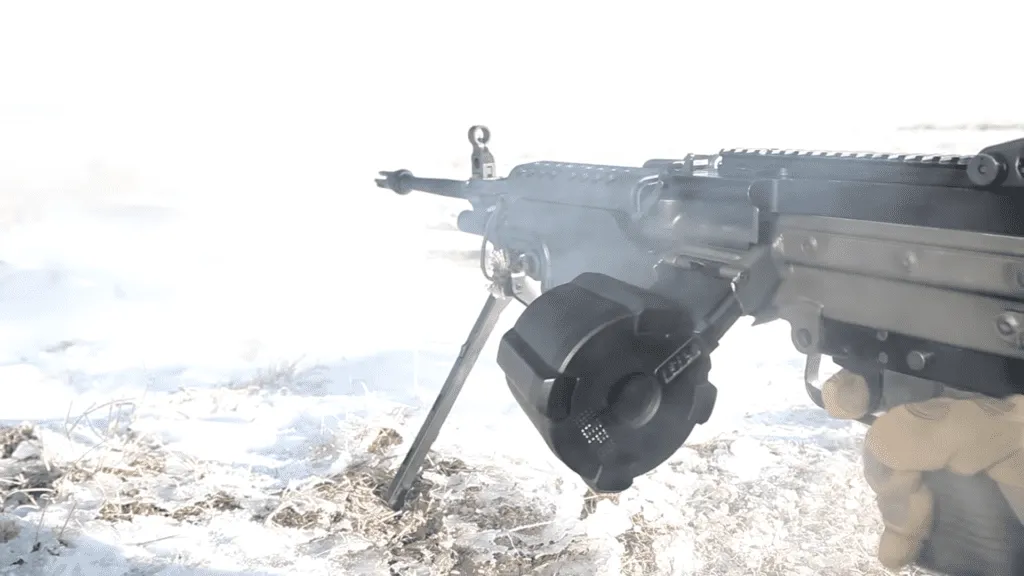 Besides the high price tag, the two main problems with high capacity magazines were the poor reliability and the weight of all those bullets.
Enter Magpul with their PMAG D60.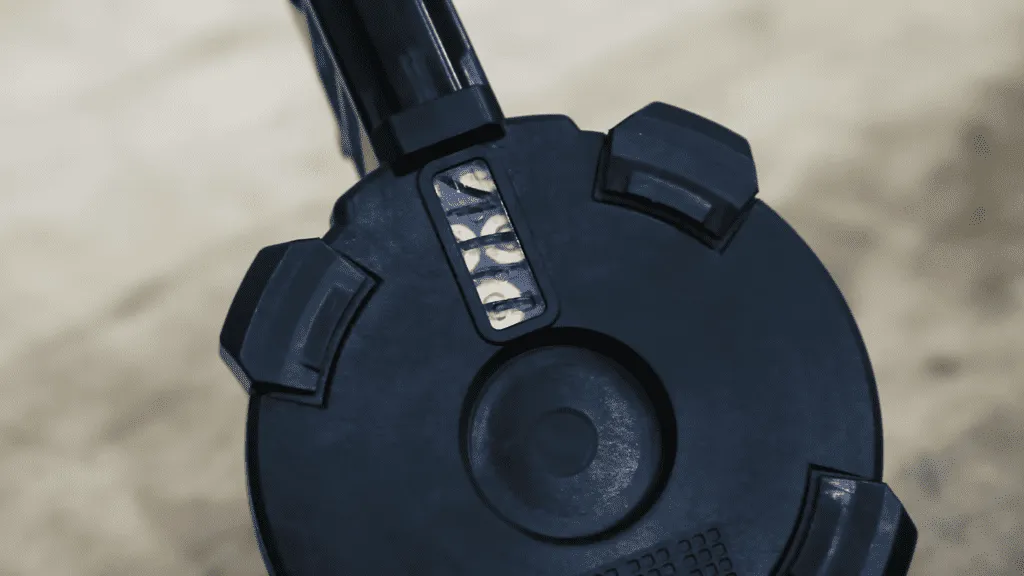 The Magpul PMAG D60 is a part of the highly acclaimed PMAG series that strays away from the box-style magazine in a high-capacity package of durability and consistency.
You can cram no more than 60 rounds in the PMAG D60, but this is the perfect capacity and works well with the carefully designed shape of the mag. The reinforced polymer construction is lighter than steel but still durable enough while housing the main parts well.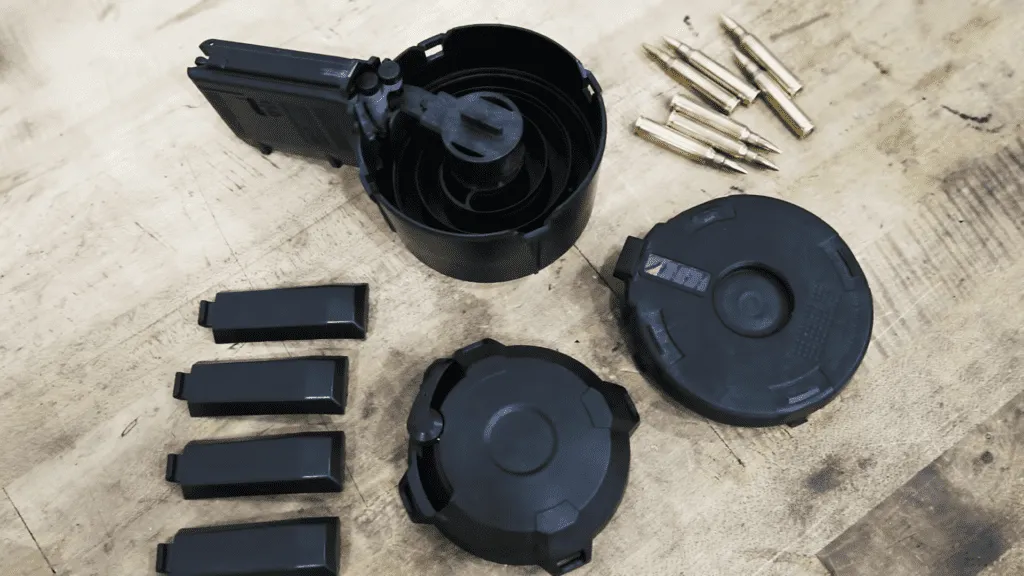 Unlike most high-capacity mags, the Magpul D60 has a last-round bolt hold-open feature, which solves the tension spring reliability problem.
Additionally, the ratcheting loading lever takes tension off the spring and allows for quick and easy loading. This is what makes the PMAG D60 stand out from the rest.
The PMAG D60 is still a heavy and bulky number, but it will serve you for a very long time as long as you heed Magpul's advice of cleaning and oiling the D60 once every thousand rounds.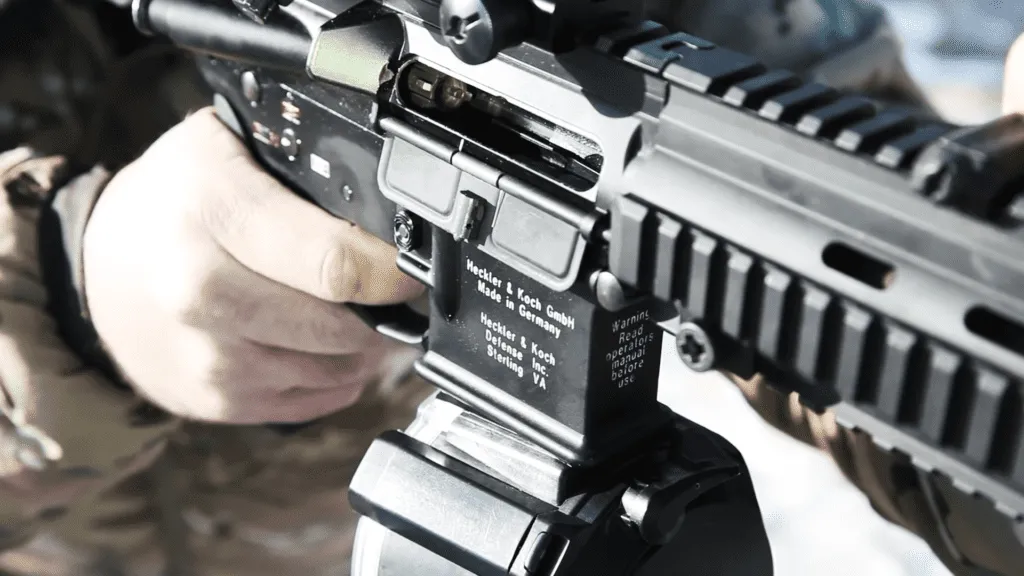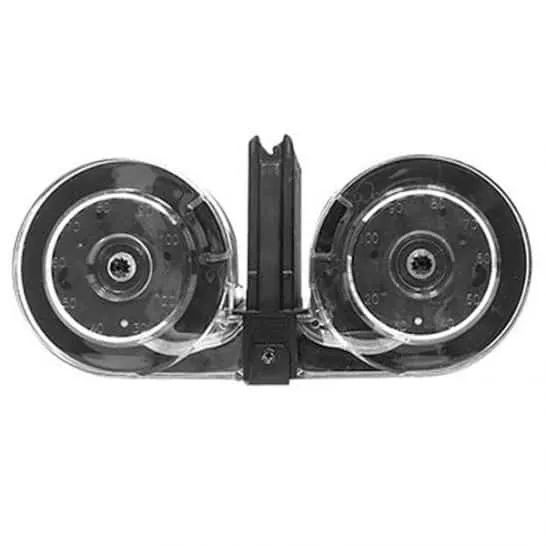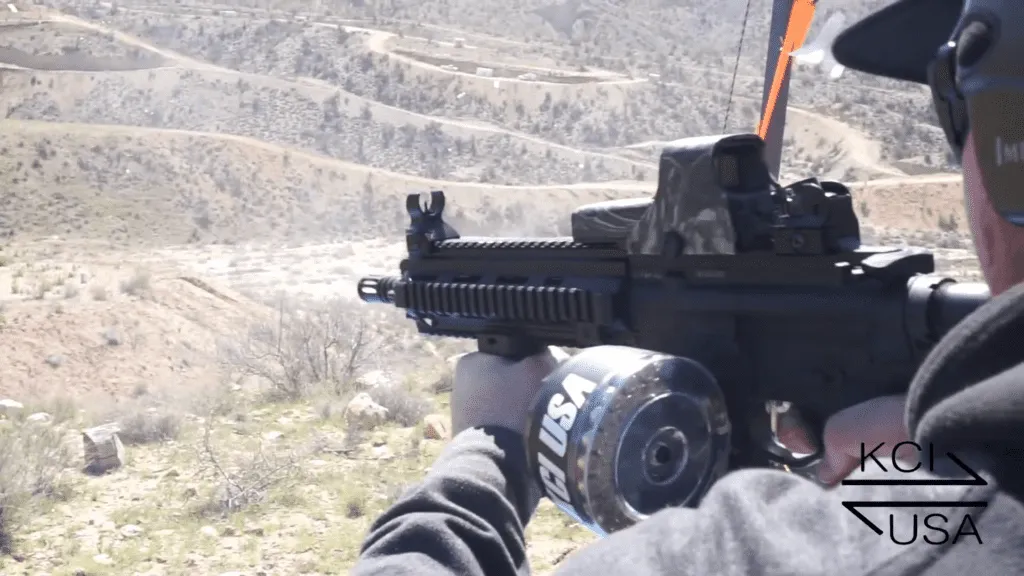 Pros
Highest-capacity drum mag on the market
Durable polymer construction with reinforced steel lips
Round count indicator
Available in black or clear
Comes with carrying case, magazine loader, and graphite lubricant
Cons
Heaviest on the list
Bulky and not suitable for tactical purposes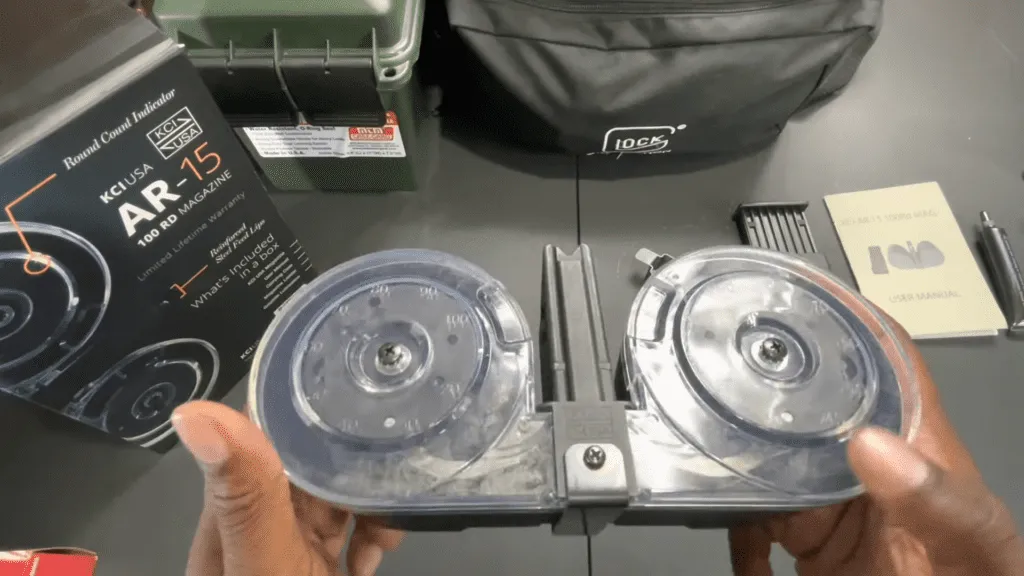 Want even more firepower? Sure you do.
Most hardened AR-15 veterans can immediately recognize the KCI 5.56 AR-15 drum magazine with a hundred-round capacity. It's a Korean-made behemoth and represents the ultimate in high-capacity AR-15 shooting.
Designed for all AR-15 style rifles, the KCI 5.56 AR-15 is a dual-drum mag that uses the combined anti-corrosive strength of a polymer and steel construction. In each of the drum mags, there are 50 rounds, and both mags have a reinforced steel lip for maximum durability.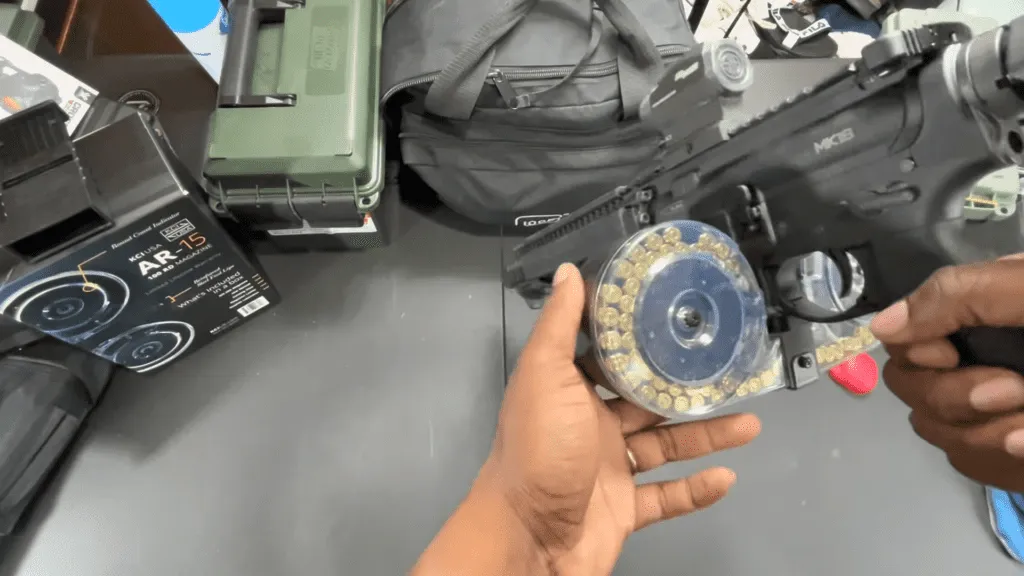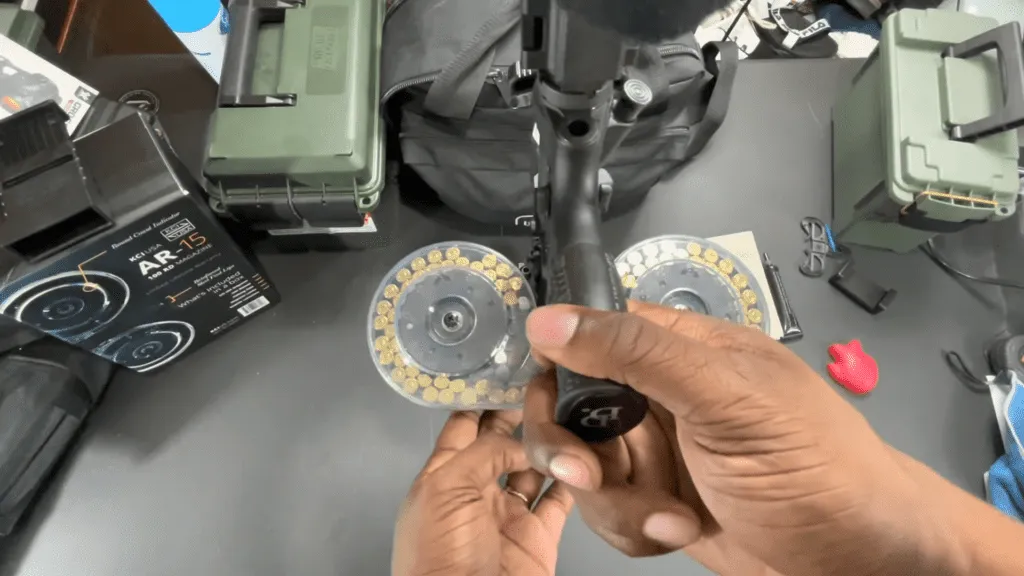 This newest GEN II iteration is an improved design of the former model, which has an alternating feeding system that pulls the bullets from each of the drums while you shoot.
It also has a transparent round count indicator, hardened steel inserts, and heat-treated springs for enhanced reliability and longevity, all of which are essential features in a quality drum mag.
With your purchase, the KCI also comes with a cool carrying case, a magazine loader, and a graphite lubricant. The clear color model is transparent enough to see the bullets through it.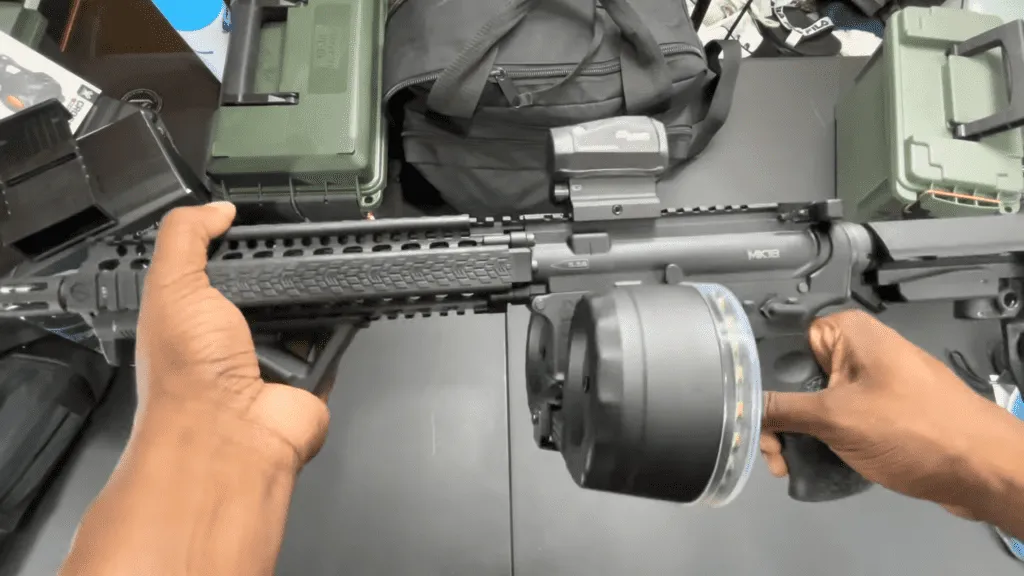 If it's a bit too much for you, KCI cut down the excess and gave us the halved version, the KCI 50-Round AR Drum Magazine with a front-mounted grip for quicker reloading.
I recommend this one for all of you AR-15 sportsmen who REALLY hate reloading.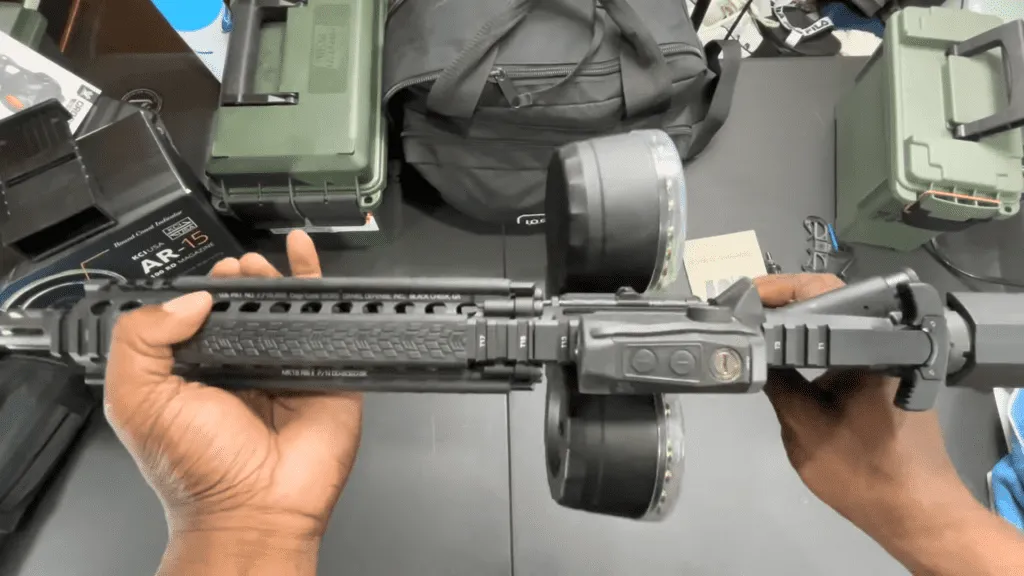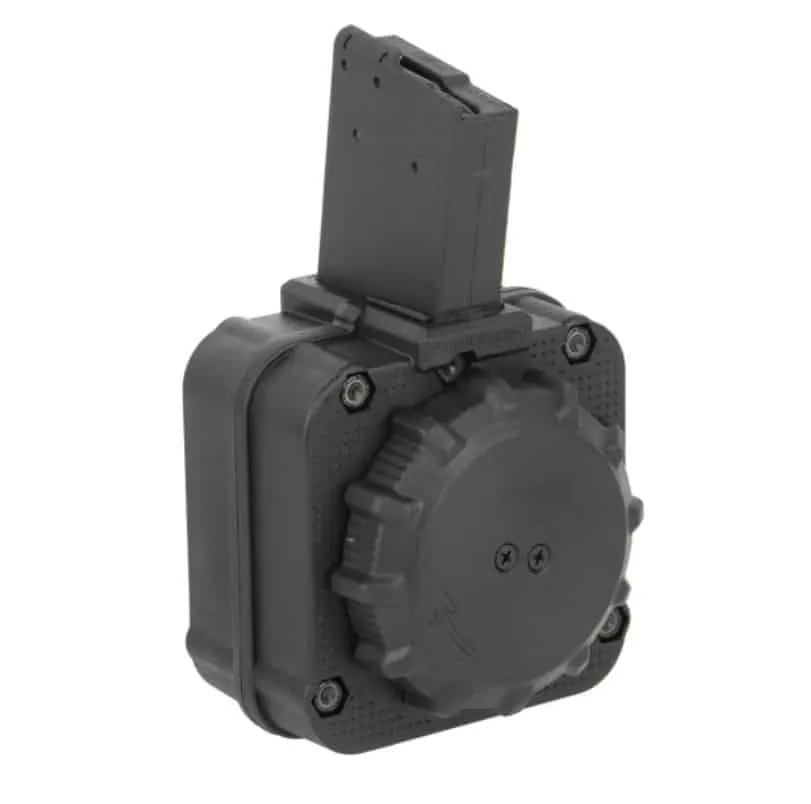 Pros
Excellent price
Polymer, steel, and aluminum construction
Shorter than a 30-round magazine
Holds 65 rounds
Rated for fully automatic fire
Metal feed lips and magazine catch
Various other drum mag calibers available
Cons
Not as sturdy as the other models on the list
Some customers complain that it barely fits in the magwell
If you're on a budget, the Promag AR-15 drum magazine is here to save the day.

Here's the thing: it's not a drum mag but more of a square-shaped magazine that somehow works. Though it's not a looker, this AR-15 high-capacity mag really does its job well.
The ProMag AR-15 65-Round Drum Magazine is constructed from polymer, steel, and aluminum and has metal inserts and fed lips for relieving spring pressure when fully loaded. It utilizes a winding mechanism, which affects follower spring tension when in use.
In my experience, the ProMag AR-15 65-Round Drum Magazine fits properly in my Smith & Wesson M&P15 Sport II with the magazine catch lugs for a positive lock. Although, some customers have complained about a tight-fitting issue.
What makes the Promag so special is that it's full-auto fire (1100 RPM) tested and certified for rifles with a high cyclic rate.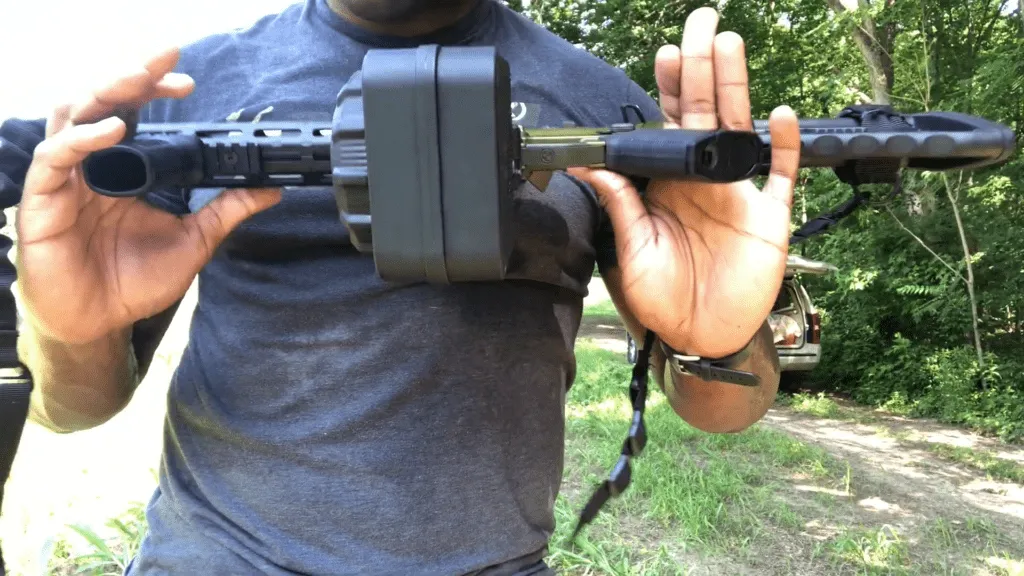 Loading it is very simple via the finger-notched wheel, and it's shorter than your standard-issue 30-round mag, which is great if you're looking for something that works with prone position shooting.
Additionally, Promag has an abundance of various options and models to choose from, like the 9mm caliber drum magazines for the Glock 17, Taurus GX4, and even the almighty CZ Scorpion. There's also the ProMag 9mm AR-15 Drum Magazines for your SMG and AR pistols as well.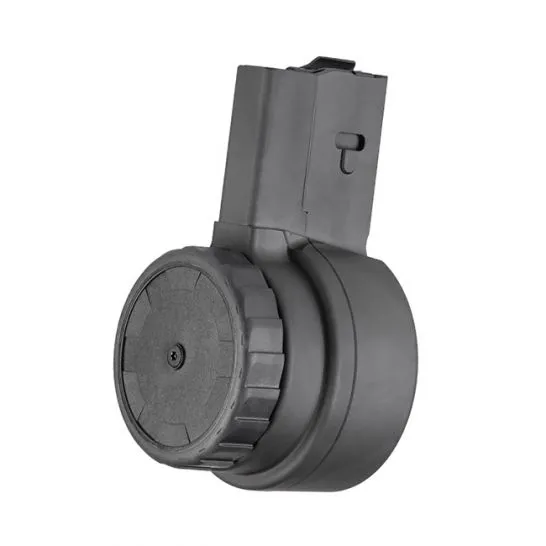 Pros
High-quality drum magazine
Ultra-compact aluminum frame
Impact-, slip-, and corrosion-resistant
Shorter than a standard 30-round magazine
Easy to disassemble and clean
Compatible with other rifles
100% USA-made with a no-hassle lifetime warranty
Most of us are looking for a drum magazine that's lightweight yet durable enough not to affect our shooting style. Well, check out the high-tier X-15 50-round drum magazine by X-Products.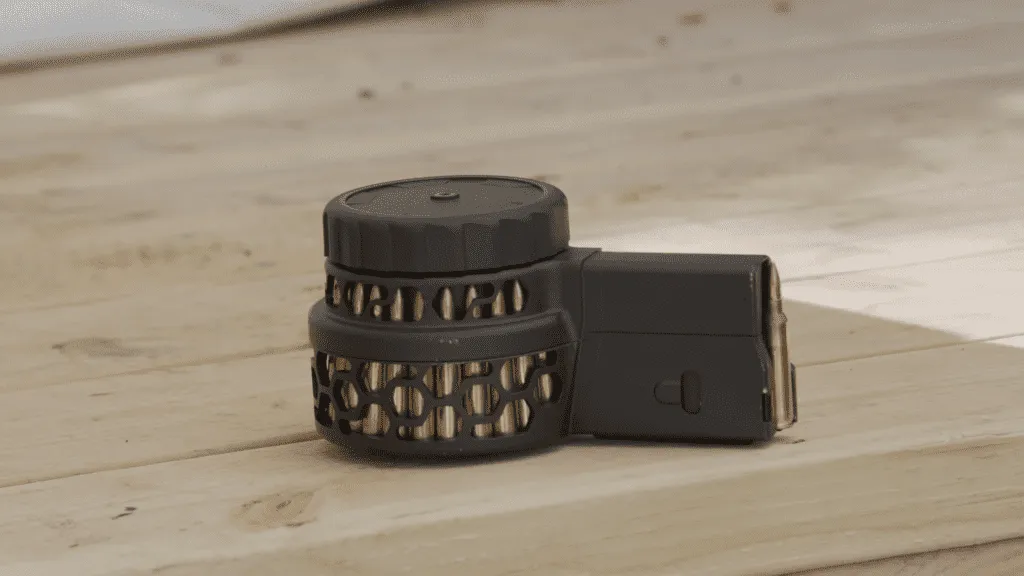 In development since 2005 and finally released in 2009, the X-Series magazines were designed only with top-grade materials in mind.
The well-designed compact frame perfectly houses the parts and internals, and the light weight makes it feel like a regular magazine. It's strong enough to withstand continuous shooting and designed to be compatible with most M16/AR-15 rifles like the ACR, SCAR 16, Tavor X95, and such.
Similar to the Magpul D-60, there's an easy operating wheel for loading/reloading. The lever design easily removes tension so that you won't have to struggle to fill the mag to the brim, and it sits perfectly on a closed bolt.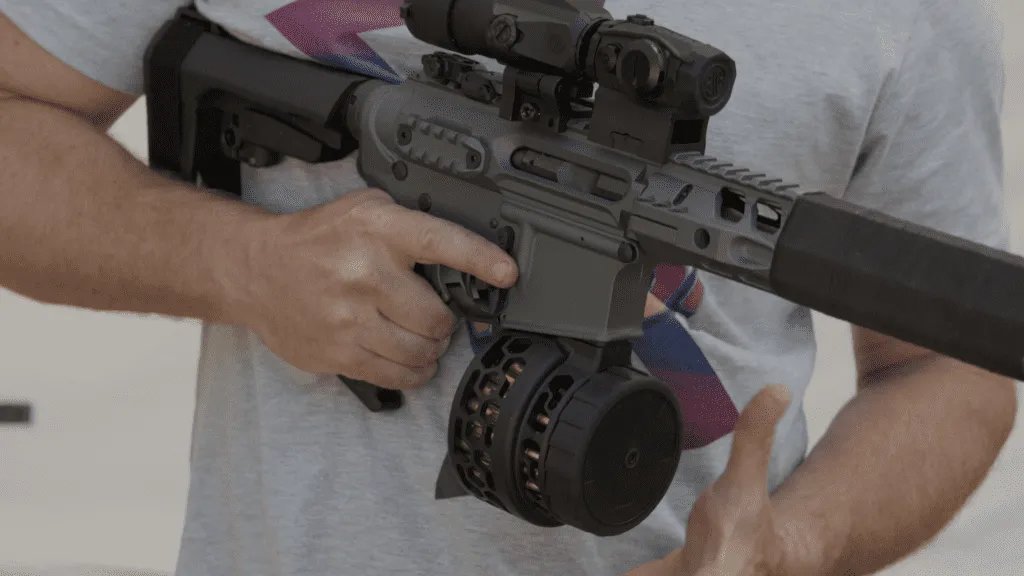 The X-15 is available either in standard or the slightly lighter skeletonized model. I recommend the skeletonized model for prone or bipod shooting.
For a hefty price, the highly reliable X-15 50 rounder boasts a high-quality construction of aluminum, self-lubricating ceramic-coated body, and it's the first aluminum drum magazine that uses a compact single-stack coil mag with a unique tension relief system.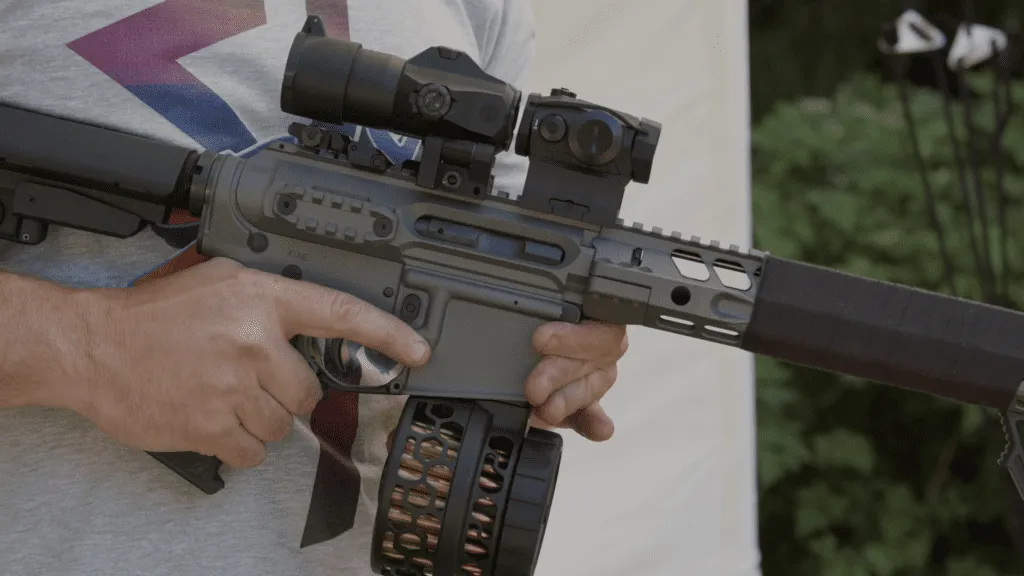 This has become an X Industries standard, and in my opinion, the price is justified.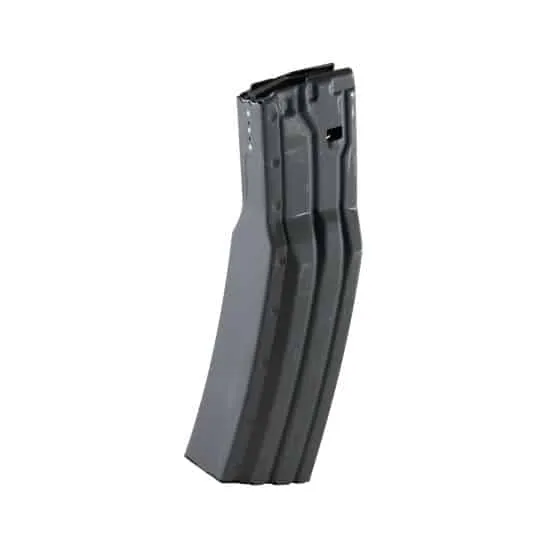 Pros
High-capacity magazine with a standard shape
Easy reloading and carrying
Can be disassembled without tools or lubricants
Anti-tilt nesting followers
Compatible with M4, M16, and STANAG 4179 rifle platforms
Cons
Prone to misfeeds
Some customers complain about tilted followers
Doesn't stay put in some AR-15 models' receivers
Last but not least, we have the dreaded coffin mag.
The SureFire 60-rounder is a standard-shape magazine that differs from these drum mags because some of us like the shape and feel of the good old classic.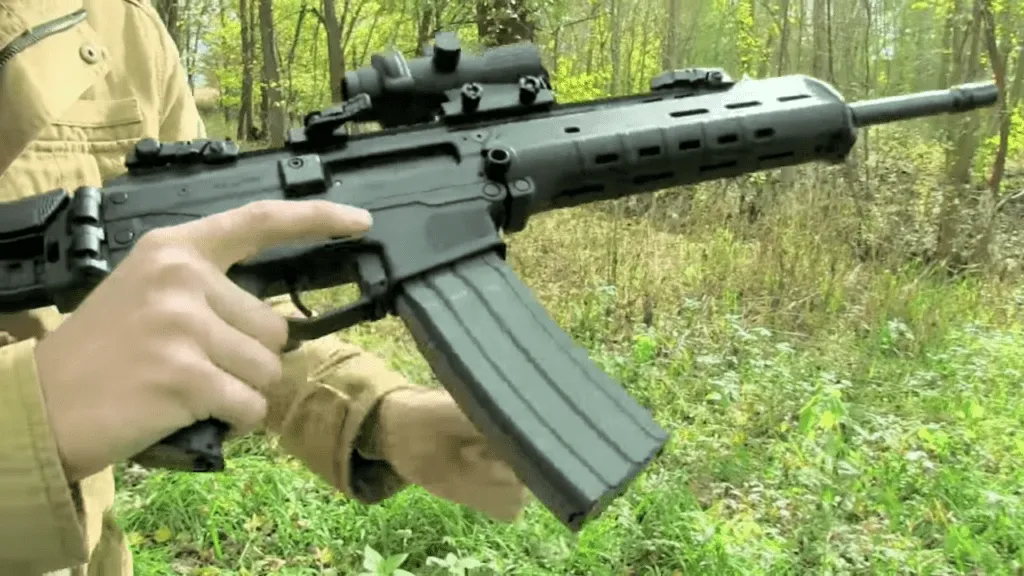 Compatible with M4, M16, and STANAG 4179 rifle platforms, the SureFire 60-round coffins are made from Mil-Spec hard-anodized aluminum construction that's longer but slightly thinner than your standard 30-rounders.
These coffin mags feed nicely because of the non-binding, anti-rust cadmium coil springs and polymer nesting followers with anti-tilt properties. It's also suitable for carrying in tactical vest pouches. 
As for closed bolt mag insertion, you may have issues with some AR-15 receivers, and the snail design is heavy enough to affect your shooting balance.
The SureFire 60-round might not be a drum mag, and it might not be as reliable as the Magpul D60, but it's still a very viable option when high capacity is needed.
AR-15 Drum Magazines – A Buyer's Guide
Before you consider stocking up on drum magazines, make sure you are absolutely sure you're prepared to pay the price. Literally.
Post-pandemic .223/5.56 bullets are expensive. This automatically means that drum mags might be the fastest, most tactical way of blowing $50 worth of ammo in two seconds.
Using drum mags doesn't necessarily mean you won't have to stop reloading if you have a bunch of them in your bag. They're specifically marketed to those who can afford these bullets.
Now that we've cleared up the price tag issue, here's what you need to know when looking for a drum magazine for AR-15 rifles.
Why Do I Need More Magazines?
Sticking just with your factory-bought magazine on your rifle is a no-go. You need to have at least two or three if you want the regular AR-15 experience.
This doesn't only apply for target practice and the ranges—it's just as important for home and self-defense as well. Keep in mind two important reasons:
First off, all magazines are prone to breaking. It's a bad idea to rely on one piece of your most trusted brand of magazines because—trust me—they will fail you, and that's a fact.
Unless manufacturers fully perfect the formula in the future, a magazine will get worn out, bent, and dropped one too many times.
My opinion is that magazines shouldn't be regarded as a constant resource. It's only a matter of time before they'll get damaged, and you won't have a spare.
Secondly, having extra mags means less reloading and more shooting. Loading mags can really be a drag, and nobody likes to waste their time. Just take a look at competition shooters who have at least three or four magazines at the ready.
What Makes a Good AR-15 Magazine?
Ask yourself if the mag feeds and fits properly, drops when you release it without pulling it off, and if it locks the bolt back when empty.
These three points are very important to consider when choosing your drum magazine, and anything below these criteria is just not worth your time.
Let's break down the factors even further. The four main parts of a magazine are the follower, the spring, the body, and feed lips.
Followers
I can't stress this enough. Followers are a very important piece in magazines, especially when high-capacity magazines are in question.
Inside the magazine, followers are the parts that support the ammo just above the spring, and they conduct the cartridge in a perfect fit into the chamber.
I strongly recommend you look for drum mags with an anti-tilt design on the followers to ensure that each round is properly fed. They must also have a very precise geometrical build if you don't want feeding issues.
Springs
The spring inside the magazine is just as important as the follower.
Springs are usually on the bottom of the magazine, and their job is to keep the bullets nice and tight to the follower. Loading bullets into the mag gets harder with every round because the springs tighten and increase tension.
It's imperative that you go for heat-treated, anti-rust, stainless steel springs with the appropriate durability standard.
Additionally, magazines like the Magpul D60 have a last-round bolt hold-open feature, which alleviates spring tension when you fully empty the mag.
Body
There's nothing much to say about the body of the mag besides the contours, size, and overall weight.
Most standard magazines are made of steel or reinforced polymer. Steel magazines are durable and can last a long time but are heavy. Polymer mags don't throw off your balance, but they're prone to malfunctions.
There are some drum magazines like the X-15 50-Round, which are made of aluminum, and it might be the perfect balance of durability and weight.
That choice is all up to you, but I suggest you take a good look at the feed lips.
Feed Lips
As the name suggests, the feed lips are the upper, outer part of the magazine where it meets the opening of the chamber.
Of all the magazine parts, the feed lips are prone to damage the most. It's very easy to damage or bend the feed lip because that part is the most we hit on the receiver.
Sticking to reinforced polymer feed lips is a good idea, but they can be bent. Steel feed lips, on the other hand, can be broken.
The main idea here is to look for feed lips with a good design that doesn't break off or bend easily.
Steer Clear of Minor Brands
Truth be told, before purchasing your drum mag, I strongly suggest you stick to the popular options that come from a trustworthy manufacturer.
I've seen my fair share of experimental, second-hand magazines made by unreliable brands that utilize dirt-cheap materials, and trust me, they're just not worth it, no matter how low the price goes. These can be found by the truckloads on Amazon.
Do yourself a favor and consider Magpul's PMAG D60 magazine. It's a fantastic, well-rounded choice with all the necessary characteristics and features that just work.
Conclusion
The idea of the AR-15 drum mag is a very interesting one.
Manufacturers are still finding new ways to improve drum magazines and other types of high-capacity mags to perfection. Drum mags were once around the 50-round range, and today, you can find some that can reach up to 100 rounds.
Still, we need further research, improvements, and blueprints to further improve this ingenious high-capacity mag.
Until then, we can use the Magpul PMAG D60. Sixty rounds are more than enough for an enhanced shooting experience at the ranges.
Hopefully, manufacturers are working hard to figure out a way to balance weight, reliability, and durability, especially for the feed lip, follower, and spring tension.
Best believe it's a gold standard powerhouse that has dominated the high-capacity magazine market for quite some time. It's second to none, and I'd absolutely recommend it to anyone.
Stay safe, shoot straight.
Explore more