Best AR-15 Flashlights [2023 Hands-On]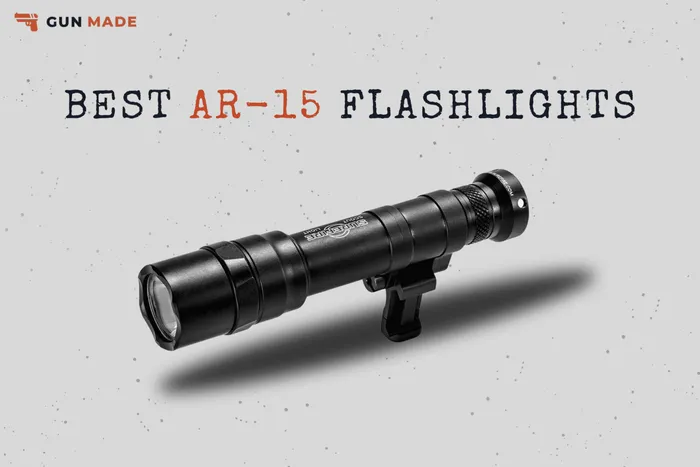 Best AR-15 Flashlights [2023 Hands-On]
The AR-15 rifle may be one of the most versatile weapons ever made.
The impeccable accuracy and effective stopping power of the AR-15 make it a home defense powerhouse. It's no wonder we see lots of folks relying on the AR-15 rifle for self-defense purposes.
But what about low-light conditions?
Today, we'll talk about the best AR-15 flashlights you can find on the market. A quality AR-15 flashlight improves your viewing range during the night and can startle would-be assailants.
It's imperative that you have a good rail-mounted flashlight on your AR-15 that suits your budget, especially if you plan on using it in the dark.
Browsing the ridiculously convoluted world of WML (weapon-mounted flashlights) and consequently testing them is a drag; I admit, picking out the best of the best wasn't very easy.
However, I managed to compile this list of best AR-15 flashlights with features that are suitable for all kinds of applications, regardless of whether you're a competition shooter or a concerned homeowner.
Burglars and intruders usually operate during the night, so you need to be absolutely prepared with the right AR-15 equipment and accessories when the time comes.
Going full tactical with night vision devices and AR-15 lasers is not for everyone, so a good AR-15 flashlight will surely cover your bases in the dark.
Let's kick it off.
Top 5 AR-15 Flashlights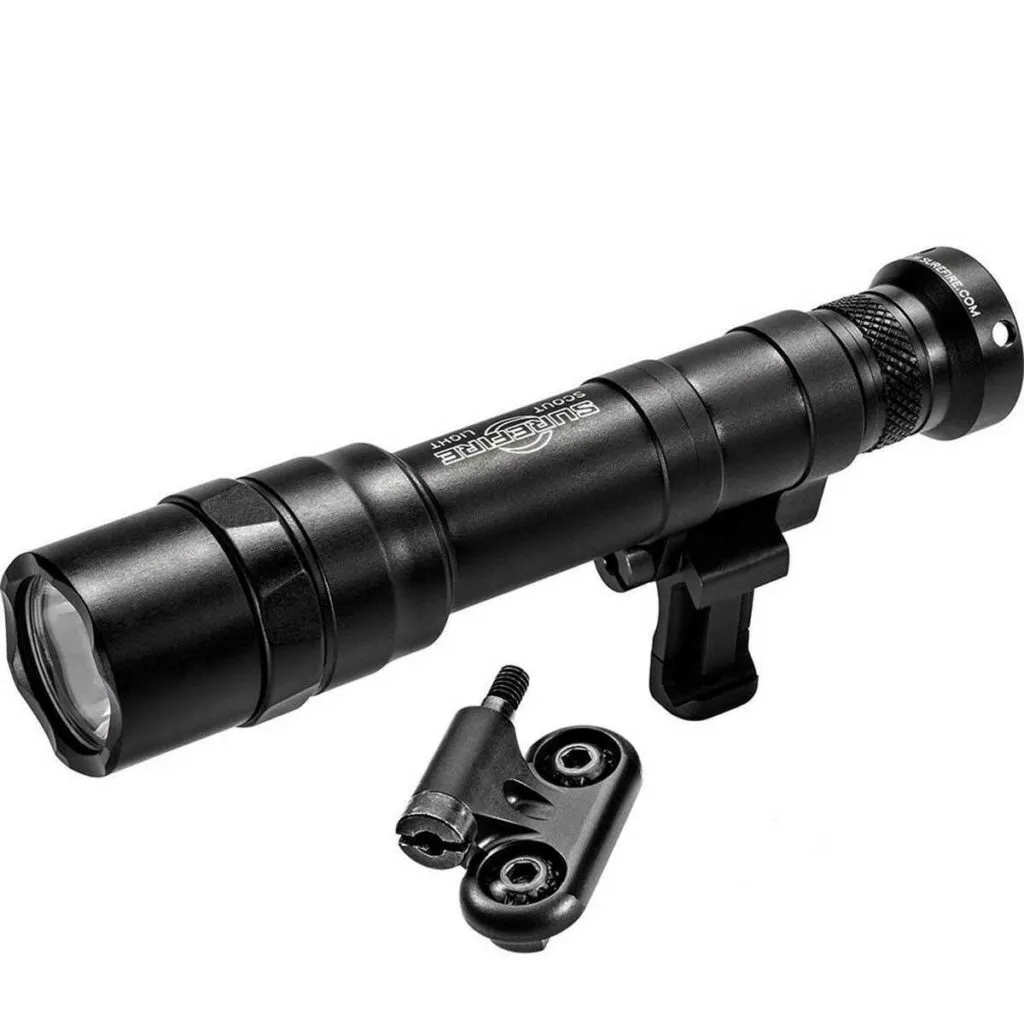 Specifications:
| | |
| --- | --- |
| Material | Mil-Spec hard-anodized aluminum |
| Mount | MIL-STD-1913; M-LOK rail |
| Lumens | 1,500 lumens with SF18650B batteries; 1,200 lumens with SF123A batteries |
| Beam Distance | 250 meters |
| Battery | SF186508 |
| Battery Life | 1.5 hours |
| Weight | 5.5 ounces |
| Length | 5.56 inches |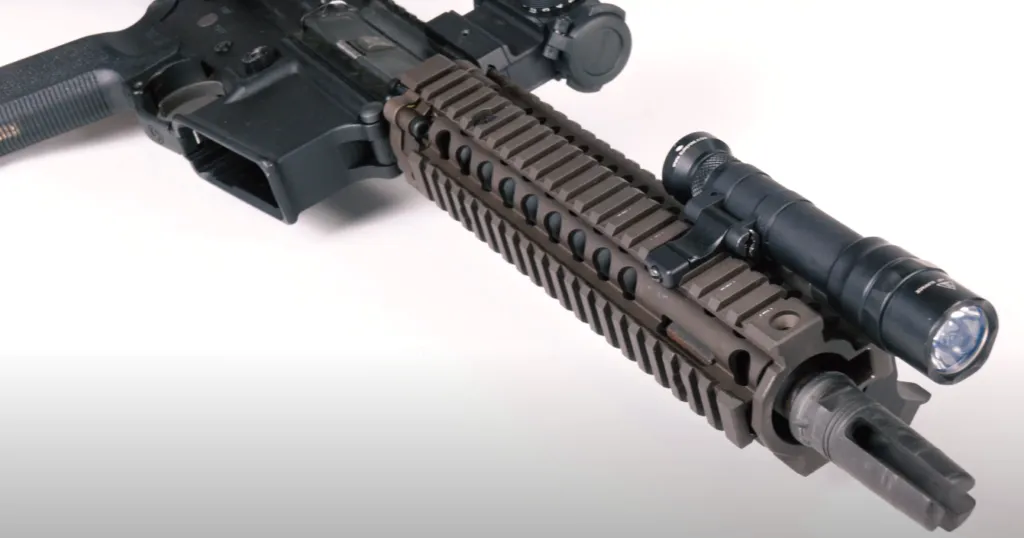 Pros
High-quality TIR lens
Corrosion-resistant build
Can withstand harsh weather
Can use two different battery types
Lockout feature prevents accidental activation
Cons
Dim function could use a rework
Expensive
The SureFire M600DF Ultra Scout Weapon Light Pro is one of the most sought-after flashlights for the AR-15 rifle. SureFire focuses on flashlights, weapon-mounted lights, and laser sights, so you bet that they know what they're doing, especially with this model.
Their SureFire M Series Scout Lights are designed with all the right features and characteristics at a moderate price. The Ultra Scout is versatile, easy to install, and anyone can use it for all kinds of purposes.
The SureFire M600DF stands out from the rest because it can use SF123A batteries for a 1,200-lumen power LED light, but you can go even brighter with a 1,500-lumen output if you can find some SF18650B rechargeable lithium-ion batteries.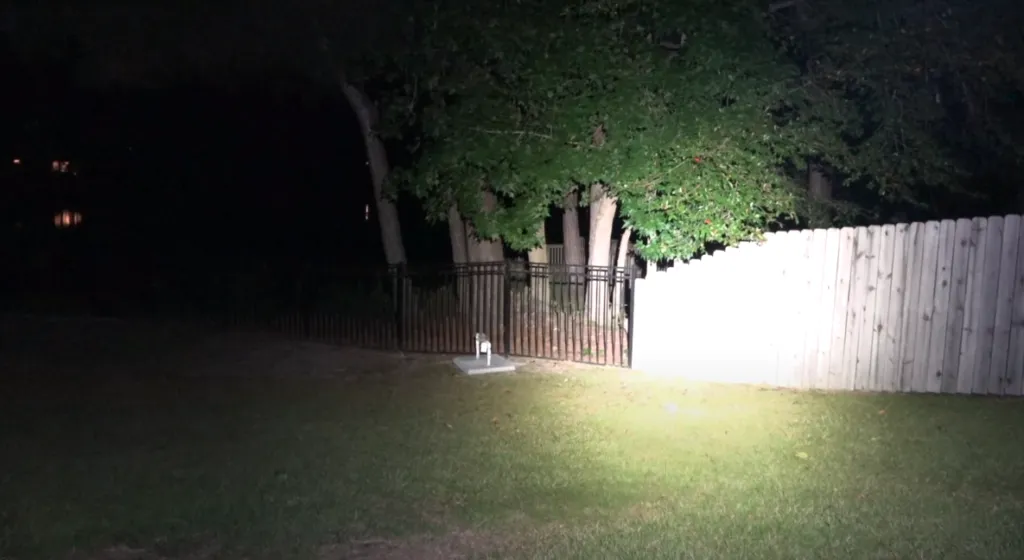 The convenient lock switch makes sure you don't turn the light on by mistake. Simply press the tail switch for a "blink" illumination or keep it pressed down for full power.
It utilizes an internal reflection lens, which concentrates the beam dot into an intense light focus that can reach distances of up to 200 yards away.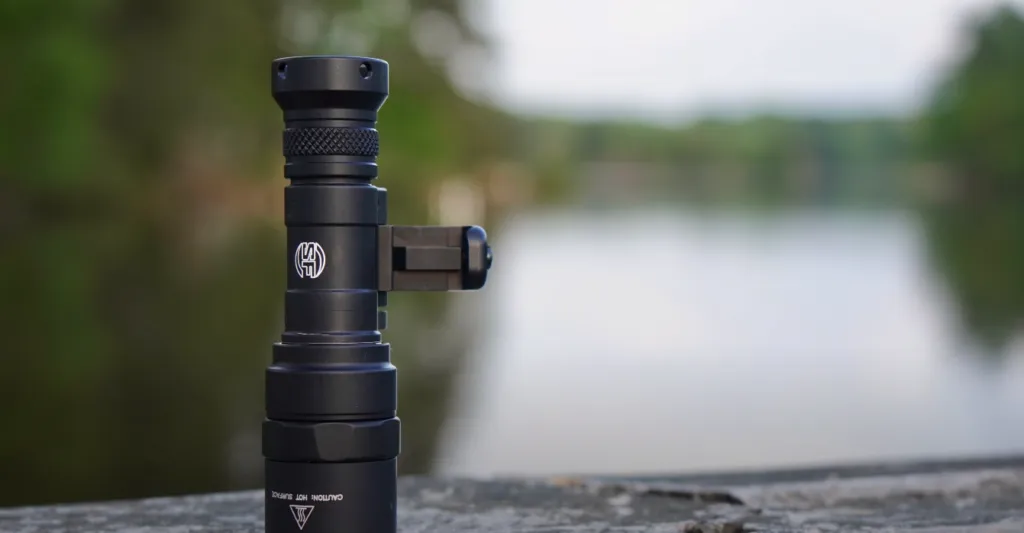 The Mil-Spec hard-anodized aluminum construction is O-ring sealed and recoil-proof, and it has a coated tempered glass optic, so it can withstand all kinds of sunny, rainy, or snowy weather.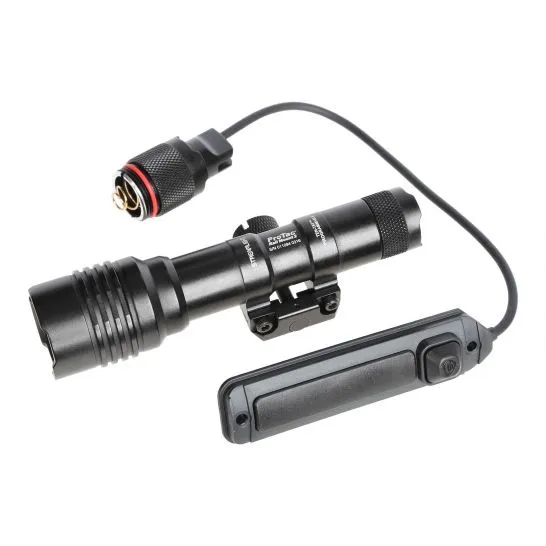 Specifications:
| | |
| --- | --- |
| Material | Hardcoat Anodized Aluminum |
| Mount | M1913 Picatinny |
| Lumens | 625 |
| Beam Distance | 297 m |
| Battery | 2x CR123A |
| Battery Life | 1.5 hours |
| Weight | 5 ounces |
| Length | 5 inches |
| Price | $105 |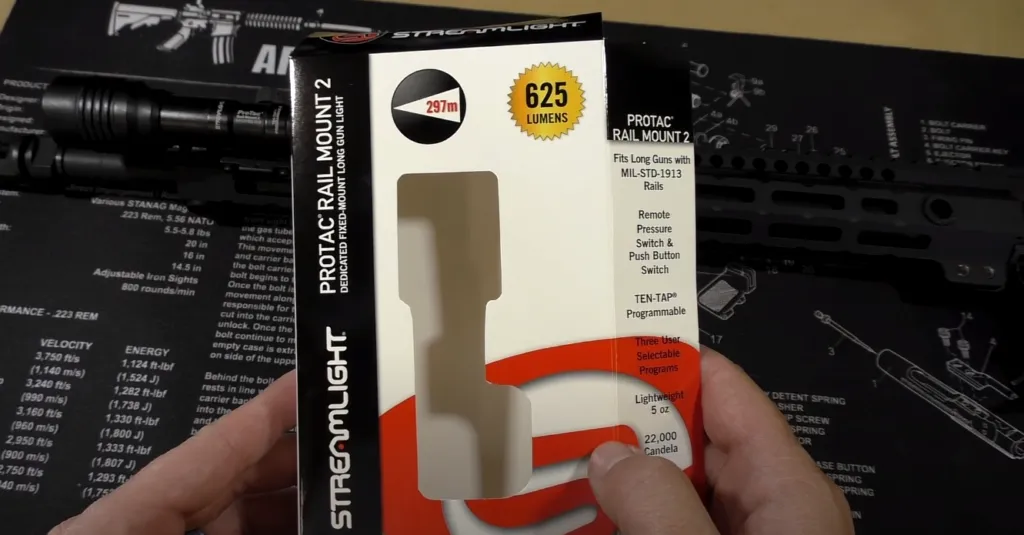 Pros
Great budget option
Strobing feature
Shock and water-resistant
Can be used as handheld
10 light modes
Remote and tail switch control options included
Cons
Fixed mounting system only for Picatinny rails
Beam isn't as concentrated as the other lights
Only uses CR123A lithium batteries
Here's one of the coolest budget options you can find.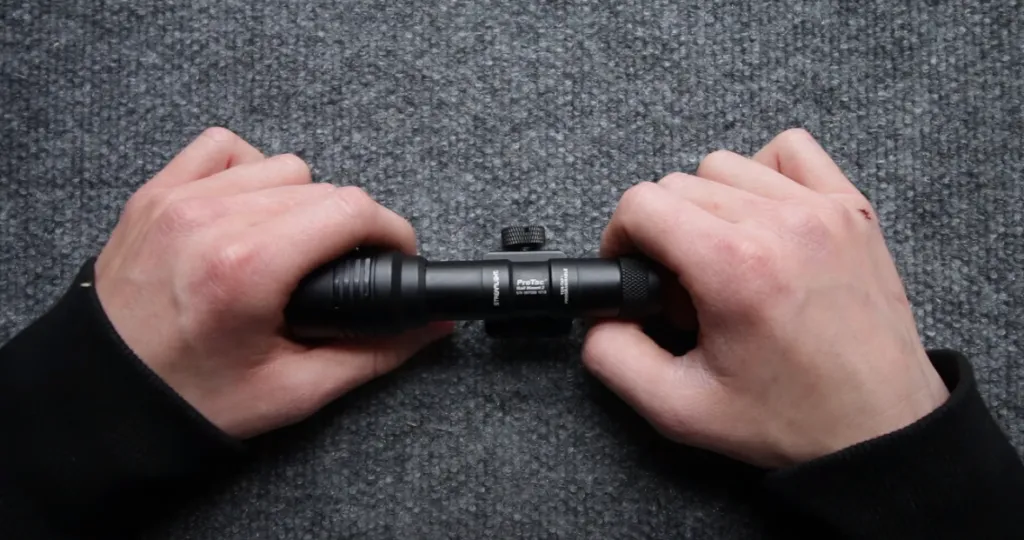 The Streamlight ProTac Rail Mount 2 is a new and improved model of the Streamlight ProTac Rail Mount 1. It has a much better luminosity of 625 lumens and a 22,000-candela beam that can reach up to more than 300 yards for 2 hours of continuous use.
You can also check out the handheld model Streamlight ProTac HL 88040 with a waterproof build and 750-lumen power.
ProTac stands for Professional Tactical, and it has an easy-to-use remote switch and tail switch. It offers two different mounting options: either by double-sided tape or via the convenient rail-mounted inserts, which stay put for a long time despite heavy recoil.
Want to ditch the remote switch? You also get a regular end cap when you want to swap the switch with it.
There are high, low, and strobe light settings, but it's even more varied with the "10 Tap" programming feature that adjusts your modes. The low setting is only 60 lumens, but it lasts for more than 20 hours, and there's also a strobe mode for scaring off critters.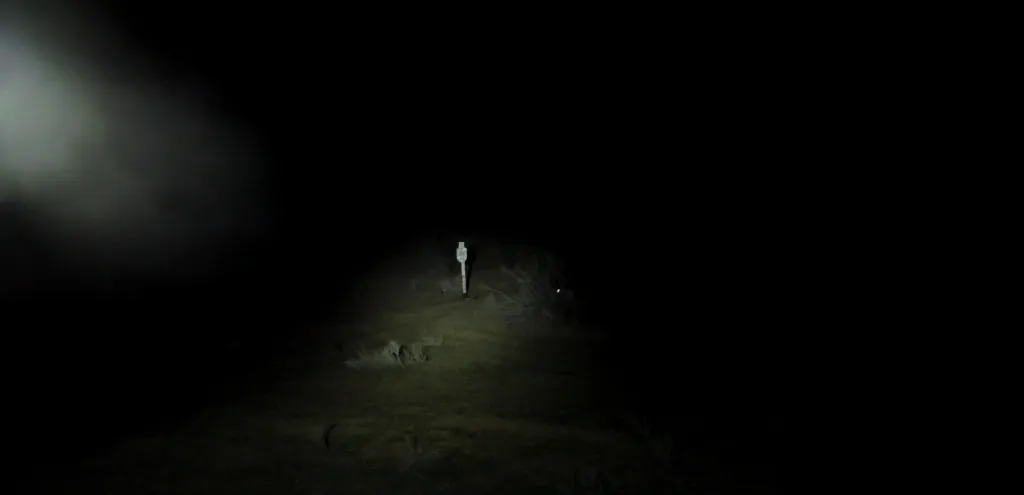 The ProTac Rail Mount 2 boasts fantastic features for a fantastic price, and I'm sure that most users who are looking for just a regular flashlight for their AR-15 would greatly appreciate this finely-crafted aircraft-grade aluminum flashlight.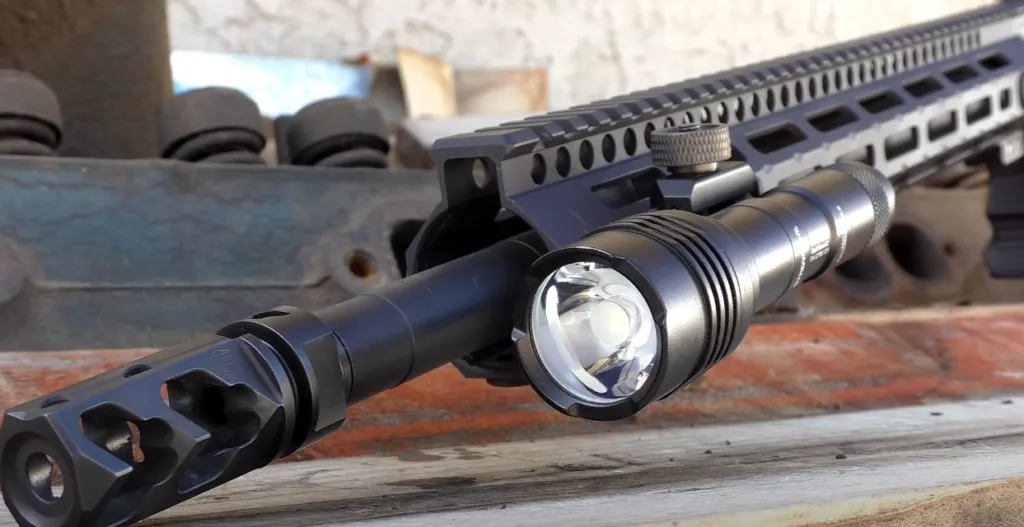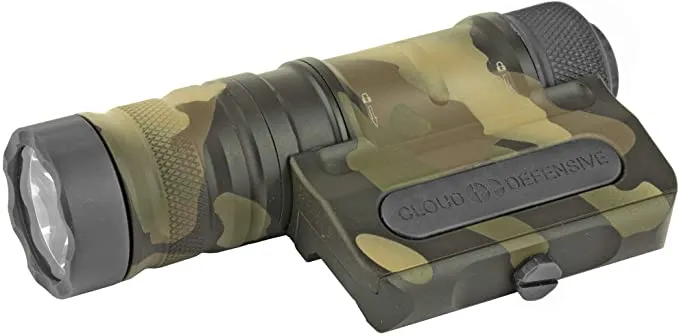 Specifications:
| | |
| --- | --- |
| Material | 6061-T6 aluminum; Hardcoat anodized black finish |
| Mount | 1913 Picatinny rail |
| Lumens | 1250 |
| Beam Distance | 350 meters |
| Battery | 18650 3.6V Lithium-Ion Rechargeable |
| Battery Life | 2 hours |
| Weight | 11 ounces |
| Length | 5.3 inches |
| Price | $400 |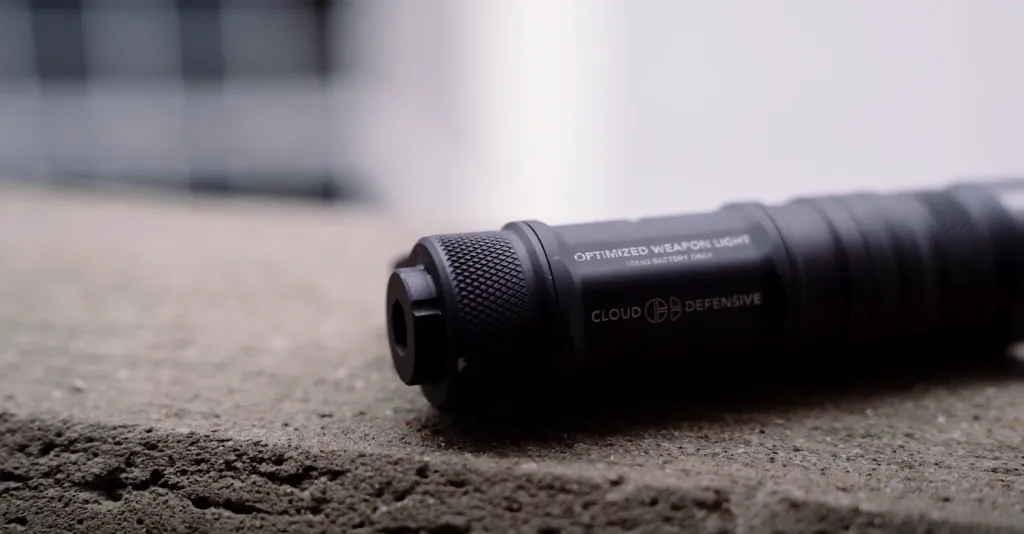 Pros
One of the most powerful flashlights on the market
Built-in back cap tool for easy mount attaching/detaching
Comes with 2 Lithium-Ion batteries
Cons
Very expensive
Very heavy
Limited battery choice
There are just a handful of flashlights that meet high military standards. The Cloud Defensive OWL (Optimized Weapon Light) may be one of the best high-end AR-15 flashlights in the bunch. Its features, overall build quality, and ease of use are unmatched.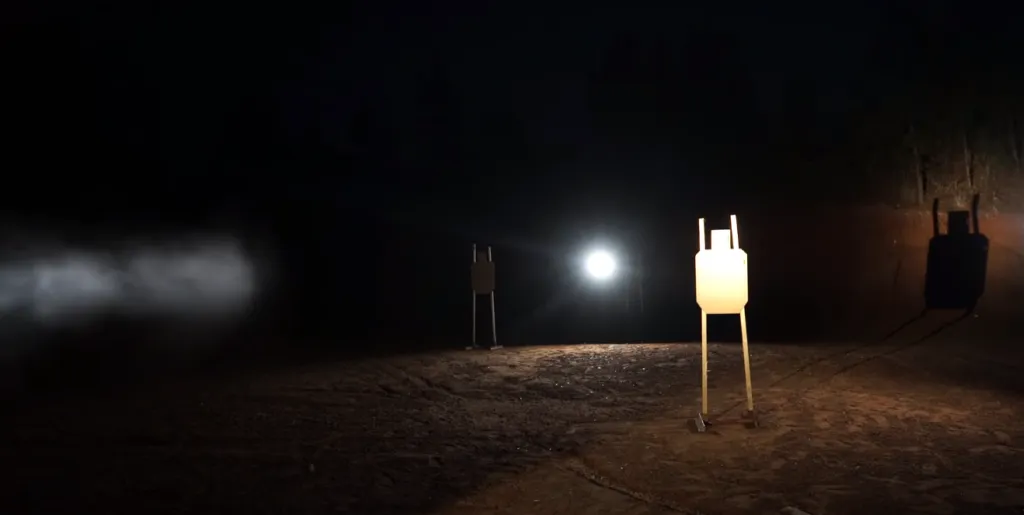 With an illumination power of 1,250 lumens, insane 50,000 candelas, and 350 meters of beam distance, the OWL is right on par with the ultimate in tactical flashlights.
Although it's heavy and non-compatible with a night vision setup, its 6061-T6 aluminum and hard-coat anodized finish with an impressive IPX8 waterproof rating make it a very shockproof and durable unit. You can bet that it can withstand the heavy recoil from AR-10 pistols as well.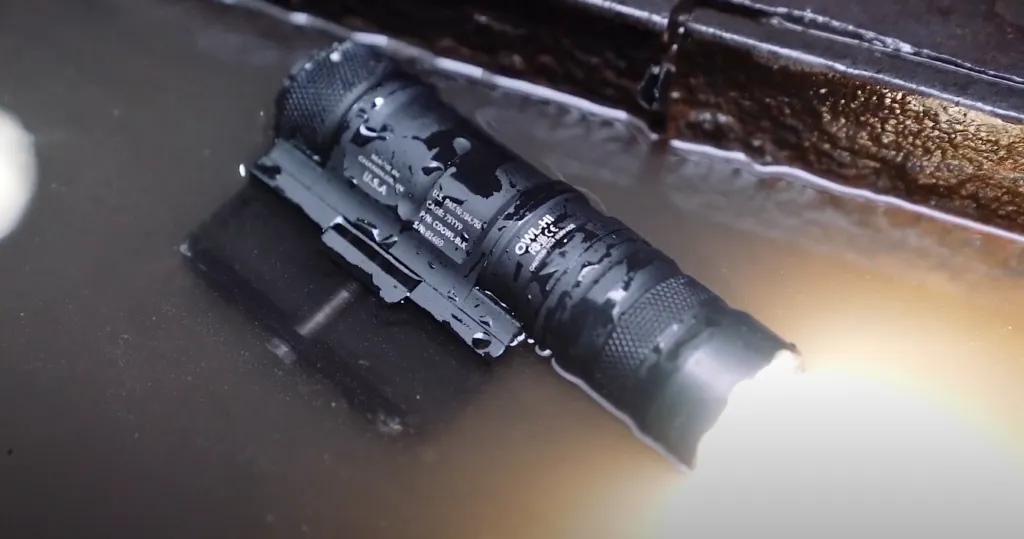 It has an overall runtime of 80 minutes up to 2 hours, and Cloud Defensive is kind enough to include two generous Lithium-Ion batteries for your troubles.
Simply slap it onto your Picatinny rail and enjoy high-quality tactical applications with the ambidextrous interface that's super easy to use. It doesn't have a strobing function, but it has constant 'on' and momentary 'on' buttons for your convenience.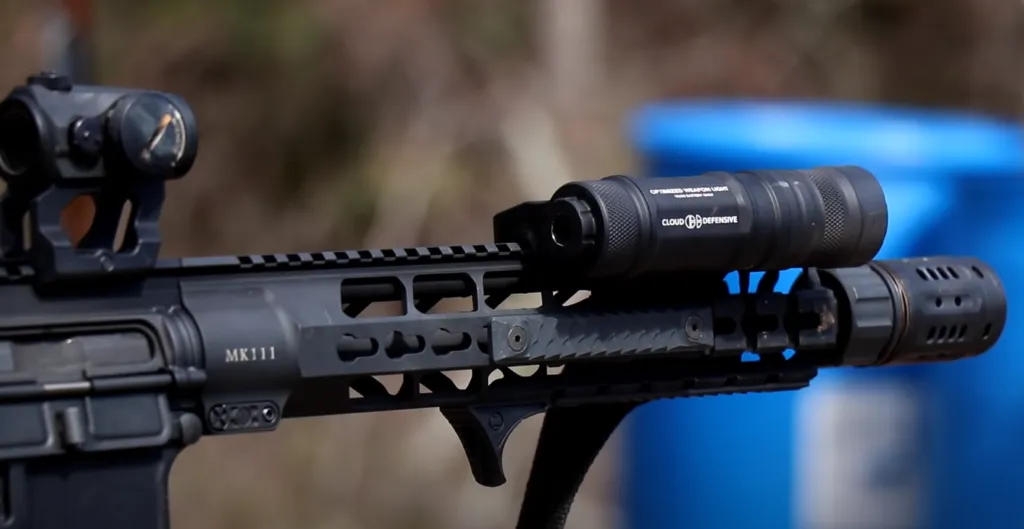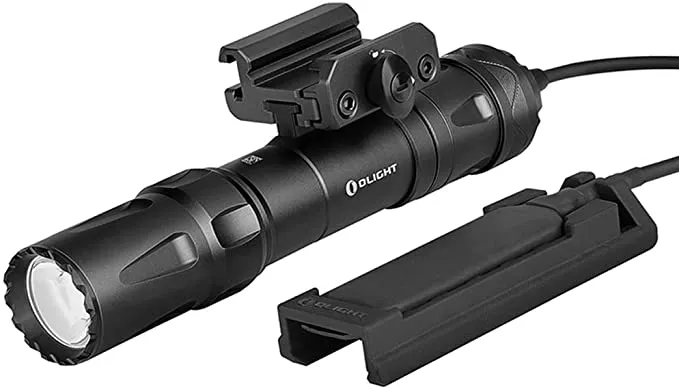 Specifications:
| | |
| --- | --- |
| Material | Hardcoat anodized aluminum |
| Mount | M1913 Picatinny |
| Lumens | 2000 |
| Beam Distance | 300 meters |
| Battery | Proprietary Li-Ion Rechargeable |
| Battery Life | ~8 hours |
| Weight | 7.6 ounces |
| Length | 5.3 inches |
| Warranty | 2 year warranty |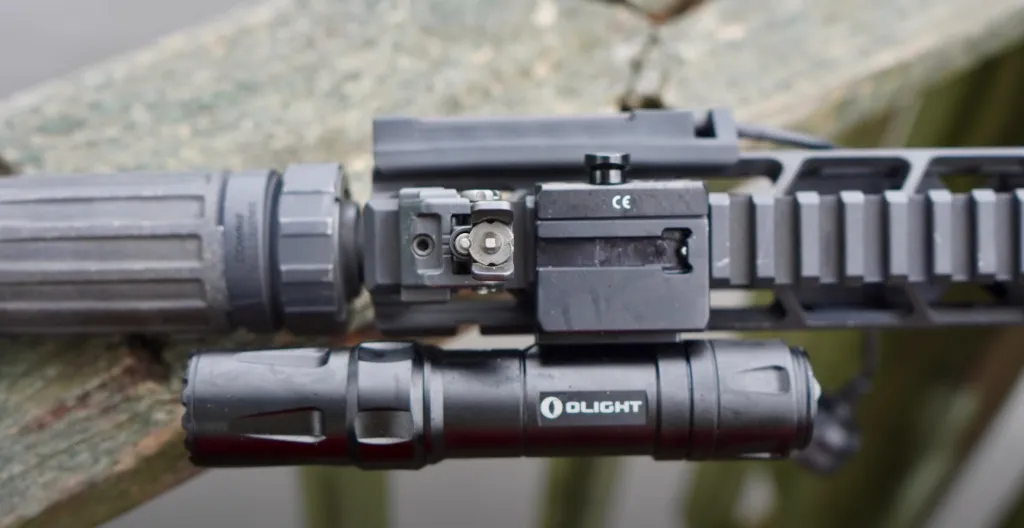 Pros
Impressive 2,000 lumen illumination power
Dual-mounting system
Removable slide rail mount with convenient lock
Includes magnetic charging cable
Long battery life (2.5 hours standard mode)
The Olight Odin is another excellent high-tier flashlight.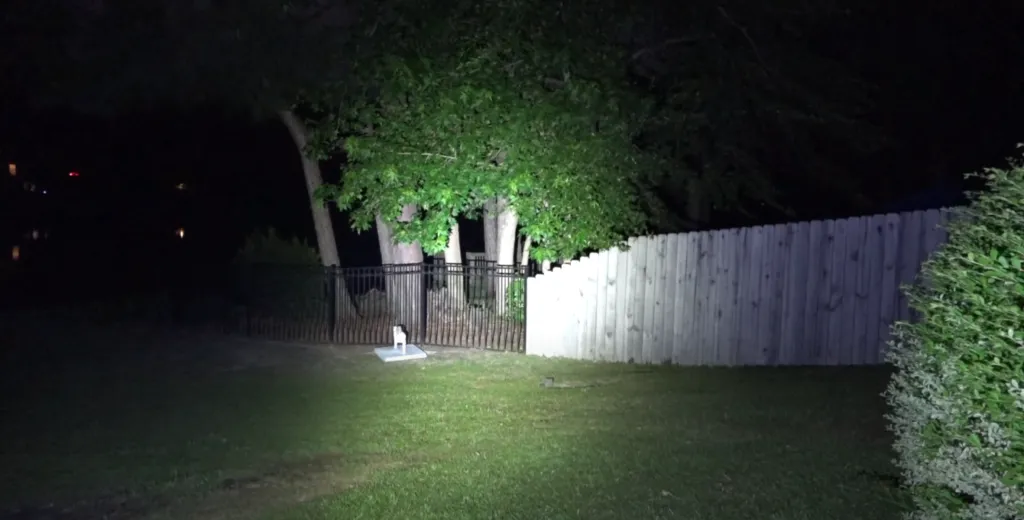 It's an absolute professional package that includes a magnetic remote switch, charging cable, allen wrench, self-locking band, a Picatinny rail mount adapter, and the Odin flashlight with an astounding 2,000-lumen power.
Designed for standard Picatinny rail mounts, the Olight Odin boasts an aircraft-grade aluminum body, hard-anodized surface, high-quality glass, and 22,500 candelas of light intensity for longer distances. Fully tested, it has a drop resistance of 1.5 meters and an IPX8 waterproof rating.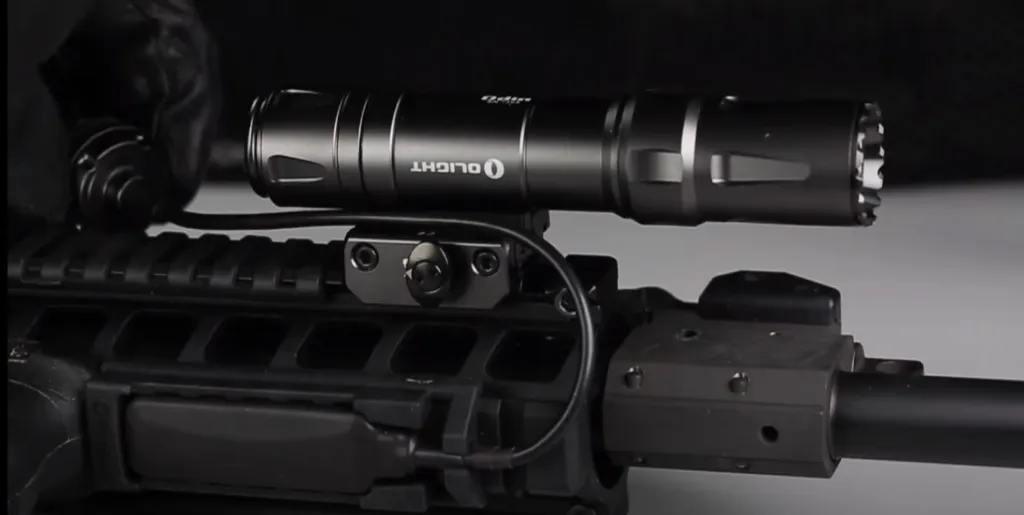 It's recharged via a magnetic proprietary charger switch. Although there's no strobing function, there are four options with mode memory for your convenience. The highest 2,000 light output lasts for 3 minutes.
What makes this one stand out is its easy dual-mounting system. It has a slide rail mount with QD locking features for quick on-the-spot installation. I recommend this one only for the more serious AR-15 shooters.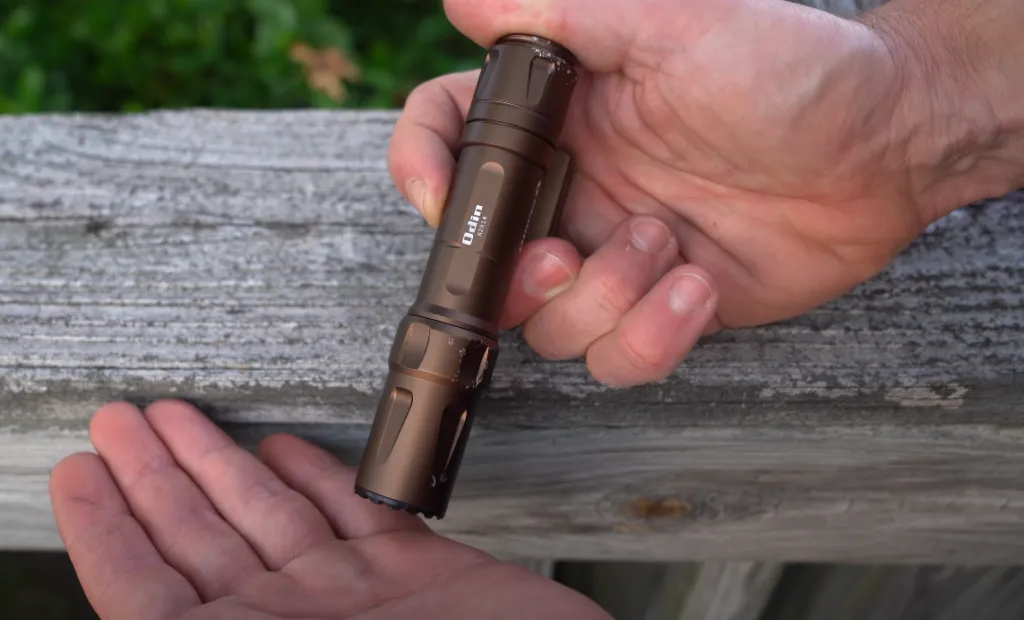 If you're looking for something less expensive, the Odin Mini is another flashlight with 1250 lumens and a compact build.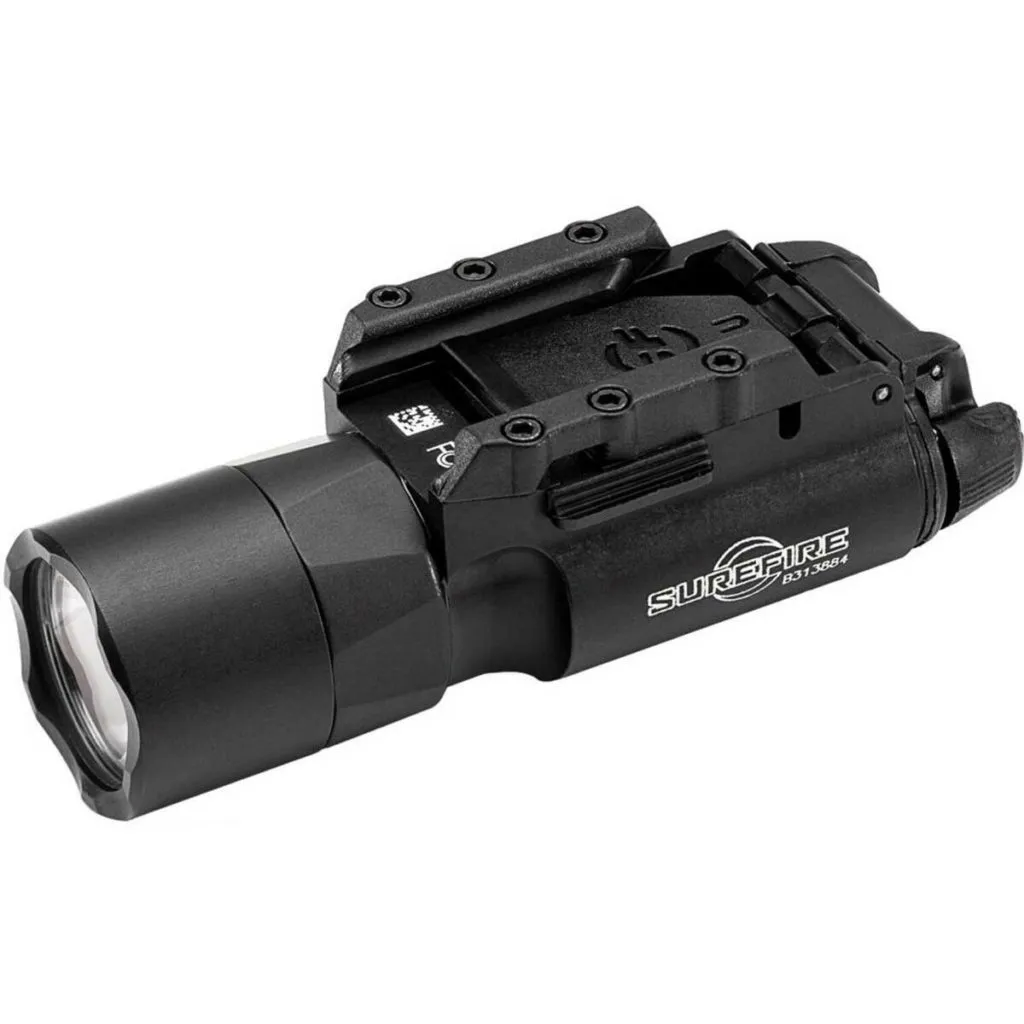 Specifications:
| | |
| --- | --- |
| Material | Aircraft-grade aluminum; Mil-Spec hard anodized |
| Mount | Picatinny rail |
| Lumens | 1,000 |
| Beam Distance | 200 meters |
| Battery | 123A lithium |
| Battery Life | 1.25 hours |
| Weight | 4 ounces |
| Length | 3.6 inches |
| Price | $300 |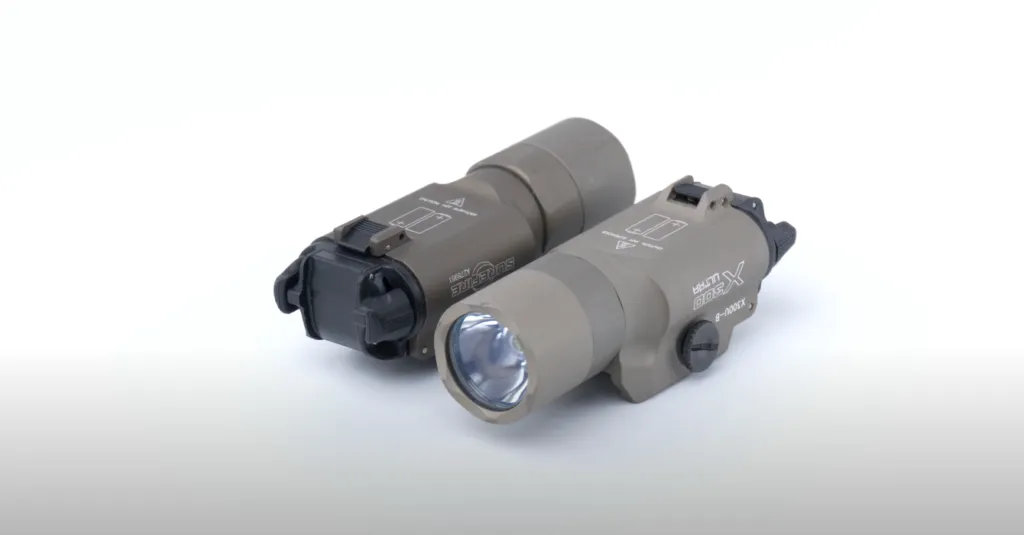 Pros
Great value
Very easy to install
Weatherproof with an IPX7 rating
Concentrated beam of 11,300 candelas are perfect for CQB
Can be also used as a handgun flashlight
Cons
Expensive
Could use a pressure switch
Not compatible with M-LOK mounts
Here's another by SureFire, a distinguished brand for flashlights.
The SureFire X300 Ultra is a favorite among tactical shooters, and for a price, you get all the essential features to light up a room and CQB applications. It was purposefully designed as a handgun light, and it's easily mounted on Picatinny-style rails.
Despite this, the highly durable aluminum construction can withstand heavy and continuous recoil from automatic rifles, and it has an IPX7 waterproof rating. The switches are plastic, but they're ambidextrous and very easy to use.
What makes it stand out is the 11,300 candelas and 1,000 lumens illumination power, and its beam is concentrated via a precision TIR lens. The far-reaching beam can also be effectively used for close to medium-range tactical maneuvers.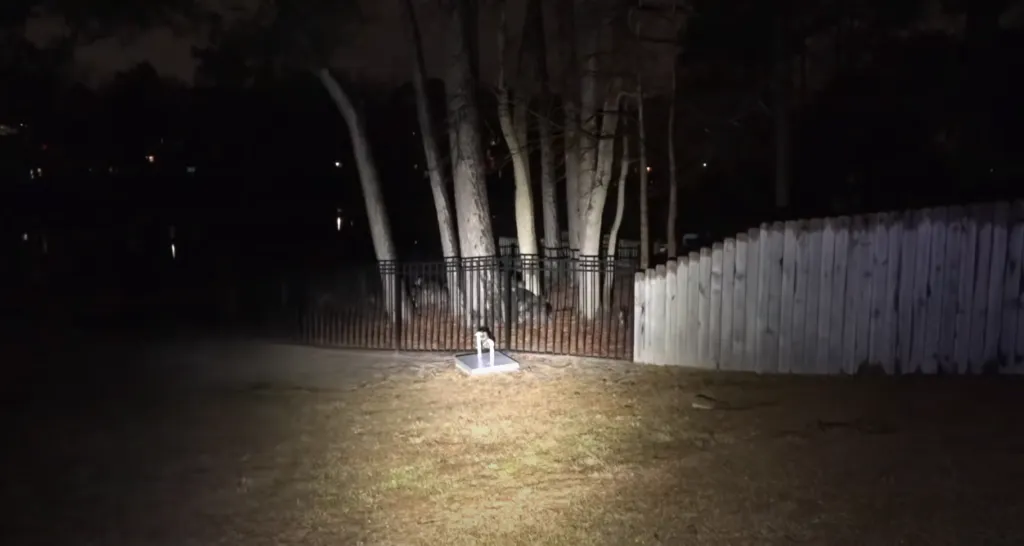 Most customers mount the SureFire X300 Ultra on top, but I recommend you mount it either at the 3 or 9 o'clock position because it stays stable for a longer period.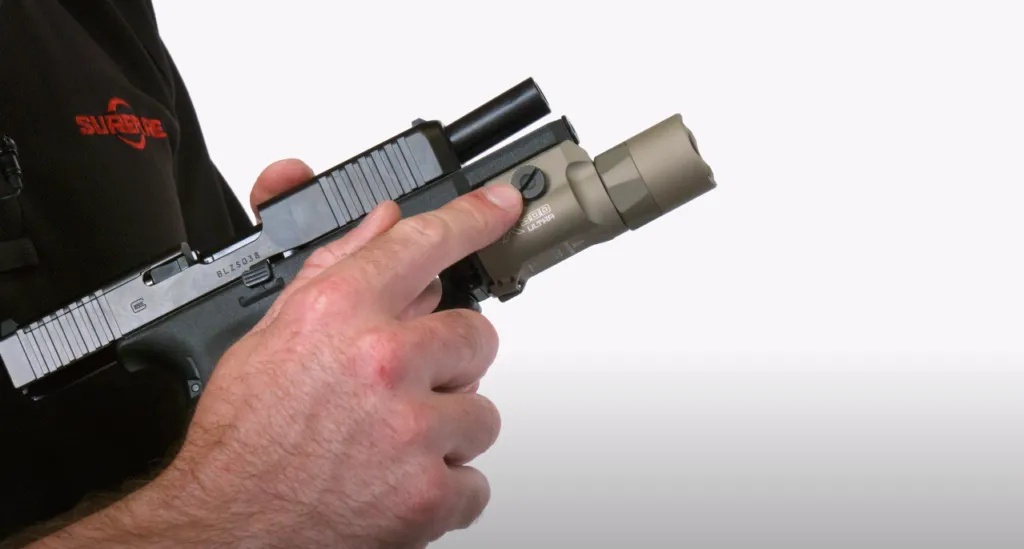 Honorable Mentions
Here are some AR-15 flashlights that are inexpensive and lack the power for more serious applications but are still excellent options to consider.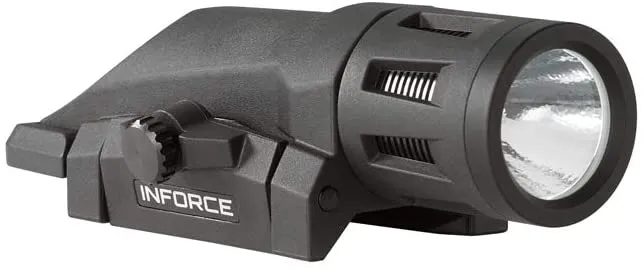 Specifications:
| | |
| --- | --- |
| Material | Reinforced polymer |
| Mount | MIL-STD 1913 Picatinny rail |
| Lumens | 400 |
| Beam Distance | 60 feet |
| Battery | CR123A |
| Battery Life | 1.5 hours |
| Weight | 3.22 ounces |
| Length | 4.2 inches |
| Warranty | One-year warranty |
| Price | $120 |
Pros
Lightweight and compact
Convenient lockout system
Heat dissipating vents
Very affordable
3 convenient modes of operation
Cons
A low brightness of only 400 lumens
Polymer build
Looking for something that won't mess with your AR's balance? The Inforce WML Gen 2 is the most lightweight AR-15 flashlight you'll find on the market today.
It's carefully designed to be as compact and lightweight as possible, which offers utility for a great price. It has an illumination power of only 400 lumens, but that's just enough for the casual AR-15 owner.
The Inforce WML Gen 2 doesn't focus on durability, as you can see by the polymer construction. However, the safety lever lockout activation system and heat-dissipating vents for temperature management are the features that really stand out.
There are three separate modes of operation: constant, momentary, and strobe, which open up a lot of opportunities for a more tactical approach. It has a runtime of 1.5 hours of use in the 'constant' mode, and since it only uses 400 lumens, it can run on a single CR123A battery.
You can also check out the improved Inforce WMLx Gen 2 with 800 Lumens and a Magpul M-Lok rail that comes with the purchase.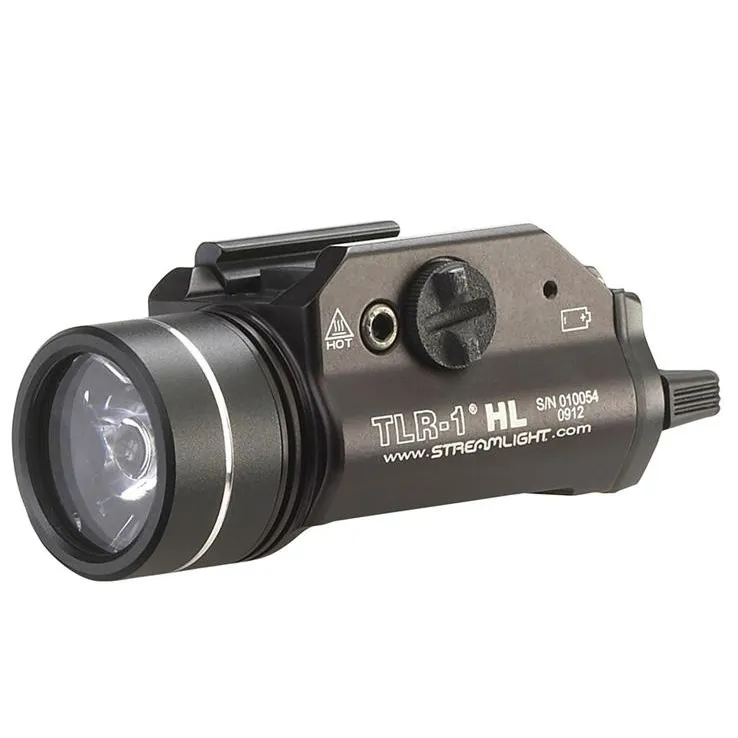 Specifications:
| | |
| --- | --- |
| Material | Anodized aluminum |
| Mount | Handgun and Picatinny rails |
| Lumens | 800 lumens |
| Beam Distance | 300 yards |
| Battery | 2 CR123A Lithium Batteries |
| Battery Life | 1.25 hours continuous runtime |
| Weight | 4.2 ounces |
| Length | 3.4 inches |
| Warranty | Lifetime |
Pros
Suits most Picatinny rails, and handgun rails
Perfect for high recoil weapons
Ambidextrous controls
Suitable for outdoors
Easy to operate
IPX7 waterproof rating
Cons
Expensive
Not suitable for indoors
Low battery life
The Streamlight TLR-1 HL LED model is Streamlight's flagship flashlight. It's definitely one of their most popular products and is almost always in stock. It suits most Picatinny rails and can also be mounted on handgun rails.
The TLR-1 HL LED flashlight has a 1.25-hour runtime, utilizes 3-volt CR123 lithium batteries, and has an implemented C4 LED technology that offers up to 800 lumens.
It's one of the most powerful WML for a price, but the highly focused beam intensity of 12,000 candelas makes it a better-suited option for the outdoors.
The anodized aluminum build has anti-corrosion properties and can withstand extreme temperatures from -40°C and up to 80°C. The IPX7 waterproof rating also adds to the high price tag.
Anyone can use the programmable strobe setting with a momentary or steady beam, and the ambidextrous switch can be used by both left- and right-handed shooters.
The rail grip clamp and secure latching system work with most Picatinny rails, and this includes handguns as well. The Streamlight TLR-1 HL is an overall great model with just the right amount of balance for AR-15 rifles with, for example, a DD MK18 muzzle.
Best AR-15 Flashlights – A Definite Buyer's Guide
There are multiple factors to look for when buying a flashlight for your AR-15 rifle.
Question everything that motivates you to snag one. Do you need a lightweight and quick flashlight for home defense scenarios, or are you just looking to scare off some coyote?
Multiple criteria like beam distance, weight, price, and durability come to mind, but there's more to it than that. You should always consider the intended purpose first.
Main Purpose of the AR-15 Flashlight
Figuring out your most essential requirements is crucial when choosing a flashlight. It's not just battery life and lumen power.
If you're looking for a self-defense option, go for the more lightweight and compact options like the Streamlight ProTac Rail Mount 2. I recommend something with a 300 to 1,000-lumen power so you won't blind yourself with it during a home invasion.
Higher-end options like the Cloud Defense OWL really do have attractive features, but it's really heavy that it needs a bit of practice on your AR-15.
For hunters, you need to familiarize yourself with the light beam's intensity as well as the overall extensive line of sight it may cover. I recommend picking up a flashlight with long battery life and an illumination power of 1,000 to 2,500-lumen power for the forest at night.
Candelas and Lumens
Let's clear this up.
Both the candela and the lumen are units of measuring brightness. One candela equals 12.57 lumens.
However, there's a catch. The candela deals with the luminous intensity that's emitted by a light source in one specific direction, while the lumen measures the total quantity of light emitted in a given amount of time.
Simple, right? These specifications you see on your flashlight usually go hand in hand with their power level. The higher the value of lumens and candelas, the broader and brighter the flashlight can be.
Keep in mind that the more lumens you use, the quicker the battery depletes. Let me tell you right away that you don't need anything below 160 lumens.
Once again, I recommend you use flashlights with around 200-500 lumens if you're looking for a self-defense option like the Streamlight TLR-1 HL Weapon Light.
For hunting, flashlights with higher lumens offer you a wider and far-reaching beam of light, improving your line of sight in peripheral areas.
To simplify it even more, brightness and light intensity are not the same thing.
Battery Life and Efficiency
Most of these WMLs I listed have a decent battery life, in accord with their features and overall illumination power.
Most high-end tactical flashlights have rechargeable or disposable batteries, and it all boils down to what you're looking for.
Any WML that has a battery life of over an hour and a half in standard mode is good enough, but I suggest you stick to rechargeable batteries if you're planning to use the flashlight-laden AR-15 for a long time.
If you want to get the best out of your flashlight, make sure you pick one that gives you enough time to act and shoot before you have to replace it. This entirely depends on the modes of power, though.
In the end, if you're a hunter and you're out for a longer period of time, flashlights with normal AAA batteries are a no-brainer. You just need to carry a handful of new batteries in your pocket.
Construction and Weight
Just to give you a ballpark figure, most WLMs weigh around the 3 to 6-ounce mark.
That said, it's important to know that, when picking a flashlight, it almost always boils down to compromising either on the weight or the durability of the unit.
Polymer units like the Inforce WML Gen 2 are affordable and extremely lightweight. They don't even feel like they're mounted on your rifle. However, they easily crack when dropped and aren't shockproof to withstand continuous recoil from an AR-15.
Aircraft-grade aluminum ones are durable and have a subversive IPX rating for waterproofing, but manufacturers usually cram a lot of valuable electronics and features inside, and that accounts for a heavier weight that might throw off your rifle's balance.
Mounting
Make sure you take a long and hard look at your considered flashlight's overall construction, mounting methods, and additional accessibility features. A standard AR-15 uses Picatinny, Weaver, M-Lok, or KeyMod rail systems.
It's always a good idea to go for flashlights that are compatible with Picatinny or Weaver rails. If they're small enough, you can mount them on your handguns as well.
Picatinny rail slots are slightly wider than Weaver-style rails, and you can see the difference in the groves. Because of this, Picatinny rails can accommodate Weaver mounts, but Weaver rails can't accommodate Picatinny mounts.
Control Options and Additional Modes of Lighting
Don't settle for just a single-mode beam on a flashlight; consider the different models of lighting it offers.
Most manufacturers usually design them with a low, medium, or high brightness mode, but some flashlights even have a strobing mode that's very popular among hunters because it can be utilized as a distress signal in case of an emergency.
The activation method of the flashlight is also important. There are some units that are activated via tapping. I'm a big fan of the pressure-switch positioning activation, which can be placed on your grip.
Then, there are Ambidextrous controls and clamp-on features that are also worthy of mentioning in a good quality flashlight.
Conclusion
Besides scopes and flip-up sights, having a proper WML on your AR-15 rifle adds another layer of tactical enhancement. I absolutely recommend you snag one for your AR-15 rifle if you're a concerned homeowner, a coyote and varmint hunter, or just a tac-range enthusiast.
Keep in mind that a flashlight-mounted AR means scaring off would-be assailants, and it also changes the dynamic of a hunter's approach to varmints.
If you don't want to give away your position when hunting, there are always thermal scopes with night vision packs for a high price.
Whatever the case, the SureFire M600DF is, in my personal opinion, the best AR-15 flashlight which anyone can use for a more general purpose. It's a well-rounded option with 1,200 and 1,500-lumen power, decent battery life, an easy-to-use interface, and a high-quality build.
Always remember to aim slightly downward when activating your WML because it's easy to mix up muscle memory and shooting instead of pressing the flashlight activation button. Just a friendly reminder.
Stay safe, shoot straight.
Explore more