Best AR-15 Flip-Up Sights [2023]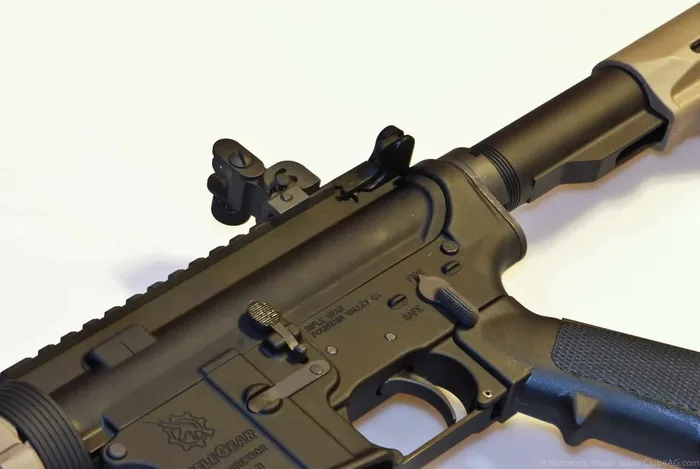 Best AR-15 Flip-Up Sights [2023]
Cover Photo Credit – Moto "Club4AG" Miwa
If you're an AR-15 enthusiast, I'm guessing your first aftermarket purchase was a good set of red dot sight optics for that much-needed target acquisition.
However, it's not uncommon for AR-15 owners to struggle with faulty optics and batteries. What do you do when your holographic optics break? Where will you be when the batteries on your red dot sights fail?
This is where backup iron sights, or "BUIS" come in.
There are loads of great BUIS, like flip-up sights and 45-degree offset sights that really take the role of practical backup iron sights.
They offer a more minimalist approach that's great for those of you who don't like to struggle with batteries or are too paranoid about fragile glass.
Since there are so many brands and models available, not to mention cheap knock-offs that prey on the uninformed, I give you the ultimate AR-15 Flip-Up buyer's guide.
I listed the best AR-15 flip-up sights from my experience, with additional BUIS types like folding sights and 45-degree angle offset sights.
Let's begin with the certified standard of flip-up sights.
Top 5 AR-15 Flip-Up Sights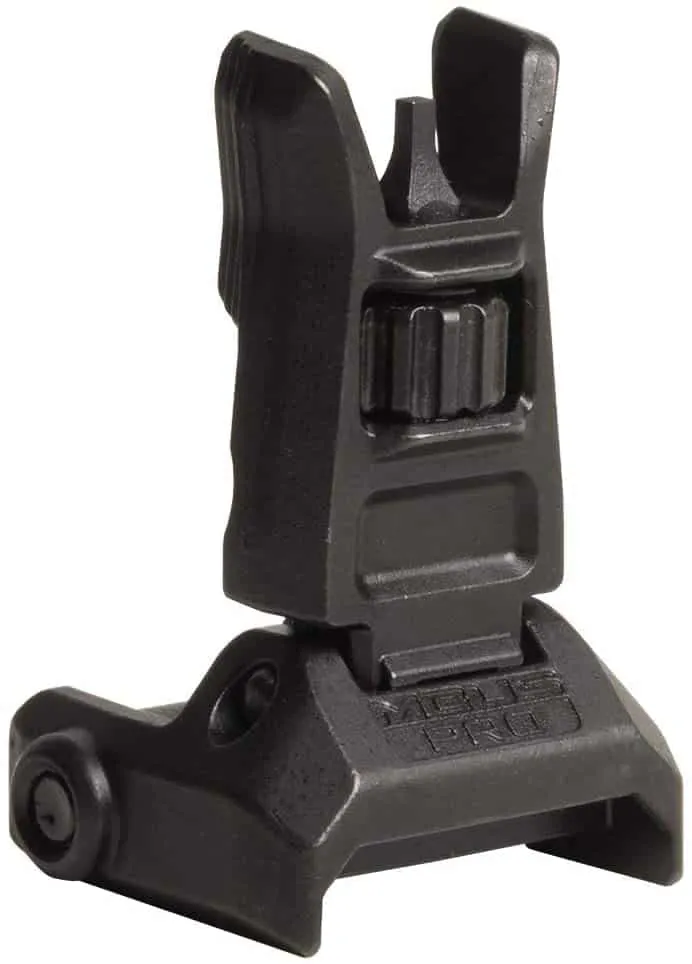 Pros
Lightweight and compact
Tool-free adjustable front for windage and elevation
Durable steel construction with protective wings
Works with large or small aperture
Picatinny-compatible
Lifetime warranty
Cons
Might be expensive for some
Magpul Industries is a certified leader in aftermarket parts for firearms, so much so that their products saw action back in Vietnam. The MBUS Pro Steel has been a definite standard in the military and law enforcement.
The Magpul MBUS Pro Steel Sights are made entirely of steel, but the construction is lightweight and low-profile. You can easily co-witness your optic with these.
The rear sights are folding leaf-style BUIS with a standard front iron sight. The sights are easy to mount to an AR Weaver rail mount or a Picatinny rail mount and keep a steady and correct zero.
I love how the positive detents keep the Magpul MBUS Pro Sight to an AR sight height after prolonged use.
The design is made to be adaptable with its dual-aperture rear and elevation adjustable front.
The windage and elevation knob are pretty easy to adjust. If you have trouble, it's nothing a couple of tools can't fix.
Moreover, the front sight doesn't even need tools to be adjusted, which is a major plus. The rear sights can be folded down once you're done with them, and they don't interfere with your optics.
So, if you're willing to pay extra for steel backup sights instead of plastic as found in most AR-15 flip-up sights, the Magpul Pro has you covered. It also comes with a lifetime warranty!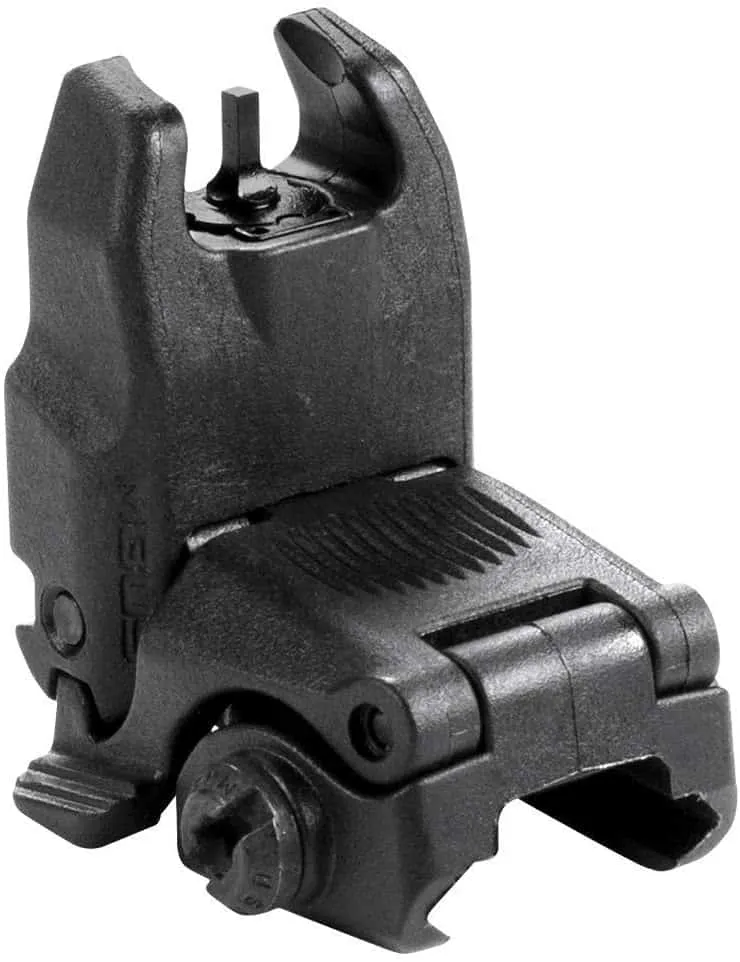 Pros
Quality spring-loaded flip-up
Simple to use and sight in
Lighter than steel
Durable protective wings
Detent knob for easy windage adjustments
Lifetime warranty
Cons
Polymer not as durable as steel
Switching apertures may be difficult
The Magpul MBUS Flip-Up Sights are the lighter, simpler, more affordable "brother" to the Magpul MBUS Pro.
Both the Magpul MBUS rear and front sights are foldable, flat-top–mounted, and are built from an impact-resistant polymer construction that's durable enough for long-term use.
The rear sight has one large .185-inch aperture and one .070-inch peep. I suggest you mount the front sight on a railed forend to match the receiver rail in order to properly witness the rear sight. It's perfect for both AR-15s and carbines.
You can't mount it on railed gas blocks or MOE handguards, but the rear sight is easy to adjust for windage. You also get a free tool to tweak the front sight for elevation with your purchase. The height is around the same as your regular A2 iron sights.
It's compatible with a Picatinny rail, and the streamlined contours offer a snag-free experience. I highly recommend it to those who are tired of constant sling/gear snags.
The Magpul MBUS Gen 2 sights have a spring-loaded flip-up mechanism that can easily be deployed and retracted by tapping the grooved tab on the side of the sights. They lock into place with the included steel crossbolt.
Lastly, a piece of advice—Magpul themselves warn customers about heat. The Magpul MBUS sights are durable, but you'd do well to avoid mounting the front sight on a railed gas block if you don't want it to melt.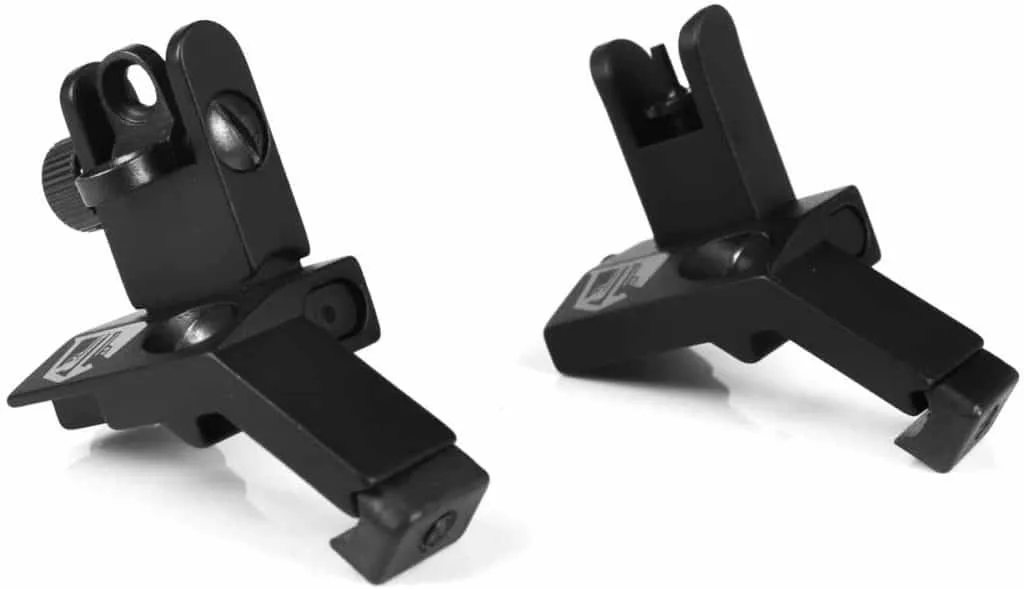 Pros
Simple to mount
Spring-loaded design
45-degree offset
Fully adjustable
Push-button pop up mechanism
One year warranty
Cons
High sight-line not available
The Ozark Armament 45 Degree Offset Flip-Up Backup Sights with a spring-loaded design are perhaps the most versatile 45-degree flip-ups you can find, even though the name is a mouthful.
They're manufactured overseas, but the customer service and overall quality are highly promising. Moreover, you get a one-year warranty.
The aluminum construction with a black finish is durable and lightweight enough, so it won't interfere with your shooting. Personally, I think that aluminum is a well-rounded combination that can compete with steel and polymer sights.
What makes the Ozark flip-ups a serious choice is the low price, low profile, and high-quality spring-loaded design, making them easy to use. They incorporate a push-button mechanism, so you might need a little bit of practice.
You can mount them on Picatinny rails with a 45-degree offset that won't interfere with your scopes, and the standard sight plane offers easy co-witnessing.
The rear sight can be fully adjustable for windage and doesn't need tools, which is great for budget sights such as this. It has rear sight apertures that perform well in both long-range shooting applications and close-quarter combat.
The Ozark Armament BUIS simply provide a no-nonsense, cost-efficient experience and do their job. If you're willing to spend a bit more on 45-degree offset flip-ups, you can also check out the Magpul MBUS Pro 45 Degree Offset Sights, yet another Magpul product.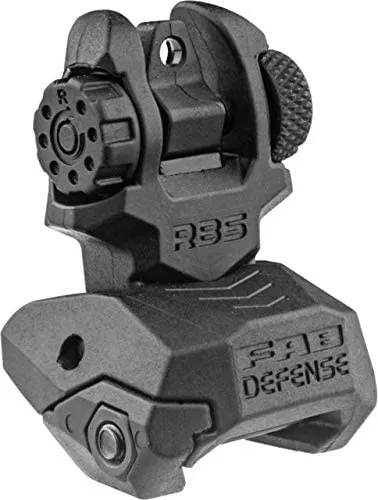 Pros
Lightweight and low-folding
Snag-free design
High-quality polymer and metal construction
Internal spring-locked mechanism
Easy adjustments for elevation
Cons
Rear sight aperture could use a bit more work
FAB Defense is a prominent manufacturer that the Israeli Defense Forces use. They're mostly known for their polymer sights, grips, handguards, swivels… anything AR-15 or carbine-related, basically.
The FAB Defense Flip-Up Sights are a fantastic lightweight option that's designed to be used either as a primary or secondary sight with your red dot or holographic optics.
With a low profile, foldable, snag-free design, they're great if you don't want to accidentally activate the front sight when reaching the controls with a C-clamp grip.
The FAB Defense sights have an internal spring system for secure deployment, and the rear can be easily adjusted without tools.
The shroud has an angel-wing shape that helps to properly align the eye with the center, and the view-through is easily adjustable as well.
The sights have a 3mm sight aperture for a longer eye relief mounting, and the second sight aperture is 1.5mm, which is perfect for short-range applications. They're great for shooting in low-light conditions.
Overall, the FAB Defense flip-ups offer an optic advantage with a very attractive price. They can be compatible with most sights that use Weaver-style mounting rails over the handguard.
You can also check out our list of best AR-15 BCGs if you're interested.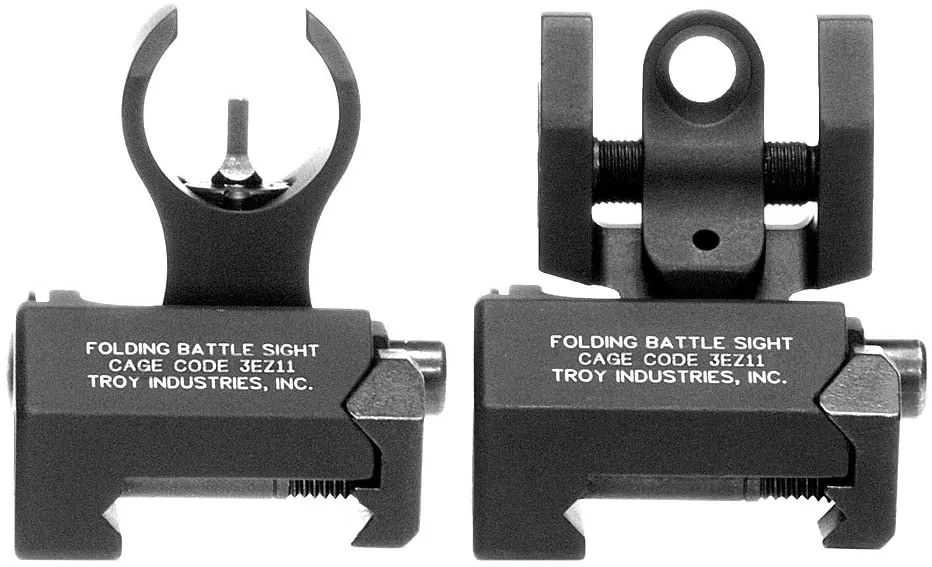 Pros
Lightweight and low-profile design
Aircraft-grade aluminum construction
Factory-height sights
Locks into place with detent balls
Reliable aiming point
Cons
Very expensive
Requires tools for adjustments
Rear sight aperture might be a bit large for some
Troy Industries is a prominent manufacturer that many gun owners swear by.
The Troy Micro HK-Style Battle Sights have an aluminum construction and a low-profile build with just under an inch and a half in length.
Troy Industries say that they're made to work properly with the Sig Sauer 556 or the FN Scar, as they can be easily clamped onto Picatinny rails and secured with a flat-head screwdriver. Both the front and rear sights can be locked into place via two detent balls.
These Micro BUIS need tools for adjustments if you're using an M4, but these are perfect if you're shooting a raised top rail system.
You can easily make range adjustments from 300 to 600 yards with the rear sight aperture, and the apertures are factory-sized AR-15 sights, so there are not many adjustments to do.
The rear sight apertures are a bit large for accuracy, but this offers an advantage to those who prefer larger sights to their eyes. The sights are tritium, so it's great for low-light conditions.
I'm guessing the MIL-SPEC hard coat anodized finish and steel parts are responsible for the high price. However, if you're looking for sheer sturdiness and quality, the Troy Micro HK-Style Folding Battle Sights are the way to go.
Buyer's Guide for the Best AR-15 Flip-Up Sights
Remember the detachable carry handle design on the former AR-15 rifles? It really felt awkward how the 3x optical scopes were too close to them.
Today, AR-15s are built without iron sights and are optics-ready with built-in rail systems for convenience.
Go right ahead and stick to your fiber optics, holographic, and red dot sights if you're too used to them. But, when the unspeakable happens, you'd wish you had your BUIS instead of just plain AR iron sights.
BUIS are definitely below the standard of red dot sights and optics for target acquisition when close-quarter combat and mid-range applications are in question.
However, they are surprisingly better for longer ranges because red dot sights can reach only so far.
A word of advice: be wary of Amazon BUIS because there have been lots of reports of faulty rip-offs. Stick to brands via retailers like Primary Arms and Brownells, and you'll be fine.
Other than that, here are some important factors to consider when picking flip-up BUIS.
Construction
First things first, the overall construction and internal parts of the BUIS are important considerations.
Going for a full steel construction is the standard choice of many because of the unmatched durability, and the weight doesn't bother shooters much. But, if you're looking for something lighter, polymer and aluminum builds are the way to go.
I recommend aluminum builds because they are lightweight and durable enough to serve you for a long time. A combination of aluminum construction and steel parts is also a great choice.
Don't be discouraged from polymer builds.
They are not as durable, but they are still viable and have a strong drop resistance. Either way, there's a low chance the sights would ever be damaged, provided you take care of them.
Lastly, polymer, steel, or aluminum BUIS hold their zero well, so don't worry about that.
Mounting Options and Styles
How you mount your BUIS is a very important aspect of accuracy that most shooters fiercely debate.
Basically, there are two schools of thought: top-side flip-ups mounted on the top Picatinny rail or 45-degree offset sights. Both arguments on each side make valid points why and why not.
Top-Side Flip-Ups
Top-side mounting allows users to co-witness their sights with their optical red dot sights.
Co-witnessing means alighting the sightlines of both the sights and the optics' reticle on the same optical plane as the reticle. Simply put, seeing through the reticle will show the red dot in line with the rear aperture and front sight post.
However, you'll need to remove the optic to have a clear view of the sights, and this is the downside of top-side mounts.
45-Degree Offset Flip-Up Sights
The 45-degree offset flip-up sights are either mounted on the left or right side of the AR-15 by a 45 degree cant on the side of the receiver so that they won't obstruct the optics' line of sight.
This canted mount allows you to readjust your cheek weld, and you can flip up your sights immediately when you need them.
Features and Mechanism
The challenge of picking a combination of build, style, features, and overall design is all up to you and your preference, as well as how it works with your optics.
For example, flip-up sights with locking mechanisms are the most sought-after because they don't flop around when you shoot.
Additionally, most AR-15 owners don't like to constantly tweak the front and rear sights while at the ranges, so you could go with push-button sights with a spring-loaded mechanism.
Depending on your shooting style, you could go for a front and rear sight with a size and sight height that work well with your optics, and most people go for compact, low-profile designs.
You should look for BUIS that are easy to mount and easy to adjust. It's alright if some require tools like screwdrivers.
Conclusion
To sum everything up, if you're going for flip-up backup sights, you need to consider the weight, overall size, and construction of the sights. Everything else, like spring tension, is just optional factors that vary. Additionally, it's important to consider locking mechanisms.
There are other flip-up sights that have much smoother springs and other convenient features, but these ones offer great value for the money.
You'd barely have to need to adjust them for elevation because factory iron sights come with their designated height.
If I were you, I'd stick to the Magpul MBUS Gen 2 Flip-Up Sights or the Magpul MBUS Pro Flip-Up Sights if you're looking for a smaller frame with durable steel construction. The Magpul locking mechanism makes sure the sights don't wiggle when you shoot.
Additionally, you have the Magpul MBUS Pro 45 Degree Offset Flip-Up Sights if you'd like a good old Magpul 45 degree alternative.
All of the abovementioned sights hold their zero well, but it still depends on which aiming style you prefer.
Remember, there's a reason why they're called backup sights for red dots and holographic optics. Glass breaks, batteries run out; you need to be well-prepared at all times.
Stay safe, shoot straight.
Explore more