Best AR 15 Muzzle Brakes In 2023
Best AR 15 Muzzle Brakes In 2023
Cover Photo Credit – Monkeybusiness1245 / CC BY-SA
What does an AR 15 muzzle brake do? It minimizes vertical movement and recoil. In practice, this means you should be able to shoot with greater accuracy.
So far so good, but these unassuming extras are more intricate than you might think. Let's take a closer look at some of the best options and how to evaluate.
About AR 15 Muzzle Brakes
The recoil of 5.56mm rounds isn't something you can't manage. But then, certain muzzle brakes can reduce it by 50%. And this could make a world of difference in tactical shooting scenarios.
In addition, there are a host of other things you should know about this critical accessory.
The Attributes of Muzzle Brakes
There are three main characteristics that define the working of an AR 15 muzzle brake: overall design, climb reduction, and the absence or presence of a hole in the bottom. The last might be a bit counter-intuitive, but we'll get to that.
Design
When I say design, I mean engineering. And a high-quality muzzle brake should be able to spew very little gas out of the end.
You see, a muzzle brake is machined to redirect gas away from your AR 15. It pushes the gas to the back and away, which minimizes the recoil.
In general, a good muzzle brake should have a larger baffle surface and a ventilated cross-section,
Climb Reduction
The catch here is to determine that the muzzle brake doesn't work against your AR 15 and the ammunition. That said, most models are ready to install and use out of the box. But the climb might not fit your shooting style, despite the reduced vertical movement.
If so, you should recalibrate the brake to balance out the muzzle climb. Nevertheless, it's best to avoid this in the first place and get one that has a suitable climb reduction. And we've done extensive testing to be 100% that all the models reviewed offer good climb reduction.
Bottom Hole
Those who are mainly position-shooters should look for a muzzle brake that doesn't have the hole. It shoots gas downward and kicks up dirt and dust and this could mess up your aim or even render the scope useless.
Come to think of it, having a hole in the bottom is usually a sign of a subpar design. You may want to avoid such models, regardless of your shooting style.
What is the Best AR 15 Muzzle Brake Material?
A muzzle brake needs to cope with high-temperature pressurized gases. Due to this, the material is one of the key features. It should be able to take a lot of beating and withstand prolonged rapid firing.
The common materials include titanium, stainless steel, and carbon steel. The most popular is stainless steel for its corrosion and heat resistance, whereas carbon steel might not be as good at resisting corrosion.
But, you should be just fine with carbon steel unless you're not taking care of your rifle. And all muzzle brakes come with a protective finish to improve the material.
Finally, titanium needs little explanation. It offers great resistance to heat, stain, and corrosion, but of course, it's going to be more expensive. Increasingly, people are willing to pay for it though.
Compensators vs. Muzzle Brakes vs. Flash Hiders
The good news is that most muzzle accessories are hybrids, so you get a brake, a compensator, and a hider. Or, at least a combination of two. But you may want to know the difference.
Muzzle Brake
As said, a muzzle brake reduces the recoil and it does so with the side vents.
One of the best things about muzzle brakes is that they allow for faster retargeting. And you should be able to keep going because much of the force is being compensated.
Flash Hider
The name says it all, a flash hider minimizes the fireballs as you discharge a firearm.
These accessories came straight from the battlefield. They were originally designed to hide the flash during nighttime assaults. Plus, they preserve the soldiers' night vision.
Compensator
This accessory has holes at the top for vertical movement reduction. It's also very common to find a muzzle brake and compensator combo.
The combo might be a good idea, especially if you often fire rounds in succession. This strikes a balance and allows you to focus on the target.
What's the Best Way to Use a Muzzle Brake?
A muzzle brake might not be the best choice when you practice in indoor ranges where there might be people to the side of you.
These accessories tend to be a bit loud, even though they do reduce the noise. And certain models have a pronounced muzzle flash. However, this may depend on the brake's overall design and your rifle. At about 167dB at the barrel, the AR-15 isn't a quiet rifle by any means.
Be that as it may, the best uses for a muzzle brake are when you go hunting, practicing at an outdoor range, or maybe if you're participating in a tactical shooting competition.
Best AR 15 Muzzle Brakes
There's some clever engineering behind this muzzle brake. The expansion chamber is large, and the gasses move at low pressure and come out of the rear and side vents.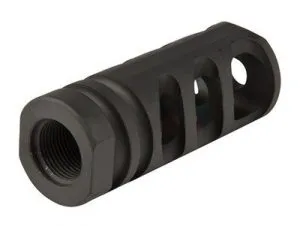 Speaking of the vents, they are actually big side cuts that make this brake a great compensator as well. But when shooting with this thing on, make sure nobody is standing next to you. The bulk of the energy will be coming out of the sides.
The manufacturer calls this reverse venting and it does three things. It reduces blowback and recoil, and it prevents muzzle rise at the same time. There isn't a bottom hole in this model, so you're not going to have to worry about dust.
The great thing is that the brake should be able to reduce an AR 15's noise down to around 120 dB. Furthermore, some users claim that it can minimize the recoil by an impressive 70%.
This Precision Armament is somewhat heavier and larger. However, this is an advantage and you should be able to see a major difference in the recoil.
As for the price, this model belongs to the value category. But you also need Accu-Washers for the installation, and they have to be ordered separately.
Pros
Large side and rear vents
Great recoil reduction
A bit bigger and more stable
Decent noise reduction
Cons
Doesn't come with Accu-Washers
For many trigger-happy shooters, this is the muzzle accessory of choice. The DPMS does a great job of countering the recoil and muzzle rise of an AR 15. But it also removes much of the muzzle blast — at least that's how it feels.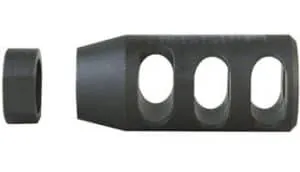 The bottom is completely solid (no holes again) and there are no vents at the top either. What you get are three big baffles and six side ports. This design makes it easy for you to clean the muzzle.
Easy installation is another highlight. The DPMS comes with a lock nut for installation and you should be ready to fire in no time.
The compensator/brake is made of BLMIC-Steel and it has a flat finish. Simply put, it's designed for durability. And big-name competition shooter Jerry Miculek was behind the engineering.
Furthermore, this is one of the most affordable models you can find. The production has been discontinued, but these are still available last I checked.
Pros
Three baffles
Six side ports
Affordable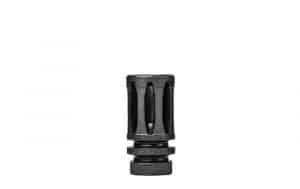 Unlike what I've talked about so far, the Aero Precision's A2 is a flash hider. The birdcage design and the top vents and inner baffles really do the trick.
For example, when shooting with an AR 15, a bare muzzle produces about 10,706 Lux. That's the intensity of light you perceive when firing the rifle.
With the A2 Birdcage on, it's going to knock it down to 0.48 Lux. It's one of the lowest you can get as 1.0 Lux is more common with average flash hiders. Even so, there are also models that can go as low as 0.34 Lux.
In addition, the A2 Birdcage is really affordable. The hider is made of steel and has a phosphate finish. It's also not that big and heavy, weighing 1.9 oz. and measuring 1.75" in length.
It's important to note that the A2 Birdcage pushes the flash to the side, away from your line of sight. Due to this, it also removes some of the recoil. But this model isn't a drop-in replacement for a muzzle brake or compensator.
Pros
Reduces flash to 0.48 Lux
Affordable
Birdcage design
Lightweight
A few years ago, the Battlecomp 1.0 made a stir when it first came out. And from the look of it, this multi-purpose muzzle brake might just be worth the hype. But how does it actually perform in the field?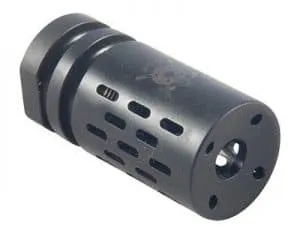 As a compensator, the Battlecomp 1.0 minimizes muzzle climb. The retargeting between shots in rapid-fire scenarios is one of the best things about this model. Compared to other brakes, the Battlecomp doesn't kick up a lot of dust because there's less concussion.
Due to its unique design, the Battlecomp 1.0 is also not as loud at about 118 dB. It may even be quieter for the shooter, but those around you will surely hear it.
When you're discharging your AR 15, the windsock movement isn't that pronounced. But if you're using a scope, you'll be able to see more movement on the reticle. This is surprising since the cuts are engineered as a pure brake.
At 1.7 oz., the Battlecomp is definitely lightweight. And the great thing is that it reduces a lot of the flash as well.
When all is said and done, this is a good all-rounder that is suitable for various shooting scenarios. On the other hand, it's one of the pricier models.
Pros
Multi-purpose
Good noise reduction
Minimal windsock movement
This muzzle brake uses recessed gas ports that significantly reduce the force of the recoil in moving the gasses to the sides. The Smith Enterprise muzzle brake also has cuts and ports at the top, so you won't have to worry about any muzzle rise.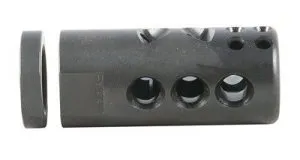 The design provides a comfortable operating experience. You're going to feel to be in greater control of the rifle and the shots. It's mostly because this AR 15 muzzle brake allows you to quickly zero in on the target in between shots.
In the end, the build quality and certain details make the Smith Enterprise stand out. The brake is machined from AISI 8620 steel (8620) that's been treated for erosion resistance.
The entire thing has rounded edges, so it won't be catching your clothes or other gear. As for the finish, it's salt-bath nitrated, which signals that you can rest easy about potential corrosion and wear.
A lock nut is included in the package and the installation is a breeze. It would be hard to find things that are not to like about this muzzle brake. Except maybe for the premium price.
Pros
Durable finish
Good gas port design
Rounded edges
Easy installation
Conclusion
At the end of the day, now you know the combination of features that determines the best AR 15 muzzle brake: The accessory should be both a compensator and a brake. Ideally, it should remove some of the noise and allow you to stay on target at all times.
So, which model gets the girl? The Battlecomp 1.0 meets all the criteria and it won't burn a hole in your pocket. Okay, you'll get more reticle movement compared to some other models. But this isn't likely to mess up your aim at all.
Explore more