7 of the Best AR-10 Pistols on the Market [2023]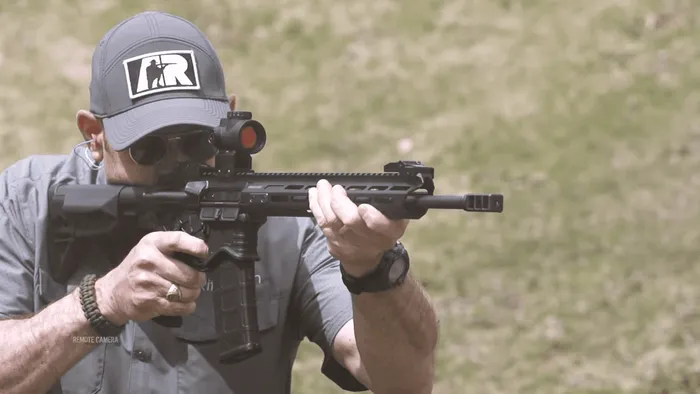 7 of the Best AR-10 Pistols on the Market [2023]
From the research I've been able to do on AR-10 pistols, the best overall has to be the Springfield Armory Saint Victor .308 pistol. While the .308 Saint is currently discontinued from the factory, this gun remains a top pick for rugged dependability, quality machining, and killer accuracy.
AR-10s can be considered tactical meat and potatoes and come in multiple calibers for any situation. While a pistol chambered in .308 Win is hard to visualize, it really comes down to the paperwork. An AR-10 pistol has a barrel shorter than a rifle with a pistol brace instead of a full stock (otherwise, it would be considered a short-barreled rifle, which is a separate ownership permit altogether).
In this post, we'll break down the top AR-10 pistols to help you find one that suits your needs. Unlike their rifle counterparts, (covered in our separate guide on the best AR-10 rifles), AR-10 pistols offer more compactness at the expense of longer-range accuracy. Whether you're interested in close-quarters shooting with a pistol or long-range capabilities with a rifle, we've got you covered.
Our Favorite AR-10 Pistols

This .308 pistol is an exclusive edition to any personal armory. Its carbine-length gas system features a pinned gas block and a 10.3-inch barrel with a muzzle blast diverter for superior reliability.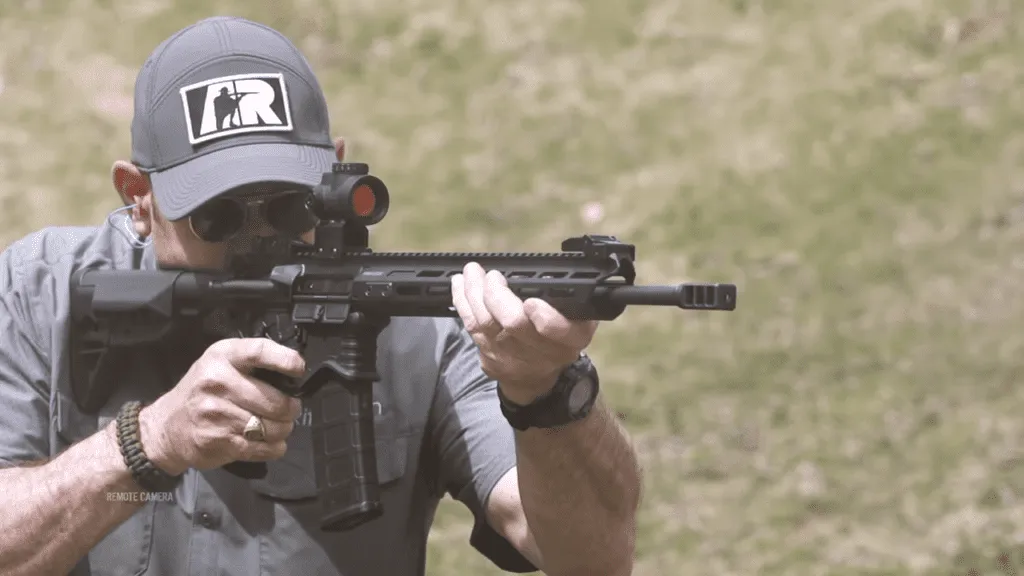 This semi-automatic pistol serves its purpose well from home to the range, truck, and woods. Weighing under eight pounds and holding a 20-round capacity magazine, this relatively lightweight option is designed to be used in any situation.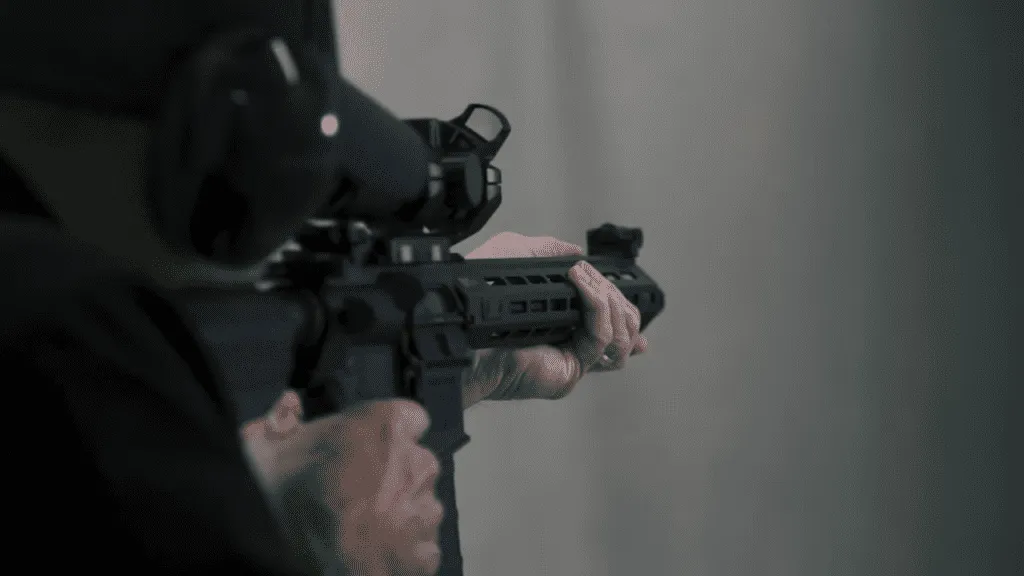 The .308 Saint features exceptional accuracy with a single-stage, six-pound trigger break. Despite this larger caliber round, the Saint absorbs a good amount of recoil and is very controllable. 
Out of the box, the .308 Saint features low profile, adjustable, flip-up iron sights, and plenty of room for adding accessories like optics and lasers. Springfield's proprietary muzzle brake minimizes recoil exceptionally well.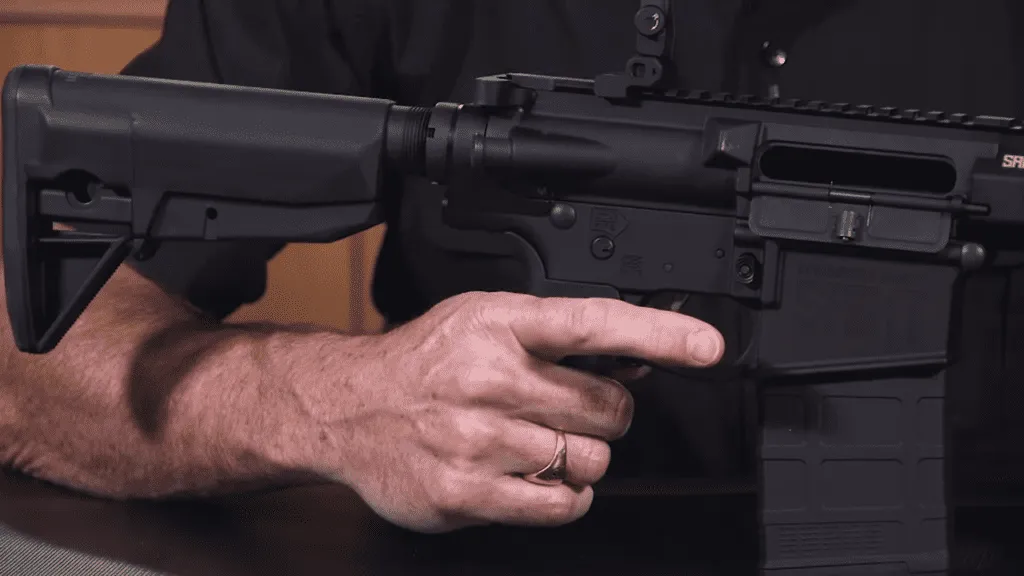 Also referred to as the 7.62 AR, the .308 Saint is unique in that it also has the same manual of arms and operations as an AR-15. The price point at just around $1,500 isn't too bad, either.
Pros
Reliable in rugged conditions
Familiar AR-15 manual of arms and operations
Direct Impingement Carbine-Length, Low-Profile Pinned Gas Block
Made by a trusted name
Cons
Currently discontinued from production, but can still be found

If you're looking for something reliable, well-made, fairly budget-friendly, and something to help you take down some good-sized game, the Diamondback Firearms DB-10 fits your bill.
The DB-10 is a mid-range option to purchase and carry around your land when hunting or surveying. A .308 Win is enough to take down a deer, deter a bear, and take down some less aggressive breeds of hogs (although some might argue the .300 Blackout is a more efficient caliber for the more aggressive breeds).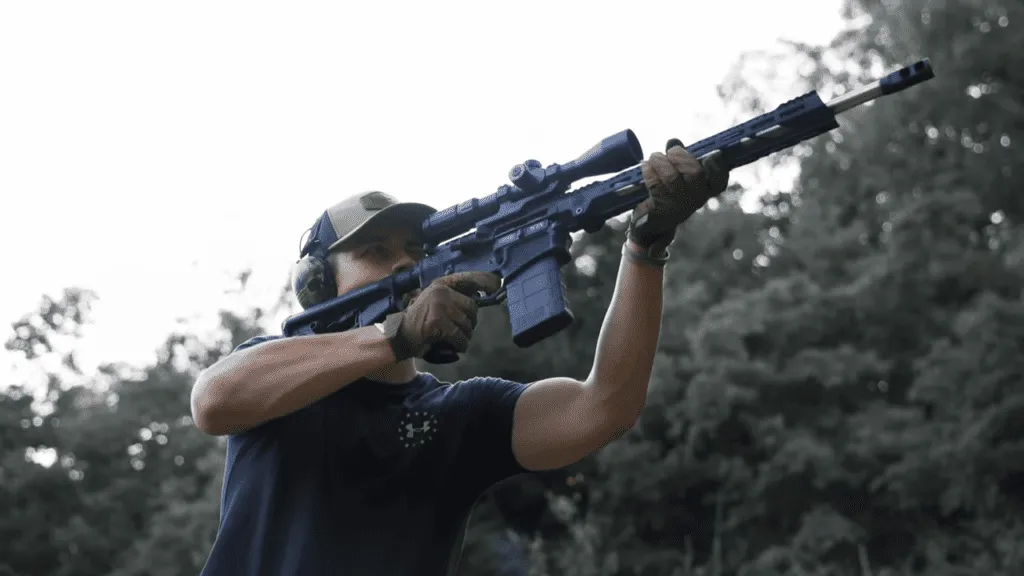 The 13.5-inch barrel length makes this pistol compact enough to be easily carried and stored, especially if using it while checking fences or hunkering down into a blind.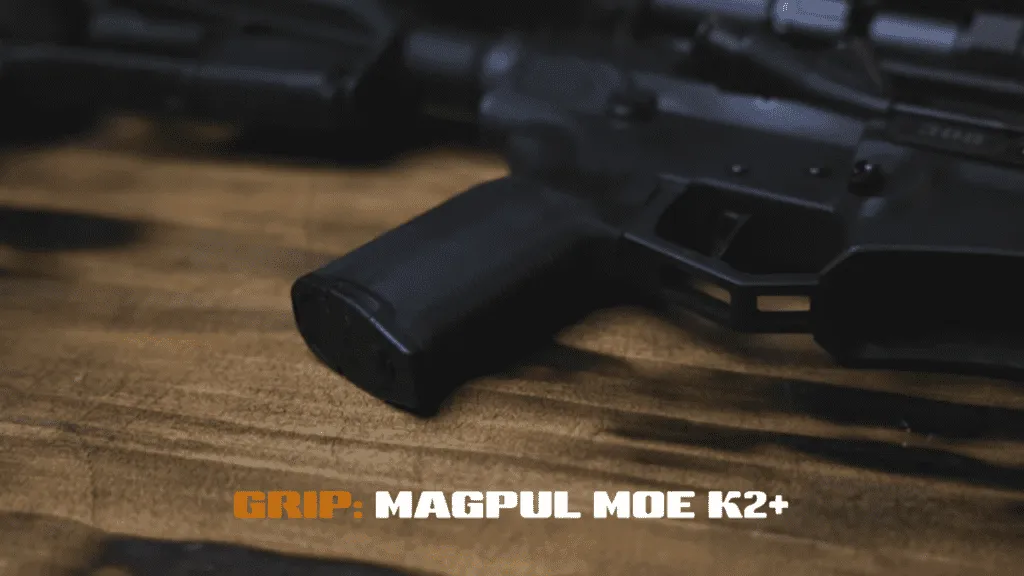 The DB-10 is accurate for most large game up to about 200 yards with only the Magpul MBUS sights and a heavier grain .308. You could easily get out to a few hundred yards with this pistol if you equip a scope to it.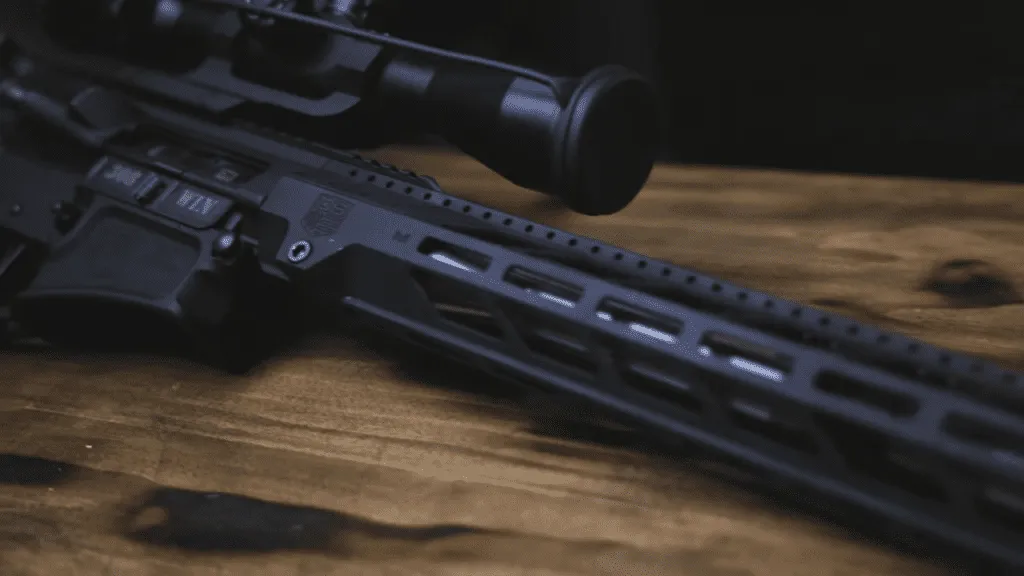 A 1:10 RH twist barrel with a CNC muzzle break might give this rifle decent accuracy and minimizes the recoil. The gun is comfortable to shoot and effective when bracing the stabilizer into the shoulder or cheek.
Pros
Consistent reliability
Lightweight
Factory Magpul MBUS sights
Cons
Significant muzzle flash
Potential for failure to feed with cheaper rounds
Faxon Firearms might be a more niche firearm company, but this particular product has had its mettle tested at sub and supersonic ranges, from 300 to 1,000 yards.
This AR10 pistol packs a definitive punch to anything standing in its way. The 8.6 Blackout cartridge is simply a big brother to the 300 Blackout cartridge, making this a good option for aggressive hog hunting.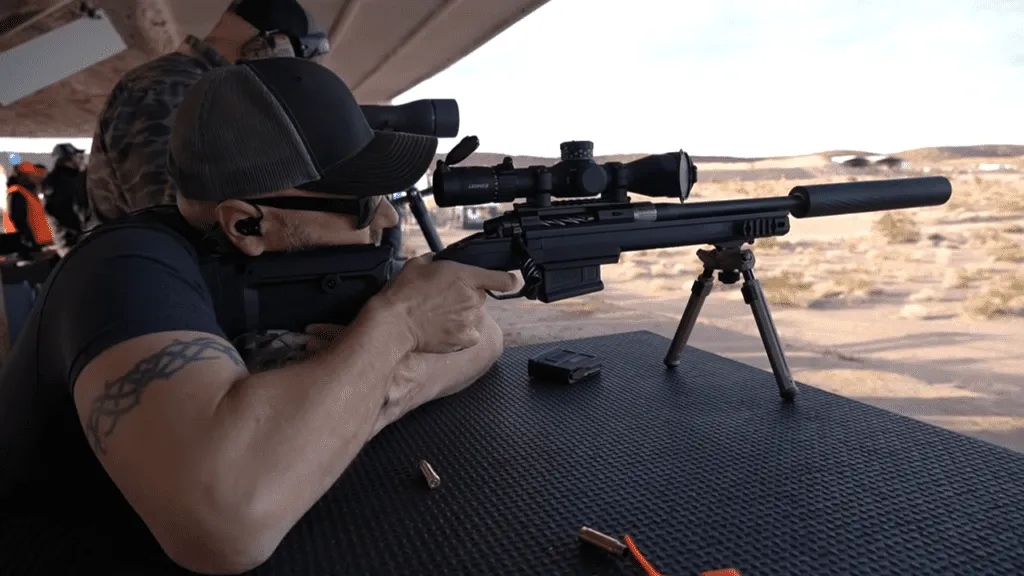 The ambidextrous charging handle and safety are a bonus for lefties and righties alike.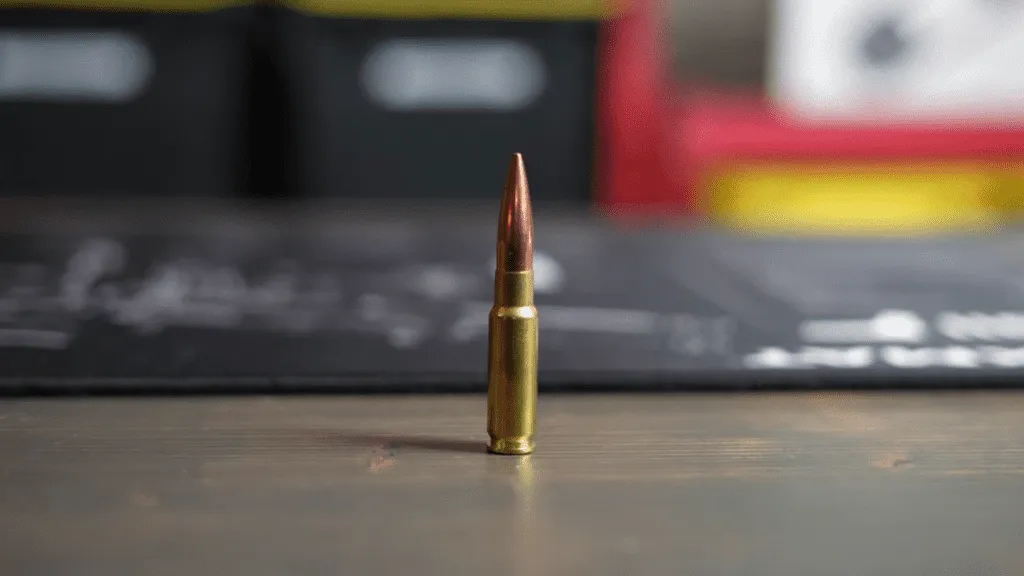 As with any firearm, the shorter the barrel length, the more recoil is felt, and this firearm's barrel length can range from 8 to 16 inches. The Sentinel did well in accuracy trials at up to 1,000 yards, even with a shorter barrel, making this a decent choice for long-range shooting.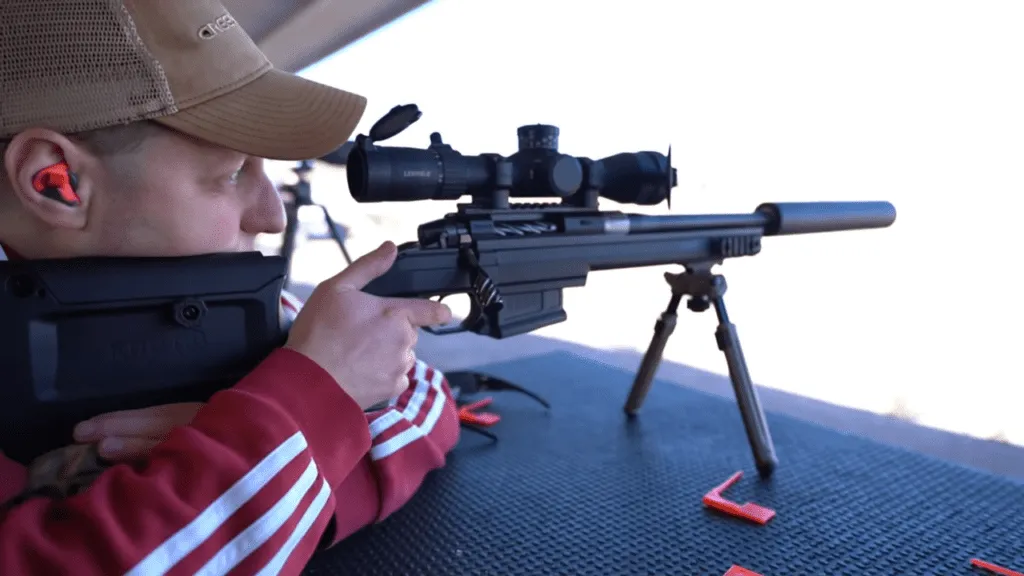 Aftermarket additions and alterations may prove a bit difficult with this firearm as it is a newer release in a less familiar caliber. It won't be impossible to make modifications, but I highly recommend going to a trusted gunsmith rather than trying to do them at home.
Pros
Incredible long range potential in a small package
A range of barrel lengths
Aftermarket capability to have an adjustable gas block
Cons
8.6 blackout ammunition is relatively new and can be scarce
Significant state shipping restrictions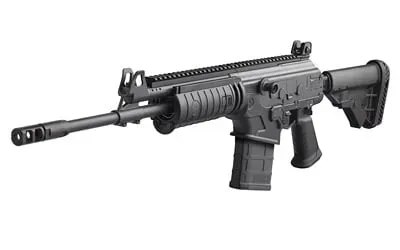 The Galil comes in hot yet again with a pistol version of their .308 ACE. This gun will run 7.62 x 51mm NATO as well as .308 Win easily and without fail. 
The pistol version of the Galil ACE retains all of the quality of the .308 rifle but might have a little more kick from the shorter barrel. The SB tactical brace is also foldable, creating a super compact little weapon.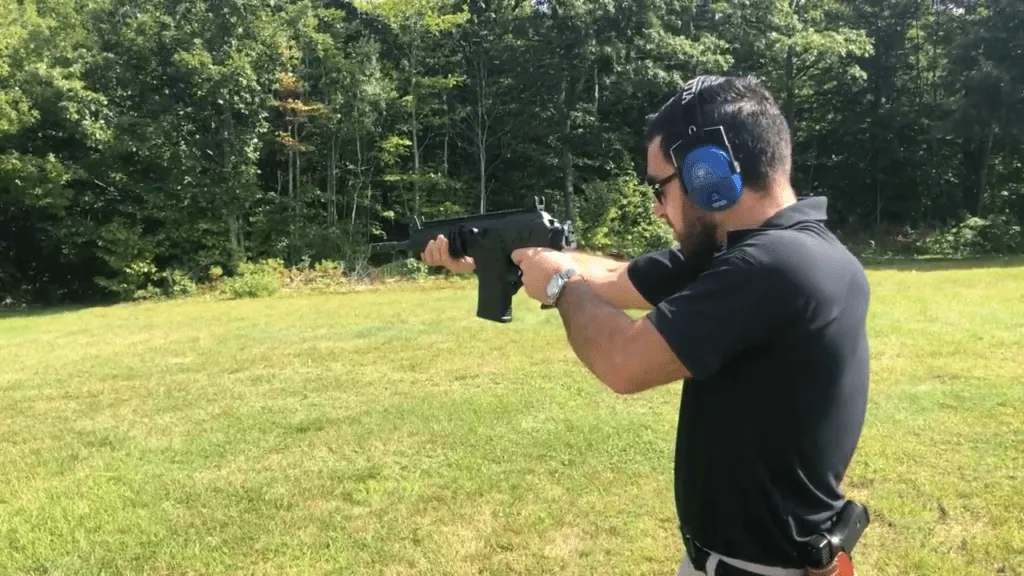 This is practically the perfect truck gun. It folds up, so it doesn't necessarily have to hang in an obvious place; it can still fire if the brace is folded. The Israeli Weapons Industry quality is hard to beat in terms of reliability and accuracy.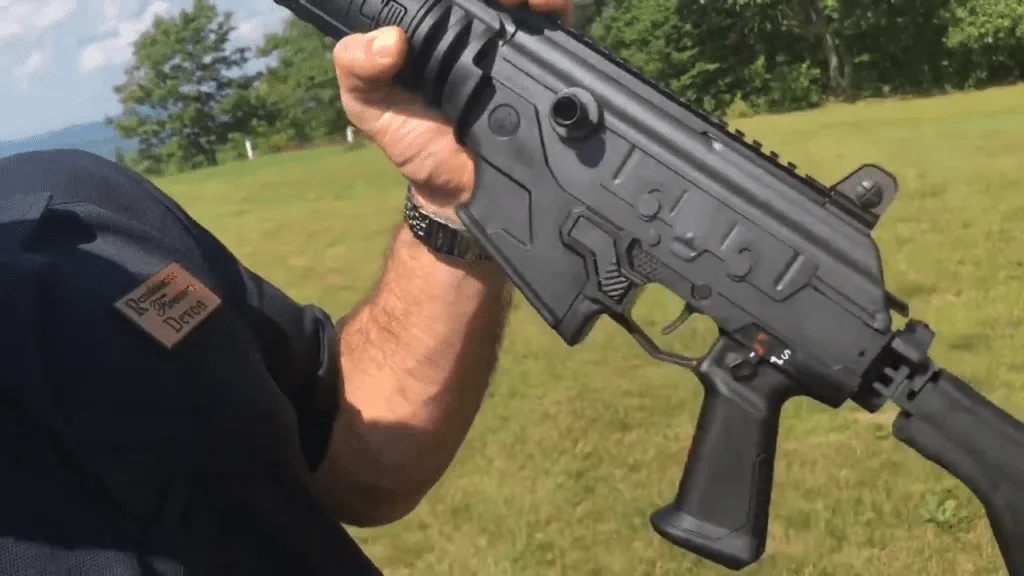 Weighing in at a slim 6.5 pounds, this pistol holds accuracy well within the 300-yard mark, but there isn't much to write home about outside of that. It'll hit near your mark, but this isn't what I'd consider match grade for long-distance shooting.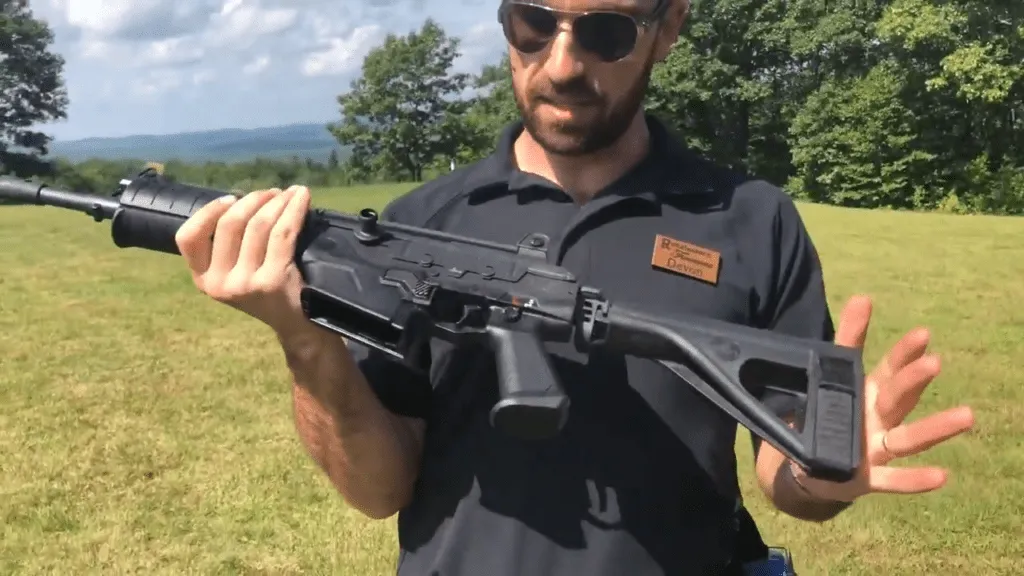 This pistol has the familiar 2-stage trigger and still has that chrome-lined, chrome moly vanadium cold-forged barrel of the other ACE models, just in a shorter 11.8 inches. Still packing a 20-round magazine from the factory, the Galil ACE pistol is a serious contender for your next truck gun.
Pros
Little to no recoil
Ambidextrous safety and magazine release
Lightweight
Cons
The concussive force from the factory muzzle brake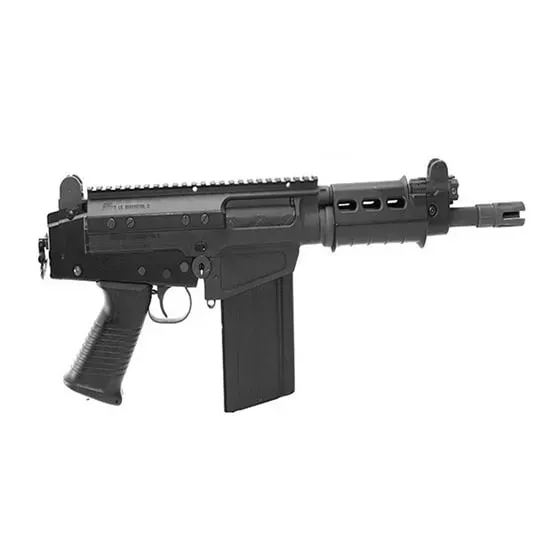 The FN FAL has a cult-like following throughout Europe and the United States. The SA58 is the semi-automatic, civilian version of the full auto "right hand of the free world." As a modernized and short version of that piece of world history, many are clamoring to add the SA58 to their gun displays.
The iconic FAL design shines through with this modern-day version of the military-grade full-auto FN FAL that many military buffs and past generations are familiar with. The magazine well is more akin to an AK than an AR and may take some getting used to.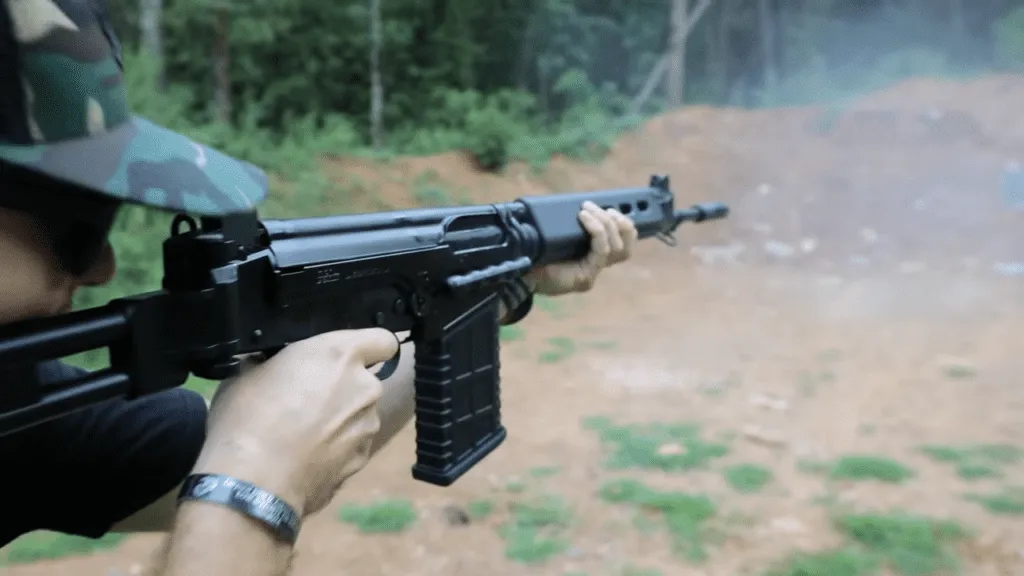 The original FN FAL wasn't built to be incredibly accurate, nor is the SA58 pistol. Add in a shorter barrel, and accuracy is compromised even more. I will say, however, that this gun has a decent-sized top rail to mount any optics your heart desires to help with this little quirk.
Overall, this firearm would be best suited for those who want a modernized ode to some world history and to have fun with it at the range on special occasions.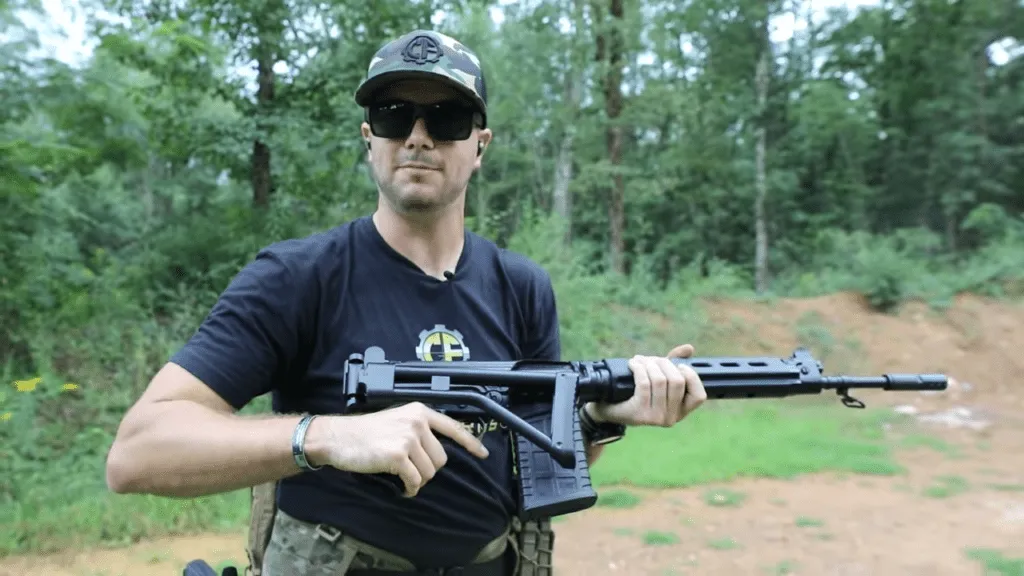 Pros
Short and long barrel options
M-Lock front 
Threaded barrel with factory muzzle device
Foldable brace
Adjustable gas block
Cons
High price tag
Accuracy can be hit or miss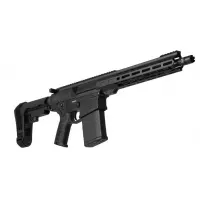 The CMMG BANSHEE Mk3 was developed by CMMG to be "perfect from the tree stand or target range". A mid-length, direct-impingement, fixed-gas system is factory standard. This semi-auto AR-10 pistol is chambered in .308 win and top Picatinny rail.
The total weight without any additions or modifications is less than eight pounds, making this an AR-10 pistol with some heft. The trigger is a single-stage GI-style trigger with a solid 1 MOA accuracy at 100 yards and even 50 yards after some tuning.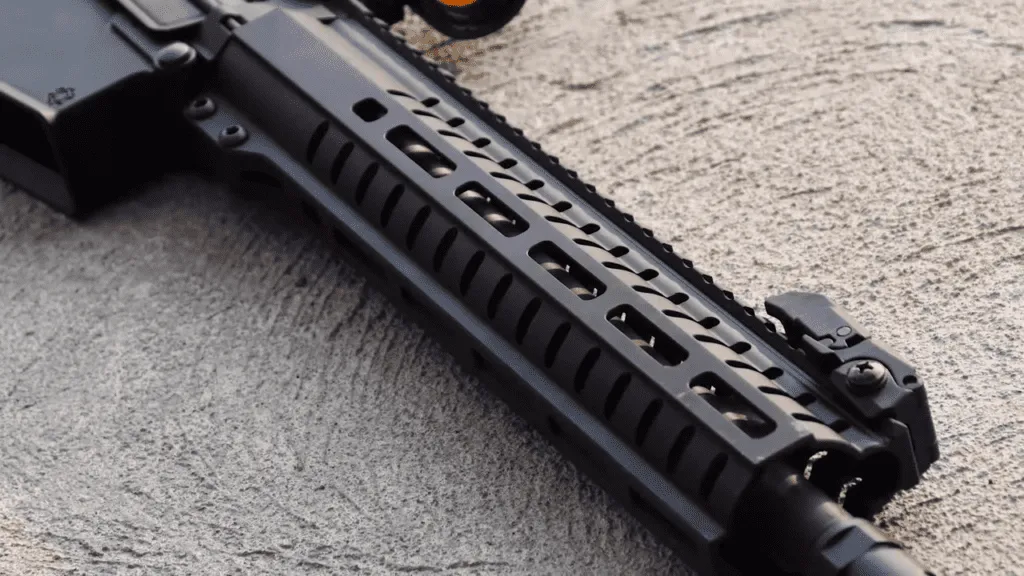 While this setup chambered in .308 win is fun to shoot, this heavier hitting caliber can cause some twist, throw, and rise, if you're not used to it coming out of a 12-inch barrel. The barrel itself has a 1:10 twist and features an M-Lok rail.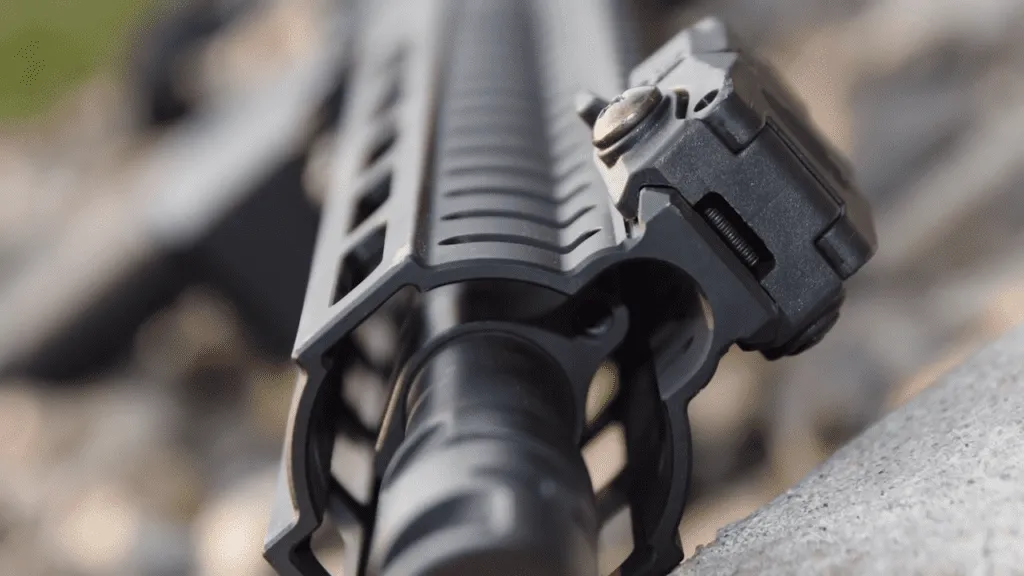 The adjustable brace is also a great feature to truly make this gun fit you. Adjusting your length of pull can also help with mitigating rise and some accuracy issues.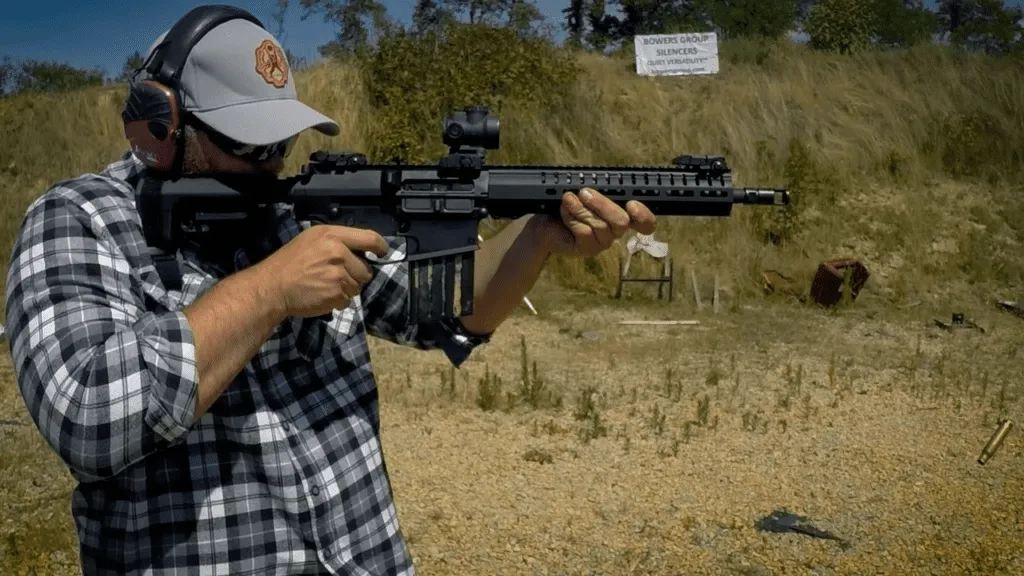 One aspect to heavily consider with the CMMG BANSHEE Mk3 is that it comes with a fixed gas system. If running suppressed, it's highly recommended you change this to an adjustable gas block, which isn't the most beginner-friendly thing to do. Consult your local gunsmith if you want this kind of setup for your rig.
Pros
Reliable and tight out of the box
Single stage trigger
Adjustable brace
Cons
Fixed gas system 
Limited longer range accuracy

The POF Rogue is a hot little number chambered in .308 win and was the recipient of the NRA American Rifleman's 2018 Golden Bullseye for Rifle Of The Year.
The POF Rogue is a more economical sister to the POF Revolution (AR-15). The Rogue is a near-perfect blend of the AR-15 and a full-sized AR-10. Compact and accurate, the Rogue is ergonomic and impressively lightweight for a .308; it weighs only 6 pounds.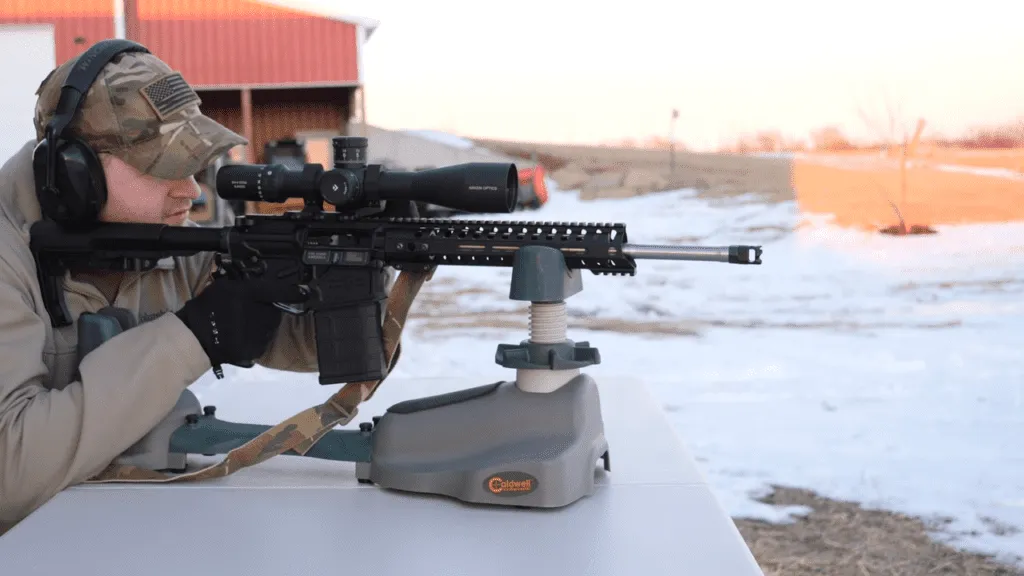 The match-grade stainless steel barrel is rated with a 1:8 twist and has a 12.5-inch barrel length for the pistol option. The trigger is a flat-blade single-stage trigger that's incredibly crisp at the 4-pound breakover point.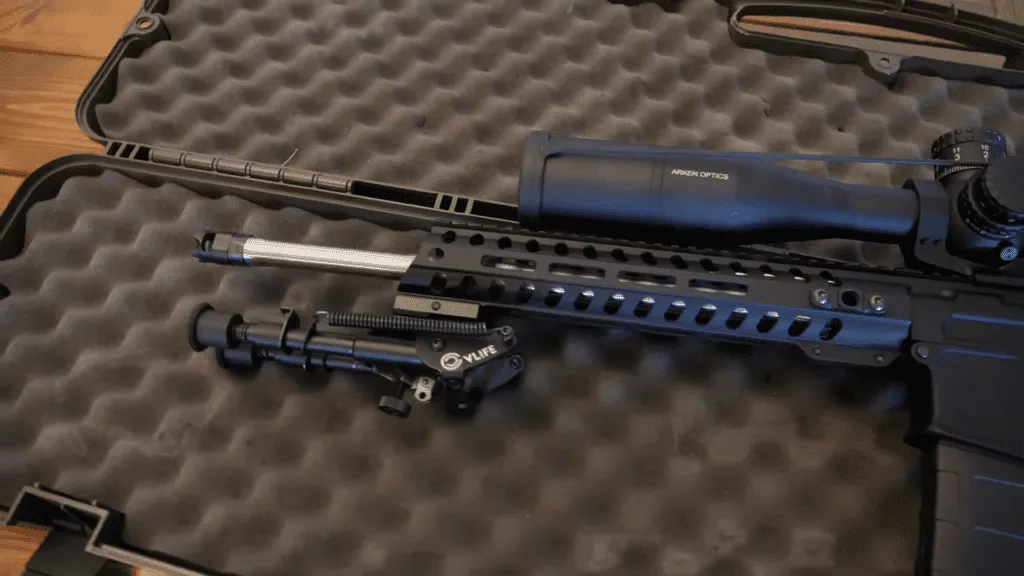 A Picatinny top rail and M-Lok compatible slots at the 3, 6, and 9 o'clock positions are icing on the cake, allowing for various attachments and modifications.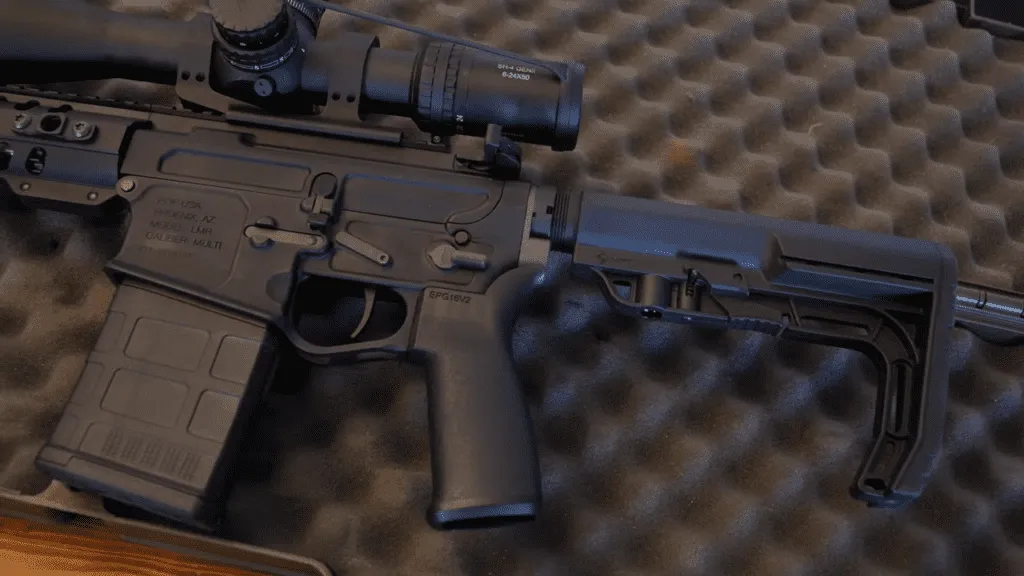 The POF Rogue comes with a fixed gas system. If you want to run this firearm suppressed, this is something to consider. While this can be changed after-market, it takes a little time and requires a bit of skill.
Pros
Extremely reliable
Compact and accurate
Lightweight
Very light trigger pull
Cons
Fixed gas system
No factory fixed sights
Buyer's Guide
Knowing how to shop is just as important as the shopping itself. AR-10 pistols can easily be lumped into an SBR class when browsing through a web search. Unfortunately, a short-barreled rifle requires a whole different permit, government registration, and has extra taxes associated with its transfer.
The most important aspects are that the AR-10 pistols (or any pistol that fires a rifle round) have a brace, no stock, and a typical shorter barrel length.
With firearms of these calibers with shorter stocks, ear and eye protection is a must (as they should be with any weapon).
I recommend that anyone looking into buying a new or unfamiliar firearm test shoot it first. An ideal place to test-shoot is at an in-house range with a knowledgeable staff member present to give you help and advice if you need it.
After the basics are covered, it's wise to think about what you want your AR-10's job to be. Do you want a ranch gun, a truck gun, or a home defense gun? Do you want something that can be used for longer distances at the range? Maybe you want to have something as just a talking point in your house. Whatever it may be, pare that down first, and then searching through options ends up being a lot less overwhelming.
Chamber Preference
While many of the above recommendations are chambered in .308 Win (a pretty easy round to access), you can also find some AR-10s in other calibers. .300 Blackout and 6.5 Creedmoor are newer for AR-10s but not impossible to find as other rifles commonly use this caliber. 
If you decide to go with a new-to-the-market option like Faxon Firearms, you may have a harder time finding a lot of its chambered 8.5 Blackouts. This may not be an issue if you aren't planning on running hundreds of rounds through it every weekend.
Price Point
There is a low end and a high end to everything in terms of price, and in some cases, you may not get what you pay for; research is incredibly important. 
Take the FAL SA58, for example. This gun has a pretty hefty price tag to be one of the least appropriate options to take hunting or put in the four-by-four while you're checking fences on your property. It lacks in accuracy what it makes up for in novelty and nostalgia, but there are better options for everyday use out there without spending that extra cash.
If you want something pretty to be a conversation piece in your gun room, you may want to spend the extra money for something more aesthetic rather than practical, as long as you're not betting on winning a competition.
Accessories and Features
Everybody has a preference for modifications. Sometimes that preference is to forego them and have something ready and functional right out of the box. Others love shopping and trying out new optics, lasers, and even changing out braces.
If you're that person that has a particular interest in thermal optics, ATN has an affordable thermal optic you might want to try.
Some AR-10 pistols have a better setup to explore additions than others. If this is a priority to you as a buyer, the length and type of rail are especially important to consider. Sometimes it's harder to find an AR-10 with a brace adapter, but not impossible.
There's also the consideration of a folding brace versus a fixed brace. Some people love this feature, and it can be of real practical benefit if trying to save on storage space. To others, it's just one more moving part to keep oiled.
Weight
Another factor to consider regarding accessories and the overall size of the gun is the weight you want to carry around. Extra accessories add weight, and carrying an extra 10-15 pounds gets heavy quickly. You might not mind this, but if you're planning on heavy packing and using your new AR-10 pistol, you'll want to be as comfortable as possible.
Weight can also help mitigate recoil. While some of these AR-10 pistols have great braces and muzzle brakes to mitigate as much recoil as possible, sometimes not being heavy enough can be a different issue in itself.
Closing Thoughts
Overall, the Springfield Saint Victor .308 Pistol is a great overall option for an AR-10 style pistol. You might run into a little uptick in price considering it's not actively being produced, but there shouldn't be much of a problem finding ones that gun shops stocked up on prior to its discontinuation. 
AR-10s can come in a few different calibers. Do a little background research on which might be the most economical, useful, and powerful caliber for your needs. 
The AR-10 pistol has some great options for hunting, home defense, novelty, or just a good truck gun. As a buyer, prioritize features and accessories you're looking for based on your needs, set a budget, and find your new favorite arsenal addition.
Explore more