Best Biometric Gun Safe [2023]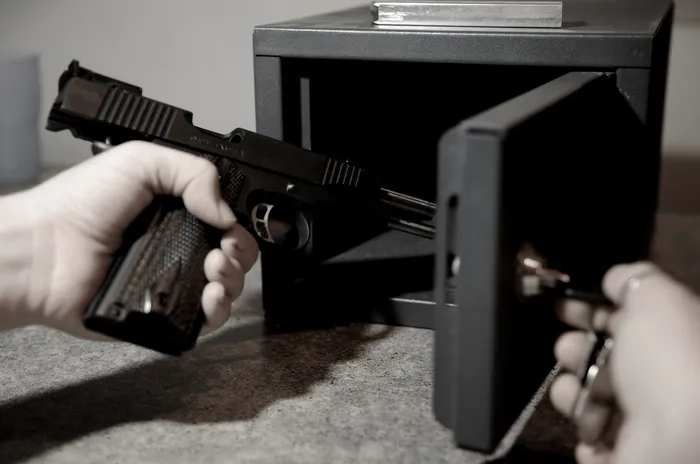 Best Biometric Gun Safe [2023]
If you're in a hurry and just want to know what the best biometric gun safe is, then I'd recommend the Awesafe Gun Safe with Biometric Lock as the best one. 
Whether you are looking for a biometric gun safe to comply with local laws, to keep your guns secure, or for the safety of your family, the choice of which one you buy should account for several factors. To help you consider them, and to make the right choice, I am going to review 5 of the best biometric gun safes available, and also pick my top choice.
In this roundup, we will be looking at some of the best biometric gun safes available on the market today
Best Biometric Gun Safes
I mentioned the desire for quick access to your gun safe and with this one from Sentrysafe, you don't just have one way to do so, you have two. 
The first is using the biometric fingerprint reader where you simply swipe your finger to quickly unlock the safe. The second can be used as a backup, or if there are no children around, and that is the keypad. The unlock code can be entered using just one hand so it's also quick.
One thing you do not want when opening your safe is a noise that will alert an intruder, therefore the fact that the two support struts use gas compression is a huge plus. This allows the safe to be opened silently and discreetly.
You are certainly buying a robust safe with this one, thanks to its steel construction, and this also gives you the option to bolt the safe down for even greater security. It also prevents someone from removing the safe from your office or home. 
While the exterior is tough, inside there is soft lining to prevent any damage to your guns. The capacity allows for one handgun with plenty of space to store some ammunition as well.
Pros
Dual opening methods
Silent and discreet opening
Can be bolted down
Solid construction
Cons
Only for a single handgun
Gun owners often have to find a balance between what they are prepared to spend on a gun and the capacity of safe that will allow them. Well, I've found a safe that provides a lot of room and at a very reasonable cost.
It's the AmazonBasics Home Keypad Safe and not only does it offer one of the best value for money options, more importantly, its capacity is a mighty 1.5 cubic feet. That is enough for at least two guns, and at a push maybe even three depending on their size. Plus, some room for ammunition too.
It has a programmable electronic keypad that is easy to set and to unlock when you want to access it, plus if for any reason it will not work, or you forget the code, there is a backup key.
This safe is made from carbon steel of the heavy-duty variety, so no one is going to be forcing it open with a crowbar. To further add to its security and robustness, the door's two locking bolts are pry-resistant, plus the hinges are concealed so they can't be used to gain access either.
Should you wish to mount this safe you can do as it comes with pre-drilled mounting bolt holes, albeit you will need to supply the bolts yourself.
Pros
Cost effective
Good capacity
Can be mounted
Heavy duty carbon steel construction
Cons
Mounting hardware not included
I took one look at this gun safe and for some reason thought of James Bond. It just looks so sleek and modern and styled like the sort of gadget he would use. Maybe it is the fact it is portable, which not every safe is, and thus you can take this with you if you travel to another part of the country.
Anyway, one thing is for sure, as with any 007-type gadget, it uses modern technology, and that is in evidence with regards to setting up and unlocking it. 
First, you have the fingerprint reader which provides you with instant access to your gun. Alternatively, you can use the four keys to set an unlock code. If all else fails, there is always the backup option of the key. 
Another modern feature I love is the interior lighting which is provided by LED lights and fills the safe with a pleasing blue light. This allows you to see inside without having to switch on any other lighting.
I mentioned that it is portable, and that should alert you to the fact that not only is it lightweight enough to carry, but its dimensions are such that it can be stored in a multitude of places, including drawers or on a bedside locker at night.
Pros
Highly portable
3 opening methods
Interior illumination
Good for tight spaces
This next biometric gun safe has a capacity to hold two guns and two ammunition clips, but that does not mean it is too big to carry. Its dimensions are 12 x 8 x 4 inches, so not only is it portable, it can also be stored just about anywhere in your home where safe to do so.
If you decide you do not need portability, but instead want it anchored, then you can accomplish this by simply screwing it to a closet shelf, inside a drawer, or to the side of your bed, using the two pre-drilled holes and two screws.
The finger scanner can be programmed with up to 100 fingerprints should the safe need to be accessed by multiple personnel. Otherwise, you can simply program this for yourself. 
There is also a four-button keypad that can be set with a four-digit code to open the safe. In the event that you need access and neither the keypad nor scanner will operate, there are two backup keys.
Inside the box, there is padding to protect your guns and ammo, plus LED lighting to make it easier to see when there is no other lighting.
Lastly, I need to mention the styling of this which I like, especially on the sides which give this gun safe a rugged look. This makes a welcome change from the typical featureless steel boxes that many gun safes look like.
Pros
Roomy yet still portable
Interior padding for protection
Interior illumination
Programmable fingerprint scanner
Cons
Could be more durable and solid
If you were to visualize the quintessential safe, then you are likely to be thinking about something that looks like this gun safe from Barska. 
Not that I am saying anything is wrong with that, because that shape, plus its dimensions mean this safe has a capacity that other safes can't match. 
You should be able to store several guns in this safe, including ammunition, not least due to its internal capacity of 1.45 square feet. It also has two removable shelves to help keep everything organized inside.
To deter thieves, it is made from fortified 14-gauge steel, has three deadbolts and even the edges are tamper-resistant. For even greater security, and to prevent any risk of it being removed, you have the option to bolt it to a fixed location.
To access the safe, you use the advanced fingerprint reader that should unlock in no more than 2.5 seconds. The speed of opening is helped by the fact that you can swipe in all directions and the scanner will still be able to read your fingerprints.
There is no keypad but there are two backup keys.
Pros
Great capacity
Extremely thief resistant
Opens quickly with fingerprints
Shelves for organization
Cons
Not portable in the least
What to look for in a Biometric Gun Safe
The whole point of a biometric safe is that you have somewhere that your handguns can be kept safely, and that only you are able to easily access them. The reason for this includes security so that anyone who decides to rob your home or office can't also get access to your firearms when they do so.
Paramount must surely be the safety of your family, and especially any children who are in the home. Sadly, many children do not know the difference between real guns and toy ones, and this has, on occasion, lead to tragic accidents.
The answer to all of these problems is a biometric safe, so let's cover what features you should be looking for when buying one and why biometric safes are highly desirable.
Size and Capacity
It will often be the case that more than one handgun is owned within a household, so the obvious thought is to look for a safe that is capable of holding two or more guns. 
Generally, the smaller cashbox-shaped safes will either hold one or two handguns and for the vast majority of gun owners, that will suffice. All you need do is double-check the dimensions against the size of your guns to ensure the safe is big enough.
For those with more than two guns or those whose single gun is too big, such as an AR pistol, then a larger safe will be required. These will be the more traditional looking safes that are larger. You will still want to check their interior dimensions versus the size of your guns.
Little or No Installation
Unless you plan to have a built-in gun safe to house an armory of guns, any biometric safe you buy will be freestanding. That doesn't mean you can't place it in a cupboard or unit, so it is discreetly hidden away. You may also have an option to bolt it in a fixed position for added security.
Setting them up takes little time too. All you need do is insert the appropriate batteries, place your finger on the reader to register your fingerprint, and it's ready to store your gun or guns. 
Ease of Access
God forbid it is ever necessary, but if there was an occasion where you needed a gun to defend you and your family, the last thing you want is to be messing about trying to open the safe. This is one of the great advantages of biometric locks because they generally only need the user to place their finger on the reader.
In this way, in a situation where you, your family or your property were in danger from an unwanted intruder, you can quickly gain access to one the greatest deterrents there will ever be for anyone who comes face to face with it, and that is your gun.
Easily Found In The Dark
Although this might not come to the fore in terms of thinking why you'd want a biometric gun safe, for me it is one of the top advantages. If you think about it, most home invasions tend to not be in the broad daylight. Instead, they work under the cover of darkness in the hope that they will not be seen or identified so easily.
That being the case, if you wake up and hear that one of these crooks is in your home, you may not wish to alert them by turning on any lights. The problem now is how do you find your gun safe. 
The answer is simple, and that is most of them have an LED light that stays lit all the time. This allows you to locate the safe in the dark, open it, and access your gun with a view to chasing off any intruder.
Child Safety
One of the most common, and most welcome of reasons for purchasing a biometric gun safe is the safety of children. There are plenty of irresponsible people who will not even store their guns in a safe place, but even those who do, might not realize that children could still access their guns. 
The reason is that while they might store them out of sight, and maybe in some kind of lockable container, children being children will on occasion find some way of opening it. 
A bunch of jingly keys seems like a toy to a child and if they see you using one of those keys to open a locked box, they may try and copy you.
The one thing they cannot copy is your fingerprint which is why a biometric gun safe is surely the safest option if you have children in your home.
Conclusion
When it comes to gun safety there can be no compromises, and I am happy to say that each one of the gun safes I reviewed provides safe, and secure storage for your guns. So, please consider buying one if you do not currently have a gun safe at home.
If I am pressed to choose what I think is the best biometric gun safe from the ones I've looked at, then I would say that the Awesafe Gun Safe with Biometric Lock takes the top spot for me.
It provides excellent gun security while at the same time a level of convenience that many gun owners will appreciate. By that, I mean the ability to store it anywhere in the home or to take it with them when traveling.
I also think it looks great and proves that even if something is primarily produced for practical and safety reasons, it can still be designed in a way that offers a great aesthetic look too.
Explore more