9 of the Best Bullpup Rifles: Buyer's Guide + Reviews [2023]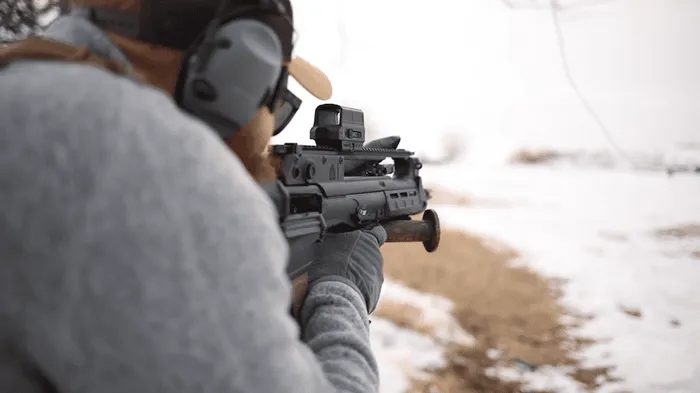 9 of the Best Bullpup Rifles: Buyer's Guide + Reviews [2023]
Bullpup rifles are one of those things that you either love or hate. I've done quite a bit of research and found some of the best bullpup rifles for almost every occasion. The name bullpup refers to how the rifle is organized. The action and trigger are located behind the trigger group, as opposed to conventional rifles, which are located forward of the trigger group.
Incredibly popular across the world in tactical and military situations, once you master shooting this style of weapon, you start feeling a little more like John Wick (no dogs were harmed in the writing of this blog).
As with conventional rifles, you can find a bullpup for just about any scenario. Some are semi-automatic, some are chambered for shotgun calibers, and some have adjustable stocks. In this article, we'll outline the best of the best, so you know exactly what to expect when looking to add a bullpup to your arsenal.
Best Bullpup Rifles to Buy

The IWI Tavor X95 is one of the more iconic bullpup rifles and is considered a modular carbine; usually, if you think of a bullpup, the IWI Tavor comes to mind. Israel Weapons Industries is known for its quality and reliability. The Tavor X95 has ambidextrous controls, multiple rifle caliber options, and some lefty options as well for extra ergonomic comfort. This bad boy is chambered in .300 BLK, 5.56 NATO, and 9mm parabellum.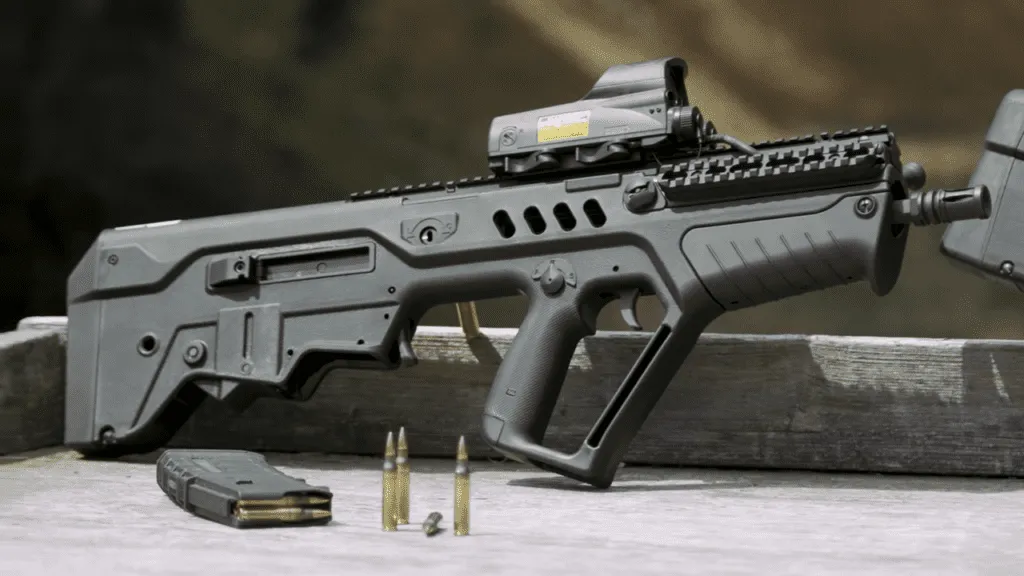 With a standard 30-round capacity, this firearm can perform well, from hunting feral hogs to a competitive shooting match.
About ten years ago, the Tavor X95 replaced the M4 and the M16 within the Israeli military. With minimal recoil and exceptional accuracy inside the 300-yard mark, it's no wonder this rifle is a great choice for a bullpup.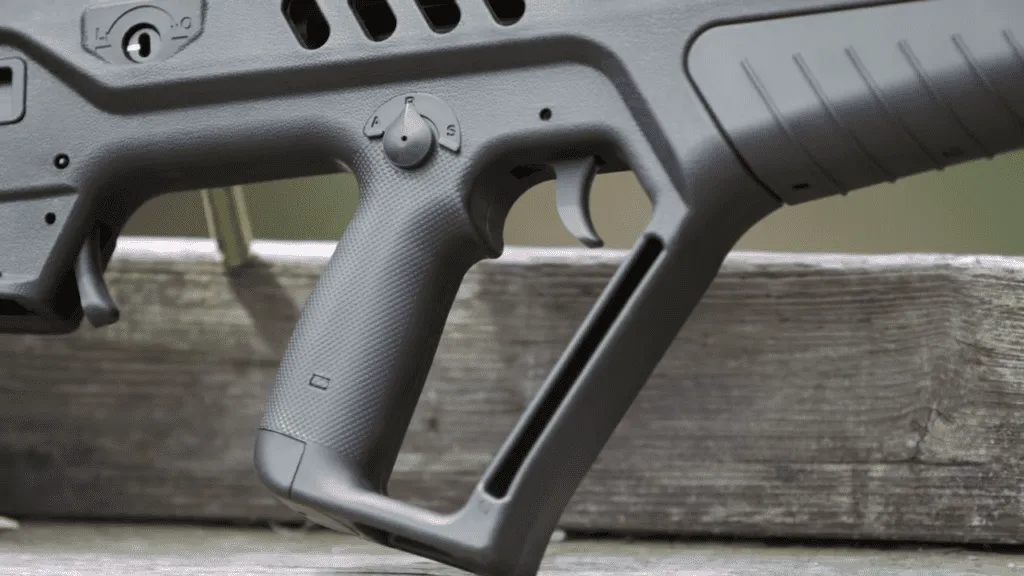 Recoil is almost nil with this rifle in the 5.56 NATO and 9mm versions. The .300 Blackout will naturally have a bit of a kick, but nothing too uncomfortable.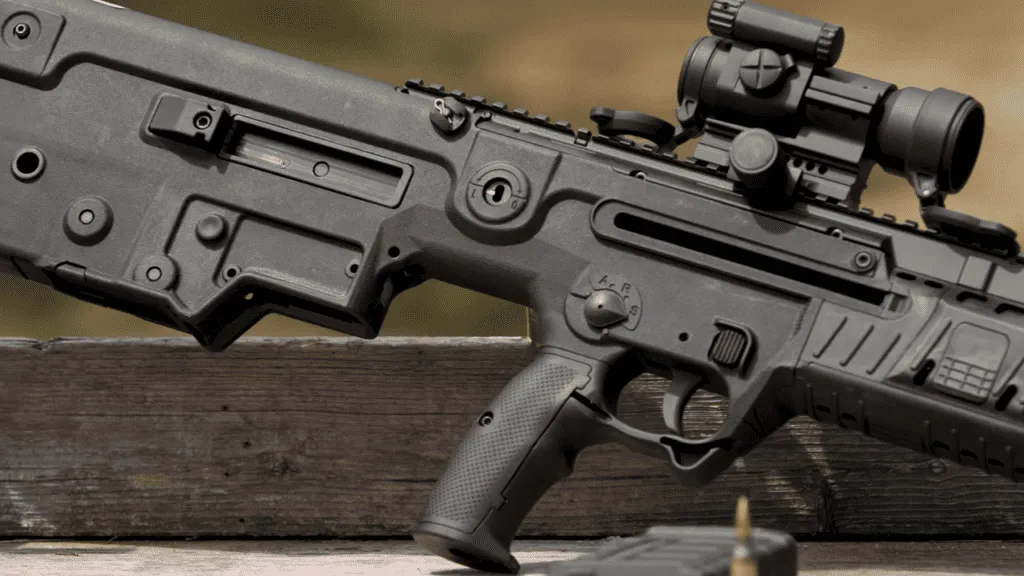 While the X95 has ambidextrous controls, it isn't an ambidextrous gun. Bullpups are compact and set up differently than a conventional rifle, and the extractor is usually much nearer the face. If you're a lefty, make sure you intentionally purchase the left-handed model.
Pros
Ambidextrous controls
Barrel conversion kits are available
A very accepting platform for multiple brands of magazines
Little to no recoil
Cons
Best suited for close-quarter engagement
Learning curve to shoot accurately
Magazines may only free fall part of the time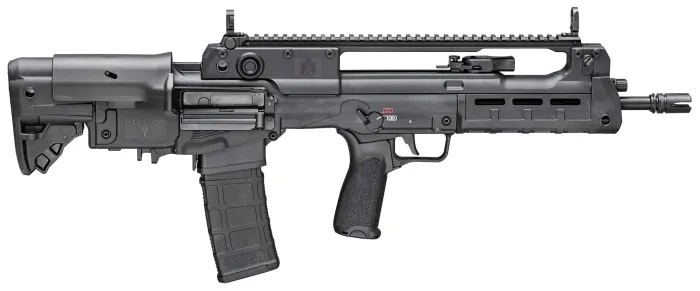 The Springfield Armory Hellion is an impressive tactical bullpup rifle chambered in 5.56 NATO with a short-stroke adjustable gas system. It's fully ambidextrous, and besides changing the ejection port, you don't have to do much else – a plus for left-handed shooters that may be too used to casings grazing their face. 
The Hellion is a pretty neat piece. The QD mounts at multiple angles are a plus, as is the adjustable stock (and length of pull). Bullpups are awkward by nature; by having an adjustable stock, you can adjust your length of pull to fit your size wingspan and make it as comfortable as possible.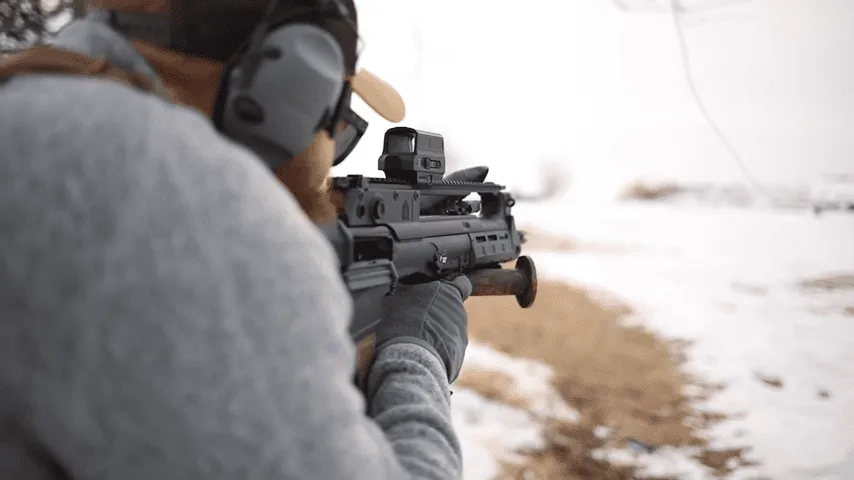 There have been some small issues with the Hellion's trigger-no malfunctions, but more regarding feel. Naturally, bullpups won't have as crisp a trigger as a familiar AR platform, but Springfield has a little more sponge to their trigger than some people would like.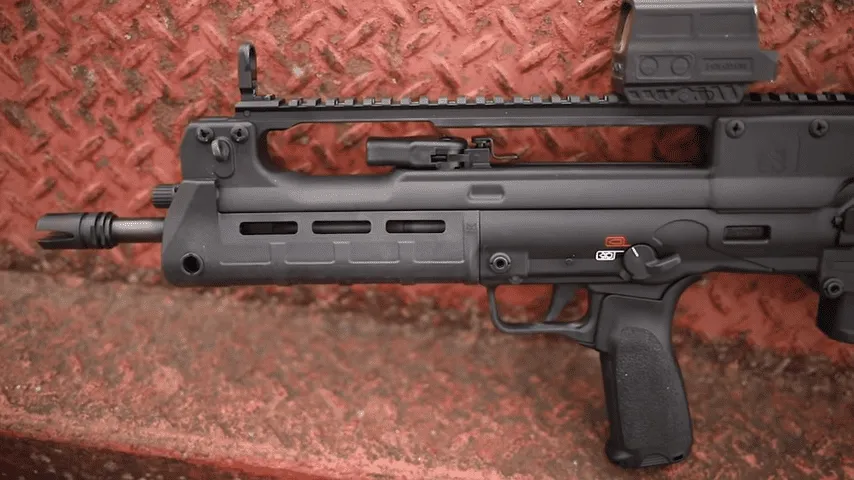 Other features Springfield added were a polymer cheek riser, Picatinny top rail, and an M-Lok hand guard. The factory optics are flip-up and adjustable for windage and elevation. A hammer-forged barrel with a 1:7 twist and proprietary melonite bolt carrier group are also some details that speak to Springfield's high-quality standards.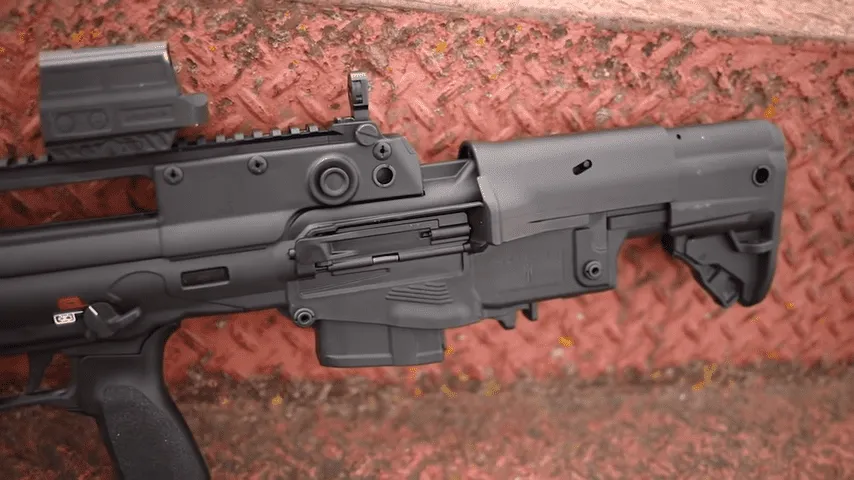 The Hellion platform is based on the VHS-2 bullpup, used with the Croatian armed forces. The rugged durability and dependability shine through in the Hellion as it does in the VHS-2.
Pros
Fully ambidextrous
Five-position adjustable stock
Suppressor compatible
The magazine well takes all AR magazines
Cons
Magazines may not free fall and may need stripping
The trigger could be crisper, and it can get spongy in the second stage breakover
The classic Steyr AUG bullpup is the most recognizable bullpup rifle and one of the oldest. The AUG was adopted in 1977 by the Austrian military and has performed well in mountains and extreme cold. The A3 M1 is the civilian version of the fully automatic military Steyr AUG. 
The AUG A3 M1 is chambered in 5.56 NATO. It has an oversized trigger guard and push safety catch, which are unique but serve a practical purpose, and it even comes in white.
This rifle was originally built for cold-weather tactical scenarios. What do people wear in cold weather? Gloves. This rifle can be operated in cumbersome gloves effectively and efficiently thanks to those oversized and seemingly backward operating pieces.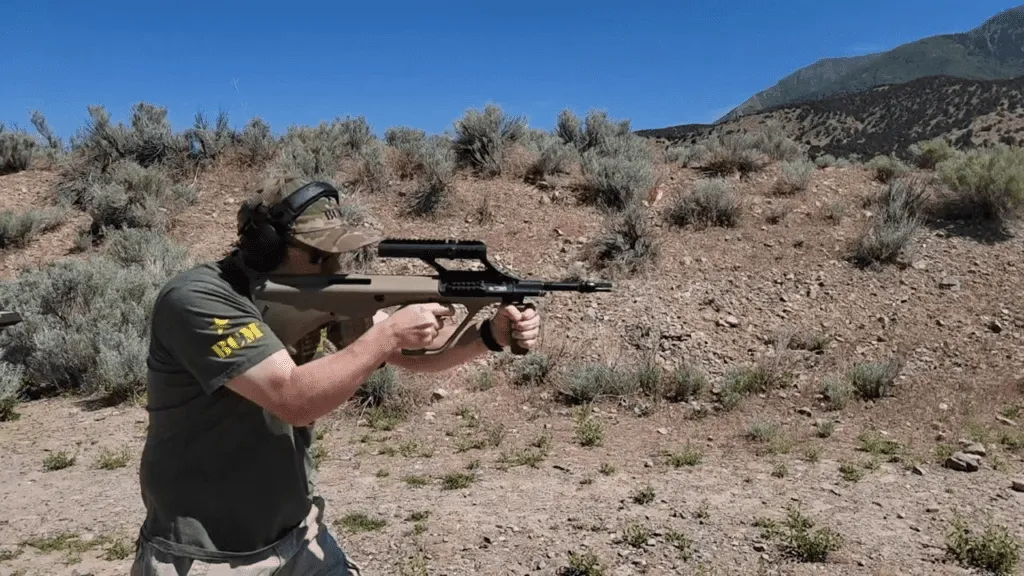 A three-stage adjustable gas block allows you to fire suppressed or just with the factory flash hider, and you can choose between a short Picatinny rail, full-length Picatinny rail, or high rail. 
Removing the barrel on this gun is insanely easy; bring back the charging handle, push a small button to the side right at the back of the forward handgrip, and rotate it out. You might need to break it down for easier transport, or maybe you're preparing for a possible .300 BLK barrel conversion (rumors are that Steyr may release one).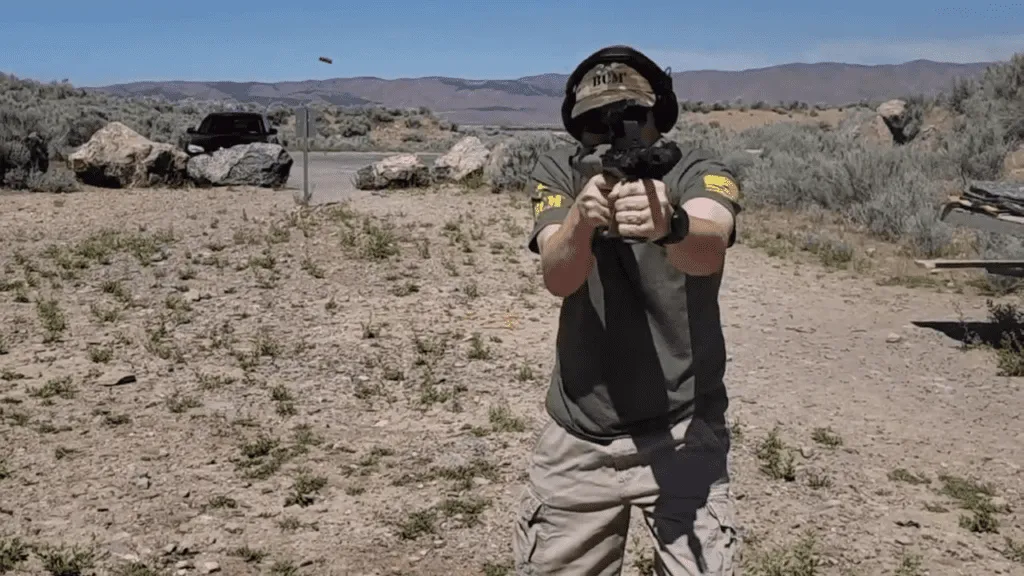 The trigger control pack is mostly polymer, and while this saves some weight, some people may have some qualms with a polymer hammer. The mag release is also set behind the magazine, which is a little atypical of modern rifles and may take some practice to get used to.
Unfortunately, Steyr's stock design of the A3 M1 only allows Steyr magazine use. If you get the NATO configuration, any AR-15 magazine will do, but you have to give up the external bolt catch/release.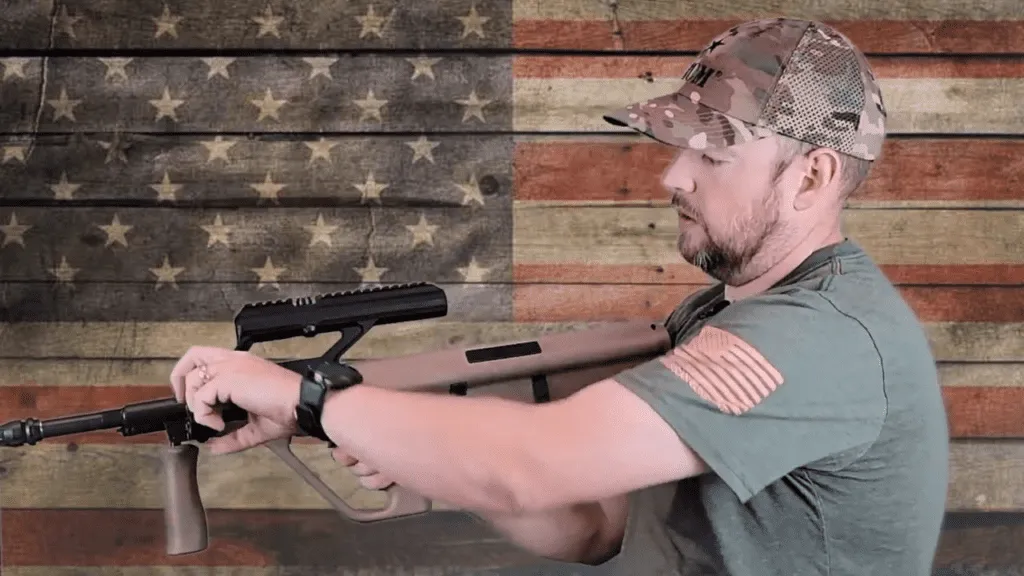 Overall the Steyr AUG A3 M1 is a great tactical piece of equipment that has stood the test of time decade after decade. While this may not be the most newbie-friendly platform, once you learn how to use this rifle, you can plan on getting some major cool points.
Pros
The quick-change barrel is impressively easy
Time tried, tested, and true
Designed to be easy to operate while wearing cold-weather gear
Cons
Polymer trigger control pack minus the springs
No adjustable length of pull via the stock
The gas port is just above the support handgrip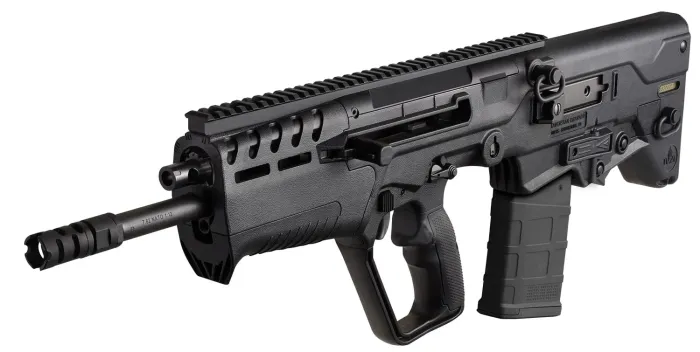 IWI rears its head again with the Tavor 7; their bullpup chambered in .308 win/7.62 NATO. There's a lot of following for this particular round, especially considering its versatility. While you might not think of hunting with this particular bullpup, it has enough mass it wouldn't be out of the question.
The Tavor 7 is unique in that it uses an adjustable long-stroke gas-piston system. This helps dampen the recoil from the heavier .308 round. Deadly accurate and designed to be a game changer in close combat, this semi-auto bullpup is no stranger to tactical applications.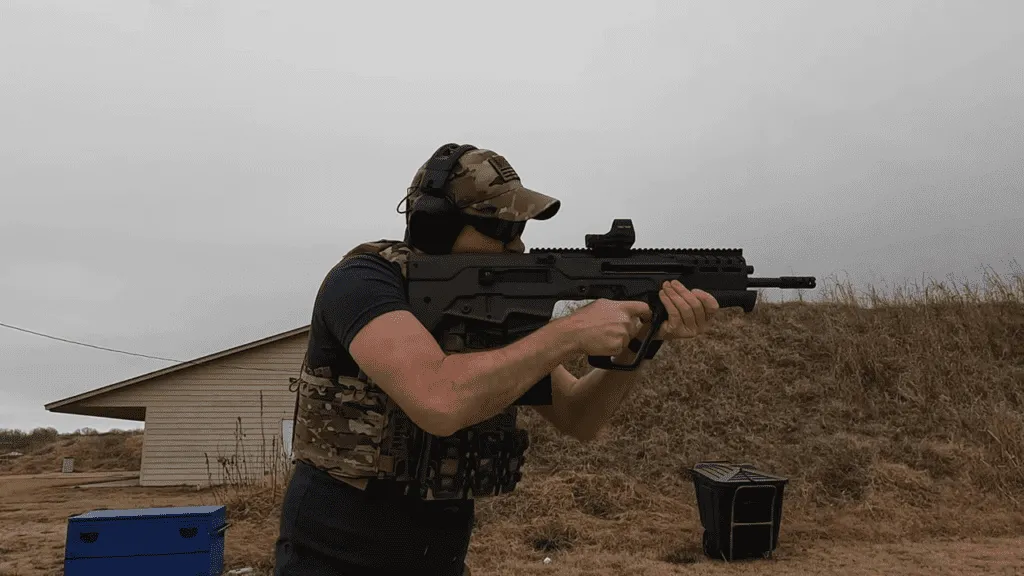 The Tavor 7 can fire suppressed or with just the standard flash hider and features a Picatinny top rail and a hidden Picatinny bottom rail covered by a polymer hand guard. This can be removed, and you can add whatever foregrip you prefer. The Tavor 7 also has an M-Lok forend, allowing even more customization.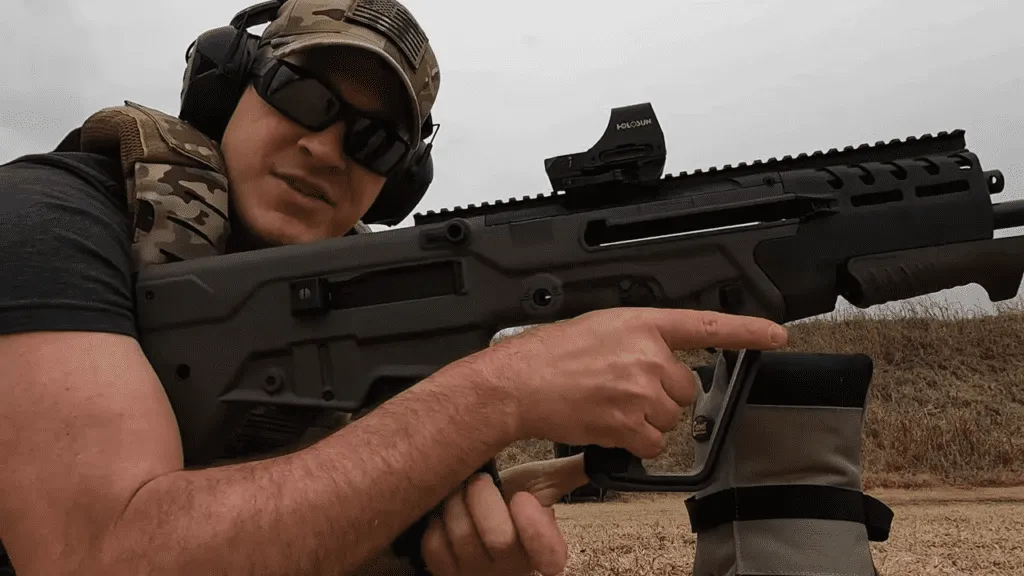 This bullpup rifle is ambidextrous, but you must switch the ejection ports and charging handles. Like most bullpup rifles, the trigger can leave something to be desired; the biggest mistake is trying to stage it. This 6-pound break does best when treated like a double-action type trigger pull.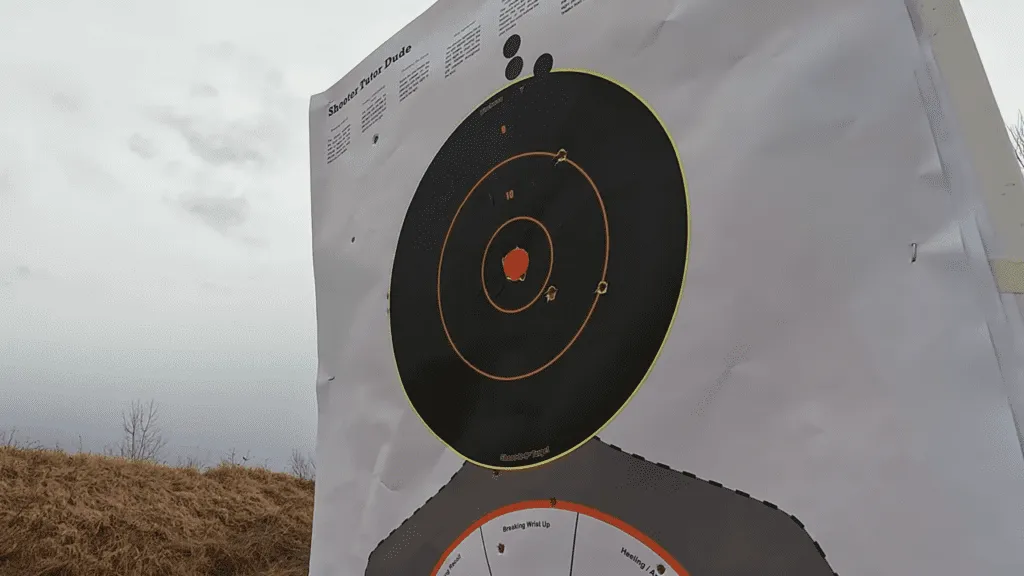 The chrome-lined, hammer-forged, 1:12 twist rate barrel is exceptionally reliable and easy to maintain. The Tavor 7's barrel length is average at 16.5 inches, and you can find 10, 20, or 25-round magazines.
Pros
Very reliable
Adjustable gas block
Light recoil considering the caliber
Cons
Doesn't like cheaper steel ammunition
No factory iron sights like with the Tavor X95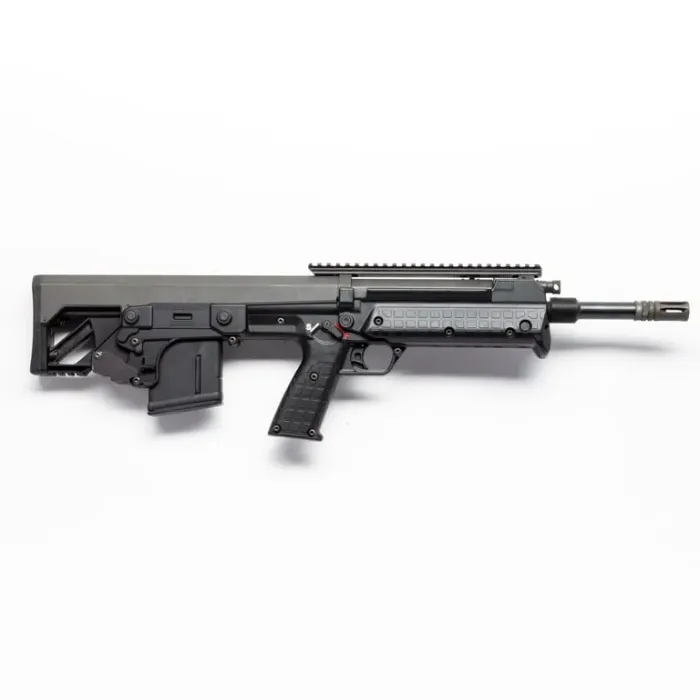 Kel Tec is known to have some unconventional rifle designs, and the RFB is no exception. This bullpup design actually ejects spent casings toward the front of the gun. Kel Tec wanted to try and eliminate the issue of having to switch over ejection ports to make a bullpup rifle ambidextrous, and a forward ejection system is what they came up with.
Kel Tec has two variations of the RFB, one with a shorter barrel for tactical or range scenarios and the RFB Hunter with a 24-inch barrel length.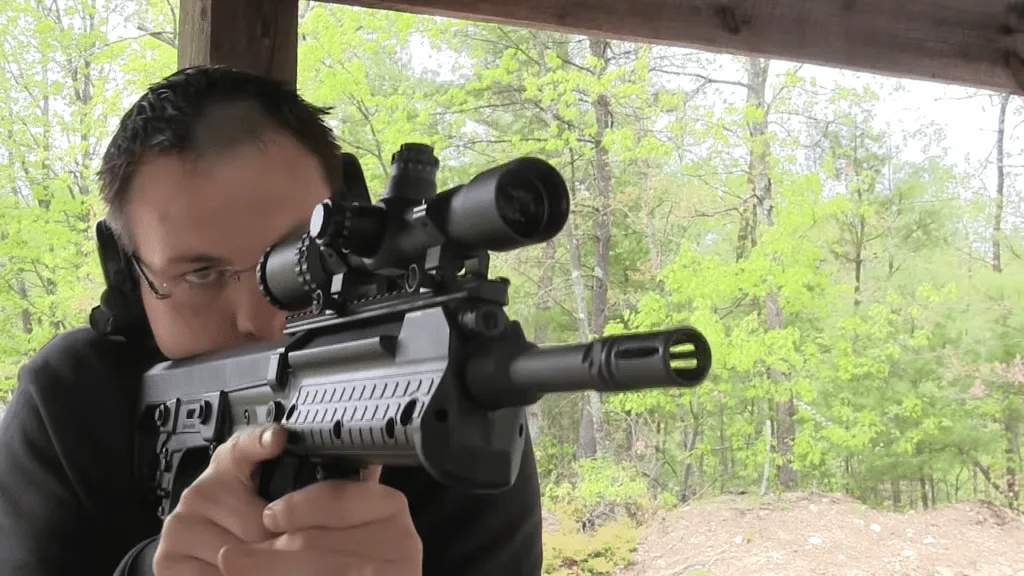 Chambered in .308/7.62 NATO, the RFB hunter is designed and marketed for hunting larger game like elk, deer, and hogs. The longer barrel helps in the accuracy department, but you'll still need to spend a bit of time choosing the right optic to get a tight 100-yard grouping before you take it to the woods.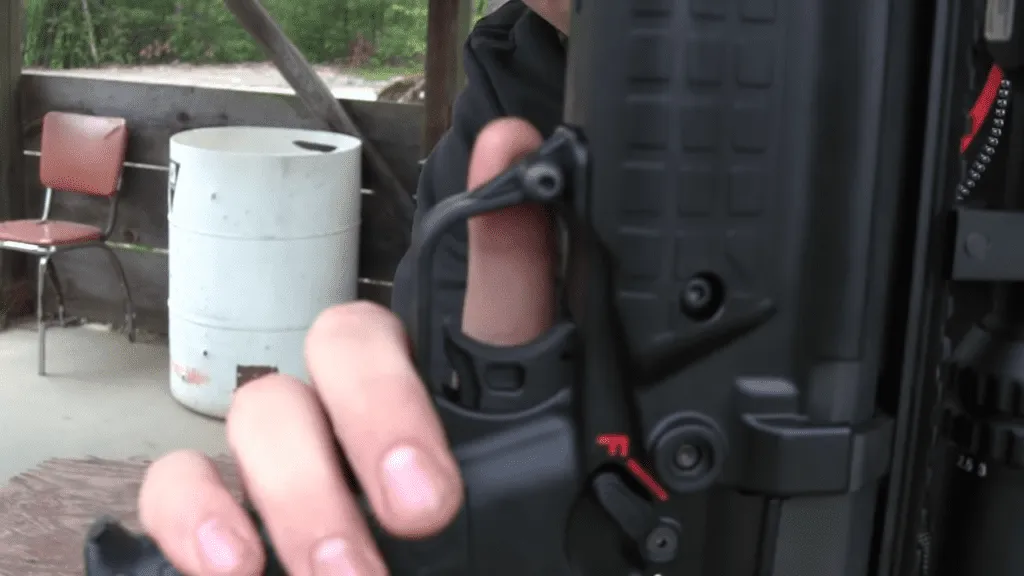 Experiencing failure to eject malfunctions are part of the deal with this particular gun. Instead of ejecting left or right, the spent casing has to travel up a separate tube to eject toward the front of the gun.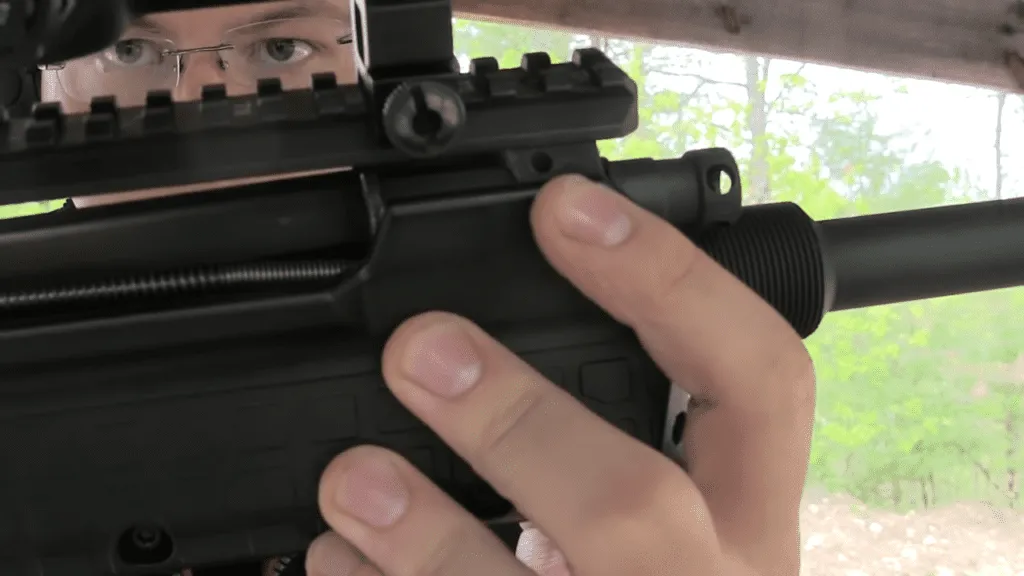 While, in theory, this is great, more moving parts mean more opportunities for failure. This generally is more of a concern in rapid fire or enemy engagement scenarios but can still be a thorn in the side in general firearm use.
Pros
Forward ejection of spent casings
Relatively affordable
Cool "space gun" factor
Cons
Failure to eject is fairly common with this ejection port style
Accuracy without after-market optics is sub-par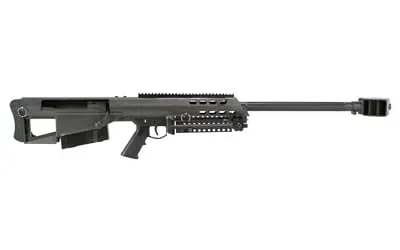 In terms of bullpup firearms, you may not think of sniper rifles. Think again and meet the Barret Model 95, chambered in .50 BMG for anti-material capability over long distances. This may be the best bullpup rifle for mile-long shooting on the market.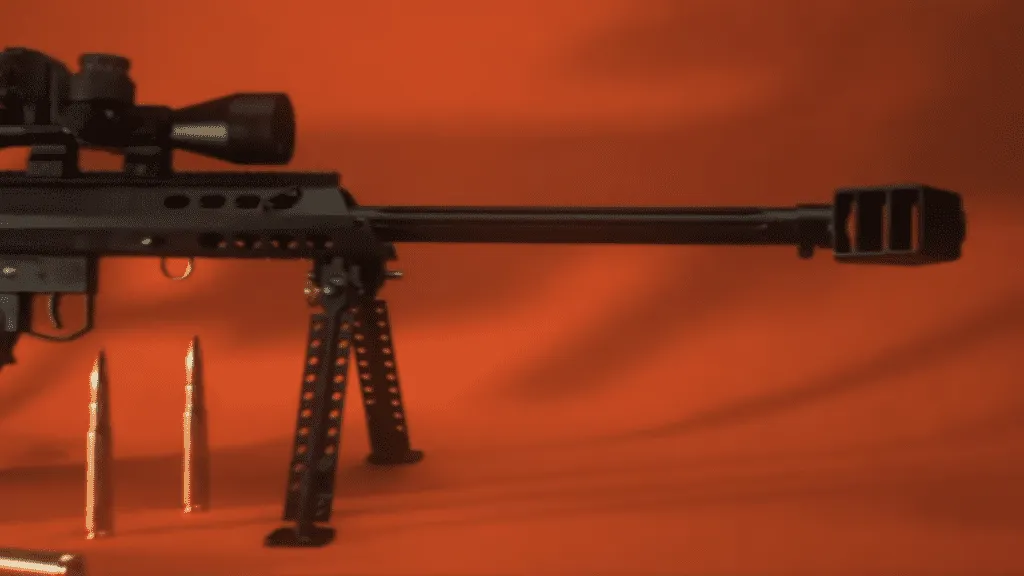 Barrett's quality speaks for itself, and the fact they have a long-range gun in a bullpup design chambered in .50 BMG is notable. You won't be hunting with this, but if you ever need to shoot through an engine block, you'd be well advised to have one of these handy.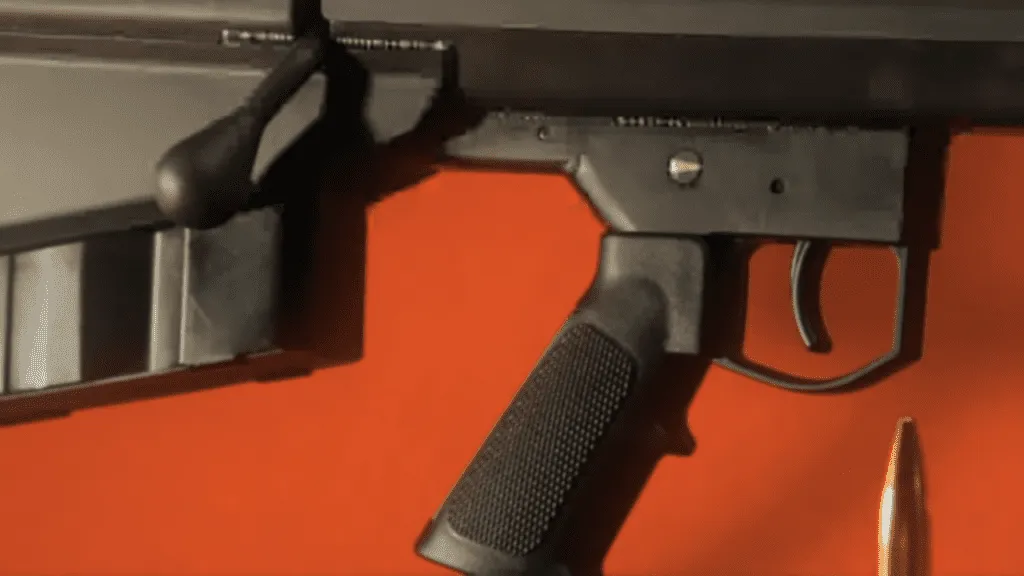 This puppy is a magazine-fed bolt-action repeater and chambered for anti-material rounds. Designed to shoot through light armor at 2,000 yards, this almost 30-pound (with an optic) rifle is designed for slow, precise shots over long distances. Great for sniping, bad for close combat engagement or home defense.
The 1:15 twist rate and chrome-lined, steel-fluted barrel tops out at 29 inches long. A three-port muzzle brake is highly efficient at mitigating flashback. Recoil is still significant for this bullpup, which is to be expected chambered for such a heavy-hitting round.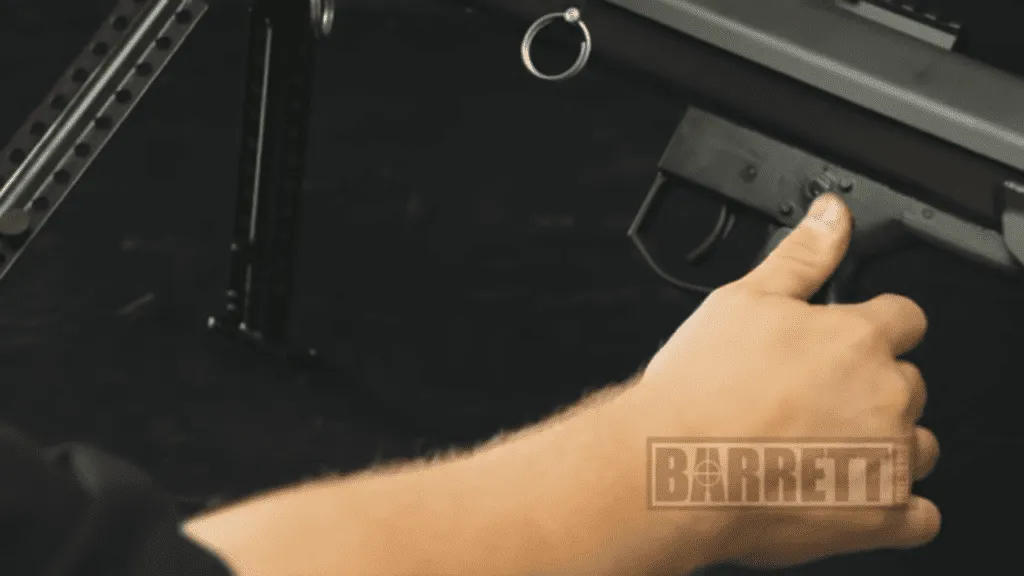 The Barrett Model 95 has a bipod installed, and the rear grip is monopod compatible. This bullpup rifle has a maximum range of 7,400 yards. If you want to try and shoot things a mile away, get some training in compensating for the Coriolis Effect. This bullpup probably isn't something most people are taking to the max for just a fun day on the range.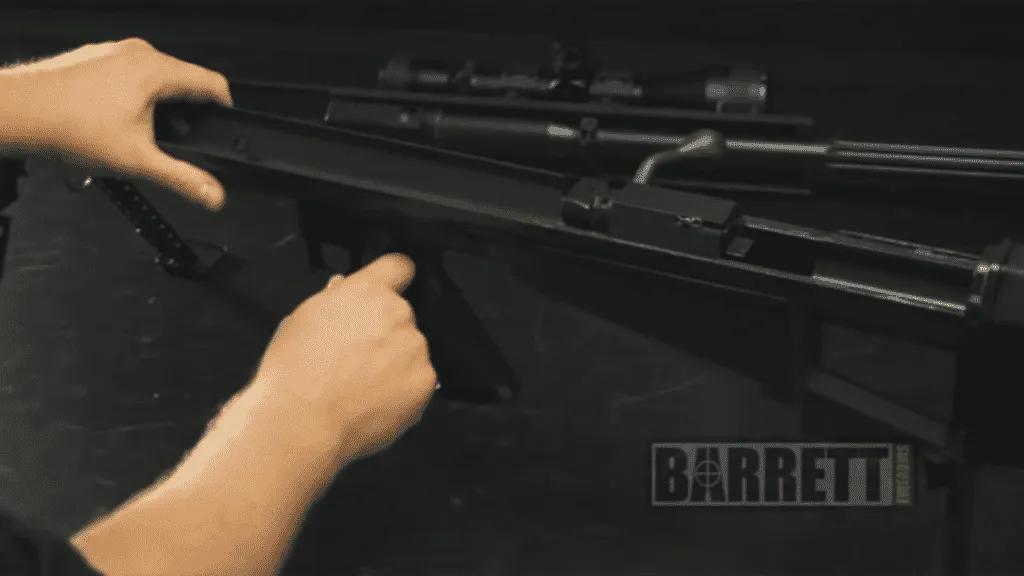 While not for the everyday shooter, this is by far the best long-distance bullpup rifle on the market, and its cost definitely reflects that.
Pros
Anti-material caliber
Superior Barrett quality
Bolt action, magazine fed
Cons
Not for everyday or rapid-fire scenarios
.50 BMG has a lot of concussive blowback
Expensive
Heavy

Desert Tech isn't necessarily a new kid on the block, but in years past, they went through some rebranding and a name change (from Desert Tactical Arms). The MDRX is a unique bullpup configuration available in multiple rifle calibers fit for the ultimate personal defense or truck gun. 
Currently, you can get barrel conversion kits for .223 Wylde, .308 Win, .300 blackout, and 6.5 Creedmoor. These conversion kits can also let you change the barrel length. The Desert Tech MDRX 16-inch barrel length has conversion kits for .223 Wylde, .308 Win, or .300 blackout, and 20-inch barrel length conversion kits for .223 Wylde, .308 Win, or 6.5 Creedmoor.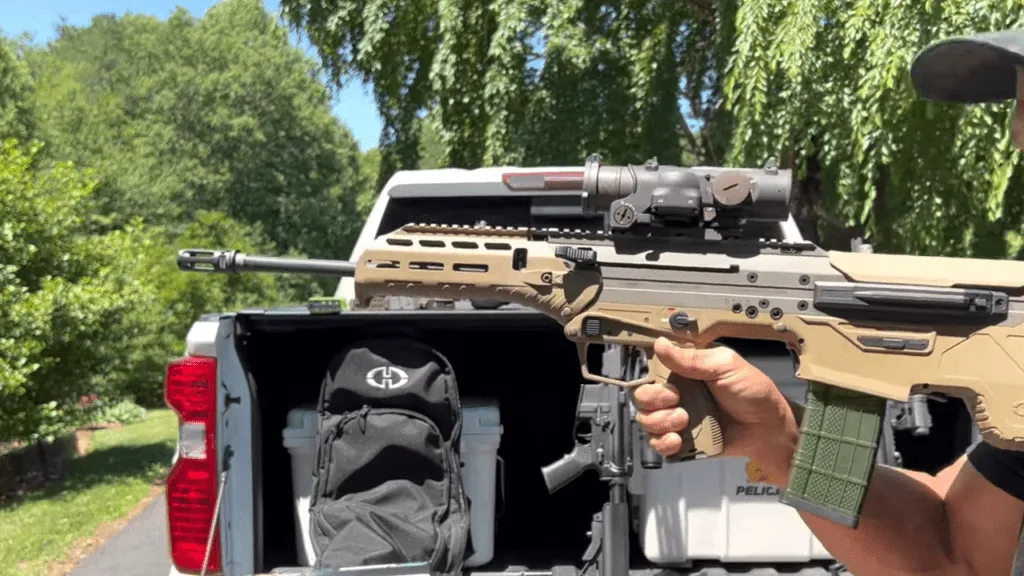 The MDRX has an ambidextrous magazine release, and a choice of side or forward ejecting ports is a plus. The side ejection ports can be converted to left or right ejecting and reduce the gun's weight by about half a pound compared to the forward ejecting configuration.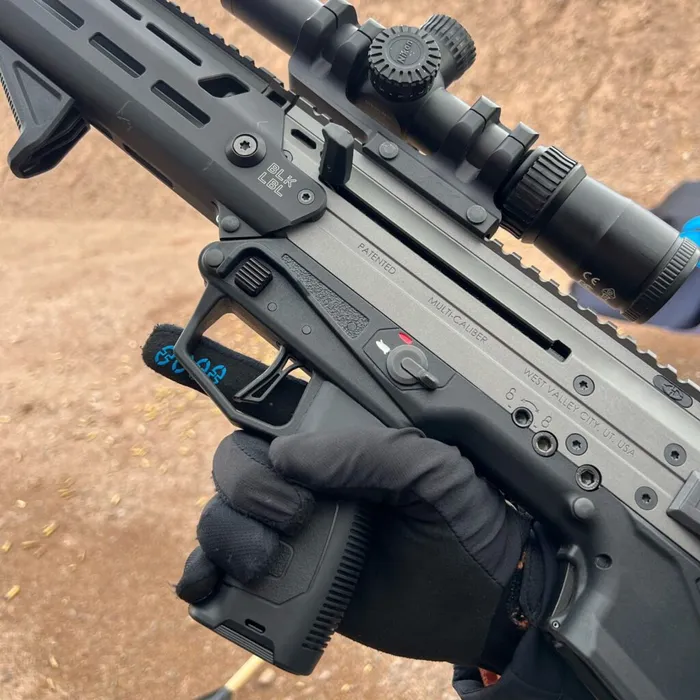 This bullpup rifle does tend to run hot after a bit of steady fire but does feature an adjustable gas system and the capability of running suppressed. This rifle has a Picatinny rail for optic mounting and is generally accurate to 1-2 MOA at 100–yards. This could easily be a 1,000-yard rifle with the right optics. 
Check out our Desert Tech MDRX review for more info.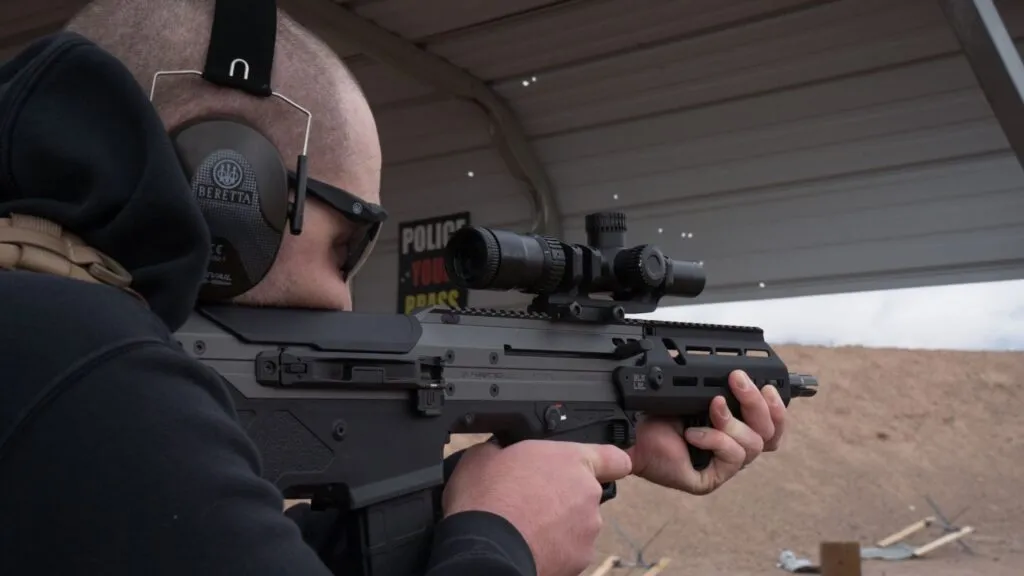 Pros
Multiple calibers available
Choice of forward or side ejection systems
Reliable, well balanced
Cons
On the heavy side
It gets hot after a few hundred rounds of steady fire
Sometimes the trigger linkage can hang up
The ADS is an oddball if you've ever seen one. Russia has developed and issued an amphibious assault rifle to its special forces; originally designed for combat divers, this rifle takes special underwater ammunition, has a 700 round per second maximum firing rate, and can hit a target up to 25 meters underwater.
This rifle is not available to civilians for obvious reasons, but it's one of the coolest to talk about. This rifle is chambered for 5.45 x 39mm PSP and 5.45 x 39mm M74 cartridges. The M74 is designed for land use. The PSP is for underwater use. It takes standard Kalashnikov magazines, and its ejection system expels spent casings forward and up.
This particular bullpup rifle configuration can also launch grenades up to 400 meters. This is nothing like a traditional rifle and isn't even available on the market to civilians or much outside of the United States.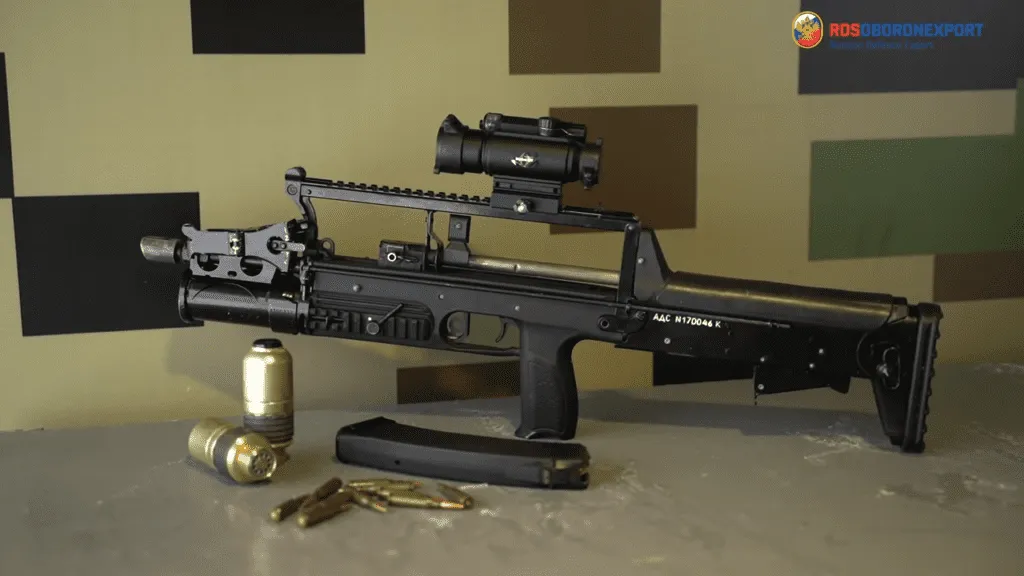 This bullpup rifle has other typical features such as optic rails and standard iron sights but has a less-frequently-seen carrying handle. Similar to the Steyr AUG, the trigger ring is oversized and designed to be used by someone wearing thicker gloves (in the cold or with a wetsuit).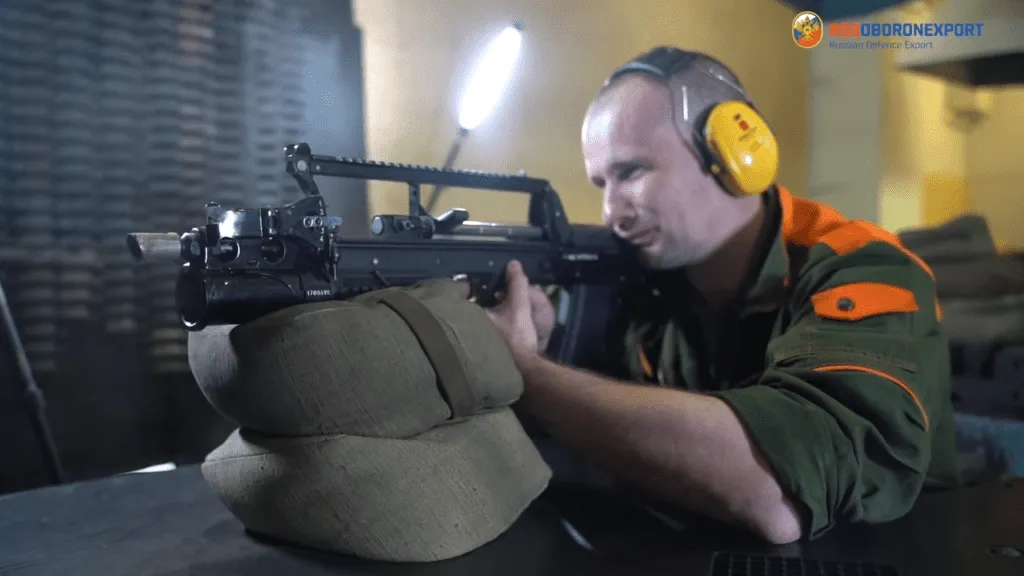 While this isn't a practical or accessible option for putting in your basement gun safe, the technology behind this kind of bullpup rifle is nothing short of cutting-edge.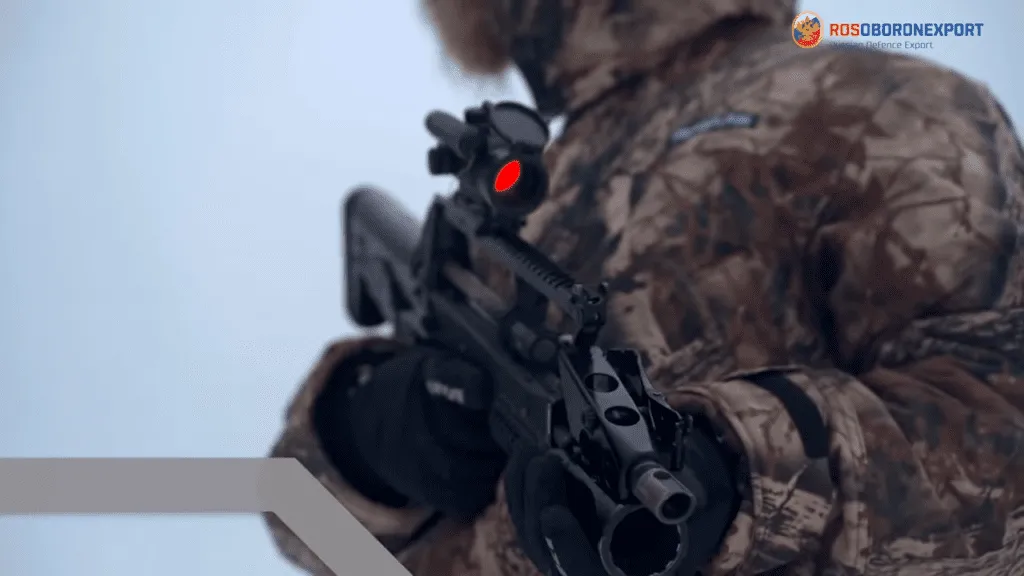 Pros
Amphibious
Grenade launcher
Suppressor compatible
Cons
Russian special forces exclusive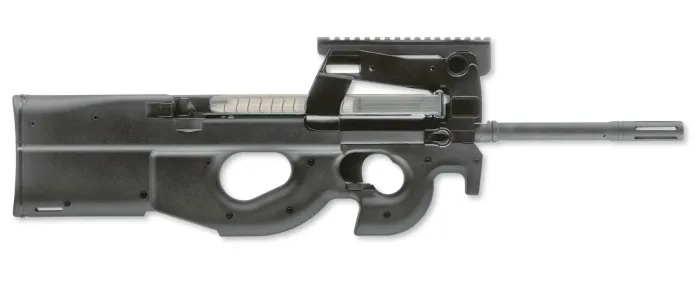 If you ever spent time with a Nintendo 64, you may have come across the game Golden Eye (cue James Bond idle music). This gun has a unique look and I would describe it as compact more than anything. 
This gun has almost no recoil with okay groups in close range. One of the most noticeable features of this gun is the fact the magazine loads from the top of the gun. It's a good thing they make this magazine hold 30-50 rounds because it tends to be time-consuming and difficult to reload.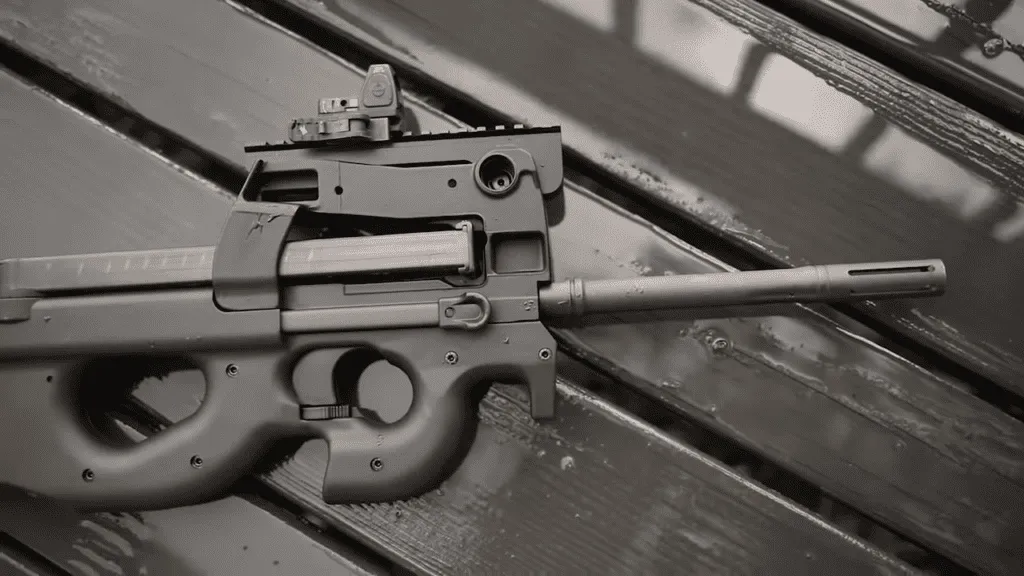 The PS90 comes with an optics rail, but as with most bullpups, you will have a learning curve and will probably shoot 3-4 inches low at first. The FN PS90 is chambered in 5.57 x 28mm, which is great for close-quarters engagement but not the most powerful round on the market in a rifle.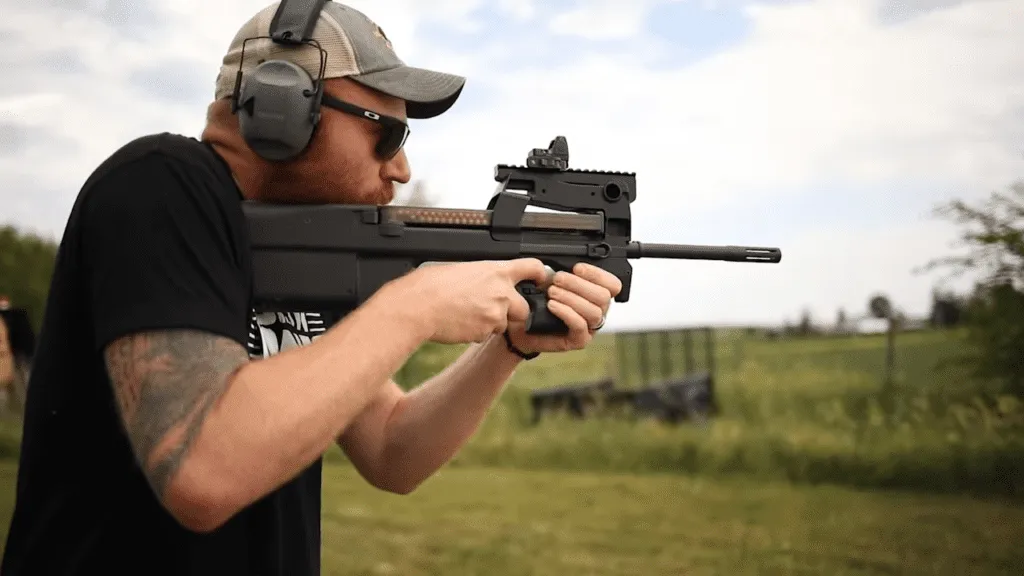 The overall length is 26 inches, with a run-of-the-bullpup-mill 16-inch barrel and weighing about six pounds. The thumbhole stock can be a deterrent for some, but for a novelty addition to an arsenal, you can't get more iconic.
We actually were so intrigued, that we did a full PS90 review.
Pros
Extremely compact
Very lightweight
50 round magazines
Cons
Magazines are hard to load
Ergonomics can be improved
Buyer's Guide
I highly recommend trying out a few different bullpup rifles before committing to a purchase. Find a knowledgeable colleague or local gun store that's familiar and well-versed in this kind of rifle.
As always, appropriate ear protection and eye protection always come first. If you want to dabble in the world of electronic ear protection, check out our recommendations here. 
For those that might be looking into bullpup rifles with a higher capacity, a great ammunition box makes a difference. Please don't carry your rounds in a backpack.
Purpose
As with most gun purchases, figure out what you want to do with your bullpup first. Many of these rifles are chambered for 5.56, which is a pretty light round to use for hunting. If you're doing a lot of shooting in the snow or with heavy gloves on, consider the size of your trigger guard and mechanisms of operation.
If you want something reliable and great for a day on the range, 5.56 will get the job done, but maybe you prefer the nice kick of a 7.62 NATO round more.
Do you want to be able to fire suppressed or play around with ammunition? I recommend looking into a rifle with an adjustable gas system.
Righty or Lefty?
The age-old difficulty of finding a gun that is comfortable to shoot left-handed dominant is even more prominent with bullpups. Most lefties compensate for this with a slightly different arm position on some models; regardless, getting hit in the face with a spent casing is no fun.
A few bullpup rifles either come in a left-side ejection port or need a simple swap-over. Some try to bypass this all together with having a forward-propelling ejection system, but these are a little more notorious for malfunctions.
Accessories
Accessories are important to a degree, depending on your preference. If you want a plain-jane, no-fuss ready-to-go out-of-the-box bullpup rifle, make sure it has some iron sights, ideally adjustable ones, so that you have a little something to play with.
Picatinny rails or M-Lok hand guards add an extra element of customization. There are some great optics options out there, from thermal to magnification.
M-Lok handrails are especially useful for adding a foregrip (if this isn't already installed from the factory).
Caliber
Choosing a caliber of bullpup ties into what purpose it will serve. When considering what bullpup you want to purchase, sometimes caliber will make or break a choice. Your budget also ties into this aspect; some ammunition is cheaper or more expensive than others.
Most people won't need an anti-material round (no matter how fun it is to shoot) for just a normal day at the range. 5.56 NATO is easily found outside of times of production shortage, as is .308 Winchester. 
7.62 NATO can sometimes be a little more difficult to find, and if you think you can swap it out for the .308, stop and check your owner's manual. Most modern chambers for .308 win/7.62 NATO are interchangeable, but your manufacturer will be able to tell you for sure yes or no.
.300 Blackout is a harder-hitting bullet, and 6.5 Creedmoor flies slightly farther than a 7.62 NATO. If you like either of these rounds, you'll have a very pared-down list of bullpup rifles that are chambered for them because they aren't as common in the market right now.
Closing Thoughts
Bullpup rifles cause some division in the gun community. Some love them, and some love to hate them. They're compact rifles with a space-age feel compared to traditional rifles. I still think the IWI Tavor X95 is the best bullpup for an all-around dependable bullpup.
Modern bullpup rifles and the bullpup market, in general, are getting better and better as the years go on, and the bullpup design is steadily becoming more popular among new and experienced shooters.
Once you get past the initial awkwardness of having the magazine and other components behind the trigger, these rifles are a unique and effective tool—a small package with the same length barrel as a conventional rifle, with more maneuverability.
Add a bullpup rifle to your arsenal and have something unique enough to show off while still accomplishing some serious firearms tasks.
Explore more