Best Concealed Carry Purse: Style, Function, and Security in One Place
Best Concealed Carry Purse: Style, Function, and Security in One Place
Introduction
Whether you're a seasoned shooter or just starting your firearm journey, choosing the right concealed carry option is no joke. You want style, comfort, and most importantly, safety.
To help you find a concealed carry purse that meets all those requirements, we've scoured the market, combined practical experience with expert insights, and rigorously tested various options to curate a lineup that blends fashion seamlessly with functionality.
While off-body carry isn't my favorite carry method, I have resorted to concealed carry purses on numerous occasions when my clothing prevented my preferred carry options. Between those experiences and having looked over countless concealed carry purses over my years in the firearm industry, I've developed opinions on what constitutes a good concealed carry purse. I'll share them and more with you today.
In this guide, we'll dive into each product's specifications, features, pros and cons, and more. We'll provide an unbiased analysis to help you make an informed choice.
So, we've got your back whether you aim to be discreet or showcase your self-assured style.
Best Concealed Carry Purse & Recommendations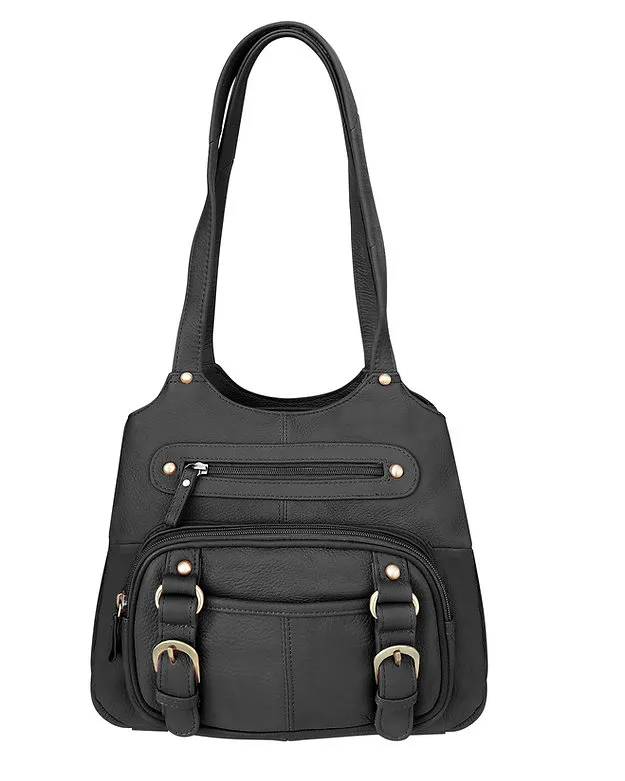 Specifications
| | |
| --- | --- |
| Dimensions | 12″ x 10″ x 5″ |
| Material | Genuine leather |
| Color Options | Black, Dark Brown, Grey, Light Brown, and Purple |
Pros & Cons
Pros
Plenty of compartments and ample storage space

Reliable locking mechanism

Timeless, versatile design

Comes in several color choices
Cons
Slightly heavier than some options due to the genuine leather

Some of the pockets aren't very large

Large size may be too bulky for some users
When it comes to the pinnacle of concealed carry purses, the Roma Leathers Leather Locking Concealment Purse steals the show. This purse embodies the ideal blend of style, security, and functionality, making it the best overall choice for discerning individuals who refuse to compromise.
With a spacious interior and intelligently designed compartments, this purse accommodates your firearm and everyday essentials. The reliable locking mechanism adds an extra layer of confidence, ensuring your weapon remains accessible only to you.
Crafted from genuine leather, this purse exudes timeless elegance while maintaining a discreet profile. The classic design makes it a versatile companion for various occasions. Whether you're heading to the office or enjoying a night out, this purse complements your look without drawing attention to its concealed carry feature.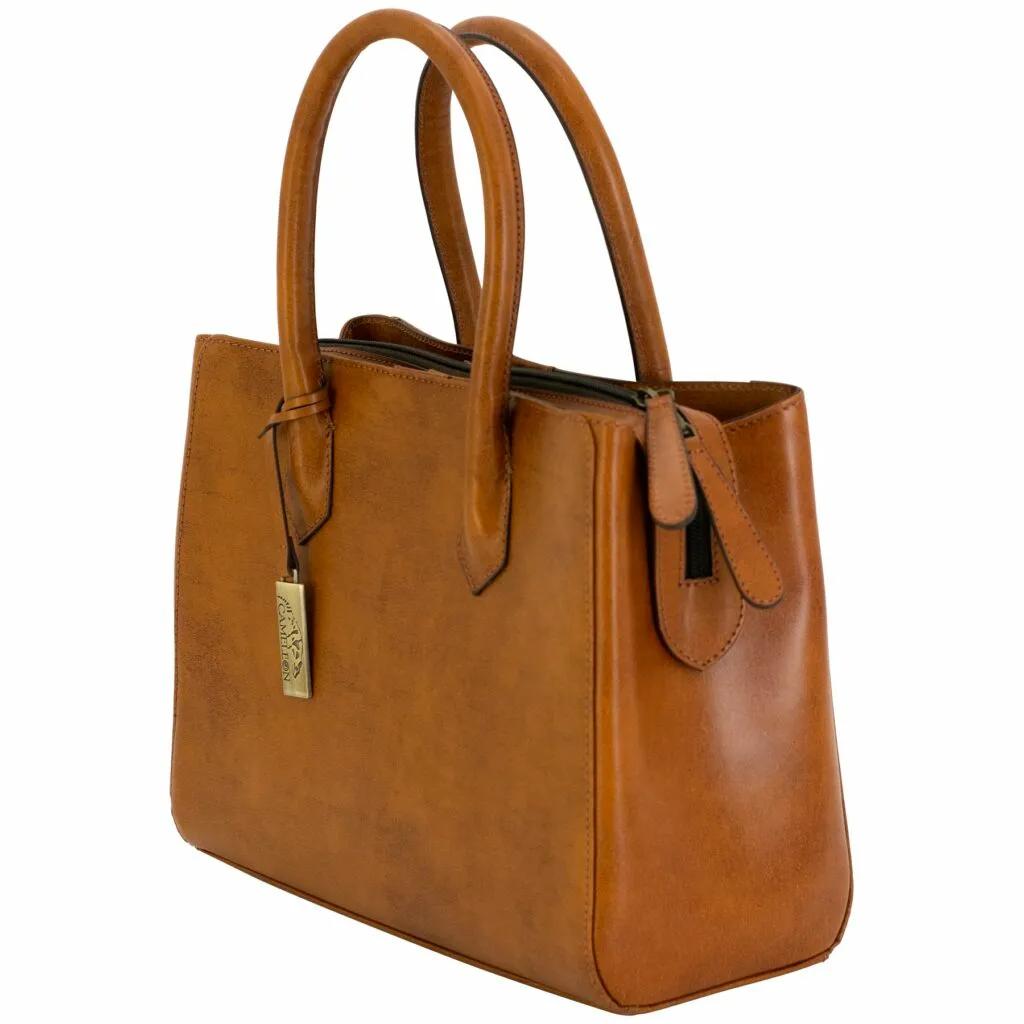 Specifications
| | |
| --- | --- |
| Dimensions | 9.5″ x 12.75″ x 5.75″ |
| CCW Compartment | 9″ x 10.5″ |
| Handle Fit | 5″ |
| Adjustable Strap | Min 33″ – Max 60″ |
| Colors | Two-Toned Tan, Classic Black |
Pros & Cons
Pros
High-quality leather.
Discreet holster pocket.
Structured shape.
Versatile carrying options.
Roomy interior.
Cons
Pricier than other options in this article
The Natalie concealed carry handbag sets a new standard for combining fashion and function. Designed in collaboration with Cameleon Bags, this purse offers the modern woman a perfect blend of elegance and practicality.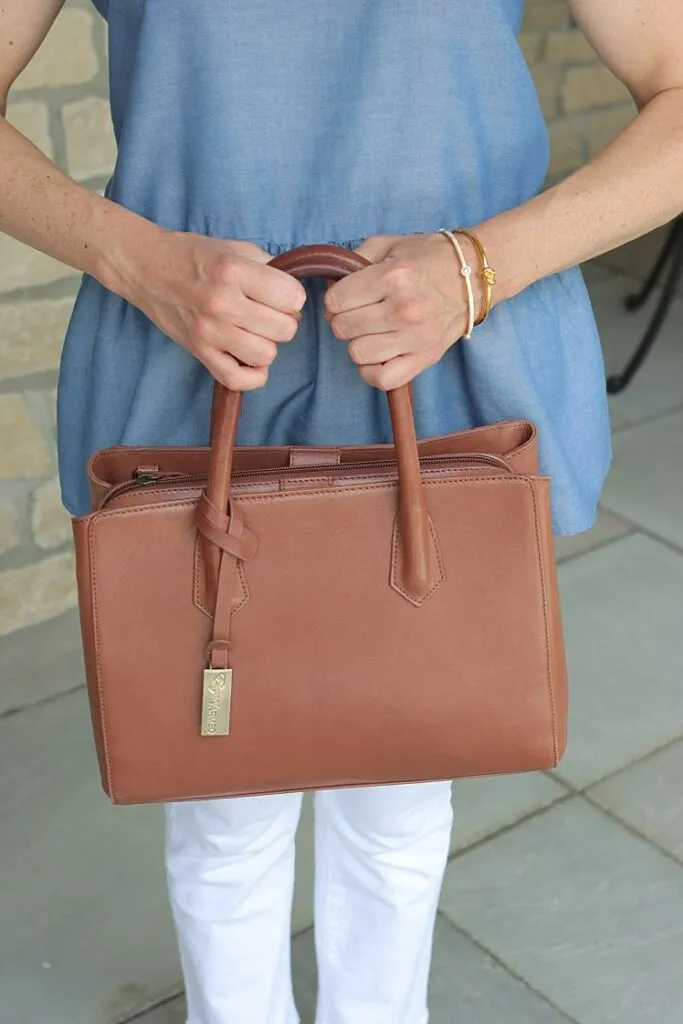 The high-quality leather gives it a luxurious appearance, while the carefully selected chestnut hue and gold hardware make it a trendy yet timeless accessory. Function-wise, the bag excels with a top-access-only holster pocket that ensures discretion and quick access to your firearm or other self-defense tools. The bag's structural integrity keeps the weapon securely in place, allowing you to confidently go about your day.
More than just a concealed carry bag, Natalie also scores high on user experience. It features two carrying options—handles and a removable shoulder strap—for added versatility. The pocket lining materials are chosen to minimize irritation during a draw, and the roomy interior accommodates your daily essentials as well as a book or journal.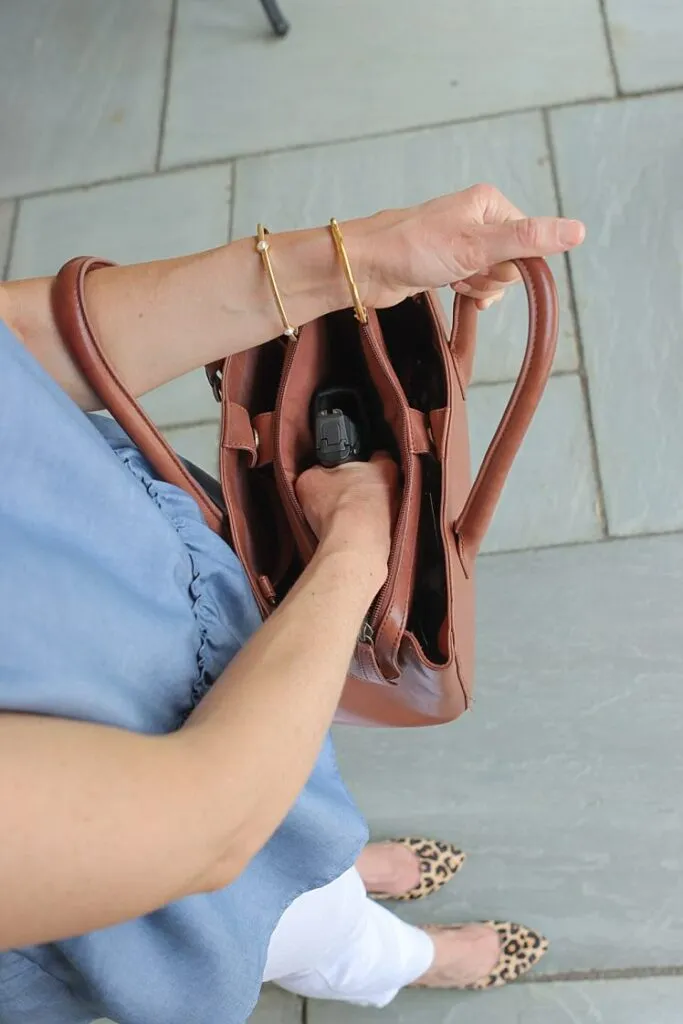 If you're a woman seeking a concealed carry option that doesn't compromise on style or convenience, the Natalie handbag should be at the top of your list.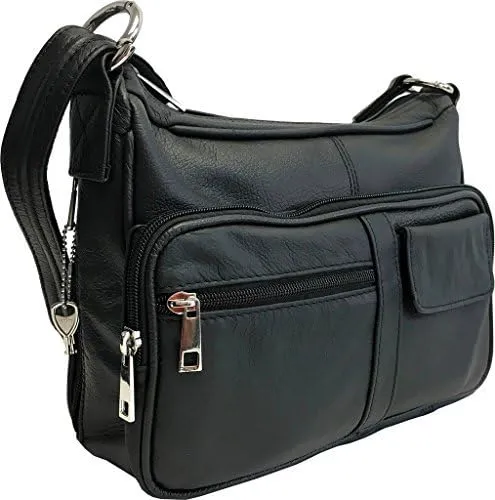 Specifications
| | |
| --- | --- |
| Dimensions | 11″ x 9″ x 4″ |
| Material | Genuine Leather |
| Color Options | Black, Grey, and Brown |
Pros & Cons
Pros
Affordable price point, especially for genuine leather

Compact while still providing plenty of storage space

Adjustable straps

Genuine leather craftsmanship

Locking firearm pocket
Cons
Fewer color options than some other styles

Some compartments are a bit snug

On the heavier side due to the genuine leather
When budget and brilliance intersect, the Vine Branch Genuine Leather Locking Concealment Purse emerges as the undisputed victor in the realm of value-driven concealed carry solutions. It proves affordability doesn't necessitate compromising quality, security, or style.
This purse exudes a refined charm crafted from genuine leather while providing a discreet pocket for your firearm. Its compact dimensions belie its roomy interior, allowing you to carry daily essentials alongside your self-defense tool.
With an incredibly reasonable price point, this purse brings style and security to those who are budget-conscious without sacrificing functionality. The adjustable straps offer flexibility, ensuring that you can tailor its fit to your comfort.
While the Vine Branch purse doesn't come in an extensive array of colors, its neutral tones make it a versatile choice for various outfits.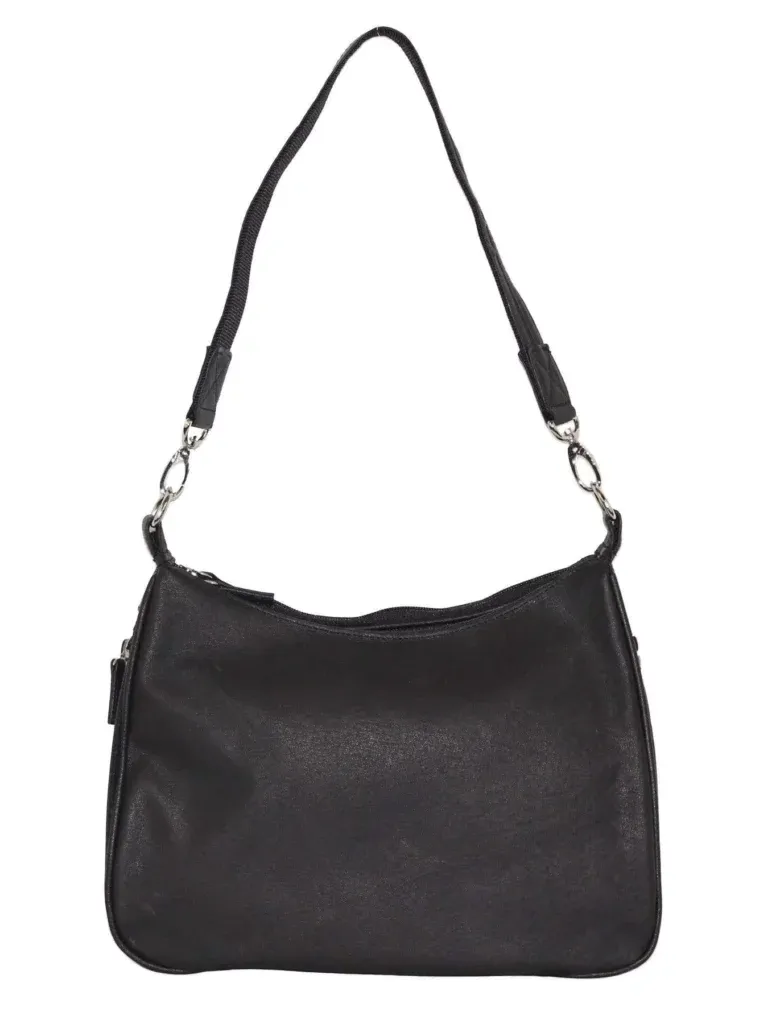 Specifications
| | |
| --- | --- |
| Dimensions | 11″ x 8″ x 4″ |
| Material | Faux Leather |
| Color Options | Black and Brown |
Pros & Cons
Pros
Casual but still stylish

Additional pockets provide storage and organization for your other essentials

Comfortable to carry

Versatile, ambidextrous design
Cons
Faux leather isn't as durable as the real thing

Limited color variety compared to some other options

Gun pocket may be obvious to those who know what they're looking for
In the realm of concealed carry fashion, the Gun Tote'n Mamas Concealed Carry Basic Hobo Handbag has earned its honorable mention with its unassuming charm and user-friendly design. While not only catering to style, it's a functional and comfortable companion for individuals looking to merge fashion with personal safety.
Its casual yet stylish design allows you to blend in seamlessly without drawing unnecessary attention to your concealed carry intentions. You can organize your belongings effectively with multiple storage options, ensuring your firearm remains discreetly accessible.
Crafted from faux leather, this hobo handbag prioritizes durability without compromising aesthetics. While the faux leather material may not replicate the genuine texture, it's still a hardwearing choice for daily use.
For some, the limited color variety might be a minor drawback, but the Gun Tote'n Mamas Concealed Carry Basic Hobo Handbag compensates with its versatility and functionality.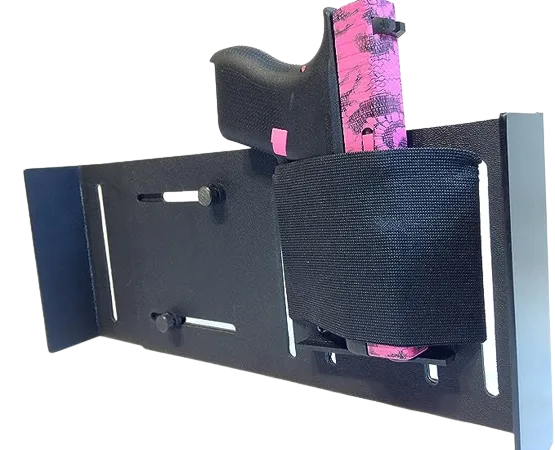 Specifications
| | |
| --- | --- |
| Dimensions | Adjustable |
| Material | Kydex and Elastic |
| Color Options | Black |
Pros & Cons
Pros
Adjustable design allows for a nearly universal fit

Can be used in combination with OWB or IWB holsters that you already own

Provides quick and easy access

Cheaper than buying a whole new purse

Makes it easier to find a purse that fits your style while also safely carrying
Cons
Requires a separate purse for use

May not be compatible with all bags

Doesn't provide good trigger coverage if not paired with a separate holster
Let's be honest: a lot of concealed carry purses are… let's just say not the best looking. Wouldn't it be easier to just carry in your everyday purse without having your gun loose? Thanks to the Concealed Carrier Purse Holster, you can do just that.
Universally accommodating most compact handguns and CCWs, this insert snugly fits into your purse, transforming it into a concealed carry haven.
One of its standout features is its quick and easy accessibility. Your firearm remains securely in place while allowing you to retrieve it swiftly when needed. The neoprene or leather construction ensures a gentle touch against your firearm's finish.
The Concealed Carrier Purse Holster proves that you don't always need a specialized purse for concealed carry. With its adaptability, comfort, and accessibility, it's an ideal choice for those who want to maintain their preferred purse aesthetics while prioritizing personal safety.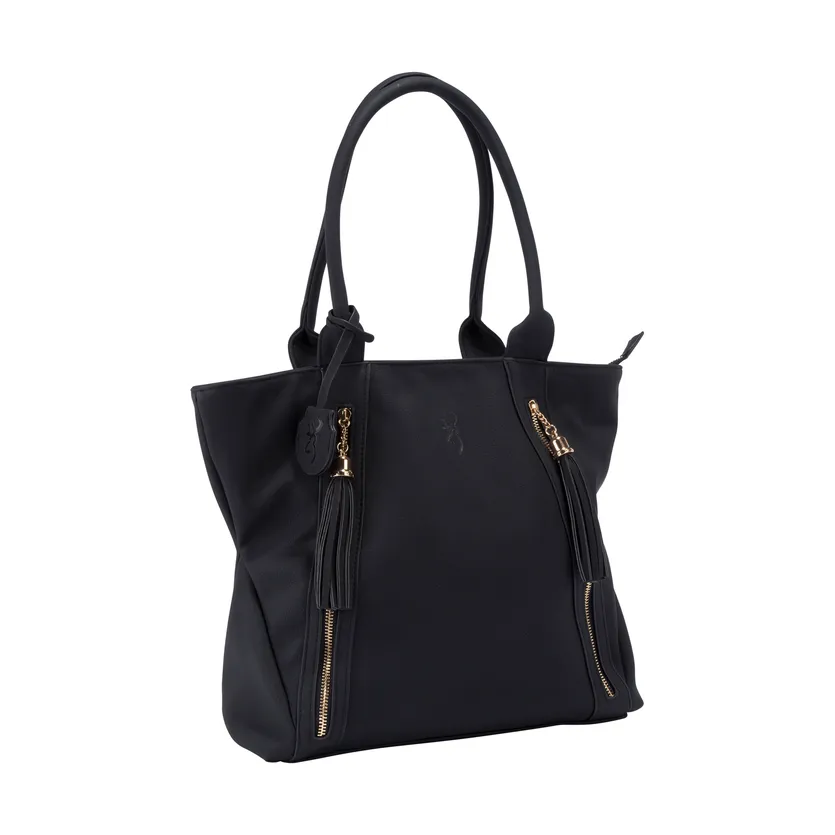 Specifications
| | |
| --- | --- |
| Dimensions | 12″ x 9″ x 6″ |
| Material | Faux Leather |
| Color Options | Black, Brown, and Charcoal |
Pros & Cons
Pros
Stylish and spacious

Adjustable crossbody strap

Dedicated, locking concealed carry compartment
Cons
Faux leather isn't as durable as the real thing

Limited color choices compared to some other styles
For the fashion-forward urbanite with a focus on personal safety, the Browning Alexandria Concealed Carry Purse is a standout choice. With its harmonious blend of style, function, and discreet firearm storage, it rises to the top as the best concealed carry tote bag.
This purse boasts style and spaciousness, making it perfect for busy city days. The adjustable crossbody strap ensures comfortable wear, while the dedicated concealed carry compartment keeps your firearm secure yet accessible.
Crafted from realistic-looking faux leather, this purse offers durability without compromising on aesthetics. While faux leather might not completely replicate the feel of genuine leather, it's still a resilient choice for your daily endeavors.
The Browning Alexandria Concealed Carry Purse caters to those who prioritize style without compromising functionality. It does, however, come with a limitation of color options for those seeking a specific hue to complement their wardrobe.
How We Chose Our Top Picks
Choosing our top picks was no shoot-from-the-hip affair. We believe in a meticulous process that marries substance with style. We embarked on a journey driven by research, hands-on testing, and expert opinions to pinpoint the ultimate concealed carry companions.
I scoured the web's most trusted firearm forums, delving deep into user reviews and feedback. While off-body carry isn't my preferred carry method, I have used it several times and used those experiences to inform my decisions. I also spoke to other female gun owners to get their thoughts and preferences for concealed carry purses.
My selection criteria focused not only on aesthetics but also on quick-draw accessibility, durability, and discreet design. The final lineup emerged through a balance of data-backed analysis and real-world assessments.
Advantages of Concealed Carry Purses
Discreet Carry: Concealed carry purses allow you to carry your firearm discreetly, blending in with your everyday outfit and minimizing the chances of drawing attention to yourself.
Accessibility: Many concealed carry purses are designed with quick and easy access to the firearm compartment, ensuring you can reach your weapon swiftly in a potentially dangerous situation.
Security Features: Concealed carry purses often come with specialized locking mechanisms or zippers that provide an additional layer of security, ensuring that only you can access your firearm.
Organized Storage: These purses typically come with dedicated compartments not only for your firearm but also for other essentials such as phone, wallet, keys, and more, helping you stay organized.
Versatility: Concealed carry purses can transition seamlessly from casual to formal settings, making them suitable for various occasions.
Comfortable Carry: Adjustable straps and ergonomic designs ensure that concealed carry purses are comfortable to wear for extended periods.
Not Limited by Clothing: A concealed carry purse can provide a practical alternative where traditional concealed carry methods might not be feasible due to dress codes or clothing constraints.
What to Look for in a Concealed Carry Purse: Key Attributes
Design: The purse's ability to blend in with your personal style while effectively cosevereg your firearm is paramount.
Accessibility: Quick and discreet access to your weapon during critical moments is essential for any concealed carry purse.
Comfort and Wearability: Choose a purse that fits comfortably, supporting your lifestyle without causing discomfort during extended wear.
Materials and Durability: Genuine leather, faux leather, neoprene – each material offers a unique blend of style and durability. Select one that resonates with your preferences.
Storage and Organization: A well-organized purse ensures you can carry not only your firearm but also other daily essentials efficiently.
Style vs. Safety: What You Should Know about Off-Body Carry
While concealed carry and off-body carry methods offer individuals a means of personal protection, they also come with a set of notable disadvantages that deserve careful consideration. Understanding these drawbacks is crucial for making informed decisions about carrying a firearm.
Accessibility Challenges
One of the most significant drawbacks of off-body carry, including concealed carry purses, is the potential difficulty in accessing your firearm quickly during a high-stress situation. Requiring additional steps to unzip or unlock compartments can hinder your ability to respond swiftly to a threat.
Risk of Separation
Carrying a firearm off-body poses the risk of separation from your person. Whether it's a purse accidentally left behind, misplaced, or stolen, losing control of your firearm can have serious consequences if it falls into the wrong hands.
Lack of Physical Retention
Off-body carry often lacks the physical retention that holsters worn on the body provide. This means that in close-quarters altercations, your firearm might be more susceptible to being taken away by an assailant.
Concealment Challenges
While the term "concealed carry" implies that the firearm remains hidden, off-body carry methods like purses can still be noticeable or subject to accidental exposure. This could lead to uncomfortable situations or even escalate confrontations.
Dependence on the Item
Carrying a firearm in a specific accessory, such as a purse or bag, makes you dependent on that item for personal protection. Your ability to defend yourself is compromised if you're separated from your bag or purse.
Training and Familiarity
Off-body carry methods often require more training and familiarity than traditional holsters. For example, knowing how to access your firearm quickly and effectively from a purse demands regular practice to overcome muscle memory challenges.
Firearm Condition and Maintenance
Carrying a firearm in an off-body accessory potentially exposes it to additional damage, moisture, and dirt, which might impact its reliability. Regular maintenance and attention are essential to ensure your firearm remains functional.
FAQs
What is Off Body Carry (OBC)?
Off Body Carry (OBC) refers to the practice of carrying a concealed firearm or self-defense tool in a bag, purse, backpack, or other accessory rather than on the body. While it offers flexibility, it requires extra vigilance to prevent theft or loss of the bag.
What does "Slash Resistant" Design mean?
"Slash Resistant" design refers to a feature in concealed carry accessories that makes them more resistant to cutting or slashing attempts. These accessories are crafted from materials that are difficult to breach, enhancing the security of your concealed firearm.
Why would you not want to carry in a purse?
Carrying in a purse can have drawbacks, such as the potential for the purse to be snatched or forgotten in a hectic situation. Additionally, quick access might be compromised, making on-body carry options like holsters more suitable for immediate self-defense needs.
Conclusion
In the realm of concealed carry, the choices are as diverse as the reasons for carrying. Each option offers a unique blend of security and style, from stylish concealed carry purses to versatile crossbody bags.
The meticulously selected options that we've discussed in this guide showcase the art of discreetly carrying self-defense tools while embracing individual tastes.
The Roma Leathers Leather Locking Concealment Purse takes the crown as the best overall choice. Its fusion of functionality and elegance, not to mention features like its secure locking mechanism, sets the standard for concealed carry accessories that seamlessly integrate into daily life.
Now, share your thoughts below! Have you discovered your ideal concealed carry companion? Or do you have experiences and insights to enrich this discussion? Let us know!
Explore more