Best Rifles For Deer Hunting [2023]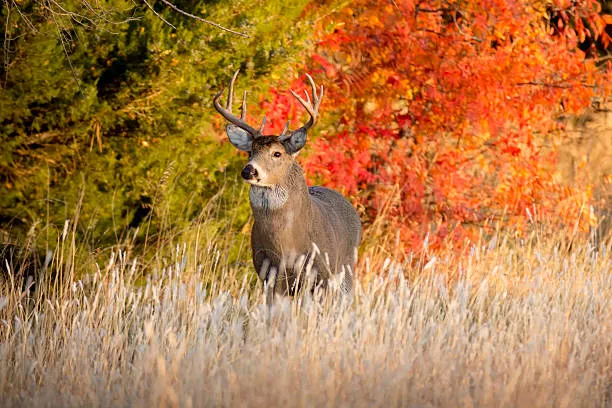 Best Rifles For Deer Hunting [2023]
Did you know that deer are the No. 1 hunted game in the US? With that in mind, it is not surprising that there are such a large number of deer rifles on the market. Question is, 'Which is the best deer rifle?' so I am going to try and answer that after testing some of the best options out there.
Deer Rifle Information
Hunting deer is something our ancestors did centuries ago, and no doubt our descendants will also be doing for centuries to come. Here in the present, the deer rifle is the primary method of hunting, with bow being the secondary method. Deer season for rifle hunters usually has a higher success rate and usually comes in after archery season, where most successful hunters use a crossbow.
In choosing your rifle, several factors have to be considered.
The first is to differentiate between three distinct rifle types and how well they are suited to deer hunting. The three types are bolt-action, lever action, and semi-automatic, so let's assess each one.
Bolt-Action Deer Rifles
The go-to rifle for most deer hunters, and the one that is the most popular too. This is mostly due to the fact that bolt-action rifles have simple mechanisms and are easy to use. With fewer parts that can fail or jam, it means this is also an extremely reliable firearm too.
But it's not all sunshine and roses. Bolt-action rifles will be designated as either left- or right-hand use, with left-hand versions ridiculously hard to come by. This often means left-handed hunters have to learn to shoot right-handed.
Another disadvantage is they are slower to reload, therefore if you miss with your first shot, your target will usually have disappeared before you are ready to aim again.
Lever-Action Deer Rifles
For those that like to hunt on the move, rather than lying in wait, the lever-action rifle is immensely popular. This is because the lever's position makes cocking the rifle possible in one quick and easy action. This gives hunters a great opportunity to aim and fire at big game targets if they suddenly move into view.
Lever-action rifles are suitable for both left-handed and right-handed hunters, but they do have one major limitation. The number of calibers they are available in is very small, with only the .30-30 Winchester universally used for them. The nature of this cartridge also means lever-action rifles are not the best for long-range shooting.
Semi-Automatic Deer Rifles
Maybe not the sort of rifle you'd immediately associate with deer hunting, but they are used, and they are popular. Obviously, their major advantage is that the next round is automatically loaded. This means you can get off several shots at your prey in very quick succession making the chances of a kill higher than if you had to reload manually.
On the flip side, the fact that it's semi-automatic means a lot of moving parts, and a lot of moving parts means more things to jam. It is also one of the reasons that semi-automatic rifles cost a lot more than other rifles. 
What Caliber Deer Rifle Should You Consider? 
The caliber is not just a single measure; it is a combination of them. There is the shape and the size of the bullet to consider, plus you also need to factor in the size of the cartridge. As you may know, there are dozens of different calibers within the firearms world, but when looking for the best deer hunting rifle, there are five that are most suitable. Here they are in time order from the earliest that was created over 120 years ago up to one that was introduced very recently.
.30-30 Winchester
It's been around since the late 1890s and is still one of the most popular, especially for those using lever-action rifles. This is due to the blunted tip which prevents accidental discharges when used in a magazine.
.30-06 Springfield
First used in 1906 by the US military, it has stood the test of time and is still used by many forces belonging to countries around the world. It is a caliber that deer hunters who do not mind recoil will use, especially if they shoot at long ranges. 
.308 Winchester
Created in 1952, it is used in high circles given that it is currently one of the cartridges used by NATO forces. It is similar to the .30-06 Springfield but differs due to the fact that it has a shorter cartridge. This makes it easier for the user to cycle the bolt.
.300 Winchester Magnum
A more recent addition which was introduced in 1963 by Winchester, it is larger than many other cartridges. It creates greater muzzle velocity and is suited to shooting long range when big game hunting, and of course that includes deer.
6.5 Creedmoor
We come even further through the years to a cartridge that hasn't even reached college age yet. Launched in 2007, this is a combination of a long and narrow 6.5mm bullet and a .308 Winchester cartridge. It produces less recoil than other calibers and is more accurate at longer ranges than shorter ones.
Best Deer Rifles

Ruger Firearms is positioned as one of the dominant names in the American gun market and thus, this is one of two of their rifles I will be reviewing. This is their .308 Winchester which, with its 'American' tag, means that every part is sourced in the USA and the rifle is manufactured in the USA. 'MERICA!
This has a 22-inch barrel with six rifling grooves that has been cold hammer forged. It is also a free-floating barrel thanks to Ruger's 'Power Bedding.' This is their patented bedding block system which enables much greater accuracy.
Ruger also uses its proprietary creations when it comes to the trigger. It is called 'Marksman,' with a 3 lb. and 5 lb. pull. More importantly, it has a crisp action and release, to minimize any deviation of your aim as you fire.
This rifle's one-piece, three-lug bolt is full diameter, and has a 70° throw, giving it plenty of clearance with respect to the scope.
The stock is lightweight and contributes to the overall low weight of this rifle at just 6.12 lbs, which will be most welcomed on long hunting trails that take hours. The stock is made more comfortable thanks to the swiveling sling studs and rubber recoil pad.
Pros
Lightweight design
Extremely comfortable
Great accuracy at long ranges
100% American made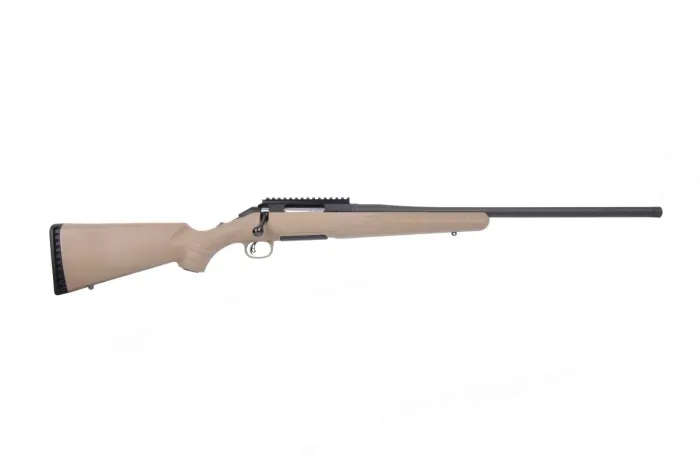 I mentioned in the previous review that Ruger was one of the biggest names in American firearms, and their American Predator rifle is a perfect example of that. It is actually the biggest selling 6.5 Creedmoor caliber rifle in the USA, and when I outline some of its highlights you'll understand why.
First, it is lightweight at only 7.3 lbs, and it is also a very affordable rifle, so for those on a budget, or seeking to buy their first hunting rifle, it is definitely in the ballpark in terms of its price.
While a low price and a light weight are deserving, what most hunters want is high accuracy. With the predator, you have a rifle that is as accurate as they come, especially at long ranges.
Another great feature that I love about the Predator is it is available in left- and right-hand versions. That is something that I've not been able to say about many of the rifles I've reviewed, so all credit to Ruger for that.
Sticking with the theme of options you can also opt for different calibers if you have a preference. The Predator is available in 6.5 Grendel, .308 Winchester Magnum, .300 Winchester, .223 Remington, and .22-250 Remington calibers.
Pros
Budget friendly
Ambidextrous 
Available in various calibers
Accurate at long ranges
Cons
Trigger assembly could be better

A firm favorite with many deer hunters, the Tikka T3X 6.5 Creedmoor is a rifle that has outstanding workmanship and fine engineering. Whether that has something to do with the fact it is manufactured in Finland, I'll leave you to decide, but the attention to detail is a joy to see.
This rifle has a free-floating barrel and an action that is markedly rigid. This allows for greater accuracy, although this is not a rifle that I'd recommend for longer range shooting. The reason is the length of the barrel is 20 inches and this is more suited to short-range accuracy.
The trigger is adjustable between two and four pounds and other adjustments can be made to the pistol grip geometries to suit your grip and hand size, albeit the replacement sizes need to be purchased separately.
One awesome feature for me is the fact that Tikka foam-fill their rifles. You may ask why, and the answer is that it reduces the noise the rifle makes as it is carried. This means there is less chance of startling deer or other game should the rifle brush against bushes as you trail them.
Our team had the chance to review the Tikka T3x in 7mm-08 if you want to check it out!
Pros
Extreme durability
Great for short range accuracy
Trigger is very adjustable
Low noise – won't scare animals
Cons
Not ideal for long range accuracy

Given the focus on the accuracy and the weight, one aspect of hunting rifles that often gets overlooked is the ergonomics. That certainly can't be said about the Bergara B14 HMR given how well the manufacturers have designed the stock.
This stock not only has a buttpad which adequately absorbs the shock when you fire the rifle, but it also has a cheek rest, which adds further to the comfort for hunters. 
This is a bolt action rifle that can accommodate an external magazine with a capacity of five rounds. It also has to be said that it is a bit on the heavy side at 9.25 lbs, so if you want something you can carry for many an hour this might not be your first choice.
Where it will be highly desirable is with its short-range accuracy, which up to around 400 yards is pinpoint accurate. Beyond that and it gets tough, mainly due to the barrel design which is suited to low ballistic coefficient rounds. In other words, they are more prone to deviation in the air due to the wind, for example.
We also got our hands on the Bergara B-14 HMR if you want to check out our review.
Pros
Excellent short range accuracy
Cheek rest and padded stock for comfort
Good for recoil absorption
Ergonomically friendly
Cons
Not ideal for long range accuracy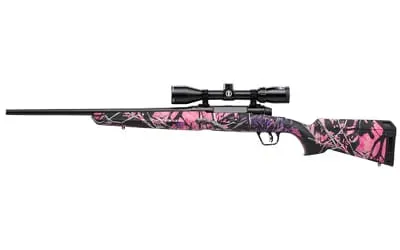 Savage Arm's reputation for manufacturing rifles with exceptional accuracy is well documented, and their AXIS II XP Compact .243 WIN 20″ Rifle isn't likely to tarnish that reputation in any way. In fact, it would seem that every effort has gone into making this one of the most accurate deer hunting rifles in the market.
The most obvious of the features that help with that accuracy is the factory-mounted scope. It is a Bushell Banner 3-9x40mm scope and allows hunters to pinpoint their target with the precision of a marksman.
Next, there is the trigger, which is another trademarked component. This time it is Savage Arms' own AccuTrigger which is a two-stage trigger that not only provides ease of use, it can be adjusted to suit the individual using the rifle.
In front of the trigger, you will find a detachable box magazine that is capable of holding up to four cartridges. Four might not seem a lot but bear in mind hunting is normally a one shot at a time pastime, so multiple rounds are not necessary.
In terms of the ergonomics of this rifle, Savage Arms has got it right with a synthetic stock, which makes the gun a lightweight 6.2 lbs, and which is also particularly suited to hunters with smaller frames.
Pros
Lightweight design
Great for smaller people
Two stage adjustable trigger
Great for both long range and short range accuracy
Conclusion
I absolutely loved reviewing these top deer hunting rifles, particularly because each one of them had something unique to offer hunters that the others did not. This means that individuals who have a 'must-have' feature are certain to find at least one deer rifle that meets their needs.
What I need is to pick my top choice and, in this category, it has been as hard as any, given the extremely high standard. Ultimately, I have chosen the Ruger American Predator as my best deer rifle.
One of the main reasons is that it offers such amazing value for money, and therefore it is a great entry weapon for those new to hunting. Add the fact that its weight is exceptionally low, it adds even more reason why any hunter, new, or experienced, will find this desirable.
The left- and right-hand option is a real winning feature in my book, and the further choices that you have with regards to calibers available take this rifle further into the lead.
Finally, and no doubt for hunters, most importantly, this is one of the most accurate deer rifles you will find, and as that applies to long-range accuracy as well, it cements the Ruger American Predator's position as top gun. 
Explore more