Best Ear Protection For Shooting [2023]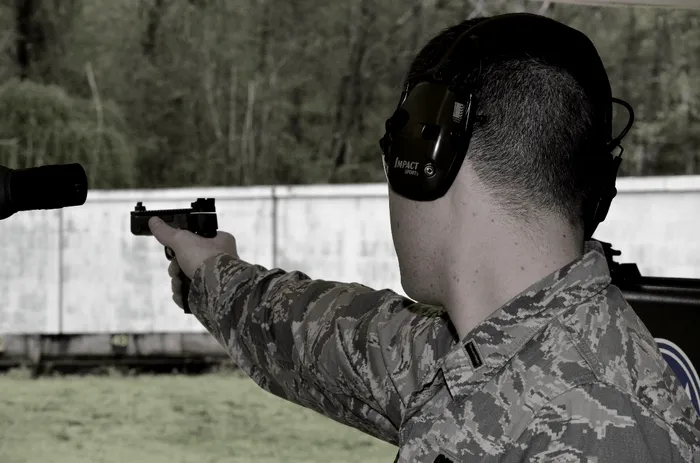 Best Ear Protection For Shooting [2023]
Before hitting the ranges, it's very important to be fully prepared and ready. One of the most important aspects of preparation is donning the essential gear, and that's ear protection for shooting.
Today, there are lots of brands, models, and types of hearing protection for shooting, and I understand that it's pretty difficult to choose the best fit for you.
No worries, though. In this guide, we'll cover ear muffs, earplugs, the best overall choices, our top budget recommendations, as well as the most ergonomic ear protection gear that is suitable for anyone.
After scouring the web for the best ear protection for shooting, I can safely say that the Howard Leight Impact Sport Bolt Digital Electronic Shooting Earmuff is the best overall.
It's not the most expensive, but it's widely available and is definitely one of the more popular ones. The Howard Leight Electronic Shooting Earmuff has an NRR score of 22, and it's perfectly suitable for the everyday target practice enthusiast.
Here are some of our favorite ear protection equipment that we will review below.
Why Is Ear Protection Important at the Firing Range?
Most firearms can cause you permanent hearing damage, as they produce certain levels of decibels that will definitely damage your delicate ear hairs. The percussive vibrations of each gunshot actually kill vital little hairs deep in your inner ear, which may open the door to a high-pitch ringing or humming noise that can last forever.
Everyone should be aware of the dangers of loud noises and prolonged exposure, and I'm not just warning gun enthusiasts. I'm also looking at those of you that blast your headphones during long bus rides. Tinnitus is no joke.
Luckily, we have the right technology to make sure nobody goes deaf during those long hours at the ranges.
Best Ear Protection Gear for Shooting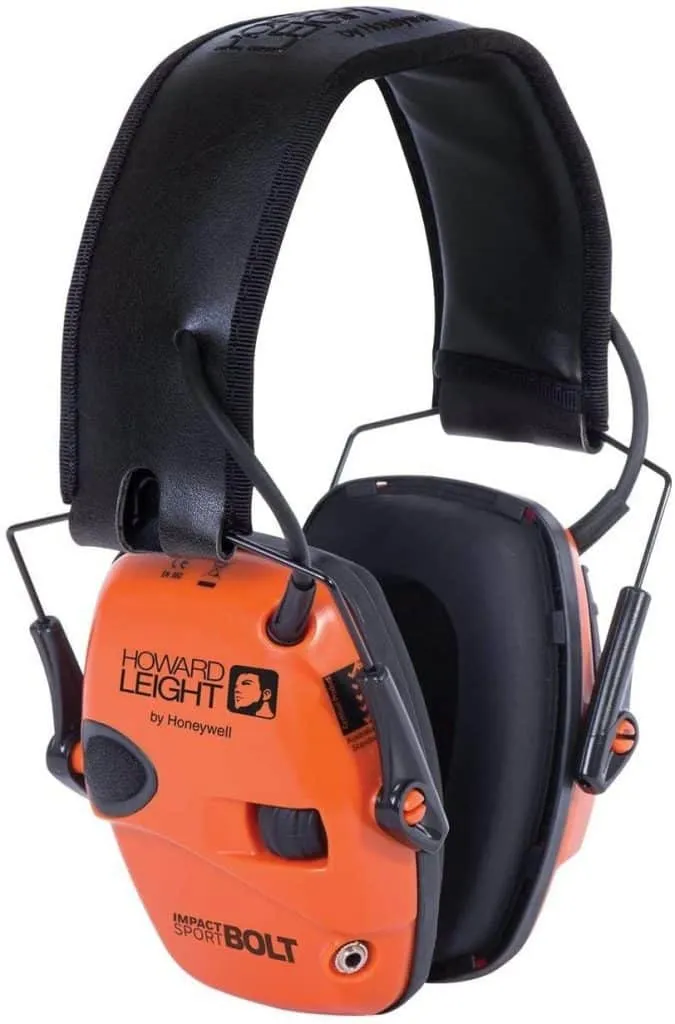 Pros
Auto-shutoff feature
Ergonomic and lightweight
Perfect ambient volume
Great value for the money
You've definitely heard of Howard Leight for ear protection. They're one of the most prominent manufacturers for hearing protection in the workplace and for tactical, shooting, & sports applications. This model is one of their most sought-after products.
The Howard Leight Impact Sport earmuffs offer some of the best hearing protection for hunting and shooting, with its NRR rating of 22 (which is decent). Plus, its technology has been greatly improved over the years, resulting in a simple, lightweight, and cost-effective earmuff headset.
Thanks to the ergonomic design, the Howard Leight Impact Sport earmuffs feel pretty comfortable for most head sizes, and it weighs only a pound.
The auto-shutoff feature is a very overlooked characteristic in other ear protection manufacturers. It makes sure you save on batteries when it's not in use, and most hunters and gun enthusiasts waste a lot of batteries this way.
It has two-directional microphones, an attack time of .5 milliseconds, and reduced decibels of -7.5 dB.
With these earmuffs, you'll be able to hear conversations and your surroundings with no problems and, thanks to its settings, you can hear better than those without electronic ear protection muffs.
The downside is that some users have experienced electronic interference. For example, if your cellphone is too close to you, you'll hear an annoying hum. This interference may also damage the Howards over time, so avoid using cellphones around these earmuffs.
Besides this, the Howard Leight Impact Sport earmuffs are low-profile earmuffs that any shotgun or rifle enthusiast can use with no problem.Plus, as it's not too tight around the ears, you can shoot for hours and hours without taking them off.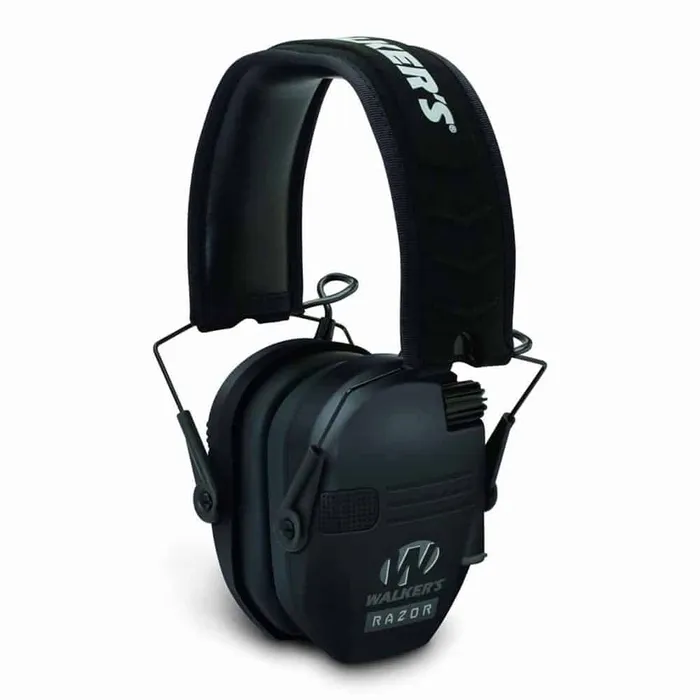 Pros
Affordable
Slim, comfortable, and lightweight
HD speakers with dynamic range
Sound-activated compression with .02-second response time
Available in multiple colors
Cons
NRR rating could be higher (23 dB)
Annoying white noise and hum
Poor value-for-money compared to others
Here's another popular choice for hunters: the Walker's Razor Slim Electronic Earmuffs are from the Walker's Razor series and pass our safety test with flying colors.
It's a very versatile option that offers ear protection with a 23 NRR score, and a volume limit of 89 dB. It also has a 3.5mm audio jack that works well with mobile devices.
It boasts a slim and durable frame that weighs 0.89 pounds, and comes with thin, rubberized cups.
The clamping force of the headband is easy on the ears and head even if you're wearing glasses, so it won't hinder your shooting performance. The control knobs have a grippy ribbing that allows you to adjust them wearing gloves without a problem.
The Razor blocks those 89 decibels with a sound-activated compression of 0.02 reaction time (20ms attack time). Once you're done with your session, you can fold it into a compact carriable clump that will fit in most bags.
The dual omni-directional microphones have a full dynamic range HD speakers and offer top-notch directional sound identification, while the 0.02-second response time will protect your hearing. Additionally, the earmuffs are powered by AAA batteries with exceptional battery life.
Lastly, if the style is your concern, the earmuffs come in all kinds of colors, too!
The downside is that the earmuffs are prone to white noise and annoying humming sounds once you turn the volume up. If it weren't for this, I'd definitely place this product at the top.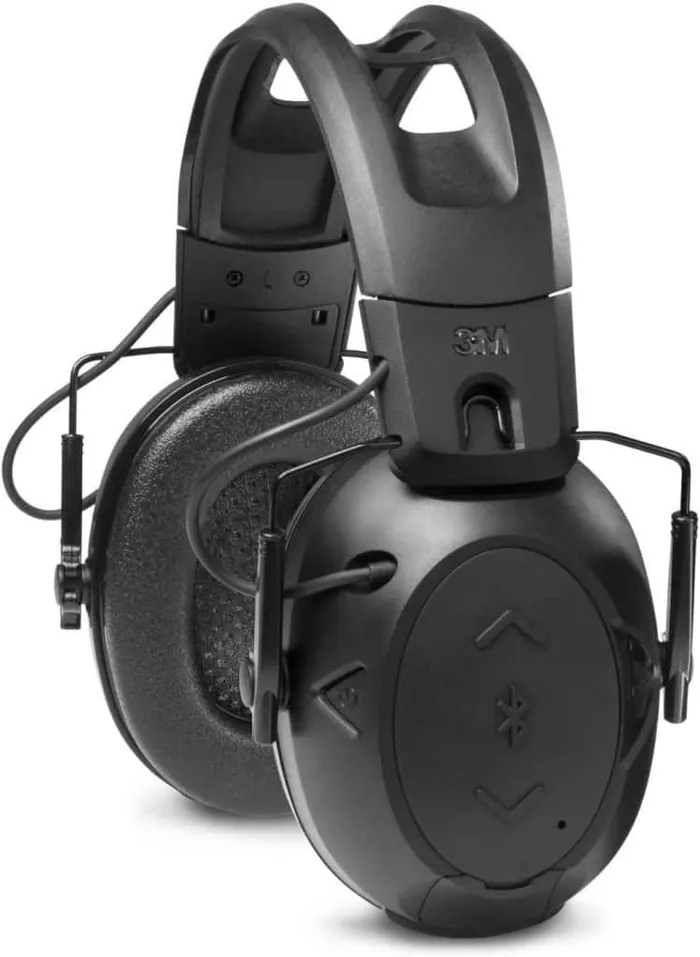 Pros
Super quiet
Sturdy build
Lightweight (0.93 lbs)
Bluetooth audio
NRR rating of 26
Reduced dB of -9.5 dB with a 5ms attack time
Cons
The most expensive pair on the list
Might be too bulky for some
Here's our premium option – the Peltor Sport Tactical 500 electronic earmuff. They're some of the quietest ear muffs money can buy, and come with all the features you need, but they might be a bit bulky for your taste.
The manufacturer is famous for their innovative 3M Worktunes, but their Sport Tactical 500 earmuffs are a popular choice for those of you who are ready to spend some extra cash on ear protection.
The excellent NRR score of 26, extensive smart features, and innovative sound technologies that amplify low-level noises make this pair a great choice.
The muffs offer clear voice tracking that amplifies conversations while diminishing loud blasts like gunshots with an automatic dynamic suppression, and this is thanks to the high-tier ear protection technologies.
These earmuffs measure the surrounding echoes and blasts and multiply the suppression with a 3 – 5 millisecond precision. Whether you're shooting outdoors, indoors, with low-cal handguns, or 16-inch barrel AR-15s, it's amazing how smoothly they maintain the sound levels.
Besides the excellent features, recessed microphones, wind and fan noise reduction, soft ear cup cushions, and comfy, vented headband that spares you any ear fatigue (even while you're wearing a hat), these earmuffs have some little, pesky downsides.
In a nutshell, the Peltor is three times more costly than the Howard Leight model, the volume adjustment isn't as intuitive, and it's bulky, which can be a deal-breaker for some.
Other than that, it's the ultimate premium option on this list, as it's super comfortable and boasts all the essential features.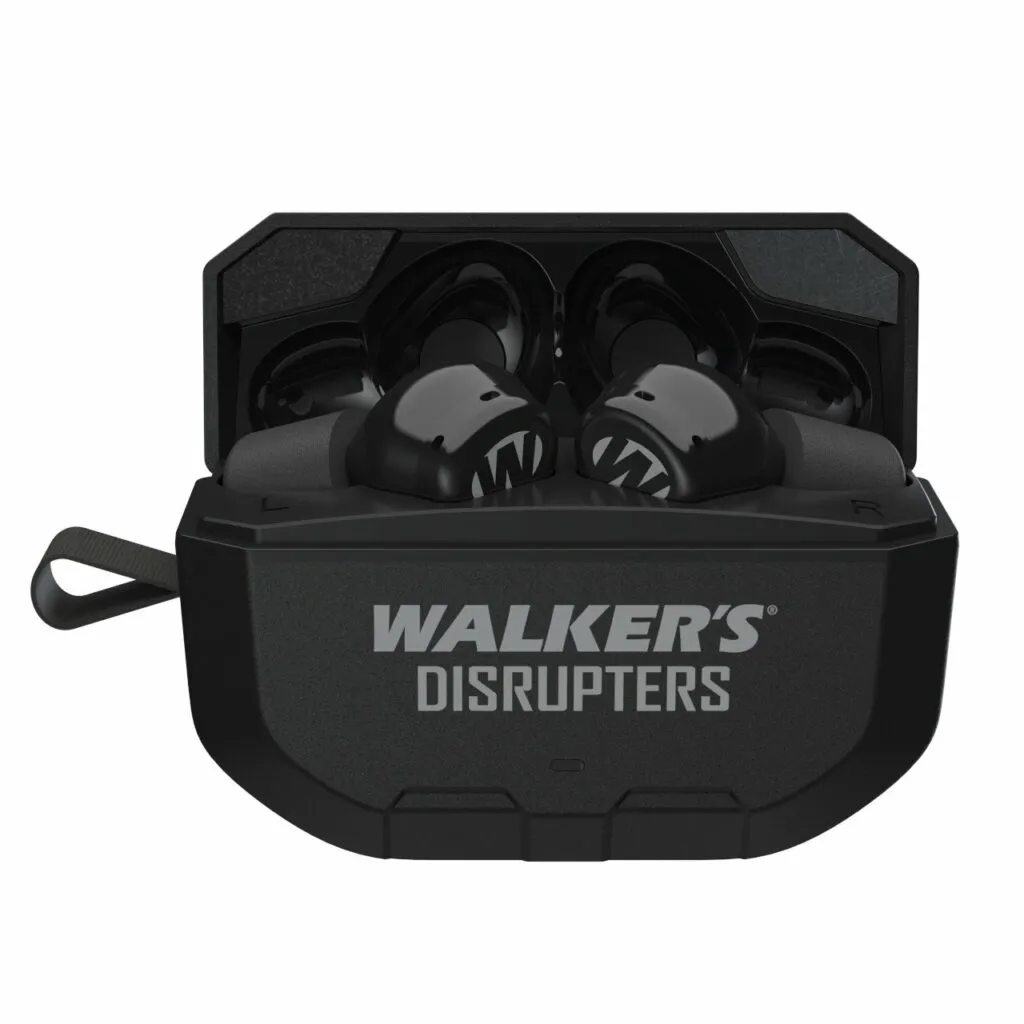 Pros
High Noise Reduction Rating (24dB)
Custom fit with multiple ear tips
Bluetooth connectivity and app support
Long-lasting battery life
Durable USB-C charging case
Auto shut-off feature
Versatile ambient sound settings
Cons
Lacks strong bass for music
Relatively expensive
Occasional fit issues during workouts
Complexity may be overwhelming for some
Walker's Disrupter Bluetooth Earbuds excel in providing top-notch hearing protection with a Noise Reduction Rating of 24dB, ideal for shooting range activities. They offer a tailored listening experience with multiple sets of foam and silicone tips, guaranteeing a secure fit.
These earbuds further enhance user interaction with Bluetooth capabilities and a dedicated app for real-time adjustments and battery monitoring.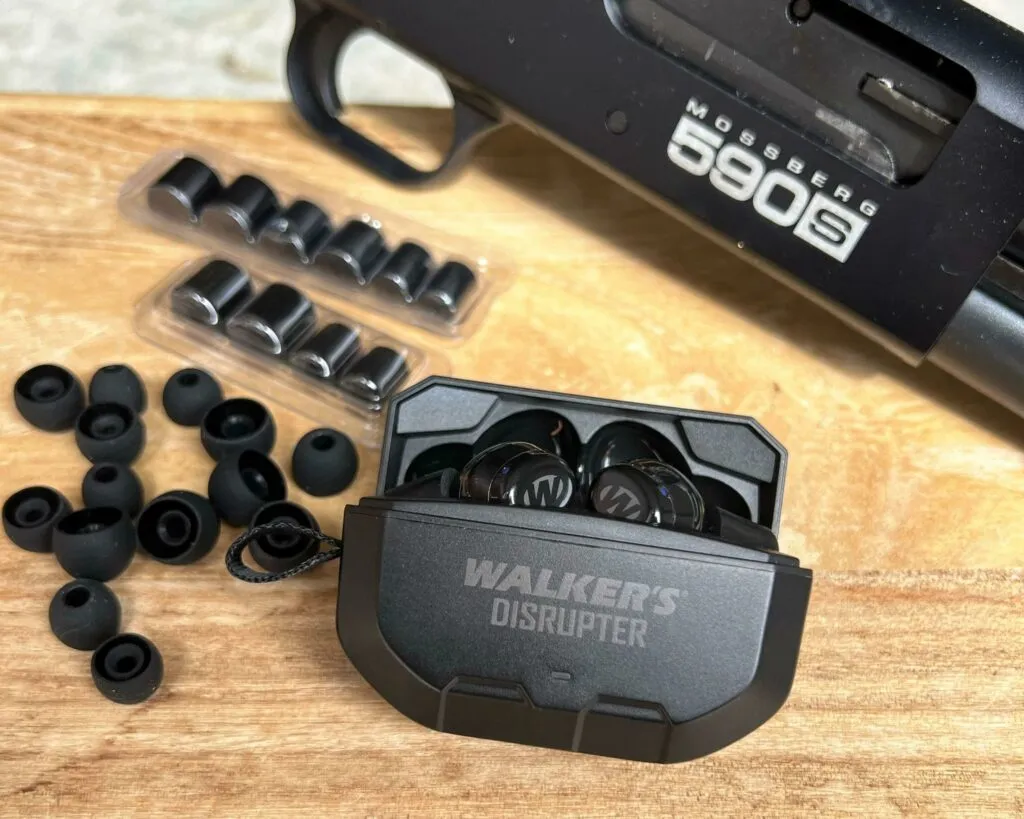 In terms of versatility, these earbuds don't disappoint. The robust USB-C charging case is perfect for both the shooting range and daily usage, backed by an 11-hour battery life in ambient mode and six hours with Bluetooth streaming.
Features like auto shut-off, adjustable passthrough, and multiple ambient sound settings make them adaptable to varied settings without sacrificing safety or functionality.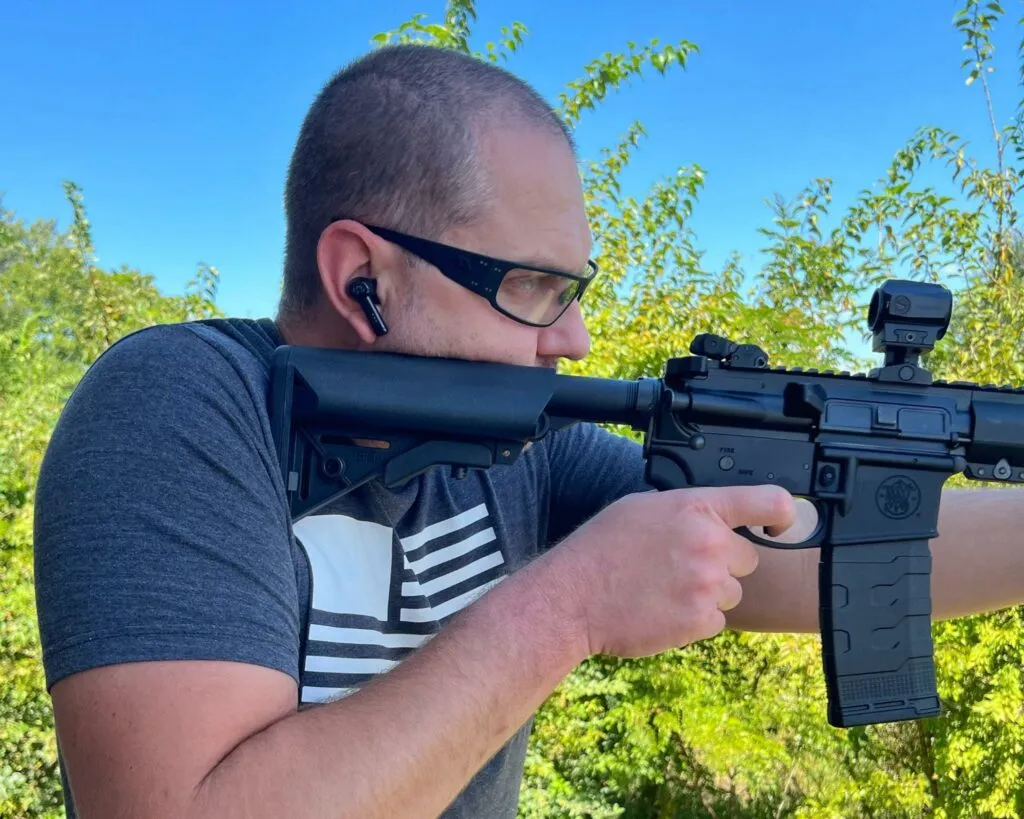 While they offer numerous benefits, the Disrupter earbuds have their drawbacks. Their performance in music playback, particularly in bass, is less than stellar.
Additionally, they come at a higher price point, which might deter potential buyers looking for more budget-friendly options. Despite these shortcomings, for those who prioritize hearing safety and modern technological features, Walker's Disrupter Bluetooth Earbuds stand out as a premium choice in the market.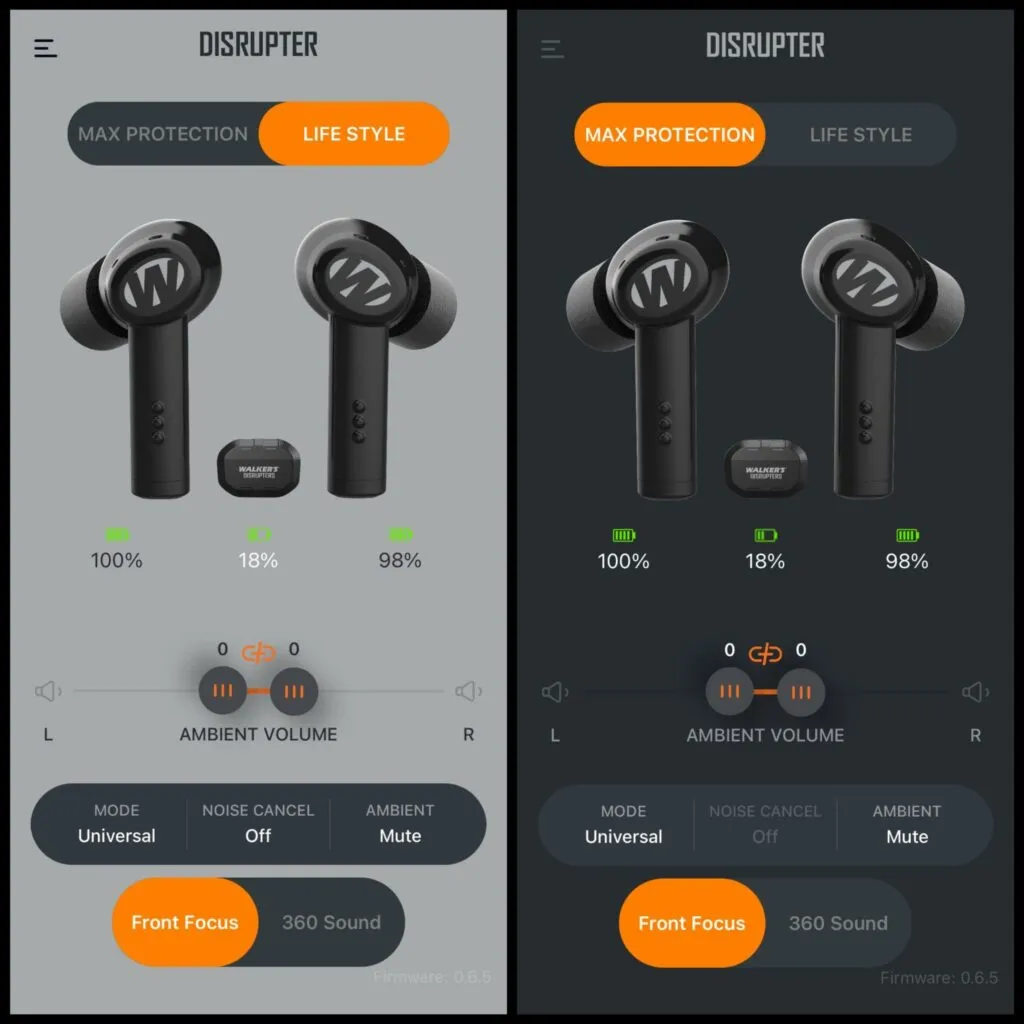 Go check out our full review if you want more information on these Bluetooth ear buds.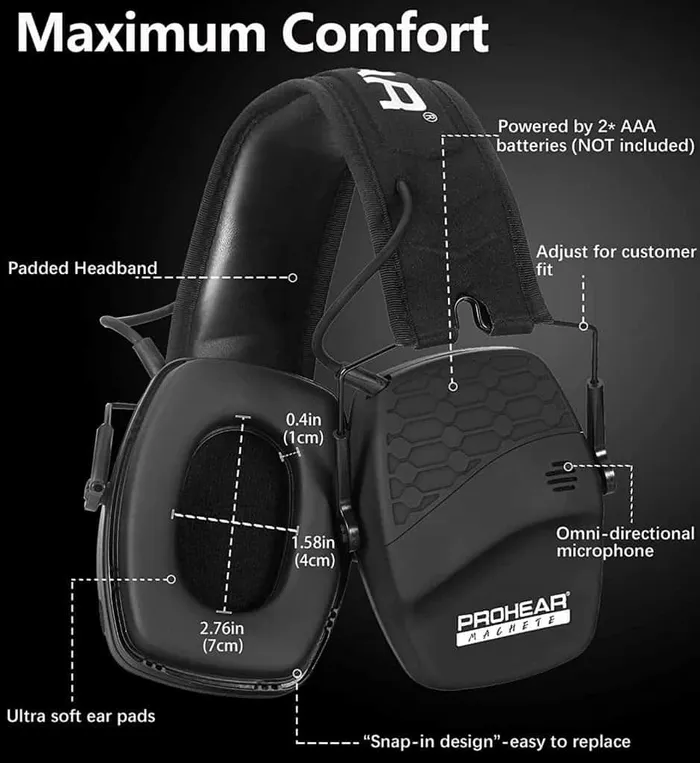 Pros
The most lightweight option on this list (0.63 lbs!)
Highly versatile, adjustable, and comfortable
Unmatched Bluetooth technology
22 NRR rating and 82 dB volume limit reduction
Telescopic, ergonomic design with soft ear cushion pads
Cons
It has no directional sound
Low battery capacity and lack of a battery indicator
For those of you who like to keep it simple and lightweight, the Prohear 030 is your go-to guy. It has intuitive and easy-to-use volume controls. At the same time, the Bluetooth characteristics give a new meaning to flexibility in use.
The technical specs are pretty impressive, too. The NRR rating is 22, it comes with decent sound amplification, a 82 dB volume limit, and a decent attack time of 10 milliseconds. This adds up to a high standard that will guarantee you pleasant hunting and proven safety.
Its most prized feature, though, is the wireless Bluetooth 5.0 technology that offers unmatched audio connection for media, with a solid range of 33 feet. Perfect for those who like to go solo during sessions and want to listen to some music.
When it comes to comfort, the Prohear 030 offers wide and comfy ear cups with ultra-soft earpad cushions, telescopic headband design that fits most head sizes, and a padded headband. Combine that with the light weight of 0.63 pounds and it almost feels like it isn't there, so you can enjoy hours of uninterrupted target practice sessions.
The compact, foldable, lightweight design makes it easy to carry anywhere in a bag. This, paired with its proven durability against harsh environments and hearing loss makes these earmuffs highly suitable for a seasoned hunter's camping trips. Additionally, there's no rule that says you can't use it while working with power tools and chainsaws.
Sadly, it offers no directional sound like the other earmuffs on this list. Plus, these earmuffs won't tell you how much battery life you have left, so be sure to stockpile on extra batteries.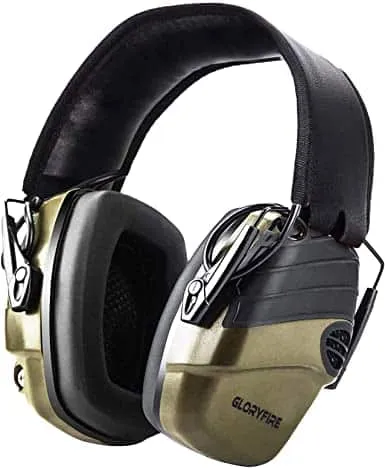 Pros
Excellent for hunting and target practice
Good sound reinforcement and filtering
High-quality sound
Easy-to-use control knobs
Cons
Medium/short battery life
Not waterproof
Here's one that's perfect for all you hunters out there. The Gloryfire manufacturer is well-known for its excellent gun cleaning products, and it's been a favorite among the gun public for quite some time now.
Unbeknownst to some, though, they have excellent electronic earmuffs, too.
The Gloryfire Electronic Shooting Earmuffs have some of the best noise amplification on this list and a 25 NRR rating. They come with a directional sound, an attack time of 20 milliseconds, and a 82 dB volume limit.
This is our top pick for hunters because it has excellent durability and longevity, and the earmuffs can amplify sound up to six times, so they're best suited for the great outdoors.
They have an excellent sound microchip with unmatched quality. There are also excellent directional sound settings that put them in this category.
What this means is that if the deer crunches as little as a leaf under its hooves, you'll be able to hear it in your near vicinity. This is why it's excellent hunting gear that will give you a much-needed edge in outdoor awareness.
The noise reduction features might not be as high-quality as the other earmuffs on this list, but they're a great choice for hearing protection outdoors.
The downside is that they are not waterproof, so you should be wary of rainy weather.
Buyer's Guide
With so many different and viable ear protection options that sound like a good idea, it's understandable that so many shooters delay buying this much-needed safety gear.
This nifty buyer's guide covers all the important characteristics and issues that you'll need to keep in mind when choosing the best ear protection gear for you. We also included an FAQs section that will answer some popular questions for earplugs and earmuffs and those NRR scores.
Furthermore, you need to know that not every noise-reducing gear is balanced. Some work better than others, others are cheaper than others, and yet others offer specific features that might be suitable for you, so pay attention to the details.
Let's begin with the disambiguation of the types of ear protection in terms of passive and electronic.
Types of Hearing Protection Devices for Shooting
There are many models and types of ear protection, but they're mainly divided into three categories: electronic hearing protection, ear plugs, and earmuffs.
Ear Plugs: Ear plugs are usually made of foam. They're one of the cheapest hearing protection options, and can cozily fit any ear. You can find disposable earplugs too, but there are also some intended for long-term use, and these require daily cleaning and maintenance.
Earmuffs: These are more efficient because they fully cover your ears and offer better protection. They're bulky, more costly, and can last a lifetime. You have passive and electronic models.
Pro tip: You can put on your ear plugs, then your earmuffs for maximum protection. This is an overlooked yet efficient combination that guarantees safety.
Electronic Hearing Protection: By using innovative technologies, we have electronic hearing protection devices that allow safe levels of sound to come through, while simultaneously blocking dangerous levels of sound. Electronic hearing devices allow you to hear conversations while protecting the wearer from gunshot noises. They're the most expensive option, but I strongly believe the overall value and ROI are on point and absolutely worth it.
Additionally, some models help to amplify background sounds while drowning out the sudden and loud decibels of long-range rifles like the .308 caliber deer hunters.
Passive Ear Protection Equipment
Passive ear protection gear, simply put, isn't electronic, and it isn't prone to power-related damage, nor do they require batteries. They come in droves, and appear in forms of plastic, silicone, or foam earplugs and earmuffs.
They usually rely on a technology that seals off all sound, and they're usually snug around the skull. They provide a high level of hearing protection, and they're your wallet's best friend, though earplugs are even less expensive.
Surprisingly, earplugs have a similar level of stopping ability for noise reduction, especially for high frequency blasts (those from handguns).
That being said, both passive earmuffs and passive earplugs have excellent NRR ratings for a low price, and are suitable for both new and veteran shooters, but they can be very uncomfortable and they don't have filtering abilities like electronic ear protection equipment.
Electronic Ear Protection Equipment
Electronic ear protection combines innovative audio technology with some traditional ingenuity and solutions of the past.
Manufacturers keep finding new ways to mesh microphones, processors, and additional devices to filter out and block deafening sounds, adding automatic noise shut-out mechanisms, as well as utilizing versatile communication systems.
You can even listen to an MP3 player or a radio while you shoot.
Electronic ear safety gear usually comes in the form of earmuffs, and they offer superior noise-reduction technology. They're perfect for the range and for hunters, especially if you need to have communication with your peers, or if you require situational awareness during waterfowl hunting.
Even though some may not like the battery-dependence and recharging, they're the most sought-after option for ear safety.
Look For Earmuffs/Earplugs With a Decent NRR Rating
There's a specific criterion that you must look for when going for electronic earmuffs: a good NRR rating.
Earmuffs with a NRR rating around or above 25 offer noise reduction that's necessary for the health and safety of your ears. Reducing the intensity of those shooting sounds will make your shooting experience much more pleasant.
The NRR rating specifies the earmuff's capability of decreasing the sounds around you. The math is based on the standard decibel reduction system across all sound frequencies.
Remember that for every 10 dB volume increase, the sound intensity for human ears is multiplied by ten. The smallest caliber handgun which effortlessly exceeds the 120 dB threshold can and will cause you permanent hearing damage in cases of prolonged exposure.
Look for earmuffs with at least a 23 NRR rating, and make sure they're snug enough, too.
Make Sure They Fit
Another important factor to look for is comfort, and this is a no-brainer.
Believe me when I say that if your brand-new, high-quality earmuffs inconvenience you in the slightest, you won't be able to get used to the discomfort and you will definitely have to take them off frequently. This is a major bother.
Always try them out before you buy them. We all have differently shaped heads. Some earmuffs are tighter and may squeeze your head, while others may feel too loose around your ears.
Additionally, some loose-fitting ear protection could let in air currents and this creates a very annoying and off-putting sound, so do make sure that the earmuffs are a perfect fit.
Durability and Weather Resistance
Make sure you get yourself some weather-resistant muffs. This is especially crucial for outdoor hunters.
You will experience harsh weather conditions and rainy weather, and it'll make you wish you grabbed some waterproof earmuffs for the rain.
Passive ear protection has no issues with precipitation, but electronics are susceptible, so be wary of this.
FAQs
Here are some important and useful questions that have been constantly bothering hunters and shooters for years.
Are Earmuffs Better Than Earplugs?
Both earmuffs and earplugs significantly help decrease noise as they ensure you won't be affected by any ear-piercing noise that can be avoided.
If we were to compare the two types, earmuffs are the ones with a higher NRR rating that will make sure you won't be bothered by even the most deafening of rifle blasts. Features like noise-canceling functions, Bluetooth synchronisation, and filtering out conversation from shots are what place them at the top of the pile.
On the other hand, earplugs are smaller and won't interfere with your shooting stance when you place the buttstock of the rifle on your shoulder. In this case, bulky earmuffs may hinder your aim.
Earplugs are compact, easy to clean, and most of them come with strings so they won't get lost. There are passive earplugs, electronic earplugs, reusable earplugs, or disposable earplugs.
Even ol' hickok45 prefers them.
How Do I Know Whether I Need Ear Protection?
The safe hearing levels for humans is at the 85 dB mark. Anything higher than that, depending on how long the exposure is, increases your risk of hearing damage.
Ear protection is encouraged by the American National Standards and the Occupational Safety and Health Administration, so who are we to say otherwise?
Ear protection shooting gear will lower the 140 dB levels from high-caliber firearms, so yes – you need ear protection.
What Is Noise Reduction Rating (NRR)?
Noise reduction rating is a standard firearms industry classification that helps measure the effectiveness of ear protection gear like earplugs, earmuffs, and other hearing protection devices.
They use a special formula that calculates rifle and gunshot noise standards (from around 30 decibels with the minimal ear protection level of 15 dB) and compares it to the efficiency of the device in determining the noise level.
Additionally, the 140 dB mark is the average noise level of a rifle shot, and this is a dangerous sound level for the human ear.
Conclusion
Never underestimate the importance of good ear protection. Once your ear hairs get damaged, it's very difficult to regain your hearing.
I can't help but think about all the skaters and longboarders who frown upon helmets only to later regret their irreversible decision. Basically, it's the same mentality with gun nuts and ear protection.
Thanks to today's technology, there are so many brilliant ear protection devices available. Manufacturers find new and more efficient ways to improve them with more and add useful features for affordable prices.
You don't have to stick to prominent names and brands, and yes, you won't be wrong with the Howard Leight or Walker's models, but there are other up-and-coming manufacturers that are ready to take on the competition – and you won't regret trying them out.
In contrast to reputable brands, these newcomers are producing ear protection gear that's just as good, but often more affordable. Their main problem is reaching out to their hunting and sports audience, so I recommend you give them a chance.
If you're looking for a pair of overall, excellent ear protection earmuffs, I suggest you go for our favorite – the electronic Howard Leight Impact Sport Bolt, or a pair of Razor Slim earmuffs, the lighter option.
Keep in mind that the best ear protection for shooting will vary from person to person, but the objective here is to mainly focus on comfort, personal preference, functionality, and how much noise you need to decrease.
If you shoot firearms that produce noise levels above 140 dB, like the Walther P22 handgun, AR-15s with 55-gr FMJ bullets, the Glock 17 handgun with 147-gr standard UMC ammo, or some .308 Winchester rifles like the almighty, unsuppressed 700 Remington,  I implore you to get yourself some earplugs or electronic earmuffs with a 25 NRR rating or higher against loud noise.
Explore more