5 Best EDC (Everyday Carry) Flashlights: Pocket Size [2023]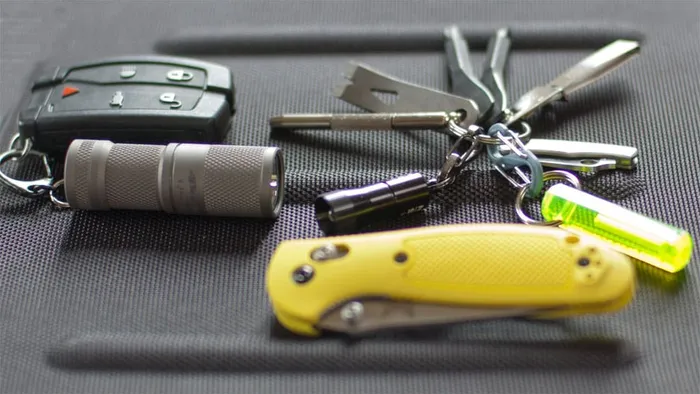 5 Best EDC (Everyday Carry) Flashlights: Pocket Size [2023]
I tested dozens of EDC (Everyday Carry) flashlights on the market today and found the ThruNite TN12 V4 to be the best pick of the bunch.
I've been a flashlight nut for years. I think it started when I realized how useful they were in the dark and how much fun it was to play with them. When it comes to choosing the best EDC flashlight, you want something that will last. You also want something that can serve you in multiple situations —from indoor use to hiking and camping.
The ThruNite TN12 V4 plain rocks. Initially released in 2015, it's been a top-seller ever since. The TN12 offers 1100 lumens of brightness. If you're not sure about your ability to deal with anything that might happen, you can rely on its 18650 lithium-ion battery to give you bright light for long hours.
A small, compact flashlight that's easy to carry around is ideal for indoor use. If you're going on a camping trip, look for something waterproof that can withstand tough conditions outside civilization.
However, not everyone wants their flashlight for the same use. If you want to use the light in different situations, an adjustable one would be ideal. If you're looking for something more low-key (like reading), battery life is more important than brightness (because you won't need to recharge).
Keep reading to learn which is the best everyday carry flashlight for you.
Best EDC Flashlights: Top 5 List
If you are looking for the best compact and portable flashlights, here are the top 5 EDC lights worth trying.
The ThruNite TN12 is a popular flashlight among law enforcement professionals, campers and hunters. It has a maximum output of 1100 lumens, making it one of the brightest flashlights on our list. It is 4 inches long and compact enough to fit in most pockets.
This flashlight uses the high-quality CREE XP-L V6 LED, which allows it to be very bright. It also has 6 brightness levels for different use cases, including when you need to focus on far away or close-up objects.
It has a regulation circuit that allows for constant brightness even when the battery starts to die out. The light has five modes: high, medium, low, strobe, and SOS. You can easily change modes by pressing the side switch on the handle's side.
This flashlight uses one 18650 rechargeable battery, so you can keep using your flashlight for a long time without having to replace batteries constantly.
The ThruNite TN12 has stainless steel and aluminum parts, making the flashlight durable and strong.
Its IPX 8 waterproof design allows you to use this flashlight in rainy conditions or underwater. This flashlight has also passed tests for impact resistance, so you won't have to worry when you drop it on hard surfaces.
Pros
High brightness at 1100 lumens with 6 different modes
Waterproof body
There is a pocket clip for easier portability
Impact-resistant body
Cons
The mode selector switch has fragile plastic parts
It does not come with a battery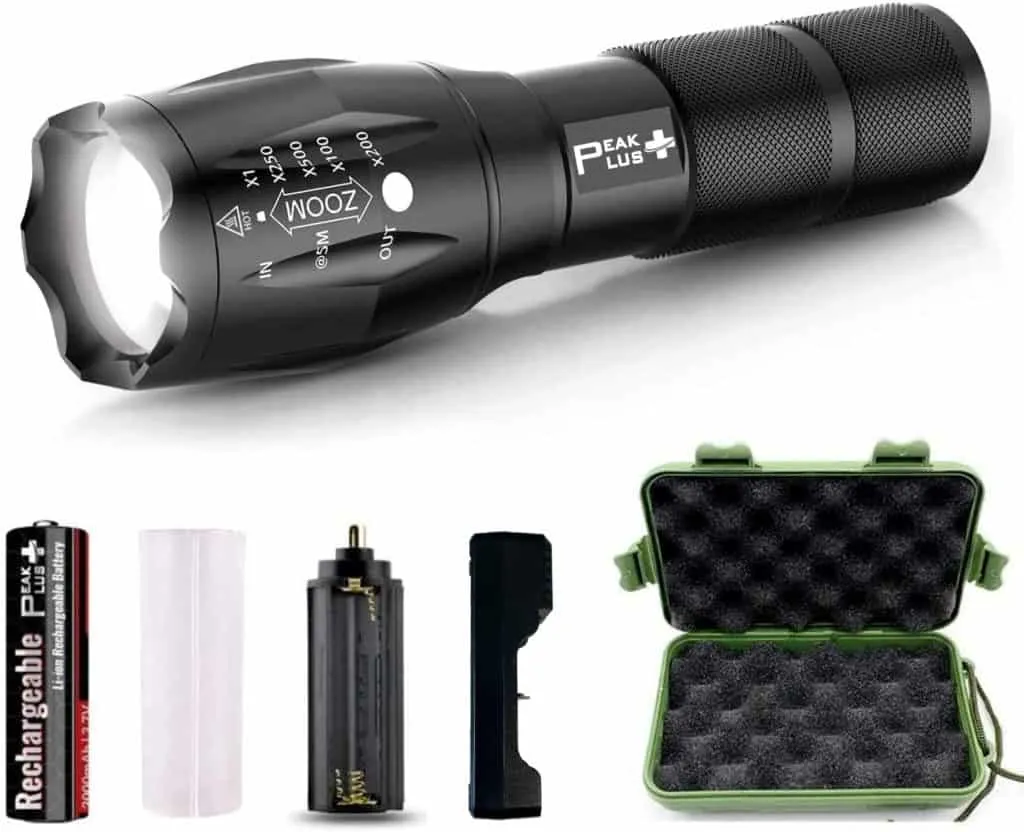 PeakPlus Rechargeable Tactical Flashlight LFX1000 is the hottest contender to our top pick- the ThruNite TN12 V4 EDC Flashlight.
This product is 5 inches long. Although it's a tad longer than the ThruNite TN12 V4 EDC Flashlight, it does have the potential for EDC portability and outdoor convenience.
The PeakPlus Rechargeable Tactical Flashlight LFX1000 is rated for 1000 lumens but feels much more like 600 lumens in action. This brightness falls below what you get with the ThruNite TN12 V4 EDC Flashlight.
Like our top pick, the PeakPlus Rechargeable Flashlight LFX1000 has a durable aluminum body and is waterproof.
The PeakPlus flashlight can zoom in on objects far away and be used to light up objects nearby. You can zoom out for spotlight-quality light when you need to find things in the dark. You can zoom in for a floodlight, which is ideal for walking at night.
This product would be an excellent gift if you have children who like camping with their friends. They will get 5 brightness modes for different use cases, including high, low, and medium light.
I would note that when you first take it out of the box, it does not come charged up, so you have to charge it for about 2 hours before using it. Once charged, though, the battery lasts for about 2 weeks on standby.
Pros
18650 battery included
5 different brightness modes
Zoom functionality can be highly convenient
Cons
The actual brightness seems lower than the manufacturer's specifications
The included battery charger is not over-charge protected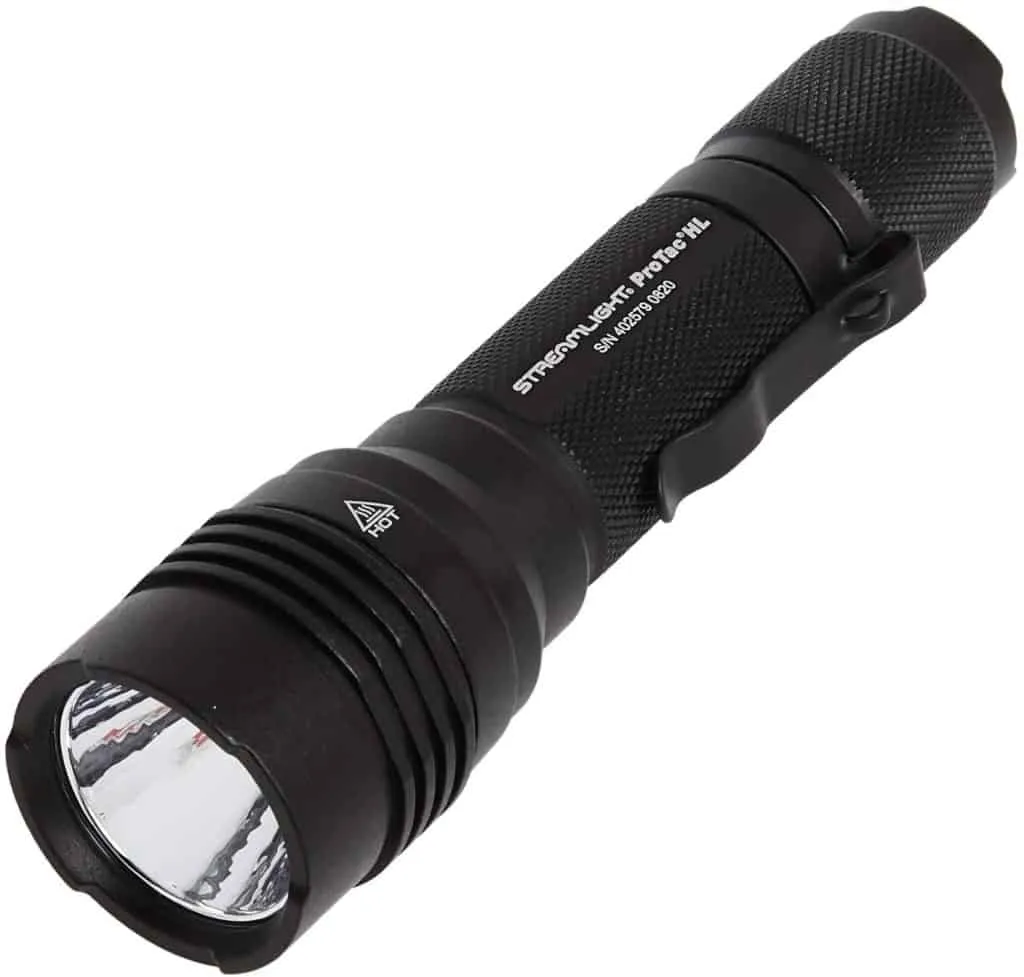 The Streamlight 88031 ProTac Tactical Flashlight is a great flashlight for EDC, but it doesn't match the superiority of the ThruNite and Peak Plus products.
You can expect that it is a little more affordable. It has a high-intensity beam that can reach up to 750 lumens and an impressive runtime of 18 hours. This flashlight could be ideal for indoor use, especially during prolonged power outages.
The Streamlight 88031 uses two CR123A batteries as its power source, which you get when purchasing this product from Amazon. These batteries have a long shelf life, so they don't need to be replaced often like some other types of batteries.
A tail switch allows users to turn the light on or off with one hand easily. It is an ambidextrous switch that makes it easy to use on either hand.
This flashlight also comes with a pocket clip that you can attach in three ways: straight up, at an angle, or parallel to the body. The included tail cap allows you to attach this flashlight to almost anything that you may need it for.
It has an adjustable beam that allows you to focus the light on a specific area. For maximum convenience, you can switch between the High, Low, and Strobe modes in different use cases.
This flashlight uses aircraft-grade aluminum parts, so it's very durable and built to last. It is impact-resistant and IPX7-rated waterproof to 1 meter for 30 minutes. You may be able to work with it outside in the rain or drop it on rugged terrain and not worry about malfunctions.
Pros
Can shine across a 100ft backyard
It is waterproof and doesn't break easily
3 adjustable brightness modes
Cons
It is larger than the best EDC models
It switches off constantly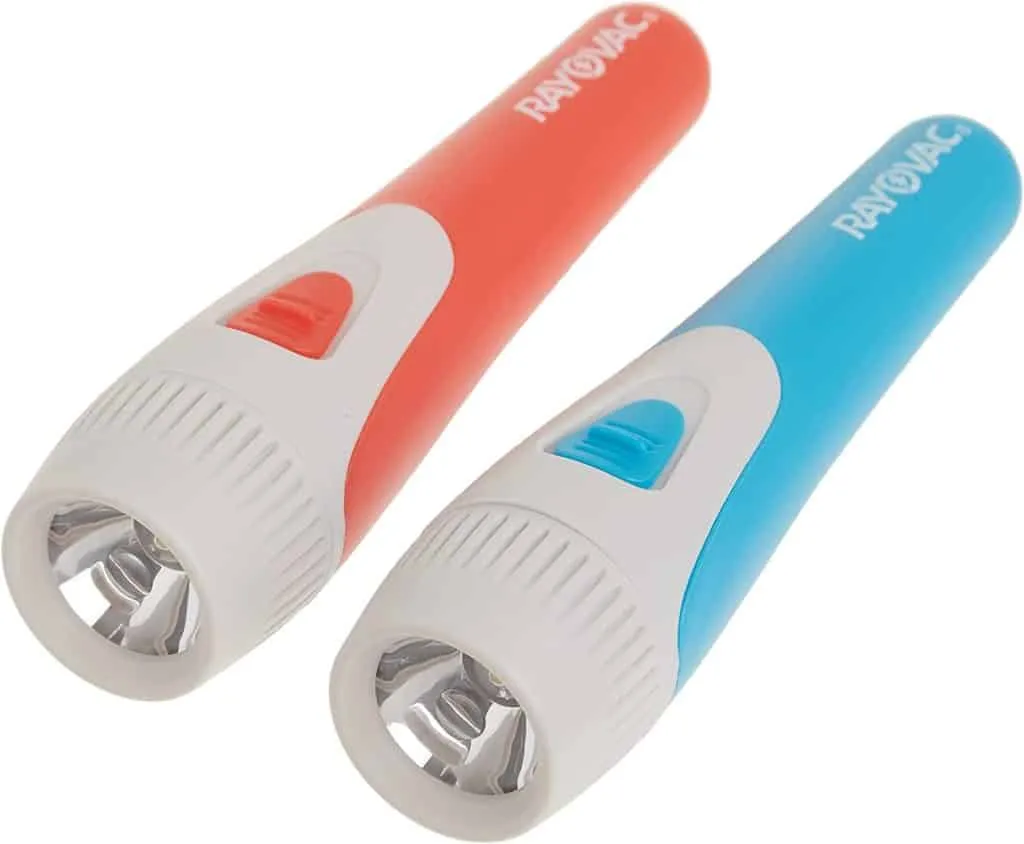 The Rayovac Value Bright 175 Lm Aluminum Flashlight with Batteries is a value-priced EDC flashlight that includes batteries. It is the most affordable option compared to the ThruNite, PeakPlus, and ProTac models.
The flashlight doesn't have different brightness modes like the top 3 picks in this review, and that's a bummer. However, it has a powerful LED bulb that produces 175 lumens of light, making it easy to see in the dark.
The design features a push-button switch that makes it turn on and off. This light may be ideal for tasks like finding things under your car seat or peeking under the bed.
The Rayovac flashlight has a plastic body, making it less durable than the first 3 models in our review.
However, this product thrives on ergonomics. Its optimized grip makes it easier to hold onto the flashlight in wet conditions or at night when your hands are cold.
The Rayovac Value Bright 175 Lm Aluminum Flashlight with Batteries comes with four AA batteries included in the package. That means you can start using this flashlight as soon as you take it out of the box.
Pros
Simple, user-friendly design
Ergonomic grip
Affordable enough to leave it with the kids
Cons
Not made for impact resistance or water resistance
A plastic body doesn't guarantee durability
6 inches in length makes it larger than the best models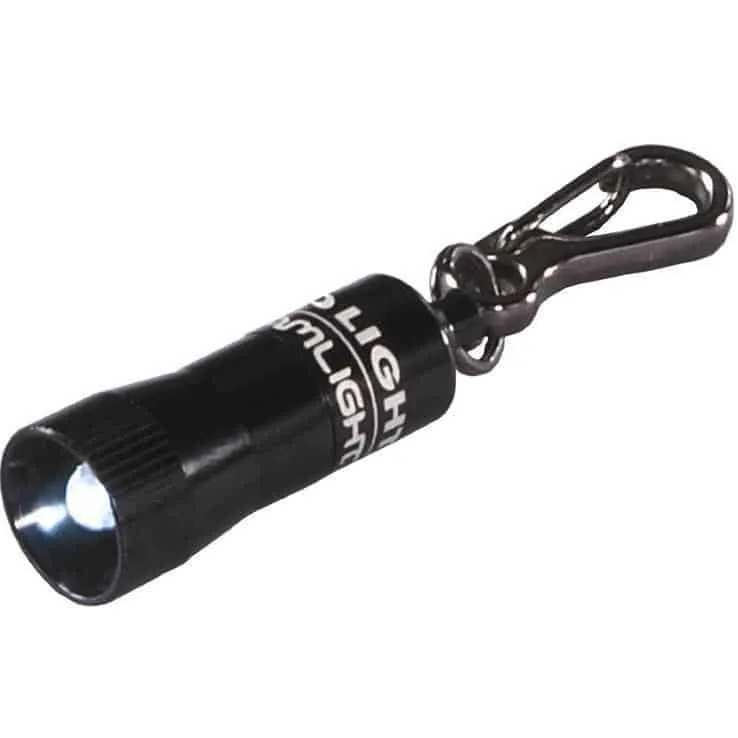 The Streamlight 73001 Nano Light is a small, compact flashlight that can fit easily on your keychain. It is easy to carry, and it is also the most affordable EDC flashlight in our review. It is great for outdoor use, such as finding items beneath your car seat.
Its body comprises pure anodized aluminum, making it a tad more durable than the Rayovac model in this review.
Just like the ProTac flashlight, the StreamLight 73001 Nano Light has a clip on it so you can attach it to a belt or bag strap. This design ensures that the light goes where you go, which I think is the true meaning of EDC.
You can activate the flashlight by pressing the button on top of the light, which turns on the LED lights. You can adjust the beam from a wide angle to a narrow focus, making it useful for many situations.
The nano-light brightness is just 10 lumens. That's the brightness level equivalent of 10 candles, so you might be able to read with this light.
This little guy weighs just 1.47 inches long, making it easy to carry around with you all day long without even noticing it's there!
This light comes with a key chain. It allows you to attach the flashlight to your pocket or belt loop if you don't want to keep it on your keychain all day.
Pros
Built for robustness
Will always be with you
Powerful brightness for its size
Cons
Cap is not well screwed in place
It turns on and off on its own
What Are The Benefits of EDC Flashlights?
EDC flashlights have a ton of benefits. Some people use them to signal others in emergencies, such as when their vehicle breaks down on the road or if they get into an accident. Others use them to read maps in dark areas and find their way around.
Survival
They are important for survival trips or work. They're small, lightweight, and portable, so they can easily fit in your pocket or purse. You can use them if you find yourself lost in the woods or stranded in a storm.
Protection
They're perfect for self-defense because they're small and easy to carry around with you. If someone ever tries to attack you, you have to pull out your flashlight and shine it in their face, so they can't see anything! It will give you enough time to run away before they realize what's happening.
Security
Since these devices are portable and lightweight, you can carry them around easily wherever you go without feeling burdened by their weight. The best models can even serve as tactical tools for law enforcement agencies needing extra light during night operations or rescue missions.
How to Choose the Best EDC Flashlight
There are some great EDC flashlights, but choosing the best EDC flashlight can be a challenge. When looking for the best EDC flashlight, there are several factors to consider:
Size and Weight
Some flashlights are small enough to fit in your pocket or easily clipped to your belt loop. Others are larger and heavier and better suited for use as an area light or a light source for camping or hunting.
When considering the size of the flashlight, make sure it will be easy to carry around with you at all times. For example, a large and heavy EDC flashlight may not be the best option for camping or hiking.
Power Source
AA batteries have a lower capacity than AAA batteries, so they don't last as long with continuous use before needing to be replaced. AA batteries are more expensive than AAA batteries since they are larger than AAA cells.
Some models use CR123A lithium batteries, which are more expensive than alkaline batteries but last longer and have more power.
Brightness Level and Beam Distance
The brightness level of a flashlight is typically measured in lumens (the higher number, the brighter the light). The beam distance is how far away you can see an object clearly when using that particular flashlight's lumen level setting (the higher the number, the further the range).
Water Resistance
Water-resistance is one of these factors, which refers to how well a flashlight can perform after submerging in water for a certain period. The best EDC flashlights are waterproof up to a certain depth. For instance, if your flashlight is rated IPX8, it will withstand submersion in water up to 1 meter deep for 30 minutes without any damage or issues.
Impact Resistance
Impact resistance refers to how well a flashlight can withstand impacts caused by drops and falls. In general, impact-resistant flashlights have been tested for drops from as high as 1 meter onto concrete surfaces with no damage incurred on the device.
If you want your flashlight to be completely safe from drops and other types of impact, then look for one that has been tested for such conditions before buying it.
Conclusion
The ThruNite TN12 V4 is the best EDC flashlight. It has a power of 1100 lumens and can help in survival situations.
The light is easy to carry around because it has a pocket clip that allows you to carry it in your pocket or attach it to your bag or belt loop. This flashlight also has an IPX8 water resistance rating, so you don't have to worry about water damaging this product.
The TN12 V4's body is made from aircraft-grade aluminum alloy. This flashlight comes with multiple brightness modes, which are useful for various situations. Don't hesitate, check it out on Amazon and let us know your experience with it.
Explore more