5 Best Ghillie Suits: Learn How to Camo [2023]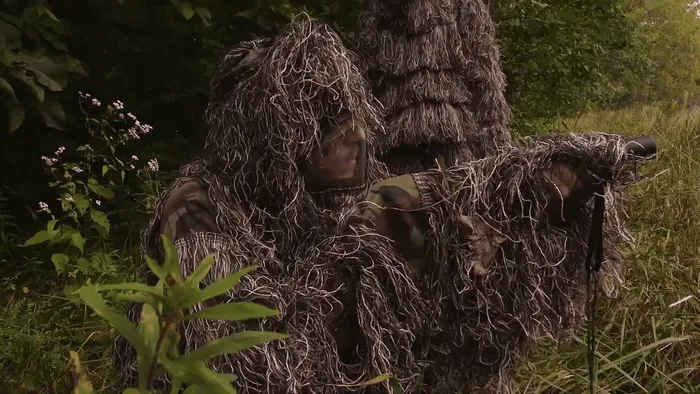 5 Best Ghillie Suits: Learn How to Camo [2023]
Whether you're a hunter or a paintball enthusiast, it's crucial that you have the element of surprise, and staying stealthed before the time to strike is right is one way to do that.
A proper stealth proning stance means sitting or lying still for long periods of time if you want to win that paintball game or bring home some waterfowl.
These activities require proper attire, and the ghillie suit is a tactical choice that should be on your grocery list.
The ghillie suit is made from special garments to mimic foliage, and it's designed for camouflaging yourself in your surroundings.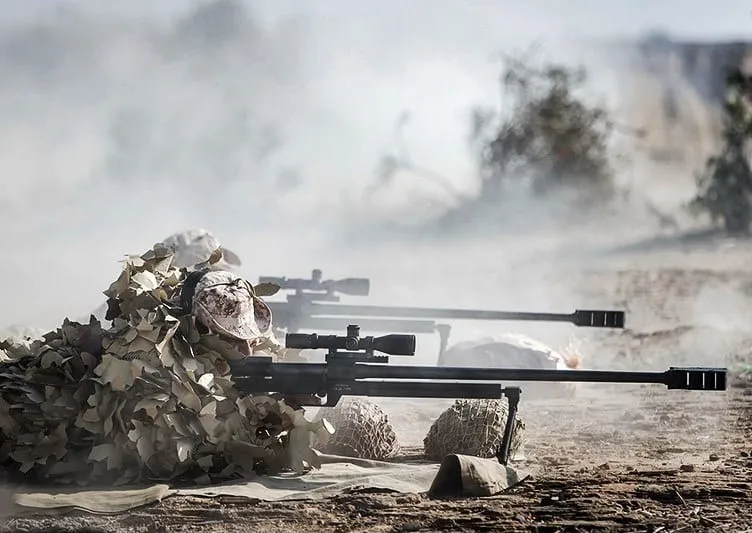 That's why today, I'll talk about the best ghillie suits for 2022. I'll cover all kinds of quality ghillie suits that serve many purposes and fit various environments.
On this list, you'll find budget ghillie suits, premium options, and various textures and colors. In the end, I've also included a buyer's guide to show you what to look for when looking for a good ghillie suit.
Let's check them out.
The 5 Best Ghillie Suits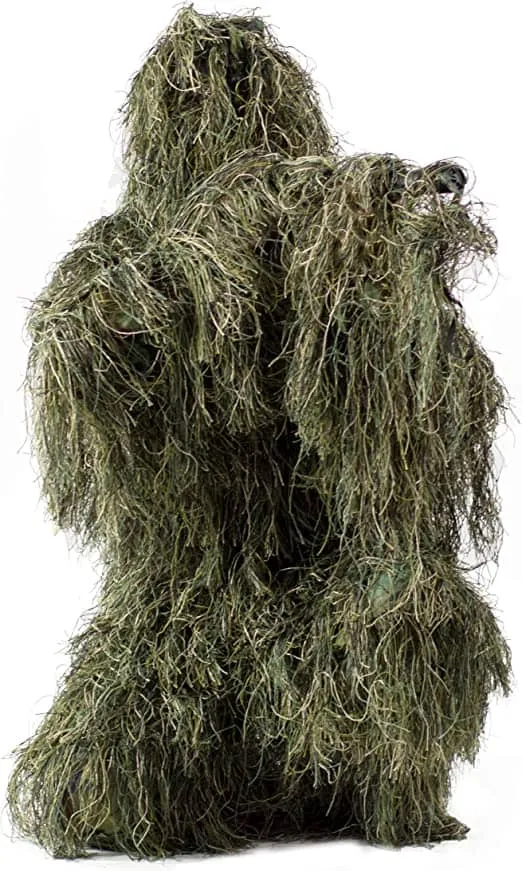 Pros
Great value
Easily concealable
Breathable fabric
Mosquito-proof
User can easily move in and out of it
Stuff sack included
Available in kids' and XXL sizes
Cons
Not suitable for rain
Prone to getting stuck in branches and bushes
One of the main reasons why the Vivo is the most popular ghillie suit is because it's the most well-rounded one. It stays true to size, remains highly concealable in woodlands and brush surroundings, and anyone can find their fit.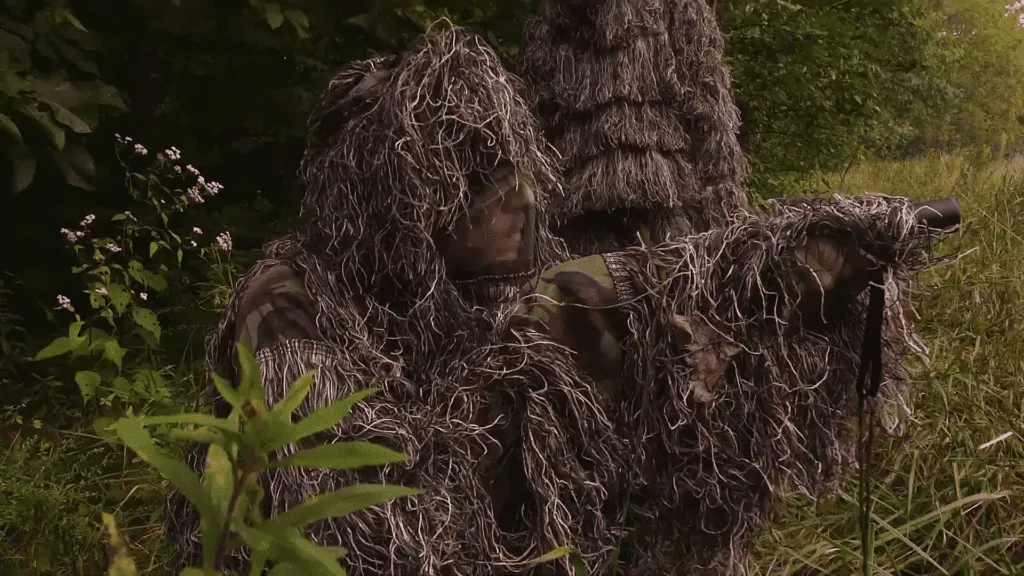 Built for many purposes, it's a lightweight, 4-pound, concealable ghillie. However, its price tag and overall quality really make it a choice for bowhunters, varmint hunters, paintball players, and woodland stalkers who are looking for a simple camouflage suit for a good price.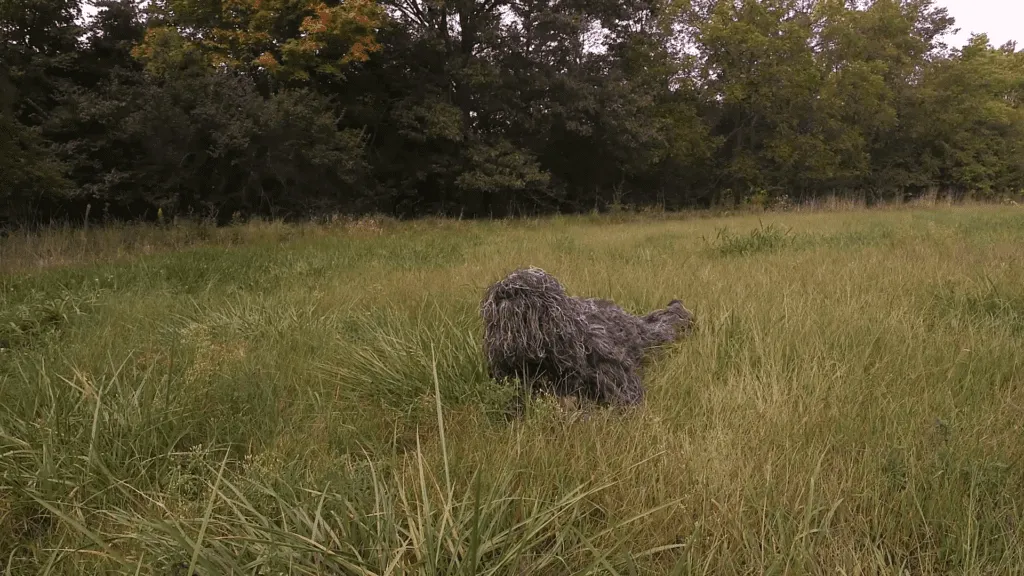 The Vivo ghillie suit's material is high quality—the suit is made of 100% polyester with polypropylene strings. Instead of zippers, you got brass snaps that hold everything together.
There are tear-away buttons on the pants, pocket slits and elastic ends for extra maneuverability, and mesh openings for better visibility while staring through a big scope like a Leupold VX3 for example.
The suit's careful design allows for ventilation and airflow. This is very important, especially during the hot, sweltering heat. However, the material is porous and ventilated, so it's not suitable for rainy days.
The Vivo 4-piece is made to be very easy to move in and out of, and you can expect minimal shedding from the polyester strings. 
Before and after use, a bit of 'fluffing" is recommended so you can tear off any loose material that might get stuck on branches and twigs. Simply run your fingers through it to sort of comb off the excess and give the strings their volume.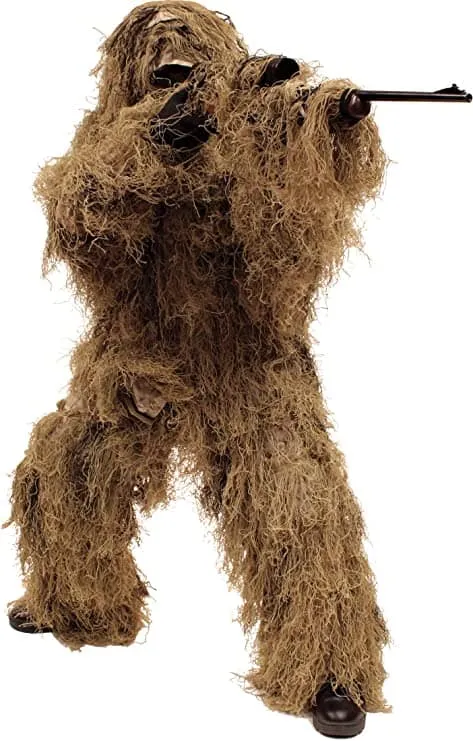 Pros
Comfortable
Very affordable with decent value
Has features some high-end suits don't
Lightweight
Easy to use
Fanny-pack and pocket friendly
Available in kids' and XXL sizes
The Red Rock Outdoor Gear Ghillie Suit may be the best budget ghillie suit out there. While it's second on this list, it has all the right features that cater to hunters in woodland settings, but it's also available in desert, ACU, and snow models as well.
The Red Rock ghillie suit comes in a very convenient carrying bag. It has an elastic waistband, snappable ankles, and jacket cuffs, and it's only slightly heavier than the Vivo. That said, it's designed for maximum ease of use.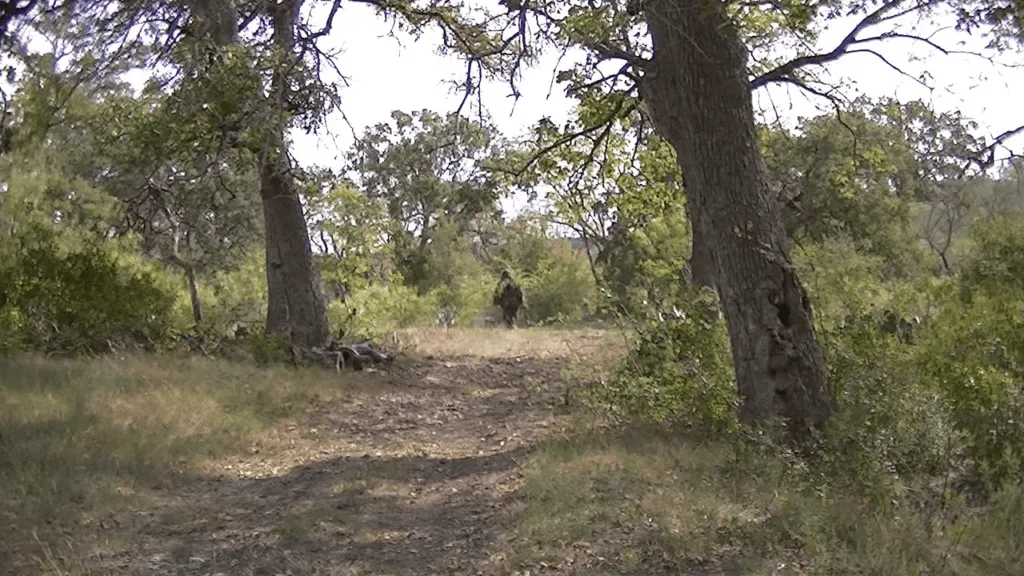 While this ghillie suit can get easily tangled and is difficult to untangle from branches and thorns, you get a high-quality polyester suit with a gun wrap, bag, top, pants, and a hood.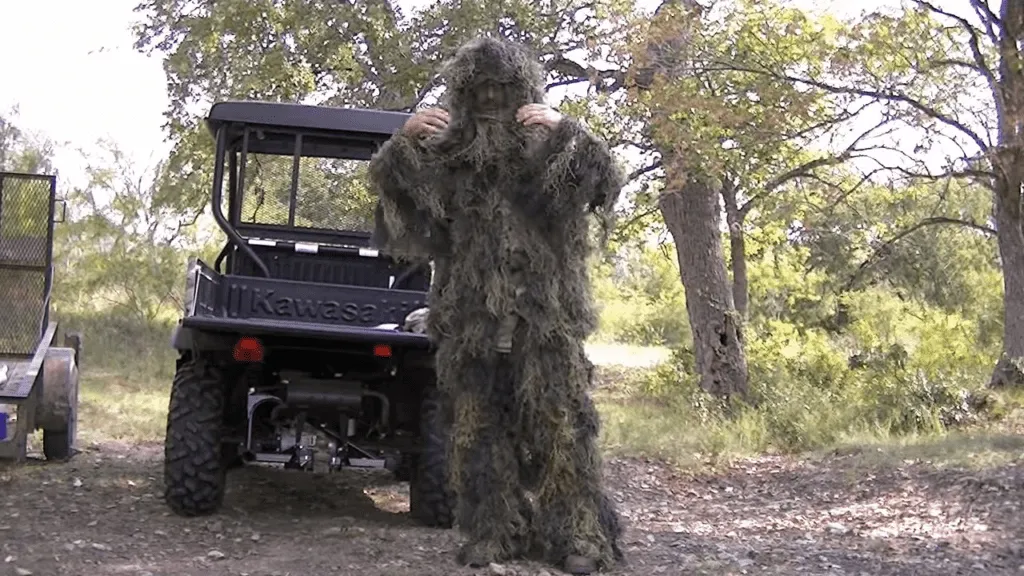 Just like the Vivo, all it needs is a little fluffing, and off to the woods you go.
If you're rocking extra tactical pockets or fanny packs, it's easy to adjust it to your size with the straps. You have slits for your front pockets, and this is what makes it a solid choice for hunters.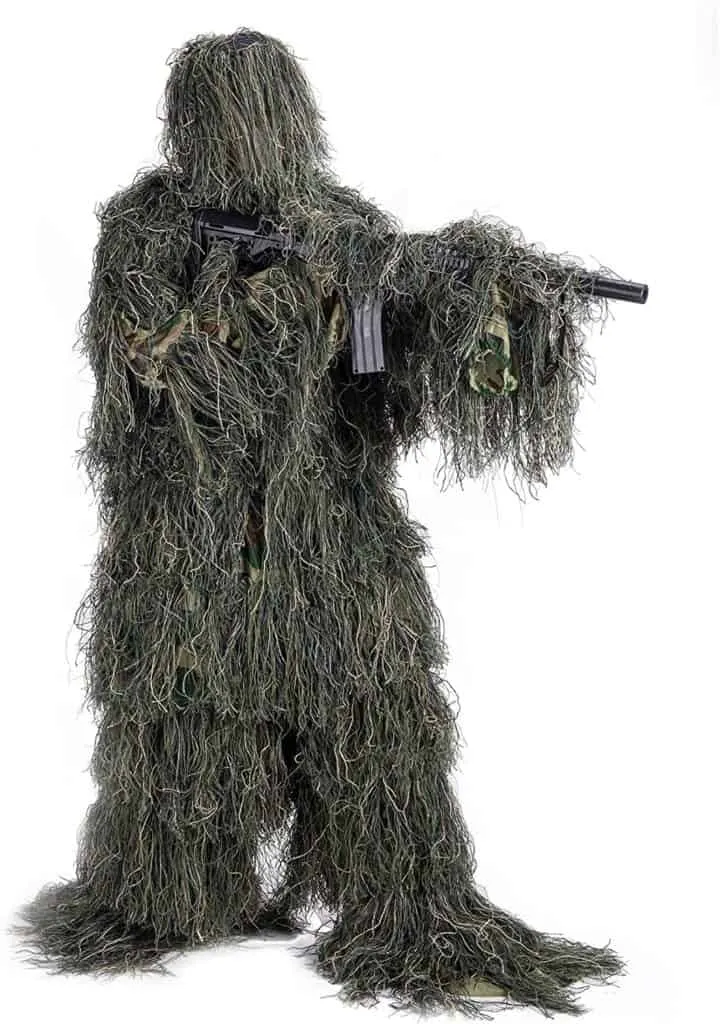 Pros
The most lightweight option
Excellent price
Easily adjustable
Hood covers whole head
3D camo effect
Good rifle wrap
Multi-layered
Comes with camo bag
Cons
Can only be hand-washed
Not water resistant
Here's the Pinty 3D as one of the cheapest complete ghillie suits the market has to offer, and with all the right features to boot. This one differs from the rest because the top pulls over with the hood, and it has draw-strings, making it easy to adjust and put on.
On the Pinty, you'll find a sewed layer that's located right on the top for better concealment. It's a multi-functional suit that protects from insects and can be used for hunting.
The strings are made of high-quality polymer, and the suit is lightweight enough to be worn anywhere. That being said, it's not water-resistant, so you need to add some waterproof undergarments if you're expecting rain.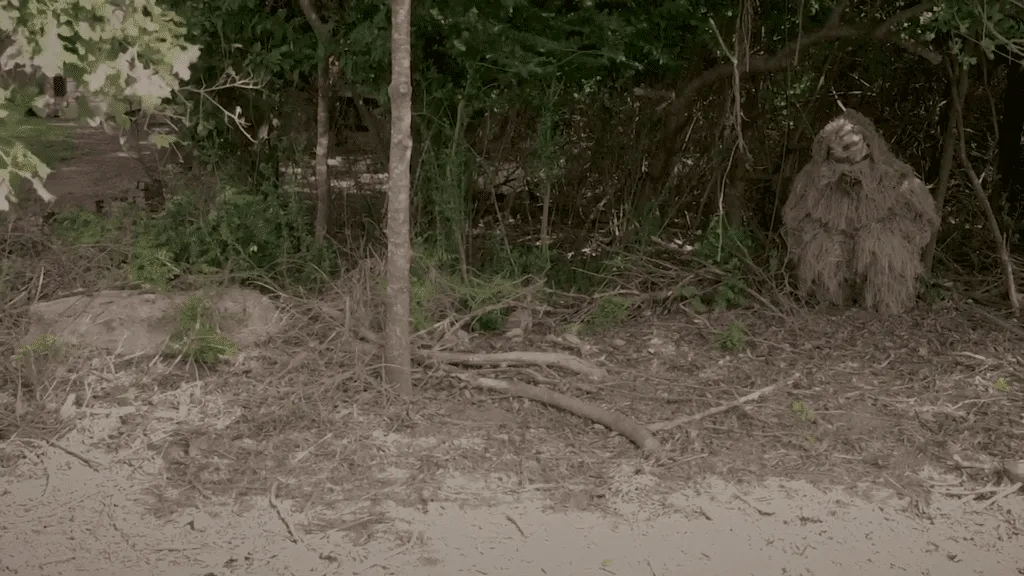 What makes the Pinty so special is that, for a fair price, you get a mask, top and bottom, stuff sack, and a big rifle wrap for a forest-ready sniper. The 3D camo colors effortlessly mimic trees and bushes.
The downside is that, due to its fragile material, it's not machine washing-friendly, so you need to wash it by hand.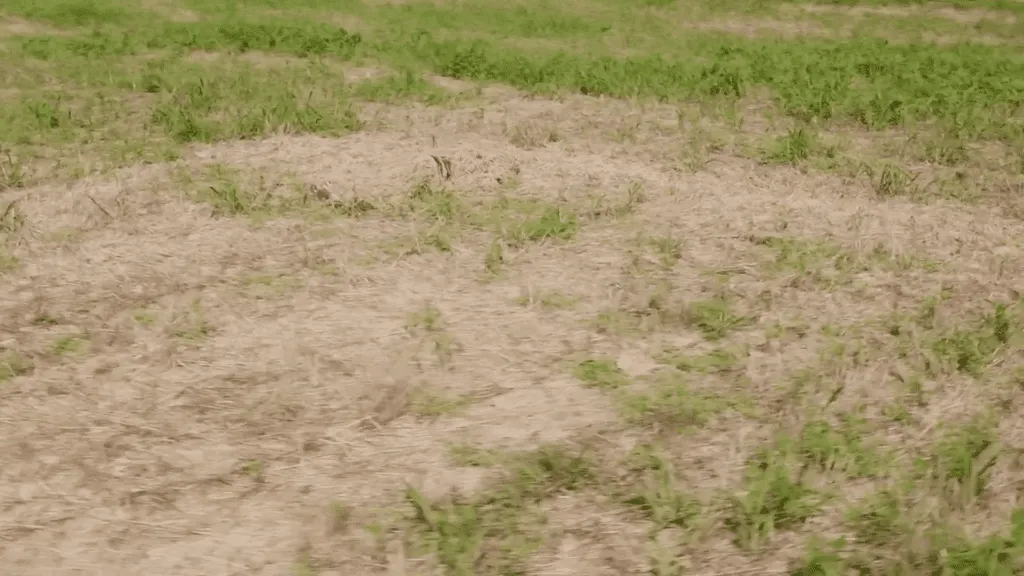 I recommend this one if you're looking for a casual ghillie suit that won't break the bank. It's a full-size suit, and although it's only hand-washable, it's made to be used in all kinds of environments. What's more, it makes for a great Halloween costume too!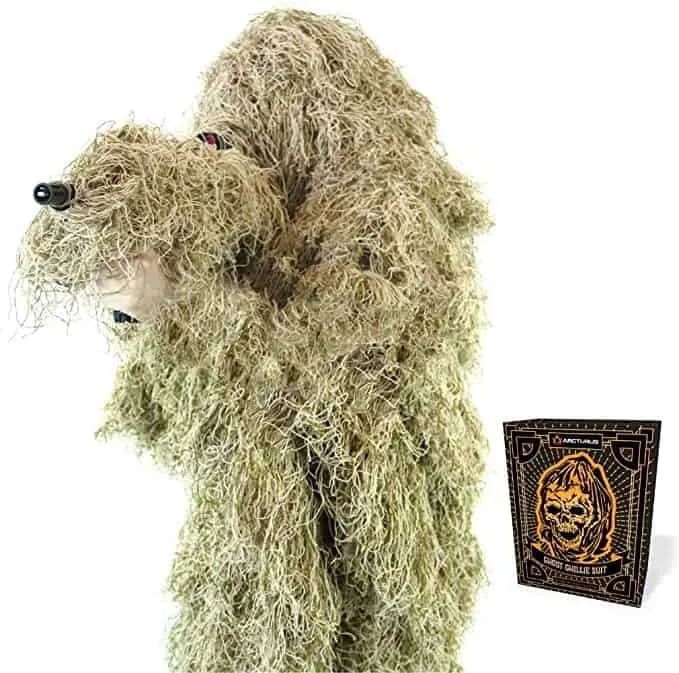 Pros
Excellent camouflage colors and patterns
Durable, non-flammable, and non-allergenic
High-quality face veil
Breathable
Every part has drawstrings for adjustment
Bag and rifle wrap included
Great for rainy weather
Cons
Can clump up easily
Not for winter
Here's a high-tier quality ghillie suit with a hefty price. Arcturus Gear gives us the Ghost Ghillie Suit, which is a high-quality suit that's durable, concealable, and almost non-shedding when compared to other suits on the list.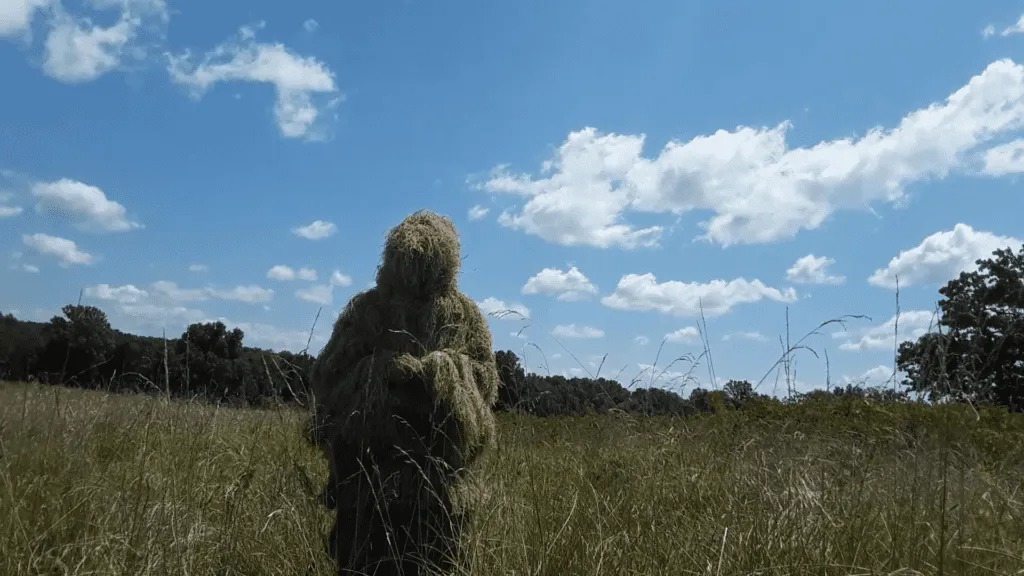 What the Arcturus Ghost offers is top-notch construction with lots of strands, seven color palettes, 3D blended thread, and is overall very comfortable. I recommend this one for the most serious hunters in densely vegetated areas.
The Ghost is both breathable and water-resistant, so it's great for rainy weather. When soaked in water, it has a darkened, matte color that blends in with the soaked grass and leaves. Add to that the fact that it's also mold-resistant, and you have a great suit for hunting in swampy terrain or even paintball sessions!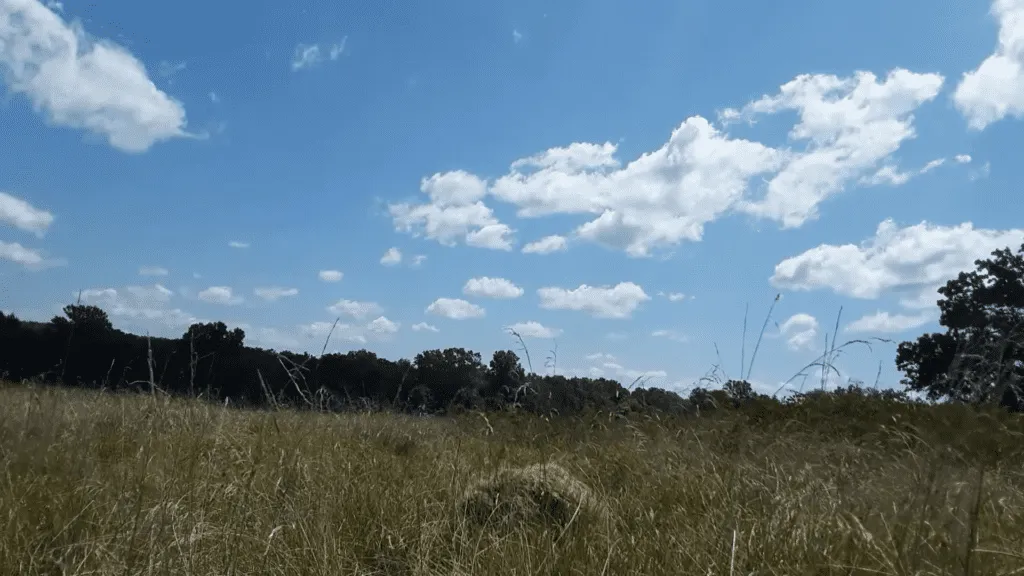 This specific model has a zip-up top, bottom, hood, and rifle wrap, which is very easy to strap onto your weapon. Although it might need a band and strap here or there if you want total concealment, it won't break your outline and almost perfectly conceals your silhouette.
It's not exactly lightweight since it weighs 6 pounds, but the overall quality and weatherproof characteristics make it an excellent choice for those looking for a rainy weather ghillie suit.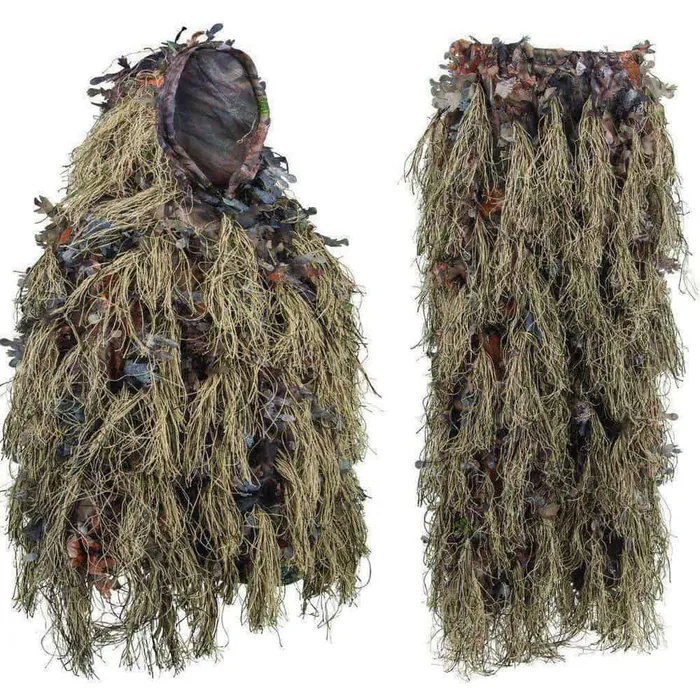 Pros
Top-tier quality
Suitable for most
Available in desert, woodland, and snow color patterns
Advanced concealment
3D fabric and string construction
Storage bag included
Last but definitely not least, here's the North Mountain Gear Hybrid Ghillie Suit. I chose this specific woodland model because it's the most popular option, but it's available in desert and snow textures as well.
Made of highly durable and flexible polyester, this full-body ghillie suit is made of a well-designed combination of 3D fabric and 3D string attachments for the ultimate in concealment. The buttoned jacket hood offers ease of use, and taking it on and off is smooth and hassle-free.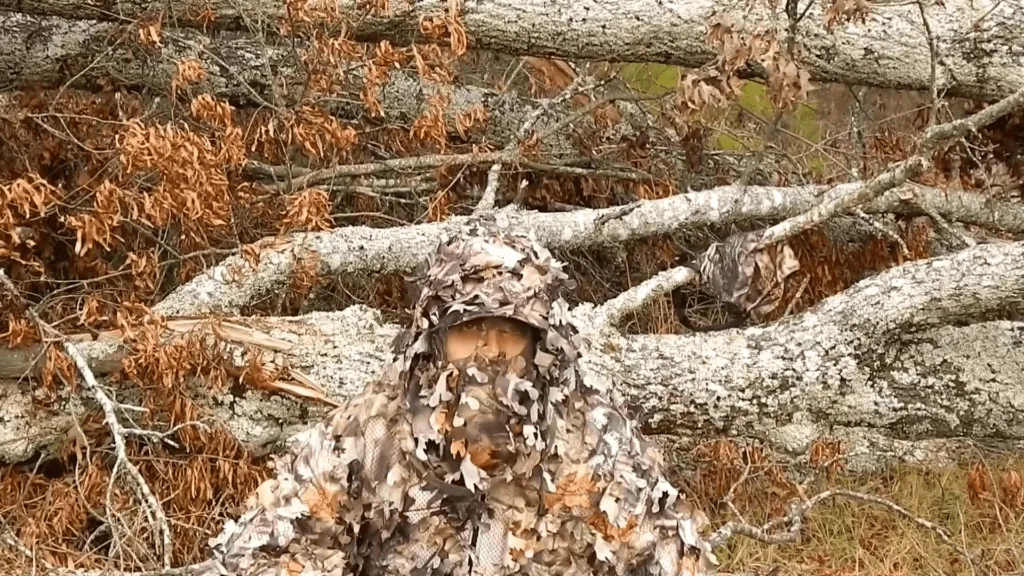 What makes it special is the quality of the breathable combination of polyester and spandex, as well as the well-patterned colors reserved only for seasoned hunters. This five-piece set includes a jacket, hood, rifle wrap, pants, and a stuff sack with a drawstring for your convenience.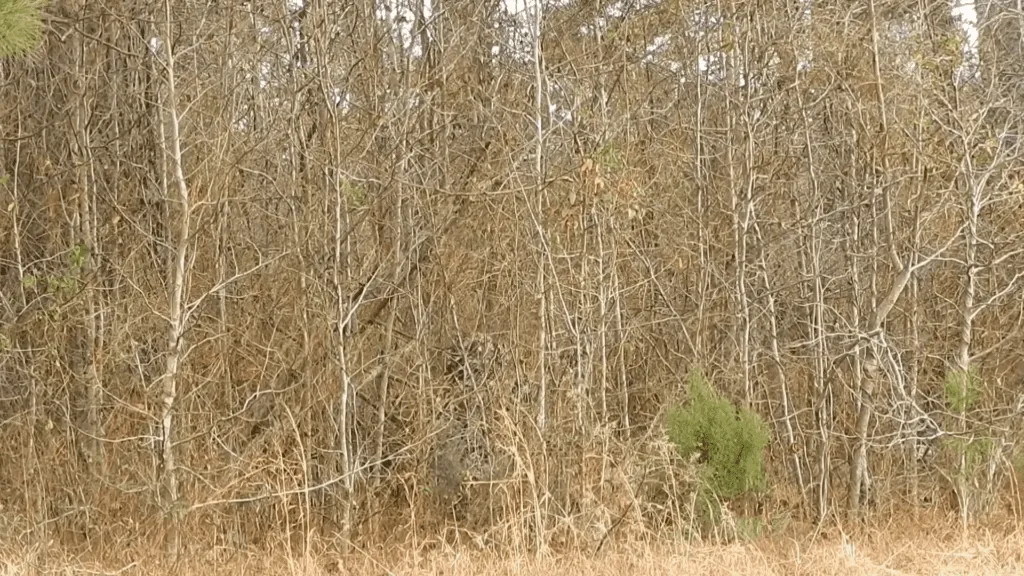 The elastic ankle cuffs, chin straps, and drawstring make it the most adjustable option you can find on the market, not to mention how comfortable it feels. The leafy textures are most suited for the summer/autumn seasons.
Buyer's Guide for the Best Ghillie Suits
First used by British and Scottish snipers, ghillie suits today see a multitude of uses like photography, deer hunting, and many different recreational activities besides firearms.
The term "ghillie" actually means "boy" and has its alleged etymological roots in Scottish mythologies. To be more specific, it's explained as a youthful earth spirit with dark hair covered in moss and leaves.
To choose a proper ghillie suit, one must first consider its main purpose (besides roleplaying as a youthful earth spirit in the Scottish highlands).
A Ghillie Suit's Main Purpose
Besides obvious factors like durability, function, camo color, and optional add-ons, picking out a proper ghillie suit means understanding why you need it in the first place.
If you're a woodland hunter, a ghillie suit is logical. In order to avoid startling and alerting a buck, lying in wait or getting closer to your prey is easy when you're blended into your surroundings.
The only drawback with moving in your ghillie suit is that it might catch on to some branches and give away your location. Snag-free ghillie suits are generally more expensive, so hunters usually shave off the excess.
Military snipers have special army surplus equipment. Their ghillie suits are usually not found on the market, but they're pretty close in characteristics. Their suits usually are carefully designed with flame-retardant properties and special ventilation surfaces not found on the market.
For paintball players, picking a hooded ghillie suit with the right color might just be enough.
Materials
Most ghillie suits are made of burlap and jute strings that have leaves, branches, and twigs attached to them. They're very tough but expensive when compared to modern, synthetic suits.
Modern ghillie suits are made of polyester with polypropylene fibers, and some use spandex as well. It's recommended that you use ghillie suits with realistic 3D foliage, and sometimes, an additional layer of fabric is also needed for extra concealment.
In contrast to burlap, polyester suits don't get heavy when soaked in rainy weather, so keep that in mind. What's more, burlap can be flammable. That's why the military uses a special, flame-retardant synthetic surface.
Color
Here's the most important factor. A high-quality ghillie suit is worthless if it doesn't completely blend in with your natural surroundings.
Depending on your chosen terrain, I suggest you pick ghillie suits with the proper patterns, be it woodland, desert, tall grass terrain, or even arctic for the winter.
Most of the suits I listed have all kinds of textures and patterns available. It's up to you to make sure your preferred hunting grounds have a similar color spectrum to the ghillie suit of your choice.
Sometimes, investing in different ghillie suits can yield great rewards and a good hunting experience.
Conclusion
To sum it up, ghillie suits are an important tactical asset that greatly aids you in hunting where stealth and patience are required. There's no better way to conceal yourself than with the ultimate in tactical stealth.
Depending on the material and color, ghillie suits are easy to clean, easy to maintain, and offer ventilation during hot temperatures, as well as temperature insulation in cold weather for convenience.
This list of ghillie suits offers the best on the market. If you're looking for top-quality ghillie suits with a decent price tag, the Vivo 4-Piece Camo Woodland and the Red Rock Outdoor Gear 5-Piece have the essential characteristics that most hunters would need.
Stay safe, shoot straight.
Explore more