4 Best Glock Triggers: Upgrade Your Favorite Pistol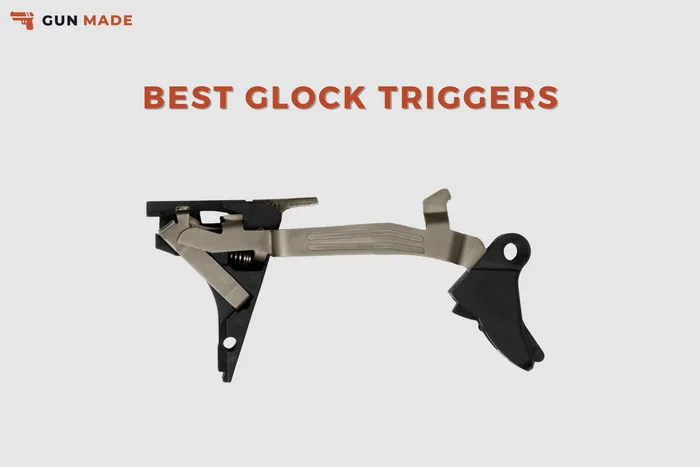 4 Best Glock Triggers: Upgrade Your Favorite Pistol
Introduction
What is the best Glock trigger on the market?
This is a question you may be asking yourself after putting some rounds through your pistol and realizing that Glocks aren't exactly known for having great triggers.
But I can tell you from experience that Glock triggers do get better with time.
To some shooters, the triggers are fine. Dandy. To others, they may want to have a lighter trigger pull or a heavier trigger pull, or maybe they just want to add a bit of pizzazz to their Glock.
And since Glocks have more aftermarket options than a 1998 Honda Civic, the number of triggers on the market can leave shooters spending a ton of money searching for the right trigger.
Not to worry, fine shooter, we're here to discuss which ones are the best so that you can keep your hard-earned money in your wallet.
In true fashion, I've done my due diligence (and then some) to find out which Glock trigger is worthy of your casheesh.
So, let's talk about the best Glock triggers I was able to find.
Best Glock Triggers (Shortlist)
If you're pressed for time, here's a shortlist. I do recommend you find out why these triggers were picked, though.
Best Overall – Glock Performance Trigger
Best Lightweight Trigger – Timney Alpha Competition Series
Best Competition Trigger – Johnny Customs Competition Trigger
Best Aesthetic Trigger (That Works) – Lenny MaGill's Ultimate Gen2 Pyramid Trigger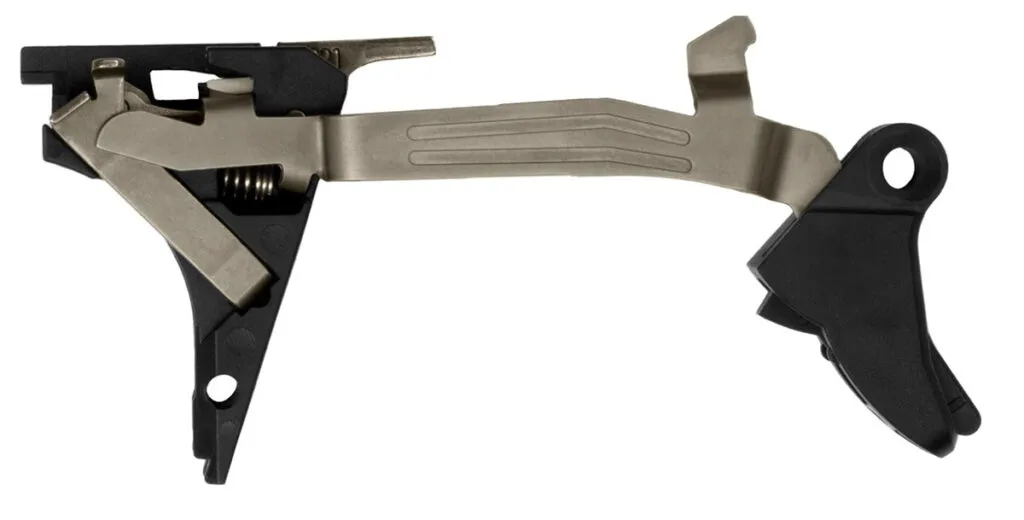 Pros & Cons
Pros
Made by Glock (extra safety reassurance)

Crisp and lightweight trigger pull

Relatively cheap upgrade
Cons
May be too light for some shooters
The Glock Performance trigger brings you one less thing to wish you had when getting your Glock.
Many shooters have complained about the trigger pull of the factory triggers. Some say it's too heavy, and some say it's too light. I'd like to say that the trigger pull is almost right, but they definitely could be better.
So the beloved gun manufacturer answered by creating a trigger that was lighter, pulled better, and was more ergonomic than the one you get out of the box. And they created just that with the Performance trigger.
It changes up the whole experience of shooting your 9mm.
Not only does it give you a lighter and easier-to-pull trigger, but it's also crispier than a Lays potato chip, with a constant break of around 3 pounds.
And it's made by Glock, so you can rest assured that the safety features of the Safe Action standards are met. I mention this since I'm a stickler for safety, and I've heard how daunting an aftermarket trigger could be for some shooters.
The Performance Trigger is not as expensive as other trigger upgrades on the market. This is a win if you don't want to spend a ton of money when tailoring your Glock.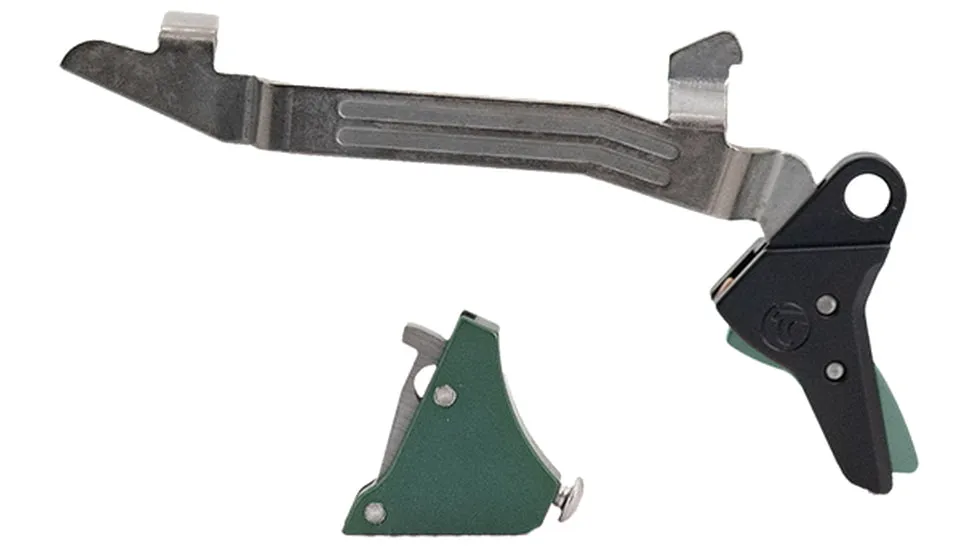 Pros & Cons
Pros
Three-pound trigger pull

Teflon Nickel coating on the sear and trigger bar eliminates friction

Easy to install
Timney has been making triggers since 1976. Most of you may know them from their AR-15 triggers, which they do a damn good job at making.
When Timney made their Alpha Competition trigger, they wanted a piece that would match the reliability of the Glock and give the shooter feedback never seen in a stock pistol.
I've shot my fair share of Glocks, and I know that their trigger can sometimes be gritter than my grandmother's cornbread.
Especially when you run your Glock in the field (in the dirt, mud, etc.), and that's due to debris getting between the trigger bar and the connector.
Tinmey answers gritty triggers with Nickel Teflon. Or Nickle PTFE, a composite on metal surfaces with the properties of Nickel (duh) and the lubricity of PTFE.
That's short for, big word warning, polytetrafluoroethylene, which is often found in military applications as well as making your favorite non-stick pan non-sticky.
When applied to a sear and trigger bar, you have a piece that virtually removes all grittiness from your take-up. And has one of the best breaks I've ever felt.
The Alpha Competition trigger set also keeps all of Glock's safety standards in place and uses stock springs.
It can also be installed without the aid of a gunsmith. Easy day.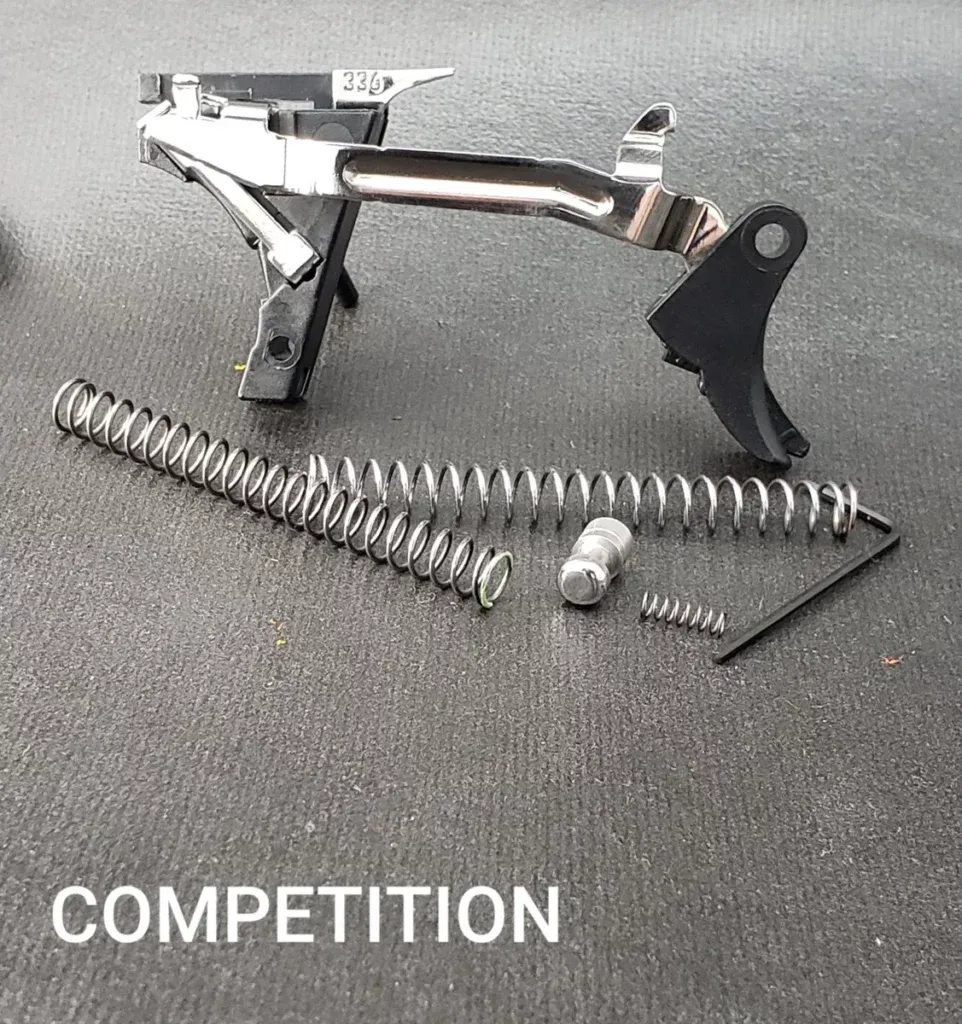 Pros & Cons
Pros
Easy drop-in trigger

Can get down to 2 ½ – 3-pound pull

Defined wall, crisp and tactile break.
For some odd reason, I'm guessing you've never heard of Johnny Customs before. But if you're in the market for an aftermarket trigger that will change the way your Glock shoots completely, then look no further.
This is the real deal.
Every small detail of the competition trigger is fine-tuned, and once you shoot with this trigger, you're gonna want one on every Glock you get afterward.
I'm not trying to sound salesy, fine shooter. But I damn near tripped over myself rushing to get home to write about this one after I got a feel for it myself. And I'm a trigger snob.
The break is clean, the walls are defined, and is easy to predict. It's also the most consistent trigger on the list.
The Competition trigger is a drop-in as well, so you don't have to worry about spending money at the gunsmith to get it in. And Johnny Customs provides a step-by-step manual to aid you in your one-on-one time with your pistol.
It is a bit pricey, especially if you want to go all the way and get yourself the shoe and striker.
But it's worth it. Trust me.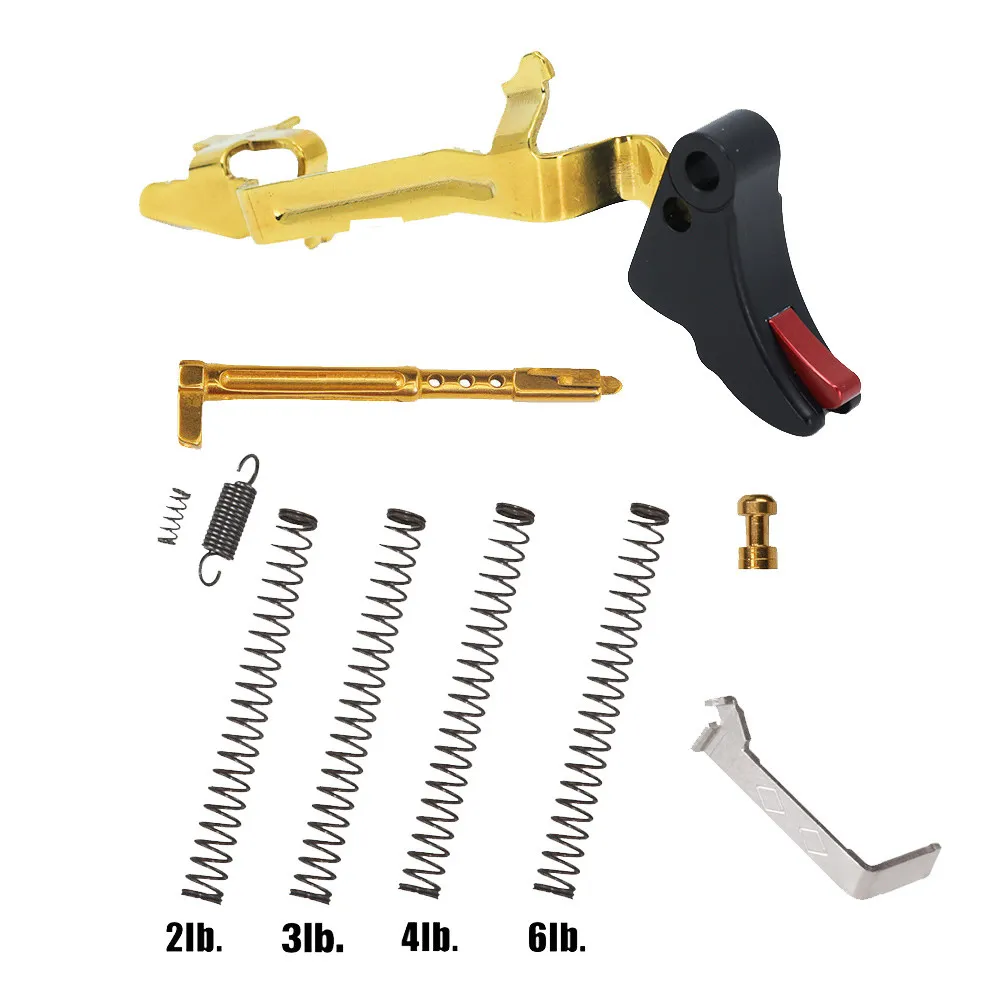 Pros & Cons
Pros
Looks great and works even better

Made by certified Glock armorer 

Multiple springs for different pull weights
If you've been elsewhere on the internet looking for trigger advice for Glocks, you've definitely come across Lenny Magill. He's the man to go to when you need Glock advice.
And this is the upgrade to his upgraded trigger. And the last upgrade was already leagues ahead of the factory trigger.
Lenny took years of real-world use in competitions, duty, and actually listened to his customers and spent hours of toiling over the bench, like Dr. Waldmen in Frankenstein.
And he came back with a trigger that looks good and works like a charm.
The whole kit features multiple springs, four of them to be exact, and each one will give you a lighter trigger pull. Obviously, they can't all be used in conjunction with each other, but if you swap out the factory striker for the skeletonized striker, you can get down to two-and-a-half pounds.
That's pretty damn light.
It's still just as safe, of course. Lenny Magill is a Glock armorer, after all.  
How We Chose Our Top Picks
First things first, it had to be a trigger, and it had to be made for a Glock.
I know. Well, I'm funny sometimes…
Anyway. I took to the range and asked around. Almost everyone and their mother owns a Glock, so it wasn't hard to find quality advice. Luckily for me, the guys at my range all run Glocks. Literally. All of them.
Oprah must have had a Glock giveaway at some point.
Anyway, it just so happened that almost every guy at the range had one of these custom triggers. And they have skin in the game and own more Glocks than Gaston himself. They spent the money so I didn't have to.
And so you didn't have to either. The love child of all of these findings is this list.
Glock Trigger Buyer's Guide
Since there are more aftermarket parts for Glocks than there are rats in New York, you may wonder which trigger is right for you. So let's talk about it.
How Light Is Too Light?
Depends on what you're planning on using it for.
Competition shooters can go as light as they want. Lighter triggers easily increase accuracy,  but I would be careful about using a light trigger for concealed carry and duty use.
Too light, and you may cause a no-no. Too heavy, well, that's just idiotic. No one wants that. Anticipation and drift are easy to come by when you're pulling a heavy trigger.
I personally like a four-and-a-half to five-pound trigger pull on my carry gun. My finger isn't on the trigger unless absolutely necessary anyway, and neither should yours. But in the heat of the moment, things happen.
That's no excuse, though. Train, fine shooter. Train.
Even at four and a half pounds, the trigger is nice and surprises me every time. And I don't have any issues with drifting. But many professionals would still consider four and a half pounds to be too light. And they aren't wrong.
It all boils down to you. I would say to leave the two-pound triggers to the competition shooters, but you can tell me to screw off. And that's fine. You have to put in the legwork and find your sweet spot.
Should You Change The Whole Trigger Kit?
When I say the whole trigger kit, I mean the trigger, trigger bar, striker, etc.
While some trigger upgrades solely include the trigger itself, some shooters may be looking for more than what they can get from just changing the trigger shoe.
And I would say yes. If you want to get the most from your shooting experience, I recommend a full kit. Especially one like the Lenny Magill's Ultimate.
I say that because of the amount of options that it gives you. Four different springs for different pull weights, a skeletonized striker for even less pull weight, etc.
Even if you feel like switching it up and opting for a heavier or lighter pull on a whim, you won't have to order other parts and wait. All you have to do is set some time aside.
But if you just want a different look from your trigger and don't care about changing the feel, you can do that as well. Still, I recommend changing it.
Does Changing The Trigger Make It Less Safe?
This is one of the main reasons why I always recommend going with a trigger that is well-known and has a proven track history, and also why I don't recommend polishing your stock trigger as other gun sites do.
Especially if you don't know what you're doing. Do you remember Cheddar Bob from 8-Mile? Yeah, we don't want that.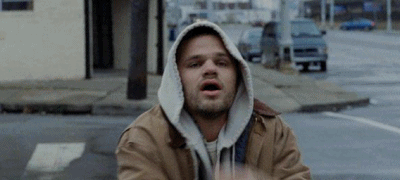 And if you're really worried about doing it wrong, take it to a gunsmith. No, not your uncle Jim Bob that does it out of his garage. I'm talking about a reputable and certified armorer. They'll let you know if your trigger is unsafe or not.
Not that anything is wrong with Uncle Jim Bob; armorers are trained to see things that normal folks won't see. Trust me, I've been there.
Any trigger that we mentioned above is reputable and is made by well-trained armorers. They wouldn't be here if they weren't.
FAQs
What Is The Best Competition Trigger For Glock?
Johnny Customs makes the best competition trigger for Glocks. It is the most consistent and best feeling trigger on this list. But, you also can't go wrong with the Timney Alpha Competition trigger.
Is A Lighter Trigger Better?
For competition? Yes. For concealed carry and duty? Eh, maybe not. But to each their own.
What Is Glock's Best-Selling Gun?
The Glock 19. Even my uncle Paulie owns one. And he's not a gun guy in the slightest bit.
Conclusion
Now that you know which Glock triggers are the best, which one do you plan on going with? All of these kits that I mentioned are top-notch.
And I'm confident you will enjoy adding any of them to your firearm.
But I'm sure there are other triggers out there that I have missed. New Glock parts are coming out every day. And what's good one day may not exactly be the best the next day.
Are there any triggers that you think I'm missing from this list? I know there has to be at least one that you shooters know of that deserves a top spot on my list. So please, let me know.
I love hearing from you guys, so let me know if there's anything I missed or if you have experience with any of these triggers, capisce?
See you on the range, fine shooter.
Brian Zerbian
Sat, 22 Jul 2023 08:37:09
Appreciate the knowledge, Mike, thanks for reading.
Reply
Explore more