Best Gun Cleaning Kits [2023]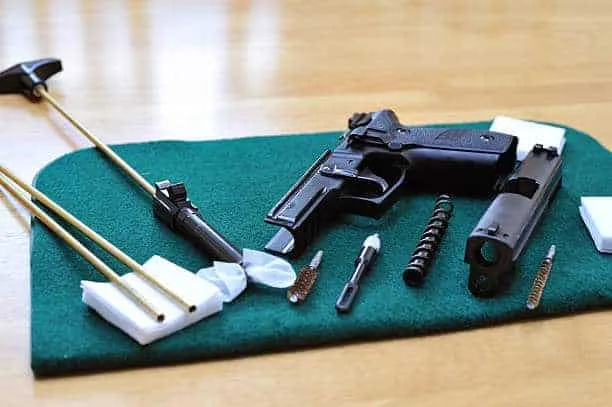 Best Gun Cleaning Kits [2023]
So, you purchased your new firearm(s), did all the paperwork, got your licenses, and took care of those overlooked CCW insurance plans, and now you're probably looking for a nice and affordable gun cleaning set.
But, there are so many gun cleaning options, kits, and oil sets, and everything seems like a good idea.
No worries, we did all the research, scoured the web for the newest, most affordable, most versatile, specialized gun cleaning sets and kits, and we'll help you choose the best one for you.
The Importance of Universal and Specialized Gun Cleaning Kits
One of the most important responsibilities any gun owner should consider is taking up the habit of cleaning their firearms regularly.
Still, this is something that's shockingly overlooked and many gun owners are not well informed about proper gun care, leading to fatal and non-fatal gun cleaning-related injuries.
Improper and misinformed gun care is equally as dangerous as not cleaning your weapon at all, and nobody wants dirt, gunk, and build-up to ruin their firearms. It goes without saying – gun care and gun safety go hand in hand. A proper gun cleaning ritual with the right kit will ensure your firearms stay brand new and pristine for a long time.
In this guide, we'll talk about the best gun cleaning kits and sets we could find on the market.
Why Go for Universal Gun Cleaning Kits?
The reason why going for an all-purpose, universal gun cleaning kit is crucial is because sometimes gun owners pick the wrong components or the gauge or caliber doesn't fit with the right tools. There's also the possibility that the brushes and cleaning rods may bend or break during cleaning.
The products listed are guaranteed to aid proper gun care, as they prevent rust, corrosion, clean out gunk and buildup in your firearms, and properly lubricate them for maximum efficiency and top-notch condition.
Feel free to choose one or more of the affordable gun cleaning kits that are on this list. You should also consider going for odorless ones. Some folks can't stand the odor of oil, solvents, and lubricants. So, we'll keep a nose out for that too.
One more important thing – remember that it's very rare to see a universal gun cleaning kit that comes with a gun cleaning mat. Mats are essential, and I really don't know why they're sold separately. Most of the gun cleaning supplies on this list don't have a cleaning mat.
If you don't want CLP liquid spills that could stink up your entire house, buy a gun cleaning mat.
With that out of the way, here's our recommended top pick – the most sought-after, high-quality universal gun cleaning kit.
Our Top Pick – Hoppe's No. 9 Deluxe Gun Cleaning Kit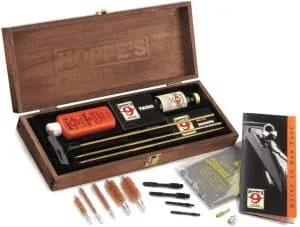 Pros
Great value for what you get
Includes CLP lubricant and solvent
Hoppe's lifetime warranty provided
Cons
The wooden box case might be a little fragile
No bore snake
Lubricant and solvent have a strong smell
Hoppe's No. 9 Deluxe is definitely a gun cleaning standard. We chose this one because it's versatile enough to clean rifle calibers, pistols, and can also be used as a shotgun cleaning kit.
Hoppe's are popular for their CLP oils and solvents, as well as Hoppe's Bore Snake, which is a very popular gun care tool. Here's a video on how to clean a Mossberg 500 shotgun using Hoppe's No. 9 gun cleaning kit.
It's a very affordable straightforward kit that gets the job done, whether you want to get your hands dirty or not. You also have their lifetime warranty to boot!
This kit has high-quality 3-piece brass rods with ball-bearing swivels, 4 slotted ends, and 5 phosphor bronze cleaning brushes for various calibers. You can clean rifles with the bronze bore brushes for .22 and .30 caliber guns, a .38 caliber one for pistols, and one for 12 and 20-gauge shotgun calibers.
It's not one of those full-scale universal kits that feel a bit overkill; it has just the essential cleaning rods, gun adapters, cleaning brushes, and a nice wooden carrying case.
Simply apply your solvent or CLP oil on the tiny cloth patch, place the cleaning rod in the center of the cloth, insert the rod in the barrel, and swap out cloth pieces as you clean until you see a clean one. Then, you'll know you have a squeaky clean barrel.
Of course, the kit includes Hoppe's No. 9 lubricating oil to prevent rust and corrosion, and a silicone cleaning cloth to brush off any fingerprints. Hoppe's No. 9 gun bore cleaner is also a very useful tool that's able to remove rust and gunk with ease.
The kit comes with a manual that we advise you follow carefully. It explains what the components are used for and what the manufacturer recommends you do when cleaning and disassembling. There are some interesting tips about humidity, weather conditions, brushing down, etc.
On the downside, it's missing that much-needed bore snake, the rods are problematic for 9mm pistols or .45 handguns, and the wooden box is rather flimsy and prone to cracking. Additionally, the lubricant and solvent might prove too smelly for some.
If you really want to kick it up a notch, you can go for Hoppe's Premium Universal Cleaning Kit, which gives you a lot more variety in cleaning brushes, cotton swabs, and jags.
Hoppe's No. 9 Deluxe Cleaning Kit is suitable for casual gun owners who go to the range once in a while. Sure, it's not one of the most abundant of kits, but make no mistake – it's really all you'll ever need for proper gun care and maintenance.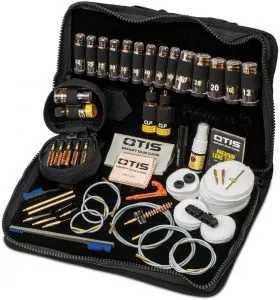 Pros
High-quality bronze bore/chamber brushes
Lots of cleaning components worth the price
Otis Ultra-Bore solvent tubes included (x2 5 oz.)
Lifetime warranty
Comes with an all-purpose, eco-friendly lubricant
Cons
Expensive
Needs additional component purchasing
This is the second-best universal gun cleaning kit on this list. It's slightly more expensive than Hoppe's No. 9, but I guess you can call this one the Mambo No. 5 because it has a little bit of everything.
The case is diverse and filled with all kinds of multi-purpose tools – pin punch, two rod handles, brass scrapers and picks, 22 all-purpose bronze bore cleaning brushes, 8 to 36-inch memory flex cleaning rods, locking lug brass scraper toolset, nylon brushes, bolt and firing pin cleaners, and memory flex cables that work like a charm.
Thoroughly check your manual to get acquainted with the seemingly complex tools. Despite what you may think at first, they're a breeze to use.
There are so many tools to choose from and each is built to clean over 40 different calibers, including .17mm to .50mm rifle and pistol calibers, as well as common gauge shotgun calibers like .410 – 12/10. Unlike Hoppe's No. 9, this one can clean 9mm pistols with ease.
In the case, you'll find 100% cotton cleaning patches and two tubes of an all-in-one, multi-purpose, environment-friendly lubricant and cleaning solvent – the Otis O85 CLP that cleans, prevents rust, gunk, and protects the surface of the firearm.
The Otis Elite can clean gunk and debris off of shotguns, rifles, handguns, and inline muzzleloaders, as well as lenses and scopes.
One thing that can be improved is the quality of the carrying case and the need to buy additional components.
The kit isn't complete without buying some additional stuff, like Hoppe's No. 9 Gun Bore Cleaner and 6-inch cleaning swabs. They're not expensive, and they'll be a fine addition to this universal gun cleaning kit.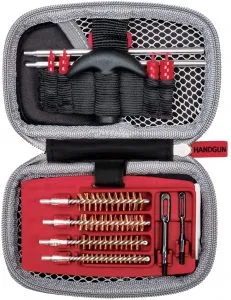 Pros
Highly affordable
Compact and portable
Oil-resistant interior
Cons
Less durable cleaning tools
Cleaning solvent and oil not included
Here's a specialized handgun cleaning kit worth every penny.
This gun cleaning kit is made for handgun care. The vast range of calibers it covers is enough to make your head spin. It's suitable for those of you who shoot your guns every day.
The Real Avid Gun Boss handgun cleaning kit offers handgun cleaning rods with double-edged sections and a t-handle swivel tip that goes up to 9 inches. The rods can reach the end of the barrel of any revolver; Glock, Smith & Wesson – you name it.
It has a ballistic nylon shell kit case that has an oil-resistant interior and a highly durable slotted shell in which the components stay in place. So, you won't have to worry about rattling noises.
The phosphor bronze brush is suitable for cleaning calibers such as .22, .357, .40, .45, .38, 9mm, and .45, and it has a .22 caliber bronze bore brush. Moreover, the red nylon jag can easily clean .22/.357mm, .38mm, 9mm & .45 cals as well. You can also check out the Real Avid Gun Boss Pro AR-15 Gun Cleaning Kit for your AR-15 rifle cleaning needs.
Gentle cleaning strokes and light touches are a breeze with the aluminum rod with a plastic end and swivel tip. The T-handle makes things very easy when cleaning at angles, and the nylon jags prevent any fouling. You also get 50 cotton patches, which is quite a lot.
There have been some bad reviews about the quality of the plastic tips on the rods and the overall durability of some of the components. But, it's not much of a big deal. However, Real Avid could have thrown in at least some solvents and oil tubes as a gesture of goodwill.
The Real Avid Gun Boss handgun cleaning kit is an excellent toolbox that covers all the important pistol calibers and we highly recommend this one for all you gunslingers.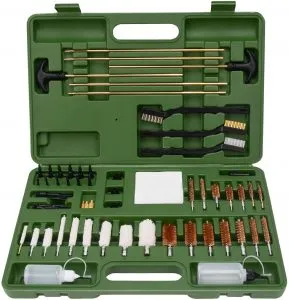 Pros
High-quality cables, brass brushes, and reinforced rods
Includes gun bore snakes
Suitable for revolver cleaning
Cons
No guide to how to use each piece
No solvent included
Here's a budget option hard-nylon, plastic organizing case that features 50 cleaning patches, handled brass rods, 14 double-ended brushes, 12 spear-pointed bronze brushes, black powder brass jags, three muzzle guards, and adapters.
This is an excellent shotgun cleaning kit and it cleans common gun calibers for rifles, pistols, and muzzle loaders as well. It also comes with four pieces of cloth.
This brilliant, all-in-one kit has it all. You can choose several mops and slotted patch loops that make things easier when you apply the solvents and gun oils. The compact case also has two spaces for the oil and solvent tubes.
The cleaning jags are made of high-quality nylon plastic and they don't break easily. The Gloryfire Gun Cleaning Kit has multiple picks for those hard-to-reach places, and you have lens cloths and brushes to keep your optics clean and tidy.
The solid brass rods are suitable for rifle, pistol, and shotgun calibers, as well as muzzle loaders.
The 50 microfiber polishing cloths prevent fingerprint markings, and the adapter piece allows you to connect different caliber pieces from other gun cleaning supplies directly onto the Gloryfire rods.
The biggest downside is that there's no manual and you'll have a hard time browsing videos on how to use the Gloryfire Universal Gun Cleaning Kit.
The Gloryfire is a solid budget option for a universal gun cleaning kit. Some of its accessories can be used for a long time and will make sure you keep your arsenal nice and tidy.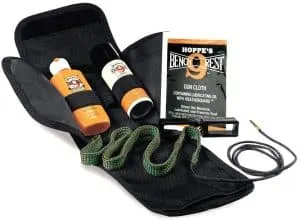 Pros
Lubricant and solvent included
Simple and straightforward
High-quality
Washable and reusable
Cons
Not for advanced cleaning
Here's the famous Hoppe's Bore Snake Cleaning Kit. The reason why it's so low on the list is that it's a bit bare-bones for a gun cleaning kit, but it's very versatile and one of the most popular gun cleaning sets on Amazon.
The bore snakes are designed and made for specific types of guns. You get to choose a bore snake for the caliber you want to clean, usually, a .22 caliber rifle, a 9mm handgun, or a .45 caliber handgun, and there are satisfactory reviews every single time. It's also great for cleaning 12-gauge shotguns.
You can apply a lubricant and solvent to prevent metal deposits, gunk, buildup, rust, and other unwanted hindrances that foul up your gun. Hoppe's Bore Snake is washable and reusable when you're done cleaning your guns.
It comes in various sizes with ball-bearing swivels, 1-piece rods, 3-4 piece rods, and it also comes with cotton patches for your gun's barrel and every other nook and cranny on your firearm, especially around the trigger. It also comes with a cleaning mat and weather guard cloth for polishing.
It's not really a gun cleaning kit that offers all kinds of rods and bore brushes, but it really gets the job done.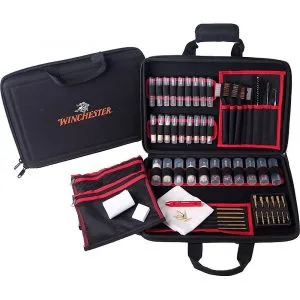 Pros
Compact casing
Very affordable for a universal gun cleaning kit
Convenient velcro straps
Made in the USA
Cons
Does not include lubricating oil and cleaning solvents
Manual not included
It's rare to see a gun cleaning kit with a near-perfect review score. This kit covers what any shotgun, rifle, or pistol cleaning kit can do.
With the DAC Winchester Super Deluxe gun cleaning kit, you get 68 different tools such as bronze bore brushes, cleaning rods, mops, and 3 sets of up to 50 cleaning patches. It's all tightly packed in a tidy nylon and velcro carrying case, and you can clean up to 14 different calibers, including .17 to 9mm, .45, and .540, while also covering the following shotgun calibers: .410, 12-gauge, and 20-gauge.
The carrying case is made of durable, high-quality nylon with a heavy-duty zipper and velcro attachments. The rods are made of solid brass, ensuring they serve their purpose for a long time. You also get removable handoliers with accessory pouches, 13 jags, 4 accessory adaptors, 2 choke/breech brushes, and 3 utility brushes made of phosphor, nylon, and stainless steel.
The case might not be aesthetically pleasing, but every part is well-placed and tidily organized.
The downside is that it doesn't include a bore snake, cleaning solvent, or any lubrication, so you'll have to buy them separately. The DAC Winchester Super Deluxe doesn't have a manual, so here's a video review showcasing details and how each part works.
If you're looking for a universal gun cleaning kit with lots of tools, and you're on a tight budget, this gun kit is definitely an option to consider.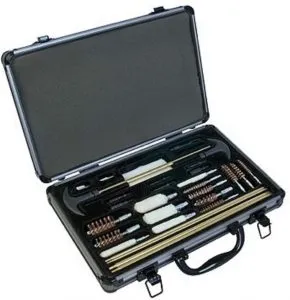 Pros
Trusted brand
Affordable
Cleaning solvent and gun oil included
Cons
Slightly flimsy aluminum case
Here's another budget choice with great accessories for pistol, shotgun, and rifle maintenance. Most customers like to use this one as a great rifle cleaning option.
The Outers 32-piece Deluxe Universal gun cleaning kit is great for those of you who are looking for a cleaning solvent and gun oil included in their kit.
Most gun maintenance brands don't bother to throw in a couple of bottles and tubes, so this option is not to be overlooked or scrolled past.
The aluminum case has a very nifty internal organizer which contains 32 cleaning tools including 3 solid brass rods for .30 rifle calibers and 3 other brass rods for .17 to .270-calibers, 9 bronze brushes, mops and brushes, 6 jags, and 2 accessory adapters for shotguns, all neatly organized in their slots. It also has an internal organizer and 50 cleaning patches.
The Outers 32-piece Deluxe has an aluminum case, and it might not prove durable over many years, but still, it has all the essential high-quality tools that are best suited for rifles, as well as handguns and shotguns.
Outers is a trusted brand, and those extra cleaning solvent bottles and gun oil tubes prove their prominent reputation. This is a great kit for a great price.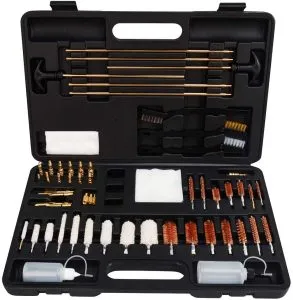 Pros
Comes with extra cleaning tools not mentioned in the product review
2-year warranty
Great value
Available replacement parts
Bore snake included
Cons
Not very portable to carry
Gun oil and/or cleaning solvent not included
Customers are pleasantly surprised when they find extra cleaning pieces that are not mentioned at all with the Firegear Gun Cleaning Kit. It's a universal gun cleaning kit used for all rifle types, handguns, and shotguns. What's more, you get a 2-year warranty and aftersales services.
Inside the molded plastic case, you'll find 13 CNC precision-machined jags and slotted tips for all kinds of calibers including .455 & .50 caliber for black powder muzzleloaders, 14 high-quality reinforced brass brushes, 9 bore mops, 3 muzzle guards, 3 accessory adapters, 4 patch loops, and brushes that can handle all kinds of surfaces.
The lightweight steel rods are more durable than brass ones, and the tire gear jags hold the cleaning cloth firmly. You'll also receive a very useful bore snake and a manual diagram that explains which tool is suited for which caliber.
The brushes can clean carbon buildup with ease, and most of the tools are brass so they don't damage the firearms interior. You also get 2 empty, refillable oil bottles that are fluid-tight. You won't receive anything like this from the other products on this list.
The only downside is that there's no room in the case for those extra tools that come with the purchase, but you really can't complain about that much. Other than that, this is one of the best universal gun cleaning kits with high-quality tools for a great price.
Buyer's Guide (What to Look For in Gun Cleaning Kits)
You never know when you'll need more than just bore snakes and brass cleaning brushes.
We know it's difficult to filter out and pick just one of the many high-quality gun cleaning kits. Every product listed here is high-end, and they offer variety and different features.
When purchasing gun cleaning kits, there are multiple factors to consider.
Instead of opting for universal gun cleaning kits that can clean most weapons, you can also go for more specialized gun cleaning kits that are made specifically for pistols, rifles, or shotguns. If you have a specific type of firearm that needs cleaning, then look for gun cleaning sets that cover just that.
But, if you're a seasoned gun enthusiast, then a universal gun cleaning kit is a no-brainer.
Overall Quality and Case Quality
First things first. There's no easy way of evaluating the quality of a gun cleaning kit before you buy one, and the only way of knowing is second-hand experience.
After careful consideration and scanning hundreds of reviews, the best way of knowing you're dealing with high-end cleaning kits is to look for carbon fiber rods and bronze brushes. Solid brass works well too, and these won't damage your firearms or break easily.
The casing material should also be considered.
Wooden boxes give off a nice aesthetic look, and there's nothing like that good old oak smell. Molded plastic cases last longer, aluminum cases are considered best for weather resistance, while steel cases offer durability but can be heavier to carry.
Keep in mind that if you travel around with the case a lot, you'll probably be better off with lightweight cases like nylon or maybe weather-resistant cases. It's a good idea to check the weight and durability first.
Pricing
It doesn't matter if the gun cleaning kit is cheap or expensive, you should always read what the product offers and how many tools you're actually going to need.
If you have multiple guns with different calibers, and you're a frequent visitor of shooting galleries, then going for a universal jack-of-all-trades gun cleaning kit is your best bet.
There's no need to go for a full-scale box set of cleaning parts if you just need some components to clean your Glock. However, you can never go wrong with a universal option.
More expensive usually means better quality, but it's not always the case (excuse the pun.)
Caliber Compatibility
Choosing a suitable gun cleaning kit depends on how many guns you have, which calibers they are, and how often you use them.
Not every rifle has the same barrel. Consider your firearms' calibers and look for products that cover those caliber ranges. For example, if you're a pistol owner, then you should go for pistol cleaning kits like the Real Avid Boss Handgun Cleaning Kit.
Cleaning your firearms with the right caliber tools ensures that they won't damage your firearms' barrels.
Number of Tools
Depending on how many guns you have and how much you use them, looking for multi-purpose gun cleaning kits can save you money.
Instead of purchasing gun cleaning kits for rifles, handguns, and shotguns separately, you can just go for universal gun cleaning kits that can serve you for a long time.
It's highly recommended that you have spare gun cleaning parts in case something breaks. Every brand claims their pieces are high-quality, but they're not indestructible.
Warranty
Lastly, before you come to a decision to purchase a suitable gun cleaning kit, remember to check if the manufacturer offers a good warranty and perhaps aftersale options. Responsible customer service is also something to take note of.
The Firegear Gun Cleaning Kit offers 2 years of warranty.
Gun Cleaning Kit FAQs
Do I Need to Clean a Brand New Gun?
Not necessarily. It usually depends on whether they've been in stock for a long time, as brand new guns have pristine parts and materials that have only been fired when tested.
Though, we recommend you at least wipe down your brand new gun after one month of use.
What Is the Best Gun Cleaning Kit for a 9mm?
What Is the Best Cleaning Kit for an AR-15?
How Often Should I Clean My Gun?
It depends on how often you use your guns.
If you're a regular shooting range attendee, a simple wipe-down and lube after every session does the trick. With this habit in place, Gunmade.com recommends that you also disassemble and clean your firearms once every two months if you use your gun often.
If you don't regularly use your gun, there's a chance that humidity and dust will corrode and damage your gun. So, giving your guns a thorough cleaning once a month makes sure they serve you for a very long time.
What Happens If I Don't Clean My Gun?
Rust oxidizes your gun's steel and may cause firearm malfunction or failure to fire.
Another critical issue to consider is moisture. Consider factors like cold weather, rain, snow, or dusty environments, and consult with your gun cleaning manual on how humidity may affect your firearm.
Where Should I Store My Gun After Cleaning?
The temperature, humidity, or simply put, where you live notwithstanding, the best place to store your cleaned firearm is somewhere dark and locked tight, preferably a gun safe.
Don't forget to wipe down and lube your firearms to prevent rust and corrosion.
Conclusion
The sole purpose of this guide was to make things easier for you when choosing your very own gun cleaning kit. But, there's also the prospect of showing you that it's very possible to maintain your firearms' condition brand new for a very long time.
Proper gun care means it'll be as if you have a brand new gun all the time, and taking care of your weapons is crucial not only for efficiency but also for your own safety.
There's no need to wing it and go for household cleaning items. There's a reason why universal gun kits are recommended even by the most seasoned gun enthusiasts.
On this list, we saw a lot of various kits with many different components and benefits, and hopefully, it's now easier for you to choose one that suits you best.
Not all of them are cheap and they might be tricky to use at first, but once you get the hang of it, the whole disassembly and cleaning process will surely become a fun routine. 
You know you've reached a certain point in life once you figure out how easy it is to get sucked into a meditative state while cleaning your firearms.
Explore more