Best Hidden Gun Safes [2023]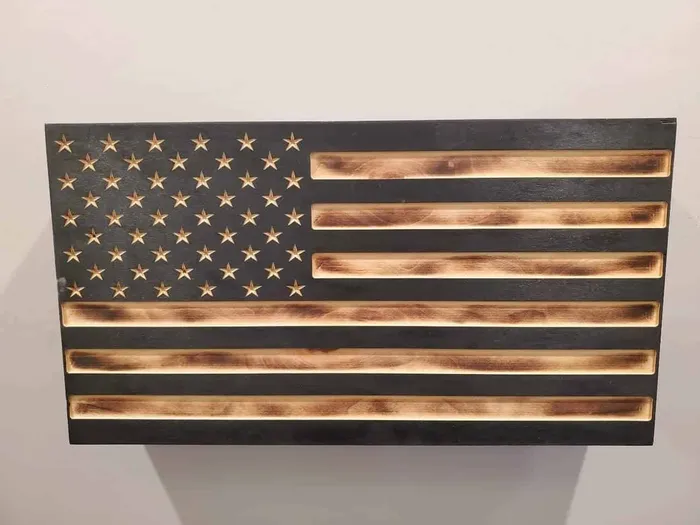 Best Hidden Gun Safes [2023]
Keeping your gun concealed is just as important as keeping it safe and secure. In some ways, a hidden gun safe is a level up from a regular safe. Hidden gun storage should provide quick access to your handgun when it's needed at a moment's notice, especially if you use it for home and self-defense.  
Many gun owners find hidden gun safes more convenient and effective than traditional metal safes. For one thing, traditional (and especially large) safes are notoriously heavy. By contrast, with the right kind of hidden gun storage option, you can hide your gun in plain sight. Examples of hidden gun storage furniture may include items as commonplace as a bookcase, bookshelf, or picture frame. Many of them will have a lock, such as an RFID lock. 
I've tested dozens of products and found San Tan Woodworks Carved Burnt Wood American Flag Concealment Cabinet to be the best overall. You can't judge a hidden gun safe without understanding the needs and preferences of gun owners. That's exactly the expertise I brought to this enterprise, and you're getting the benefit here. 
San Tan Woodworks Carved Burnt Wood Concealment American Flag Concealment Cabinet is the best overall because of how it combines appearance, convenience, durability, and security. Below we'll also go over the best choices available for specific areas of the home (bedroom and living room) and purposes (decorative accent and quick access). 
Keep reading to find out about the best hidden gun safes on the market. 
Our Favorite Gun Safes
San Tan Woodworks Carved Burnt Wood Concealment American Flag Concealment Cabinet is both an impressive decorative object as well as a hidden gun safe. It's made to hang on your wall, showing no sign of having a hidden compartment. This product is handmade by veterans in Arizona. It is an example of American artisan woodworking. 
Only hand-selected maple, pine, and birch is used in making this concealment case. These are especially durable varieties of wood. This object is built with the highest standards of craftsmanship and is 13X24X3.75 inches in size. 
The concealment compartment is hinged and found directly behind the flag. The compartment is 11.25 X 21.5 inches. There is a 2.25-inch layer of foam in the compartment, and this will help prevent your gun from getting scratched or damaged. 
This product's hidden compartment has a secure locking mechanism, the Safety 1st Magnetic Lock. It is still easy to access, however, using a large magnet. This is included in the product package, as are mounting screws, a foam cutter, and instructions. You won't have to worry about the hinged door opening when this hangs on the wall. 
The beauty of this product is a great diversion from its real purpose. No one who sees it will suspect that it is a hidden gun safe. 
Pros
Made of solid wood
Artistic design
Excellent diversion
Made in the USA
Foam padding in the hidden compartment
Includes magnetic lock 
Cons
Production time means a one-week shipping delay
There's hardly anything as inconspicuous as a nightstand, and this storage solution will mean your gun is at hand when you are most vulnerable – at night when you are in bed. If you like, you can put this in the living room instead. Wherever you put it in your home, it will be useful not only as a hidden gun safe but also as a table. More storage space for other items is available in the unlocked compartments. 
This nightstand is mocha brown in color and has a concealed drawer lined with felt to keep your gun safe and stop it from getting scratched. To open this door, you simply press a magnetic trigger. This feature gives you fast access whenever you need it for home defense. 
The concealed compartment has a Secured Magnetic Locking Device and Key, giving your gun extra security. The nightstand has two drawers and a shelf with plenty of space. It has solid wood construction, and there is a smooth gliding motion for the concealed top compartment. The tabletop has a crown mold style. 
You might want to get several of these and have them in different parts of the house. It's popular to have one on each side of the bed. You can also use it as an end table in your living room. 
Pros
Attractive and sturdy design 
Solid wood construction
Versatile and suitable for different rooms
Includes Secured Magnetic Locking Device and Key
Magnetic trigger to open the hidden compartment
This can be a great choice for living room areas. It will effectively hide your gun in plain sight, as no burglar would think of looking for a gun in a clock. Also, it will be quickly and easily accessed if you ever need it. This clock is fully functional. It is a diversion safe and has lots of space in the hidden compartment behind the clock face. The hidden compartment has a magnetic clasp and hinge. It's easy to open and close. 
Many kinds of handguns will fit in this clock's hidden storage space. The storage space is felt-lined, so it helps protect your gun from getting damaged. You can keep this hidden gun safe clock in many different parts of your home, including on a table or mantel. To operate the clock function, you need just one AA battery. One battery comes with the clock. 
This clock is made of engineered wood and has a mahogany stain. You can access the hidden space in the clock with a keyhole found at the back of the unit. This closes the clock panel with a magnetic latch. The clock function has precise quartz movement and Roman numerals. You must put his clock on a surface. It is not a wall clock. 
Pros
Attractive and decorative
Functional clock with quartz movement
Excellent diversion  
Cons
Relatively small storage compartment 
This concealment bench will store as many as five long guns, so there is plenty of room for your ar-15s. It is a great decorative addition to your living room, and no one will suspect it is a hidden gun safe. This bench (and gun vault) has a stitched polyurethane cushioned covering. 
There is a wooden accessory tray that can hold your Glock or other items. This is removable for your convenience. The interior of the storage bench is soft fabric, which will help stop your guns from getting scratched and damaged. The upper compartment of the bench has lots of additional room. You could add some LED lights to make it easier to see everything inside of the safe.
The bench has strong plastic feet, and dual safety stays that will keep the lid open when you are putting items in or taking them out of the safe. The product package includes 10 moving bolts, two anti-copy keys, and mounting holes. This bench measures 51 X 17 X 20 inches and is 64 pounds. This hidden gun storage product has a lock attached and comes with keys. 
It's sturdy and has a versatile style, so it will complement whatever room you choose to put it in. Accessing your guns from this bench's hidden compartment is quick and easy. 
Pros
Can hold up to 5 long guns
Attractive design
Dual safety stays keep the lid open when needed
Includes anti-copy keys 
If you don't need a lock on your hidden gun storage solution, the Castlecreek Gun Concealment Wall Shelf with Hanging Hooks is a popular choice if you want a wall gun. This is a simple wall shelf with a hidden compartment. It has three hooks at the bottom, so you can use it for hanging up jackets, hats, and keys. 
The shelf is 24 X 6 X 13.5 inches, and its secret compartment is 21.5 X 4.5 X 7 inches. The hidden compartment is lined with felt to stop your gun from getting tarnished or damaged. Castlecreek Gun Concealment Wall Shelf with Hidden Secret Storage is made from MDF and wood veneer. It has a dark cherry finish and looks quite rustic. 
This won't be an appropriate choice if you want security for your gun, as it doesn't have a lock and opens so readily. However, burglars are unlikely to try looking inside it, as it appears so commonplace. You will need to assemble this product and make sure it is properly secured to the wall. 
The door may open too easily in some circumstances. Keep this in mind when deciding on whether this would be a safe choice for you. 
Pros
Quick and easy to open
Inconspicuous appearance
Cons
No lock
Not real wood 
Lacks security 
Buyer's Guide
The right hidden gun safe for you depends on your individual preferences and needs. Examine these tips in-depth and study all the product specifications before making a decision. Some gun owners decide to have more than one hidden gun safe, so keep that in mind, too. 
Maybe you can keep different hidden gun concealment safes, such as gun concealment furniture, in different parts of the house. 
How to Choose the Best Hidden Handgun Safe
Like almost any other product, start with considering your personal needs and the safety requirements of your household. 
If there are children in your household, you must be careful you get a safe with a secure lock comparable to the kind you get with traditional metal safes. Also, ensure that guns are stored well out of reach of kids at all times. 
Make sure the hidden gun safe looks like whatever object it is supposed to be. For example, if it is supposed to be a coffee table, make sure it truly looks like one. If there's anything strange or unusually bulky about it, that might be a clue for burglars and home invaders. 
Look for a hidden gun safe that doesn't have a giveaway company logo on it. Also, look for one that has ample room not just for a gun but for whatever accessories and ammo you also want to store with it. You can get a wall safe and then cover it with a painting or picture. 
What are the Benefits of Hidden Gun Safes in Plain Sight?
There are several benefits of hidden gun safes. 
One benefit of hidden gun safes is that they hide your weapons in plain sight. The traditional metal safes that people usually use for gun storage will signal what is in them. As most people know, if burglars are determined enough to get into something, they usually will. 
A hidden gun safe is lighter and more practical than a traditional safe, and so it is feasible for use in places with weight restrictions, such as upper-story apartments. 
It's easy to have more than one hidden gun safe, so you can stash guns in different parts of your house, giving you quick access. 
What are the Disadvantages of Hidden Gun Safes? 
There are some disadvantages to hidden gun safes, such as: 
Most hidden gun safes you will find on the market aren't fireproof. If you use hidden gun safes, you should get insurance for your guns.
If a burglar or home invader smashes the furniture that is a hidden gun safe, they will find the gun or guns.
If you tell friends and visitors about your hidden gun safes, the word could get around, and potential burglars or home invaders could hear about them. 
What's the Best Way to Use a Hidden Gun Safe? 
Keep your household's safety needs in mind when deciding how to use a hidden gun safe. Where you put the hidden gun storage will depend on your own needs and preferences. Think about where you would like the gun to be most accessible while still keeping it safe. Also, think about where you will store ammo. 
Many hidden gun storage solutions, such as concealment furniture, have hidden compartments where you put your gun. To use this ability effectively, ensure you place the gun correctly and secure the safe as it should be. 
Some gun owners find ways to construct hidden gun safes themselves, as explained in this video. 
Is There Any Controversy About Hidden Gun Safes? 
There has been some controversy about people leaving guns lying around the house, but you're not doing this when using a hidden gun safe. As long as you use it correctly and you choose a safe that is specifically appropriate for your household, a hidden gun safe can be a great option.  
Precautions to Remember 
If there are kids in the house, you must have a safe with a sturdy lock and locking system. You will have to stay away from any hidden gun storage option that doesn't offer that kind of security, even if it's an otherwise high-quality one. Firearm storage is a serious responsibility. 
My Top Pick
Though we have reviewed several great quality hidden gun safes, one stands out to us. The San Tan Woodworks Carved Burnt Wood American Flag Concealment Cabinet is our choice for the best hidden gun safe for several reasons. Not only is it a beautiful addition to your home decor, but it's also the kind of place where no one would ever think to look for a gun. Remember to keep the fact that it's a hidden gun safe private, not telling anyone outside your household. 
Artisan veterans also make this concealment cabinet right here in the United States. It's durable and will give you peace of mind. You can buy the San Tan Woodworks Carved Burnt Wood American Flag Concealment Cabinet at this link. 
Explore more