Best Tactical Shotguns For Home Defense and More [2023]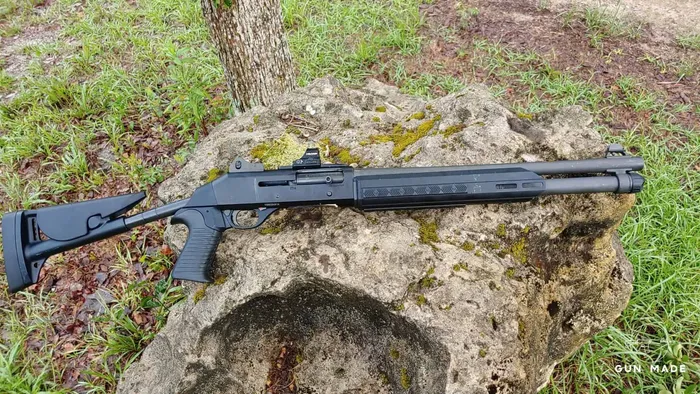 Best Tactical Shotguns For Home Defense and More [2023]
I tested 12 products and found the Mossberg 500 to be the best tactical shotgun, especially for home defense.
When I test different shotguns, I try to consider as many different types of shooters as possible, including those with limited experience. I examine every aspect of the gun, including its weight, gauge, recoil, and all other factors that affect how it feels when fired.
My goal isn't to find one gun that's best for everybody. Instead, I want to explain each gun's features and whether or not they're a good match for your experience level, and how you want to use the gun.
However, some folks aren't particularly interested in all the details. They just want a gun for protection and don't particularly care about firearms as a hobby. When people with that mindset ask me to recommend a shotgun for home defense, I tell them to buy a Mossberg 500.
It's my choice for the best overall because it's powerful enough to stop an intruder with one blast, but it's also easy to aim and fire. Plus, you don't need excessive physical strength or even a familiarity with firearms to feel confident wielding this weapon.
Of course, the Mossberg 500 isn't my only recommendation. I've rounded up a wide range of tactical shotguns, including options approved by the military, designed for fast firing, and more. Even experienced gun enthusiasts might be surprised at some of the hidden gems I've found.
Here's a look at the best tactical shotguns, plus a short, informative guide on how to find the perfect one to protect your home and family.
The Best Tactical Shotguns
As one of the most popular types of firearms in the world, you'll find no shortage of different tactical shotguns. Figuring out where to start can feel confusing, so let's keep it simple. Here are 12 different tactical shotguns I recommend.
I've covered a broad range of types, so you can see a solid overview of your options and then make an informed choice about what's best for your needs.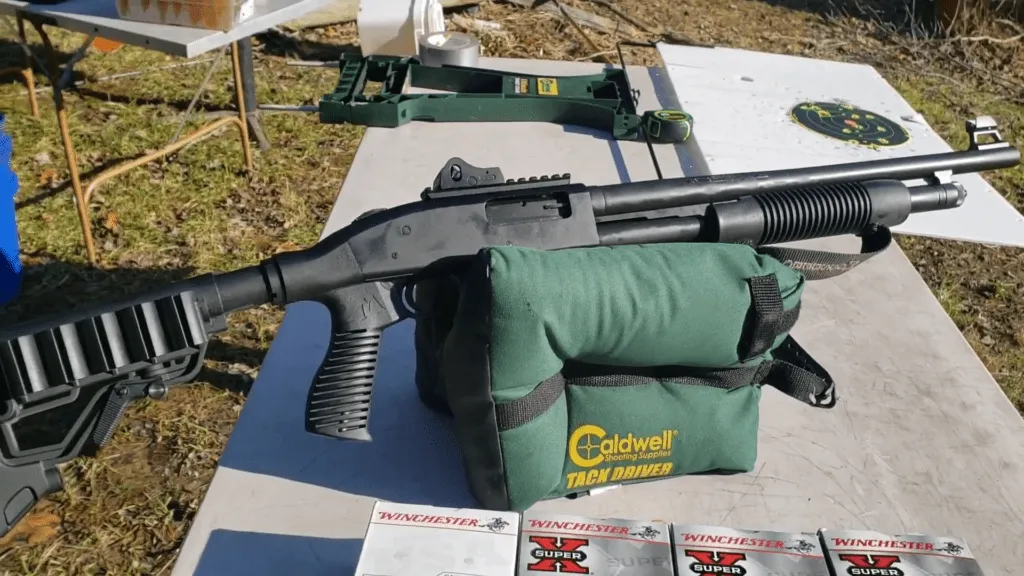 The HS450 is an incredibly popular home defense shotgun known for its power, reliability, and effectiveness in small, close quarters such as a house or apartment. With a weight of 5.5 pounds and a total length of 37.25", even smaller folks, including women and teens, should be able to handle it easily.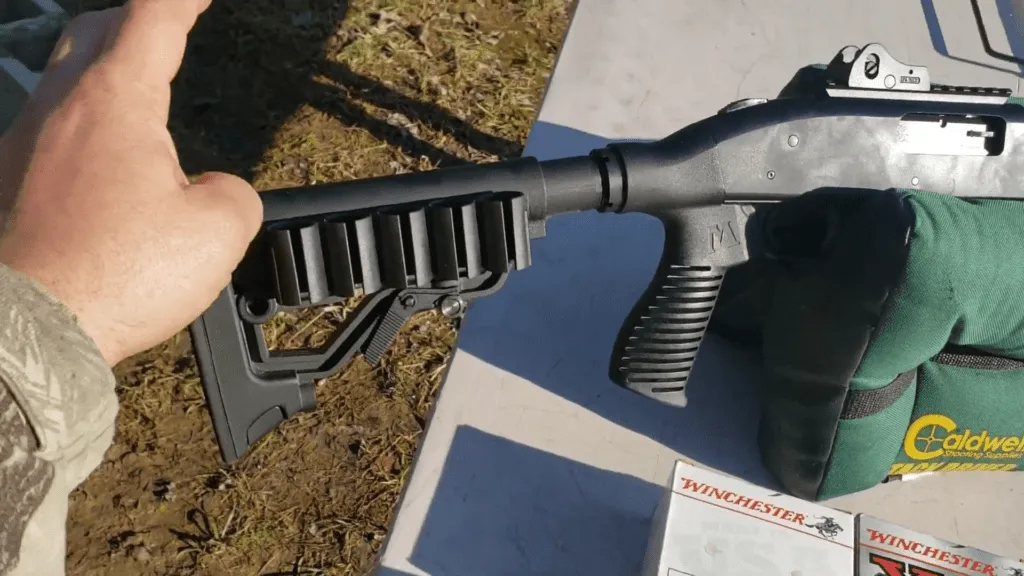 Everything about the shotgun is designed to maximize its self-defense capabilities. It shoots both 2.5" and 3" shotshells, so you have multiple ammo options. Also, it has a black synthetic stock that helps manage recoil while the forend pistol grip aids with aiming. Finally, the spreader choke creates a spray pattern ideal for close-quarter shooting.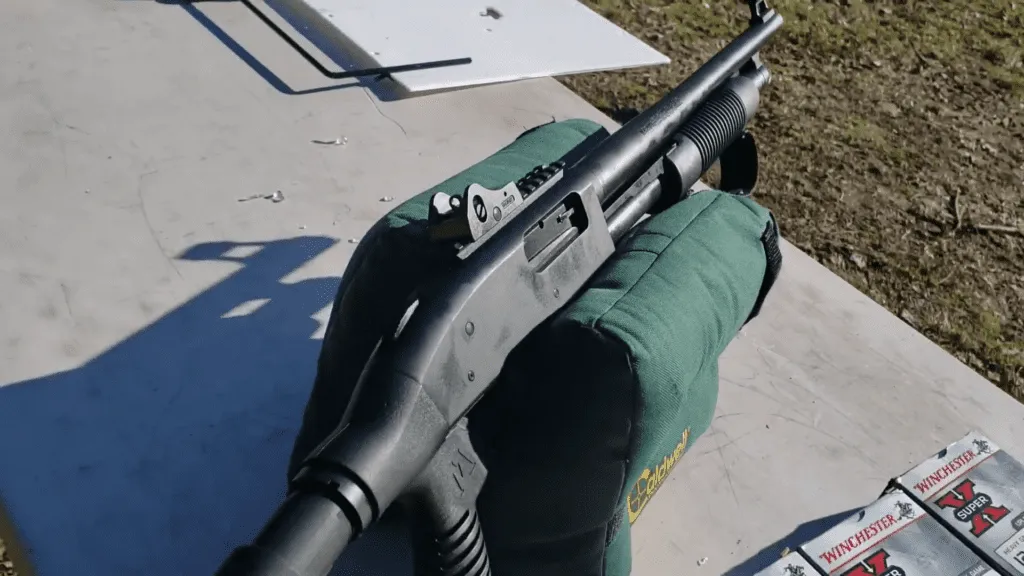 The standard barrel is 18.5," which is a nice, maneuverable length for home defense. However, if you want something different, switching barrels is a snap. Pull the action down mid-way, unscrew the magazine knob, and you can pull out the old barrel easily.
Another major feature here is the HS450's overall durability. It passes the MilSpec 4334 Torture Test, a military standard for damage resistance.
Pros
Lightweight and easy to handle
Uses both 3" and 2.5" shotshells
18.5" barrel ideal for interior use
Easy to customize with detachable barrel
Cons
The fire rate isn't as fast as a semi-auto
Ineffective for hunting and target shooting
Here's a video showing how to load and unload the weapon.

While shotguns aren't especially known for speed, the Beretta 1301 chambers and shoots quickly, and the manufacturer claims it's the fastest-firing shotgun on the market. It's a semi-automatic, gas-powered shotgun with a total weight of 6.3 pounds and a length of 37.8" (and a barrel length of 18.5").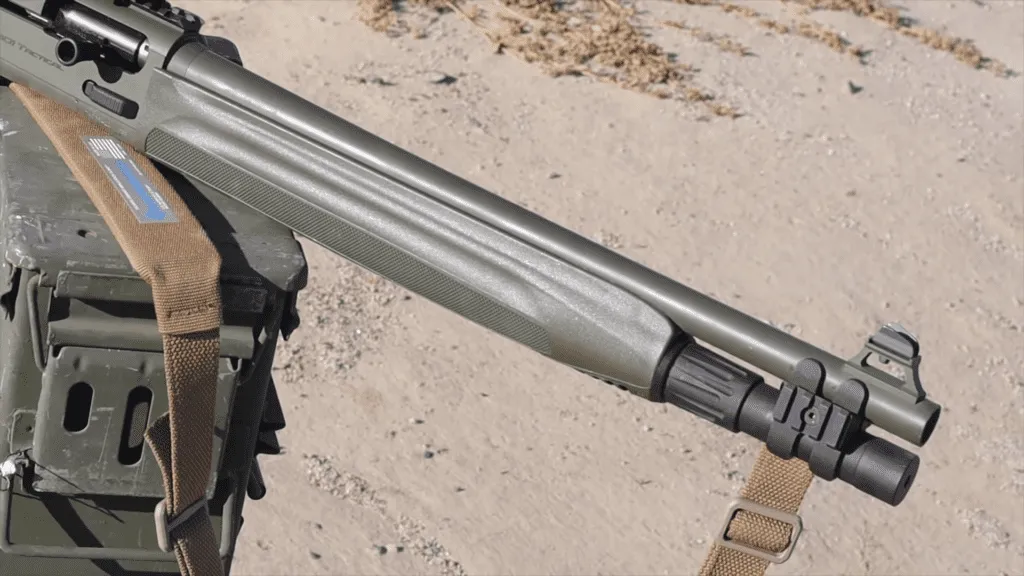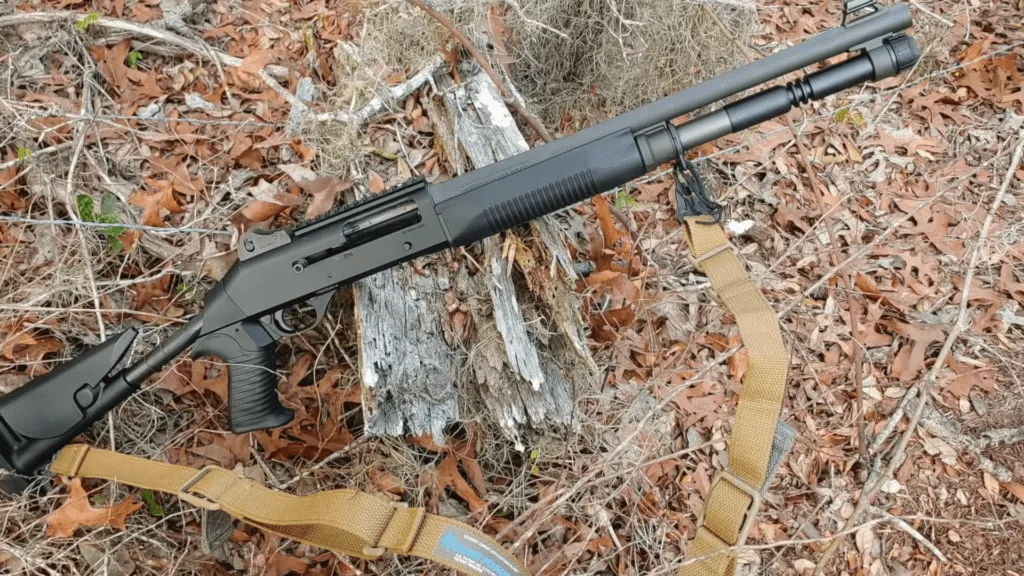 Beretta did an impressive job listening to their customers, and the 1301 reflects a variety of feedback on earlier models. The redesigned bolt release lever works smoothly and helps reduce double feeds from occurring. Additionally, they added an aluminum Picatinny rail to support heavy optics.
The barrel is threaded for Optima Bore HP Chokes, which gives you tons of customization options. You can use any 12 gauge OBHP Beretta chokes, so you can adjust the shot pattern based on your experience level and the layout of your home.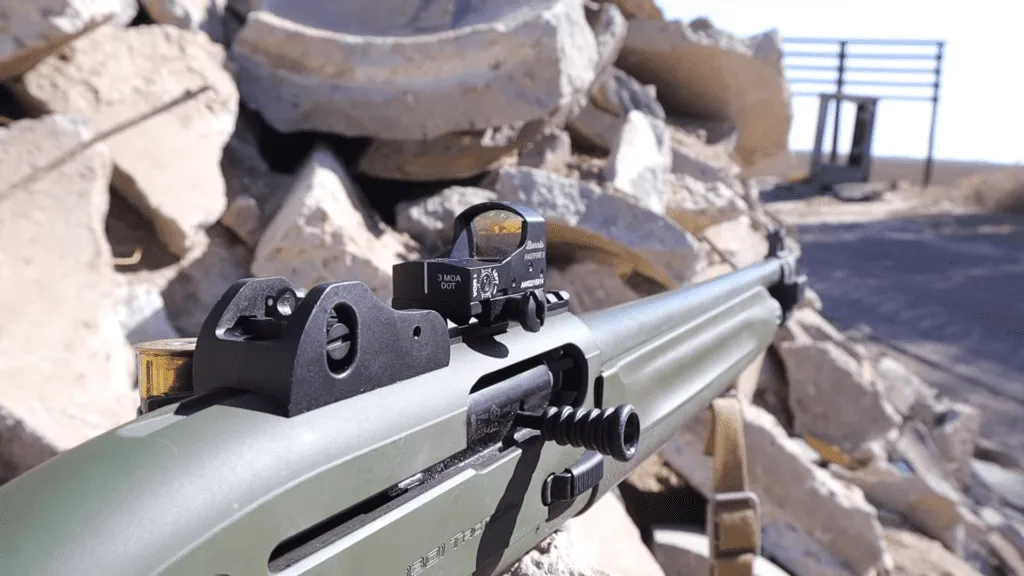 Note that this is the Marine edition, which does add a few unique features. The finish is both highly visible and corrosion-resistant. You can safely store it in any type of wet or maritime environment.
Pros
12-gauge shotgun with 5+1 ammo capacity
Semi-auto firing with gas-powered delivery
Newly redesigned based on customer feedback
Marine edition adds additional water and corrosion resistance
Cons
It's meant only for targets within 25 feet
Recoil might be too strong for small-frame shooters
Here's a closer look at the Beretta 1301 Tactical.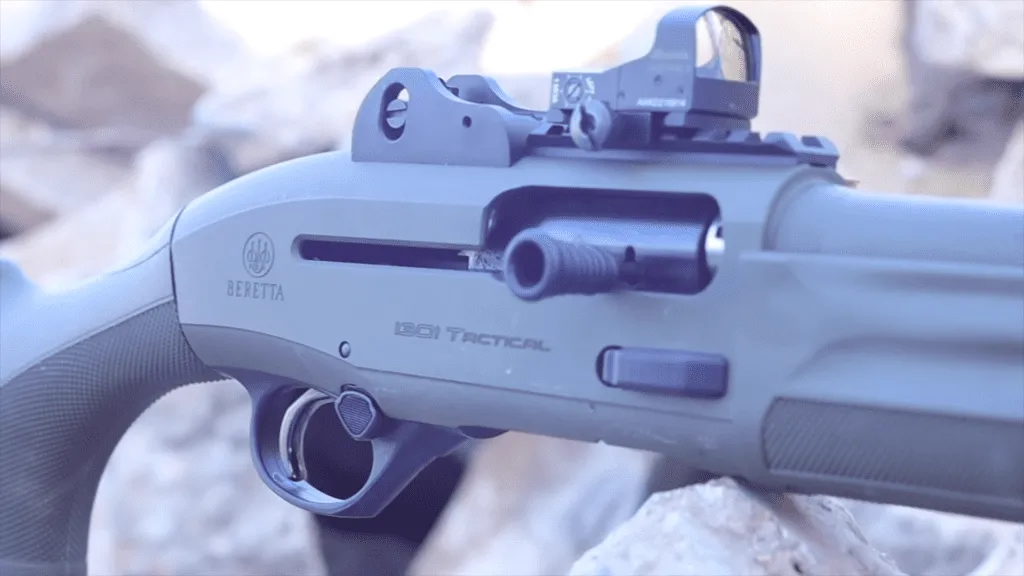 The Remington 870 is one of the most popular shotguns in American history. Originally released in 1950, they're widely used for sport shooting, home defense, hunting, and more.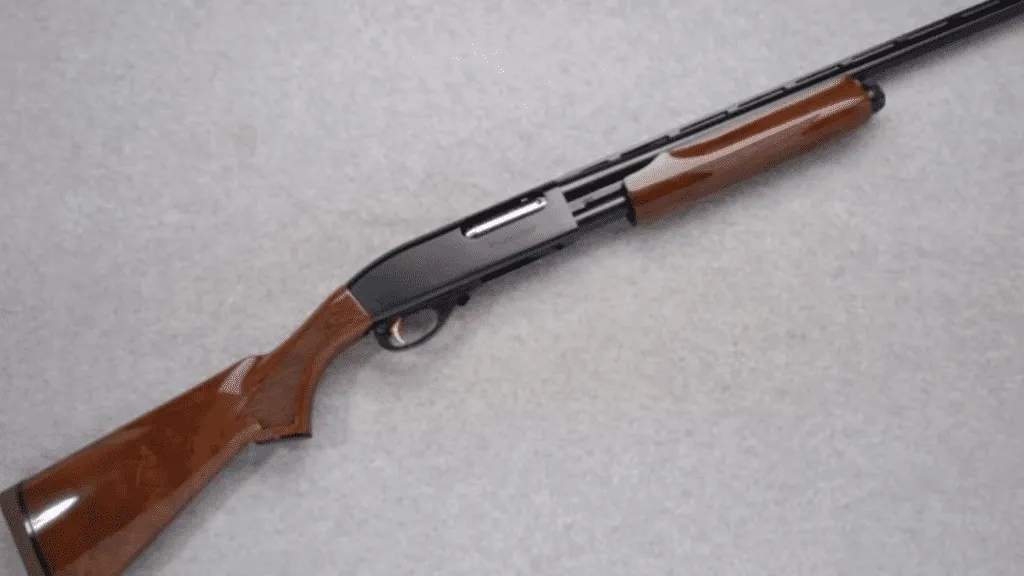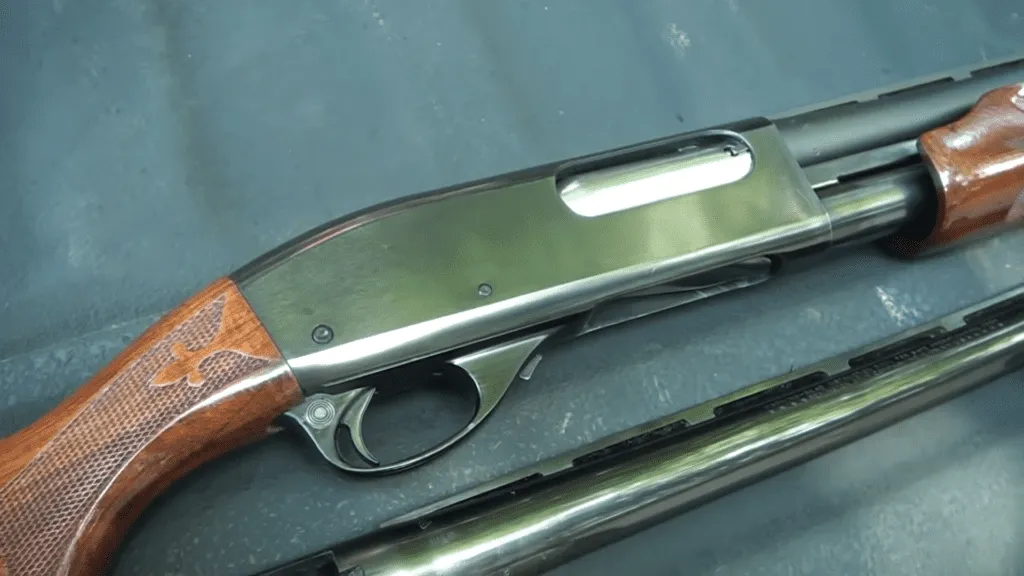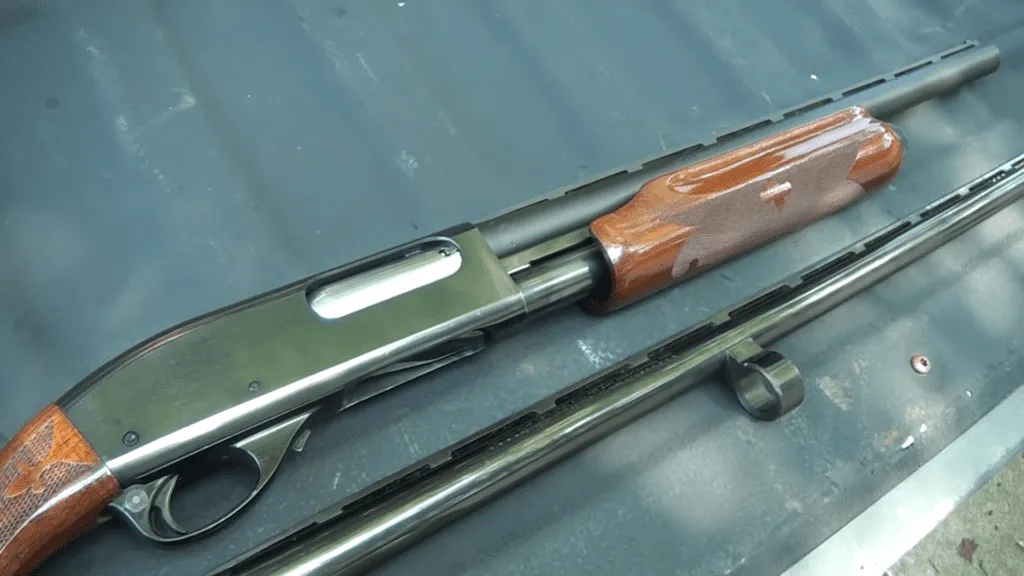 The 870 is the base model, although numerous specialized variations also exist, including the popular 870P. It's widely used by armed forces and law enforcement agencies around the world, including every branch of the US Military.
All 870 models have top-of-the-line durability and reliability. They're the only brand of shotguns built with a solid block of steel. Additionally, each one has an all-metal trigger guard along with minimal moving components. You can use these shotguns in rugged, all-weather conditions without any significant downgrade in performance.
Finally, this pump-action shotgun is highly customizable. Because it's such a popular gun, you'll find no shortage of aftermarket components and upgrades, including adjustable stocks, a magazine cap detent, a pistol grip, bead sights, Magpul accessories, and much more.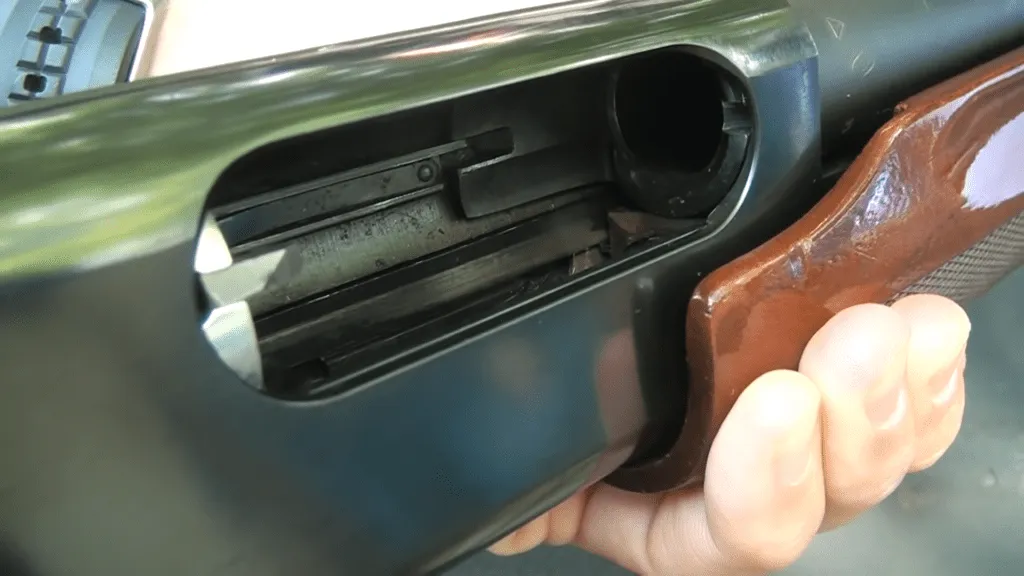 If you're looking for other tactical shotguns from classic American manufacturers, I recommend the Winchester SXP. 
Pros
Classic design inspired by original Remington models
Durable, all-steel construction
Resistant to damage from rain, snow, and other harsh weather
Every aspect of the gun is easy to customize
Cons
Solid steel construction does increase the weight
Requires regular oiling to prevent rust
Here's a detailed look at each component of the 870P.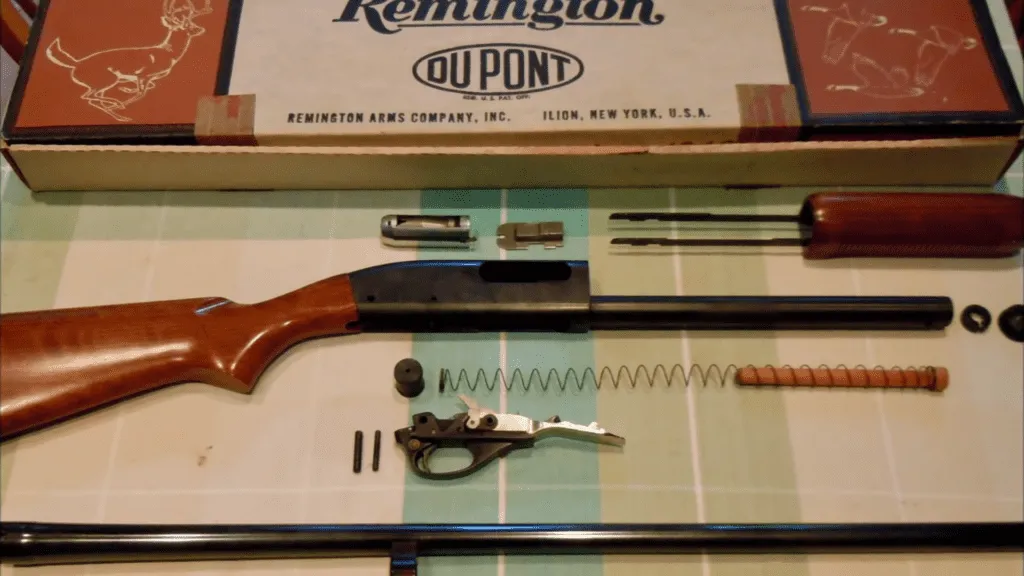 While many of the tactical shotguns I've listed here are used by militaries around the world, Benelli's M4 has a few unique features that make it stand out from the rest. This Italian semi-automatic shotgun was created in 1998 specifically for use by the US Marine Corps, and is currently used by armed forces throughout the US, UK, Italy, and elsewhere.    
At the heart of the gun is its Auto-Regulating Gas-Operated system. It's a self-cleaning, dual-piston gas system that delivers fast, reliable cycling with minimum vibration. ARGO is a patented feature found only in Benelli firearms.
Standard features include a choke tube, ghost-ring sights, and a drilled and tapped receiver. Additionally, it has a Picatinny rail, so you can easily and securely attach all types of scopes, sights, and other optics.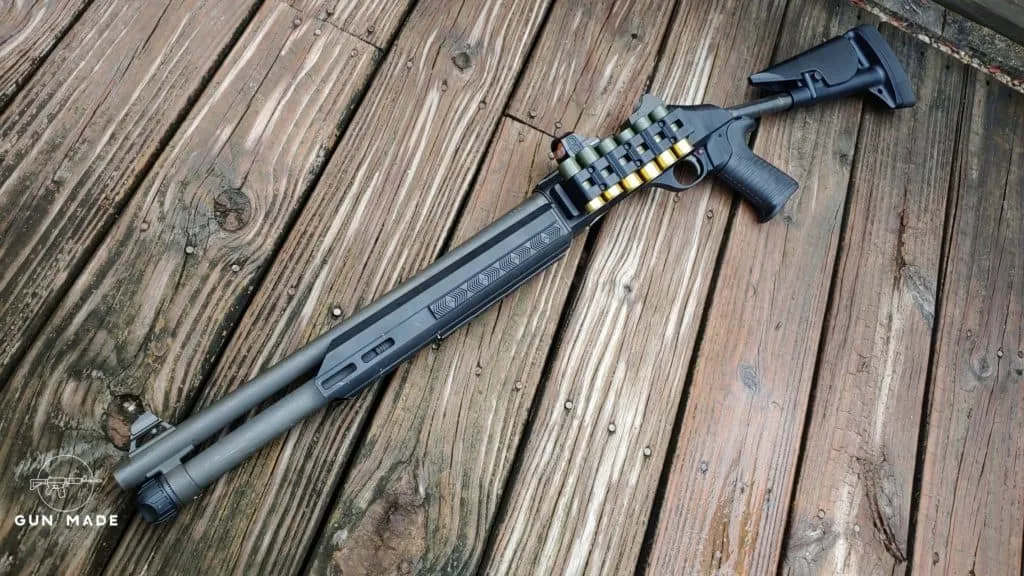 (While I certainly don't recommend buying a gun because it's featured in a film, movie buffs might recognize this gun as it's featured prominently in the finale of John Wick.)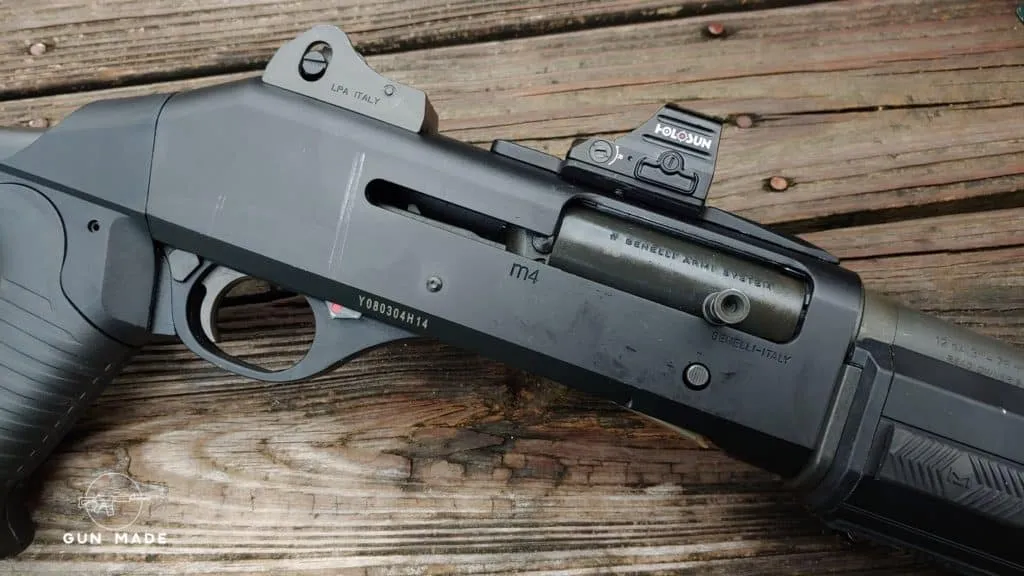 If you like the M4 but want something lighter, check out the Benelli M2. Also, if you're looking for guns similar in quality to Benelli but often cheaper, consider the Stoeger brand, a Benelli subsidiary.   
Pros
12-gauge shotgun with 18.5" barrel ideal for close-quarter use
Picatinny rail allows for easy scope attachment
Patented ARGO semi-automatic firing system
Designed specifically for use by the US Marine Corps
Cons
Requires precise assembly
Can be difficult to find in stores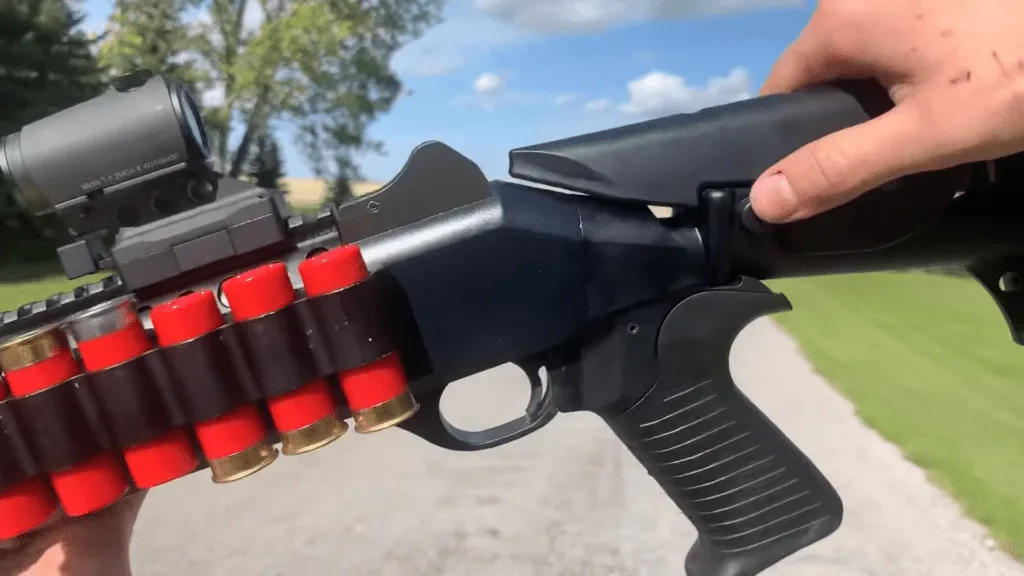 Check out this shotgun in action. And read our Benelli M4 review for all the info!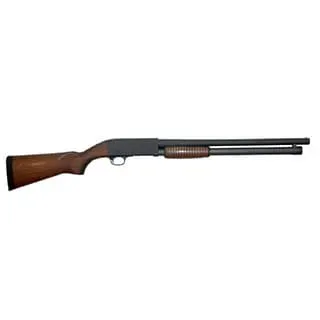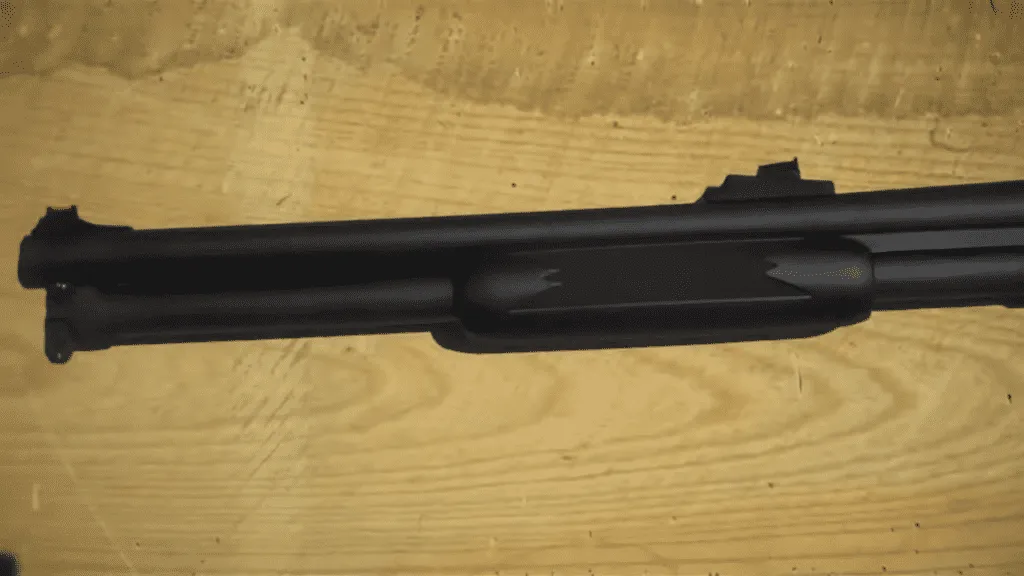 Ithaca is an American shotgun manufacturer first founded almost 100 years ago. An early version of this tactical shotgun, originally known as a "scattergun," was used by Annie Oakley in one of her famous wild west shows.
Their company philosophy seems to be "if it ain't broke, don't fix it." They use modern manufacturing techniques to create shotguns that look and feel remarkably similar to the cowboy classic. It has an overall length of 38.5" with a 20" barrel, a stock with a Parkerized finish, and a 4+1 magazine capacity.
Additionally, the pump has a bottom-eject design, which makes it easy for both left and right-handed shooters to use. It's a good option if both you and your spouse plan to use the gun, but you have different dominant hands.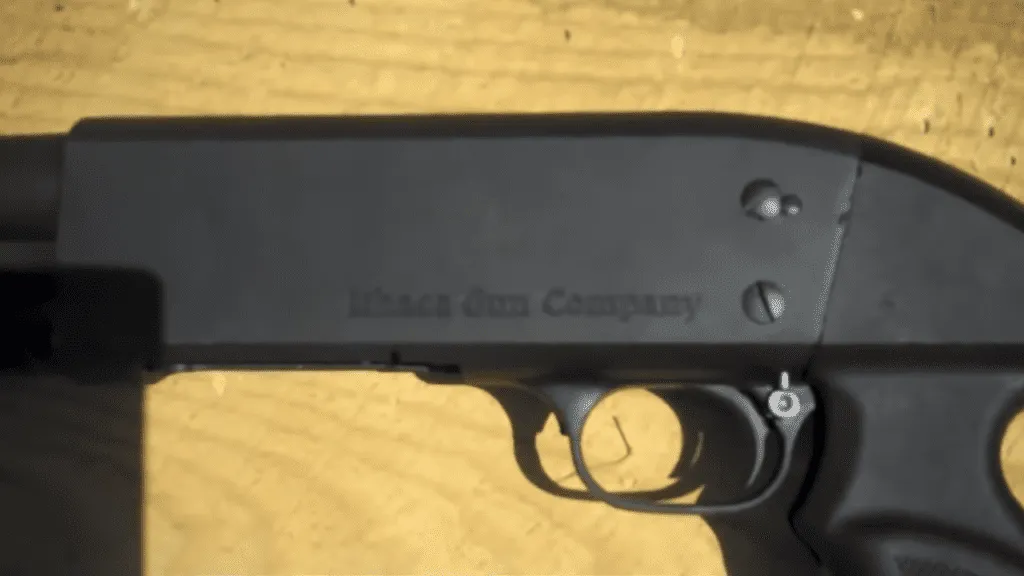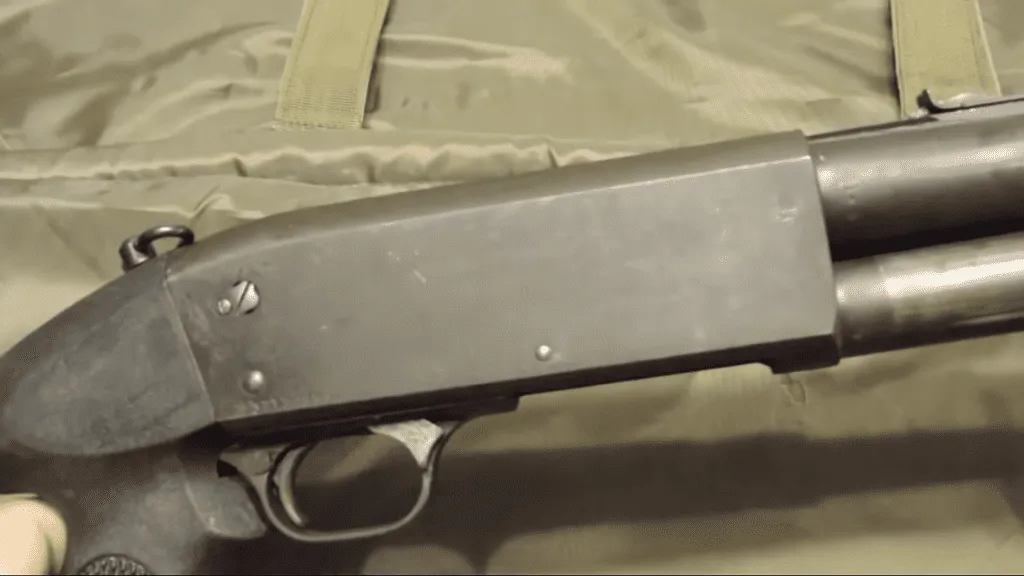 Ithaca's commitment to classic design means this gun even has a bayonet lug. While probably more practical during WWII than for home defense, it's still an interesting bit of authenticity. It fits the long 1917 bayonet.
Pros
Minimalist design reduces the likelihood of malfunction
Designed for both right and left-handed shooters
The manufacturer has 100 years of expertise
Includes lug for bayonet attachment
Cons
20" barrel is a bit longer than ideal for home defense
The total length of 38.5" is possibly cumbersome in tight quarters
Check out the M37 as it demolishes small targets.

Even though it was first introduced in 2008, many gun enthusiasts remain unaware of FN's SLP MK I Tactical, but there's a lot to like here. It's a 12-gauge semi-auto shotgun with a standard 22" barrel and 8+1 ammo capacity. It's also available with an 18" barrel and 6+1 capacity, which is a size well-suited for smaller shooters.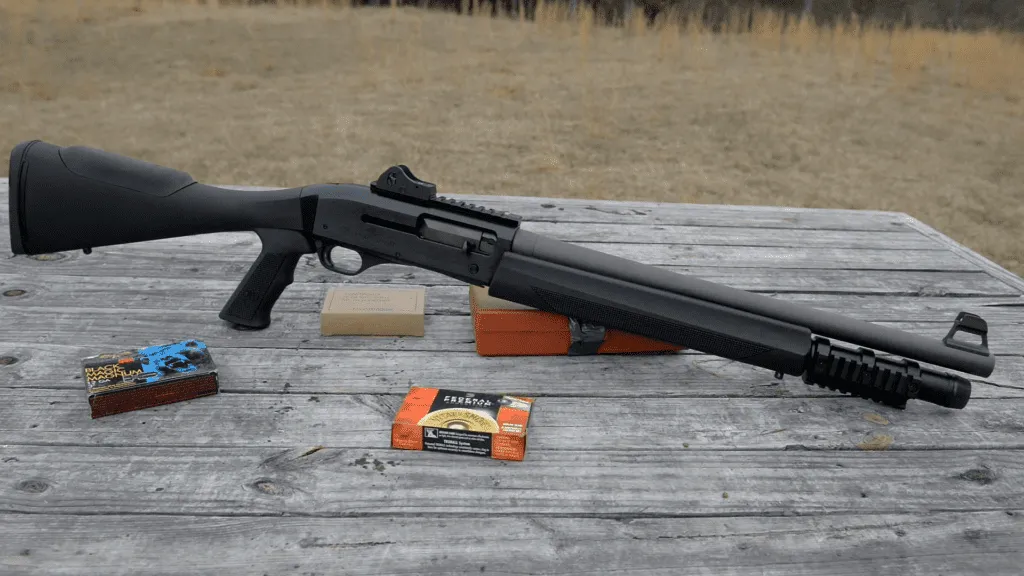 Aiming is a highlight here with a cantilever scope base, adjustable rear sight, and fiber-optic front sight. Inexperienced shooters should have no issues hitting a close, moving target – even if they're shooting under duress.
Another noteworthy feature is the lightweight construction. It's made with aircraft-grade aluminum alloy which acts as an effective heat shield while also helping to keep its total weight down to an easy-to-handle 7.9 pounds.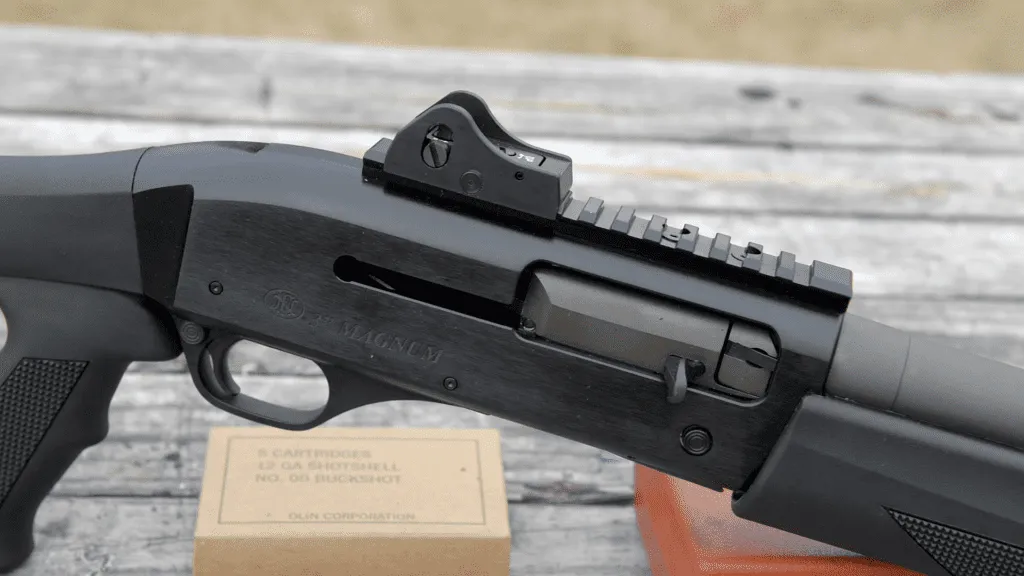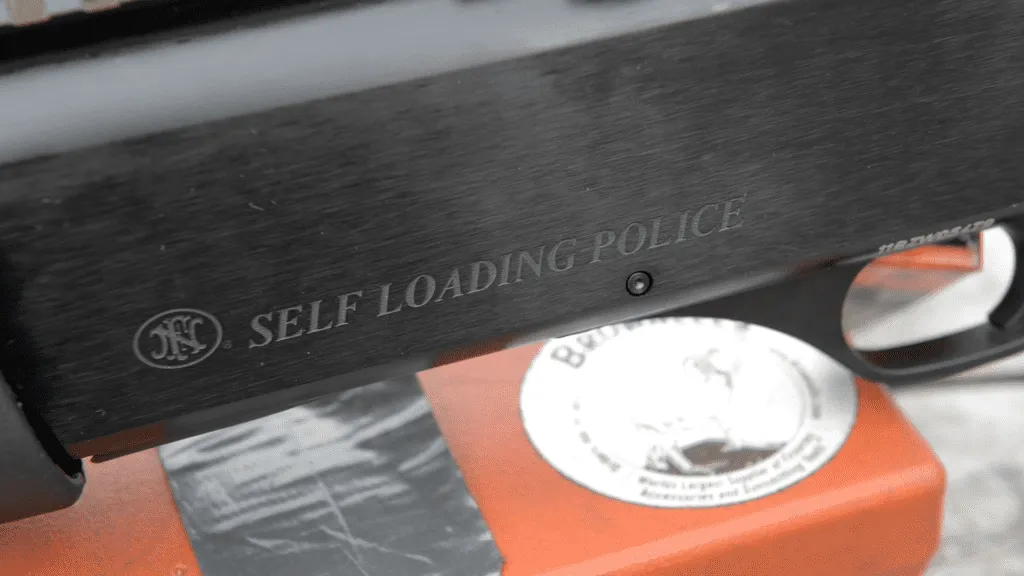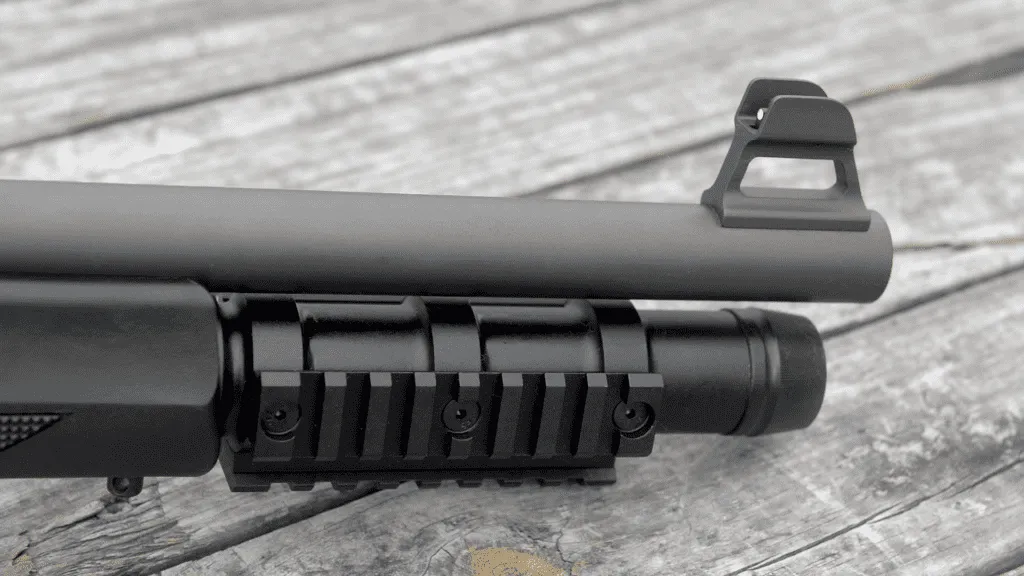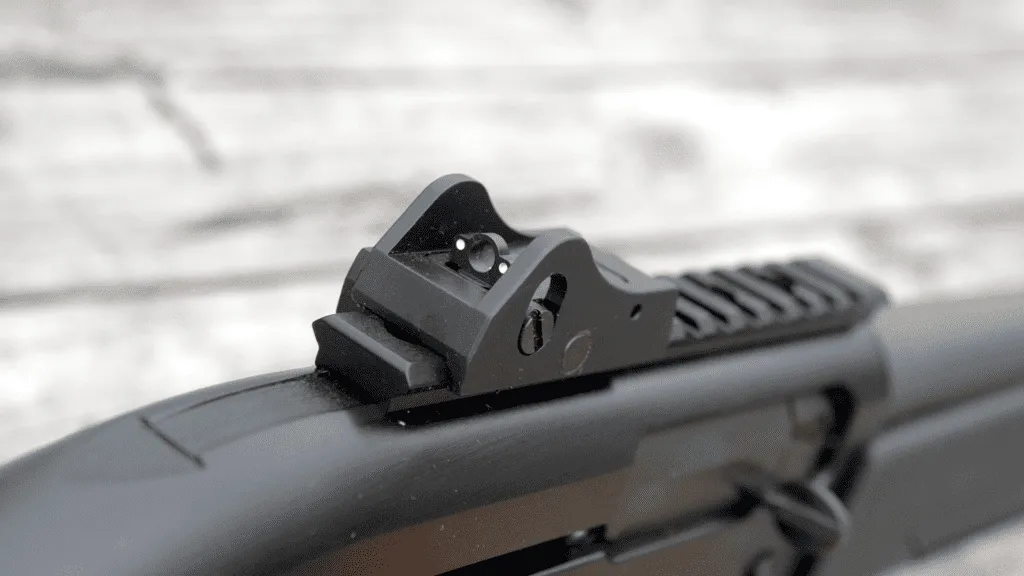 Along with the weight and aiming capability, the gun is also easy for practically anyone to hold. It has checkered panels on both the forearm and the pistol grip.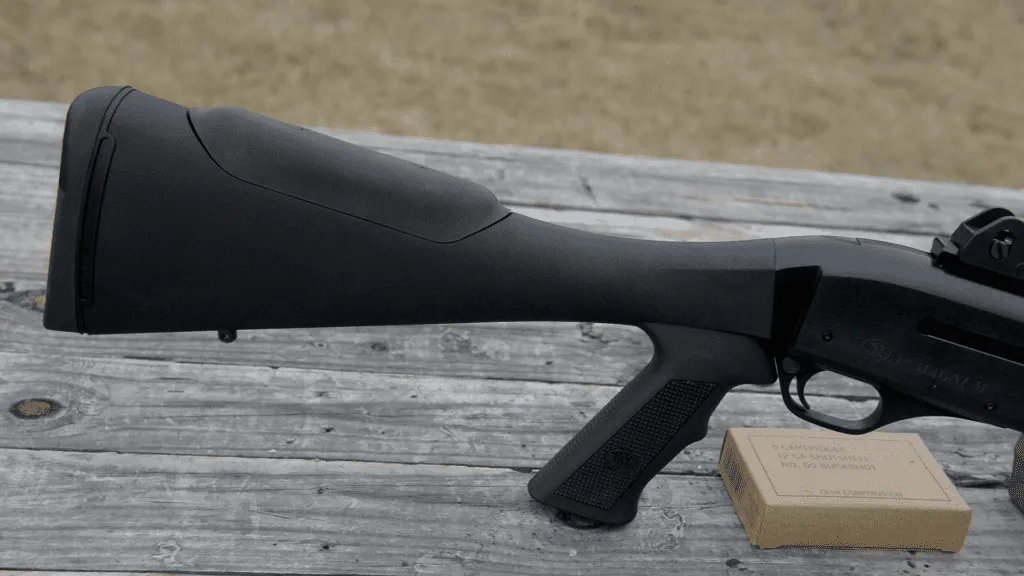 Pros
12-gauge with large 8+1 ammo capacity
Lightweight, aluminum alloy construction
Includes Fiber-optic front sight and adjustable rear sight
Frequently performs well in 3-Gun Tactical shooting competition
Cons
43" total length and 22" barrel length impairs indoor mobility
Here's a video with some additional details.
KEL-TEC KSG – Best Pump Action Shotgun

A bullpup shotgun has a unique design that works well in tight, confined spaces. It's significantly shorter than a traditional tactical. Plus, it has an increased ammo capacity.
My favorite bullpup shotgun is the Kel-Tec KSG. It has an 18.5" barrel with a total length of 26.1". Incredibly compact, it's easy to store and even conceal on your person (check your local laws before you wear it concealed in public).
It holds two magazine tubes. You can fill each with either 12 rounds of 3" shells, 14 rounds of 2.75" shells, or 22 rounds of 1.75" shot. Note that you don't have to fill both barrels with the same type of ammo. A manual selector lets you switch types while firing, which is a feature I haven't found in any other gun.
Finally, it's an excellent choice for right or left-handed shooters. It has downward ejection, so spent shells won't hit your arm. Also, it has an ambidextrous pump release.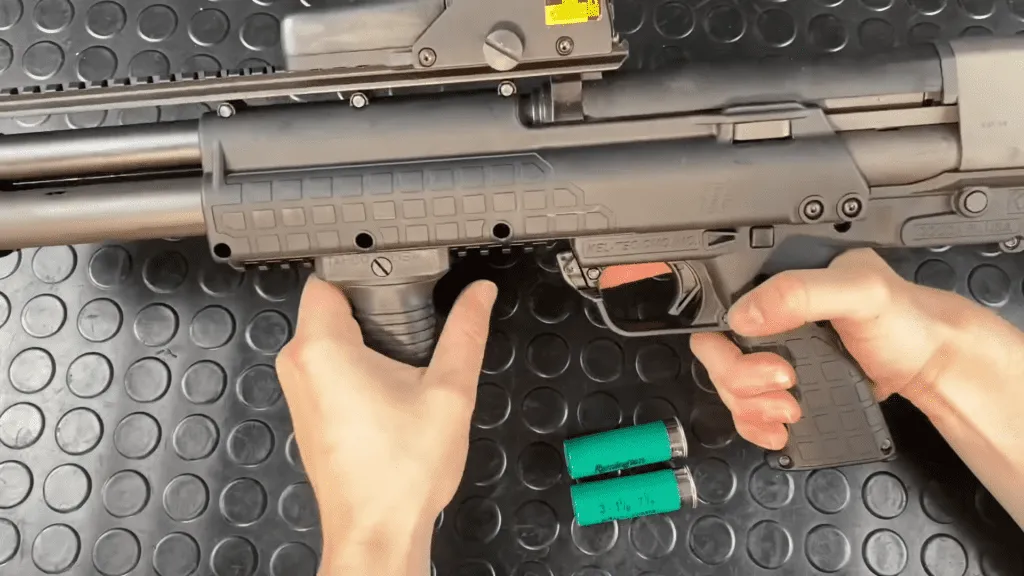 Note that despite its unique design, this KSG is not considered a double barrel shotgun. 
Pros
Extremely compact design
Holds three types of shells
Allows you to switch ammo types when firing
Ambidextrous design
Cons
Sights sold separately
Pump action does limit firing speed
Here's a closer look at the design of this unique firearm.

For folks who like the features found in the Mossberg 500 SPX, but don't like the price, I often recommend the Mossberg Maverick 88. Although it's a slimmed-down version, and perhaps not truly a tactical shotgun, I still find it's absolutely reliable and effective for home defense.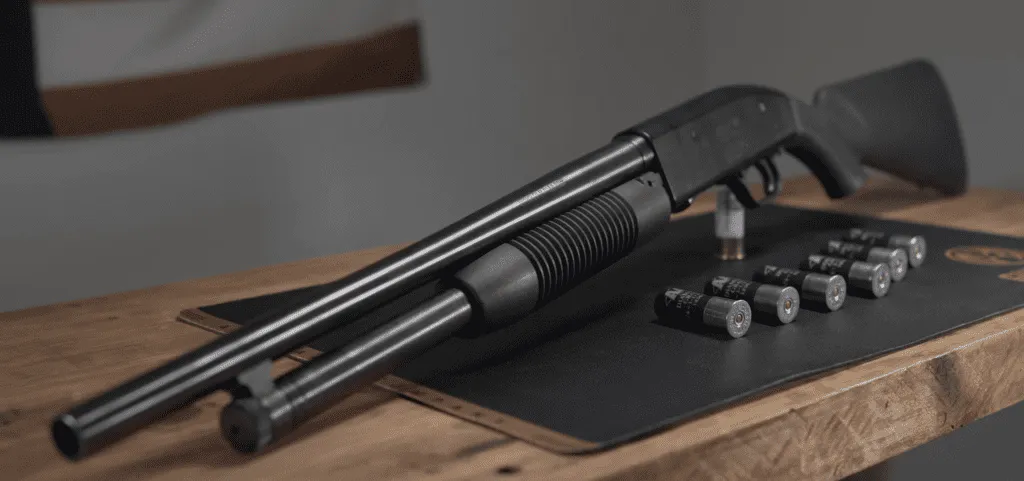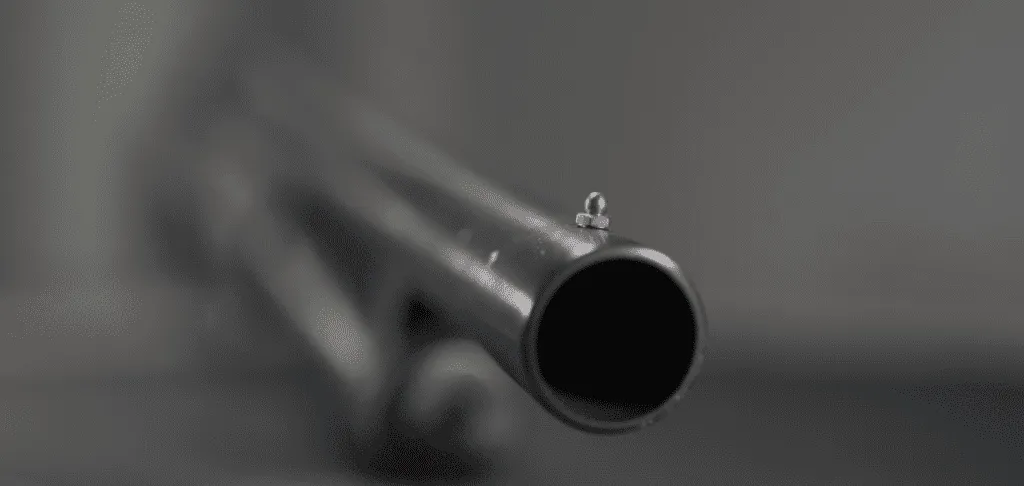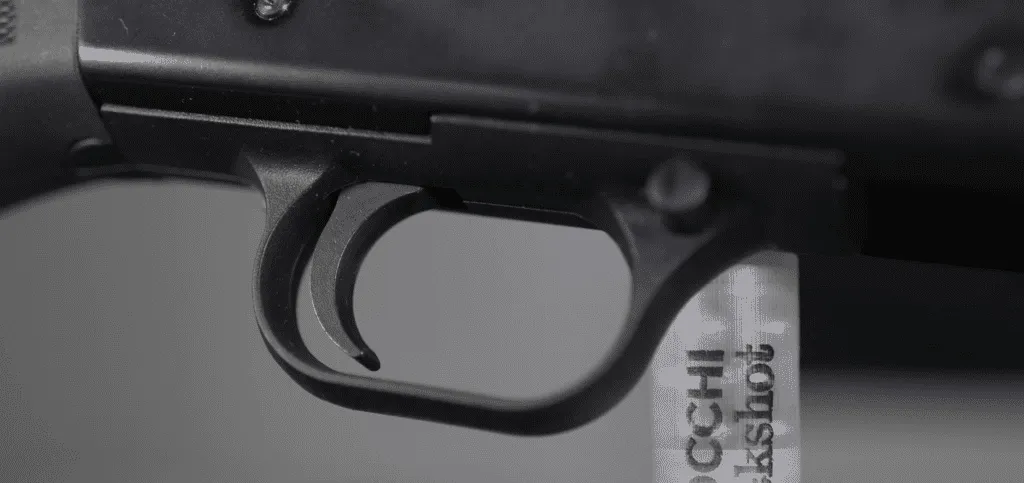 If you've shot with the 500, you'll feel right at home using the Maverick 88, because it has a similar style, heft, and ergonomics. It's a 12-gauge pump-action that weighs 6.5 pounds with a barrel length of 20" and an overall length of 40".
What's different between the 88 and the 500? The Maverick isn't quite as military-ready. Compared to the 500, the 88 has a thinner barrel wall. Also, it's made with lots of polymer parts instead of steel, so it's not as durable.
If you want the strongest, most reliable Mossberg, go with the 500. But what's necessary for law enforcement or military use isn't always necessary for home defense. For a slight downgrade, you can save big and still get that Mossberg quality.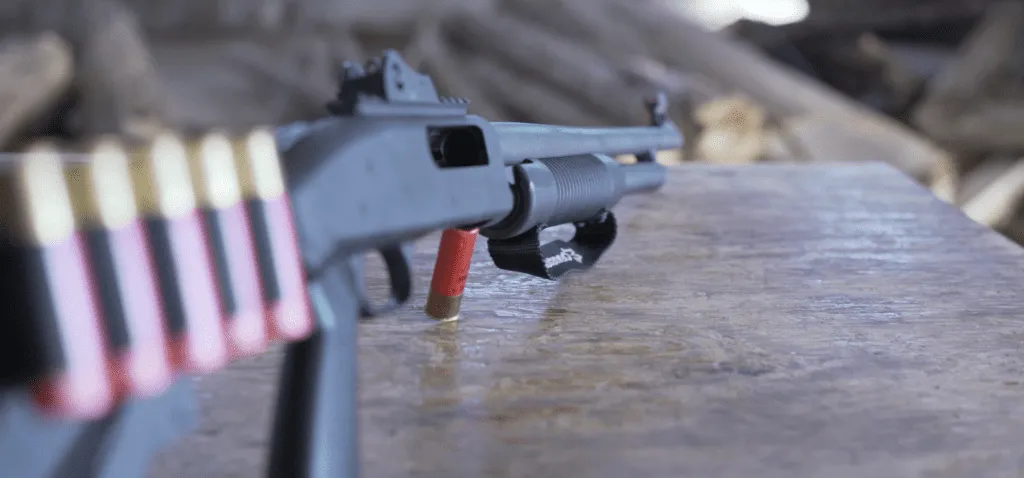 Pros
Affordable alternative to the Mossberg 500
Large 7+1 ammo capacity
All 500 and 88 barrels are interchangeable
Cross-bolt safety with red "safety off" indicator
Cons
Polymer construction (not as strong as steel)
Thin barrel wall
Here's a look at the Maverick 88 in action in a YouTube video. 

Another affordable option I guide people towards is the Cobra Tactical from Tri-Star. Although it doesn't have quite the pedigree of a Remington or Mossberg, the Cobra has an impressive array of features such as a Picatinny rail, chrome-lined barrel, and a blade front sight.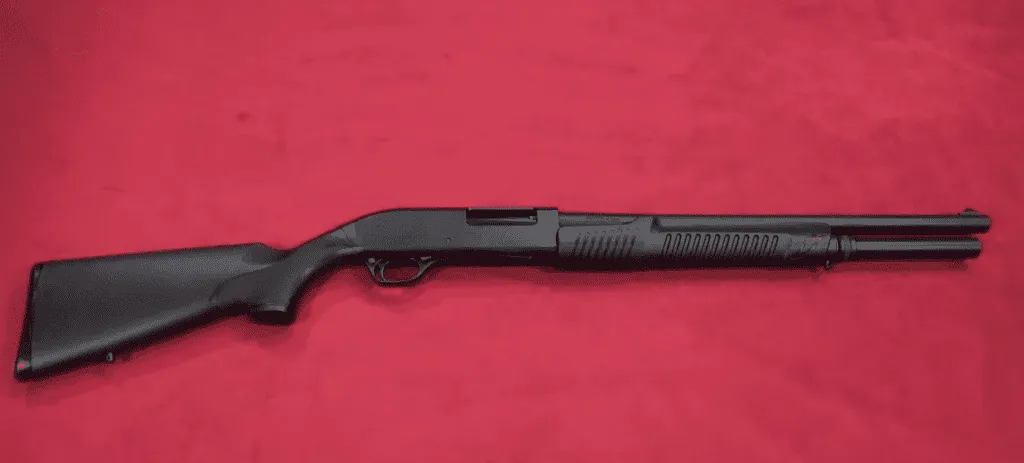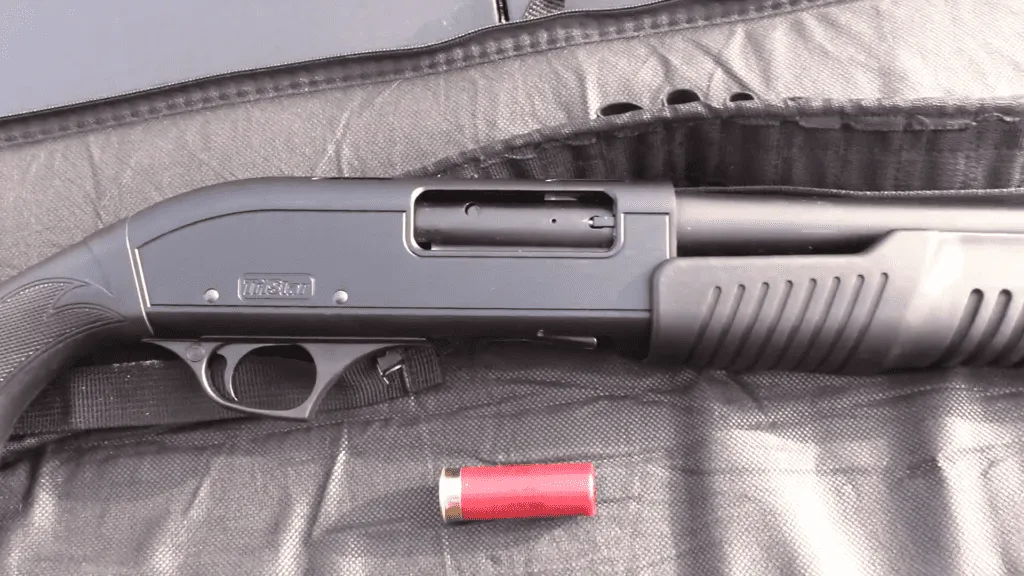 It fires surprisingly fast, too. The Cobra is a pump-action shotgun with a spring-loaded forearm. If you've struggled to pump heavier guns, you might find this forearm to be a smooth alternative. With a 5+1 capacity, you can fill a small area with shot quickly.
I also like its size for home defense. The gun's barrel is a short 18.5", and its total weight is 6.2 pounds. The size, weight, and easy pump action together make this a solid option for anyone with limited strength or mobility.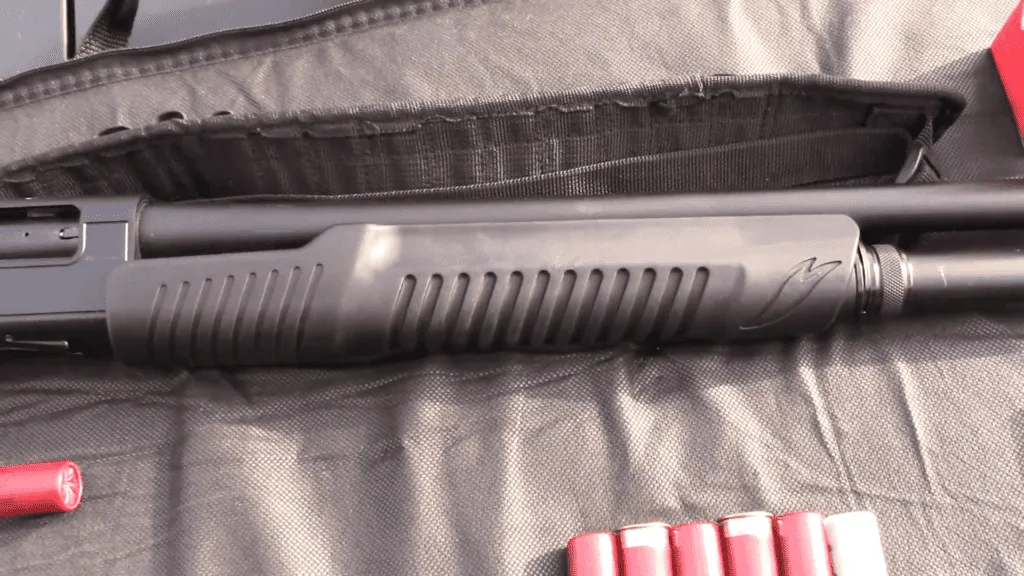 Pros
Smooth pump action operation
Mobilchoke cylinder ideal for interior use
Lightweight with a short barrel
Well-suited for anyone with difficulty using larger guns   
Cons
The nickel finish isn't as strong as steel
Here's another look at the Tri-Star Cobra –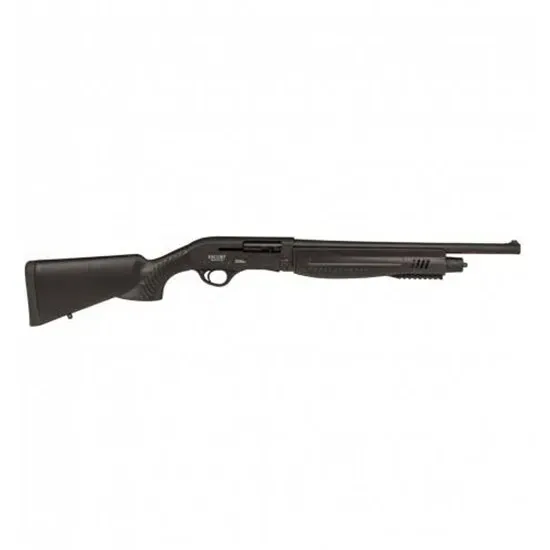 As the name states, Escort's shotgun is designed entirely for home defense. It has an 18" barrel with a black synthetic pistol grip and a stock with a two-round shell holder. You can pick it up, load a round, aim, and fire in a single fluid motion because it's lightweight and easy to handle.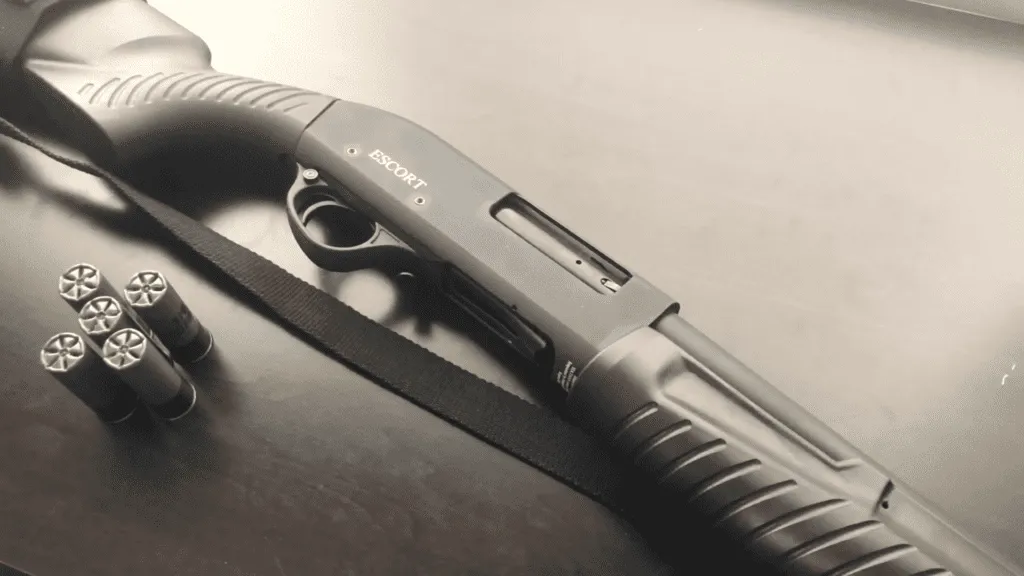 I also like its accurate aiming. It includes a ghost-ring rear sight that's fully adjustable. Additionally, a tapped and installed Picatinny Rail allows you to easily add an aftermarket sight, such as a red dot sight.
It's a semi-auto shotgun with a 5+1 capacity. When you take into account the two shells in the stock, and the fast loading times, you can fire eight shells in relatively quick succession.
Pros
All features designed for home defense
Semi-auto with 5+1 ammo capacity
Stock includes a two-round shell holster
Easily customizable with aftermarket scopes
Cons
Synthetic stock not as durable as wood
The fixed cylinder doesn't allow for adjustments
Take a closer look at the gun's components here:

Another high-quality option from Remington, the VERSA MAX is their fastest semi-auto shotgun. With an 8+1 capacity and forward barrel-clamp side rails, this 12-gauge delivers incredible coverage. You can finetune the spread by switching between the IC and Tactical Extended choke tubes.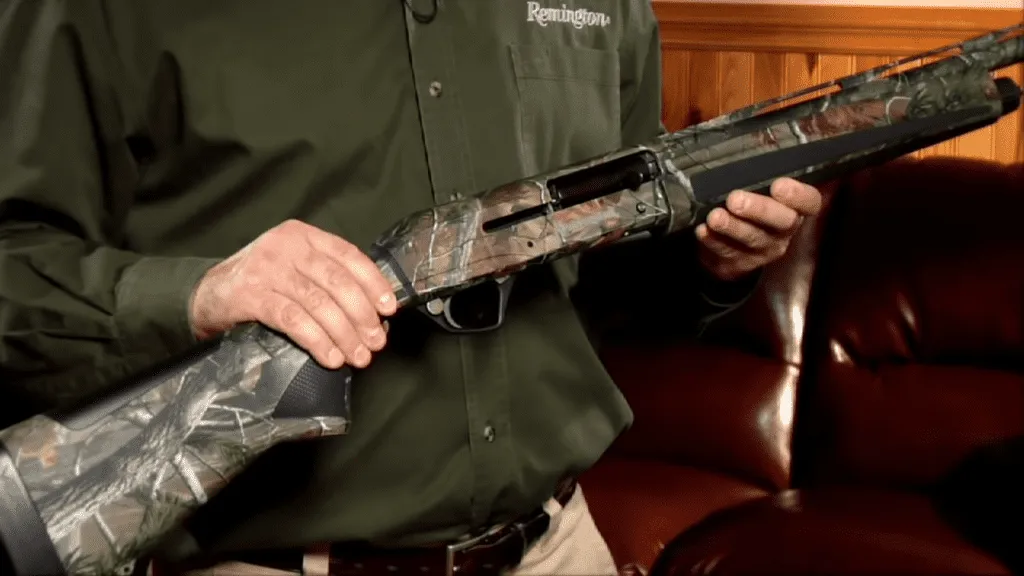 You also have many ammo options. The Versa cycles all 12-gauge rounds between 2.75 and 3.5-inch shells. It allows you to choose the best ammo for your home, so you can engage with an intruder but not send wayward shots through walls.
At 44" long with a weight of 7.75 pounds, this shotgun is a bit bigger and heavier than many others listed above. It's not for everyone, and I'm certainly not recommending it as such. However, stronger, more experienced shooters will find this shotgun a fun, fast-firing, and powerful option.
Pros
Remington's fastest autoloader
Adjustable choke tubes
Uses shells between 2.75" and 3.5"
Mossberg 590a1 – Best Military to Civilian Option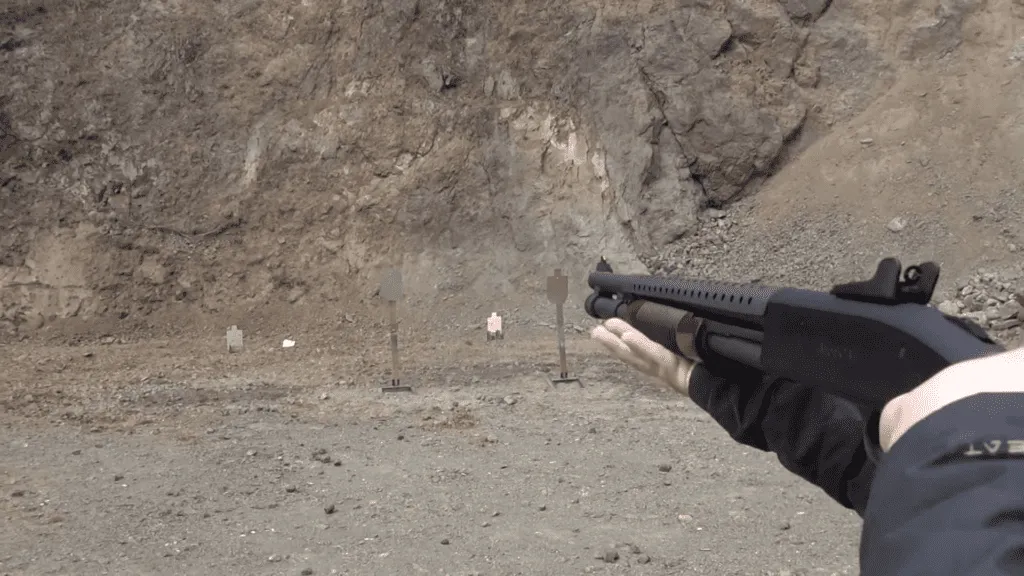 The 590a1 delivers military performance available for civilian home defense. It's a defensive shotgun built to the same exacting specifications required of armed forces from around the world. 
It's a shotgun you can count on with an anti-jam elevator, positive shell shot ejection, and dual extractors for reliable ammo feeding. You can chamber and fire as fast as you can, and the shotgun is unlikely to jam, which is a feature expected of a military model and welcome in a civilian one.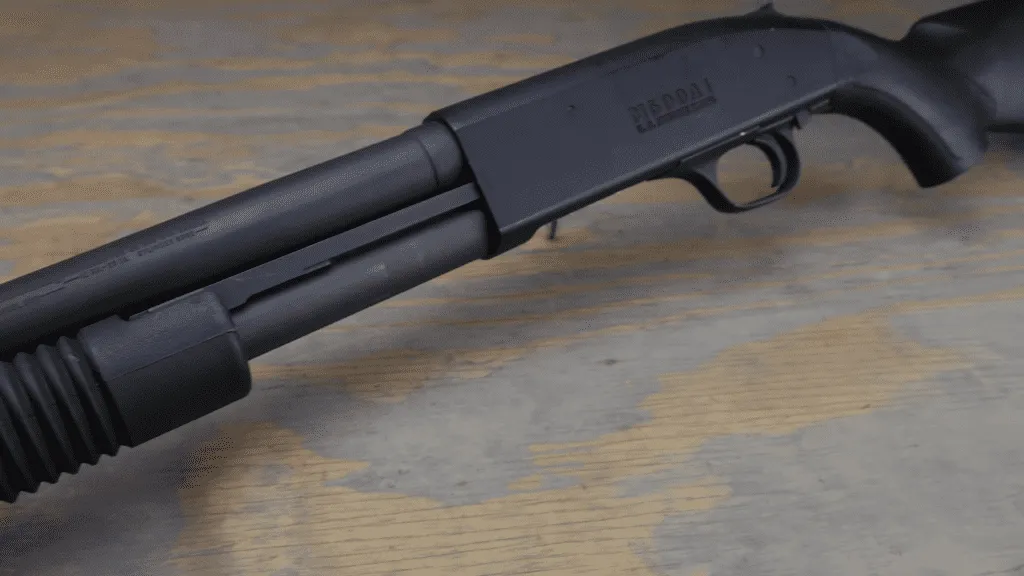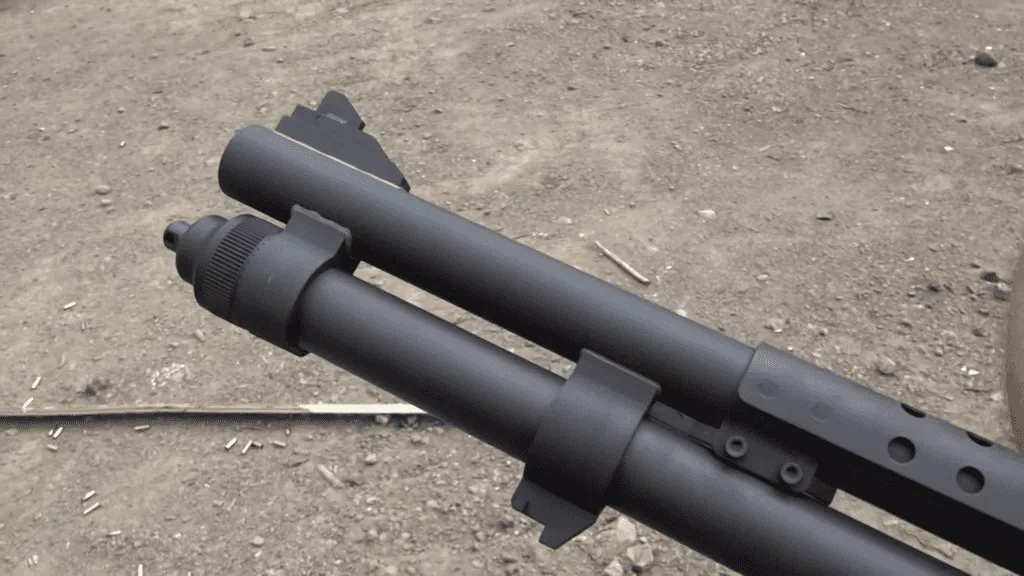 Additionally, the buttstock has six adjustable positions. It's a great shotgun if multiple people in your household plan to use it because you can adjust to the stock based on each person's height and size. 
Pros
High-quality construction trusted by militaries around the world
Adjustable stock for increased comfort and reduced vibration
Multiple components designed to prevent jamming
Cons
It doesn't include any optics
Tactical Shotgun Buyer's Guide
Sixty-seven percent of all gun owners say they have one mainly for self-defense. But are they choosing the best gun for that purpose?
Whenever people ask me what type of gun is best for home defense, I recommend the tactical shotgun, even over a rifle or handgun. Here's what I tell folks about why I think a tactical shotgun is a superior choice and what features you'll likely want:
Tactical Shotguns Explained
When a shotgun fires, it unleashes multiple projectiles from a plastic shell, covering a large area with either buckshot (for self-defense) or birdshot (for hunting). For example, a 12-gauge 00 (double-aught) buckshot fires nine .33 caliber pellets. It's similar in stopping power to a nine-round burst from an MP5 sub-machine gun!
So, what's the difference between a tactical shotgun and sporting or hunting types?
Tactical shotguns are designed to deliver lethal force against people. At the very least, a direct shot will knock someone off their feet and severely injury them. Most times, it'll kill them. It's entirely a self-defense weapon, not made for hunting or target shooting.  
However, it's important to look beyond labels. "Tactical" is a bit of a buzzword in the world of firearms, and for some manufacturers, it means nothing more than slapping on a coat of black paint. Instead, a true tactical gun has several specific features, which I'll discuss below.
Also, pay attention to who else uses the gun. If it's a popular model among police agencies and militaries, it's a tactical shotgun.  
Benefits of a Tactical Shotgun
I've heard it asked countless times. "A shotgun's better than an AR-15? A 9mm?" Well, "better" is subjective, but there are many reasons to consider it the superior choice for home defense:
It's effective in close to mid-range quarters – Even an inexperienced shooter can hit multiple or moving targets quickly and in low-light conditions.
You have multiple ammo options – You can choose ammo that won't penetrate walls, helping keep others in your house or apartment complex safe.
It's lethal – In any home defense situation, you don't want to leave anything to chance. Pistols and rifles require far more precision to stop a threat than a shotgun.
Relaxed restrictions – Even though they're far deadlier than most pistols, state laws about shotgun purchases are usually pretty lenient. If you don't have a criminal record, you should be able to buy a tac without a problem.  
Features to Consider
The following characteristics are the most important to look at when selecting a shotgun:
Barrel Length
With a tactical shotgun, you want the shortest inch barrel possible. It allows for easy maneuverability in confined spaces, while a long barrel can get hung up on furniture, doorways, and other obstacles.
Generally, an 18.5-inch barrel or 20-inch barrel both indicate a shotgun is meant for tactical use. Hunting shotguns have longer barrels, typically around 28".
Gauge
A shotgun's gauge is the size of the barrel's inner diameter. It represents the number of lead balls, each of which fits the diameter, required to make a pound.
A 12-gauge shotgun is the most popular model for self-defense. It has a few benefits:
Powerful
Multiple ammo options
Easy to customize
However, a 12-gauge shotgun has quite a kick. If you want an option with less recoil, consider a 20-gauge shotgun. It still has enough firepower to stop an intruder, but it's easier to handle and shoot.
Magazine Capacity
Most tactical shotguns have a tubular magazine that holds five shells plus one in the chamber (expressed as 5+1). Shotguns with a smaller capacity, such as guns that hold two or three shells, are typically only used for hunting.
While 5+1 is standard, you can also find tac shotguns with an increased capacity, such as 7+1 and 8+1. Mossberg is a brand known for larger magazines, although most major brands have at least some options.  
For an even larger ammo capacity, consider an extended or box magazine, an aftermarket component that attaches to the barrel and holds a few extra shells. However, extended mags can limit your flexibility when moving around an interior, so they might require extra practice on your part. Personally, I don't think a magazine fed shotgun is necessary for home defense, but many people like them.  
Durability
Most components in a tactical shotgun are made out of steel for increased durability. Watch out for any "tactical" shotgun which uses lots of aluminum and plastic. Those lighter-weight materials are typically only used in sporting and hunting shotguns.
Additionally, you want a shotgun with a simple design. There's a reason some of these classic weapons have remained relatively unchanged for hundreds of years. Fewer moving parts and complicated components help reduce the likelihood of mechanical malfunction.  
Also, many manufacturers offer marine versions of various models. The designation doesn't have anything to do with the US Marine Corps. Instead, it means the weapon has extra protection against freshwater and saltwater, such as a waterproof coating or rust-resistant materials.
Pump Action vs. Semi-Auto
Also called a slide-action shotgun, a pump-action shotgun is the most popular type. To eject the old round and load a new one, the shooter must pull the forend to the rear and then push it forward. It's a process commonly called "pumping" the shotgun.
While pump shotguns are inexpensive and easy to use, there is a limit to how fast you can fire, even if you're a proficient shooter.
Semi-auto shotguns automatically reload after each trigger pull. They utilize either a gas-operated system (similar to a standard AR-15) or an inertia-driven one. While they have fewer ammo options, their fast reloading capabilities make them popular among law enforcement and military organizations.  
Conclusion: The Best Home Defense Shotgun
A tactical shotgun is an easy and effective home defense weapon that practically anyone can use successfully. When selecting the best option, consider its weight, grip, firing speed, recoil, and overall feel in your hands. You want a shotgun that's comfortable to hold, aim, and fire.
Most people will have no problem using the Mossberg 500, which is why it's my top overall choice. I recommend it to the widest variety of people, regardless of their personal strength or shooting experience.
A tactical shotgun provides more than reliable home security. It also provides peace of mind. Use the guide above to help select the best tactical shotgun for your specific needs, so you can rest easy knowing your home and family are well-protected.
Explore more