5 Best Hunting Day Pack 2023: Top 5 Favorites Reviewed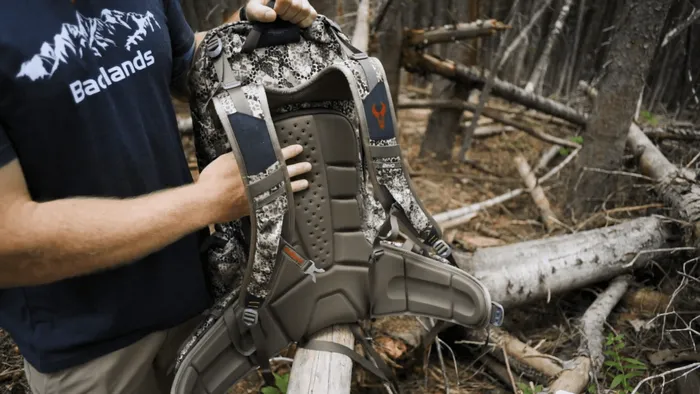 5 Best Hunting Day Pack 2023: Top 5 Favorites Reviewed
A hunting day pack allows you to organize your gear and supplies for effective hunting.  For instance, you can use the bag for keeping your long gun, bow, arrows, and other items to make your hunting a breeze. 
However, it's important to note that hunting day packs differ in design, build quality, camo, and other features, making it a daunting task to secure the best hunting day pack on the market.
As an experienced hunter, I understand how hard it can be to find the perfect hunting daypack, given the numerous options available. For this reason, I saw it noble to share the best hunting daypacks I have come across in my last ten years of hunting. 
My guide includes backpacks with rugged construction, least weight, rugged construction, best ease of use features, etc. 
Though I enjoyed using all the products on my list, l loved the 2200 Hunting Backpack by Badlands the most. I love it because its KXO-50 fabric is insanely tough, waterproof, and quiet, allowing you to approach your target for more precise shooting. In addition, its magnesium alloy frame is sturdy enough to allow for all-weather use.
Please keep reading to learn more about its features and other products on the list.
Best Hunting Day Pack
Here are the best hunting day packs on the market.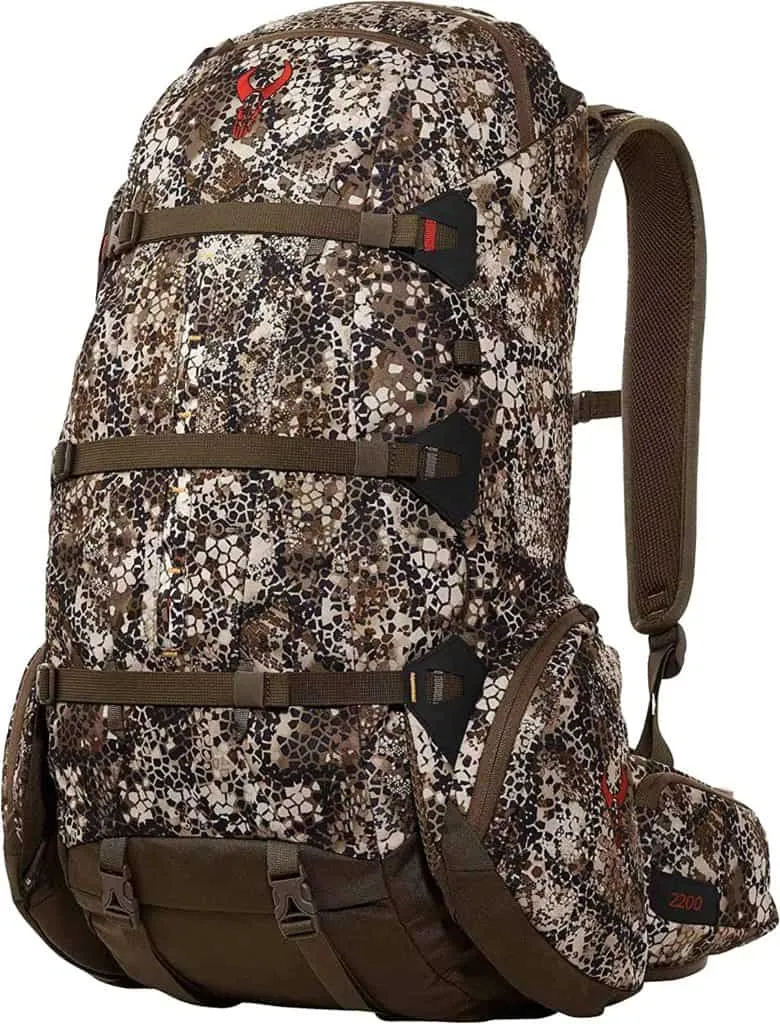 The Badlands 2200 hunting backpack is my best overall backpack on the list. I love it because it is made to last. Thanks to its durable KXO-50 FABRIC construction, which is extremely tough, waterproof, and quiet.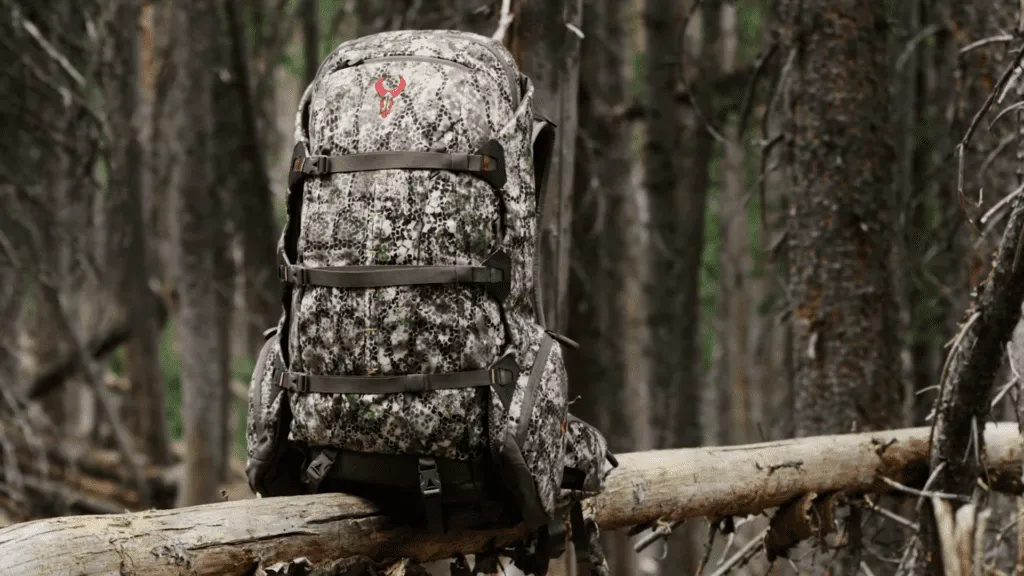 In addition, the KXO-50 FABRIC features a patented C6 Durable Water Repellent (DWR) treatment, making it waterproof.
Another notable feature of Badlands 2200 Hunting Backpack is the integrated magnesium alloy frame, which distributes the gear weight evenly for hassle-free carriage.
The other comfort-enhancing features in this pack include:
Molded foam suspension: Absorbs sweat and cushions  your  back against friction, giving a more comfortable carriage
Adjustable waist belt: Allows you to tie the bag tightly against your back to fit you snugly
Batwing straps:  Lets you tie the detachable rifle/bow boot for hands-free carriage. The detachable rifle/bow boot comes with the Badlands 2200 Hunting Backpack package, and it is ideal for keeping the rifles or the bow safely and from the rest of your gear. 
A bino case holder: Lets you attach your bino case for comfortable and safe carriage of your glasses
The bag features Approach FX Camo technology, which camouflages you to the dry and falling leaves during the summer and fall — the best seasons for hunting.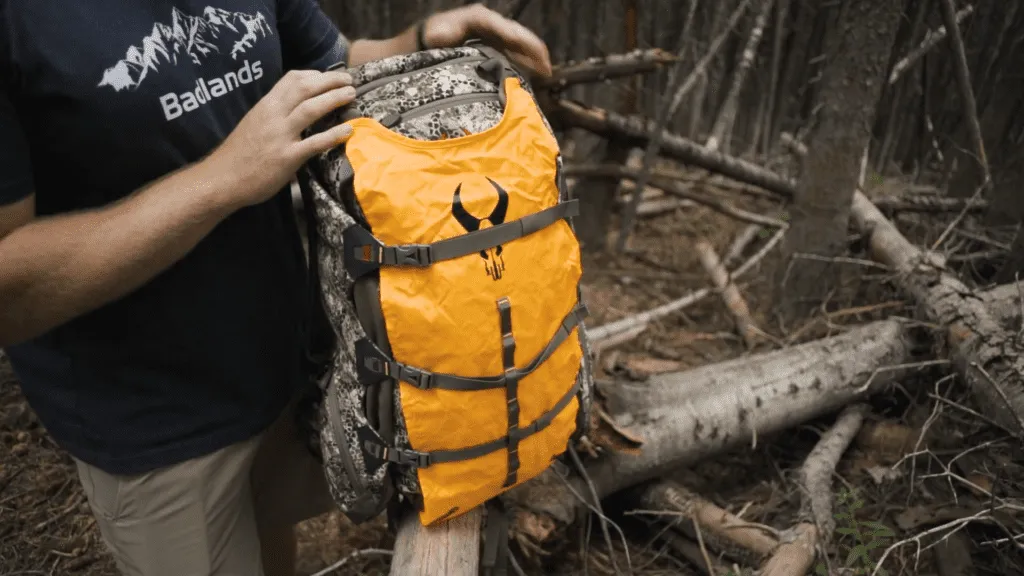 Pros
Lightweight and compact design
Distributes weight evenly
Built to last
Comfortable to carry around
Cons
Doesn't come in various sizes, and its one-size-fits-all may not fit well in short people
The rifle/bow bootstraps are way too back for easy access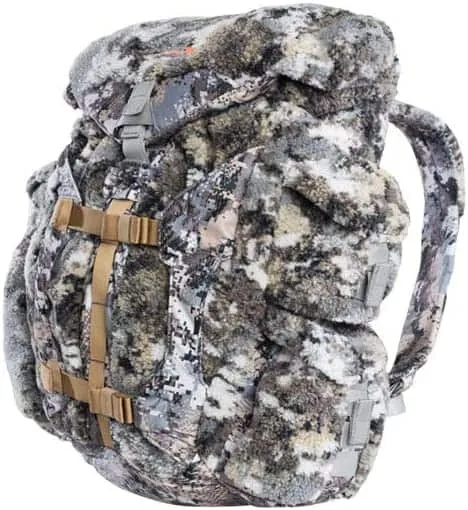 Another must-have backpack for your hunting mission is the SITKA Gear Hunting Camo Fanatic Pack. It utilizes the science of noise technology, which allows you to cut the audible distance by almost half, increasing the chances of precision shooting.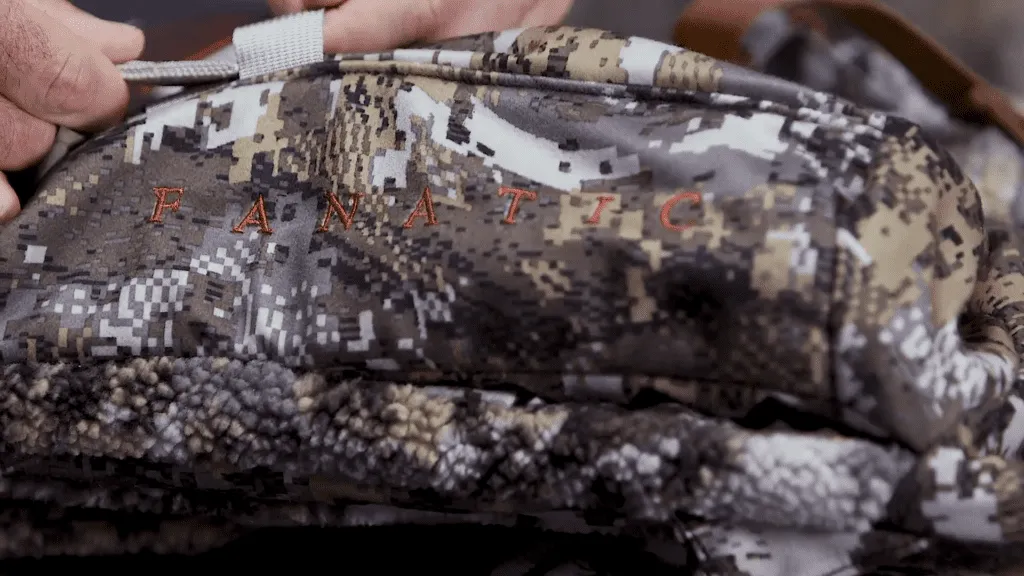 More specifically, the outstanding features that contribute to the quietness of this pack include:
The silent secure closures: Secures loose buckles to eliminate their noise
Winged Compression straps with hooks: Allow you to attach and ferry  your jacket, bow,  rifle, or even rattling antlers on the outer side of the pack
Ultra-quiet YKK zippers: Allow for quiet opening and closure of the bag to avoid scaring the animals. In addition, the zipper encloses your gear safely inside the pack
The other comfort-enhancing features of this pack include:
A bow/saw hanger side pocket: Lets you keep a bow, or any other gear on the outer side of the pack for easy access, especially when on a tree stand
Stow-away firearm stabilization strap: Balances off the gear's weight for a more secure and comfortable carriage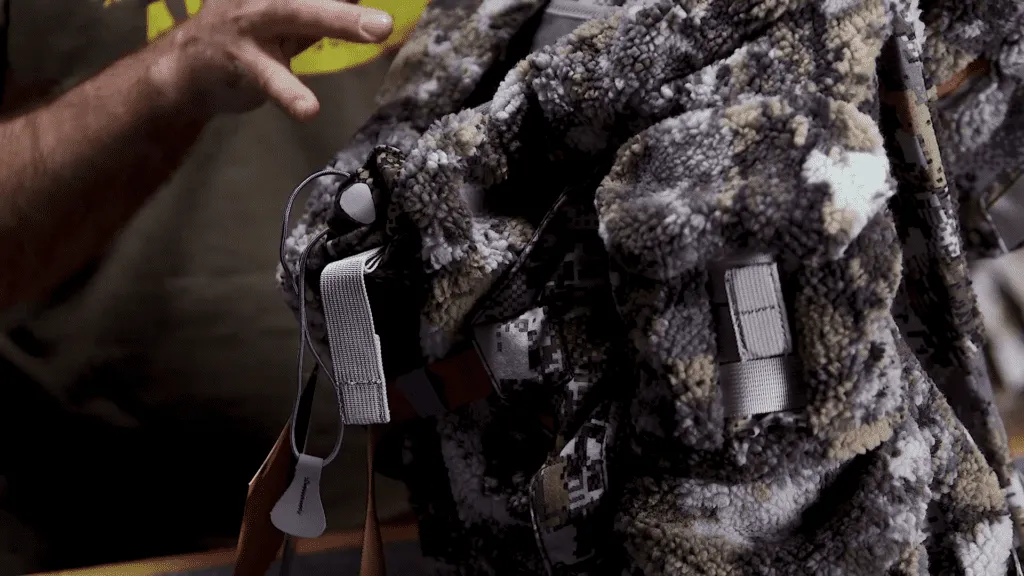 The SITKA Gear Hunting Camo Fanatic Pack is easy to carry thanks to its ergonomic shoulder straps and waist belt. 
It offers a total volume of 35.5 liters, which is spacious enough to accommodate a significant percentage of your hunting gears and supplies.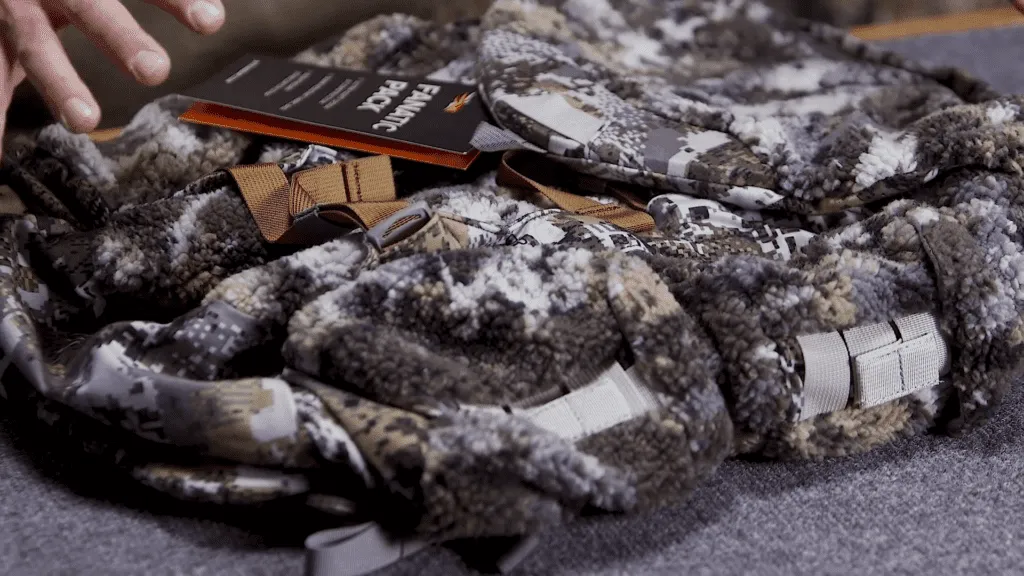 Pros
Offers multiple storage compartments
A quiet pack
Easy to carry
Cons
Not waterproof
Lacks a definite shape (takes the shape of the packaged items)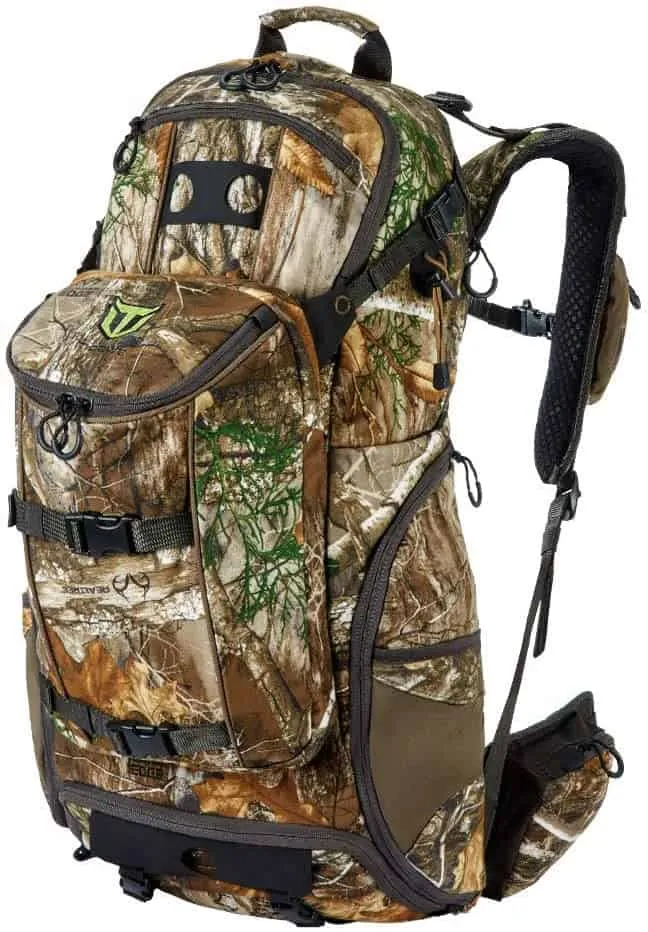 If you are looking for a large backpack with multiple compartments for keeping your gear, do not go beyond this 3400cu hunting pack by TIDEWE.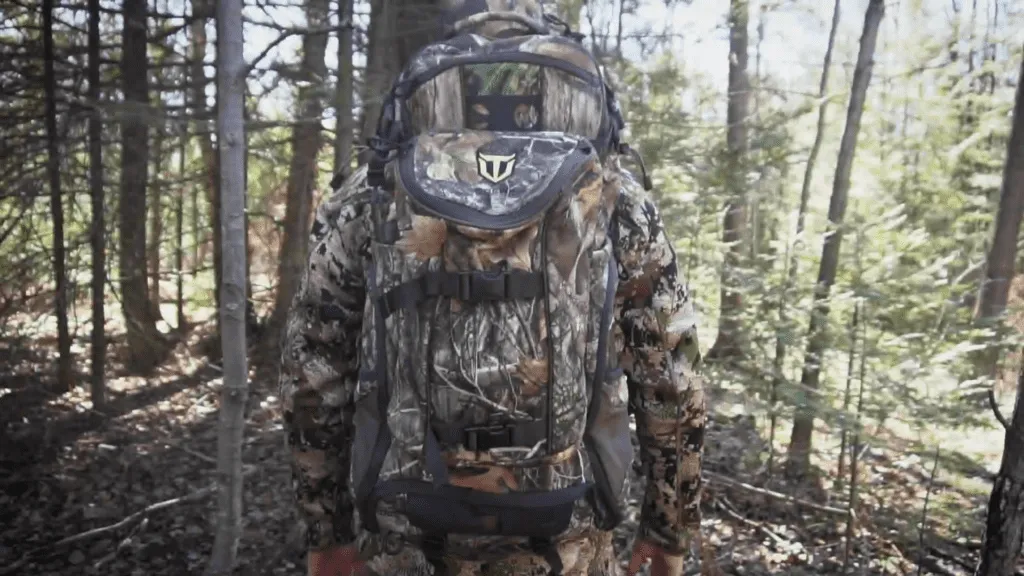 The TIDEWE hunting pack features a high-performance fabric to overcome abrasions and allow for all-weather application. 
In addition, the bag comprises multiple compartments to let you keep different types of hunting accessories for a hassle-free experience.  
For instance, you can keep some items in the three storage compartments in the top front pocket. The bag also features a 2-in-1 compartment for keeping your rifle and bow.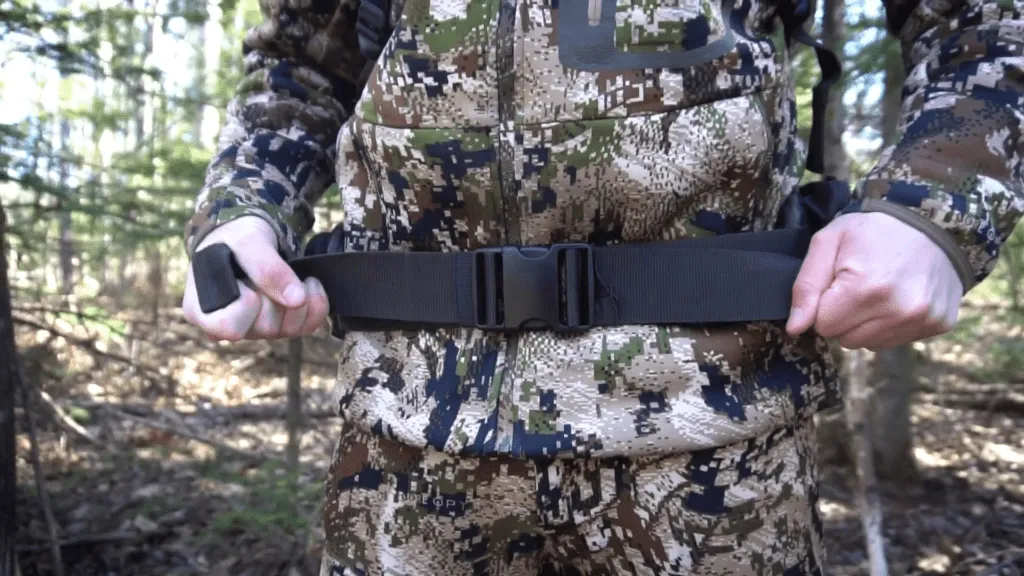 Need more space? You can use the pack, bottom pocket, side pocket, bottle pocket, waist pocket, or any other featured space. FYI, this bag can pack enough gear and supplies to serve you for up to three days.
The other notable features of this pack include:
Thick and Soft Padding: Cushions your back against pressure and allow for a more comfortable carriage
Breathable fabric: Lets go of moisture to render your backpack sweatproof and scent-free
6.0lb weight for easy transportation to and from the outdoors
Sturdy carbon frame for balancing the load for efficient carriage
Adjustable sternum and shoulder straps to let you fit the backpack snugly
A waterproof rain cover for protecting your gear from rainwater should you encounter rain during your hunting mission
A bottle pocket where you can keep your water to hydrate you throughout the day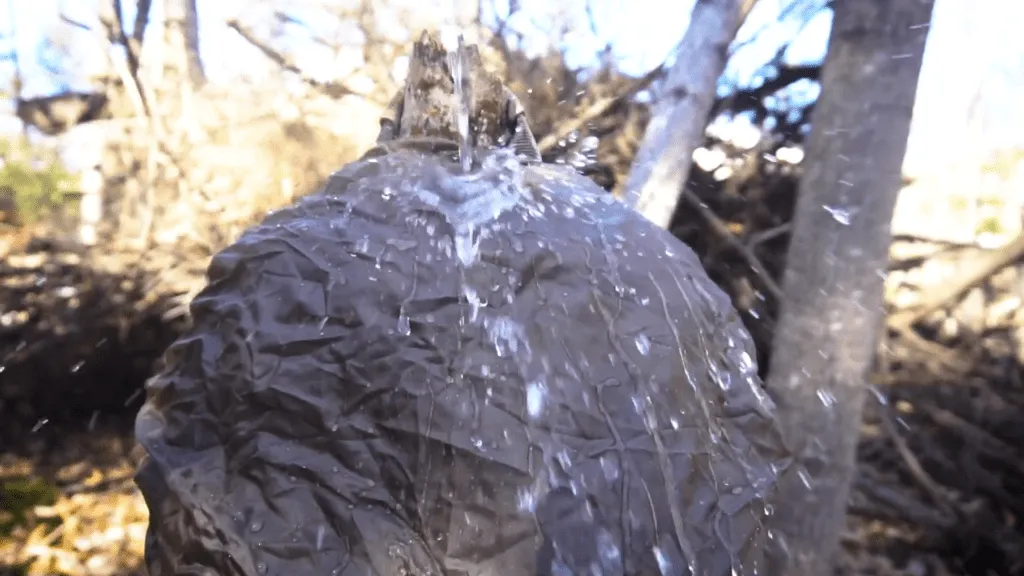 Pros
Highly spacious with multiple storage compartments
Sweatproof and durable design
Fits snugly, given the shoulder and sternum straps
Cons
Lacks a designated compartment for storing the bino case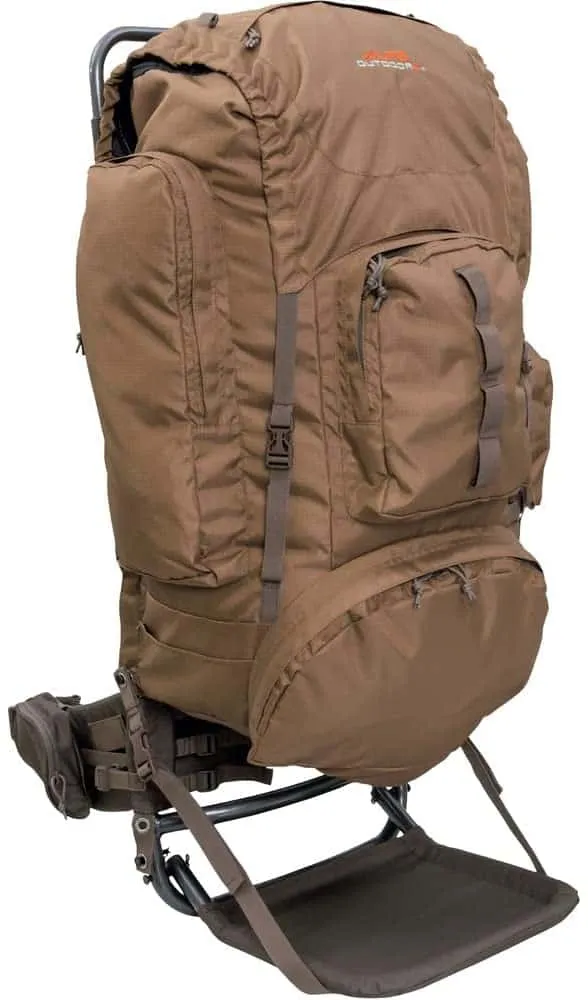 The Outdoorz Commander by ALPS boasts a rugged ripstop fabric construction to overcome abrasions from heavy-duty usage and the devastating effects of harsh weather.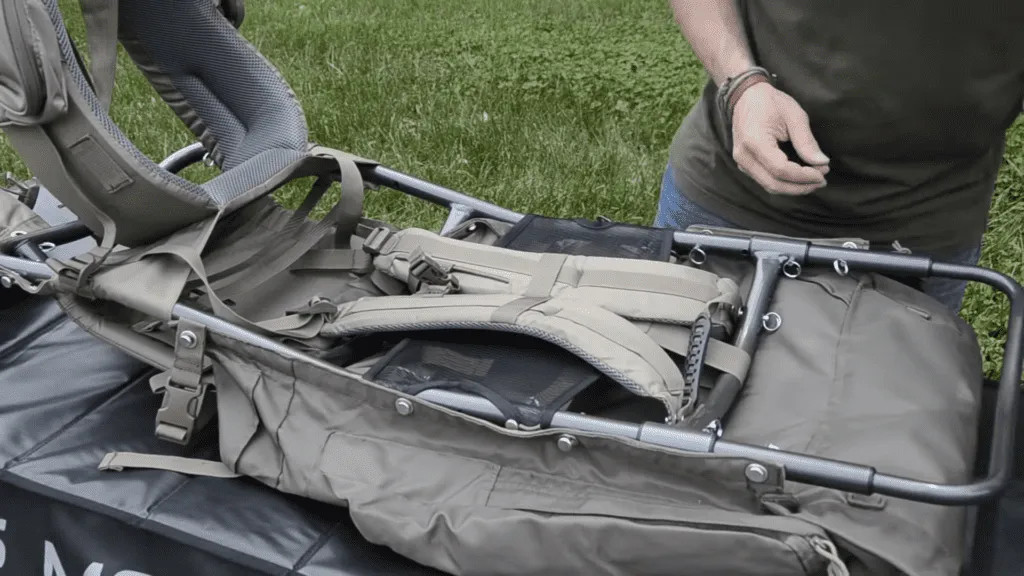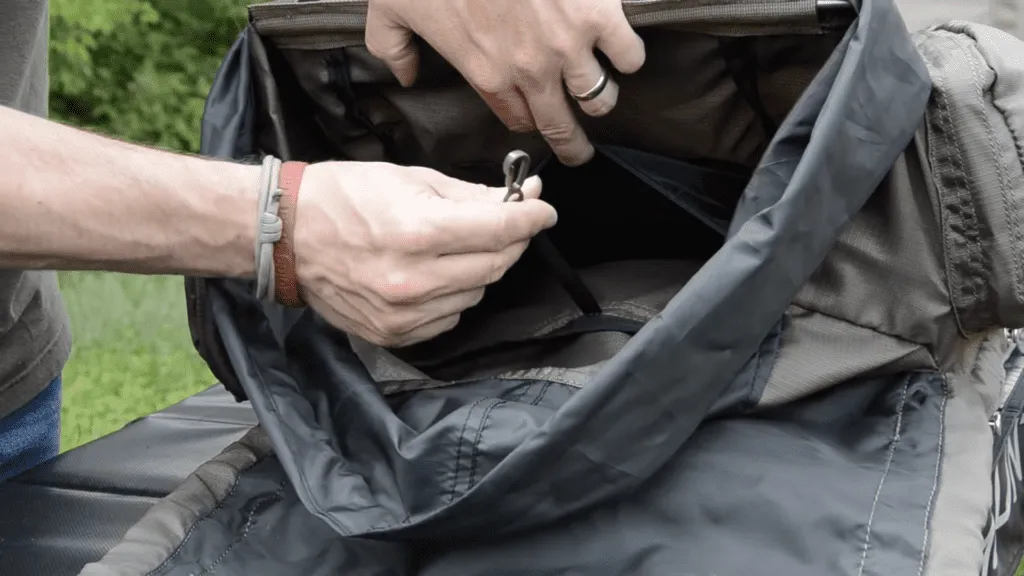 Besides its durable quality, the ALPS outdoorZ commander offers you multiple pockets to let you pack varied hunting accessories.
For instance, you can use a side spotting scope pocket for keeping your binoculars for easy access whenever you want to spot your target from a distance. Examples of other pockets in this bag include waistbelt pouches, the main pocket, duo-hinged side accessory pockets, etc.
The outdoors commander package includes a drop-down rifle holder, allowing convenient and hands-free rifle storage. Be sure to attach the rifle holder to your pack.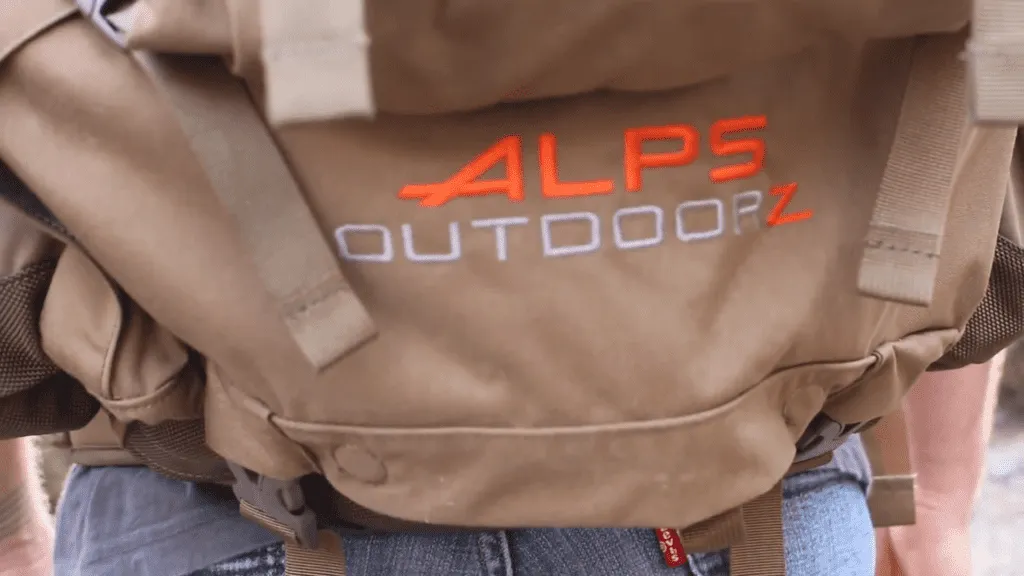 The other outstanding features in this pack include:
A commander frame: Supports the pack and balances the load for efficient carriage
Adjustable torso and waist Strand: Lets you fit the pack tightly against your body for hassle-free carriage.
The pack is hydration compatible, which will keep you hydrated for the entire journey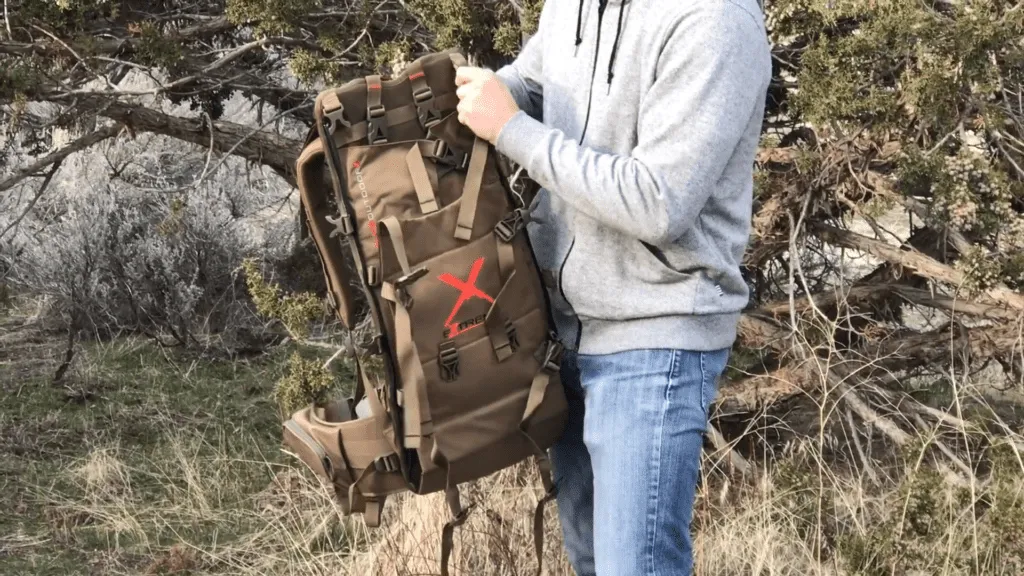 Pros
Durable construction
Offers multiple storage compartments
Hydration compatible
Fits snugly, given the torso and waist adjustable strands
Can carry heavier loads given its ergonomic frames
Cons
Not waterproof
Needs assembly before use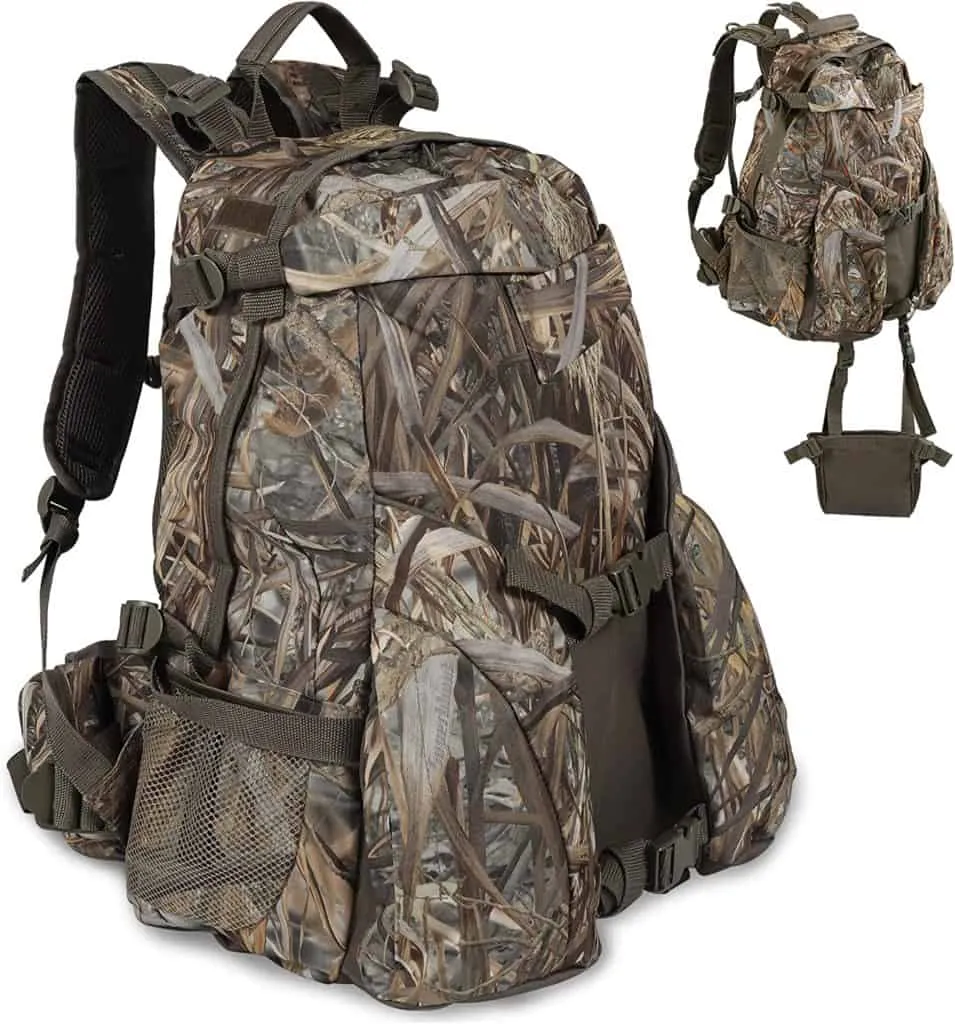 The Stonehomy Hunting Back Pack features durable 600 Denier (D) oxford fabric construction to assure you longevity.
The bag is comfortable to use thanks to its breathable padded mesh on the shoulder straps,  waist straps, and the back, which lets go of any condensation water or pressure to allow for a safe and comfortable carriage. 
It features multiple pockets like the now/gun holder, front/side zipper pockets, waist bags, etc., which allow you to keep your gear organized in one big pack. The Stonehomy can hold a  total capacity of 36L.
The hunting pack by Stonehomy is waterproof, owing to the in-built orange cover, which inhibits the entry of water and moisture should your encounter rains or cold weather.
It features a reed camouflage tailored to help you stalk animals while hiding on an open ground unnoticed. 
Besides hunting, you can use the pack for mountaineering, traveling, military projects, and camping, among other uses.
Unfortunately, the Stonehomy Hunting Back Pack comes in one size, limiting its application across all hunters.
Pros
Built strong using 600 D oxford fabric
Multiple storage compartments
Waterproof design
Has multiple applications
Affordable option
Cons
Its one size fits all design limits its use by short hunters
Buyers Guide
Now that you understand different backpack models and their features, the next step is to look at how to choose, use and maintain the backpack in a condition.
How to Choose the Best Hunting Day Pack
Below are the various considerations you need to make to get the perfect backpack in the market:
Size
Before investing in a hunting day pack, inspect it to ensure it can comfortably accommodate all your hunting gear and supplies. Also, ensure that the pack fits your body snugly, lest you want to be a victim of undue fatigue and discomfort. 
That implies going for packs that fit your size and have reliable suspension systems (adjustable straps in the shoulder, waist, torso, and other regions) to allow you to tailor your perfect size.
Construction Material
When shopping for a hunting backpack, you must pick something breathable and sturdy enough to overcome abrasions and allow for all-weather application. One sure way of ensuring the strength and breathability of your pack is to ask your dealer about the durability of the construction fabric. 
However, some crafty backpack dealers may give you the wrong information, and you may end up buying a poor-quality pack. For this reason, I reviewed the backpacks with the sturdiest and most breathable construction materials like KXO-50 FABRIC, 600D oxford fabric, ripstop fabric, etc., to ensure you get the most durable pack on the market.
Organization
Another factor worth your consideration is how well your backpack is organized. I advocate for packs with multiple packing compartments on the sides and long center zippers as they allow for easy accessibility of the gear without offloading the pack. 
Examples of these external storage compartments are side pockets, waist belt pouches, water bottle holders, bino case holders, bow/ rifle pockets, etc.
Suspension System
A backpack's suspension system refers to all features tailored towards balancing and supporting the load to reduce tension on your shoulders and other body parts. 
These features include shoulder straps, stabilizer straps, sternum straps, load lifter straps, and other small features that enhance carriage comfort. 
Going for a pack with these features can elevate your carriage comfort. 
What Is the Best Way to Use a Hunting Day Pack?
Below are the best use practices for using a backpack:
Always ensure that the load is distributed evenly in your backpack.  Also, ensure that you free all straps 
Engage all shoulder straps instead of carrying the pack on one shoulder to avoid straining one shoulder
Engage the waist and chest straps, if any.  The waist strap reduces shoulder pressure by distributing the weight to the hips. On the other hand, the chest strap holds the bag snugly to prevent it from swaying. It also keeps the shoulders straps in position.
Adjust the shoulder straps until they fit comfortably (you are good to go if the pack fits snugly on your body and doesn't strain your shoulders). 
Advantages of Using a Hunting Daypack
The hunting backpacks can help you:
Stay organized: They offer numerous compartments to help you keep your important gear and supplies for more comfortable hunting.
Hunt comfortably: Many backpacks come with numerous ease-of-use features to make your hunting a breeze. These features include breathable fabrics, silent zippers, padded shoulder straps, waist straps, water pockets, etc.
Keeps your gear safe: All backpacks come with durable zippers to keep your items safely enclosed in the pack.  Some other models are waterproof to prevent rainwater from contacting your gear.
As you can see, the hunting packs offer many advantages than flaws. However, most people believe these handy packs are crazily expensive, which is rarely the case. The truth is that they come in all price levels, and anyone can afford them. So, you can be sure to secure one in the market at an affordable price.
Concluding Remarks: So What's the Best Hunting Day Pack?
The best hunting day pack is the one that offers the most convenient and safest storage for your items. The Badlands 2200 Hunting Backpack is my best overall product on the list. I loved it because it features a durable KXO-50 FABRIC construction. Additionally, the pack has a molded foam suspension and other comfort-enhancing features to give you an immersive outdoor experience.
However, this doesn't mean the other products on my list are of compromised quality. As mentioned earlier, I reviewed the best hunting day packs on the market, and you shouldn't hesitate to pick any of them.
To buy, click on the included affiliate link to navigate the product page where you can make an order.
Explore more