5 Best M&P 15-22 Pistol Accessories and Upgrades [2023]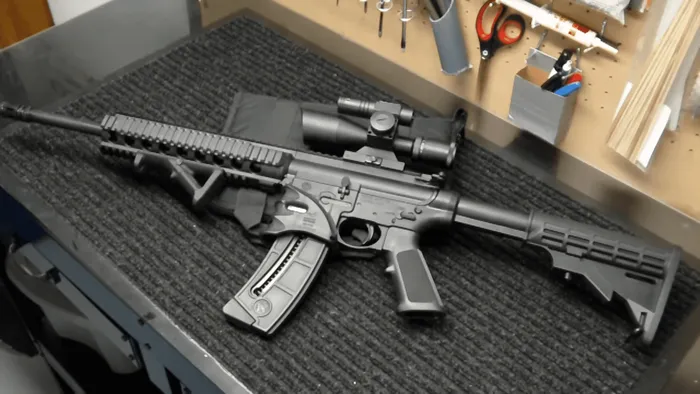 5 Best M&P 15-22 Pistol Accessories and Upgrades [2023]
Introduction
If you're looking for some AR-style rifle training at the ranges, there's no better way to practice the operations and ins-and-outs than with the Smith and Wesson M&P 15-22.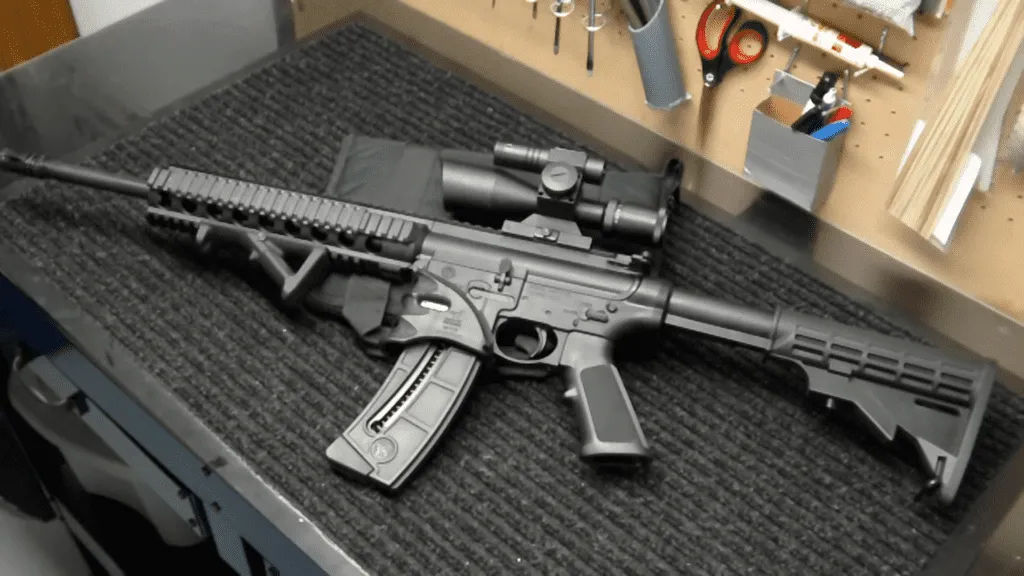 Mimicking AR-15's handling, all the features on the S&W M&P 15-22 are maneuverable in a similar fashion, and they offer a very real experience in the world of AR rifles.
Given its popularity, the 15-22 has lots of aftermarket accessories, internal parts, and customization options from lots of different manufacturers.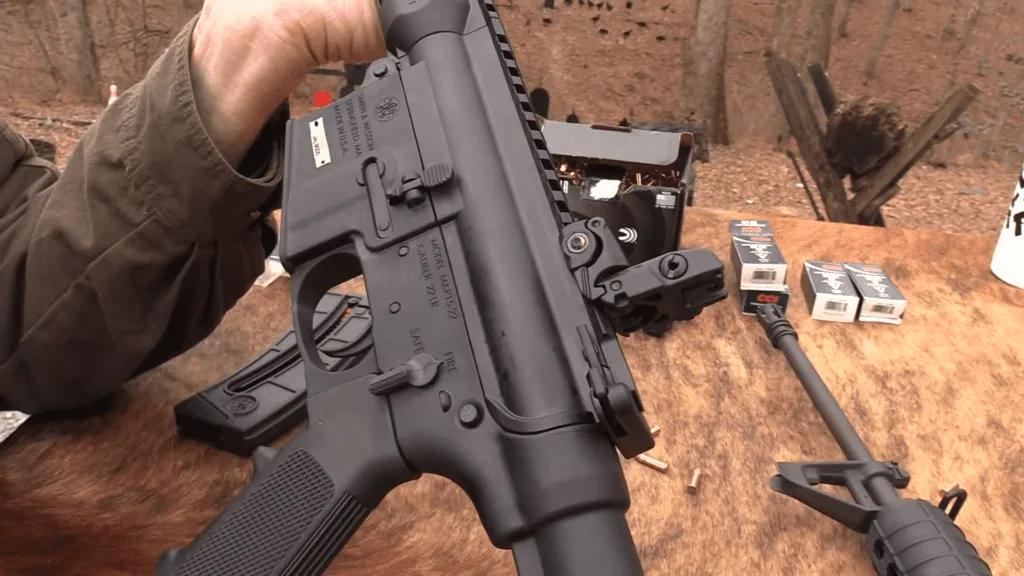 So, let's talk about the best M&P 15-22 pistol accessories and aftermarket upgrades.
There are loads of ways to improve your rimfire AR rifle, and it's also very easy to install most of its fresh parts.
We'll take a closer look at all the essential parts like grips, triggers, stocks, magazine releases, safeties, and countless other parts to be tailored to your whim. These products are listed without a clear winner and in no particular order so that folks can find exactly what they need.
Let's start with the stock.
5 Best M&P 15-22 Pistol Accessories and Upgrades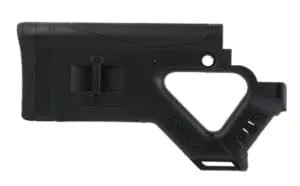 Pros
Solid improvement over the factory stock
Excellent price
Durable, glass-fiber polymer
Lightweight
Can mount to Mil-Spec receiver extensions
Cons
Difficult to install; needs a bit of gunsmithing
The factory stock that comes with your purchase is a standard M-LOK 6-position adjustable polymer stock. However, you can definitely improve on it with a fixed Hera Arms CQR AR-style buttstock.
The CQR is made of reinforced polymer for added durability, has a 12-inch length, and weighs around 6 ounces, so it doesn't add much weight to your 15-22 rifle. There's a Hera Arms CQR Front Grip for a complete upgrade that gives your 15-22 an almost bullpup-like feel.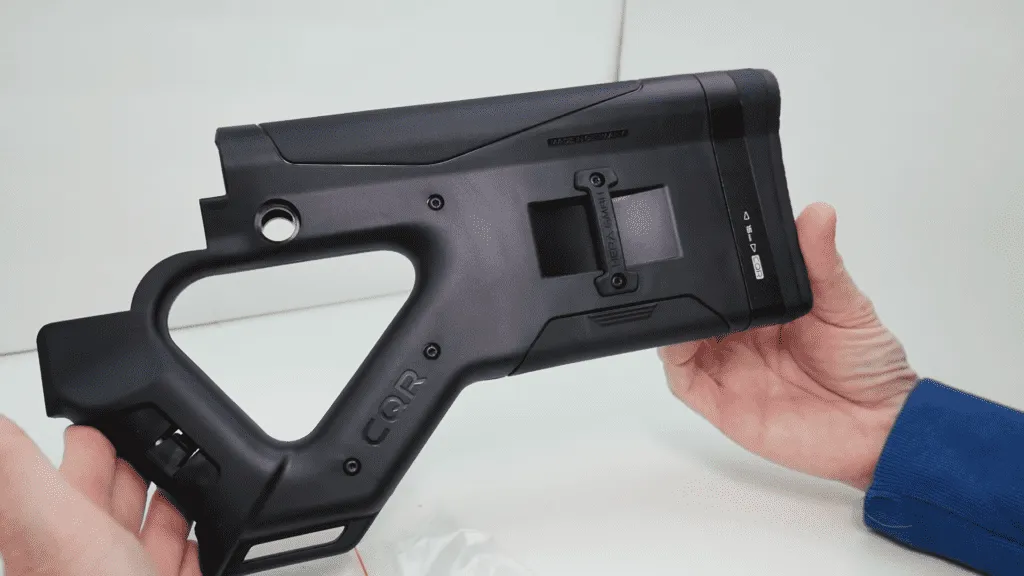 What makes the Hera Arms CQR stock better than your factory six-position adjustable is the ambidextrous sling mounting access that lets you up your sling game.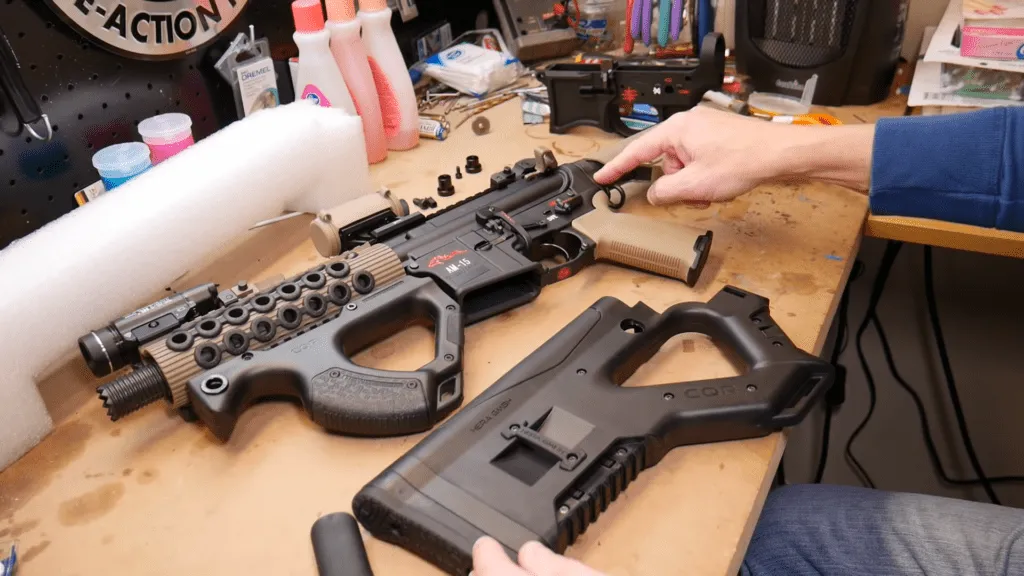 Additionally, the rear Picatinny rail section on the Hera CQR allows you to use the rifle with a monopod. It can also perfectly fit any MIL-SPEC receiver extensions if you're planning on getting one.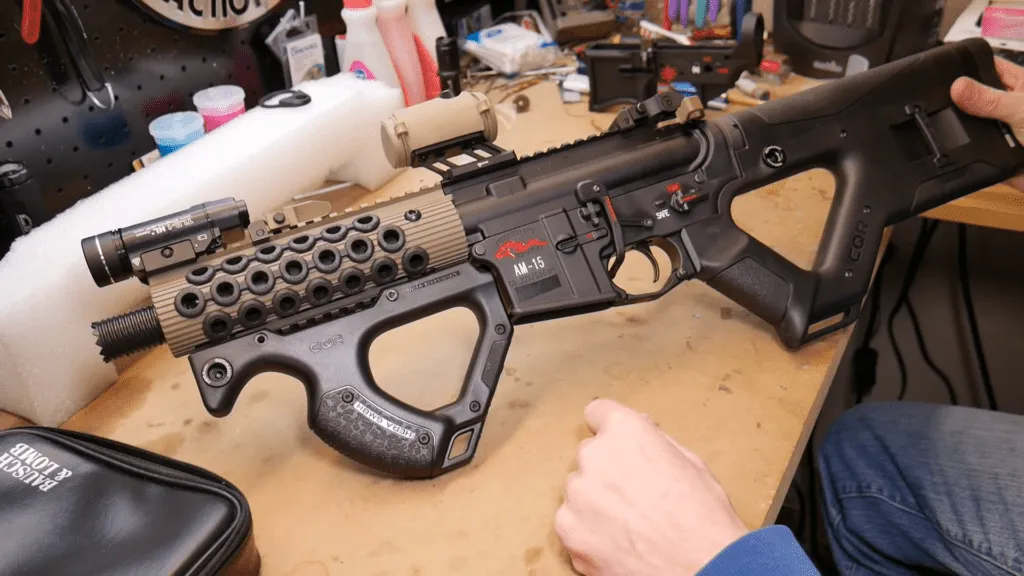 The downside is that it's not easy to install it because the point between the receiver and buffer tube needs a gunsmith to shave off excess material on the stock in order for the CQR to fit. Either way, it's not much of an issue here, and if anything, it means less weight.
Moreover, the Hera CQR stock has a QD socket that lets you strap on a single-point sling. However, if you want something else, there's a Troy QD Pro Grade sling adapter that lets you slide the sling over the buffer tube.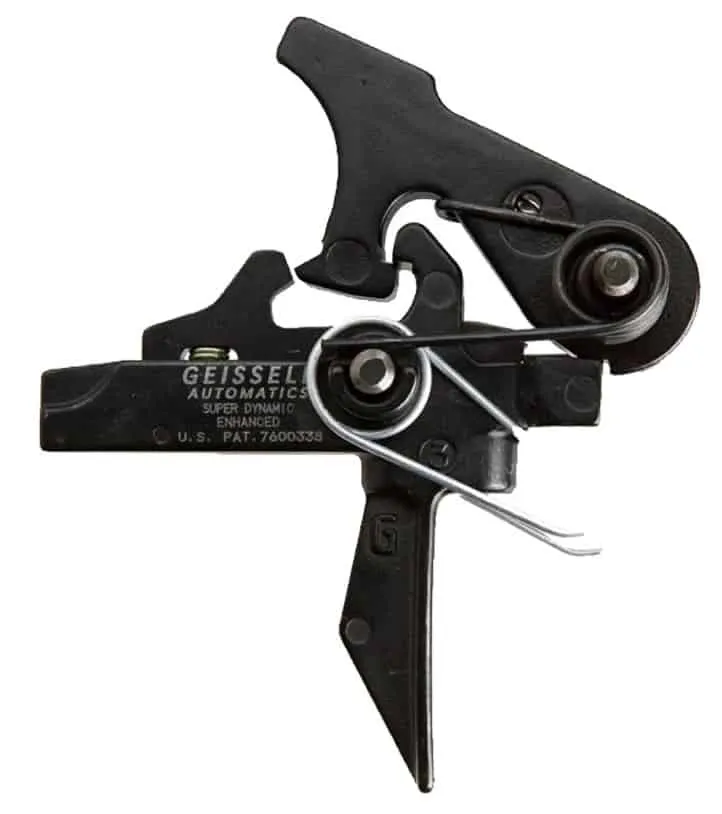 Pros
Unmatched trigger quality
Allows fast firing rate and follow-up shots
Very easy to install
Very reliable and can serve you for a long time
Cons
The safety selector stops only at "safe" and "fire"
Very expensive
What I most like about the M&P 15-22 Pistol is that it can accept a plethora of AR-style trigger parts and internals. Understandably, low recoil .22 LR plinking requires surgical precision and a very tactile sense of the trigger in order to perfect those high-speed follow-up shots.
If you're looking for the best trigger for your 15-22, here's the Geissele SD-E trigger. It costs half the price of your rifle but enhances your shooting experience threefold.
The trigger pull of the Geissele SD-E is so lightweight that it speeds up your follow-up shots and lets you achieve semi-automatic perfection at the ranges. Installing the SD-E is super easy, and you can do it yourself.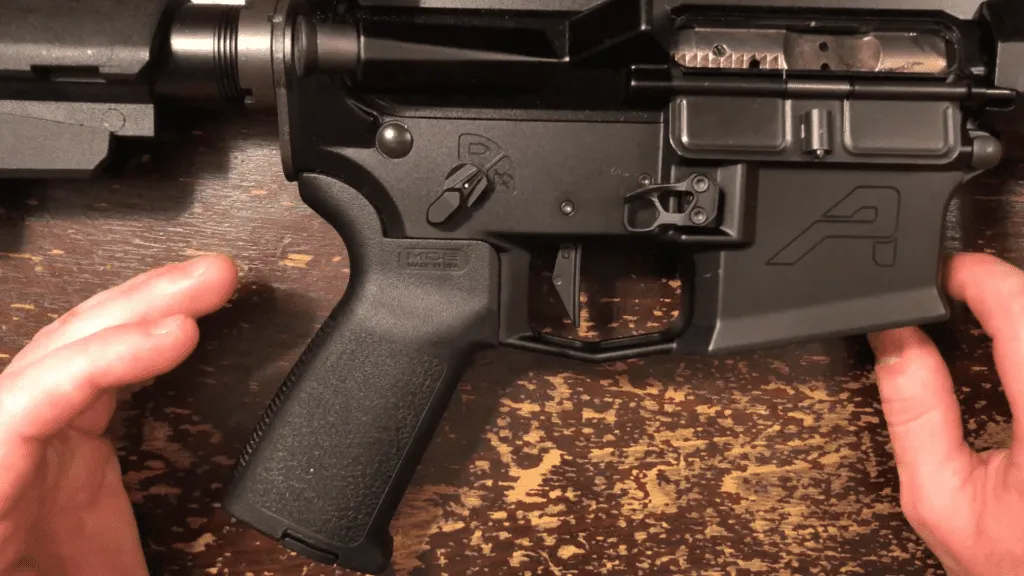 Although it's a fantastic trigger, it has a downside. While the selector safety stops on "safe" or "full" mode on your AR rifle, the safety on the SD-E is placed at "safe" and "fire," and it can rotate 90 degrees which might be a downside for some.
This trigger costs a lot, but this price is small compared to other match-grade triggers you can find for your 15-22 rifle.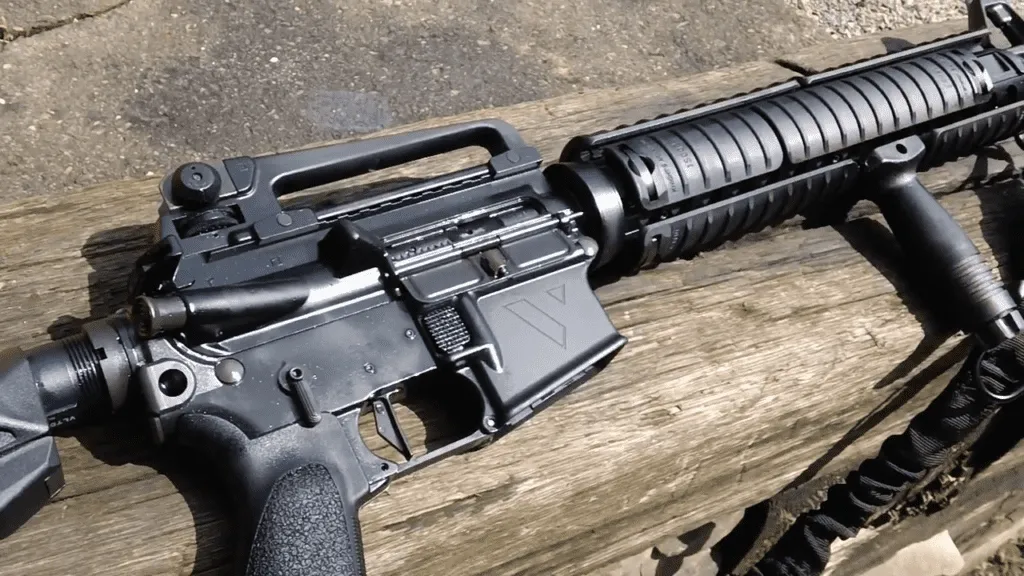 So, if you're planning on using other triggers, like the Franklin Armory Binary Trigger, you'll need to remove the semi-selector stop.
Speaking of other triggers, you can also check out the AT3 Tactical 2-Stage Trigger, which is a nickel-boron coated trigger with a low price that's perfect for rimfire shooting.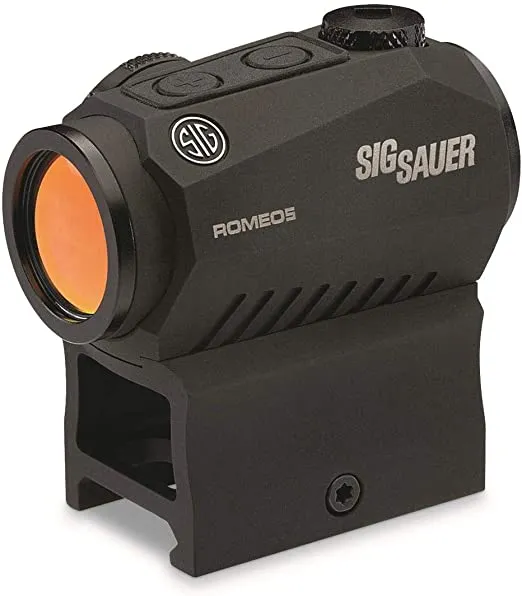 Pros
Fairly priced red dot sights
IPX-7 waterproof rating
Batteries included
Eight brightness settings and two night vision mods
Comes with backup batteries
Motion-activated illumination feature
Cons
Motion-activation feature can be annoying
Objective lens may be small for some
One of the most popular red dot sights for any AR-style rifle is the SIG Sauer Romeo5, and there are many reasons why. It's cheap, weatherproof, durable, motion-activated, and has all the essential features with impeccable glass clarity for a 50-yard plinking session.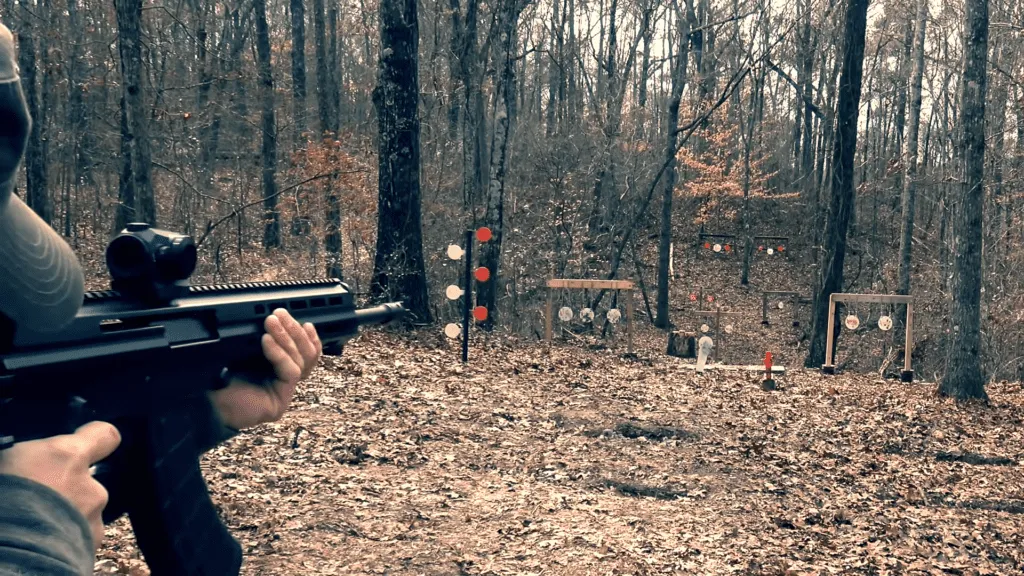 The SIG Sauer Romeo5 is equipped with a 20mm tube that offers solid visibility during the day and night. Coated with special anti-reflective properties, the SpectraCoat multi-layered coating offers light transmission that can be seen on more expensive optic brands.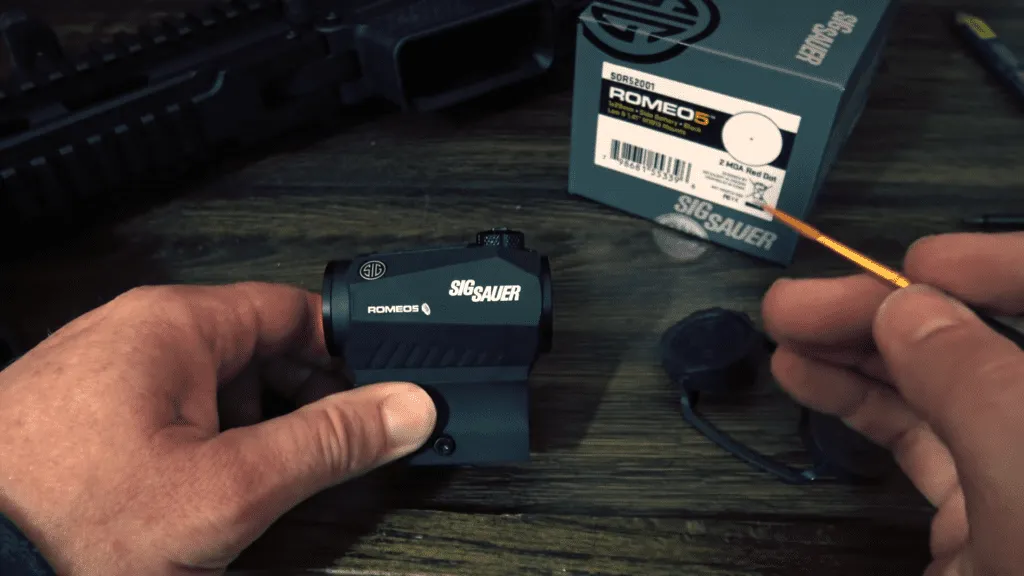 There are elevation and windage adjustable turrets that are straightforward and easy to use, and zeroing the scope is easy. It comes with a Picatinny low mount and a co-witness mount adjusting tool for your convenience.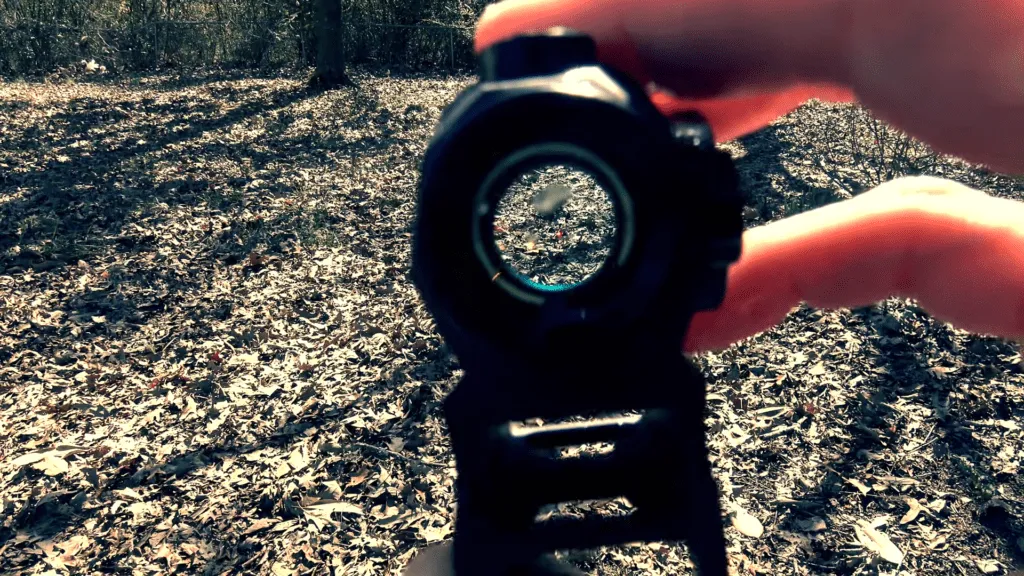 Most importantly, it has unlimited eye relief for better target acquisition than most scopes of the same price range.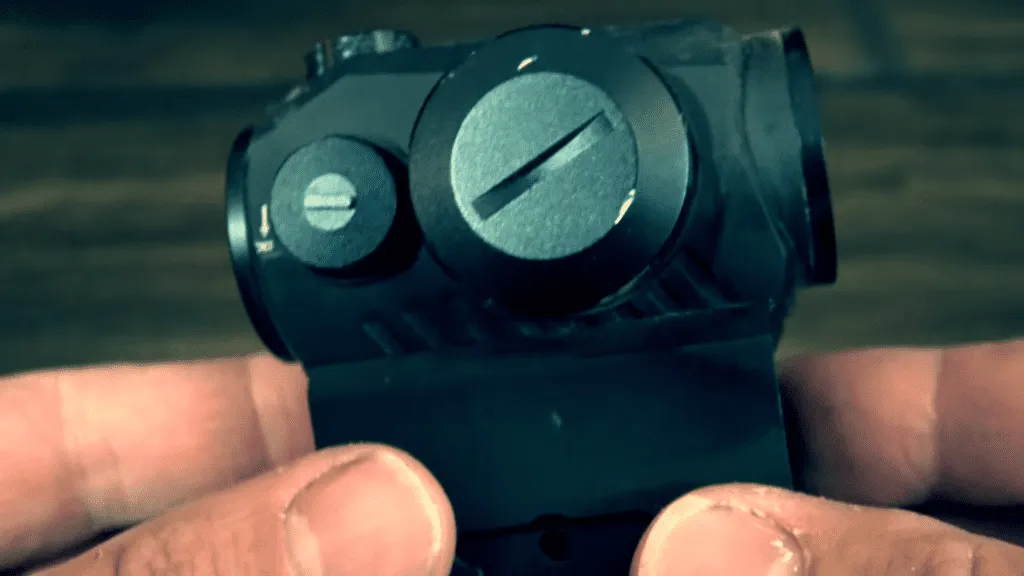 As for the reticle, it's a 2 MOA red dot reticle that's perfect for a .22 LR rifle. The 10 brightness settings make it very flexible during the day and night. Eight of them are day brightness options, and two are nighttime ones.
The motion-activated illumination (MOTAC) feature is a great battery saver because it turns off when not in use and turns on when picked up. However, it can drain your batteries if you keep your plinker in the truck, as the vibrations from driving can keep it activated.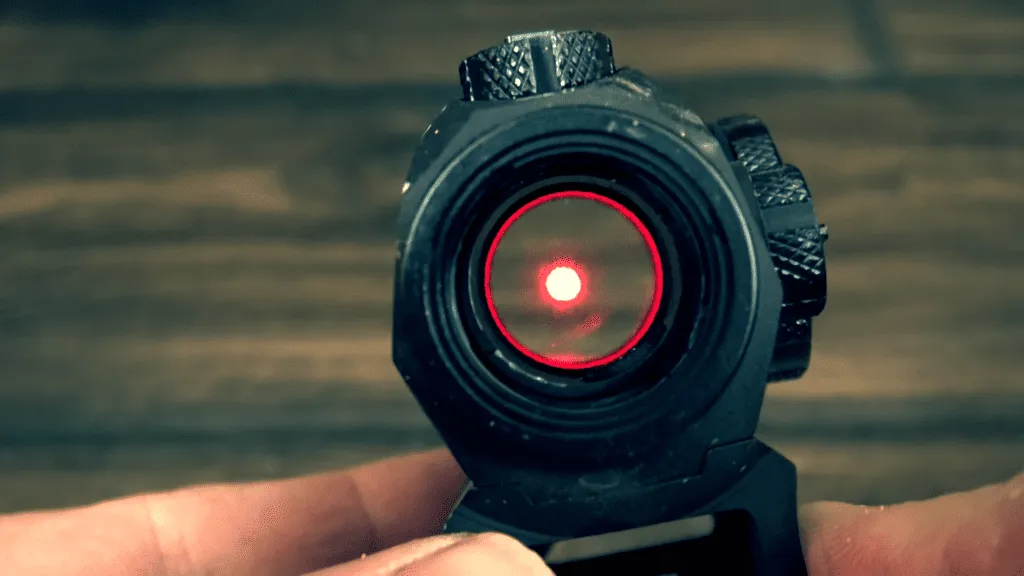 Additionally, there's the Romeo 5 XDR Compact red dot sight if you're looking for an optic with AAA battery operation.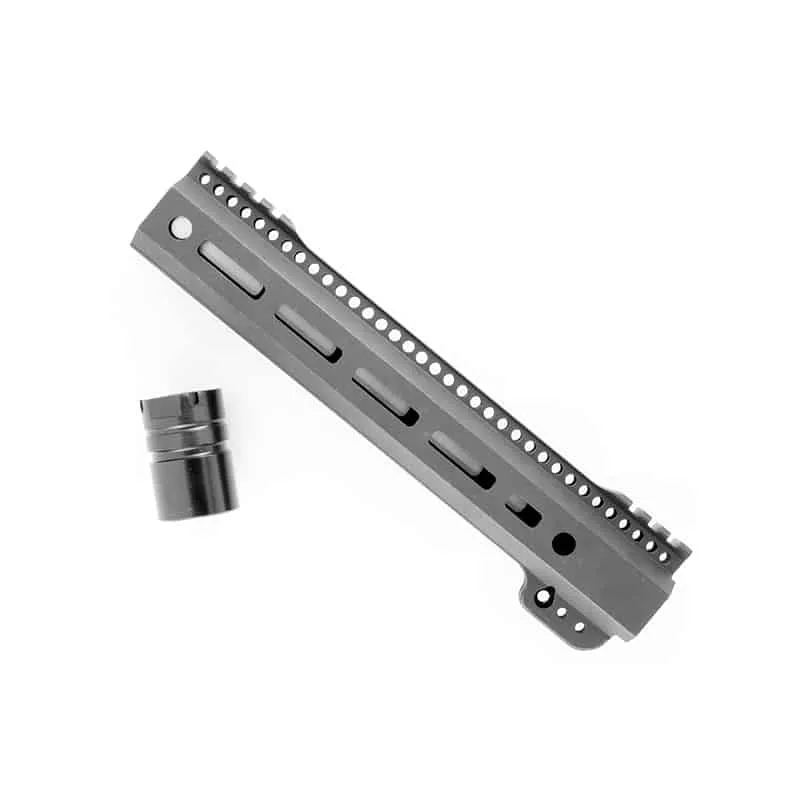 Pros
Lightweight
Eliminates the gap between the receiver and the rail
Available in 10-, 12.5-, and 15-inch models
Front and rear Picatinny rails
M-LOK accessory slots
Durable aluminum construction
The M&P 15-22 has a standard factory polymer quad rail handguard with a narrower handguard than its first models. It has M-LOK slots and has an overall decent quality, but the plastic quad rails don't do the plinker justice, so it could be way better.
With that said, the Tacticool22 Free Float M-LOK Handguard might be one of the most important aftermarket parts you can buy for your S&W M&P 15-22.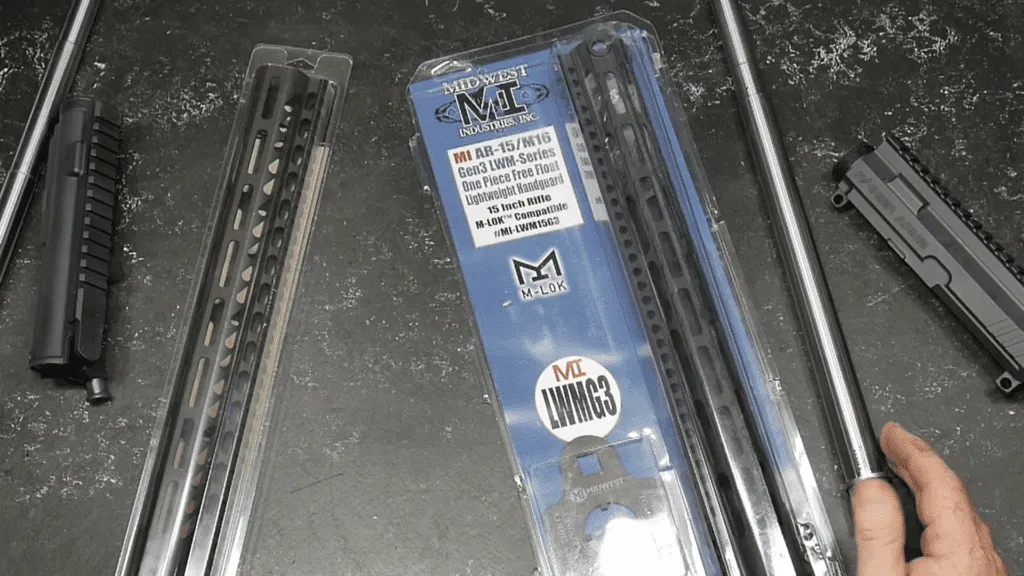 The Tacticool22 is made of high-quality machined aluminum, and it's engineered to be lightweight and durable.
There's a barrel nut included with your purchase, and you don't need trimming or extra shims from your gunsmith. Additionally, there are built-in anti-rotation tabs for your convenience.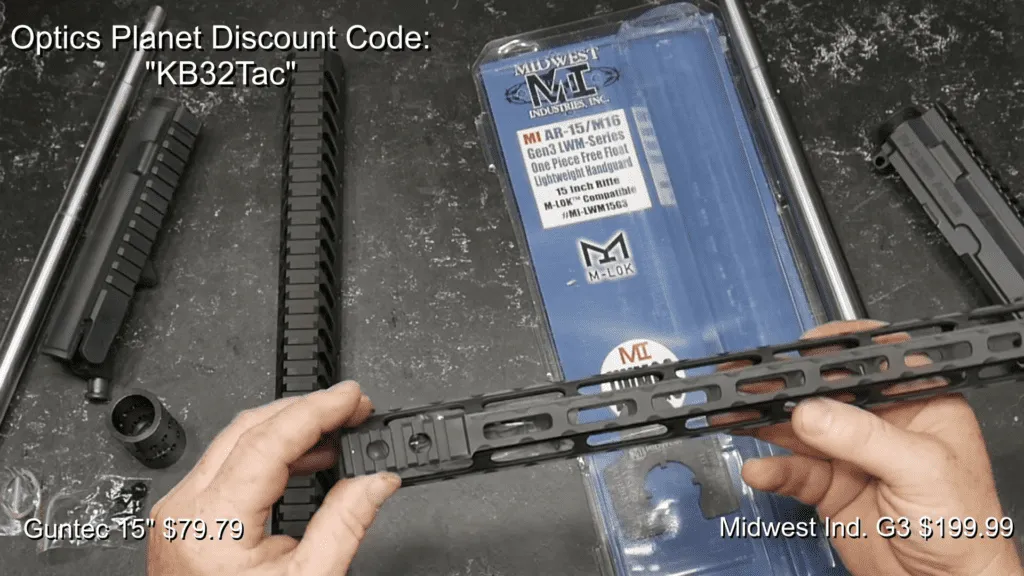 The M&P 15-22's factory polymer handguard is held to the upper receiver via a proprietary nut that's difficult to take apart. Luckily, the Tacticool22 Handguard comes with a special wrench to remove the castle nut and slide the handguard off.
To switch your factory handguard with the Tacticool22, you'll use the unique barrel wrench and vise block that came with your purchase to safely disassemble it from the rifle. I recommend you don't use any other tools besides these; otherwise, there's a high chance you'll damage the 15-22's fragile receiver.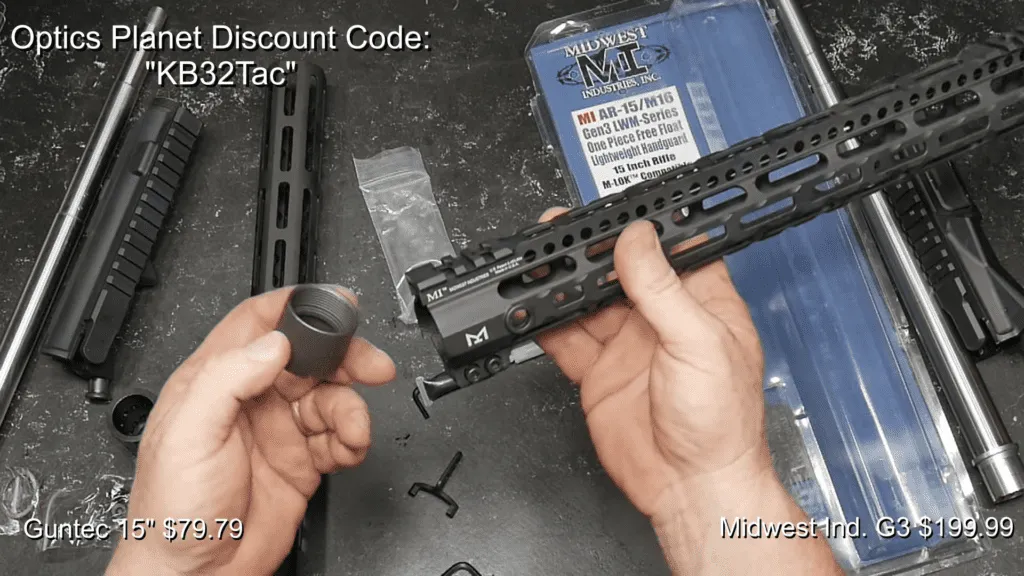 With an internal diameter of 1.36 inches, it fits perfectly against your M&P 15-22's receiver, and it fills the gap between the receiver and the rail, so it doesn't accumulate dirt. This free-float design features a Picatinny rail on the rear and front, as well as M-LOK slots for your additional accessories.
If you're interested, there's a Tacticool22 thread adapter that makes your 15-22 look like a standard AR-15 upper on which you can mount other free-float handguards that you can find on the market.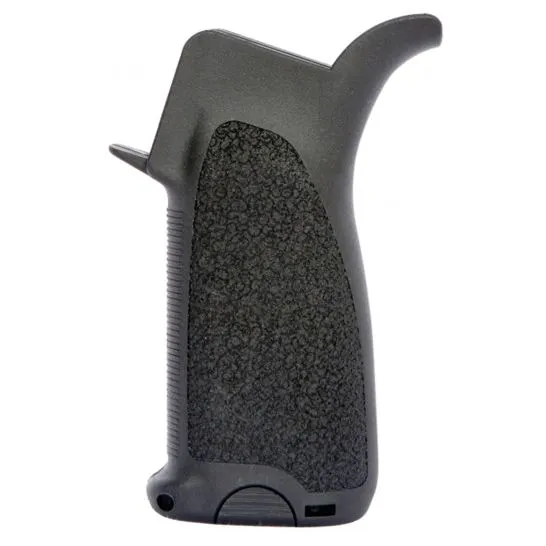 Pros
High-quality, impact-resistant polymer construction
Unmatched stability and no slipping
Trigger guard inserts available
Hollow build for interior storage
Cons
Hollow build needs to be 95% full for a better grip
Last but definitely not least, here are some cool hollow grips from BCM (Bravo Company Manufacturing).
The Gunfighter Mod 3 Grip is one of the newest products from Bravo Company. It's an AR-15 pistol grip that's made to provide extra footing for your palms. Besides this black model, the BCM Gunfighter Grips are available in multiple green colors like wolf green and FDE.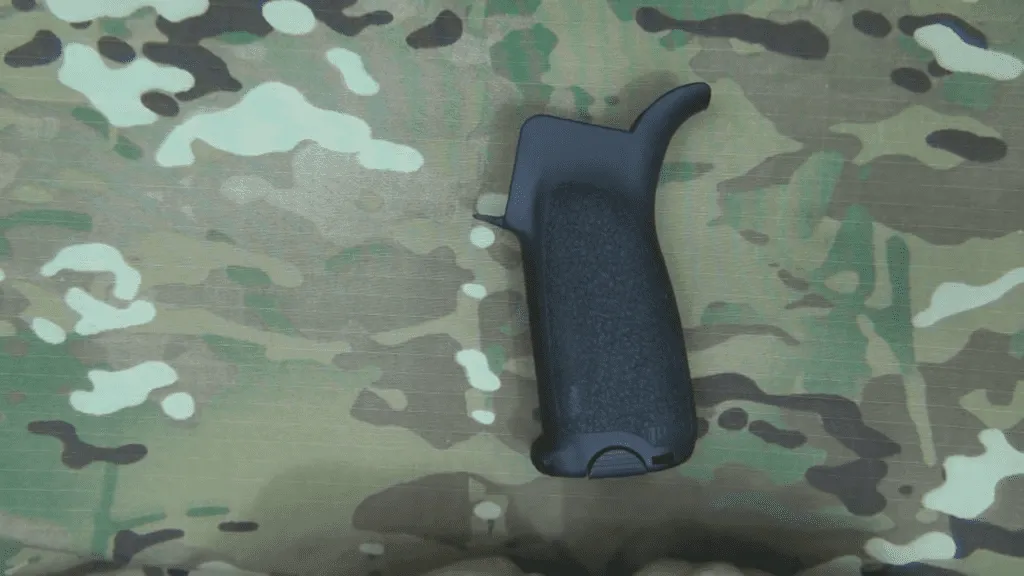 Using an advanced, impact-resistant polymer build, it has an excellent grip texture with checkered sides, which offers solid stability for fast-range drills. Additionally, the front is also textured for a non-slip shooting experience, especially during these hot, sweaty summers.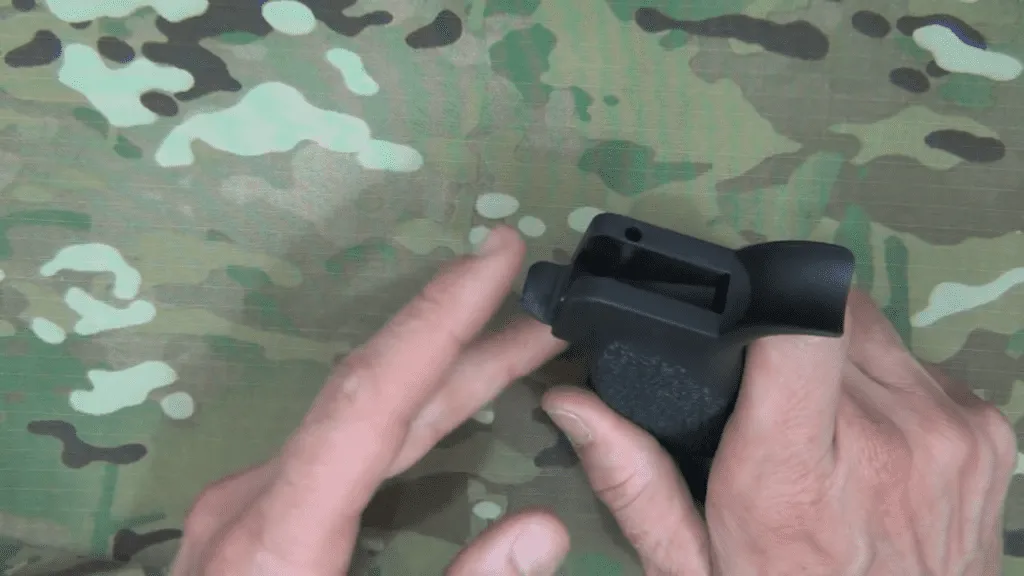 This one has a straight design that's perfect if you're not a fan of angled grips like most AR-15 enthusiasts. With your purchase, it comes with two modular trigger guard inserts, and one of those is extended. That enables you to modify the grip and trigger guard distance.
What makes the BCM Gunfighter Mod 3 special is that the grip is hollow, and you can store additional items inside it. It can be accessed via the small hinged opening at the bottom.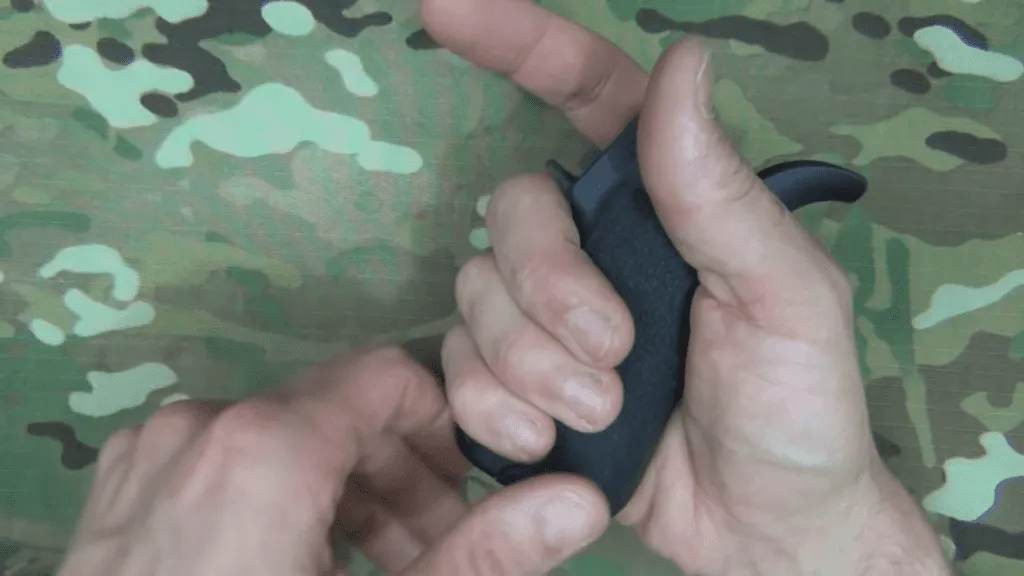 Most folks stick lucky charms in there. Personally, I use it to store my flashlight batteries and ear plugs, among other things.
Conclusion
The M&P 15-22 is a very popular AR-style rifle in the .22 LR platform, and it has a proven track record in reliability.
Without a doubt, given its excellent design, ease of use, and shootability, it has garnered a solid reputation over the years for an AR-style rimfire rifle.
S&W deliberately designed this .22 AR-style rifle to be easy to use, easy to shoot, and easy to customize.
Not only that, but thanks to the attractive price tag, you have enough room for lots of aftermarket customization options.
There are loads of grips, internal parts, controls, and even gun cases that can help you complete your AR-style plinking rifle.
These are the ones that I personally think are one of the most popular and essential parts you can have for the 15-22.
I made this list with 15-22 aftermarket parts that aren't regarded as a definite "must-have" but are excellent options that anyone can use.
Stay safe, shoot straight.
Explore more