Best OWB Holsters [2023]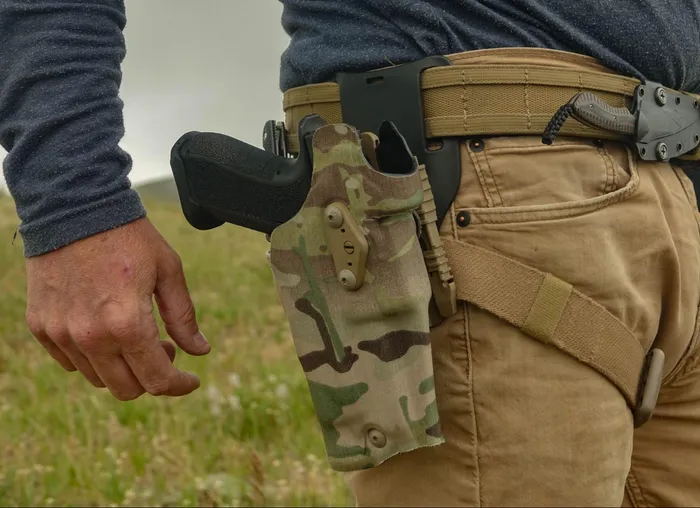 It has been well-known for a while now that a handgun holster is one of the most important aspects of gun security.
A good holster keeps your Glock nice and tight, feels just right, gives you quick and easy access, and most importantly, it prevents accidental discharge. Whether it's an IWB holster for concealed carry, OWB carry, appendix carry, or otherwise, the holster you choose needs to be as efficient as the gun itself.
Choosing a suitable gun holster for your handgun is definitely one of the most complicated and dubious shopping experiences for firearms accessories, at least to my accounts. It can be really tedious to fish out a suitable one in a convoluted sea of sub-par holsters.
Not only that, but I browsed and researched countless big and small holster brands and models, and I saw lots of negative reviews on really decent ones, but the customers didn't properly inform themselves about them.
That's why I rounded up the best OWB holsters for you in this buyer's guide. We'll talk in detail about their characteristics, why I recommend them, and show you why OWB holsters are a popular choice for many gun owners despite being less concealed than IWB holsters.
I tried and tested these holsters, and I eliminated some decent ones in favor of filtering out the best OWB holster for you. The Alien Gear Cloak Mod OWB Holster is my definite favorite, and it exceeded my expectations for durability, safety, and comfort. Moreover, it has one of the best retentions I've experienced thus far.
Best OWB Holsters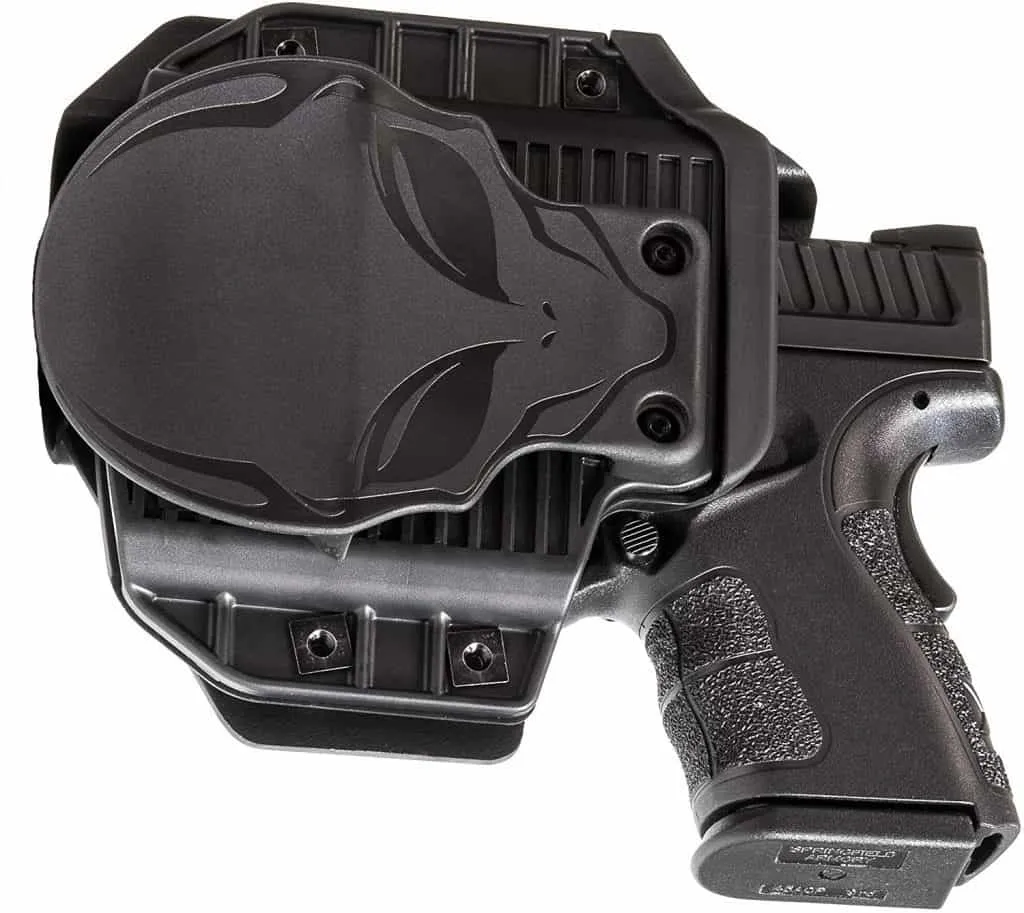 Pros
Unmatched durability and quality of construction
Compact and lightweight
Retention levels are easy to adjust
Soft and smooth, sweat-absorbing neoprene material for comfort
Adjustable cant angle
Dock attachment system for under your desk or the glove compartment
Cons
Might feel too tight for some
Alien Gear is relatively new in the holster business, but there's no denying that they do their research and listen to the feedback of their customers.
The Alien Gear Cloak Mod is a finely crafted Kydex holster with a paddle that saw lots of trial and error as well as careful design planning, which can be noticed by any casual or range shooter. Here's why I think it's the best OWB holster on this list.
It's a passive retention holster that can be tightened to your preference, and it's super easy to conceal too. Not only that, but the Cloak Mod has a docking system that allows you to attach your holster under your desk or your glove compartment in your car.
Its construction is one of the best. Despite being made of polymer, the backing is neoprene—a very smooth, durable, and comfortable material. It absorbs sweat too!
Reholstering the handgun is fast and easy due to the wide open holster, and adjusting the retention, cant, and angle is straightforward with the highly adjustable mechanisms. It's basically designed to suit anyone's preference. Simply adjust the retention mechanism with the screws, and you can easily modify the grip strength for better control when drawing your handgun.
If you want to lace your gun belt through the holster, the Cloak Mod OWB gun holster comes with a paddle and belt slide with your purchase. The curved paddle grips your waistband and holds the holster steady while maintaining comfort for any body type. I personally like my belt loops, but you can work around your belt and adjust the gun holster right where you want it.
You can also check out the Alien Gear Cloak Tuck 3.5 IWB Holster if you're looking for IWB carry holsters with the same quality.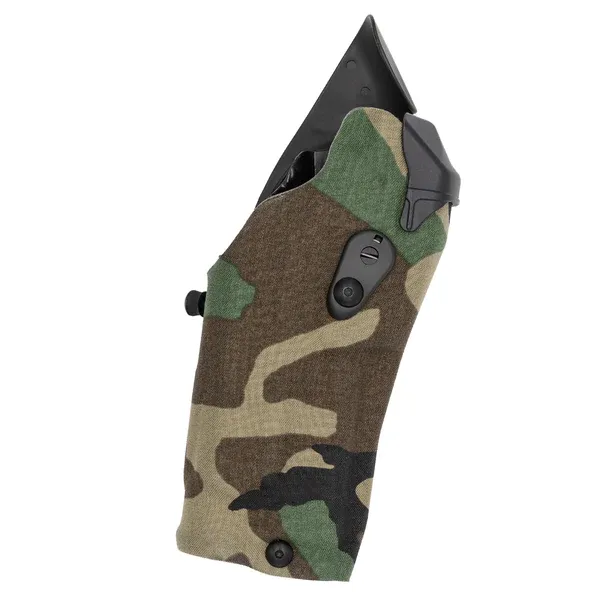 Pros
High-quality and durable material
Secure Level 1 retention allows quick draw
Customizable for specific pistol models and accessories
Quick Locking System for easy swaps
Cons
High price point
Overwhelming variety of options
Not ideal for concealed carry
Additional accessories may be needed for optimal setup
In our hands-on experience with the Safariland ALS Holster, we found it to be an outstanding choice for OWB carry. After falling down the "velcro-lined hole" of holster shopping, we settled on the ALS line and have used it extensively in different scenarios.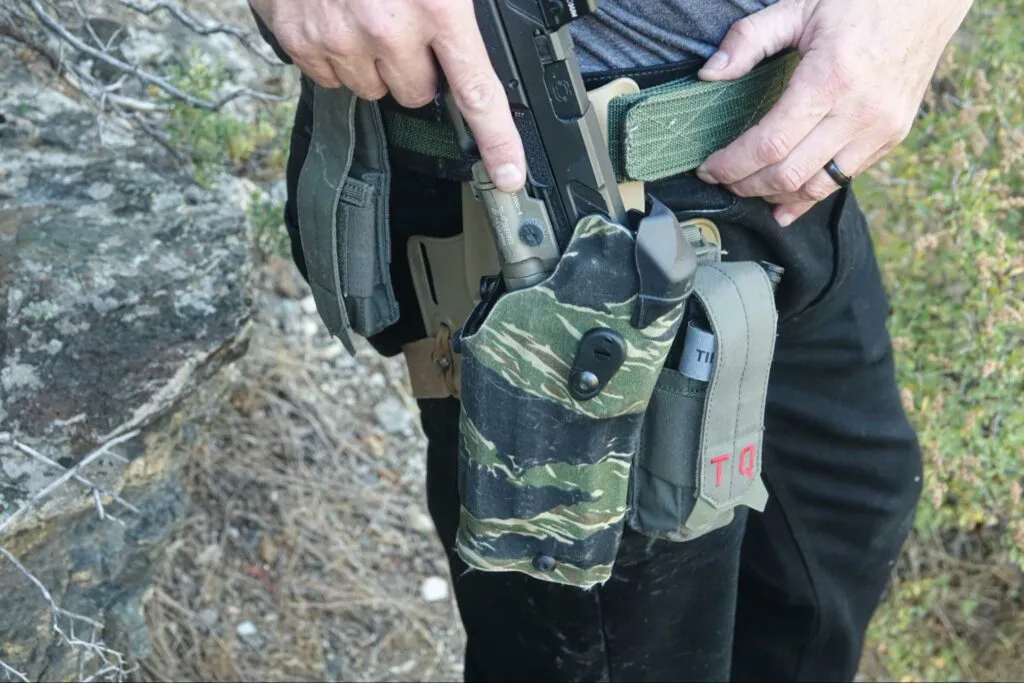 We specifically ordered one designed for a Glock 17, which fit our Shadow Systems DR920 pistol perfectly. The thumb-operated Level 1 retention system impressed us with how securely it held the pistol in place while allowing for quick and natural drawing.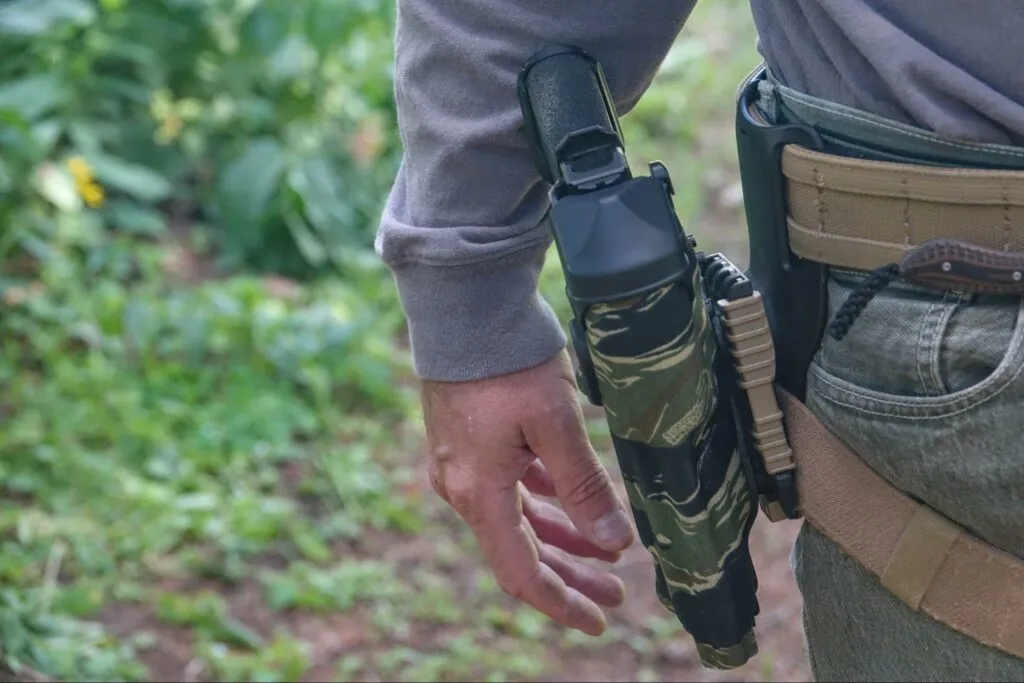 The Quick Locking System (QLS) turned out to be a game-changer, especially as we use multiple belts for different purposes. Swapping holsters was made incredibly simple and quick, a feature that's convenient not just at the range but also for various daily applications.
Ordering from Safariland was a breeze, thanks to their well-designed website that made customization easy. However, be prepared to accessorize; our initial setup was incomplete until we ordered the appropriate mounting and positioning pieces.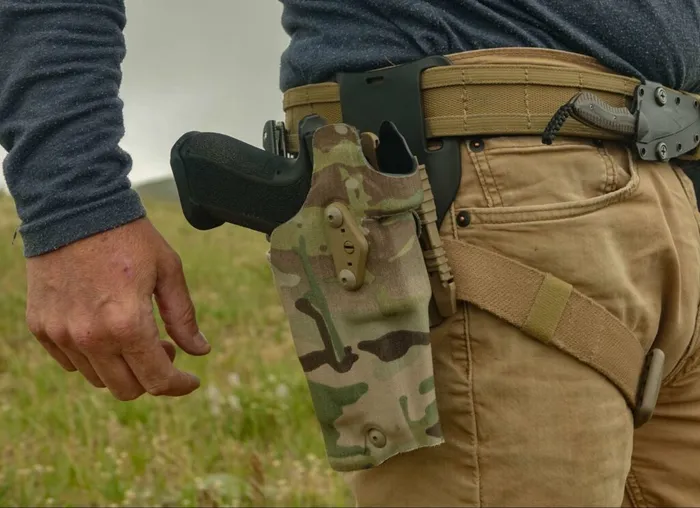 While the Safariland ALS holster isn't the cheapest option on the market, the quality, functionality, and customizability justify the price. If you're considering an OWB holster, whether for duty, sport shooting, or just to improve your draw, our personal experience confirms that the Safariland ALS line is worth the investment.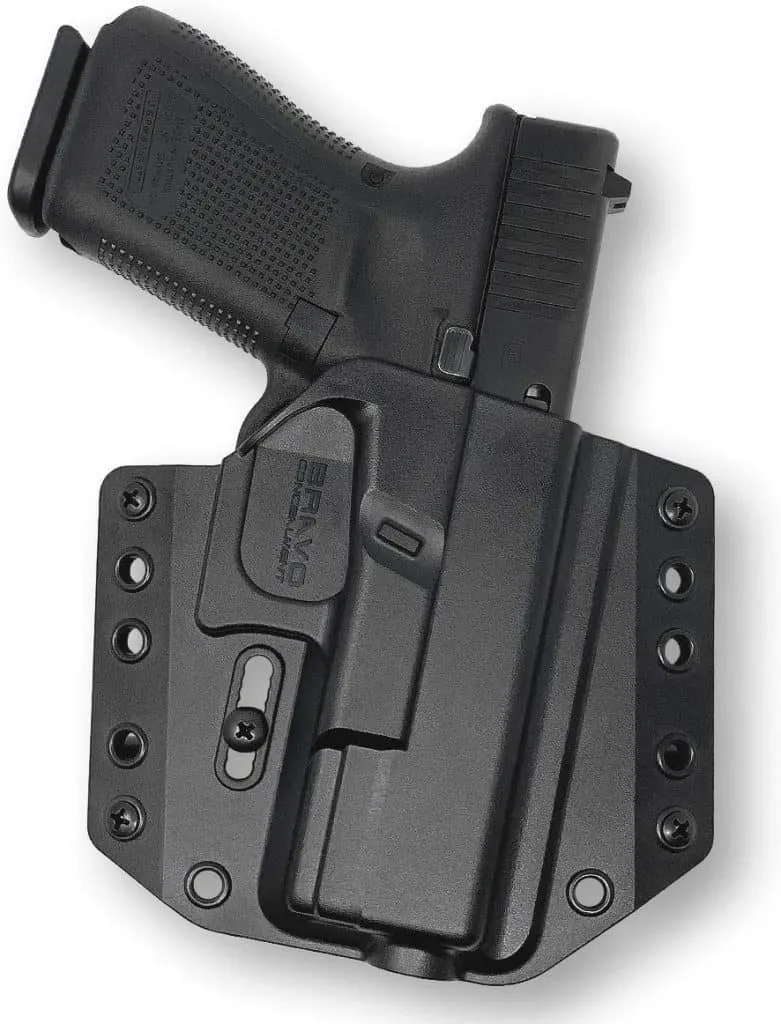 Pros
A very comfortable gun holster
Designed to be as snug as possible
This model comes with a free IWB holster with your purchase
Manually-activated locking retention system
Can be modified into an IWB holster
Cons
Might be expensive for some
The manual locking retention system might be a hassle for some
If you want something extra snug and comfy, the Bravo Concealment OWB holster comes close second to the Alien Gear Cloak Mod, and I really had a tough time picking between the two.
Bravo Concealment covers all kinds of firearm models like Glocks, Smith & Wessons, and Sig Sauers, but the Glock models are my favorite because they're designed to accommodate optics.
The Bravo Concealment BCA/Torsion is a Kydex OWB holster that's carefully designed to be as snug against your body as possible. The slightly forward cant makes it perfect for concealed carry. You can also replace the belt loops with a J-clip, and this practically modifies it into a concealed carry holster.
The edges are rounded so as not to cause any discomfort and poking, and the adjustable 1.5-inch belt loops allow a high or low ride. The cant angle adjustment can go up to 10 degrees in both directions for a faster draw.
The Bravo Concealment gun holster has positive locking retention for added security, but it feels like it's passive. You see, when you holster your gun, the retention clicks once you get to the trigger guard, and it stays put. The retention level is manually adjustable. It might be a bit expensive for some, but the sturdy Kydex/polymer construction makes it worthwhile.
Overall, it's one of the most comfortable holsters with perfect contours. Not only that, but what I like about the Bravo Concealment the most is that you get a complimentary IWB holster with your OWB purchase. What's not to like?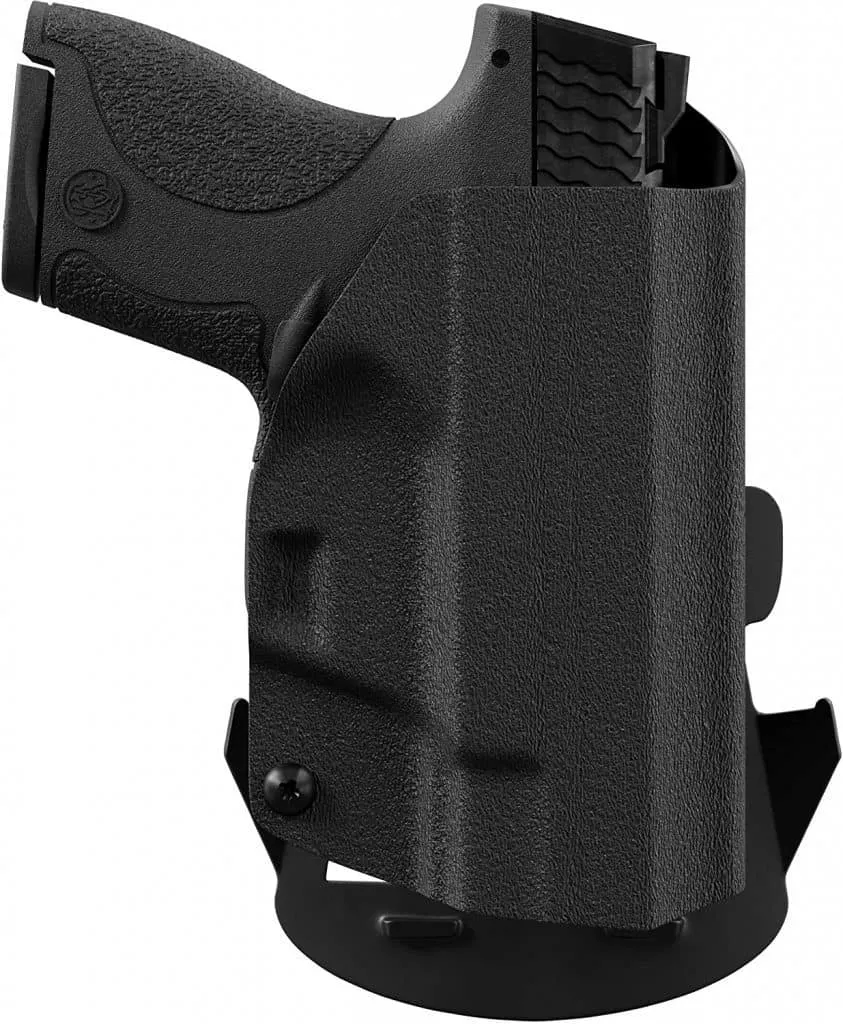 Pros
Affordable for its features
Easily adjustable height and cant with 12 different positions
Lightweight, waterproof, sweatproof, and compact
Audible click that lets you know you're holstered
Covers over 190 models
Lifetime warranty
Cons
Loosens up after a year of use
By the people, for the people. WTP holsters are devoted to their customer's feedback and they have the holster to prove it. Here's the Las Vegas-made We The People OWB Holster with a Kydex, custom-molded contour that is all about safety, simplicity, and concealability.
It's a very affordable, no-nonsense holster that's perfect for open-carry use. It has a very durable, waterproof design that's easily washable and feels very lightweight and comfortable if you're a big fella. The custom-molded Kydex has a slim profile, and that makes it a perfect CCW option.
You can easily adjust the paddle holster with the screws for height and angle with up to 12 different levels and position it as you please. The belt clips are suitable for 1.5-inch belts to hold the holster securely and offer a nice drawing speed. It has a claw kit to further adjust the angle of your holster, while the protective sweat guard is also a nice touch.
The holster's adjustable retention system has a nice and satisfying "click" when you holster your firearm and is good for appendix and behind the hip carry positions.
The WTP OWB comes in a variety of colors, patterns, it's compatible with over 190 handgun models, and comes with a lifetime warranty. Best believe you'll definitely find a model for your firearm.
I wouldn't exactly call this a law enforcement holster, but hunters out there can rejoice at the efficiency of the WTP outside the waistband holster and the simple design with quick access in mind. Takes a bit of draw/reupholster practice, but the well-designed construction offers an impressive and easy draw speed.
Check out our full review of the We The People Glock 19 and Glock 43 Holster.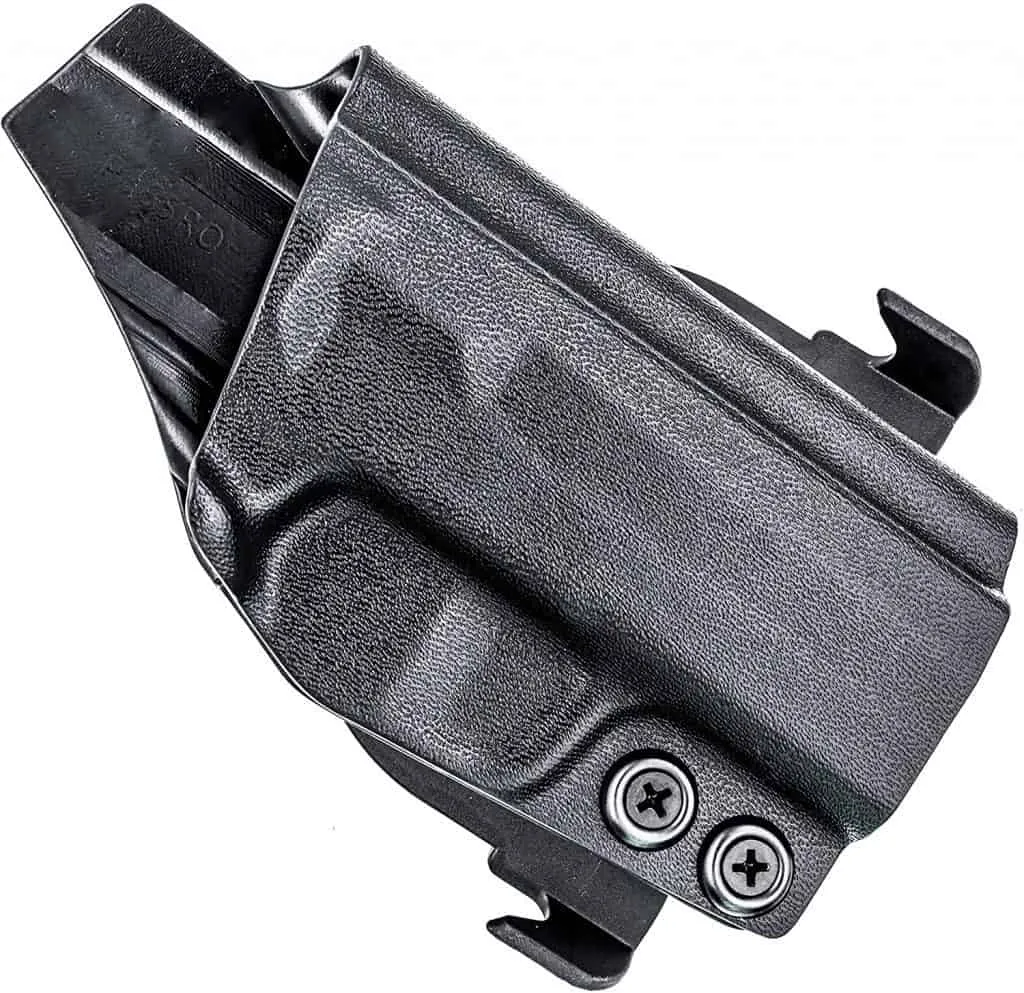 Pros
Top-quality retention
Lightweight and durable construction
Great price for its quality
No sharp edges for enhanced comfort
Perfectly compatible with Glock models
Adjustable retention and tension screw
Satisfying click indicates the gun is holstered
Outstanding customer service and lifetime warranty
Cons
Some users report a loose fit, other than that, no downsides
Best known for their IWB Kydex holsters, Concealment Express dipped their toes in OWB models, and boy howdy! They went with a minimalist approach, pumped out an OWB paddle holster with very strong and lightweight construction, and kept EDC in mind for casual self-defense use.
The Concealment Express OWB holster has passive retention with a loud click that indicates your firearm is holstered, and what's more, it accommodates red dots and threaded barrels as well. On top of it all, it's definitely one of the most lightweight designs I've ever used.
The trigger guard prevents unintentional discharge, the open-cut design is also compatible with suppressors, and it's fully adjustable for a cant angle of -5 to +20 degrees. The adjustable posi-click retention system is satisfying, to say the least.
The Concealment Express OWB is available for over 150 holster models, and their- custom-molded, precision-crafted, Kydex construction is guaranteed to serve you for a very long time. I can guarantee you'll find the right holster for you. The company has most major and popular handguns covered—from the Glock 19 to the Smith & Wesson M&P Shield.
Speaking of which, check out our thoughts on the Glock 19X discontinuation rumors if you're interested.
Overall, the Concealment Express OWB holster with a high-ride design might be one of the best lightweight options you can find. Simply put, it makes sure the muzzle isn't exposed, and it has two priorities: concealed carry OWB and a lightweight feel that won't slow you down or cause discomfort. I recommend you use wide belts to avoid any wiggling when strolling.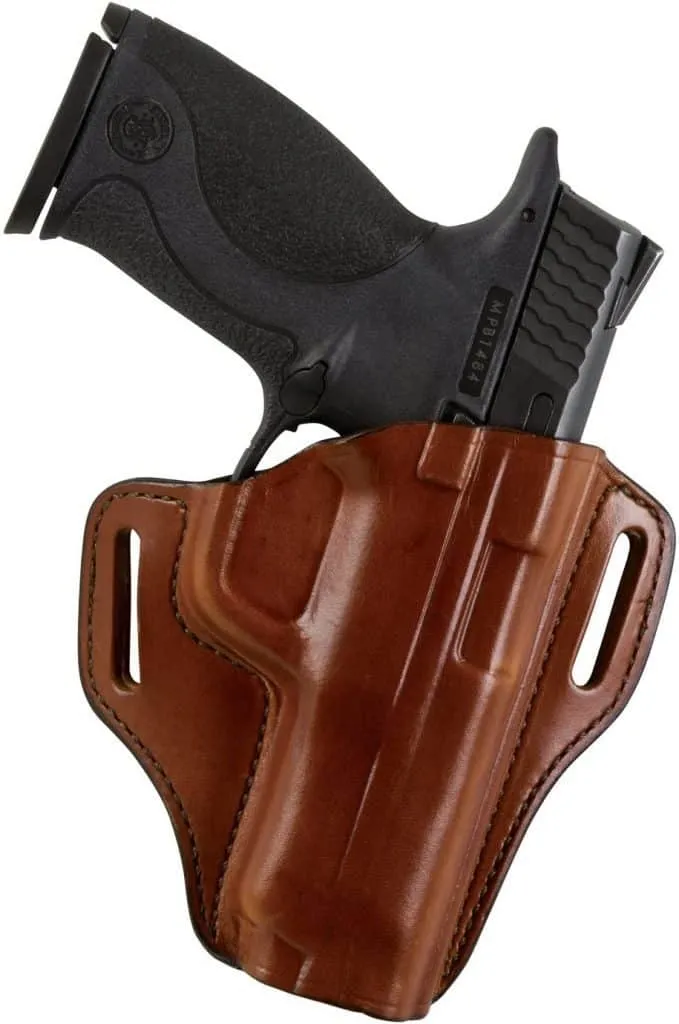 Pros
High-quality, full-grain leather material
One of the most comfortable leather holsters
Classy, traditional look
Can fit small-frame revolvers (Ruger LCR, Smith & Wesson M&P Bodyguard .38, etc.) 
Cons
Low-cut design might not be suitable for some
If the Kydex is too rigid for your taste, it's probably time to go old-school. Bianchi is a popular gun holster manufacturer that's known for its quality, but not for its OWB holsters. I'm convinced that they redeemed themselves with this one.
The Bianchi 57 Remedy OWB Holster is a fantastic leather holster with a classic and straightforward design that relies on a more traditional approach.
The full-grain leather material is smooth, durable, not too bulky, and precision-molded to keep the gun snug and in place. I'm personally a fan of leather holsters as they keep the surface of your gun pristine.
The trigger guard is covered 90%, but there's no way of causing any accidental discharges. It doesn't have many features, but it feels smooth and is tough enough to last for a long time.
The low-cut, open-top design is clearly made for quick access and easier OWB concealed carry that's perfect for the ranges. The downside is that it has low retention, meaning you'd do best to avoid any wrestling with your assailant because the gun might fall off.
Oddly enough, this model doesn't have a thumb break, but its contours are best-suited for Glock 19 and Glock 43 guns, but it's compatible with many other pistol models.
Truth be told, I was torn between the Bianchi 57, and the 1791 Gunleather OWB Leather Holster for 1911-style guns. The latter is another great leather OWB holster worthy of your precious attention, but I had to make a decision. So, if you're looking for a "frontier feel" in a traditional holster at a great price, check out the Bianchi 57 Remedy.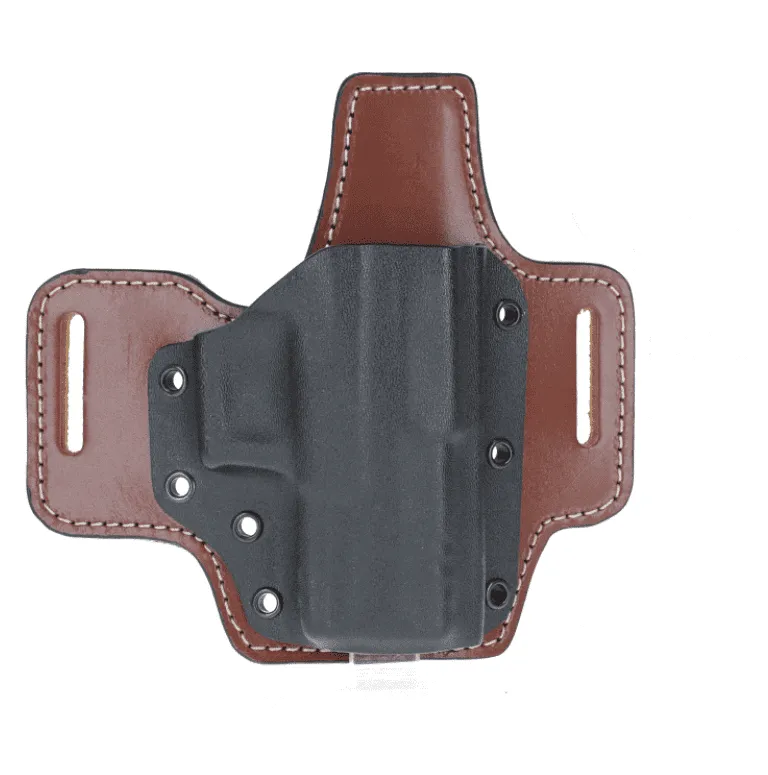 The C904 OWB Holster is a highly versatile and customizable holster that offers protection and comfort for gun enthusiasts of all experience levels. With its adjustable belt clip, the C904 can be secured to practically any waistband or belt, making it ideal for concealed carry or range use. The holster itself is also made from durable materials, so it will hold up to even the most punishing conditions. And thanks to its integrated design, the C904 is perfectly shaped to cradle your weapon securely without interfering with your draw. Whether you're a seasoned marksman or just starting out with firearms, the C904 OWB Holster is the perfect choice for keeping your shooting equipment safe and secure.
Pros
Classiest OWB holster on this list
Natural feel and easy retention
Suitable for everyone
High-quality leather
Pouches can be easily swapped and upgraded
Snap closure offers excellent retention
Cons
The most expensive OWB holster model on this list
Unconventional model, requires lots of drawing practice
Cant isn't adjustable
Tie-downs not included
This doesn't fall under the OWB holsters category, it goes beyond that.
The Galco Miami Shoulder System is a high-quality, genuine leather shoulder holster that feels comfy, and boosts confidence. It's for when you really want your presence to be known and respected.
Galco was known as "The Famous Jackass Leather Company" in the 70s. Galco's holsters focused on innovating and revitalizing the leather holster movement with solid success. The Miami is definitely one of their popular models, despite the high price. It offers the unique feel and comfort of a professional holster system.
Although it might take some getting used to it and practicing your draw will be necessary, it's comfortable enough for practically anyone. It's patented and carefully designed with high-quality connectors for steady retention, quick draw, and ease of use.
The Miami shoulder holster fits most semi-auto guns, 1911s, double-action revolvers, and other gun types and models. In contrast to regular shoulder holsters, it has no need for a retention strap because it just keeps your gun nice and tight thanks to the snap closure.
However, the cant isn't adjustable, and you need to purchase tie-downs separately. But the clover-shaped Flexalon swivel back plate, ammo pouch, and overall brilliant leather quality make it worthwhile. However, you still have to wear thicker clothing if you want better concealment.
The Galco Miami is very different from any other shoulder holster, and the harness relies on the combined balance of your gun and magazines that offers a unique feel. It will burn a massive hole in your pocket, but the 80s Miami Vice vibe is forever, just like the durability of the leather.
OWB Holsters – A Buyer's Guide
There are four factors to consider when buying an efficient and comfortable holster. Besides comfort as the ultimate priority, one must consider the material, retention, and level of concealment that your OWB holster offers.
It's up to you to figure out if you're looking to carry concealed holsters or an open carry model. You'll need a concealed carry permit if you're going for an OWB carry holster type.
Additionally, an important aspect of holster safety is how it hides the trigger guard to avoid accidental discharge, so that's very important as well.
Consider the Holster Material
When talking about material, I recommend you avoid nylon like the plague. They're cheap, fragile, and don't last long.
Kydex holsters are popular because it's an innovative material that's both durable and comfortable. It's a brilliant amalgamation of new technologies that use thermoplastic acrylic-polyvinyl chloride materials that are waterproof, easy to clean, and offer lifetime durability with no maintenance.
If you have a gun with a red dot sight or optics, a Kydex holster is the way to go.
The downside is that they can really scratch the finish off your gun. The reason why they're popular is that they've become the bread-and-butter product in the gun holster business due to their versatility. They can be custom-molded to fit any gun.
As for leather, it's basically the cowboy's choice. It's arguably more comfortable than the Kydex, offers a quieter draw, breaks in easily, and gets used to the shape of your gun with time. Not to mention that leather is aesthetically pleasing.
Leather makes you forget that you're wearing a gun holster and it practically becomes second nature to the carrier. However, leather holsters need a lot of maintenance and they degrade over time. I recommend washing your leather holster with glycerine soap every 3 or 4 months.
Kydex holsters and leather holsters both offer great retention, but if you're a casual gun owner, you could go right ahead and pick nylon holsters.
Retention
Retention is what makes your gun stay put. There are two types of retention:
Active retention uses an active mechanism to keep your gun in place, like a thumb break (popular on leather holsters), straps, or even release buttons that engage or disengage retention to pull your gun out;
Passive retention holsters are perfectly molded to accommodate your gun model and rely on friction to secure it.
Active retention holsters offer maximum security, but they have a slower draw speed. Holsters with passive retention are simple and offer you a faster draw, but some may loosen up easily. They're usually designed with adjustable screws for you to tighten or loosen the retention at will.
Be Sure That the Holster Covers the Trigger
For safety, I recommend you consider covering the trigger guard. One of the biggest reasons why a Glock 19 needs a good OWB holster is that it doesn't have an external safety.
Look for pancake holsters that can cover the trigger to avoid accidental discharge. I strongly recommend you look for holsters with passive retention and a positive grip.
A gun holster with a positive grip offers you a faster drawing speed with your dominant hand while it covers the trigger.
If you own a Sig Sauer P365, for instance, there are lots of holsters with great positive grip.
Conclusion
There's no universal formula for picking the best OWB holster. We all have different body types, handguns, and purposes—be it self-defense, hunting, or range shooting.
Sure, some concealed carry holsters have a sweat guard, and others need a little breaking in, but then there are those that become an annoying crutch through prolonged use, and there's no getting used to being poked in the waist.
If you have Amazon Prime, you can look for holsters that are eligible for a free return. Bravo Concealment has a friendly return policy as well, while Alien Gear Holsters are kind enough to offer you a 30-day test drive with a money-back guarantee of their products too.
Just remember that it's important that the gun holster retains perfectly, is durable enough, doesn't damage your gun, and doesn't cause you discomfort in the slightest because you'll be having it on you for prolonged periods.
Additionally, it's imperative that you carefully read about the many holster types, models, and brands, and assess how they will suit you before you decide to purchase one.
Brands like Concealment Express and Alien Gear are popular, but you should definitely try them out first before deciding on the one for you. Maybe an outside the waistband holster is not for you, and you'd like a concealed carry ankle holster. It doesn't hurt to have two holsters either. 
Ultimately, I'd recommend you grab a Kydex or the leather Bianchi 57 Remedy OWB Holster if you like to keep it classy. Maybe you're looking for IWB holsters instead of an OWB holster, but what you definitely do not want is a drawer full of pricey and only once-used gun holsters.
Explore more