5 Best Pink Guns For Women [2023]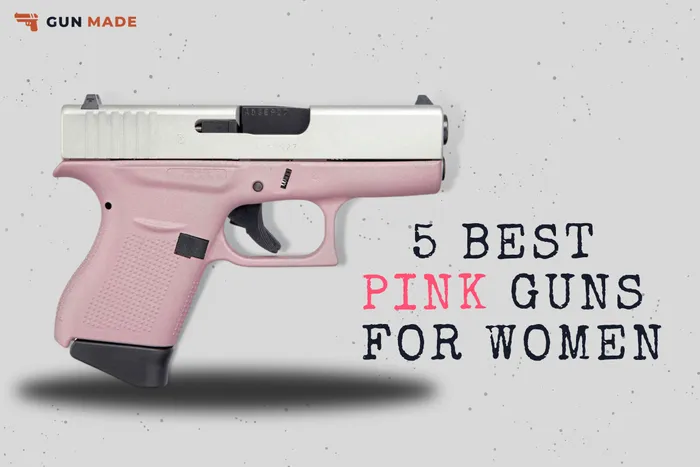 5 Best Pink Guns For Women [2023]
Alright. So, you want the best pink gun? As far as I know, most people go for fit, feel, reliability, caliber, and ease of use when it comes to handguns instead of looks and aesthetics.
But, if you want a handgun with a specific color and finish, then by all means, you do you. Protecting yourself while looking good is important and don't let anybody tell you otherwise.
That said, I found a lot of "women's handguns" blogs when I was searching for colorful guns. Most women have smaller hands than men, but the handguns they recommend are almost always small, lightweight, or with the lowest recoil possible, and I believe this might be annoying for some.
So, today I'm going to show you the most viable handguns with accessories and differently colored palettes, but they won't necessarily be "for women"—or even smaller—just because they're pink. 
The versatile CCW handguns for self-defense that we'll list here are also available in multiple colors. Some even have matte black, grey, army green, camo, desert sand yellow, and conventional finishes, and as a side note, you can easily paint them yourself if you can't find your pick.
Colors aside, we'll talk about their pros & cons, what they excel at, where they flop, where to find the best price, some ammunition recommendations, and a buyer's guide to help you choose a suitable handgun.
And if you want to see a list of ALL the pink guns on the market, go check them out here.
Best Pink Handguns and Pistols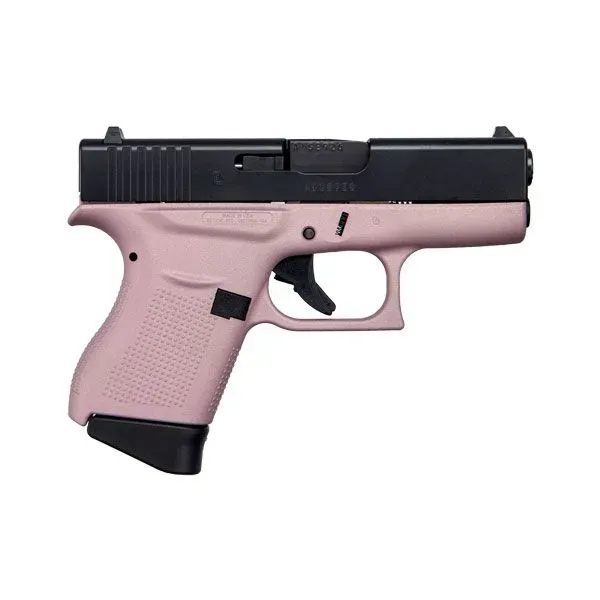 Pros
One of the most reliable handguns on the market today
Simple, lightweight, and easy to conceal
Compact and comfortable
Easy to take down and reassemble
Cons
6+1 capacity might not be enough for some
No Picatinny rail (no mounting options)
To no one's surprise, here's Glock 43 9mm Luger as our main pick on this list.
The reason why the semi-auto Glock models like the G43, G17, and G19 are regarded as the gold standard among civilians and law enforcement officers is that it's as simple to use as a revolver and it's exceptionally reliable. Here's a light blue Glock 43 and a purple one if you're a Prince fan.
Released in 2015, this relatively new 9mm Glock model boasts a single-stack magazine capacity of 6+1 and it's one of the smallest models made by Glock.
Thanks to the single-stack, the Glock 43 model's main design focus is on ergonomics and concealability, making it a very effective conceal carry that's lightweight and easy to use.
It weighs around 16.4 ounces, the trigger feels just right, the recoil is manageable, and it's suitable for people with arthritis because the slide is easy to rack.
It has no external safety, but the multiple internal mechanical safeties more than make up for it. What's more, it's easy to disassemble and clean.
The Glock 43 doesn't have many downsides besides the mid to low round capacity of 6+1, but in my honest opinion, I think that this is just right for self-defense.
Additionally, it could use a Picatinny rail for those extra aftermarket customizations, but there's an accessory for that, so no worries. Besides that, I think that this is one of the finest pistols money can buy.
If you're looking for something slimmer and with more rounds, here's a pink Glock 43X. Or, if you want something bulkier, you can check out the Glock 19 with 15+1 rounds.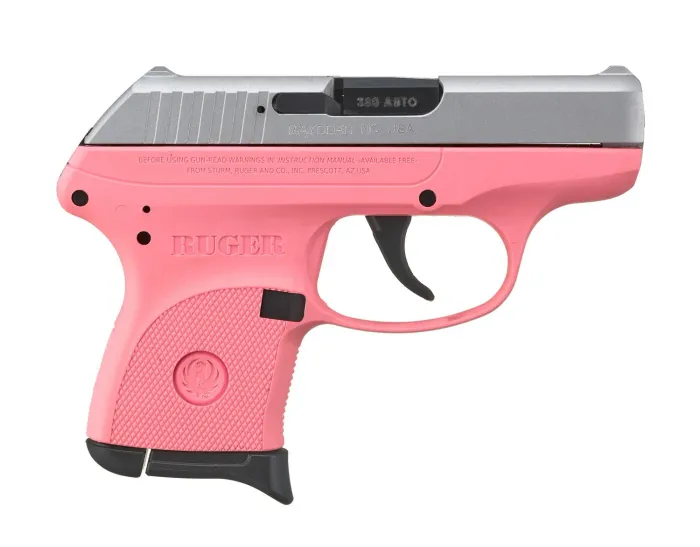 Pros
Well-balanced and reliable
One of the most lightweight handguns on the market (10.2 oz)
Great ergonomics for small hands
Crisp trigger
Lots of color patterns
Cons
Aggressive recoil
Trigger might be heavy for some
In lieu of the discontinued Ruger LCP (fare thee well), the manufacturer brought in the Ruger LCP II (see our full review here). Rugers are well-known for their interesting safety mechanisms, lightweight concealed carry models, and backup gun designs.
Chambered in the .380 ACP cartridge, the Ruger LCP II—also available in the .22 LR—is a very easy-to-use conceal carry pistol. It's suitable for an ankle or thigh holster and it works great with 75-grain bullets. You can find it in lots of different colors and patterns.
The Ruger LCP II is a definite improvement of the former model and functions well as a backup gun, suitable for first-time handgun buyers. I highly recommend this .380 with a 6+1 round capacity if you're a rookie in the gun world.
It's easy to rack, the grips feel just right, and the slide is made to stay open after the last round. If it's too small for your hands, it has a finger grip extension floorplate and fits perfectly in most holsters.
The single-action trigger might be heavy for some, but it's pretty crisp. The gun itself is lightweight and small, so expect a lot of recoil from this little firearm. Other than that, it's a nifty little gun that's perfect as a CCW, while the integrated trigger safety is a nice touch.
If you're a Ruger fan, and you want some nice compact guns with smooth color palettes, check out their Ruger LC380 with 7+1 round capacity or the Ruger LCP, both chambered in the .380 Auto (ACP).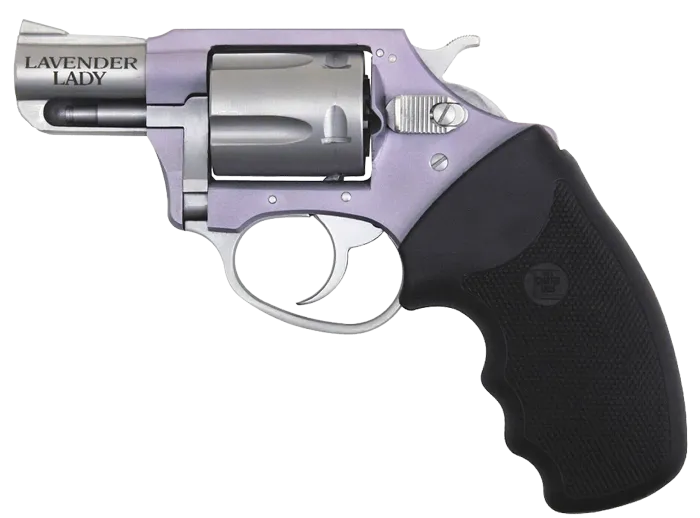 Pros
Comes with a pink pistol case
Reliable and accurate around the 25-yard range
Excellent ergonomics and durable, shock-absorbing grips
Manageable recoil
Easy to take down, reassemble, and clean
Cons
Only five rounds
Fixed sights could use an improvement
The Charter Arms Chic Lady DAO revolver—chambered in .38 Special—is practically made for those of you who like fancy pink guns, but best believe it's not just for show. It comes with a free pink faux alligator skin case, and that's how you know you've made the right investment.
The Chic Lady has a durable, shock-absorbing, aircraft-grade aluminum and steel frame, concealed hammer, 2-inch barrel, and a comfortable synthetic grip that can absorb the heavy recoil. It's a lightweight gun of 12 ounces, so expect aggressive recoil.
Personally, I'd go for the Crimson Trace Laser grips instead of the stock synthetic grips, but both are cushioned and feel just right.
Despite the moderate recoil, .38 Special's stopping power is pretty decent for self-defense if you also consider the weight. The smooth, enclosed hammer is what makes it a nice little concealed carry option. It doesn't snag and it doesn't print.
In my opinion, the fixed sights could use a little bit of work because they're prone to damage. The 5-round capacity is good for self-defense, but might be annoying for the ranges. Other than that, it's a decent revolver with flamboyant looks that might fool some people.
You'd think twice before getting shot by a pink revolver.
For more revolvers, check out our best revolvers for women article.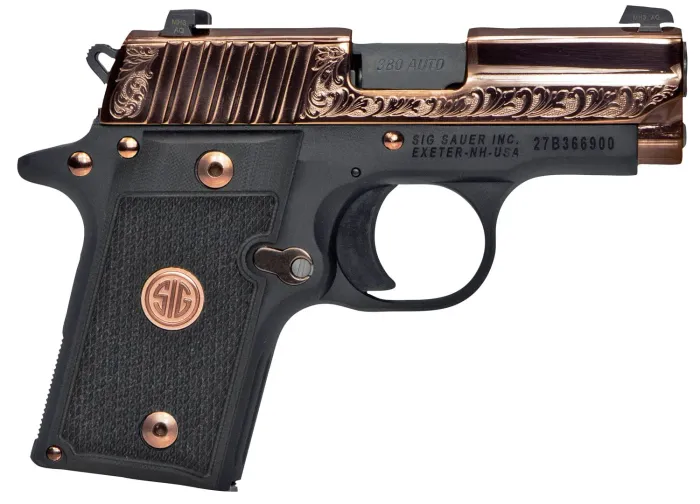 Pros
1911-style aesthetics
One of the most reliable handguns on this list
Very accurate for a sub-compact handgun
Smooth trigger
Cons
Stiff recoil for a .380 pistol
Might be pricey for some
Safety lever is too small to disengage
Well, I did include a Rose Gold variant; it's not exactly pink, but just look at it. Gorgeous, isn't it? Although, if you're really hell-bent on pink, there you have it.
On a more relevant note, if you're a fan of sub-compact pistols but like to rock that 1911-style hard-boiled look, the Sig Sauer P238 might be your best bet.
Chambered in the 380 Auto (ACP) with a 6-round capacity, the Sig Sauer P238 has been a solid contender to 5-inch sub-compacts from Smith & Wesson, Beretta, and Glock. If it wasn't for the jacked-up prices, this handgun could have been way more popular.
The P238 has a smooth single-action trigger, stainless steel slide, and full-sized Siglite sights. The recoil is tough, but it feels great on your palms, though you'll struggle with the grips if you have larger hands.
What I really like about the P238 is the really easy 1911-style takedown and field stripping, though the safety lever could be bigger and the price could be a little lower. Still, the P238 is a lovely little number that shoots like a large gun and the Sig Sauer stock sights work really well.
If you have the time to practice and get used to the snappy recoil, grab the P238, although I'm not sure if you'll find this Rose Gold finish model in stock. There are other models available as well, like the rainbow titanium finish, egg blue, as well as some purple grips, or gold grips.
Popular Budget Option – Smith & Wesson M&P Shield EZ .380 (ACP) Pistol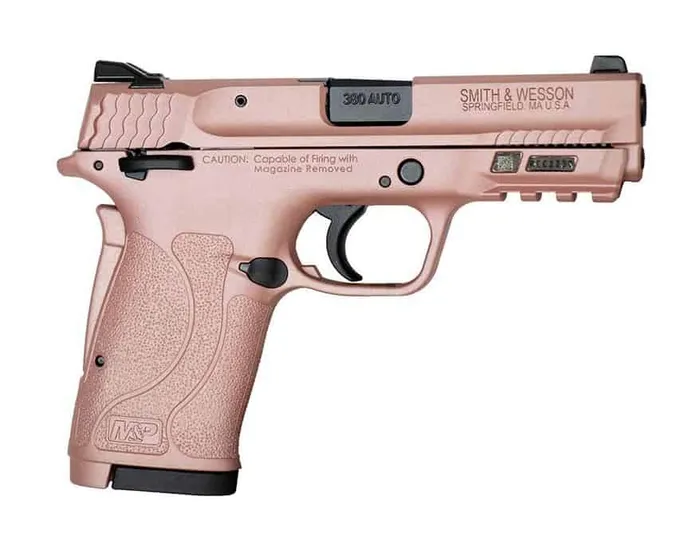 Pros
Crisp trigger with tactile trigger reset
Adjustable white 3-dot sights
Compact and lightweight
Easy to clean and maintain
Slide is very easy to rack
Here's the famous Smith & Wesson M&P Shield EZ, built for self-defense and home defense. It dominated the market in 2018, so you've probably seen it somewhere.
The Shield EZ is S&W Shield's smaller cousin, but it still packs a mean punch with the .380 ACP caliber. The crisp trigger, ease of use, and the Picatinny-style rail that opens up a window for all kinds of aftermarket options make this a very popular self-defense option. Besides, the Rose Gold finish is pretty aesthetic. I just had to sneak in one more of these.
It's chambered in the .380 ACP and has an internal hammer semi-auto action with adjustable 3-dot white sights. The slide on this handgun is very smooth and easy to rack, hence the "EZ," so expect top performance on the ranges with this one.
The 3.6-inch barrel length and the 18-ounce weight are decent enough for a CCW. The 8-round capacity makes it an excellent conceal carry alternative for personal protection.
The grips feel nice, and the recoil is well-balanced with the weight, making it an overall highly functional self-defense firearm that's suitable for both newcomers and veteran gun enthusiasts. It's available in 9mm calibers, but I like the convenience of the .380 ACP.
Honorable Mention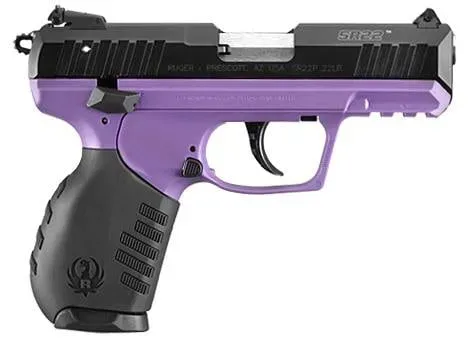 Pros
Very reliable and eats ammo like a champ
Ambidextrous safety
Lightweight, comfortable, and compact
One of the most affordable handguns for its worth
Cons
Magazine doesn't drop, so you have to use both hands
Heavy trigger pull (7 pounds)
Let's not leave the left-handed folks out. Here's the Ruger SR22 plinking handgun with ambidextrous safeties. There's something about a purple plinker that makes you want to get yourself a fur coat as well. The grips are interchangeable, so you can switch colors, but you can also find the gun in various patterned models like teal, pink, or light blue. 
This is a very interesting budget option that's good for both the ranges and for personal defense. You can tell that they wanted to go for a simple, concealed carry rimfire pistol that can take on anything besides big game.
The aluminum slide, stainless steel and polymer frame, integral Picatinny rail, and adjustable 3-dot sights make it look like it's a well-balanced self-defense carry, not just a regular practice plinker.
The Ruger SR22 has a 10+1 round capacity and ambidextrous decocking safety. The DA/SA trigger action might be too heavy for some, but it's pretty lightweight and the trigger can break after a couple of hundred rounds at the ranges. It's great for newbies to gain their shooting confidence and practice at the ranges.
You can also check out the Ruger LCR if you're looking for a Ruger revolver in various other calibers like .22 LR, .357 Magnum, and 9mm. Since we're doing pink guns, here are some pink grips for that LCR.
Buyer's Guide for the Best Pink Guns
You can always find some grips and patterns in many different colors, but the frame, mechanism, and overall quality of the gun are what matters.
Some folks like the grittiness of their trusty ol' Smith & Wesson. Others like how heavy their pistol feels as it lightens the recoil. Some of us are even used to the recoil that kicks like an enraged mule.
It really just depends on your preference and you should always try it before you buy it. Settling for small, lightweight, and compact options might not be for you, as this follows a general rule of thumb that most women conceal their handguns in their purses. Maybe you're a holster type of person, or like to keep your handguns on your garter.
For now, here are some tell-tale signs, tips & tricks, and overall important factors to look for when choosing a handgun or revolver, be it for self-defense, home defense, or for fun at the ranges.
What's Your Caliber Preference?
You can hear it from most self-defense experts; self-defense handguns chambered in the .380 ACP or 9mm calibers are a standard norm, though you might prefer something else.
These calibers have decent ballistic statistics and stopping power to stop any human assailants. Even the .22 LR calibers are known to get the job done when self-defense is in question because it's pretty light and the recoil is one of the easiest.
The .38 Special, .40 Smith & Wesson, or the .357 Magnums are also nice ammo alternatives if you feel like using them. They might be more difficult to control, but they're still a viable self-defense option. 
Pro Tip: If the gun is small and the caliber is big, the recoil will be all over the place. Find the right combination between size and caliber and everything will be just fine.
How Reliable Is It?
This goes without saying. Nobody likes stovepipe jams or cycling malfunctions. Some folks like to blame the bullets, but the reality is sometimes the one we're trying to avoid.
There are not many indicators to tell whether or not the gun will always go bang. You can come across some oopsies once in a while, but a reliable gun means blasting hundreds of rounds and not running into problems every 50 rounds.
That's why we rely on customer reviews, videos, tutorials, and guides from people who bought them and took one for the team. Although, reviews and forums shouldn't be your only source of info.
Always ask these questions:
Is the handgun infamous for failures and stovepipes?
Are there any certain customer complaints about the parts?
Is the gun a picky eater of bullets?
Did the manufacturer recall some models?
Are there any improvements for the same model?
Brands like Glock, Smith & Wesson, Sig Sauer, Springfield, Ruger, CZ USA, Heckler & Koch, and others are some of the most sought-after handgun manufacturers by women shooters, and their famous models are the ones that are the most reliable.
Another thing to remember is to clean your handgun monthly if you're a frequent visitor to the ranges. So, keep this in mind.
How Does It Shoot? How Does It Feel?
The real question is, "is it shootable?", as I like to call it.
What I mean by shootability is if the trigger pull, fit and grips, recoil, sights, and overall feel of the gun suit your preference. Of course, this depends on the shooter's prowess and gun proficiency, but these characteristics usually affect your precision.
We've mentioned reliability, which covers the internal mechanism and overall performance, but usually, the triggers, grips, and sights can be replaced and upgraded if they bother you.
Some like long triggers because of safety reasons. Others like light and smooth triggers because they are frequent visitors at the ranges, so they don't like trigger hassles. Usually, folks get used to the trigger easily.
The most important thing is if the gun fits inside of your palm. It usually takes a couple of fired rounds to assess this. Not to mention whether or not the safeties are comfortable enough within your reach.
Some like pocket pistols like the Ruger LCP II or the S&W Shield, SIG Sauer P238… Others like bigger guns like the Glock 43. Think about this, but remember to try it out first.
Conclusion
I have to admit, this was a fun list to compile. Scavenging pink and colorful guns with stock finishes isn't easy, but it's pretty amusing. Makes you wonder what's going on with the firearms market that targets women. You can always grab some spray cans and paint it yourself.
Let's face it, color is nothing when compared to the overall quality, reliability, and ergonomics of a self-defense handgun. Nothing beats a well-balanced, 'Goldilocks' pistol like the Glock 43. Or, if you're into revolvers, the Charter Arms Chic Lady is a nice alternative too.
Then again, it's all up to you. It's easy to grab some guns at your local range, provided they rent any, and you'll figure it out by yourself if you really want a small and compact handgun or a bulky one for holstering. Don't knock it until you try it.
Shoot straight, stay safe.
Explore more