8 Best Plate Carriers & Buyer's Guide [2023]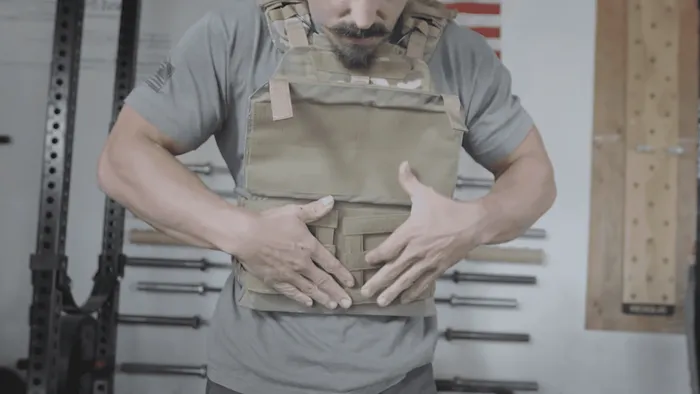 8 Best Plate Carriers & Buyer's Guide [2023]
I'm convinced that all you tactical tryhards out there really need a hug. How about trying on a plate carrier?
Similar to kevlar and bulletproof vests, plate carriers are tactical harnesses that use special plates which protect your body from high-caliber bullets like the .308 Winchester, for example.
Ten years ago, we regular folk didn't have access to proper plate carriers besides our army boys that were deployed for missions in Iraq or Afghanistan. They were heavy, uncomfortable, and lacked functionality.
Well, it's 2022 now, and you're not going to believe how easy and inexpensive it is to get yourself a high-quality plate carrier with lighter and stronger armor plates. Today's fancy YouTubers and gun enthusiasts all rock one, and there are even CrossFitters using them as added weights for their exercises.
The market is pretty saturated, and you can immediately find a plate carrier with unnecessary features and a massive price tag. However, through careful research, I managed to collect the ultimate in plate carrier technology.
I rounded up the best plate carriers while considering a well-balanced value for their features.
There are lightweight, heavy-duty, and moddable models. I'll also highlight some cool accessories and straps to boot (pun intended).
There's a plate carrier for everyone, and all of these picks are worth your time and money. Don't forget to check out our article on the best body armor if you need advice on plates as well.
8 Best Plate Carriers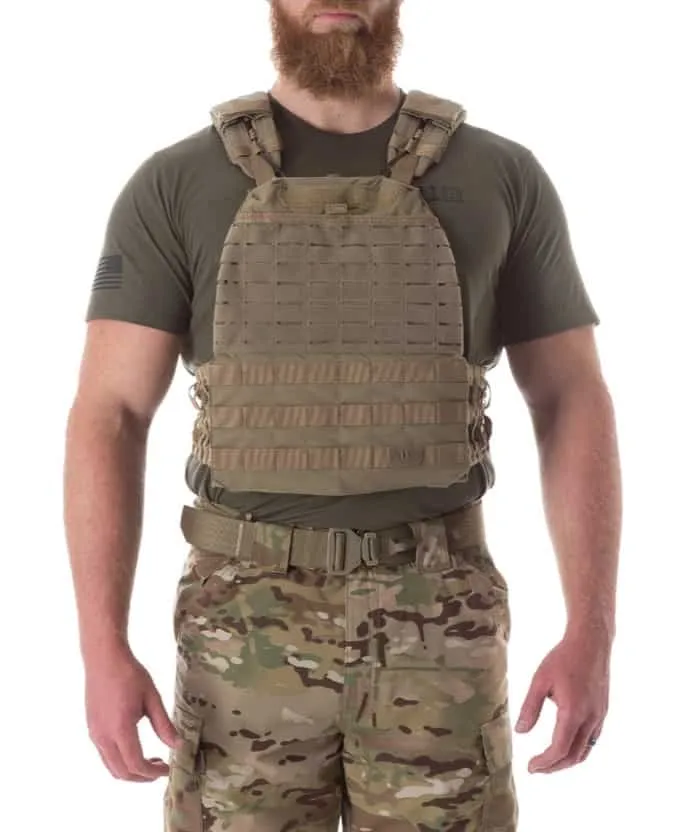 Specifications:
| | |
| --- | --- |
| Material | 500D Cordura nylon |
| Compatible Plate Cut Size | 2-inch and Large 2.25-inch ESAPI plates; Rogue Weight Vest plates |
| Modularity | N/A |
| Weight | 2.5 pounds |
Pros
Well-made with great value
Very comfortable shoulder straps
Enlarged airflow channels for cooling
Can be used as a weighted vest for CrossFit exercises
Cons
Does not have quick attach points
Not modular, but has all the essential features
Without a doubt, the 5.11 TacTec Plate Carrier is the best and most mobile ballistic plate carrier I've ever tried on. Available in multiple camo colors, it was primarily designed for military and law enforcement with water-resistant ballistic nylon and Duraflex hardware.
It's not as modular as the other options, but it has all the essential features, like the rugged 500D Cordura, web ID loop, and perforated mesh system with a flexible, skeletonized waistband cumberbund that fits MOLLE attachments.
The extendable GrabDrag drag tether goes through the plate carrier which enhances safety, along with the single-handed quick-release cable system. What's more, the front and back panels are padded with enlarged airflow channels that keep heat and sweat at bay.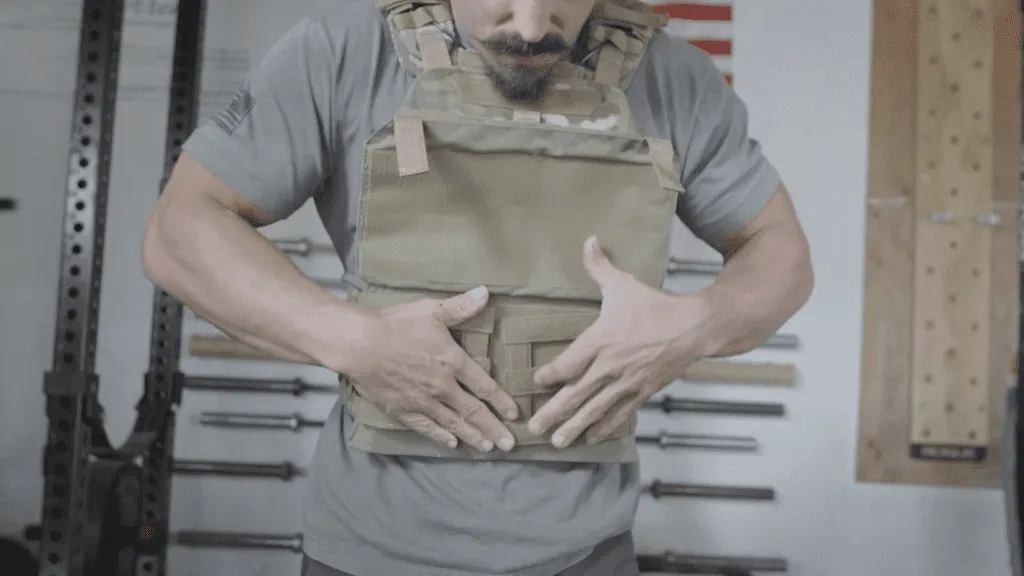 The adjustable shoulder straps with a back yoke are so comfortable that the TacTec became the official plate carrier of the Crossfit Games.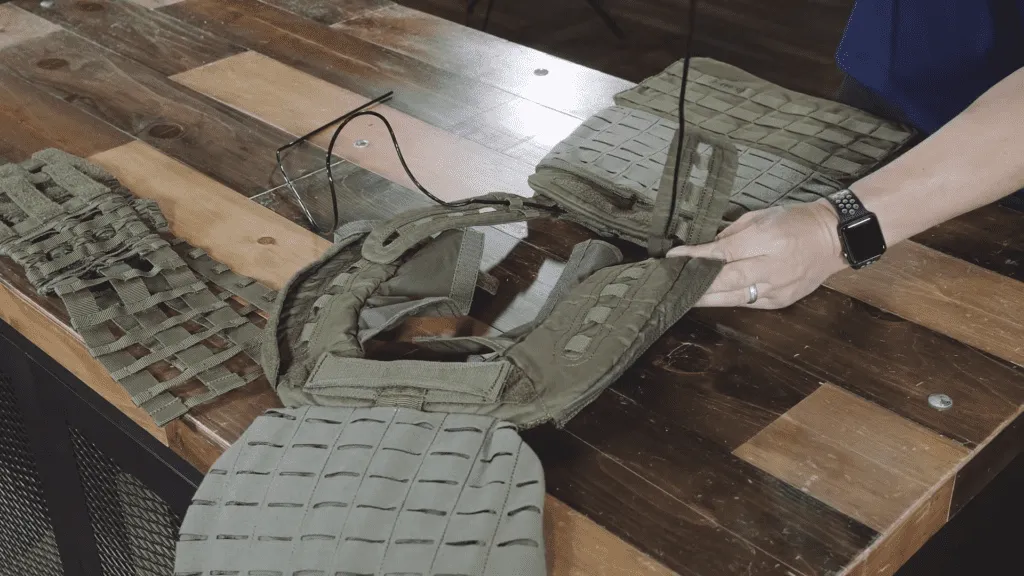 These padded yoke shoulder straps have a slightly loose but very secure fit, distribute weight evenly without pressure points, and can also be found on 5.11's backpacks too.
What most of us are looking for is a do-it-all plate carrier that sits well on your shoulders, and the TacTec Plate Carrier is definitely the best well-rounded option that can suit anyone's needs.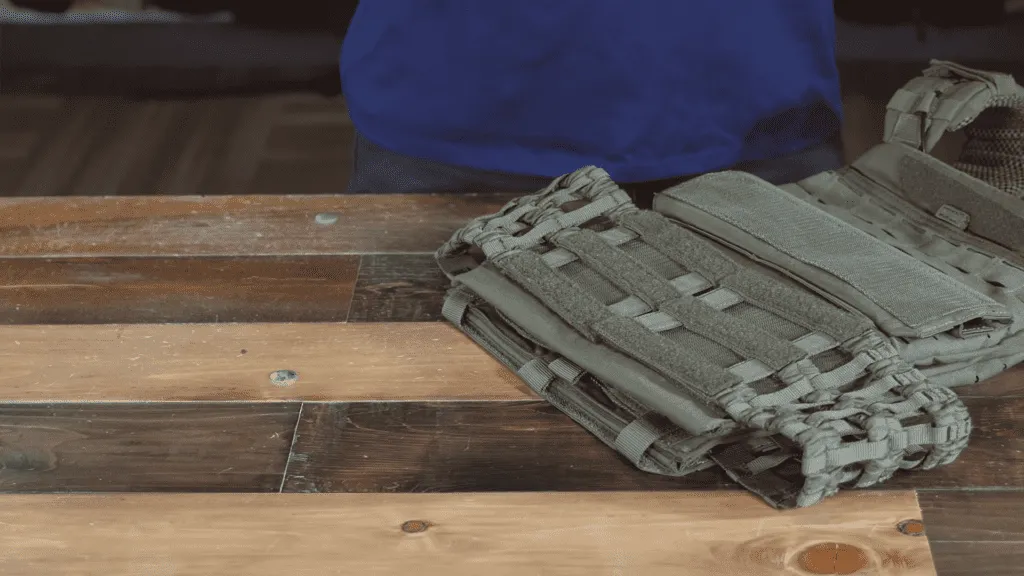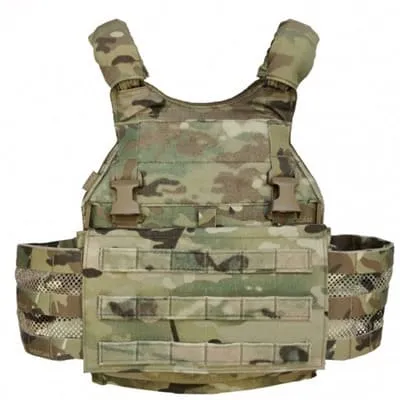 Specifications:
| | |
| --- | --- |
| Material | 500D Cordura nylon |
| Compatible Plate Cut Size | Large ESAPI plates; 1-inch thick, hard armor plates |
| Modularity | Front and quarter flaps by Velocity Systems |
| Weight | 2.2 pounds |
Pros
Versatile and scalable
One of the most comfortable shoulder straps on the market
Adjustable cumberbund
Convenient, integrated SwiftClip buckles
Expanded front 'kangaroo' pocket
Multiple color options and sizes are available
The second-best plate carrier, in my honest opinion, is the Scarab LT Plate Carrier by Velocity Systems simply because I'm impressed by how easy it is to set it up.
The Velocity Systems Scarab LT Plate Carrier is very intuitive and versatile, and you don't even need a manual for it. You can add or remove the front panels, customize the cummerbund, or zip the back panel.
Despite having a sleeker frame, it's a great plug-and-play solution that can also be turned into a heavy-duty carrier for full loads, a first aid kit, and communications equipment, making it fantastic for military personnel.
What makes it stand out from the rest is the US Patented swivel shoulder straps with D-ring attachments and the ULTRAcomp adjustable shoulder straps.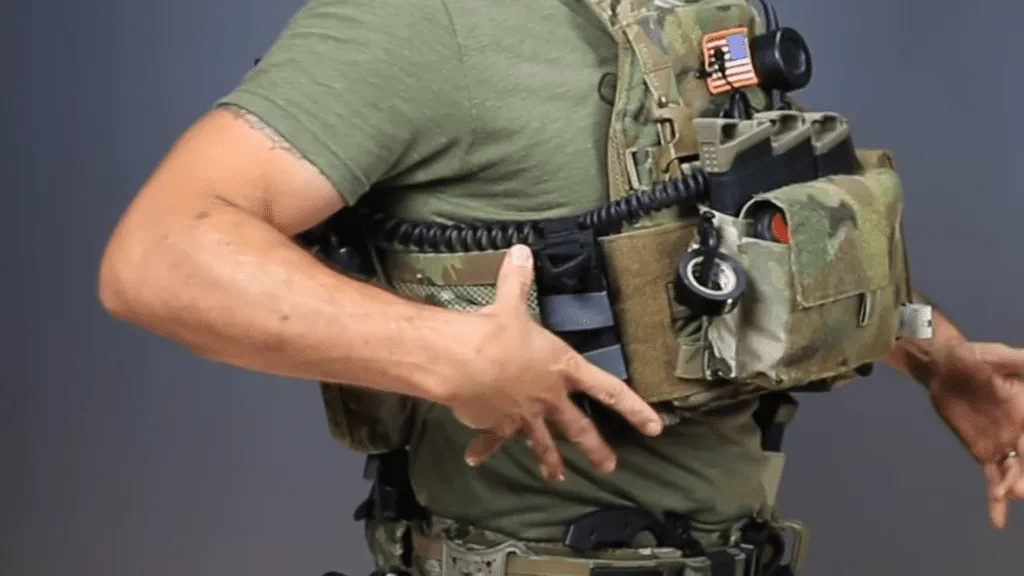 These are quite possibly some of the most convenient and comfortable shoulder straps that perfectly handle the pressure points. 
This is important because you can carry armor plates for longer periods while freely moving your upper body, and it also allows you to perfectly shoulder your rifle or shoot in different positions like proning, for example.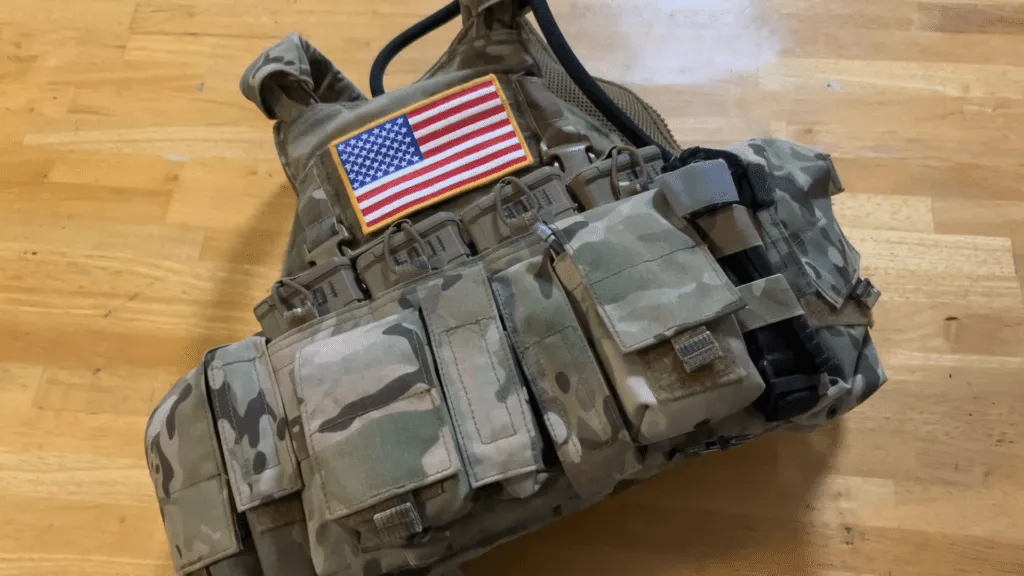 You can also check out the Mayflower Quad Placard, also by Velocity Systems, with customizable quick attach points as well as 7.62 NATO and 5.56 magazine compartments.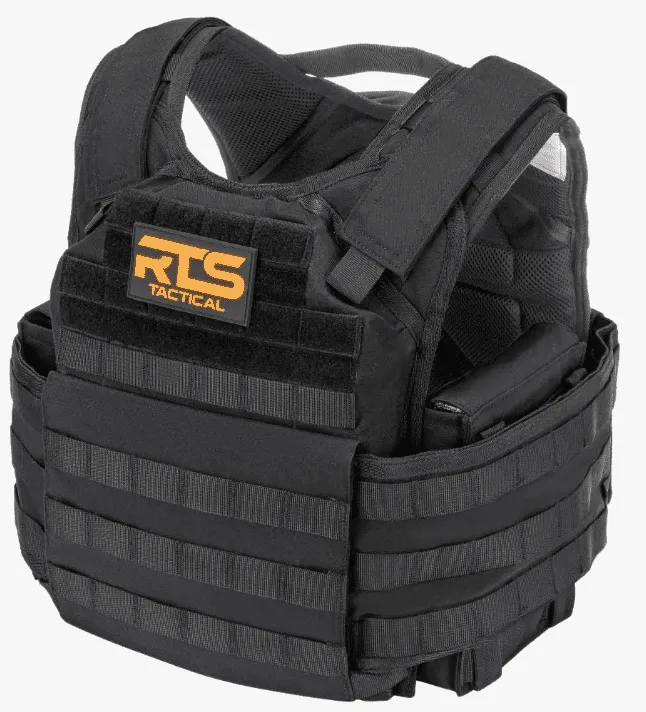 The RTS Tactical Premium Plate Carrier 10X12 is a top-of-the-line plate carrier that offers superior protection and comfort. This plate carrier is one of the industry's top full-system plate carrier! It's made of 500D Mil‑Spec Cordura® and features cutting-edge technologies to form an unbeatable battlesuit., and the RTS Tactical Premium Plate Carrier 10X12 is one of the best on the market.
It features a durable construction that can withstand heavy use, and it is adjustable to ensure a perfect fit. The RTS Tactical plate carrier also has a breathable mesh lining that helps to keep the wearer cool and comfortable. In addition, the plate carrier features quick-release buckles that make it easy to take off in an emergency situation.
The RTS Tactical Premium Plate Carrier 10X12 is a top-of-the-line plate carrier that offers superior protection and comfort. It is an essential piece of equipment for law enforcement and military personnel.
We are a huge fan of RTS' product line, and have some solid experience battle-testing their plates and plate carriers.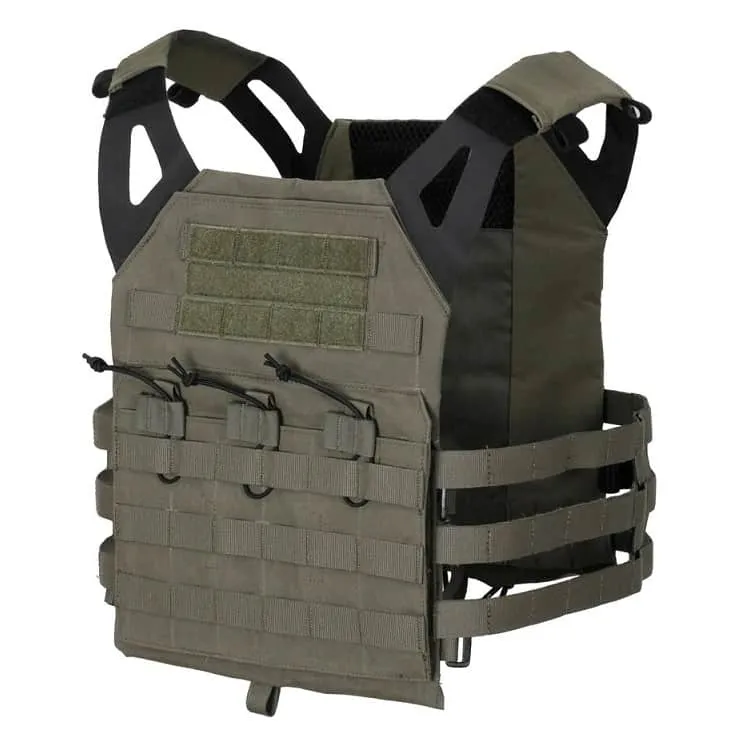 Specifications:
| | |
| --- | --- |
| Material | 500D Cordura nylon |
| Compatible Plate Cut Size | SAPI standard plates (S, M, L, XL); Civilian-sized plates |
| Modularity | Compatible with Crye Precision AVS add-ons like the front flaps, back panels, micro chest rigs, placards, and some add-ons from AXL Advanced |
| Weight | 1.2 pounds |
Pros
Among the best combat-proven plate carriers
High-quality stretch material
Slim and lightweight
Pouches can be mounted on the skeletal cumberbund
Abundance of aftermarket support and add-ons
Cons
More expensive than the 5.11 TacTec
Inserting the plates is a major hassle
Constructed from the lightest materials while retaining durability, the Crye Precision JPC (Jumpable Plate Carrier) 2.0 entirely focuses on mobility over weight.
The JPC 2.0 is the improved version of the Crye Precision JPC with new enhancements and attachment points with a front buckle loop for mounting placards, a Velcro system slider, and zippers for fitting your back panels.
Known as the "Cordura Bikini" among Navy Seals, it doesn't reach below the rifle plate, and all the excess material is cut down to a paperweight profile. There's a quick pull detachment system, the skeletal cummerbund "breathes," and it also has the fastest two-way emergency doffing feature.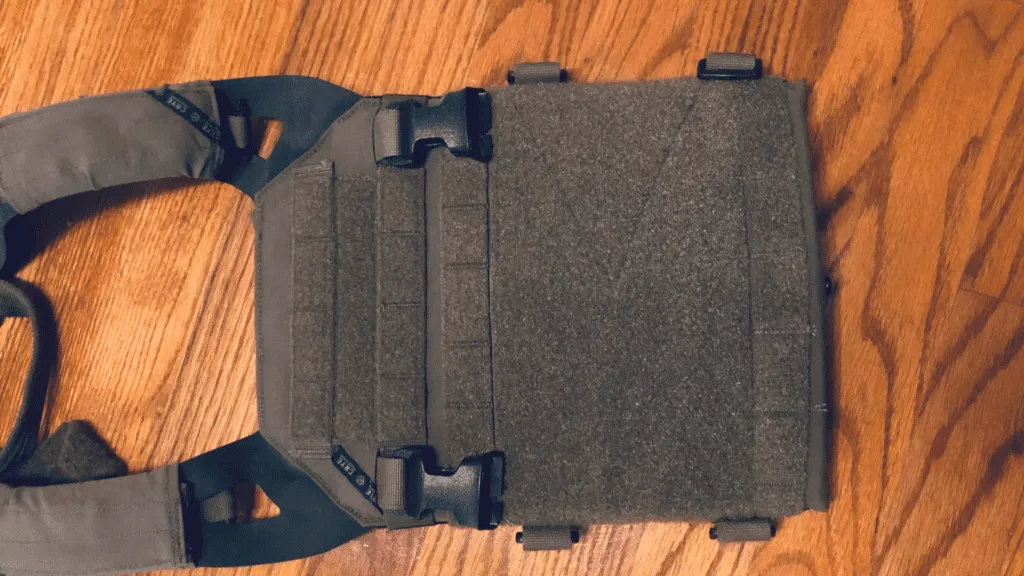 The downside is that the sharp shoulder straps might cause chaffing, and there are no pads to alleviate pressure points, so you'll need shoulder pads.
Since it's a popular one, you can find countless add-ons and accessories like mag pouches to side plates, zip-on panels, various flaps, and more. The mag pouches can be side pulled into a more convenient setup.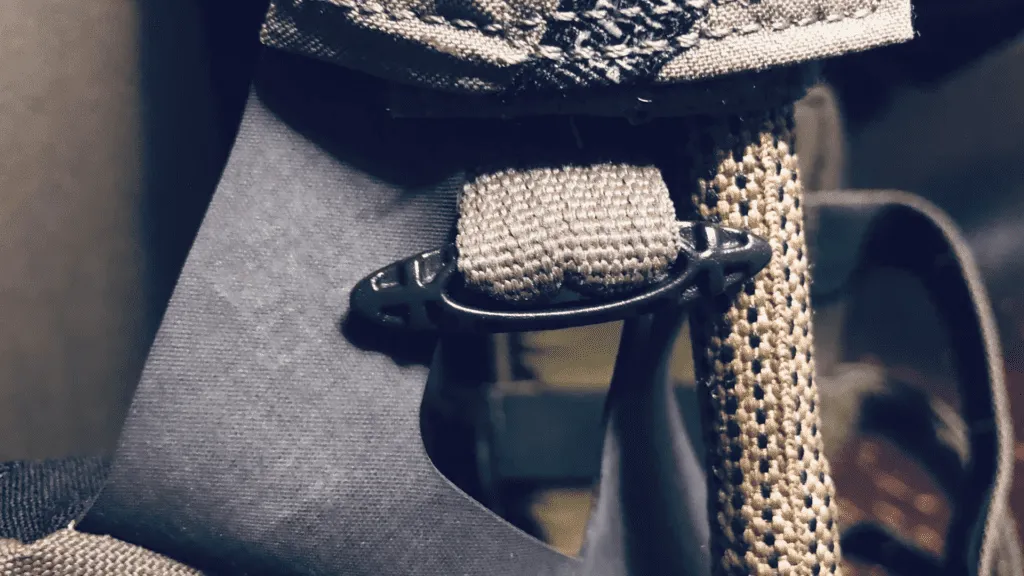 The plate bags can only accommodate SAPI plates, but the downside is that it's really tough to put in the plates, but once it fits, it sits. It's one of the most adaptable and scalable plate carriers that you can customize to your whim.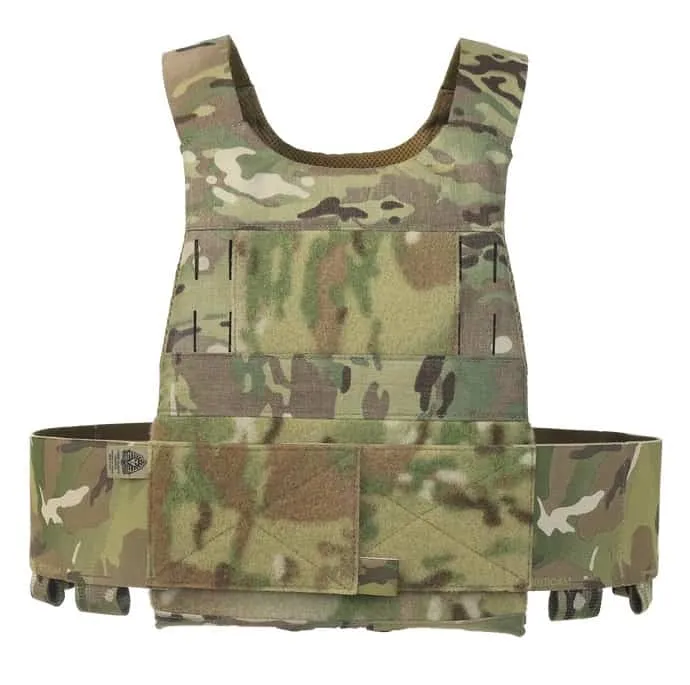 Specifications:
| | |
| --- | --- |
| Material | Carry Elastic Cummerbund (CEC); Mesh lined plate bags; Laminated shoulder straps |
| Compatible Plate Cut Size | SAPIM, ESAPI, XSAPI, stand-alone Level 4 plates, swimmers' cut and shooters' cut plates |
| Modularity | ADAPT-compatible add-ons |
| Weight | 0.8 pounds |
Pros
The most lightweight option
Great value with lots of add-on options
Cummerbund accommodates 5.56 and 7.62 NATO mags
Accepts almost every kind of armor plates
Cons
Barebones option that lacks features
You're looking at the most lightweight, low-profile option on the market with all the right modular points for an excellent price.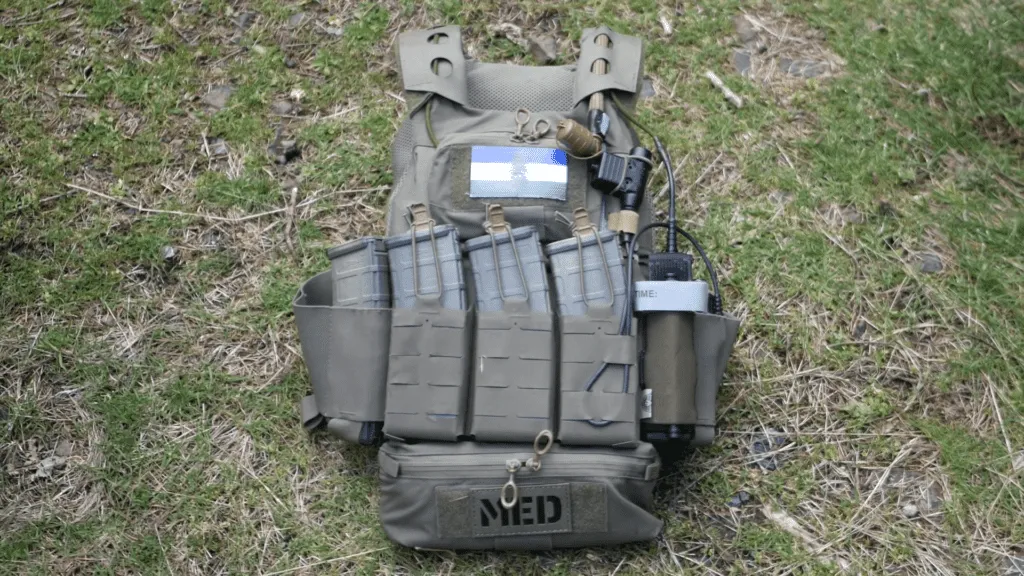 The Slickster Plate Carrier by Ferro Concepts is a base platform of the ADAPT system, and it's a very scalable and customizable carrier system. It doesn't have a lot of features, but it's built to be modded with ADAPT accessories like cummerbunds with attached mag pouches, MOLLE panels, Spiritus placards, etc.
The adjustable Carry Elastic Cummerbund (CEC) accepts 5.56 and 7.62 ammo mags, magazines, grenades, tourniquets, and a radio for your tunes.
Most importantly, the plate bags are mesh-lined and breathable, while the laminated, adjustable shoulder straps with ADAPT shoulder pads offer excellent comfort.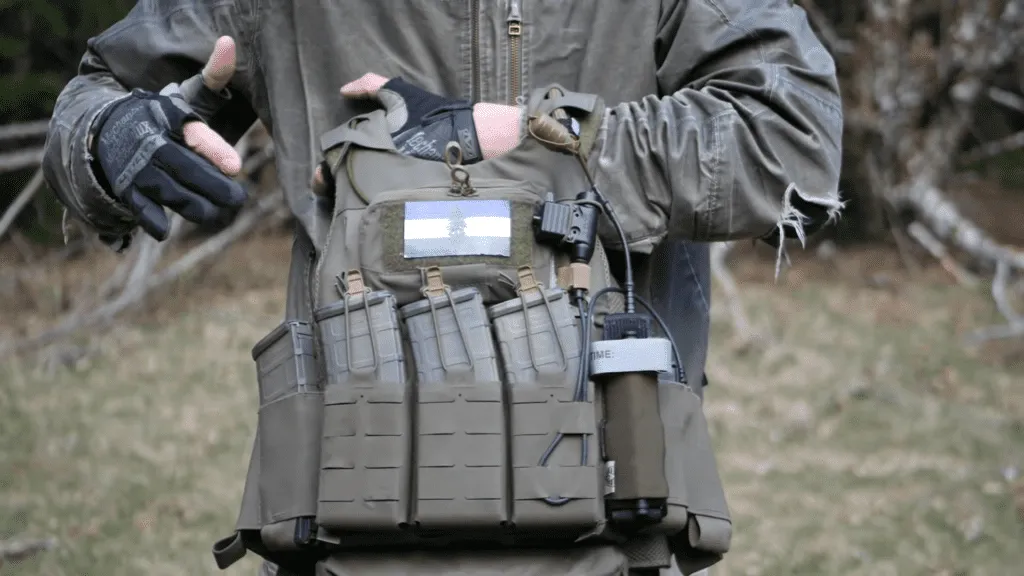 That said, what Ferro Concepts absolutely nailed with the Slickster is that it can accept almost every armor plate you can get your hands on. Much like its name, it's a flexible piece of tailoring tech, and putting on the armor plates is easy, as they stay put.
I recommend this one to the rookies who are just dipping their feet into tactical plate carriers.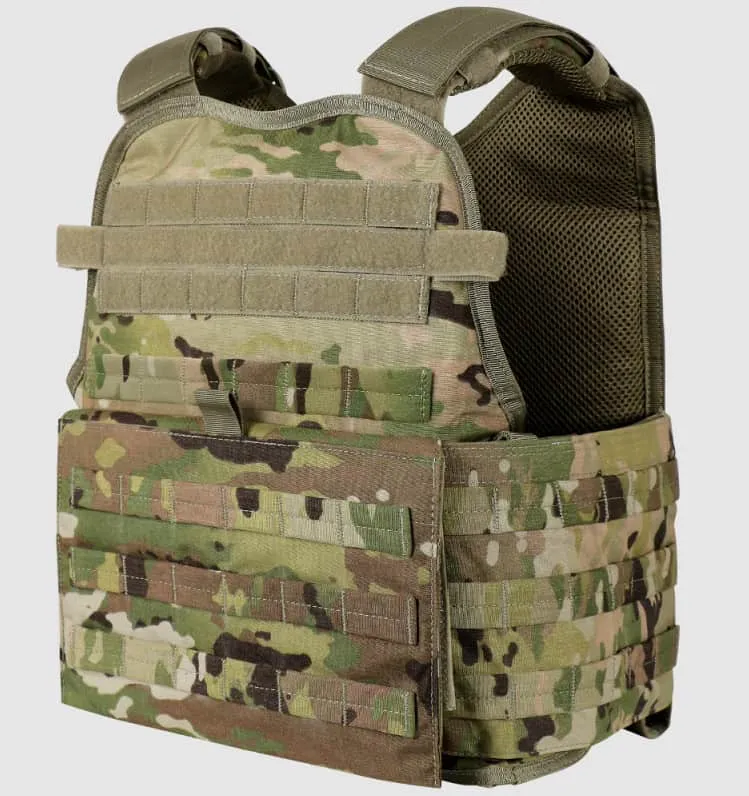 Specifications:
| | |
| --- | --- |
| Material | Nylon |
| Compatible Plate Cut Size | Medium or Large Swimmer/ESAPI plates (10.25″ x 13.25) |
| Modularity | Breathable 3D MOLLE mesh webbing and liner; Hook and loop closure |
| Weight | A pound |
Pros
Low cost with a great quality and essential features
Lightweight
Adjustable shoulder straps, and removable shoulder pads
Plate pockets can easily be accessed on the go
Convenient side panels
Cons
Despite being advertised as such, it doesn't fit 6×8 side plate pouches
Velcro flap retention button on the Cumberbund can be annoying
Here's "El Condor Pasa" with the lowest price you can find on the market.
This one's a very popular plate carrier not because of the low price but because it has all the right characteristics for a basic setup. For most folks that casually attend the ranges and are not into tactical stuff much, this one is more than enough.
The aesthetics remind me of the KDH Defense Plate Carrier kits the Marines wear. Don't touch those, though; they go for thousands of dollars and obviously are not for civilians.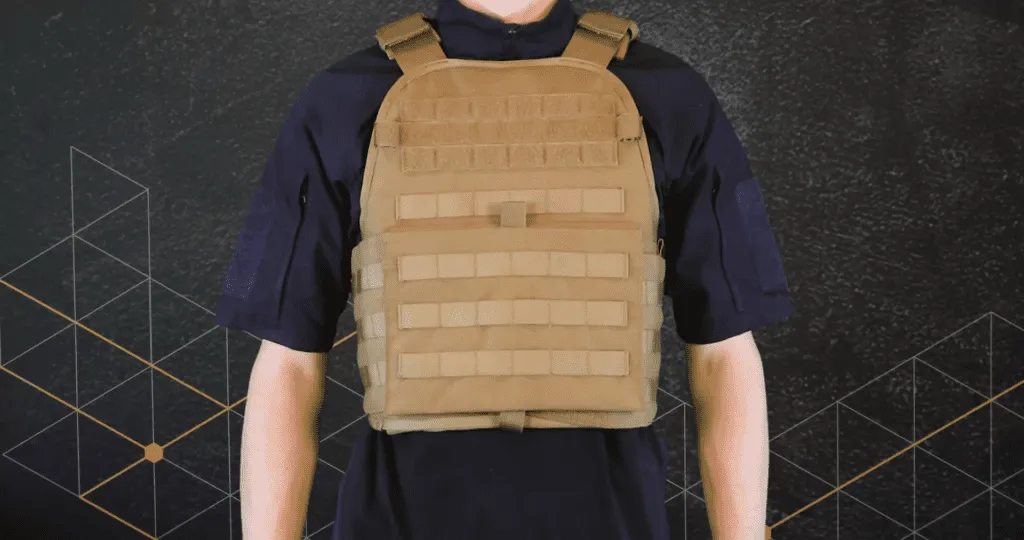 With the Condor MOPC, you have wide, adjustable shoulder straps with removable shoulder pads, a MOLLE webbing system for similar attachments, and easily accessible plate pockets.
Folks report that the button inside the cummerbund that retains the Velcro flap can be annoying. There's a simple fix where you need to sew the side parts to the back plate carrier and replace the button on the inside of the front piece with a quick-release plastic buckle.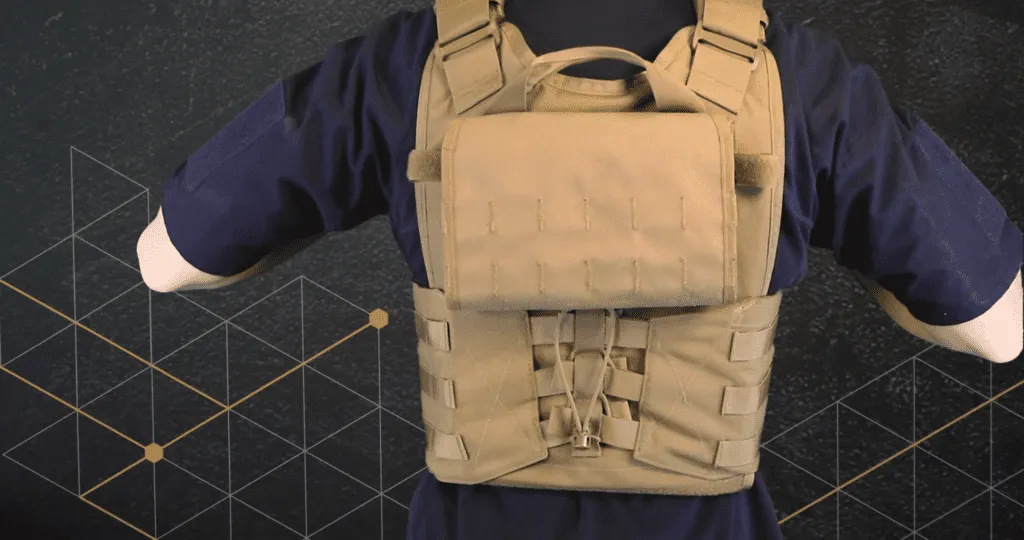 You can also check out the Condor Modular Chest Set. It's not necessarily a plate carrier, but it's still a very adjustable platform with six built-in AR-15 magazine pouches, two internal mesh pockets, and webbing for modular attachments.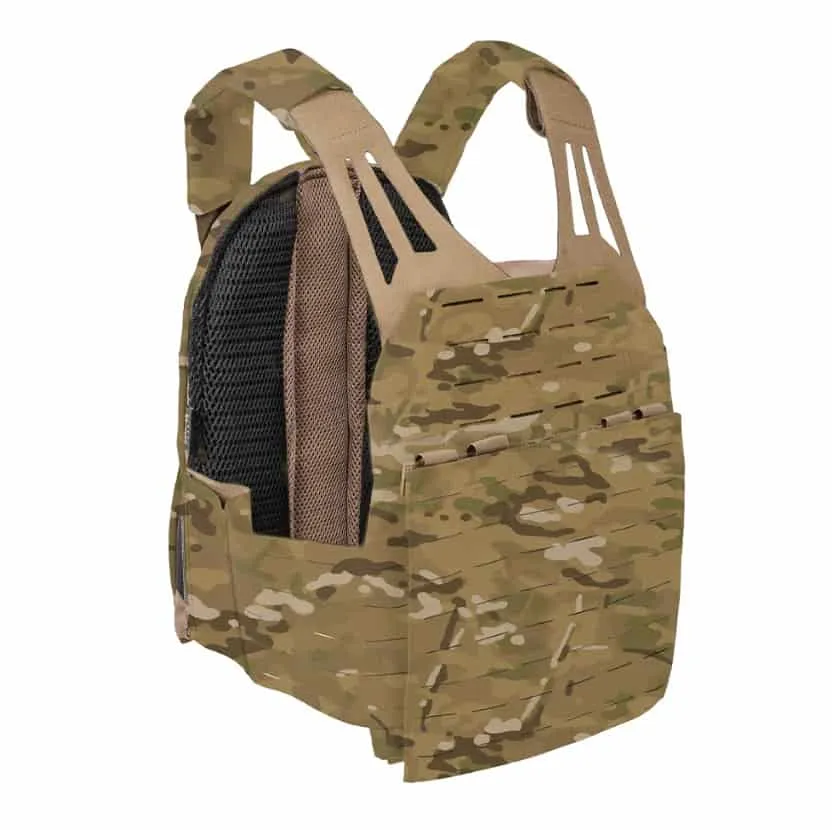 Specifications:
| | |
| --- | --- |
| Material | Cordura 700D |
| Compatible Plate Cut Size | Compatible with 10- x 12-inch (25 x 30 cm) and Medium SAPI plates |
| Modularity | Compatible with the TT FL Chest Rig, IFAK Pouch, and Tourniquet Pouch |
| Weight | 1.8 pounds |
Pros
Elastic side attachment is adjustable for length
Front and side MOLLE system
Adjustable shoulder straps
Supports up to 50 kg weight
Integrated radio equipment pocket
Cons
Customers report it doesn't take sweat very well
Here's another cool lightweight option that can hold 100 pounds of weight.
The Tasmanian Tiger Plate Carrier LC boasts a high-quality Cordura 700D nylon mesh with abrasion-resistant properties that breathes and prevents sweating.
The LC stands for "laser cut," and it has front and side MOLLE system areas for modularity options that lets you attach Tasmanian Tiger-compatible accessories like the Tasmanian Tiger IFAK Pouch or the Tasmanian Tiger Tourniquet Pouch.
Additionally, it's compatible with a TT FL Chest Rig, and it can also be used with a TT Medic Assault Pack MK II S, but the carrier is sold separately.
The Medic Assault Pack can fit in the back of the plate carrier, and the plate carrier also includes adapter straps for easy attachments. The shoulder straps are adjustable and can go from 34 cm to 53 cm.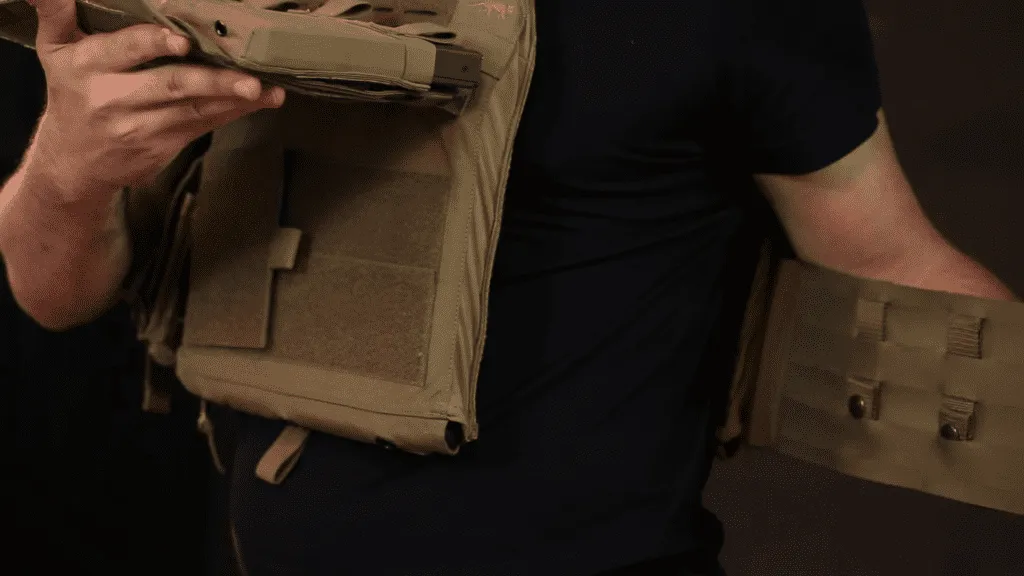 The front panel easily detaches for loading standard 10-inch x 12-inch plates which can withstand mid-level ballistic threats.
There's also an integrated radio pouch, making it a very viable option for military and law enforcement personnel.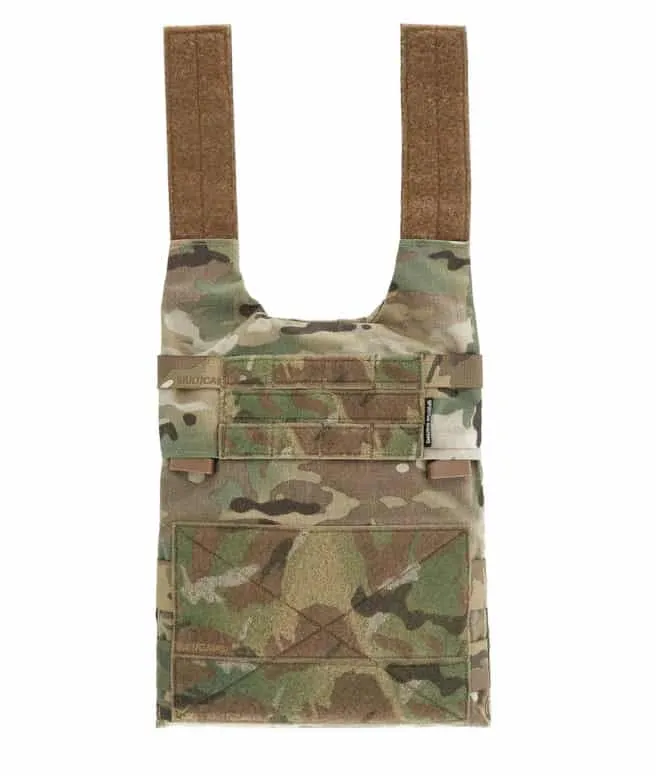 Specifications:
| | |
| --- | --- |
| Material | Various nylon materials and densities |
| Compatible Plate Cut Size | US Standard Issue SAPI cut plates (11 x 14.00 inches, max thickness of 1.2 inches) |
| Modularity Options | MOLLE; Not compatible with most brands |
| Weight | Varies |
Pros
Highly scalable
Solid low-profile, minimalist plate carriers
High-quality material
Very comfortable and customizable
Fully modular
Can fit most plates
Cons
Not compatible with anything besides Spiritus Systems
Building the full kit is expensive
What you see in the picture is not the full kit but the front overt plate bag.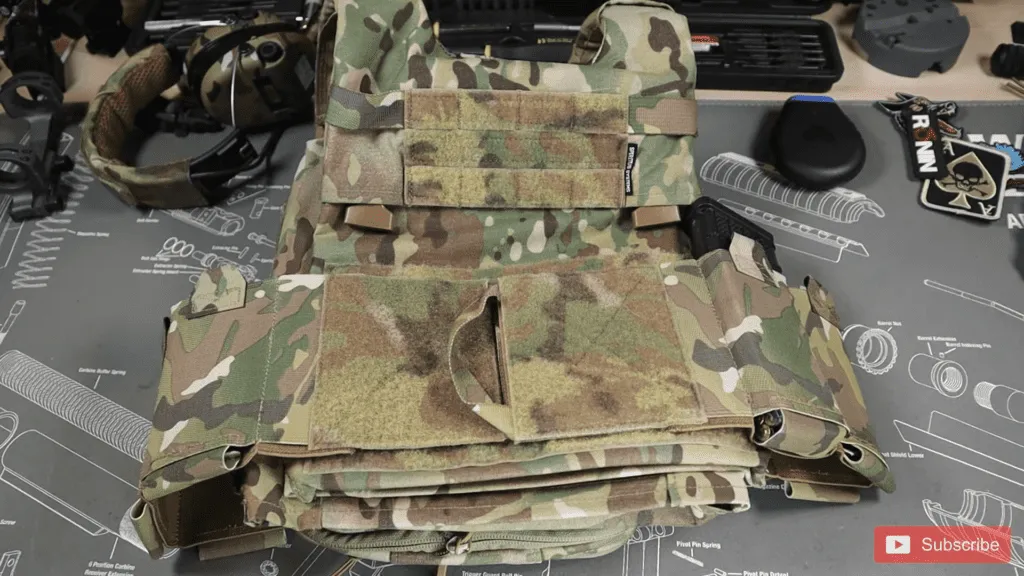 The Spiritus Systems LV-119 is a minimalist type of plate carrier that's separated into various components. It's designed this way because some might not need the back plate carrier, and building the full kit costs a lot of money.
As you can see, it's not exactly a plug-and-play model. However, the LV-119 can be the most user-configurable, most modular plate carrier on the market if you try hard enough.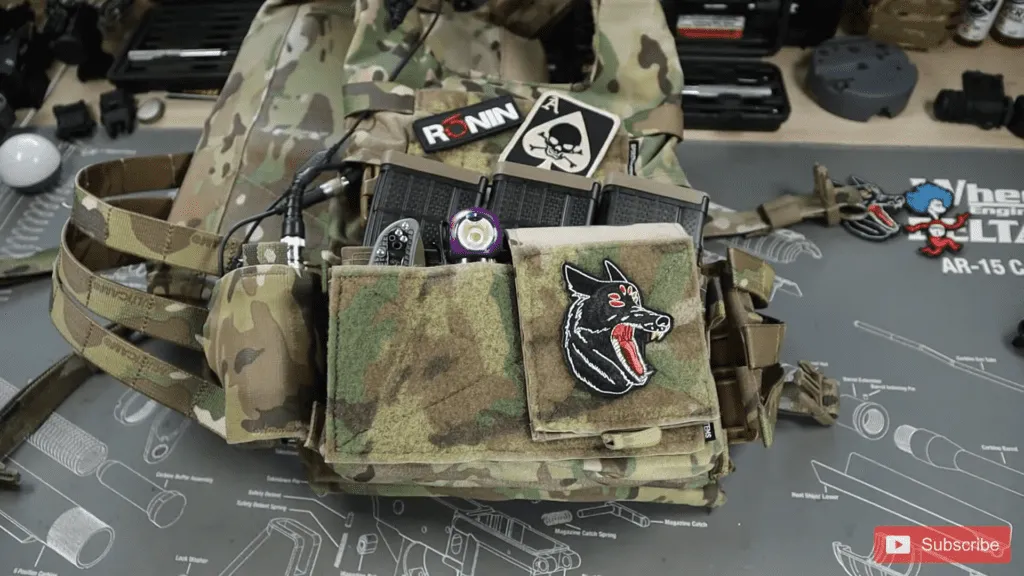 Similarly, like Goku and Dragon Ball, if you collect all of the components—the front overt, rear overt, rear covert bags, the structural shoulder pads, cummerbund, flaps, pouches, and straps—you can achieve the ultimate in tactical protection.
Spiritus Systems constantly update the LV-119 with new and improved pieces to the puzzle, which keeps the platform moving, and you can combine lots of stuff, despite the plate bag not being compatible with other brands.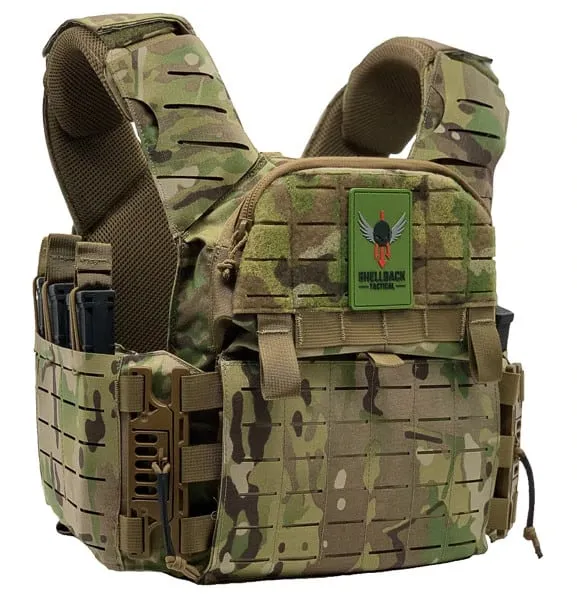 Specifications:
| | |
| --- | --- |
| Material | 500D Cordura nylon |
| Compatible Plate Cut Size | Fits 10″x12″ level 3/4 ESAPI plate carriers |
| Modularity Options | PALS webbing system; Removable cummerbund; QASM buckles for chest rig attachments |
| Weight | ~3 pounds |
Pros
Unmatched durability
Customizable with most brand add-ons
Quick release cummerbund buckles
Lifetime warranty
Cons
Most expensive option on this list
Heavy and bulky
Last but definitely not least, the Shellback Tactical Banshee Elite 3.0 is reserved only for the most serious shooters, and it offers the ultimate in tactical armor and protection.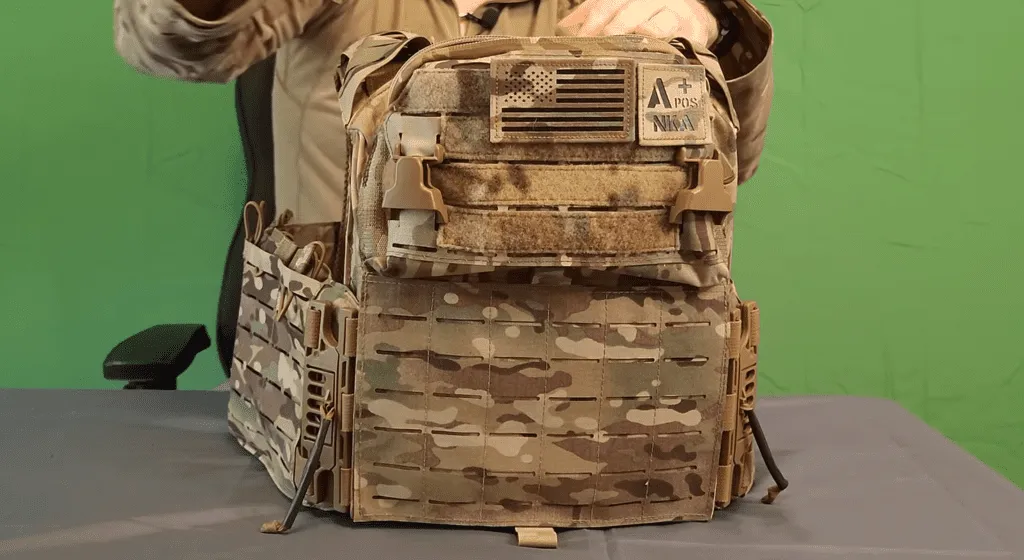 Regarded by most as a fully-equipped kit (besides the plates, of course), the Banshee Elite 3.0 is the third strike from Shellback Tactical, and it's one of the most expensive plate carriers.
Folks wanted quick-release cummerbund buckles, and they got them. This allows you to quickly remove the plate carrier when retreating.
The laser-cut MOLLE mesh with ventilation is still on the front and back. It's a good call that they got rid of the regular hook and loop cummerbund closures. Nobody likes to deal with those.
The removable Banshee Elite Cummerbund is what jacks up the price. It has six integrated M4 magazine pouches, two soft armor panels, side armor pockets, a front zipper pouch, and a rear hydration pocket with a 2-liter bladder capacity for survival purposes.
There's also the standard-issue Shellback Tactical Banshee Elite 2.0 at a lower price, which is still an awesome plate carrier with shoulder support, Hypalon shoulder straps for comms, 3D padded internal mesh, and MOLLE ladders.
Plate Carriers – A Buyer's Guide
Besides durability, modularity, and aesthetics, one of the most important factors when choosing a plate carrier is to consider shoulder comfort.
Yes, you heard me right, and I can't stress this enough. These plate carriers carry heavy, heavy plates, and though you might get used to the weight, your shoulders may not. Comfortable shoulder straps and proper padding is essential in plate carriers. Everything else is just details.
Now with that out of the way…
The Difference Between Tactical Vests, Plate Carriers, and Bulletproof Vests
Most people mess up their definitions. Let's clear things up.
A plate carrier is a harness with front and back panels for your upper body that hold ballistic or defensive armor plates which protect your vital organs.
The four types of armor plates are kevlar, polyethylene, ceramic, and steel, and they offer various levels of protection from different bullet calibers. Without SAPI (Small Arms Protective Insert) armor plates, the plate carrier is just cloth with pockets.
Made to be worn over your clothing, lots of plate carriers are modernized with load-bearing capabilities, which greatly enhances their tactical advantage.
A bulletproof vest offers protection in a way that its entire construction can be either sewn kevlar or steel. Designed to be worn under the clothing, a bulletproof vest can be fitted with special armor to the existing plates.
Though it might not be as effective as plate carriers, it's much more concealable and offers better mobility.
Lastly, a tactical vest is a combo of bulletproof vests and plate carriers. It has sewn plates into the fabric, and it's customizable with tactical add-ons, offering utility and flexibility. Most tactical vests cannot accept plate carriers.
Plate Carrier Types
While plate carriers have very similar features, size, and structure, they all have a specifically tailored purpose.
They're usually categorized into types like heavy armor systems, medium plate carriers, minimalist plate carriers, and slick carriers.
Let's disambiguate further.
Slick plate carriers are concealable, and it's also the smallest and most lightweight option.
Minimalist plate carriers are still lightweight but have some load-bearing properties for carrying tactical gear.
Medium plate carriers are most of the stuff we mentioned, and they're the standard option that will always do the job.
Heavy plate carriers are usually heavy armor systems. Expensive, hard to find, and reserved for military personnel, they offer the ultimate in tactical assortment and unmatched protection.
All of these have different characteristics that you need to compare. What's important here is considering its main purpose and how you'll use the plate carrier before you understand how to fully make it your own.
Webbing and Fabric
Plate carriers are known as Modular Lightweight Load-carrying Equipment, or MOLLE, while the webbing is Pouch Attachment Ladder System, also known as PALS.
Weaving the pouch strap through the webbing is how it works. This is where the adjustable and customizable power of the plate carrier lies.
Most plate carriers are equipped with 500D, 700D, or 1000D Cordura nylon weaves. This is a highly durable and flexible material for attaching gear pouches. The higher the number, the more durable it is, but 500D Cordura nylon is excellent for most.
Since it's going to be heavy, make sure it breathes. Look for ventilated mesh lining for ventilation and wide, padded shoulder straps.
Cummerbunds, Pockets, Pouches, and Other Accessories
If you're not planning on cramming 5.56 NATO mags in there, skip this part.
Otherwise, look for dump pouches. The purpose of plate carriers is to retain your reloaded magazines instead of just throwing them away, especially during combat. Not to mention how great it will enhance the efficiency and speed of your shooting.
Then there are cummerbunds. Inspired by India's military, cummerbunds are durable waist sashes with very durable material, and they're NOT a corset.
There's a difference between a regular and a military cumberbund, and its main purpose is to keep the soldier cool and his skin ventilated so's to relieve the inconvenience caused by all that gear they're carrying.
Before going for a plate carrier, consider how many pockets you'll need. Most plate carriers have 6 to 10 separate mag pouches, as well as other tactical containers for flashbangs, radio, clips, etc.
Quick-release attachments, kangaroo front flaps, and zipper back panels are also worthy of consideration if you're planning on carrying water and snacks.
Protection Level
Lastly, the protection level depends on the armor plates you'll be using.
Most soft armor or lighter armor plates can withstand thrown objects, .22 LR handguns, and shotgun shells.
But, for higher-level threats like rifle 5.56 calibers, you'll need Level III, IIIA, or IV body armor plate carriers.
Conclusion
Tactical plate carriers are designed to save lives in a different way than ballistic vests or kevlar, and with all the great plate carriers that we've mentioned, you wouldn't want to miss out on this impeccable quality in protection.
Plate carriers like the 5.11 Tactical Tactec and the Velocity Systems Scarab LT boast solid durability and have all the features one needs. Most importantly, they have very comfortable shoulder straps that anyone can appreciate.
Remember to first try out your armor and setup and see what's missing and what's unnecessary. There are countless options, variations, and combinations, and the only way to see what works is to try it out yourself. What's the point of a high-tier kit if you can't use it?
Here's a good tip: if you want to get used to your kit and don't like people staring, wear it when you're going camping. Medieval knights had it worse.
Stay safe, and shoot straight.
Explore more