Best Pocket Holsters in 2023
Best Pocket Holsters in 2023
Cover Photo Credit – ComfortTac
Besides IWB carry, appendix carry, SOB (small of the back), or even the daring cross draw, the next best concealed carry style is your own pocket.
I'm not exactly sure if it's the oldest form of firearm concealment, but depending on how tight your pants or jacket pockets are, best believe it's the fastest.
However, a lot of CCW experts believe that this isn't an efficient form of carrying for reasons I'll explain below.
This carry style heavily depends on your pants' size, and it does take a bit of draw practice. But, it can be a very efficient form of carrying when done right.
Why Choose a Pocket Carry Style?
Pocket carry allows you a pre-staged draw. This means that you can always have your hand in your pocket and be prepared for a quick draw when you're out and about.
Of course, the pocket carry has its downsides. You need to have loose-fitting pants for this type of carry, and you can't pick a worse carry position for when you're driving.
That being said, if you're convinced that the pocket carry is your style, you'll need a good pocket holster.
Much like any IWB and OWB holsters on the web, picking a pocket pouch for your pistol can be pretty perplexing, especially when your pants size and pocket size are in the equation.
That's why I compiled this list of the best pocket holsters you can find on the internet today. I'll talk about their features, pros & cons, and the main criteria to help you shop with confidence.
Best Pocket Holsters For Concealed Carry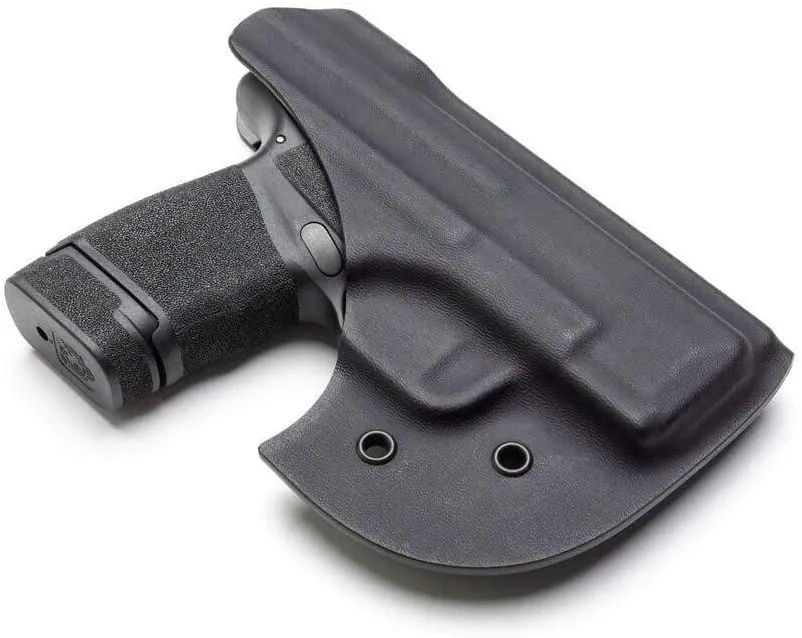 Pros
Guaranteed 100% trigger guard protection
Double-sided, extended slide guard
Durable Kydex construction with sweat resistance
Loose enough for a smooth draw
Fits front sights and loaded chamber indicators
Suitable for left and right-handed users
Cons
Kydex edges might be uncomfortable for some
Retention can be too snug
For a family-owned holster company, Vedder consistently puts out reasonably priced, high-quality concealed carry holsters.
I think their Pocket Locker deserves a top place on this list because of several important reasons.
It's an ambidextrous, versatile pocket holster that's specifically tailored for the Ruger LCP, but it accommodates similar small-frame pocket pistols like the SIG Sauer P238 as well.
The holster has a retention hook and a thumb release for added convenience when drawing your pistol, and it's also great for deep concealment.
The hook snags on inside your pocket and allows a consistent snag-free pull every time.
The holster can also accommodate off-the-body carrying, and it covers the entire barrel of your firearm and protects it from dust and debris.
Additionally, it has a special attachment point that allows you to easily carry your sidearm in a backpack or purse. I also like the sweat guard, which can be essential for those hot summer days.
Though the custom-molded Kydex might not be comfortable for some, the Vedder Pocket Locker holster is an innovative, durable, snag-free pocket holster that's carefully designed for a fast draw and accessibility.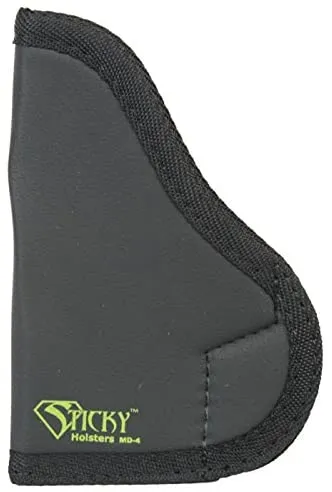 Pros
Sticky exterior that prevents the holster from slipping out
Can be worn as an IWB holster
Sticky Holsters models available for any compact handgun or revolver
Includes Kydex insert and Sticky sleeve
Ambidextrous
Lifetime warranty
Cons
Expensive
Requires large pockets
Some complain the pistol is too deep inside the holster
Sticky Holsters brought us the MD series, a line of compact, ambidextrous pocket carry holsters that can fit any pistol I can think of.
You have the Sticky MD-1 for small 9mm-caliber pistols like the Ruger LC9, the lightweight MD-2 for medium semi-auto pistols with a trigger guard laser, and the MD-5 for J-frame revolvers.
But, I'll talk about the Sticky Holsters MD-4 Pocket Holster because it perfectly fits my Smith & Wesson Shield, and can fit pistols up to a 3.6-inch barrel like a Glock 43.
As the name suggests, what makes the Sticky MD-4 stand out is its unique, outer surface that's made of non-slip material which adheres to your pocket, and can also stick to your skin as a tuckable IWB holster.
The custom compression and friction system makes sure the holster stays put inside your pocket.
The trigger guard area is stitched to form a safe and secure grip, and the closed-end design prevents dust and debris.
If you have a front rail-mounted laser, make sure you send them a message for a custom fit on their website.
Overall, it's a very comfortable and versatile holster without annoying clips or straps, carefully designed for ease of use.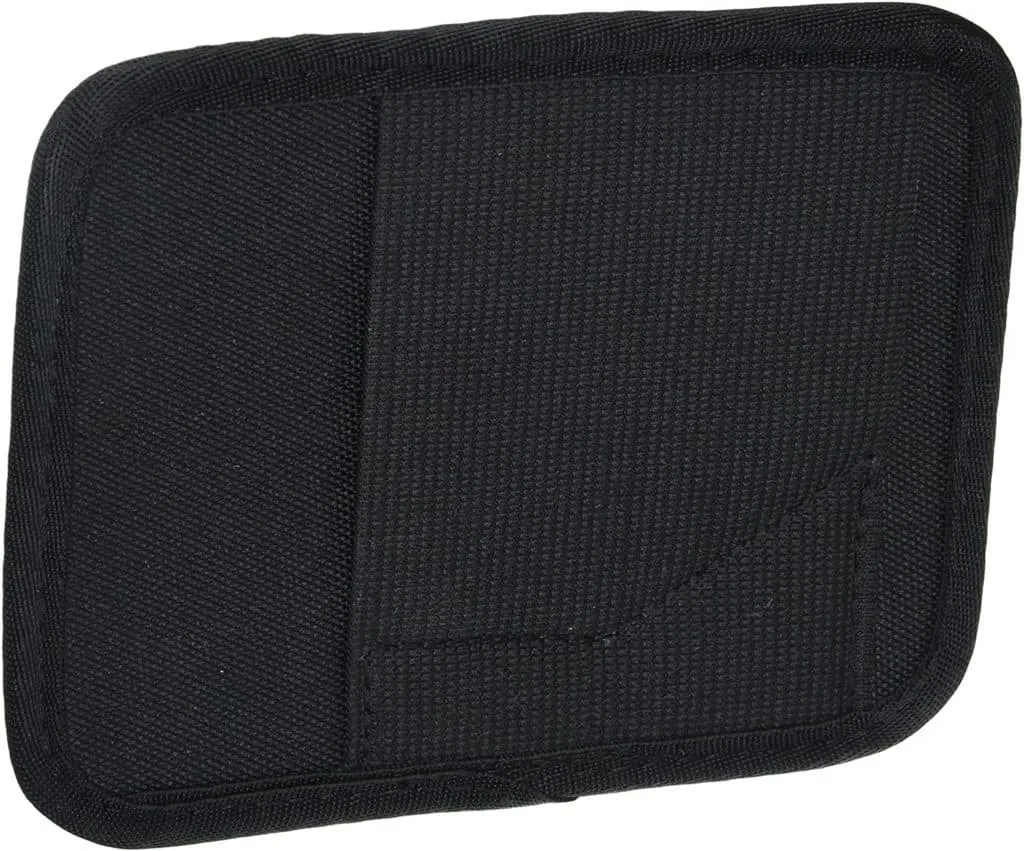 Pros
Recommended for concealed carry
Doesn't print and hides pistol profile well
Surprisingly durable nylon construction
Great price
Strong elastic band offers decent retention
Perfect for micro pistols under 5.5-inch length
Available for both left and right-hand pistols
Fits snub-nosed revolvers
Cons
Simple, plain design
Not comfortable while driving
If you're looking for an affordable pocket carry holster, Gould & Goodrich is hard at work to design one of the most convenient holsters at a suitable price.
Their model, the Gould & Goodrich 702-1LH Wallet Holster takes a new leap of pocket holster innovation.
The Gould & Goodrich wallet holster has a rectangular outline with a rugged nylon construction.
I'm not much of a fan of nylon holsters, but this plain, wallet-like holster has a strong elastic band with excellent retention for both drawing and reupholstering.
Thanks to its durable foam under the layers, it does a great job removing the weapon's profile and doesn't print at all, making it a great concealed carry holster.
It perfectly fits any micro pistol under 5.5-inches in length, feels comfortable enough, and has a sticky surface that prevents the holster from being pulled out of the pocket, no matter how abruptly you draw.
Overall, it's a great affordable holster that looks simple but works like a charm, and I would recommend you try it as a back pocket carry as well.
The Gould & Goodrich pocket holster's rectangular shape can retain and fit snub-nosed revolvers and is available for both left-hand and right-hand people.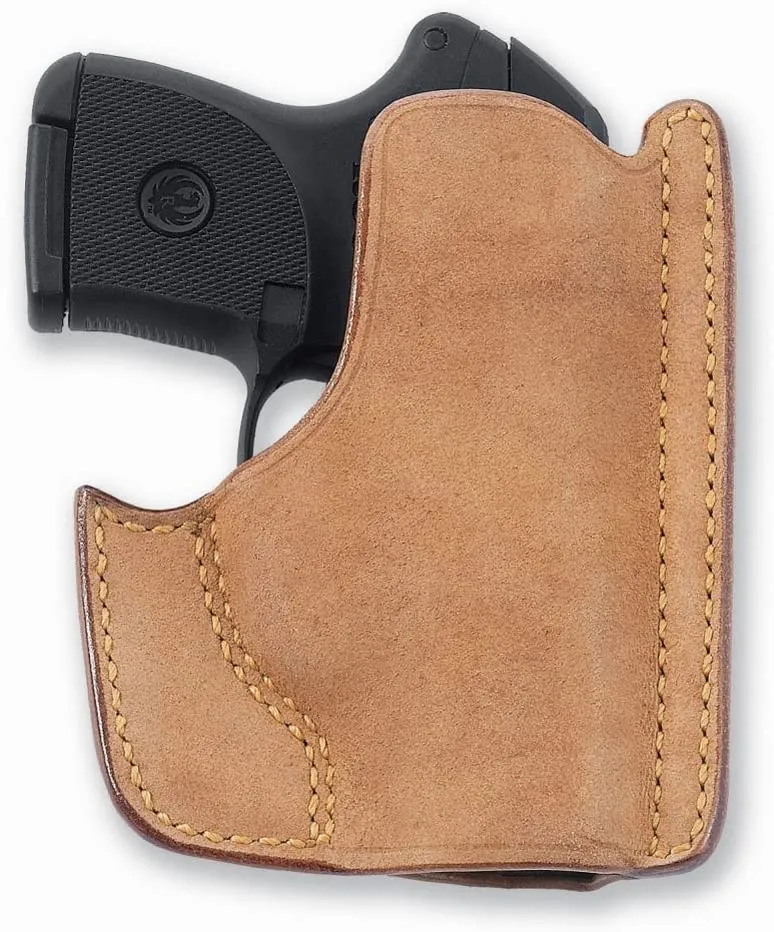 Pros
High-quality leather build
Double leather surface for a snag-free draw
Good for one-handed draw
Conceals the shape of your firearm
No printing
Fits most compact pistols and snub-nosed revolvers
Cons
Expensive
Trigger isn't fully covered
Galco Gunleather are well-known in the holster industry for their finely crafted, high-end leather holsters.
The Galco Front Pocket Horsehide Holster is no excuse, but best believe it's carefully designed to suit most compact pistols and revolvers, and it's great for a one-handed draw.
This leather holster has an inside-out design that's built for front pocket concealed carry, and it consists of twin premium horsehide leather surfaces with high-quality stitching.
The interior has a smooth and soft leather surface that's slick enough for a smooth draw and retention, while the outer exterior is rough with a hooked shape on the edge that makes sure your pistol stays snug.
What makes it a good pocket holster is how it effortlessly reduces printing and conceals the shape of your sidearm while offering decent comfort.
The Galco Front Pocket Holster needs a little bit of draw practice because of the hooked design, and it doesn't cover the trigger for some pistols, but you can be sure it has excellent retention and offers a quick draw.
You can also check out Galco's Pocket Protector, made of steer hide, and a reinforced top with a notch on the bottom for better retention. It's an absolute crowd-pleaser.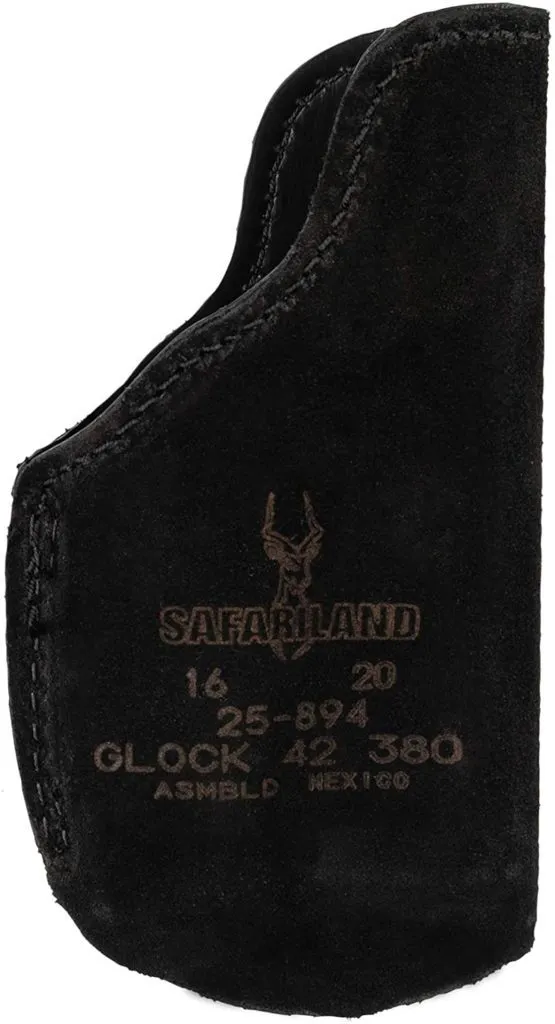 Pros
High-quality suede finish
Full trigger guard coverage for maximum safety
Perfect for deep concealment
Cost-effective
Available for open or closed carry
Ultra-thin, lightweight material for better concealment
Cons
Holster might be too long for some
Low-quality stitching (glued seams)
Safariland is a prominent holster company that's known for its extra features and retention systems on their holsters. A lot of CCW users don't know that they have their hands on pocket holsters as well.
Lots of people have a hard time finding the right-sized holsters for their J-frame revolver, and that's why Safariland has us covered with this one. It's best-suited for J-frame Smith & Wesson revolvers and a Ruger SP101 as well.
But its main selling point is the reinforced interlining that keeps the holster open while you draw your firearm. It also has the essential feature – a fully covered trigger guard for increased security.
I've heard complaints that the Safariland Model 25 has low-quality stitching with glued seams that loosen up after some years of use. But, I believe this is owed to misfitted pistols like semi-autos and Glocks, and this issue can be avoided if you just use it for snub-nosed revolvers.
Designed for deep concealment, the Safariland Model 25 Pocket Holster has a sweat-proof internal layer with a black, synthetic suede finish that keeps your holster in place. It's lightweight, and the thin material offers minimal printing that makes sure the pocket doesn't bulge.
Buyer's Guide for the Best Pocket Holsters
Previously, I said I'm not sure if pocket carry is the oldest form of concealment. This is because the term "pocket pistol" dates back to the late 19th century where people wore vest pockets.
Pants pockets weren't still regarded as a good idea, and soldiers wore their flintlock pistols in their vests.
Nearly 200 years later, things changed a bit.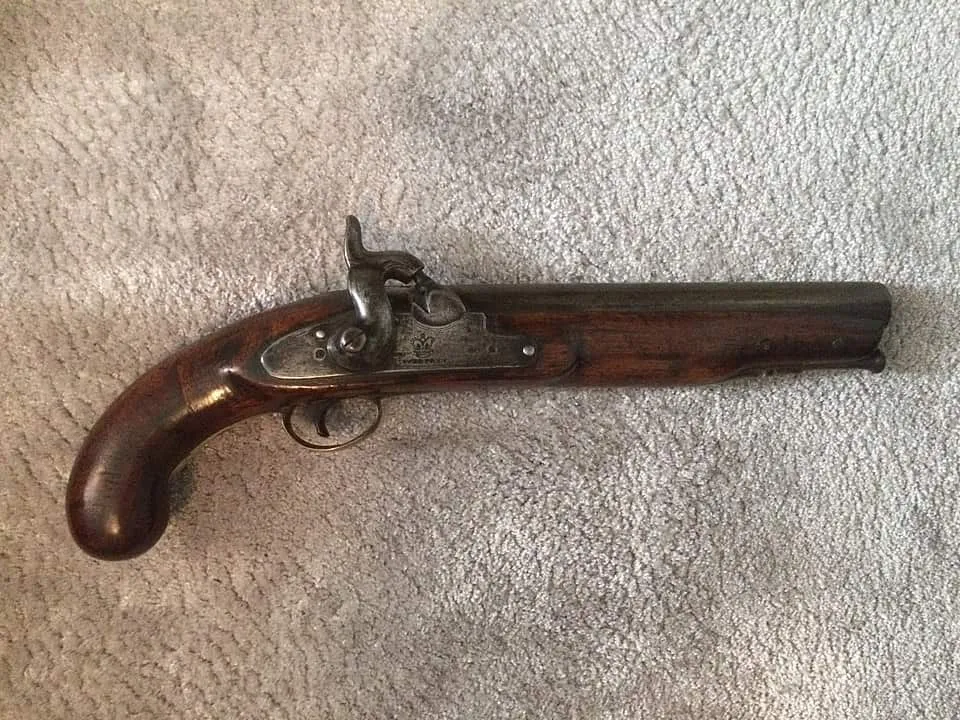 Instead of flintlocks and vests, we decided to stick our 9mm semi-auto pistols with light triggers in our cargo shorts and confidently walk around town while the handgun jangles along with our Lincoln pennies and car keys.
See where I'm going with this?
What to Look For When Buying a Pocket Holster
Like I mentioned earlier, when browsing for a suitable pocket holster, you need to consider four things:
Safety;
Concealability;
Comfort and durability;
Retention and draw speed.
Safety
Trigger guards are an absolute necessity. If you're wearing a pocket holster without a fully covered trigger guard, you're a walking negligent discharge.
A properly designed pocket holster must cover the trigger guard at all times to avoid any accidents.
Concealability
When you're walking, your pocket holster should have nice padding that won't print.
Carrying a bulky holster that outlines might result in you being seriously questioned by the authorities.
Additionally, the outer layers of the holster must adhere and stay put inside your pocket, so be mindful of this as well.
Comfort and Durability
Usually, pocket holsters are made from nylon or polymer material, and these are very comfortable for carrying.
But, you can also find comfortable leather holsters as well, though they might need breaking-in and regular cleaning. They are arguably more comfortable than Kydex material holsters, and I agree with this notion, but each to their own.
Ambidextrous holsters are made from adhering material and are usually very comfortable as well.
Retention and Draw Speed
This is a no-brainer.
You need a holster with the perfect retention if you want fast and smooth draws every time.
I recommend holsters with an adjustable passive retention system (without a retention strap) like the Vedder Pocket Locker Kydex Pocket Holster with a positive grip and fully covered trigger guard to avoid accidental discharge.
If you own a Sig Sauer P365, for instance, there are lots of holsters with a great positive grip.
Conclusion
Lots of people think that pocket holsters are a bad idea for concealed carry. Even though they're small, it's still a hassle to carry a pocket holster, especially while driving.
However, it almost completely depends on how tight and how big your pants are. You need to run a few tests and walk around before you consider the pocket carry.
My honest opinion is that if you want to go full pocket-carry, slightly loose cargo pants/shorts are the way to go. Slim-fit or skinny jeans are out of the question. Trying before buying is very important if you truly want to be sure you'd want to own the best pocket holster for you.
For now, I would definitely recommend the Vedder Pocket Locker Kydex Pocket Holster as an all-around great Kydex pocket holster that's durable and efficient for drawing. Or, if you're a revolver user, the Safariland Model 25 Pocket Holster might be just for you.
Stay safe and shoot straight.
Explore more