4 Best Ruger 10/22 Models [2023]: Hunting, Competition, & More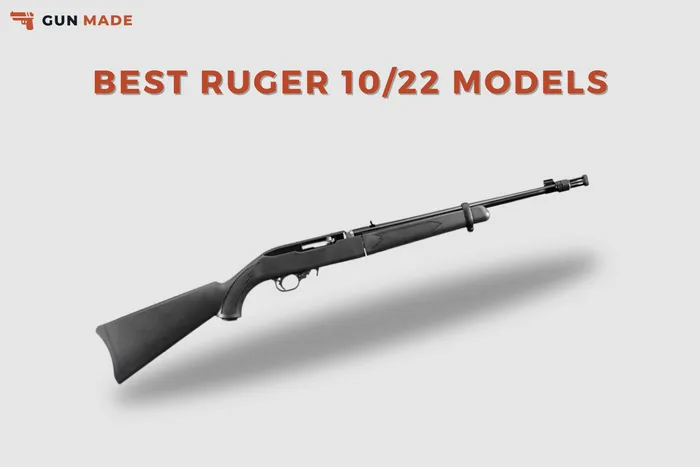 4 Best Ruger 10/22 Models [2023]: Hunting, Competition, & More
Introduction
In the market for a rifle that comes from the factory working great, but also provides virtually endless customization opportunities? Look no further than the Ruger 10/22!
This little .22 rifle has been a favorite among shooters for over 50 years and is known for its accuracy, reliability, and customizability. But with so many models out there, it can be tough to know which one is right for you.
Don't worry, though, because we've got you covered. In this blog post, we'll be breaking down the best Ruger 10/22 models so you can find the perfect match for your shooting style.
So grab your ammo, and let's get started!
Best Ruger 10/22 Models & Recommendations

Specifications
| | |
| --- | --- |
| Stock | Black Synthetic |
| Sights | Gold Bead Front, Adjustable Rear |
| Barrel Length | 16.40 inches |
| Overall Length | 36.75 inches |
| Weight | 4.6 pounds |
Pros & Cons
Pros
Takedown capability allows for easy storage and transport

Takedown and reassembly are both quick and easy

Threaded barrel for various muzzle devices

Durable synthetic stock

Returns to zero when reassembled
Cons
May experience some play between the two parts

Fewer options for barrel improvements compared to fixed barrel models

Can be a learning curve for takedown and reassembly
It's hard to identify a single 10/22 model as the single best one because different models are optimized for different things.
So, to try to identify the "best" choice, I went with the model that I think is the most versatile. That's the Takedown Model 11112. It is, obviously, a takedown rifle, meaning that it can be disassembled into two pieces, making the rifle easier to carry or stow, making it a great boat, plane, or backpack gun.
The primary reason I prefer this particular model over the base model of the Takedown, the Model 11100, is simple: this one has a threaded barrel. It comes with a simple Ruger birdcage-style flash suppressor pre-installed, but it's super easy to remove and replace with whatever muzzle device you'd like, such as the Ruger Silent-SR suppressor.
I also like that the metal components have a sleek satin black finish that matches the stock for a monochromatic look, but that's more of an aesthetic preference than anything to do with the quality of the rifle.

Specifications
| | |
| --- | --- |
| Stock | Black Synthetic |
| Sights | Gold Bead Front, Adjustable Rear |
| Barrel Length | 18.50 inches |
| Overall Length | 37 inches |
| Weight | 4.4 pounds |
Pros & Cons
Pros
Classic look and feel

Rugged, durable, and lightweight synthetic stock

Excellent

balance of features and price

Easy, even for a 10/22, to find upgrades and accessories for
Cons
No upgraded features like you get on some other models

Debatably not as good looking as the wooden stocked counterpart
I'll admit, I struggled to decide between this model and the other basic Carbine model, the Model 1103. They're the same price, and there's only one real difference between the two, the stock material, but that's where I decided the Model 1151 squeaks ahead.
While the 1103 has a beautiful, classic hardwood stock, the Model 1151 has a more durable synthetic stock. The extra durability of that synthetic stock, plus the fact that it shaves off more than half a pound of weight, led me to give the Model 1151 the edge in terms of value.
As part of the Carbine line, the Model 1151 is pretty much a prototypical example of the 10/22. It has an 18.5-inch alloy steel barrel, and the black synthetic stock has a minimalist straight comb, giving the rifle a classic feel despite the synthetic stock. The cross-bolt manual safety is another classic feature.
The barrel, receiver, and other metal components all feature a satin black finish, blending with the black stock for an even more minimalist feel. The barrel is topped with a gold bead front sight and an adjustable rear sight.
The rifle comes with a combination scope adapter that works with both Weaver-style and .22 tip-off scope mounts for those who want an upgrade.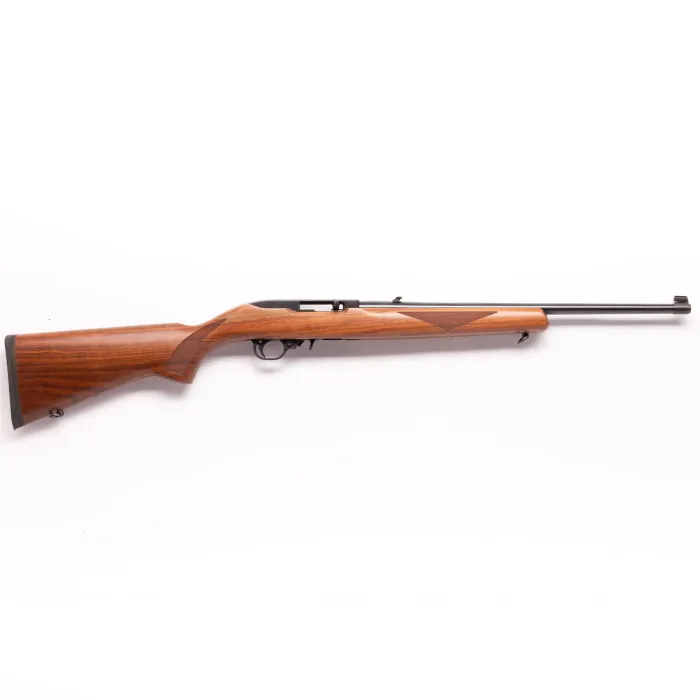 Specifications
| | |
| --- | --- |
| Stock | American Walnut |
| Sights | Gold Bead Front, Adjustable Rear |
| Barrel Length | 18.50 inches |
| Overall Length | 37 inches |
| Weight | 5.2 pounds |
Pros & Cons
Pros
Gorgeous, classic-style rifle

Solid ergonomics for hunting

Easy to add a scope

Reliable, higher capacity magazine

18.5 barrel helps improve accuracy over other 10/22 models
Cons
Accuracy and power is limited due to the .22LR chambering

Longer barrel upgrades to improve accuracy can be hard to find

On the heavier side for a 10/22
As a .22 rifle, the hunting applications for the Ruger 10/22 are limited, but for those who do want to use the 10/22 to hunt very small game and varmints, the 10/22 Sporter Model 1102 is my recommendation.
It has sling swivels and a flat buttplate to optimize the rifle for hunting use. The 18.5-inch barrel is on the longer end for a 10/22 barrel, helping to make your shots at tiny game more accurate without too much length for maneuverability.
To help you zero in on those tiny creatures, the sight has the standard gold bead front sight and adjustable rear sight. However, you'll probably want to take advantage of the optic-ready receiver and the fact that the rifle comes with the standard combination scope base adapter.
In addition to the hunting upgrades, the 10/22 Sporter is, at least in my opinion, the best looking across the 10/22 line. It has an absolutely gorgeous American Walnut stock and a satin black finish on the receiver and barrel, giving the Sporter a lovely, classic appearance that brings to mind the saddle rifles of the Old West, just in a modern semi-auto package.

Specifications
| | |
| --- | --- |
| Stock | Speckled Black/Gray Laminate |
| Sights | None: Optics-Ready with a 30 MOA Picatinny Rail |
| Barrel Length | 16.12 inches |
| Overall Length | 36 inches |
| Weight | 6 pounds |
Pros & Cons
Pros
Comes with a Picatinny rail installed

Upgraded BX-Trigger

Adjustable, textured laminated stock

Threaded, cold-hammer-forged bull barrel with included muzzle brake

Also available in a left-handed version, the Model 31110
Cons
Can be hard to find

Designed—and priced—for serious competitive shooters

Heavy relative to other 10/22s
Of all the various 10/22 models, the Ruger 10/22 Competition is probably the one that stands out from the standard the most. Ruger designed this to be, as the name suggests, a competition-grade rifle suitable for serious competitors.
As such, it features a lot of upgrades relative to other 10/22s, especially basic models like the 10/22 Carbine.
For one, the stock features a grippy laminate finish and a fully adjustable cheek rest, so you can optimize the comb height and position for your comfort and optic alignment. And speaking of optic alignment, the 10/22 Competition doesn't have sights but instead has a 30 MOA Picatinny rail for mounting a scope, red dot sight, or other optic.
The trigger is also upgraded, to the Ruger BX-Trigger, which is a big improvement over one of the weak points of the original design. The Ruger BX-Trigger has a short pull, a nice and crisp break with a 2.5 to 3-pound pull weight, and positive reset.
And it's even available in a left-handed version, the Model 31110, for all you southpaws out there. For those who can't justify the higher cost of the 10/22 Competition or are just having a hard time tracking one down, the 10/22 Target can be a solid alternative.
How We Chose Our Top Picks
My biggest complaints about Ruger 10/22 models is that there aren't more of them and that I can't justify having them all in my gun collection.
I'm kidding (sort of), but seriously, Ruger has stacked the 10/22 lineup with a ton of great options, so we were really spoiled for choice when it came to selecting top picks. The hardest part was narrowing it down to just the models included here.
I tried to choose a variety of different models, each with its own distinct set of features, to give you a good idea of the different options available and how well-suited they are for different uses. I also tried to cover models for as many different possible uses as I could.
Buyer's Guide
Standard 10/22 Features
Okay, so we know there are a variety of different models out there, but there are some shared features that help make a 10/22 a 10/22.
The main three features that define all 10/22s are the barrel block, rotary magazine, and breechblock decelerator. Let's talk about each of those.
The 10/22 barrel block has a unique V-block mounting system with screws. This system makes it easy for even beginners to easily swap out the rifle's barrel. While Ruger started using this system because it made manufacturing easier, it did lay the foundation for the 10/22's incredible ease of personalization and upgrading.
While the use of a rotary magazine is hardly unique to the 10/22, the 10/22 is the first rifle to use a rotary magazine as opposed to the previous box magazine. Rotary magazines are more reliable and easier to load than box magazines, even modern ones.
Finally, the breechblock decelerator was designed to solve the common issue among semi-auto rifles where the bolt would cycle too fast. This meant the magazine cycle didn't move quickly enough to move the next cartridge into the chamber.
Choosing a 10/22 Model
There are a few things that you need to keep in mind to make sure that you're choosing the right 10/22 model for your needs:
Barrel
A rifle's barrel length and material can have a major impact on how the gun performs.
Shorter barrels are more maneuverable (which can be great if you're looking to shoot rats in a barn or shed), while longer barrels offer superior accuracy. Most 10/22 models have a barrel of 16.12 or 18.5 inches, though there are a handful that fall somewhere in between.
Most 10/22 barrels are made from alloy steel, though some are stainless steel. Stainless steel is stronger and more heat resistant, but also costs more, so stainless steel barrels are reserved for the more high-end 10/22 models.
Finally, some 10/22s do feature threaded muzzles. If you'd like to be able to use a muzzle device, be sure to select one of these options.
Stock
Most models of the 10/22 have a synthetic stock, which is convenient because it's durable, weather-resistant, and lightweight. Wood is the second most popular material, offering a more classic look.
Between synthetic and wood, almost all 10/22 stocks are accounted for, though there are a few laminate options as well.
Stock style matters too, though. Almost all 10/22s have a straight comb, but there are versions that are upgraded, such as the 10/22 Target that features a thumbhole to function more like a pistol grip, and several models which use the Ruger Modular Stock System.
Sights
Again, most models of the 10/22 have the same basic setup when it comes to sights: a gold bead front sight and an adjustable rear sight. In addition, they generally come with a scope base adapter compatible with both Weaver and .22 tip-off style scopes.
However, some models have upgraded sights, like fiber optics, which offer improved visibility in low-light conditions. Others have no sights at all and instead have a Picatinny rail for mounting a scope.
FAQs
Does Ruger make a 10/22 with a threaded barrel?
Ruger makes the 10/22 in several models with threaded barrels. The Takedown Lite, Target, Tactical, and Competition come standard with threaded barrels. The Takedown is available in models with and without a threaded barrel.
Did Ruger make a 10/22 Magnum?
Ruger made the 10/22 Magnum from 1998 to 2006. This model, chambered for .22 WMR, is unfortunately difficult to find used. However, shooters looking for a .22 Magnum alternative to the 10/22 may appreciate the Ruger American Rimfire, which does come in this caliber.
Are Ruger barrels interchangeable?
Ruger 10/22s that use the same barrel profile have interchangeable barrels. However, not all 10/22s use the same barrel profile. Fortunately, with so much aftermarket support available, you shouldn't have trouble finding a barrel that works with your particular model.
What are the different models of the Ruger 10 22?
The different models of the Ruger 10/22 are Carbine, Sporter, Tactical, Target, Compact, Takedown, Collector Series, and Charger. Each model has different features, such as barrel length, stock material, sights, and accessories.
What is the difference between 10/22 and 10/22 tactical?
The difference between the 10/22 and 10/22 tactical is that the 10/22 tactical has a flash suppressor, a Picatinny rail, and a synthetic stock, while the 10/22 has a standard barrel, a combination scope base, and a wood or synthetic stock.
What is the difference between Ruger 10/22 Deluxe and Standard?
The difference between Ruger 10/22 Deluxe and Standard is that the Deluxe has a walnut stock with a checkered grip and forend, while the Standard has a hardwood or synthetic stock with a smooth finish.
When did Ruger stop making the 10/22 Magnum?
Ruger stopped making the 10 22 Magnum in 2006 due to lackluster sales and extraction issues.
Conclusion
Each model of the Ruger 10/22 brings its own unique features and benefits to the table. If we have to pick a winner, though, the Ruger 10/22 Takedown Model 11112 takes the crown.
It has the standard features that we love from the Ruger 10/22 platform, like the barrel block, rotary magazine, and breechblock decelerator. However, it also elevates them with the addition of takedown functionality, a threaded barrel, and an included flash suppressor.
However, it's important to note that the "best" Ruger 10/22 model ultimately depends on your specific requirements and shooting preferences.
So, when considering the best Ruger 10/22 model for you, take into account factors such as intended use, customization options, barrel length, stock materials, and personal preferences.
Ultimately, the ideal model is the one that meets your specific needs and brings you the most joy when shooting.
What's your favorite 10/22 model? Let us know in the comments below!
Explore more