10 Best Scopes To Mount on Your AR-15 [2023]
10 Best Scopes To Mount on Your AR-15 [2023]
So you finally got your AR-15 rifle, but you can't decide on optics? Don't worry. Here's a great roundup that covers the best scopes for AR-15 rifles.
Most people jump right into red dot sights for AR-15, and this optic type is also a fantastic choice for closer ranges. But, there's something about the classic magnification and target acquisition that scopes offer.
It doesn't matter how powerful your AR-15 rifle is—you need to precisely hit your target from your desired range. Scopes allow you to do just that; they give you an edge in multiple ranges, whether it's short, mid, or long-distance applications.
Scopes have features worthy of consideration and are definitely the most versatile optic equipment type that covers all grounds, and price tags, for that matter.
If you're looking for close-range applications, go for red dot sights. Otherwise, keep reading to take a close look at our carefully made list of scopes with all the right features, magnification levels, adjustability options, and characteristics.
I managed to make the list as diverse and comprehensive as possible so it's easier for you to find a suitable scope for your AR-15 rifle.
Top 10 AR-15 Rifle Scopes
Specifications:
| | |
| --- | --- |
| Magnification | 1:6x |
| Reticle | AR-BDC3 MOA |
| Field of view (at 100 yards) | 116.5-19.2 feet |
| Click value | ½ MOA |
| Weight | 18.5 ounces |
Pros
Excellent value
BDC3 etched reticle; doesn't require battery
Has red dot and bullet drop compensator
High-quality glass with superb light transmission
Shockproof, waterproof, and fog proof
Cons
Not much eye box to work with
I've been using the Vortex Strike Eagle 1-6×24 frequently for three years, and I firmly believe that every AR-15 rifle owner should have one.
The glass clarity is nearing the quality of high-tier scopes, and the multi-coated lens has exceptional performance in light transmission.
I personally love the wide field of view, but the highlighted feature is the specialized BDC3 reticle. It acts as a red dot and has a BDC (bullet drop compensator) that offers great target acquisition in the 50 to 150-yard range.
Competition 3-gunners, target practice enthusiasts, and hunters will greatly appreciate the smooth and tactile ½ MOA turrets and how perfectly the scope zeroes and holds it when not in use.
What's more, the reticle works without a battery, and there are 11 brightness settings for illumination that work great for low-light conditions.
The 3.5-inch eye relief isn't much, but you can easily fix it with a nice AR-15 cheek weld and a little bit of practice.
I chose the Vortex Optics Strike Eagle because it has the proper magnification reach and essential features for short to mid-range AR-15 shooting, and the 6x mag helps you reach those 550-yard targets.
Without a doubt, it's one of the best scopes for your AR-15 rifle, and I'm convinced you can't find a better well-rounded scope.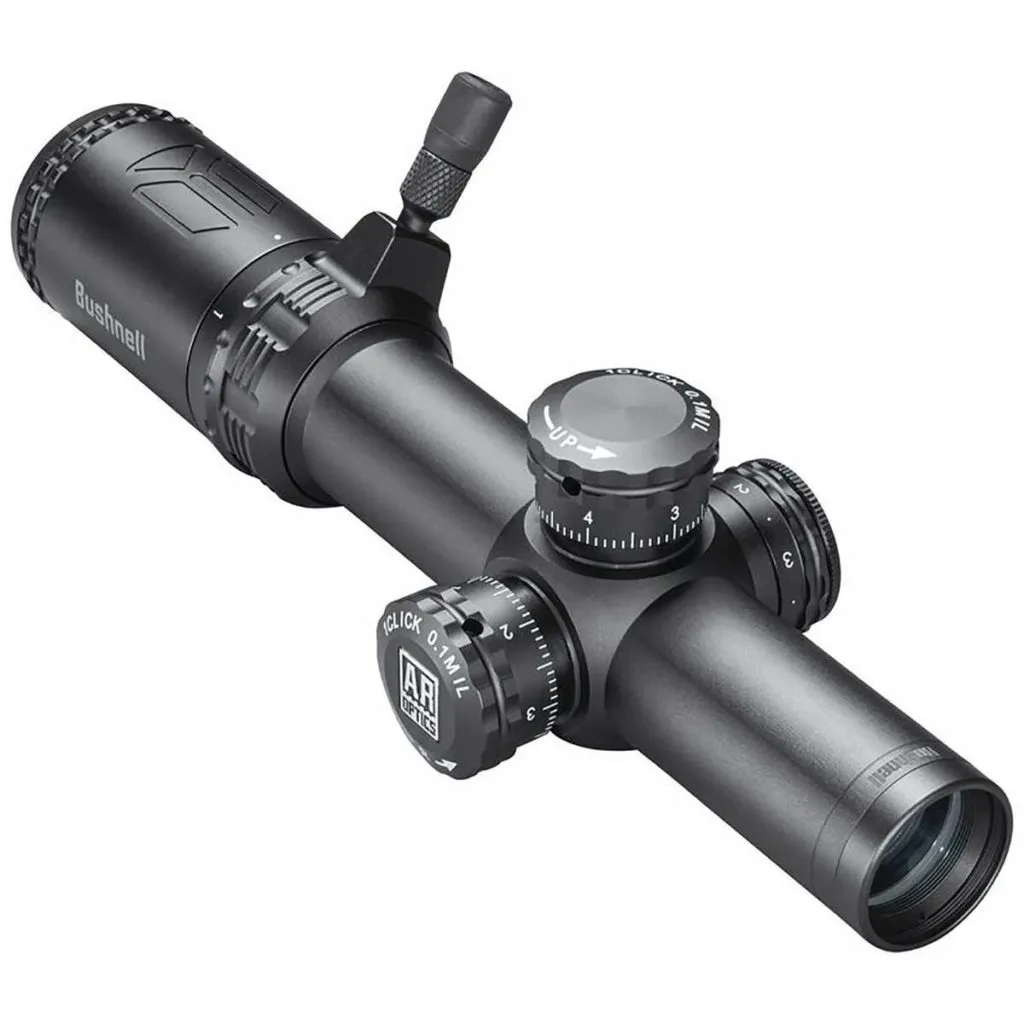 Specifications:
| | |
| --- | --- |
| Magnification | 1-4x |
| Reticle | Illuminated BTR-1 (FFP) with bullet drop compensator |
| Field of view (at 100 yards) | 112 feet (1x); 27 feet (4x) |
| Click value | 0.1 MIL (milliradians) |
| Weight | 18 ounces |
Pros
Wide field of view
Convenient "Throw Down" PCL lever
Suitable for low-light conditions
Eye piece offers fast focus
Excellent illuminated BTR-1 reticle
Cons
Isn't compatible with low scope rings
Adjustments aren't lockable
There's no complete list without a Bushnell product.
The Bushnell AR Optics 1-4x24mm rifle scope comes as a very close second to the Vortex Strike Eagle. As the name suggests, their AR Optics series are carefully crafted for AR platforms.
The Bushnell AR Optics rifle scope has fully multi-coated optics that work well in low-light conditions, but what makes it special is the BTR-1 illuminated reticle with a BDC.
The BTR-1 illuminated FFP reticle is perfectly optimized for the .223/5.56 caliber. It's etched on the first focal plane, so it adjusts its own size depending on your set magnification.
This, along with the 1-4x magnification, makes it a very versatile optic that gives you an edge when operating from 200 to 500 yards with a wide field of view at long distances. The 3.6-inch eye relief is perfect if your rifle has high recoil.
What's more, the "Throw Down" PCL allows you to switch fields of view and illumination settings almost instantaneously, and the windage and elevation adjustments are also done via the lever with a 0.1 mil click value.
The shockproof construction is sealed and anodized for foggy or rainy weather. It's not lockable, but there's nitrogen to protect it from dust, debris, and moisture.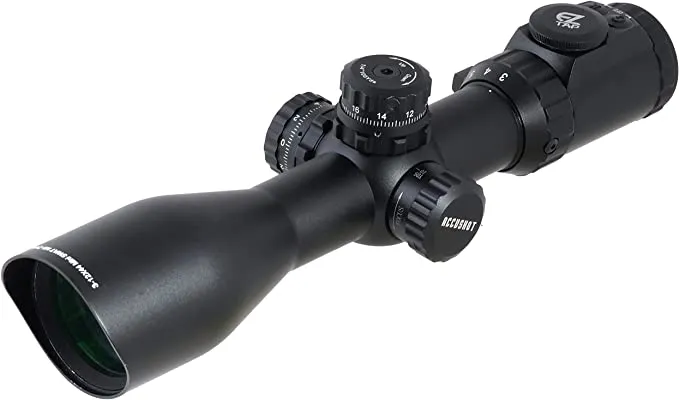 Specifications:
| | |
| --- | --- |
| Magnification | 3x 12x |
| Reticle | Mil-Dot, full 36-color EZ Tap reticle |
| Field of view (at 100 yards) | 32 feet |
| Click value | ¼ MOA |
| Weight | 23.2 ounces |
Pros
Excellent value
3x – 10x magnification range
Durable build and locking feature for convenience
Precise shooting from 50 to 100 yards
Cons
Heavy
Having 36 color options is a bit unnecessary
Here's another well-rounded scope with great features for your AR-15 rifle. I've had the UTG 3-12×44 30mm scope for years now, and it has served me well.
The UTG scope has a "True Strength" platform, built to be shockproof, fogproof, and waterproof, thanks to the sealed and nitrogen-filled tube. You get maximum light transmission and clarity with the emerald-coated 30mm glass tube with an anti-glare sunshade.
The magnification ranges from 3x to 12x which is a very wide and versatile margin that both hunters and range enthusiasts will appreciate. The lens caps are flip-open.
The reticle is a relatively new IE (illumination enhancing) on your SFP (second focal plane), which allows you to also customize your brightness. Speaking of customization, some might be happy to hear that you can also choose up to 36 color options as well.
The UTG 3-12×44 30mm scope has a very convenient SWAT (Side Wheel Adjustment Turret) with a parallax range of 10 yards to infinity and zero reset for added convenience.
I know this scope is really heavy, but the zero locking target turrets allow you to keep your preset adjustments. This is essential if you're hunting or on the go and keeping track of the target if it gets close.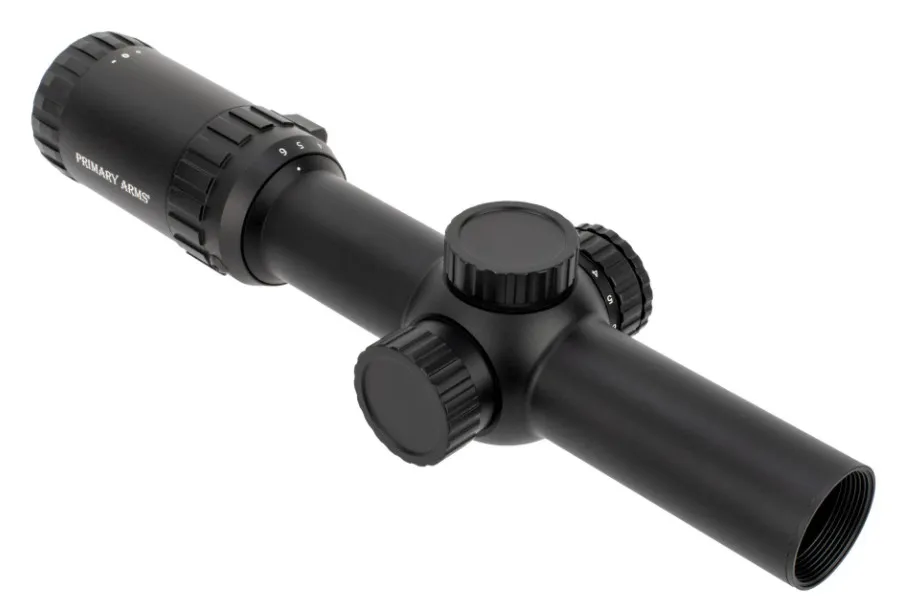 Specifications:
| | |
| --- | --- |
| Magnification | 1x – 6x |
| Reticle | BDC Reticle; ACSS 5.56/5.45/.308 |
| Field of view (at 100 yards) | 19.3 feet |
| Click value | ½ MOA |
| Weight | 16.9 ounces |
Pros
Very affordable
Lightweight and compact for an AR-15
Illuminated ACSS reticle that's also suitable for .308 calibers
11 brightness settings
Generous eye relief
A lifetime warranty
Cons
Definitely not for medium to long ranges
One of the best budget scopes for your AR-15 might be the Primary Arms SLx 1-6x24mm Gen III SFP Rifle Scope.
The SLx 1x-6x24mm has a very compact and lightweight 6063 aluminum build that's designed to be durable and suitable for an AR-15 and other semi-auto rifles. It's IP67-rated for water resistance, shock resistance, and fogproof for all kinds of harsh weather.
It's a low-powered optic with variable magnification, carefully designed to fulfill the roles of red dot sights as well as magnified optics, not to mention the very attractive price. It comes with a CR2032 3V Lithium Coin battery.
The main event is the Primary Arms ACSS reticle on the second focal plane that can suit both 5.56 and .308 calibers and has drop points up to 800 yards. The 1x settings button functions as a quick response button normally found on red dot sights.
I personally like the decently illuminated reticle with 11 different brightness settings. What's more, it has fantastic eye relief for close-range target acquisition.
Although the SLx 1-6x24mm Gen III is only viable for short-range applications, it's one of Primary Arms' most popular products, and it's not hard to see why.
Check out the fairly-priced Primary Arms SLx 4-14x44mm FFP Rifle Scope if you're looking for rifle scope with higher magnification for long distances.
Specifications:
| | |
| --- | --- |
| Magnification | 1×4 |
| Reticle | V-Brite MOA; Illuminated reticle |
| Field of view (at 100 yards) | 96.1-24.1 feet |
| Click value | ½ MOA |
| Weight | 14.8 ounces |
Pros
Lots of magnification models to choose from
Long eye relief
Multi-coated lenses
Popular for coyote hunting
Dead-hold BDC reticle
Vortex Optics-quality glass for a great price
Another great cost-effective scope is the Vortex Optics Crossfire II. This is one of Vortex Optics' most sought-after scopes, and even Ruger sells them on their Ruger American Bolt-Action rifles for a great price. There are countless magnification and diameter choices, but I own the 1-4x24mm model.
The attractive price aside, the Vortex Optics Crossfire II is a very versatile budget scope for hunting and shooting. Many would appreciate the long eye relief and eye box that allows you decent target acquisition, for a scope that is.
The 30mm tube is constructed of high-quality aluminum, and it has multi-coated, anti-glare lenses for a crisp, clear, and illuminated vision. Additionally, the nitrogen-purged and O-ring seal is standard stuff for foggy and rainy weather.
The V-Plex BDC reticle is great for low-light conditions and is located on the second focal plane (SFP). The ¼ MOA turret clicks are crisp and can be tuned to a true zero. Additionally, the field turrets are capped for protection.
I wouldn't recommend it for long-distance hunting, but it's perfect for short- to mid-range coyote hunting with the 4-inch eye relief.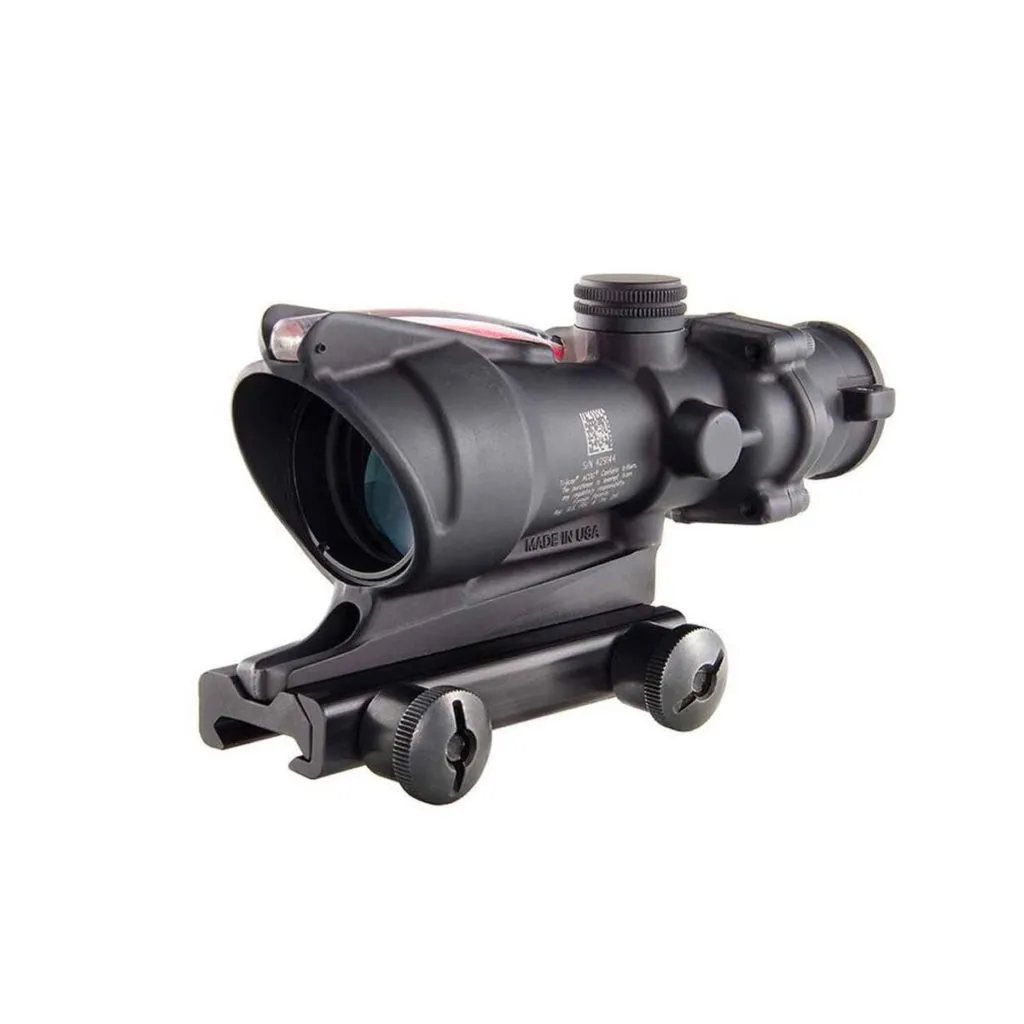 Specifications:
| | |
| --- | --- |
| Magnification | 4x |
| Reticle | Trijicon .223 BDC Red Chevron Reticle |
| Field of view (at 100 yards) | 36.8 feet |
| Click value | 2 clicks per inch |
| Weight | 15.1 ounces |
Pros
US Army-proven quality and reliability
Can reach targets up to 500 yards with impeccable clarity
Illuminated reticle doesn't need battery
Made for AR-15 style rifles and .223/5.56 calibers
Limited Lifetime Warranty
Cons
Definitely not for close range (50-100 yards)
Good eye relief, but very limited eye box
You can buy a used Chrysler with that price tag
Trijicon is the top-tier brand for scopes, and with their fixed scope, the Trijicon ACOG (Advanced Combat Optical Gunsight) is no exception.
A perfect contender for one of the most high-quality, durable AR-15 rifle scopes with a forged aircraft-grade aluminum, it's made to be tough and can last you for years and years, and that's why the US military uses it.
The Trijicon ACOG scope comes in all kinds of tritium colors and various magnifications. The 4x is perfect because it covers the medium and long-range applications that the AR-15 caliber can reach. The BDC reticle makes this easy and comes with a rangefinder as well.
What makes the price tag so high are the crystal clear, shockproof and waterproof, multi-coated glass, and innovative reticle illumination design that doesn't require batteries. You get solid eye relief with both eyes open for the 500-yard range.
Specifications:
| | |
| --- | --- |
| Magnification | 1-6x |
| Reticle | VMR-2 MOA illuminated reticle |
| Field of view (at 100 yards) | 112.5-18.8 feet |
| Click value | ½  MOA |
| Weight | 22.7 ounces |
Pros
Great price for a SFP rifle scope
3.8-inch eye relief
Intuitive Vortex reticle hash marks
Laser-etched turrets with crisp adjustments
Vortex Optics lifetime warranty
Can't have enough Vortex Optics scopes, right?
Here's the Vortex Viper PST Gen II if the Strike Eagle is too cheap for you.
With high-quality glass, the Vortex Viper PST Gen II 1-6×24mm rifle scope is the perfect magnification scope for your AR-15. The aluminum tube is Argon-purged for enhanced durability and weather resistance.
The multi-coated, O-ring sealed glass has an extra-low dispersion, which helps during high magnification and corrects optical color defects, especially in very bright conditions.
The capped turrets have crisp ½ MOA adjustments and up to 10 brightness settings that are suitable for desert sessions and coyote hunting in broad daylight.
The VMR-2 MOA reticle has very intuitive holding points and offers visibility and convenience at the 300-yard range. Additionally, the parallax is adjustable, so this would make the Viper PST Gen II a choice very worthy for your grocery list.
There are many magnification models available, such as the Viper PST Gen II 5-25x50mm Rifle Scope if you want to reach longer distances with your 6.5 Creedmoor rifle. Then, there's the even more powerful Vortex Optics model, the almighty Razor HD, but we'll get to it later.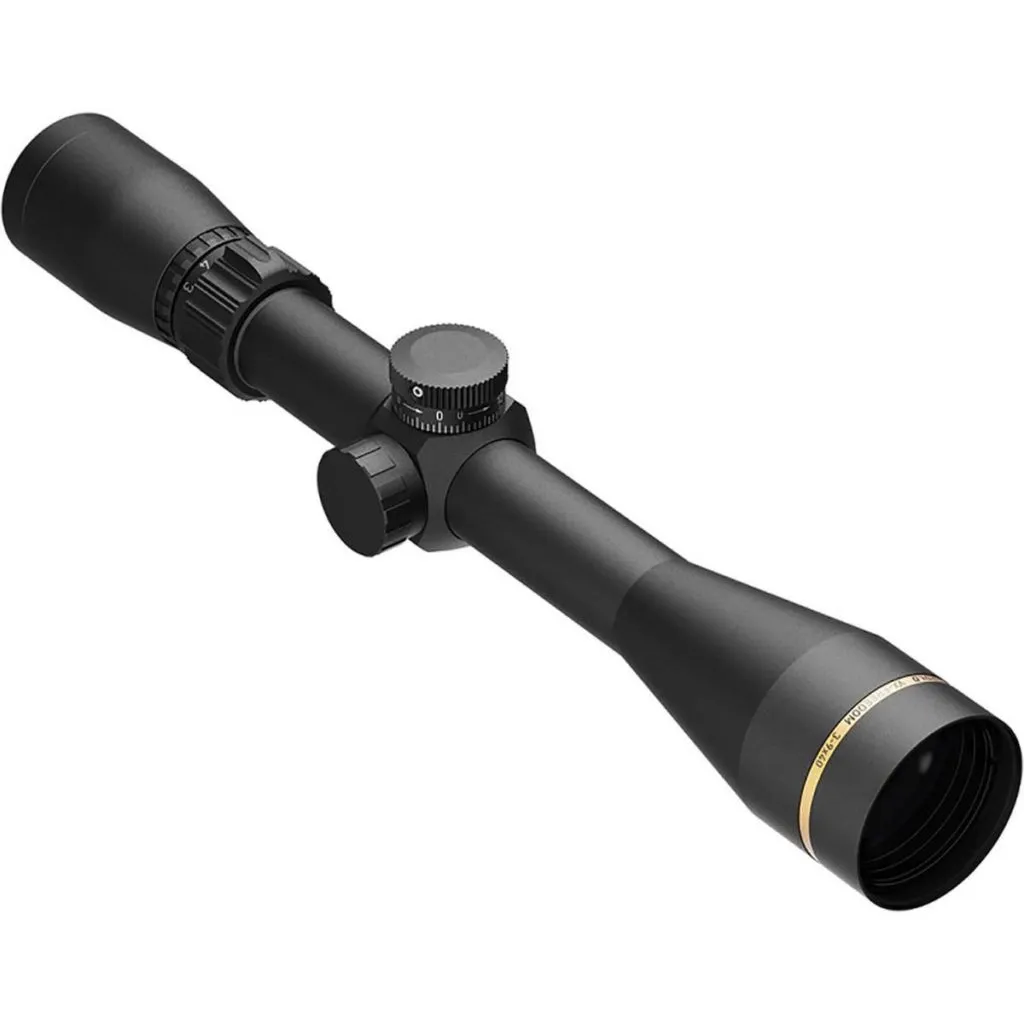 Specifications:
| | |
| --- | --- |
| Magnification | 3-9x |
| Reticle | Tri-MOA |
| Field of view (at 100 yards) | 33.1 to 13.6 feet |
| Click value | ¼ MOA |
| Weight | 12.2 ounces |
Pros
Leupold quality scope
Scratch-resistant surface
Perfect for long-range hunting
Highly durable and lightweight
Two reticles to choose from
Cons
Not ideal for close-range AR-15 rifles
Non-locking nor zero-reset turrets
Invented in 1962 and still going strong, the Leupold 3-9x40mm VX-Freedom is often seen as one of the most recommended Leupold optics for hunting.
The Leupold-quality, crystal clear glass with a scratch-resistant surface offers excellent visibility whether it's rain or shine. There are two reticle options that can either be a duplex reticle or a pig reticle. These reticles are perfect for mid- to long-distance hunting.
This Leupold scope is a specialized second focal plane model inspired by Leupold's VX-1 scope, which has a 1-inch aircraft-grade, nitrogen-purged aluminum tube.
It's O-ring sealed, making it waterproof, fogproof, shockproof, and offers recoil resistance for deer-hunting calibers such as the 30-06, for example.
What makes it stand out is its Leupold Twilight Management System that allows hunters to retain their brightness levels and undergo longer sessions when night falls at low-light conditions. This hi-tech lens coating can also reduce glare.
The windage and elevation ¼ MOA click adjustments feel very crisp, and though the turrets can't be locked and don't offer zero reset, they're capped for your convenience.
It's rare to see such high quality in variable scopes for a low price. I say snag this Leupold if you're looking for a lightweight scope that offers more magnification for longer ranges. The Leupold VX-3 is also worthy of checking out if you're up for short-range scopes.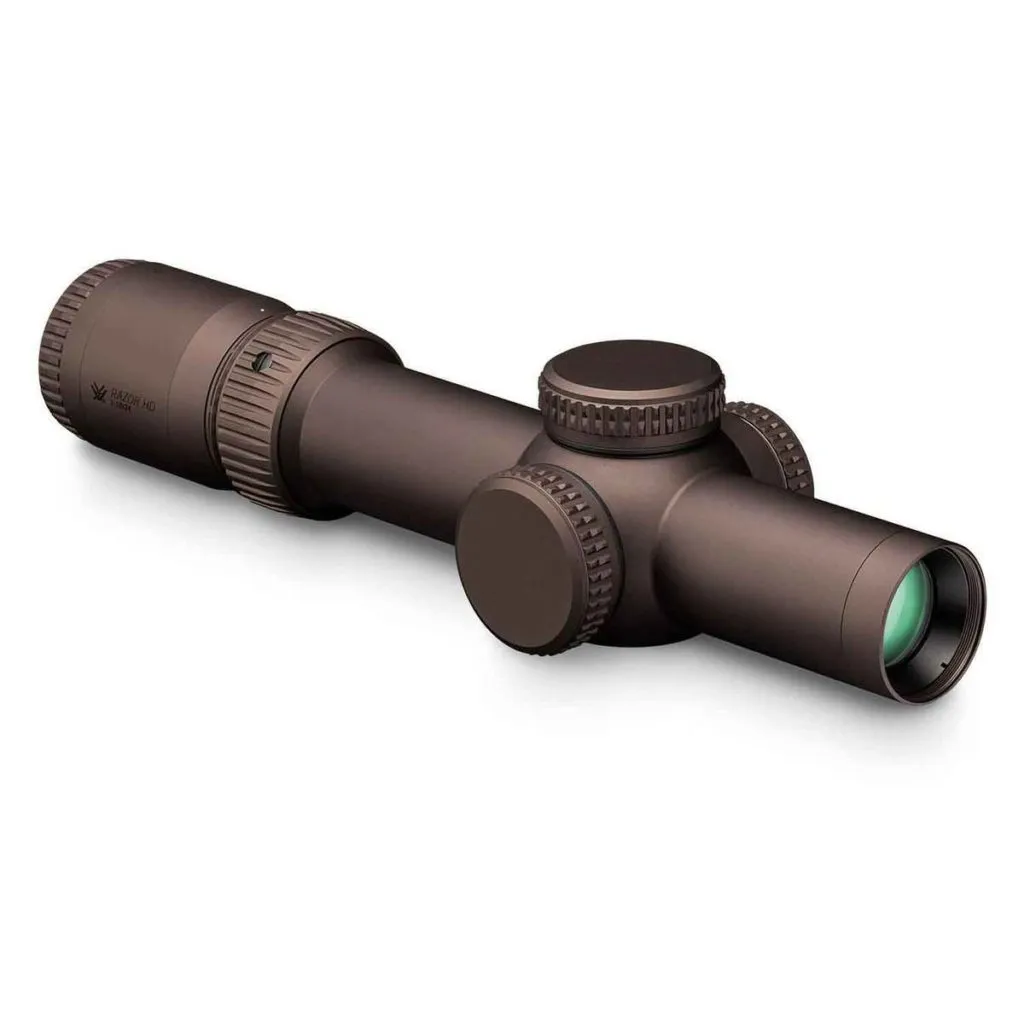 Specifications:
| | |
| --- | --- |
| Magnification | 1-10x |
| Reticle | EBR-9 MOA illuminated reticle |
| Field of view (at 100 yards) | 116-11.7 feet |
| Click value | ¼ MOA |
| Weight | 21.5 ounces |
Pros
Competition-grade, crystal clear glass
Unmatched durability and longevity
Well-illuminated EBR-9 MOA reticle
Tactile and crisp adjustments
Highly flexible 1-10x magnification for short, medium, and long-distance shooting
Cons
Very expensive
Has no locking turrets
The Vortex Razor HD Gen III is an absolute step-up from the Gen II, and it's probably the best low-power optic with a variable magnification that can push the limits of your AR-15 rifle. This is the ultimate "buy once, use forever" choice, and it's only for serious contenders.
The first focal plane 1-10x variable magnification power is unique to the Razor HD Gen III rifle scope. You usually see scopes with 1-6x/8x or 2-10x magnification levels.
It's an insanely powerful scope, and it has one of the most flexible magnification options that give you full control for short, medium, and long-distance shooting. Even the brightness levels go up to 11.
The multi-coated glass is crystal clear and competition-grade, which gives you a sharp resolution, chromatic clarity, anti-reflective properties, and superb light transmission.
As for the reticle, it's an illuminated, glass-etched EBR-9 MOA perfectly visible for close-quarter combat, long-distance shooting, and really quick target acquisition from 300 to 600 yards.
Compared to the other Vortex Optics scopes I mentioned, like the Strike Eagle and the Viper PST, the Razor HD is a clear winner with a wider field of view, big eye box, solid brightness, and crisp clarity, but at a high price.
Given the pocket-burning cost, what you get with the Vortex Razor HD Gen III is sheer high-end performance for an AR-platform optic.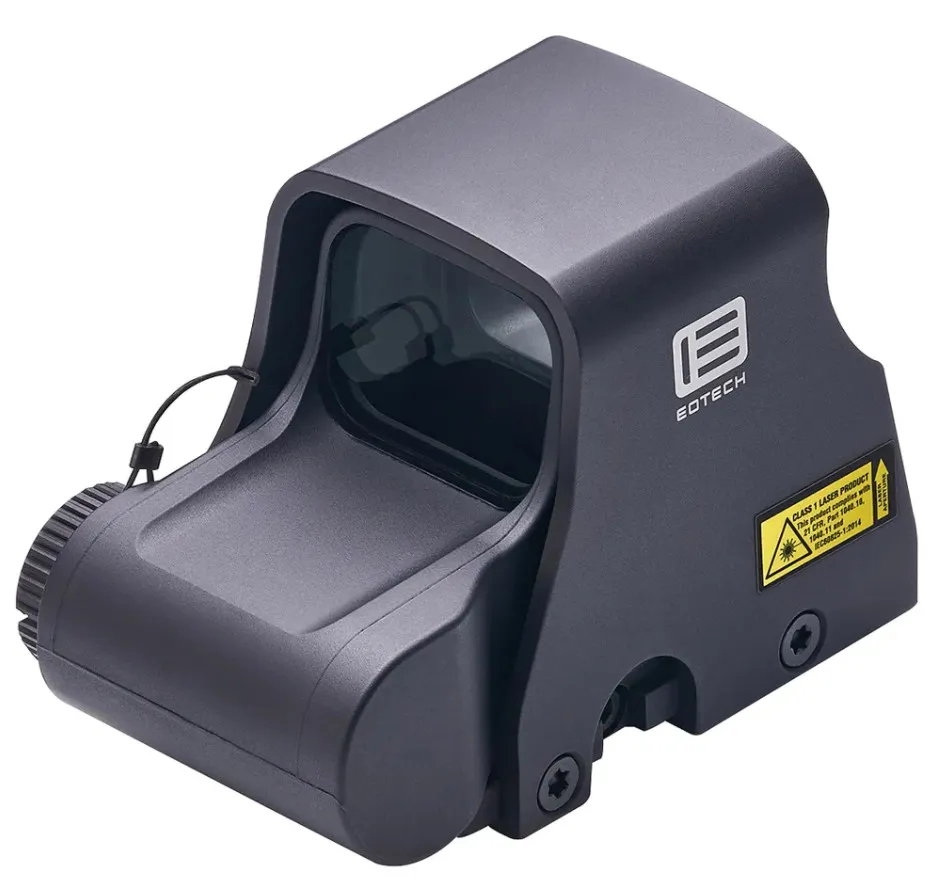 Specifications:
| | |
| --- | --- |
| Magnification | 1x |
| Reticle | 68 MOA ring; 1 MOA dot |
| Field of view (at 100 yards) | Unlimited |
| Battery | CR123A |
| Weight | 8 ounces |
Pros
Durable and lightweight
Compatible with night vision
Crystal clear reticle that's great for people with astigmatism
High brightness levels
Cons
Battery-hungry
Large profile
There's no bullet-drop compensator on some models
I know that this isn't a scope, but it's definitely worthy of a mention. Besides, I haven't mentioned a lot of short-range optics for your AR-15.
One of the best holographic sights money can buy, the EOTech EXPS3 Holographic Weapon Sight is a very user-friendly AR-15 optic that's perfectly designed for short-range applications.
The EXPS3 has a very durable and lightweight construction that's built to be as tough as they come. It has a wide aperture for enhanced visual convenience, and the famous "donut of death" 68 MOA reticle is straightforward and pretty intuitive.
It simply offers pinpoint precision which allows you to differentiate your point of aim and your point of impact on your targets around the 100-yard range. You can mount it on your M1913 Picatinny rail.
The controls and brightness settings can be manipulated by both rookies and veterans. The brightness levels even surpass daylight in the desert sands which gives you a crisp and clear sight for hunting coyotes.
The knobs cover night vision mode, windage, and elevation, and the reticle is also great for people with astigmatism.
Although the EOTech EXPS3 is on the larger side, has no bullet-drop compensator, and it doesn't last as long as red dot sights, it's a very durable and easy-to-use holographic sight.
For more information, check out our EOTech EXPS3 review.
AR-15 Rifle Scopes – A Complete Buyer's Guide
When browsing for a suitable scope for your AR-15 rifle, you must first ask yourself why exactly you need a scope for an AR-15 rifle instead of a holographic sight or a red dot sight.
The majority of hunters rely on scopes because of obvious reasons.
That said, scopes do find their way into the hands of competitive shooters, target range junkies, and concerned folk who have a varmint problem on their property.
There are lots of great scope brands that offer countless scope models with various features, reticles, and magnification levels. But, you should keep in mind standard stuff like:
Whether the glass is multi-coated;
Offers high-quality illumination and anti-glare properties;
Making sure the weight doesn't throw off your aim;
And whether it's O-ring sealed, fogproof, waterproof, and shockproof.
Sure, most scopes are aircraft-grade aluminum construction pieces for stability and durability, but you need to make sure you check both your good and bad reviews.
Bonus points if the brand offers a warranty, but most importantly, make sure the scope is compatible with your rifle's rail.
Other than that, here are the most important considerations when choosing your rifle scope.
Magnification
Let me say that the best scopes for AR-15 rifles are only those that suit your rifle's effective range.
Since you picked rifle scopes over red dot sights or iron sights, I'm guessing you're willing to shoot farther than 150 yards or maybe reach both the 50-yard and the 500-yard range, right?
Most high-end scopes have a very flexible and variable magnification power that lets you quickly switch the settings.
Higher magnification means a smaller field of view and slower target acquisition when hunting, so you're better off with a 1-6x magnification scope.
The AR-15 rifle is made for ranges from 50 and up to 600 yards. Heck, even 800 yards if you're a skilled marksman with the .223/5.56 caliber. You don't need extra magnification to reach longer ranges because the AR-15 rifle can only reach as far.
I'm convinced that most people only need 1x red dot or holographic sights to shoot around the 50-meter range, and a scope with a 1-4x magnification level is more than enough for most folks looking to shoot around the 150-yard range.
If you want easy switching between 1x and 30x magnification, you'll have to pay a truckload of cash for it.
Reticles
There are many reticles on the scope models to choose from. You need to understand that using a dot or a mil-dot crosshair that uses milliradians instead of MOA won't magically improve your aim.
The reticles are here to give you that much-needed insight for yardage, target leading, and to show you how low the bullet would drop at a specific range, also known as a BDC (bullet drop compensator) reticle system.
The reticle of your choice entirely depends on your preference. But, the most popular ones are:
Illuminated reticles, which use batteries to brighten your reticles for low-light conditions.
Duplex reticles, which are very common and use a regular crosshair for convenient range calculation, and target acquisition.
Mil-Dot reticles, which are similar to the Duplex, only they have rings for various ranges and vertical distance calculators. Additionally, most Duplex reticles have a horizontal mark as well, and this is very useful for moving target leading.
BDC reticles, which have markings for even longer distances up to 600 yards, and they have markings indicating the bullet drop rate at longer ranges.
As for the difference between FFP and SFP scopes, here it is.
An FFP scope has a reticle that's zoomed with the image. What this means is that if you change the magnification zoom, the reticle fits accordingly. This offers you that much-needed precision.
If you zoom the magnification on an SFP, the reticle stays the same, but it enables you to zoom even further. Most scopes have varying magnification levels, but there are also fixed scopes without magnification.
Focus, Parallax, and Other Adjustments
Ever heard of parallax?
It's how the image of the sight changes as you move your head and look at the scope from a different angle, and the crosshairs move a little. This is parallax, and it occurs when you don't align your focal plane.
Many scopes come with all kinds of windage, elevation, and turrets for focus adjustments. I suggest you look for scopes that have parallax adjustments, focus adjustments, and ½ or ¼ MOA click adjustments.
The focus adjustment turret is important if you want to tune the crispness of the image, especially if you have poor eyesight. But, I believe that parallax adjustment is very important.
You must have your focal plane adjusted at all times so that the parallax can be aligned.
Eye Relief
Eye relief is the distance between your eye and the scope's ocular edge while you have a clear image. You've noticed the 3.5-inch mark for eye relief. Well, this is a standard for AR-15 scopes.
However, there are scopes that have barely an inch of eye relief. Avoid these like the plague, especially if the weapon has high recoil.
Most high-end scopes with a 6-inch eye relief are regarded as "long eye relief" scopes. So, you can use this as a measuring tool.
I say, stick to 3.5-inch eye relief scopes, and you won't have a black eye.
Conclusion
To sum up this AR-15 scope business, I seriously can't recommend the Vortex Strike Eagle 1-6x24mm BDC3 enough. It doesn't matter if you're looking for a competition piece, self-defense and property protection, varmint shooting, or just good, clean target practice fun.
I'm certain that anyone can make good use of it. Anything higher is just 3-gun competitor stuff, but that's just me.
Other great options are Bushnell AR Optics 1-4x24mm Illuminated BTR-1, or the Vortex Razor HD Gen III if you're serious about spending that much money.
There's always the prospect of going for fantastic red dot sights options like the AimPoint PRO, Bushnell Trophy TRS-25, SIG Sauer Romeo5, or if you're not sick and tired of Vortex Optics, a Vortex Sparc AR.
You can't go wrong with red dot sights for your AR-15 if you're looking for close-range pieces; just keep in mind that they're not as durable, weatherproof, and adjustable as regular scopes.
Serious gunmen like deer hunters need a scope with the proper features in order to make their rifles sing. Remember that an optic isn't here to enhance your skills, but it merely emphasizes it.
I mean, I've seen psychos that rack up sub-MOA groups with iron sights just for the hell of it.
I can understand why scope browsing is difficult and tedious when you have so many options to choose from. Then again, there's always the hanging prospect of buying two scopes.
Who's going to stop you?
Stay safe, shoot straight.
Explore more