5 Best Scout Rifles To Buy In 2023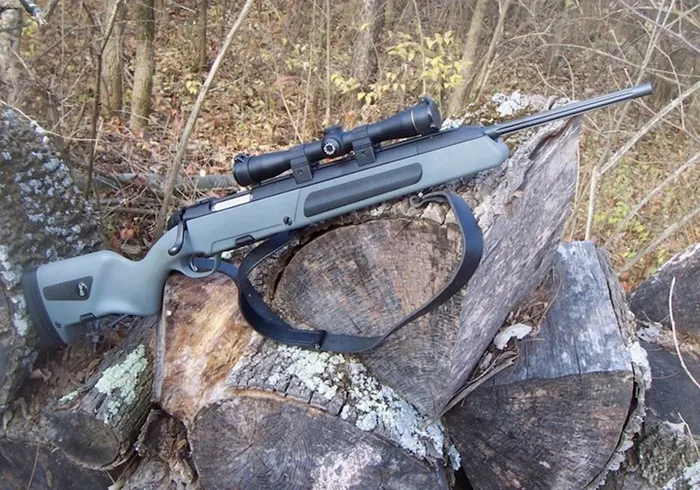 5 Best Scout Rifles To Buy In 2023
Introduction
Scout rifles are a style of rifle that was created, in concept, by Jeff Cooper. Cooper, a Lt. Colonel in the US Marine Corps, wanted "a short, light, handy, versatile, utility rifle." Cooper set out a list of requirements for the rifle to achieve this end.
Dubbing the rifle that would meet his requirements of a "Scout Rifle," Cooper's rifle needed to have iron sights and be chambered in .308 Winchester. The .308 Winchester requirement is not hard and fast in the 2020s, but it is a good guiding principle, as it's a prolific cartridge used around the world.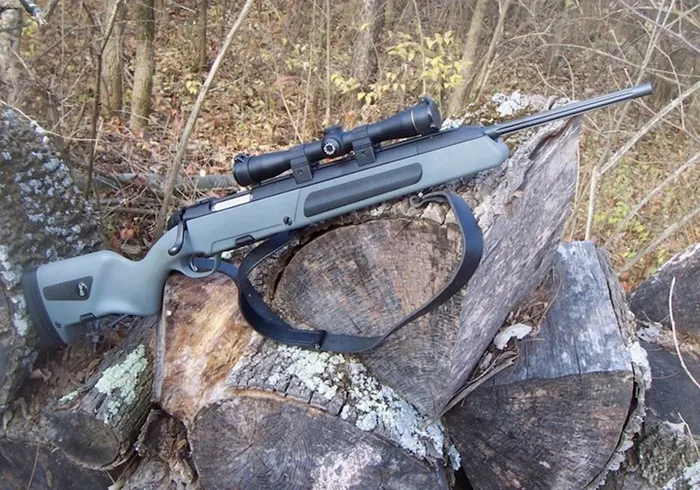 His scout rifle also needed to have a long eye relief, forward-mounted optic. The mounting location was important as it allowed the action to be free of obstructions.
The rifle needed to be compact and lightweight. To achieve this, the rifle barrel would be between 16 and 20 inches long with a total overall length of no more than 39 inches. Overall weight should not exceed 8 pounds and be ideally less than 6.5 pounds.
These requirements created a rifle category where the user can reasonably expect to be able to hunt the majority of game and use the rifle for self-defense. The scout rifle provides portable, practical firepower when needed.
Best Scout Rifles
Specifications
| | |
| --- | --- |
| Caliber | .308 Winchester, .223 Remington, and others |
| Capacity | 5 or 10 rounds |
| Weight | 6.6 pounds |
| Barrel Length | 19 inches |
| Overall Length | 38.6 inches |
| Action | Bolt Action |
Pros & Cons
Pros
Jeff Cooper helped to design this rifle – the original

Lightweight at 6.6 pounds

Integrated bipod saves money and reduces the overall size

Three-lock safety configuration

Integrated spare magazine
Manufactured by Steyr in Austria, the Steyr Scout is the only rifle on this list that the father of the scout rifle concept, Jeff Cooper, helped design. As the original "Scout rifle," Steyr can claim that everyone else is copying what Steyr did first, and every other rifle is simply a hollow imitation.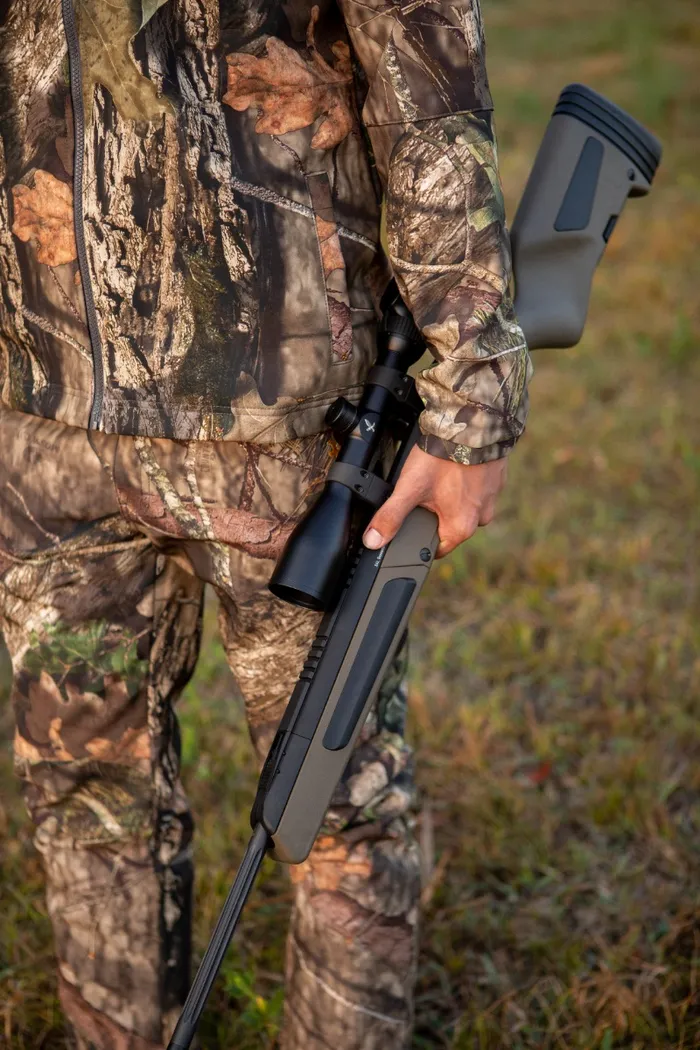 The Steyr Scout meets Colonel Cooper's specifications very well. It is lightweight with a thin, easy-to-point barrel. The short overall length and adjustable length of pull help the rifle fit shooters of all sizes.
It also has an integrated, folding bipod. This is a nifty feature that helps to keep the rifle's footprint and weight down, while at the same time maintaining the rifle's functionality.
The weight savings for the rifle does mean that the barrel profile is not ideal for varmint hunting, lots of target shooting, or rapid fire. The barrel is just too thin. In addition, the price of the rifle is not insignificant either.
However, these negatives are not so significant as to knock the Steyr Scout from our list of best scout rifles.
Jeff Cooper's list of attributes for a scout rifle is clear, and the Steyr Scout meets those requirements. If you are looking for a classic scout rifle, look no further than the Steyr Scout. It is money well spent.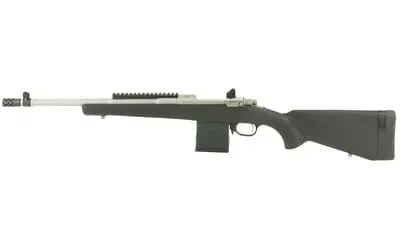 Specifications
| | |
| --- | --- |
| Caliber | .308 Winchester |
| Capacity | Ten rounds |
| Weight | 7.1 pounds |
| Barrel Length | 16.1 inches |
| Overall Length | 37-38.5 inches |
| Action | Bolt Action |
Pros & Cons
Pros
Suppressor ready

Adjustable sights and buttpad

Handles well
Cons
Heavy

Shorter barrel length than some prefer
Ruger introduced its scout rifle in 2011. Ruger's foray into scout rifles marked one of the earliest American-built, purpose-made scout rifles named the Gunsite Scout.

Ruger has worked to mitigate the recoil of the rifle's .308 Winchester chambering by equipping the Scout Rifle with a high-quality muzzle break and a recoil pad. Together these make a noticeable difference in taming the rifle's felt recoil.
A couple of gripes that some might have with the Ruger Scout Rifle are the placement of the safety and the magazine. The safety is less intuitive than other scout rifles, and the magazine is a longer, single-stack design.
Both issues are more ergonomic complaints than functionality issues and are admittedly nit-picky.
Overall, the Ruger Scout Rifle is exactly what you would expect from a quality Ruger rifle and a quality Scout rifle. The rifle is accurate, reliable, and handles well. If you want a solid, if unspectacular, scout rifle, check out the Ruger Scout Rifle.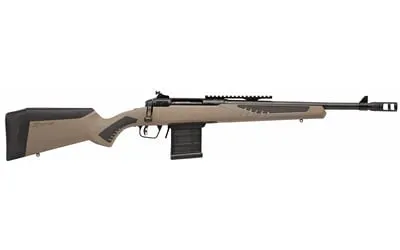 Specifications
| | |
| --- | --- |
| Caliber | .308 Winchester, .223 Remington |
| Capacity | 5 or 10 rounds |
| Weight | 7.72 pounds |
| Barrel Length | 16.5 inches |
| Overall Length | 38.5 inches |
| Action | Bolt Action |
Pros & Cons
Pros
AccuFit system's comb and length of pull adjustments

AccuTrigger is one of the best stock triggers on the market

Affordable

Compact size makes the rifle very handy

Smooth action
The Savage 110 Scout is one of the best scout rifles on the market. The features that Savage has packed into this rifle would lead you to think that it is one of the more expensive options available. The reality is different, though.
The Savage 110 Scout is one of the more affordable scout rifles on the market. The price gets the 110 Scout's foot in the door, while its features keep it there.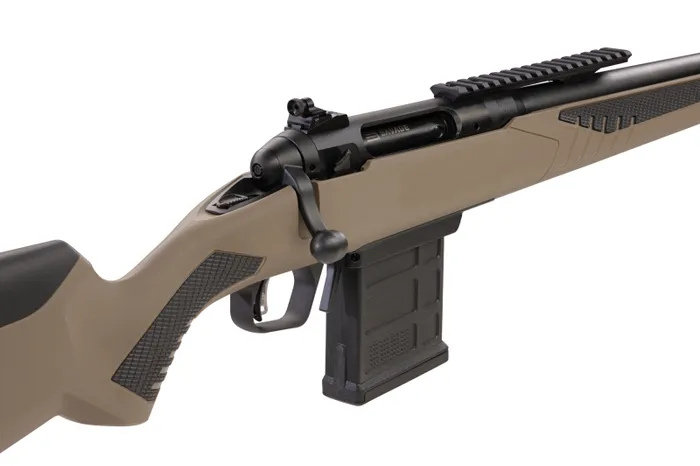 The AccuFit system on the Savage Scout 110 is one of the rifle's best features. The ability to adjust the length of pull and the comb makes the 110 Scout a rifle that can fit almost all shooters well.
The AccuTrigger is one of the best stock triggers on the market. It offers a clean, crisp pull and is user adjustable for pull weight.
Both of these features make the Savage 110 Scout a very accurate rifle.
One area where the Savage 110 Scout could be improved is the rifle's weight. With the weight approaching 8 pounds, the rifle is not ideal for a scout-style rifle. This is a minor complaint in the grand scheme of things and something most shooters can get past.
Overall, the Savage 110 Scout is one of the better scout rifles available. Combine the great features of the rifle with a price point that is more affordable than several of the rifles on this list, and you are looking at a rifle worth buying.

Specifications
| | |
| --- | --- |
| Caliber | .308 Winchester |
| Capacity | 5 or 10 rounds, uses AR-style magazines |
| Weight | 7 pounds |
| Barrel Length | 16.25 inches |
| Overall Length | 37.5 inches |
| Action | Bolt Action |
Pros & Cons
Pros
Affordable

Compact size makes it a very handy rifle

Rugged, capable of being used in real-world situations

Uses common magazine types
Cons
Stock is basic

Smaller aftermarket
Mossberg is a company known for its shotguns. They are workman-style firearms and not safe queens, and the Mossberg MVP Scout follows this tradition.
This is not a rifle you will buy and keep in your safe, only to take it out once a year to show off. The MVP Scout is a rifle to take out and use.

The MVP Scout is an optic-ready rifle with one of the longest Picatinny rails of any rifles on this list. This allows the shooter to shift the location of their optic to best suit their preferences.
It comes with a muzzle break which helps to tame the rifle's recoil. Adding a suppressor is also a great way to improve the rifle and make it friendlier for newer shooters.
Another feature of the MVP Scout that helps to set it apart is the types of magazines it uses. It uses AR-style magazines, which allow you to choose a magazine with a capacity that meets your needs.
The Mossberg MVP Scout is a solid, affordable scout rifle that will meet most shooters' needs without breaking the bank.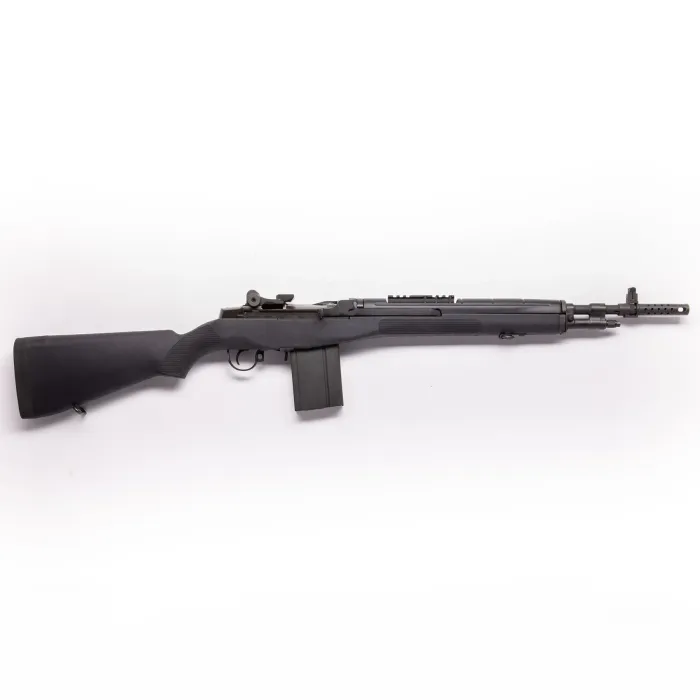 Specifications
| | |
| --- | --- |
| Caliber | .308 Winchester |
| Capacity | Ten rounds |
| Weight | 9.3 pounds |
| Barrel Length | 18 inches |
| Overall Length | 40.33 inches |
| Action | Semi-automatic |
Pros & Cons
Pros
Accurate

Versatile and capable of filling multiple roles

Semi-automatic

Well built

Classic M-14 look and style
Cons
Heavy at over 9 pounds

Pricey
The Springfield Armory M1A Scout is a striking rifle. The modern version of the classic M14 and the grandchild of the best battle rifle of World War 2, the M1 Garand, the M1A is something every gun enthusiast should shoot at least once in their life if not outright own. The M1A Scout is Springfield Armory's modern take on this classic rifle.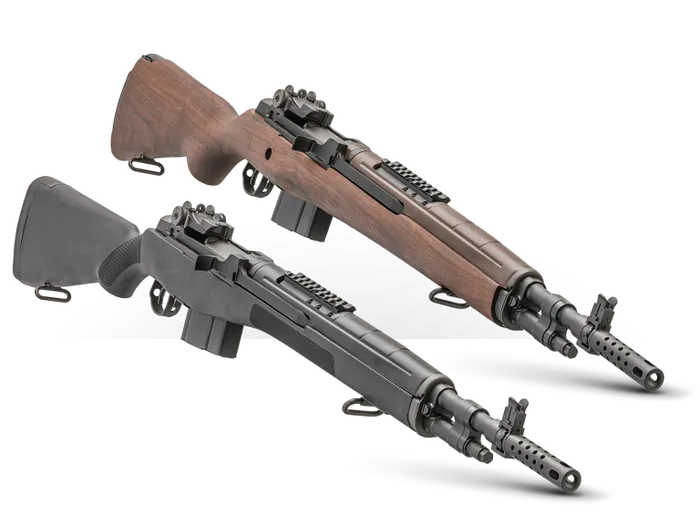 The M1A is different from every other rifle on this list because it is semi-automatic. When Jeff Cooper was conceptualizing the scout rifle, he was asked if he would consider a semi-automatic rifle. Lt. Colonel Cooper was okay with the idea as long as the semi-automatic was reliable and rugged enough; the M1A Scout is both.
The M1A Scout has a 2-stage trigger for target shooting/hunting and self-defense. Combine the quality trigger with the quality iron sights and Picatinny rail, and you have a recipe for an accurate rifle.
However, there are some drawbacks to the Springfield Armory M1A Scout compared to other scout rifles. First, the M1A Scout is more expensive, with a starting MSRP of $1,942. Second, the 18-inch barrel is not optimized for the action and cartridge. Third, the rifle is heavy at over nine pounds.
All of these together do not equal a lousy rifle; it just means the shooter has to be sure of their needs.
If you are in the market for a scout rifle and want something semi-automatic or just really cool, give the Springfield Armory M1A Scout a look.
How We Chose Our Top Picks
When selecting the best scout rifles, we focused on Jeff Cooper's requirements for a scout rifle. If a rifle met those requirements, it could make our list. After those requirements, we examined a combination of factors, including price and manufacturer support.
Ultimately, this list, like almost any list, is subjective. The rifles on this list all stood out for one reason or another, and there are plenty of other rifles available that could have made this list. Before you buy a rifle, we always suggest you get your hands on the rifle and see how it feels and, if possible, shoot it.
Buyer's Guide
Why Choose a Scout Rifle?
The "scout rifle," as envisioned by Jeff Cooper, would be a rifle that could be used for hunting and defense. This versatility makes scout rifles a solid choice for new gun owners and enthusiasts.
The scout rifle is right up your alley if you're in the market for an easily transportable, general-purpose firearm.
Tips for Selecting a Rifle
If you've decided you want a scout rifle, knowing what to look for is essential. Use the criteria set out by Lt. Colonel Cooper. Look for the following:
Less than 40 inches overall length
Keeping the rifle's length down makes it less cumbersome and less likely to get caught on items in the environment.
No more than 7 pounds
The ideal weight of a good scout rifle would be about seven pounds or less. Scout rifles are meant to be lugged around for long distances without overly burdening the user.
Reliable and durable
Scout rifles are meant to be used. Hard use tests a rifle, and it will fail if it isn't up to the task. You need to make sure whatever rifle you select won't fail when you need it most.
An effective cartridge
.308 Winchester is the cartridge that Jeff Cooper recommended. The past 30 years have seen ammunition technology grow by leaps and bounds, and another newer cartridge might be best for your individual usage.
For many, .308 Winchester is still the best choice. Do your research and select the correct cartridge for your needs.
Forward-mounted, Low-power Optic
A forward-mounted scope will not interfere with the rifle's action. Additionally, with a low-power optic mounted forward of the action, the shooter will be less likely to experience tunnel vision and have a better awareness of their surroundings.
One result of this arrangement is the better acquisition of targets, plus the ability to quickly take aim, shoot, and withdraw. This versatility is one of the main benefits of the scout rifle design.
Iron sights for when the optic fails
What can go wrong will. Preparing for that eventuality is the responsible action. Having backup iron sights was another essential part of the criteria for a scout rifle.
A quality trigger that isn't too heavy
A trigger under 4 pounds in pull weight will help the shooter be more accurate. This accuracy could be the difference between living and dying or, at the very least, harvesting a game animal or going home empty-handed.
Synthetic stock for durability and weight savings
While frequently not as beautiful as real wood stocks, a synthetic stock is not prone to the same failures as real wood furniture. For a rifle to meet the requirements of being a scout rifle, a synthetic stock is superior to the wood stocks of the past.
A smooth bolt-action operation
Initially, scout rifles were envisioned as bolt-action rifles. Semi-automatic rifles are not scout rifles if you're going by Col. Cooper's definition.
Scout rifles are meant to be taken into the field; bolt-action rifles have reduced complexity and required maintenance. This should result in a more durable and reliable rifle.
That being said when asked about a scout rifle using a semi-automatic action, Jeff Cooper was not opposed to it as long as the rifle was reliable.
A quick loop sling and a built-in bipod
Loop slings aren't only meant for ease of transport for a scout rifle; they're also intended to be used as a means of support. A loop sling and the optional bipod are meant to give the user stability while aiming and shooting the rifle.
FAQs
Why buy a scout rifle?
You buy a scout rifle if you want a rifle that is capable of fulfilling multiple roles. A scout rifle should be able to hunt and be used for self-defense. Scout rifles are versatile firearms.
Is a scout rifle a sniper rifle?
No. Both rifles are capable of shooting longer ranges, but they have different purposes and different design philosophies.
One way that scout and sniper rifles are different is the distance they are expected to be used. Scout rifles are optimized for use and distances of 500 yards or less. Sniper rifles are suited for distances much further than 500 yards.
What is the best cartridge for a scout rifle?
Based purely on the criteria set out by Colonel Cooper, the answer is .308 Winchester. As time marches on and new cartridges are developed, this answer might change. For now, though, the .308 Winchester is still a great cartridge, which most scout rifles are chambered in.
Last Words
If you are in the market for a scout rifle, there is no shortage of options available. The Steyr Scout is the original, straight from the mind of Jeff Cooper. If you want a classic scout rifle, the Steyr Scout is the place to start.
The Steyr Scout, though, does not have to be the place to end. Each of the rifles on this list has a place in your collection, whether because they are more affordable than the Steyr Scout or because a semi-automatic rifle like the M1A Scout suits your needs better.
Head to your favorite place that sells guns and check out the rifles on our list. Let us know which one you decide to go with in the comments below, and make sure you follow GunMade.com on Twitter and YouTube.
Explore more