Best Shooting Glasses & Buyer's Guide [2023]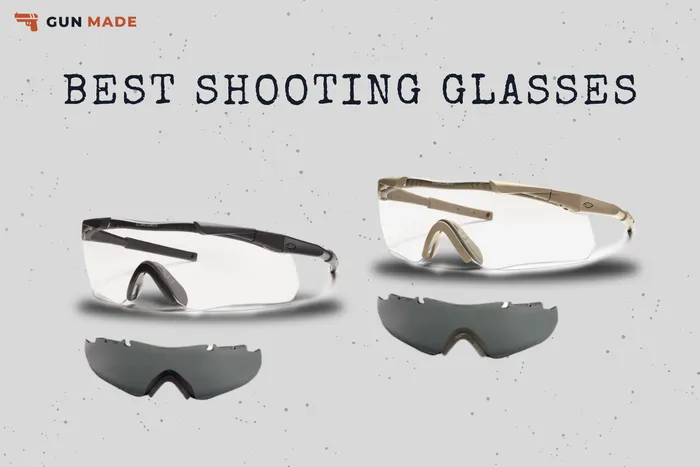 Best Shooting Glasses & Buyer's Guide [2023]
Safety should always be your number one priority when you are using a firearm. However, with the sheer quantity of products on the market, it can be tough to determine what's worth the price tag and what only looks safe. 
We tested six products and found the Smith Optics Arc II Shooting Glasses to be the best for affordability and overall functionality and protection.
There are a lot of factors to consider when buying shooting glasses such as visibility, comfort, price, and whether it meets safety requirements. Shooting glasses are specifically designed to protect your eyes from debris such as shrapnel and high-velocity impacts. There are three main different safety requirements set forth for shooting glasses: 
US Civilian: ANSI Z87.1
US Military: MIL-PRF-31013
European: EN166
There are other tests that exist, including the military V0 ballistics test. This test ensures glasses can withstand 5,56 mm projectiles fired at 592/612 kilometers per hour.
Not every kind may meet all requirements, however, the shooting glasses you'll want to look for should at least meet the civilian requirements.
Top 6 Pairs of Shooting Glasses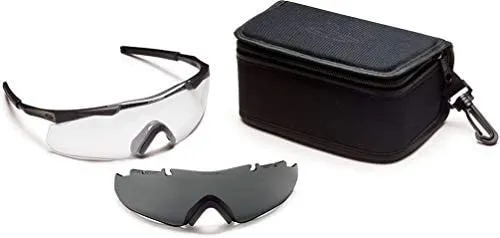 The Smith Optics Aegis Arc II shooting glasses offer comprehensive and complete protection. Their anti-fog and anti-scratch lenses comply with all three of the major safety requirements, and they are designed to offer clear and non-distorted vision. 
The Arc has a good scratch-resistant lens and protects the user from gun recoil as well. They come in two lens colors: clear and black. The Arc fits well and also comes with a headband to further secure the glasses in place. As a perk, they come in three varieties all for the same price: Aegis Arc II, Compact, and Asia size. 
Overall the Smith Optics glasses are a solid choice for anyone looking for comprehensive eye protection. The Arc varieties are not very comfortable with earmuffs. However, their Echo varieties tend to work better for that. The anti-fog coating tends to peel off quickly as well. 
Besides these drawbacks, the Smith Optics shooting glasses come at an affordable price from Amazon, and they offer more choices overall for the same price. If you want a breakdown and comparison between the Arc and Echo varieties, then be sure to check out this YouTube video.
Pros
Comprehensive protection
Complies with all three safety requirements
It comes in three different varieties for the same price
Cons
Anti-fog peels off
Arc variety does not work well with earmuffs
XAegis – Best for Affordability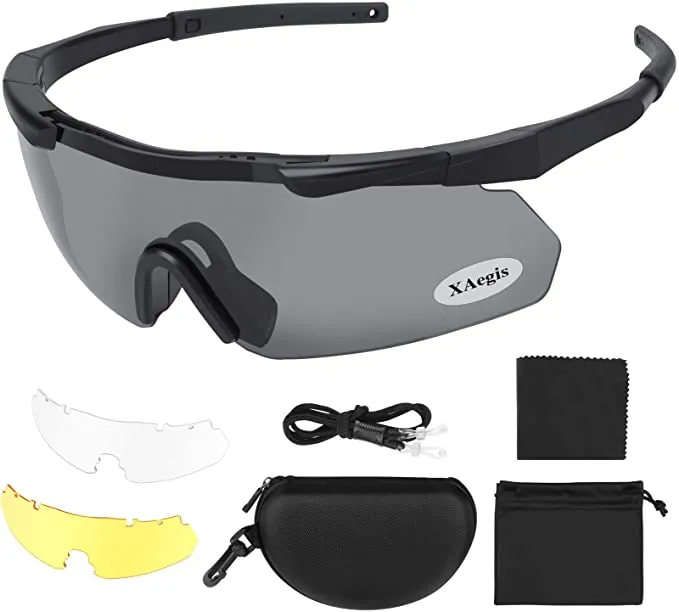 The XAegis Tactical Eyewear glasses come with three different lenses: dark gray, clear, and yellow. They're made from a polycarbonate material that's resistant to fog and also protects your eyes from UVA/UVB rays. 
The lens colors ensure that they work in any sort of light, and the glasses' unisex design makes them ideal for anyone. They are extremely comfortable, and each pair comes with a hardshell case when not in use. The nosepiece is adjustable and will fit snugly over your nose. The lenses are also easy to change. 
Overall the XAegis are affordable and meet the baseline requirements for shooting glasses. Despite their price, they're quality and give you good protection for the price. However, they have a tendency to be a little large in the forehead which presents a safety issue, and if they are used with earmuffs they press into your temple.
Otherwise, the XAegis Tactical Eyewear glasses fit the baseline safety glasses requirements. If you want a more detailed breakdown, then be sure to check out this YouTube video for further information.
Pros
Affordable
Several lens colors
Comfortable
Easy-to-change lenses
Cons
May not fit exactly
Cannot be used with earmuffs comfortably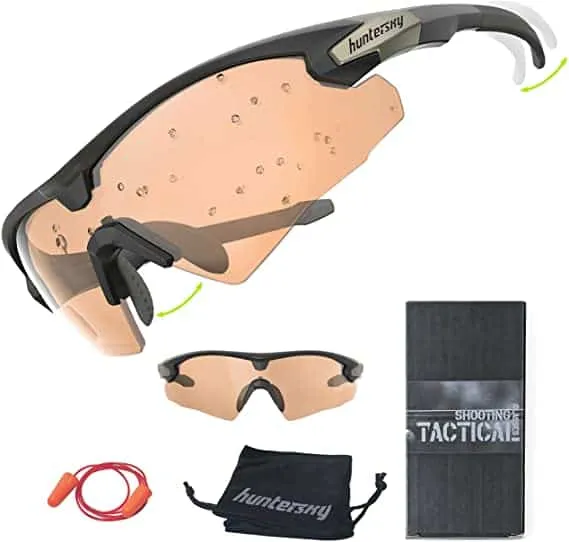 The HUNTERSKY Tactical Shooting Glasses are brown-lens military-grade shooting glasses that protect your eyes from shrapnel and gun powder spray while also offering UV and blue light protection. The brown tint of the glasses makes them suitable for both indoor and outdoor shooting. Each pair of glasses comes with a pouch and earplugs.
Overall the HUNTERSKY Tactical Shooting Glasses offer a step-up from the cheaper ones. They have a higher protection grade and the wrap-around design makes them extra secure. While there are other colors for the lens available, those colors are not currently anti-fog.
Pros
Affordable
Can be used in indoor and outdoor light
Earplugs come with each pair
Cons
Other shades of the lens are not anti-fog

The Wiley X Saber Advanced Shooting glasses are equipped with a shatterproof patented SeleniteTM polycarbonate lens that not only meets the military-grade safety requirement but also OSHA standards as well. 
The ones listed here come in a standard clear lens. However, other colors of lens, such as black and orange, can be purchased as a pack. As well as functioning as shooting glasses, they also work well during low-visibility conditions such as rain and snow. They also fit the face well and are comfortable to wear.
Overall the Wiley X Saber are excellent shooting glasses in terms of lens performance, comfort, and function. However, the price does increase to $72 if you want to buy an extra lens. Their lenses also are not anti-fog, which causes glasses to become foggy quickly.
Pros
Affordable
Meets military and OSHA requirements
Works in low-visibility weather
Cons
Lens is not anti-fog
Pricey if ordering more than one lens color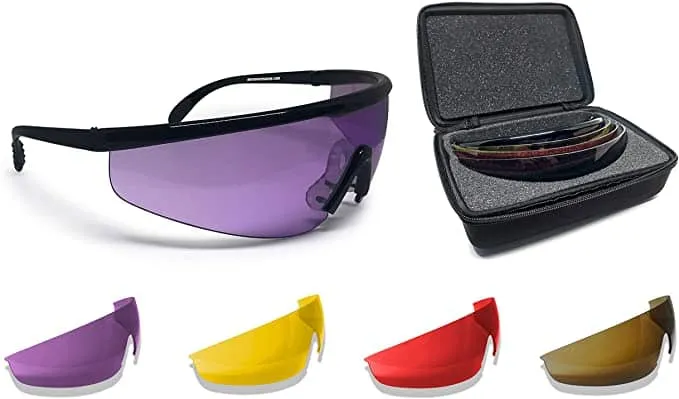 The Bertoni Tactical Shooting glasses can work with prescription glasses as well. They can be adjusted to fit over prescription glasses which is a huge advantage to these. They come with four different lens colors which can be used in a variety of conditions and are anti-fog. Each color corresponds to different conditions or the wearer's preference.
Overall the Bertoni Tactical Shooting Glasses are a great choice for someone looking for glasses to wear in conjunction with their prescription glasses. However, the lenses are somewhat difficult to remove and replace. If you want a breakdown of the glasses from Bertoni themselves, then you can check out this YouTube video.
Pros
Can be worn with prescription glasses
Several lens colors
Cons
Pricey
Difficult to remove and replace the lens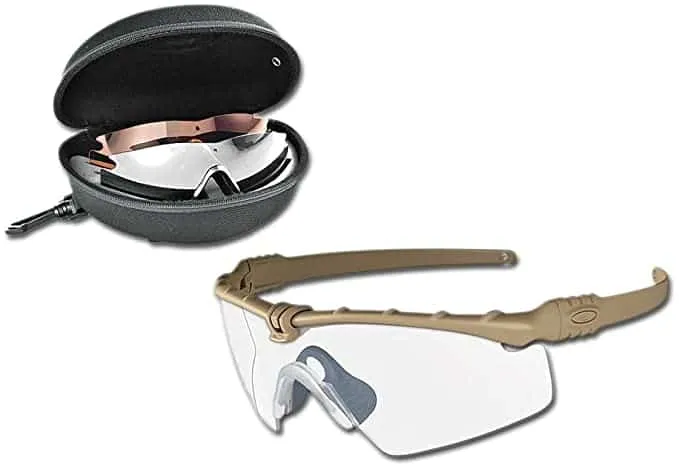 Definitely a little more pricey than the others, however, Oakley's SI Ballistic M-frame Shooting Glasses are military-grade and military-issued shooting glasses. Their lenses are equipped with anti-fog and a specialized gasket to further block wind and dust. Clear is the only color available for the lens. However, their Prizm line has gray and persimmon shades.
Overall the Oakley SI Ballistic glasses are glasses for the serious gunman. They're specially designed for military wear and tear and offer superb eye protection. However, they're on the pricey side. If you want to order them directly from Oakley's website, you also have to create a log-in. If you want Oakley's showcase and specs on their glasses, be sure to check out this YouTube video.
Pros
Military-grade
Comprehensive safety
Meets all three safety requirements
Extra dust protection
Cons
Pricey
Only one lens color
Buyer's Guide
How To Choose the Best Shooting Glasses
When buying shooting glasses, you should make sure to look for three main components: safety requirements, comfort, and optics specs.
Optics specs include things like how they perform in different kinds of lighting and weather conditions. Most quality shooting glasses should come with anti-fog and anti-scratch lens. Most military-grade shooting glasses have wind and dust protection as well.
It's important to consider your preferences and activities when buying shooting glasses.
Shooting Glasses vs. Safety Glasses
Safety glasses and shooting glasses are extremely similar in design, and upon first glance can't always be differentiated. However, each of these glasses complies with different safety standards. Shooting glasses, as mentioned before, comply with military and ballistics tests. Safety glasses, however, are tested more for durability rather than shrapnel or ballistics.
Safety glasses are used within companies with heavy machinery and industrial work where flying debris could be a hazard. Shooting glasses, however, are specially designed for high-velocity ballistics such as shrapnel and gunpowder residue.
Things To Look for When Buying
Optics specs:
Weather performance: this is important if you're planning on working outdoors in conditions with adverse weather conditions such as rain, snow, fog, or heavy sun.
Type of lens: Different glasses come with different lenses with different qualifications for each.
Anti-fog: This is a good must-have for all shooting glasses. Not all glasses have a nosepiece that prevents breath fog, so an anti-fog lens is a must.
Lens distortion: When out in the field, the last thing you want is a distortion of the target or landscape. Be sure to look for this when picking out glasses.
Clarity: Picture clarity is paramount for good performance, and a good place to start for clarity assurance is on YouTube where they try on the glasses and break them down according to different pros and cons. 
Light performance:  There is a vast difference between indoor and outdoor lighting. Even then the lighting changes depending on the time of day and visibility. Different colored lenses offer different types of visibility, so be sure to pay attention to that when buying.
UV protection: If you want your shooting glasses to double as sunglasses, then you'll want them to have UV protection. A lot of shooting glasses work as excellent sunglasses.
General specs:
Safety requirements: Depending on what you're using them for, good shooting glasses should at least meet the ANSI Z78.1 requirement. If you're planning on engaging in more heavy-duty activities then you'll want them to be military-grade.
Overall comfort: This is probably the top thing other than general safety requirements that you should look for. Because they're meant to be worn for long periods of time, then comfort is a priority. Reviews online can be super helpful when looking for comfort.
Glasses material: Most shooting glasses are made of plastic, however, some are made of metal. Material preference is mostly just personal comfort.
General reviews: Product reviews can be lifesavers. They're a way to try the glasses without actually purchasing them.
Conclusion
BY far the most bang for your buck overall were the Smith Optics Elite as they held up quite a bit of abuse while remaining affordable. Whatever product you choose, it's important to ensure that you are investing in a pair of glasses that will ensure both safety and clarity of sight. 
Explore more