The Best SBRs PLUS A Guide to SBR Ownership [2023]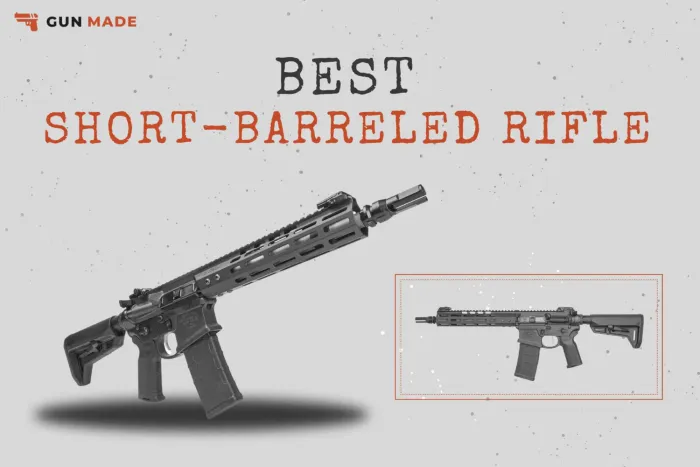 The Best SBRs PLUS A Guide to SBR Ownership [2023]
Introduction
If you're in the market for a short-barrel rifle, you may be thinking of building one or finding out which one is the best SBR on the market. It can be difficult to say which one is the best since most of the SBRs I shot were built, not bought.
Just a heads up.
Building an SBR is way more fun than buying one and having it sent to ATF jail along with $200 of your hard-earned dollars for a tax stamp.
Even if you build it, you still need to fill out an ATF Form 1, which can take a while. We recommend the e-filing method, which is way quicker than paper filing.
Anyhow, if you're here, you're looking for the best SBR you can buy. So, I'll give you my top picks.
Let's get to it.

Specifications
| | |
| --- | --- |
| Caliber | 5.56/.223 or 300BLK |
| Capacity | 30+1 |
| Weight | 7 Ibs |
| Length (Overall) | 26 Inches |
| Attachment platform | Picatinny and M-Lok |
Pros & Cons
Pros
Quality is top-tier

Not gassy like most short barrel rifles

Runs different types of ammo reliably
Cons
Of course, it is expensive

Sometimes can be hard to find

Trigger could be better
Noveske makes some of the best rifles I have ever had the pleasure of firing, and they thrive on making the most of a small barrel.
So, I had to go with their Gen 4 Shorty with the compact 10.5" barrel for the best high-end option.
The Gen 4 Shorty does not remind you that you are firing an SBR after every round. Where most SBRs can be gassier than the morning after Taco Bell, the Shorty is more of a fine-tuned guitar. Something that Eddie Van Halen would have used if he were an operator.
Everything about the rifle screams high quality, from the materials used in the construction and internals to the aesthetically pleasing lines where the handguard and upper interface are.
It is well-built, and there is no doubt about it.
The upper and lower are machined out of 7075 billeted aluminum, giving you the look and feel of a high-end supercar. Everything looks perfect, a sentiment of the saying "you get what you pay for."
Shooting the Shorty is a great experience. You know how shooting rifles with slimmer handguards heats up quickly and makes your hand feel like it's on a rotisserie?
Not the Shorty. It does get hot, but it dissipates quickly, and you're back in action.
In my opinion, the Noveske Gen 4 Shorty 10.5" is the best high-end SBR on the market.
Specifications
| | |
| --- | --- |
| Caliber | 5.56mm |
| Capacity | 30+1 |
| Weight | 5.71 Ibs |
| Length (Overall) | 26 ¾ Inches |
| Mounting system | Picatinny quad rail |
Pros & Cons
Pros
Trusted by Tier-1 Operators. 

High-quality at a lower cost

Can take whatever you throw at it
Cons
Pretty loud when unsuppressed, expected from an SBR. 

Gassy when suppressed

Heavier than most SBRs
If a weapon system is going to be used by special forces guys, it better be good. These SOCOM guys do not play when it comes to the quality of their equipment. It has to be the best.
Well, with the DDMk18, you get quality you can stake your life on. No matter what the conditions are.
The DDMk18 comes from one of the most well-known names in the firearms industry. Daniel Defense has built its name off of delivering high-quality firearms at a price tag that doesn't drain your bank account (entirely).
The Mk18 is no exception, but it is an exceptional rifle. I would suggest it to anyone getting started in the SBR game who wants high-quality components.
It is also great for anyone who wants a quad rail handguard on their SBR. This is something you don't see too often anymore since most manufacturers are moving towards M-Lok because it is more lightweight than the former.
Still, Picatinny is more reliable, just a bit heavier. If you're planning on running an IR system on your SBR, Picatinny is the way.
Some people say that the Mk18 is outdated. And that there are many rifles in the industry that outclass the well-versed SBR. I disagree.
If you want an SBR that will run hard and not give up on you when you need it most, the DD Mk18 is the one for you.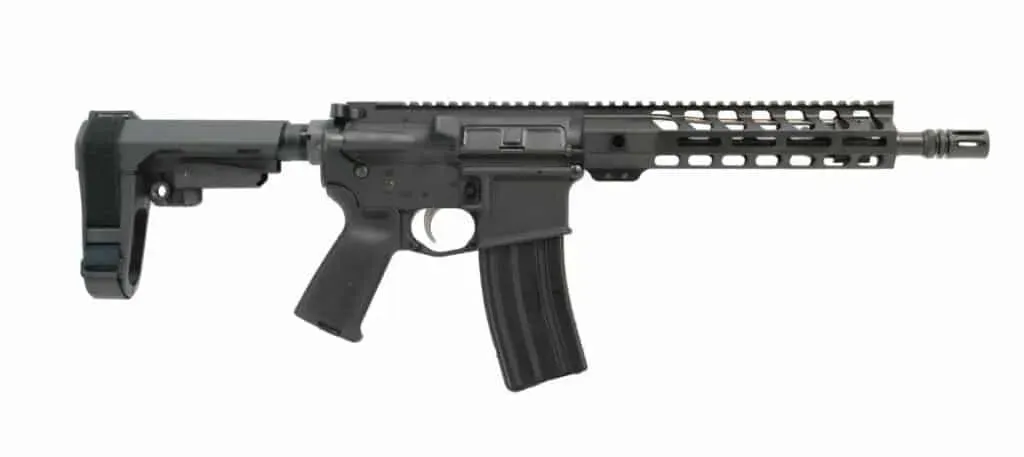 Specifications
| | |
| --- | --- |
| Caliber | 5.56 |
| Capacity | 30+1 |
| Weight | 6 pounds |
| Length (Overall) | 25.5 Inches |
| Mounting system | Picatinny and M-Lok |
Pros & Cons
Pros
Low cost

High-quality

Comes in two different ammo variations
Cons
Seldomly in stock

Mil-spec parts aren't the best

Upper and lower have a bit of rattle
Why are Palmetto State Armory firearms so inexpensive? It's not like they produce low-quality firearms. There are millions of proud PSA firearm owners in the country, and I've never heard anything bad about them.
Well, that's because PSA is one of the most 2nd Amendment supporting firearm businesses in the industry. And they want all of us to get our hands on a quality firearm to protect ourselves in ways the government cannot.
If anyone from PSA reads this, I love you. Carry on.
Although the PSA SBA3 may have a pistol brace on it, if you slap on a buttstock, you have yourself an SBR. And, since the ATF makes up its own laws, this firearm is now considered an SBR!
Imagine that.
Anyhow, do not let the low price tag confuse you. Palmetto just loves you and wants you to own a blaster. That does not mean that it isn't high quality.
It is machined from forged 7075-T6 aluminum, the barrel is chrome-moly steel (the chrome-moly lends itself to accuracy), and the bolt carrier is shot peened, ready to send rounds down range out of the box.
You can also find this SBR in a 300BLK variant, perfect for those who want to suppress their SBR and have some Hollywood-style quiet.  
There is no better budget option for an SBR. None that I have seen, anyway.
How We Chose our Top Picks
We chose these picks with quality being at the forefront of every thought. Since you have to pay $200 per NFA firearm or SBR, we want you to have something that will give you a good time and last a long time. No one-night stands here.
We didn't want anything unreliable. So any stoppages were taken into account, and too many stoppages would disqualify the weapon from the competition.
Price was taken into consideration, but not as much as quality. So, yes, the first two SBRs are a bit pricey. We don't want to give you the wrong suggestion and then see us in the grocery store and be mad.
When you buy something cheap, you'll spend more money trying to get it up to par than you would have if you just spent the extra money. Unless it's PSA, they got the goods.
Any of these firearms listed would be perfect for a first-time SBR owner.
SBR Buyer's Guide: What You Should Know
What is a Short Barrel Rifle?
Let's take a look at the National Firearms Act of 1934, where the NFA classifies an SBR as –
A shoulder-fired, rifled firearm made from a rifle with a barrel length of fewer than 16 inches or an overall length of fewer than 26 inches.
This includes pistols with a buttstock.
So, from the ATF's mouth, if the rifle has an overall length of fewer than 26 inches or a barrel length of fewer than 16 inches, it is considered an SBR.
As of Friday, January 13th, 2023, the ATF also ruled that AR Pistols are now considered SBRs.
How to Buy a Short Barrel Rifle
It's pretty similar to buying any other firearm, but there is a waiting period and a $200 tax stamp involved.
I would say that those two obstacles are the hardest part when it comes down to buying an SBR, cursing under your breath, or expressing your anger about tax stamps to your significant other while you enter your payment info.
I know, I know.
Anyway, if you are building your SBR, you have to fill out an ATF Form 1, which is an application for making and registering a firearm.
If you're buying a complete SBR, you will fill out an ATF Form 4, which is an application for paying your tax for transferring and registering your SBR.
Then you have to wait a while. If you own a firearm already, you're most likely going to be approved, and then you can take ownership of the firearm.
We also talked about this in our AR Pistol vs. SBR article.
States that Don't Allow SBRs
Here are the seven states that don't allow you to practice your constitutional rights:
New York
New Jersey
Rhode Island
Hawaii
Maryland
District of Columbia (unless you're a politician, of course)
California (duh)
Does anyone find it crazy how five of the seven states on this list were part of the original 13 colonies? Or is that just me?
Kind of ironic how the lands this country was founded on would later be no better than Benedict Arnold.
Short Barrel Rifle Laws
Laws for SBRs vary from state to state.
For the most part, since an SBR is considered a type two firearm by the ATF, you are permitted to own one so long as there are no local laws against ownership. You still have to get the tax stamp, though.
While you're scouring the web for SBRs, take a look at your state and local laws so you can make sure you aren't wasting your time and stay on the right side of the law.
FAQs
What is an SBR Tax Stamp?
Short answer: Another way for the government to take your hard-earned dollars.
Long answer: A tax stamp indicates that the NFA firearm in question has been bought legally.
Can I take my SBR out of state?
You can, but not legally. You must notify the ATF if you're crossing state lines with an SBR. It may be shaky, though, since where you're going may have different laws than where you're from.
Can I carry an SBR in my car?
Check with your local laws to be sure, but you should be able to. This isn't legal advice, though.
Conclusion
Well, that about does it for this round. While becoming an owner of an SBR may be a bit harder than buying a rifle, it is well worth it, especially if you buy it in 300BlK. Go ahead, shoot a subsonic round suppressed that will easily justify the price.
I hope you learned something new and are taking steps to own one yourself. If I left anything out that you want answers to, leave a comment below and let me know. I'm here for you, dear reader, now go forth and get your hands on an SBR.
Happy shooting!
Explore more