10 Best Short-Barreled Shotguns & Buyer's Guide [2023]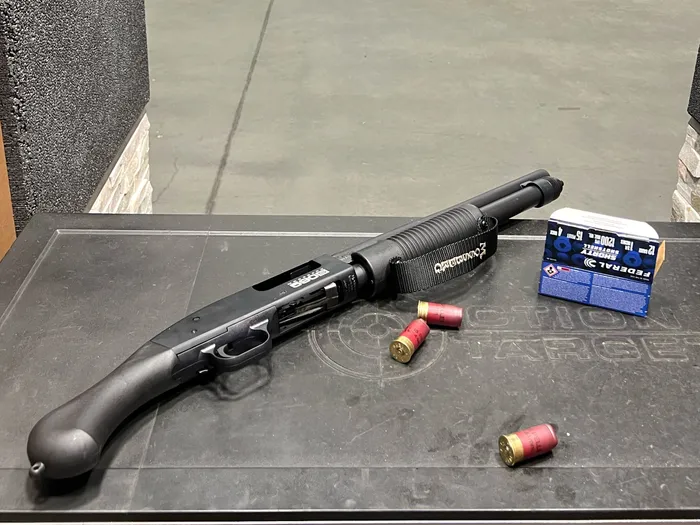 10 Best Short-Barreled Shotguns & Buyer's Guide [2023]
Introduction
There seems to be no shortage of short-barreled shotguns these days.
Sure, full-length semi-automatic shotguns have their merit in home and self-defense, but sometimes going for a more tactical approach means taking matters into our own hands.
We're talking short barrels and pistol grips.
Top-dog manufacturers like Mossberg, Remington, Benelli, and Charles Daly all dogpile the market with pistol-grip shotguns that cater to folks looking for a more tactical approach to home defense.
These shotgun manufacturers have even come up with all sorts of grip and barrel length designs just to outsmart federal regulations and give us some more variety.
Today, we'll take a look at the best short-barreled shotguns this year.
I made this extensive list of shotguns with a shorter barrel for home defense purposes. There are semi-automatic, pump-action, magazine-fed, and even bullpup shotguns that fall into the same category. For the sake of variety, we'll cover all kinds of barrel lengths, with the maximum NFA-approved length of 18.5 inches.
We'll talk about their use, compare their features, and discuss the important criteria when looking for a good short-barreled shotgun in the hopes that it'll help you choose one yourself.
Let's start with a favorite of the people.
10 Best Short-Barreled Shotguns

Specifications:
| | |
| --- | --- |
| Gauge and Action | 12-gauge pump-action |
| Magazine Capacity | 11+1 |
| Magazine Type | 2 3/4″ |
| Barrel Length | 15 inches |
| Overall Length | 27.5 inches |
| Overall Weight | 6.5 pounds |
| Stock, Grips, and Finish | Synthetic Shockwave raptor bird's head grip; Corn cob forend with strap |
Pros
Mossberg reliability
Effective at the 10-yard close-quarter range
Comfortable bird's head grip
Ambidextrous controls
Anti-jam elevator
11-round capacity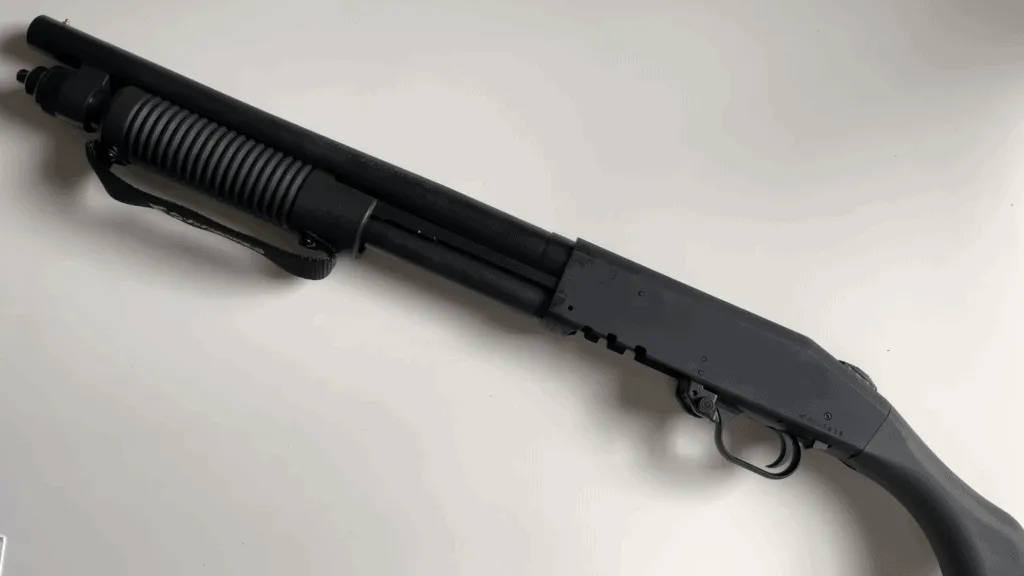 I'm convinced that the Mossberg Shockwave is an absolute shotgun standard because of its reliability. While the round capacity is decent, you can never go wrong with a little bit more.
The Mossberg 590M is the mag-fed variation of close-quarter combat shotguns for protection.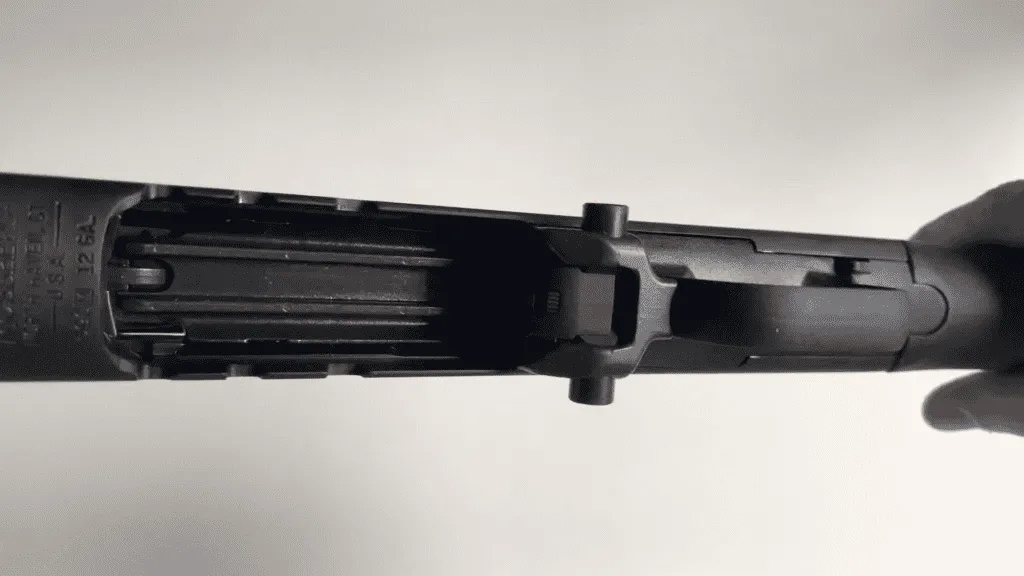 Instead of badly-made mag ports and overall shoddy construction mostly found in other mag-fed shotties, the 590M is made up to Mossberg standards of durability and strength.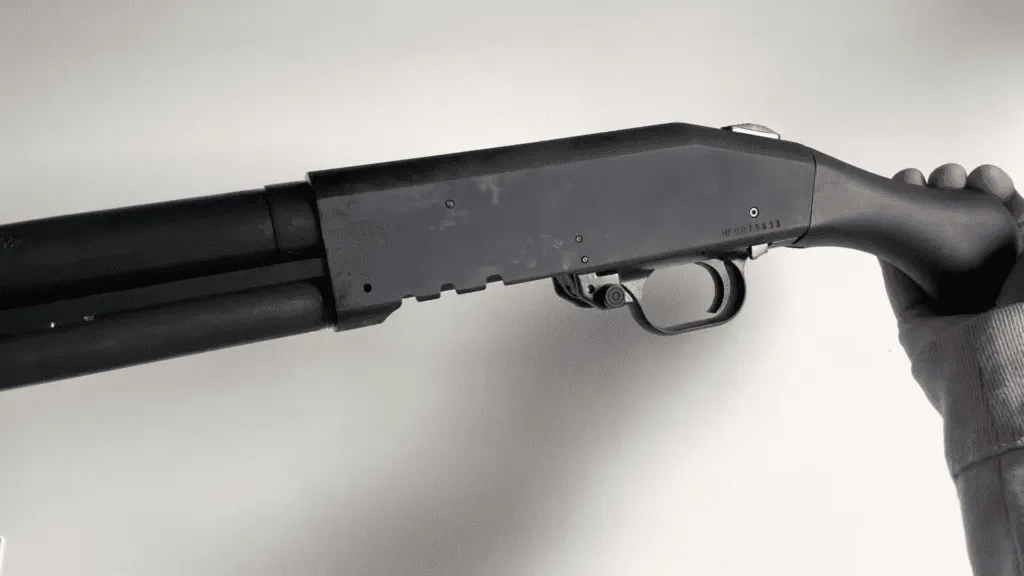 While the overall feel of the shotgun isn't supposed to be rifle-based, what the magazine-feeding niche offers is more rounds, faster reloading, and less time to scramble with shotshells.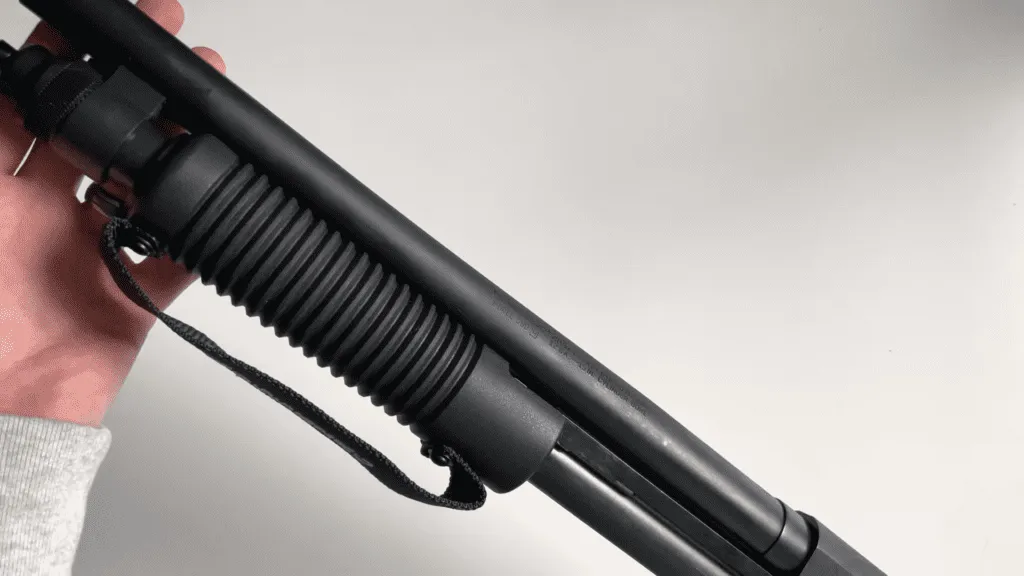 With its AR-like capacity, I recommend this one for those of you who are tired of reloading. This one's called a "'Shockwave"' because it's a compact pump-action with a high-quality Raptor bird's head pistol grip for minimizing that high-capacity recoil.
The ergonomics consist of a corn cob forend with a strap for hand stability, factory bead sights, and ambidextrous controls, which makes this pump-action shotty lefty-friendly.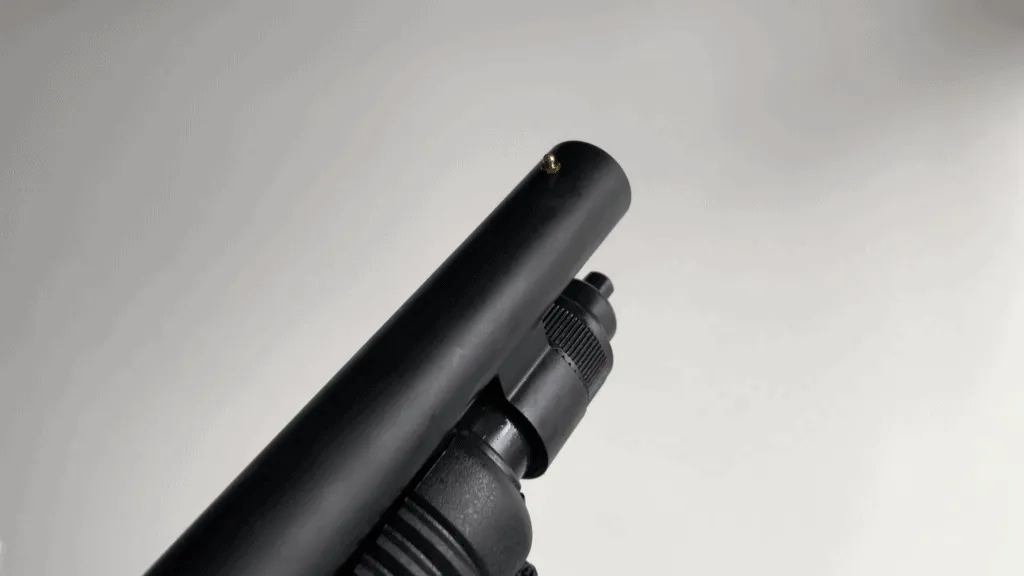 There's no need for tax stamps. The overall length measures 27.5 inches. However, it can only take 2.75-inch shells and is a fussy eater.
With dual extractors, twin action bars for easy operation, and an anti-jam elevator, you can expect reliability for a long time. Please don't overdo your shots. The grips soak up the recoil, but your palms will feel it in the morning.
Check out our Mossberg 590s Shockwave review for information on a similar short-barreled shotgun.

Specifications:
| | |
| --- | --- |
| Gauge and Action | 12-gauge pump-action |
| Magazine Capacity | 5+1 |
| Magazine Type | 2-3/4″ and 3″ shells |
| Barrel Length | 14 inches |
| Overall Length | 26.3 inches |
| Overall Weight | 6 pounds |
| Stock, Grips, and Finish | Wooden; Non-NRA Raptor pistol grip |
Pros
Attractive aesthetics
Remington pump-action reliability
Lightweight and ergonomic
Non-NFA-regulated (overall length is below 26 inches)
Super fun to shoot
Here's a firearm that teeters on the edge of the law.
The Remington TAC-14 is a 12-gauge pump-action pistol-grip shotgun that's barely a shotgun. It has a 14-inch barrel and an overall length of just barely 26 inches that evades the grip of the NFA's tax stamps.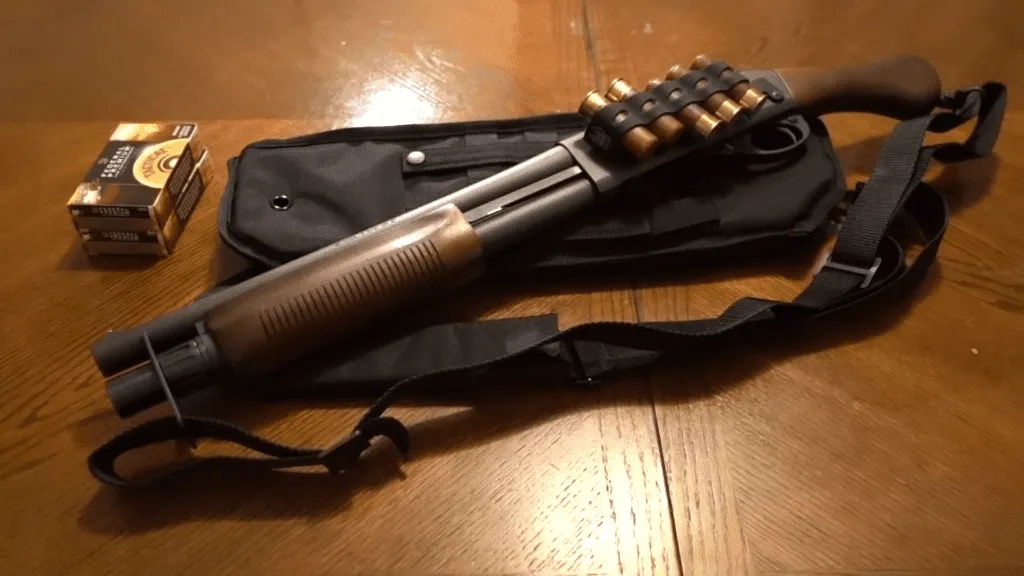 The TAC-14 weighs 6 pounds and offers a fast solution in home defense, as it's made to be operated in close and narrow situations.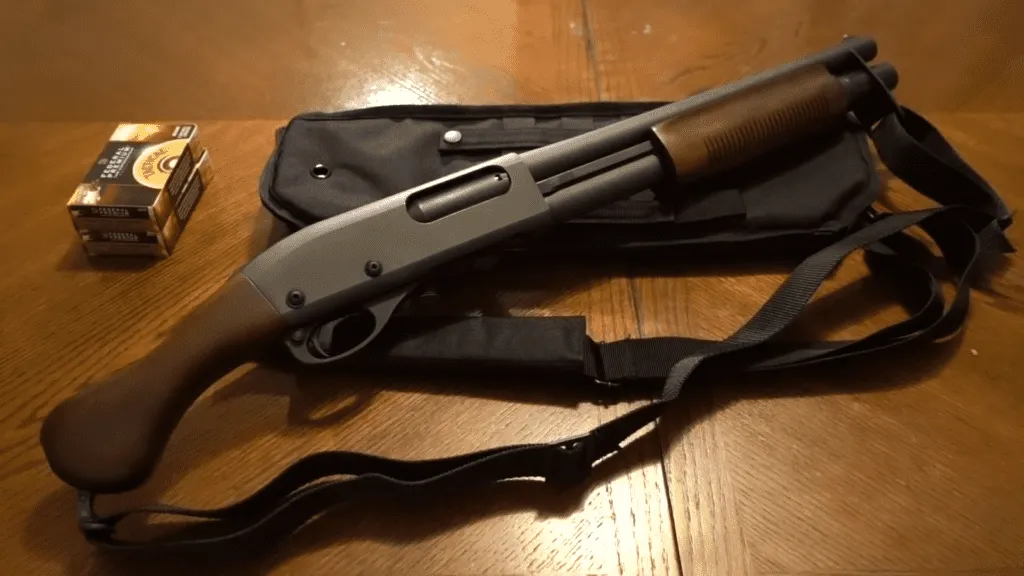 What makes it special are the classic aesthetics, the 5-round capacity, and the comfortable contours of the bird's head grip.
The hardwood corn cob grip and forend provide you with much-needed stability and smooth pumps similar to the Shockwave.
I personally chose this model because it truly stands out from the rest of the Remington 870 TAC-14 with its wood aesthetics. If you don't like the classic look, you can also check out the polymer models, which differ in grip feel.

Specifications:
| | |
| --- | --- |
| Gauge and Action | 12-gauge; semi-automatic |
| Magazine Capacity | 7+1 |
| Magazine Type | 3″ and 2 3/4″ shells |
| Barrel Length | 18.5 inches |
| Overall Length | 37.8 inches |
| Overall Weight | 6.7 pounds |
| Stock, Grips, and Finish | Synthetic stock; FDE finish |
Pros
Beretta Blink gas-operated reliability
Compact, lightweight, and easy to operate
Enhanced bolt release lever for smooth feeding
5+1 magazine capacity
Beretta has their own compact semi-automatic short-barrel for this market too.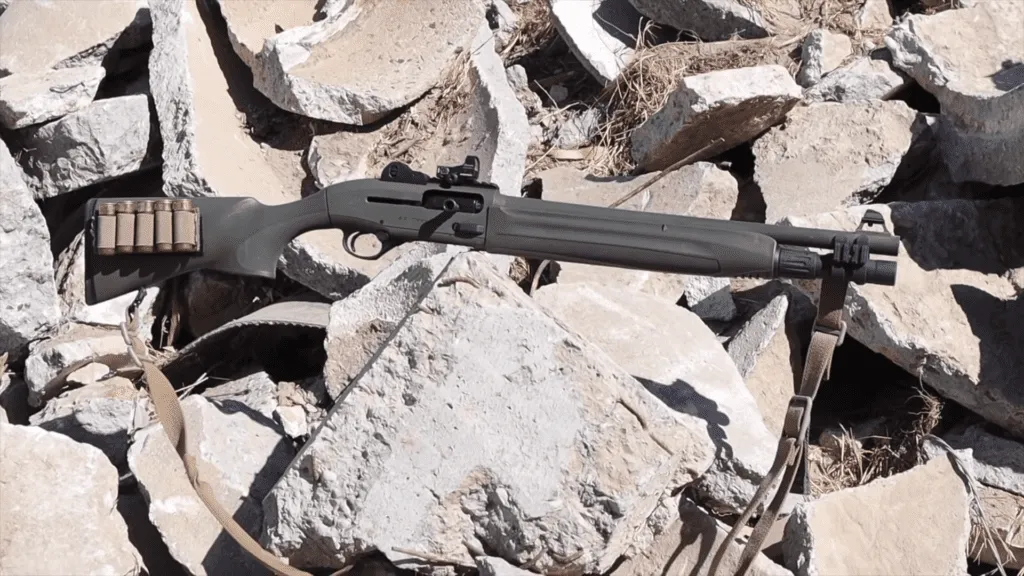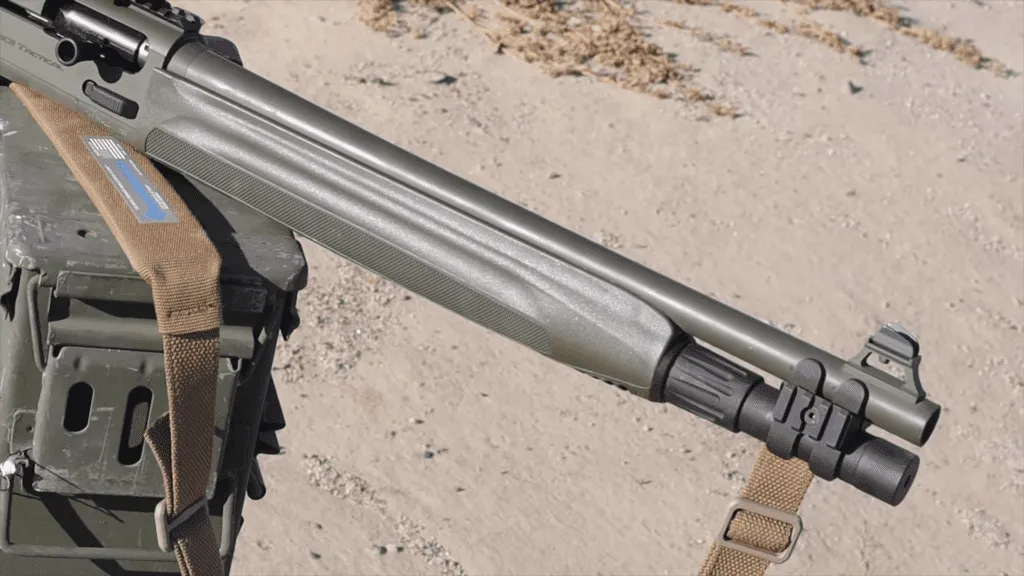 The Beretta 1301 Tactical is a gas-operated shotgun that's made for quick follow-up shots. The thing is, it's vastly more affordable than the Benelli M4—another Italian competitor that we review below.
The 1301 is a solid choice for close-quarter combat if you're looking for a lightweight powerhouse and don't mind a little recoil. The forend with checkered grips soaks it up and makes sure your palm stays put on the shotgun.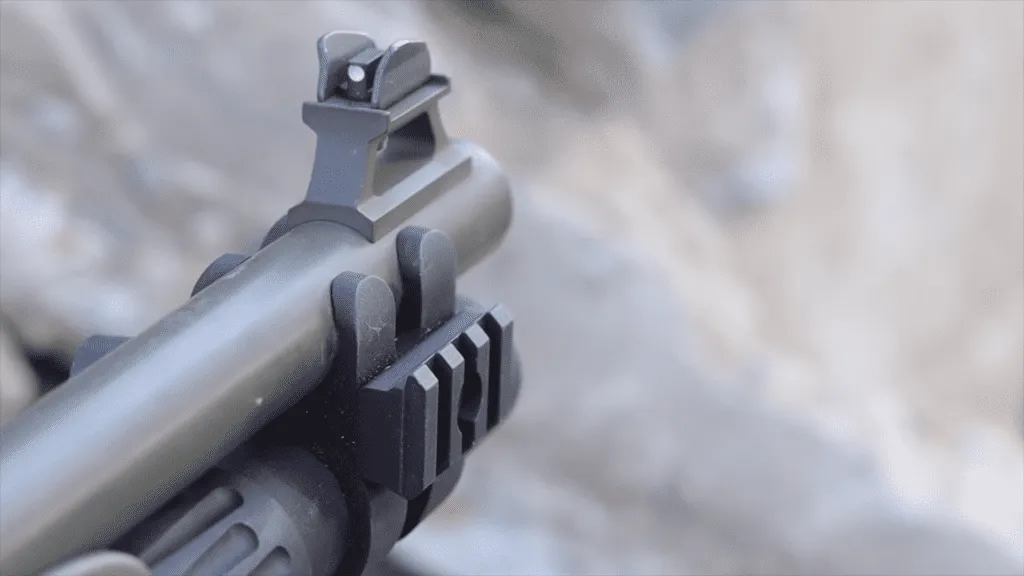 The high-quality aluminum receiver has proprietary Picatinny rails for your optics and shell carriers.
What makes it special is the Beretta Blink gas system that lets you blast—allegedly—four shots a second! Moreover, Beretta designed the 1301 with enlarged controls for easier handling and safety manipulation.
So, if you're in the market for fast shotshell shooting in a compact package, the Beretta 1301 has you covered. Brace yourself for the excess recoil and palm aches, though.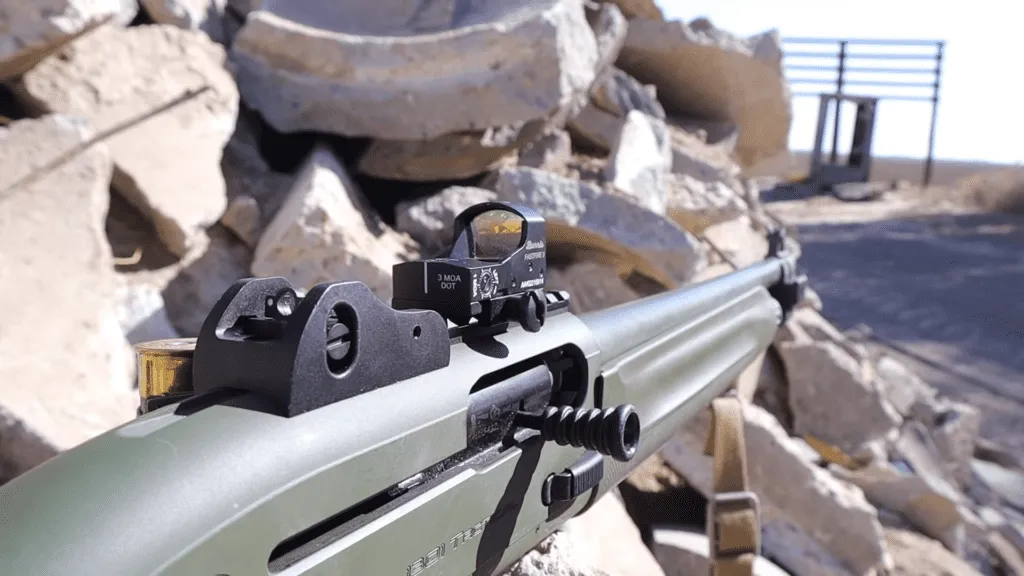 Specifications:
| | |
| --- | --- |
| Gauge and Action | 12-gauge; semi-automatic; ARGO (Auto-Regulated Gas-Operated) system |
| Magazine Capacity | 5+1 |
| Magazine Type | 2 3/4" and 3" |
| Barrel Length | 18.5 inches |
| Overall Length | 40 inches |
| Overall Weight | 7.8 pounds |
| Stock, Grips, and Finish | Fixed synthetic; pistol grip; cerakote |
Pros
Top-quality construction for longevity
ARGO system offers high-speed shooting and smooth cycling
Comfortable bird's head grips
Highly moddable
Benelli reliability
There's no doubt the Benelli M4 has proven to be a staple of semi-automatic tactical reliability and speed.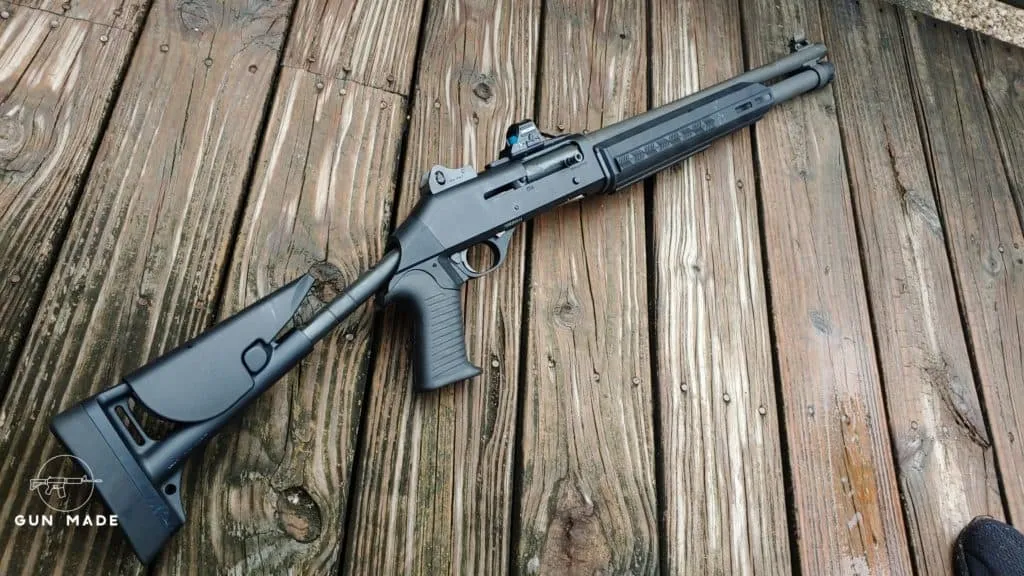 While it's one of the most expensive shotguns on the market, this 12-gauge semi-auto has a unique gas-operated system that gives the M4 its famous follow-up shot speed.
What you're looking at is the ARGO (Auto-Regulated Gas-Operated) system—a self-regulating, dual-piston, short-stroke system that pushes the boundaries of semi-automatic shotguns.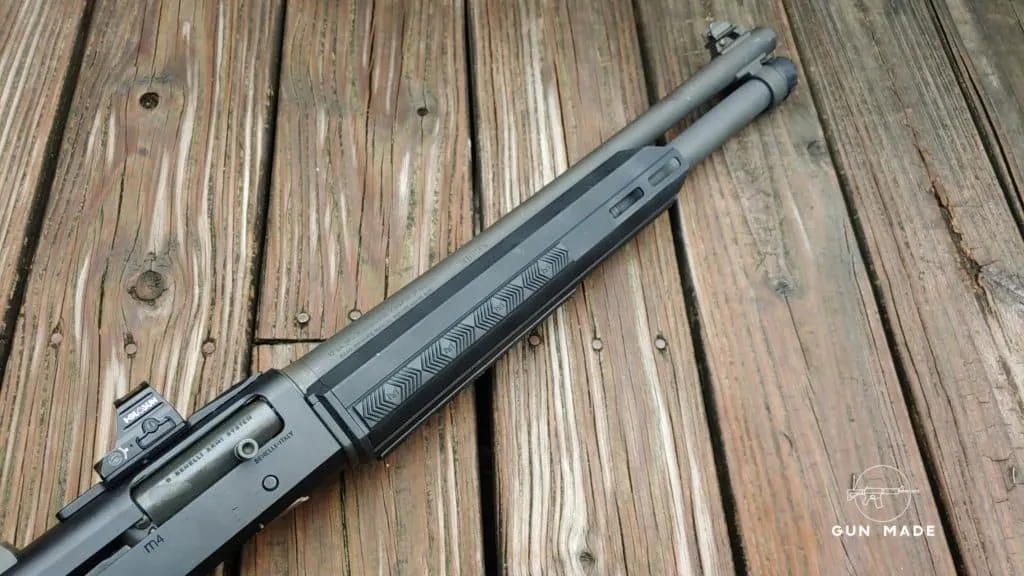 This system can effortlessly cycle all kinds of 2 3/4" and 3" shotshells and slugs with no issues at break-neck speeds.
For a semi-auto tactical shotgun, the M4 Tactical has solid features. The anti-corrosion Mil-Spec coating, comfy rubber/polymer combo pistol grip, and cheek piece make for neat aesthetics and ergonomics. However, the proprietary drilled and tapped receiver with a Picatinny rail for your optics and the 5-round capacity with an extended tube mag is the cherry on top.
The trigger guard is wide enough for glove use, and the trigger assembly can be easily removed. That said, the two-stage trigger is decent, and it doesn't need replacing. Additionally, the M4 has a hold-open feature on the last round for quick reloads.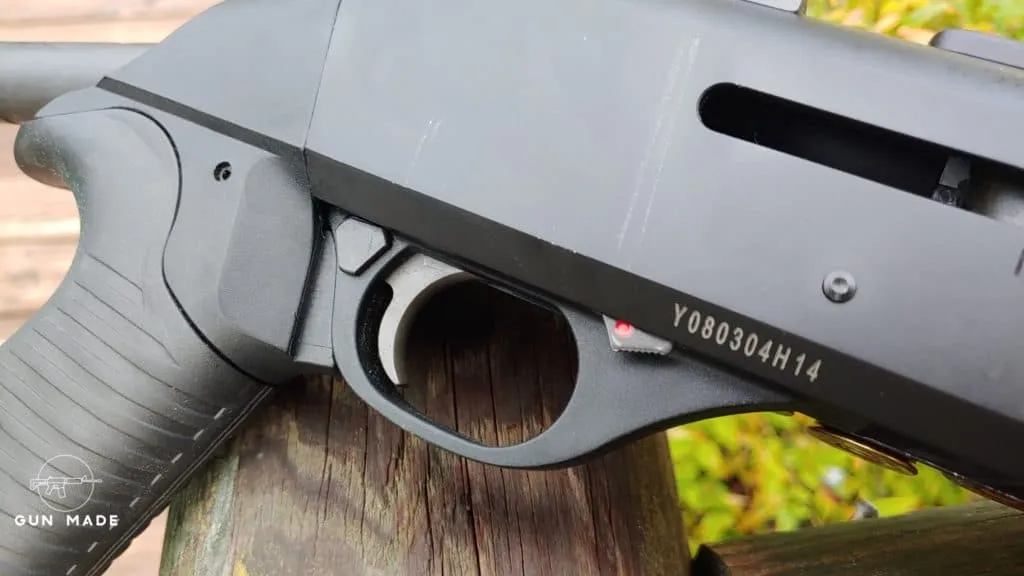 The 10-year warranty is a testament to Benelli's confidence in their own design.

Specifications:
| | |
| --- | --- |
| Gauge and Action | 12-gauge; semi-automatic; gas-operated |
| Magazine Capacity | 5+1 |
| Magazine Type | 3" |
| Barrel Length | 13 inches |
| Overall Length | 26.5 inches |
| Overall Weight | 5.4 pounds |
| Stock, Grips, and Finish | Synthetic; Shockwave Raptor bird's head grip |
Pros
Non-regulated short-barreled firearm
Comfortable Shockwave Raptor grip
Versaport gas-operated system is one of a kind on the shotgun market
Very low recoil
Forend hand strap for better muzzle rise control
Cons
Expensive
Heavy
Not compatible with minishells
As one of Remington's most innovative and ambitious shotgun projects, the non-NRA-regulated Remington V3 TAC-13 has been turning heads since 2018.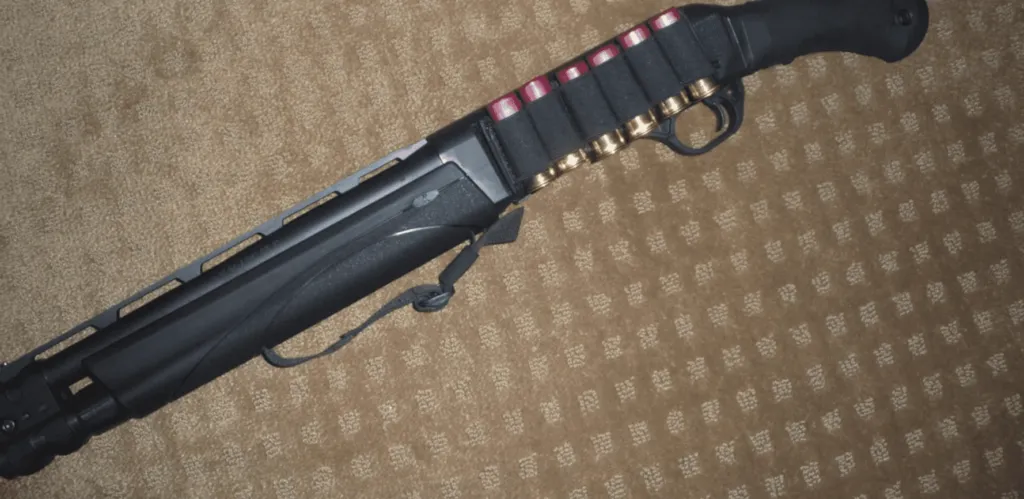 The V3 TAC-13 is the first of its kind—a 13-inch barrel shotshell blaster with a unique semi-automatic system.
The Remington-patented Versaport gas system allows you to effortlessly cycle all kinds of shells and slugs at split-second speeds.
Combine that with a moderate weight of 6.7 pounds, a 6-round capacity, and a barrel that's shorter than the TAC-14, and you get an unstoppable shotshell machine.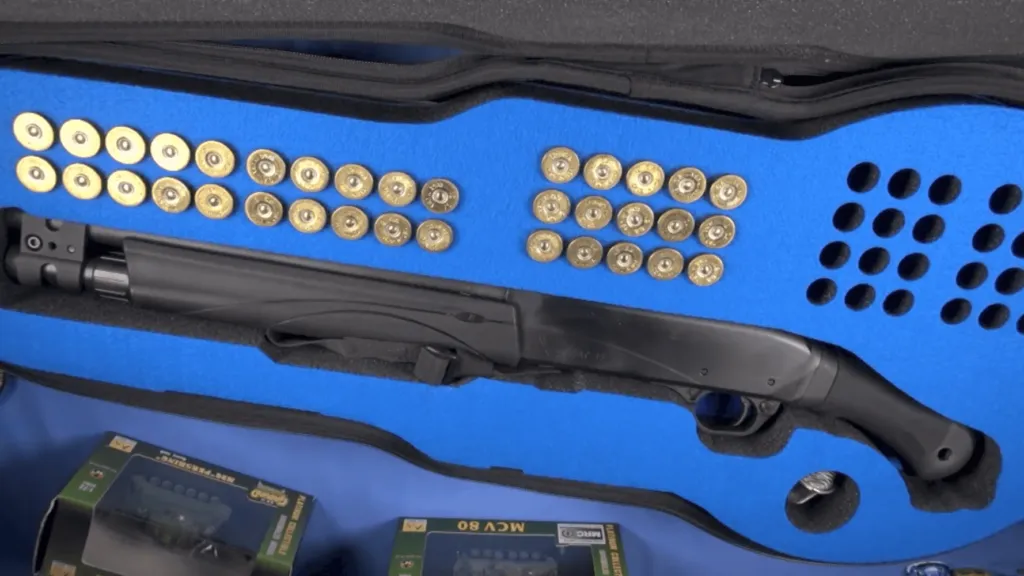 In an effort to mitigate the insane recoil, as well as dodge NFA regulations and tax stamps, Remington stuck a special Raptor bird's head grip. The grip provides a nice footing and isn't too aggressive; it makes sure the shotgun is just barely under the overall length limit.
Since it's made to kick like a mule, Remington designed the V3 TAC-13 with a special Supercell recoil pad that does a nice job soaking up that recoil.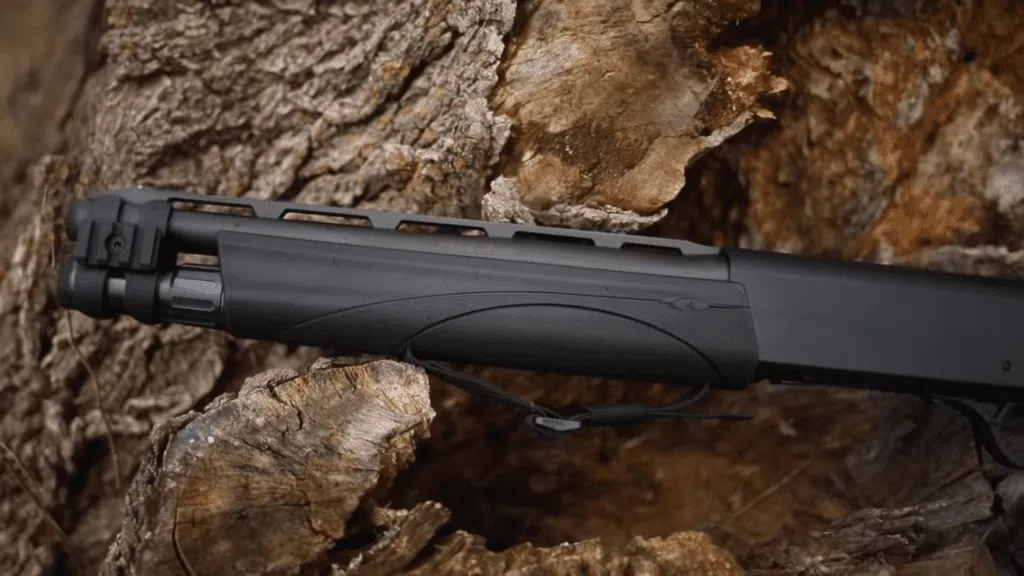 Additionally, it has an oversized charging handle and smooth controls to ensure maximum handling for such a powerful home defense shotgun. The controls are very ergonomic and easy to manipulate, and the flared loading port allows you to quickly reload your shells.
You can also check out the more cost-efficient yet tactical Remington 870 Express pump-action shotgun.

Specifications:
| | |
| --- | --- |
| Gauge and Action | 12-gauge pump-action |
| Magazine Capacity | 6+1 |
| Magazine Type | 3" |
| Barrel Length | 18.5 inches |
| Overall Length | 38 inches |
| Overall Weight | 7.5 pounds |
| Stock, Grips, and Finish | Polymer tactical fore-end and pistol grip stock |
Pros
Remington reliability
Well-known design, construction, and shootability
Easy to customize
Ergonomic Magpul furniture and controls
6-round capacity magazine reloading
Cons
Magazine protrusion might bother some
Heavy, but it mitigates recoil at least
Since its first appearance in 1950, the Remington 870 has been one of the most prominent and best-selling shotgun models in the US. Well, here's a compact, magazine-fed model with the same reliability as the classic.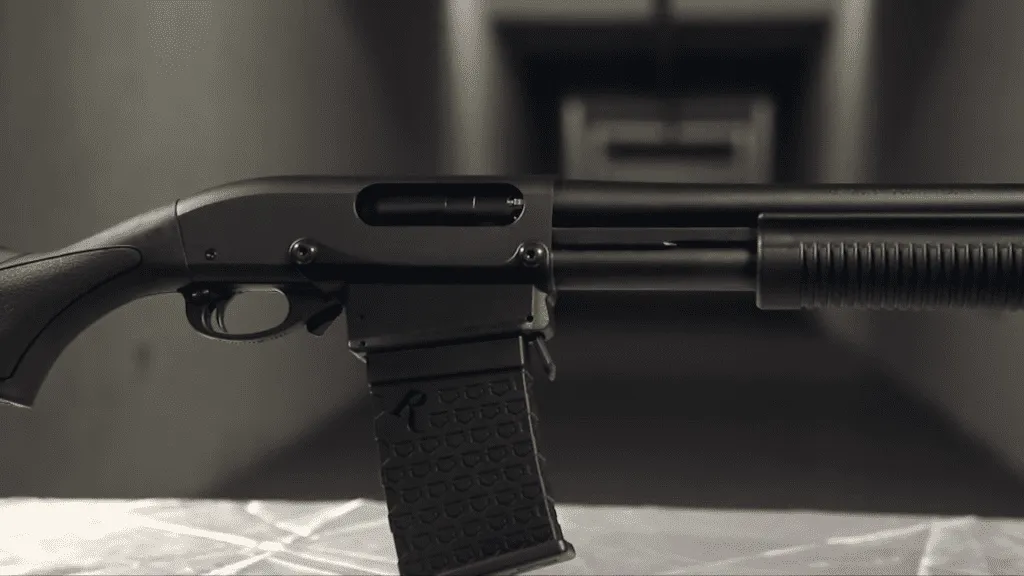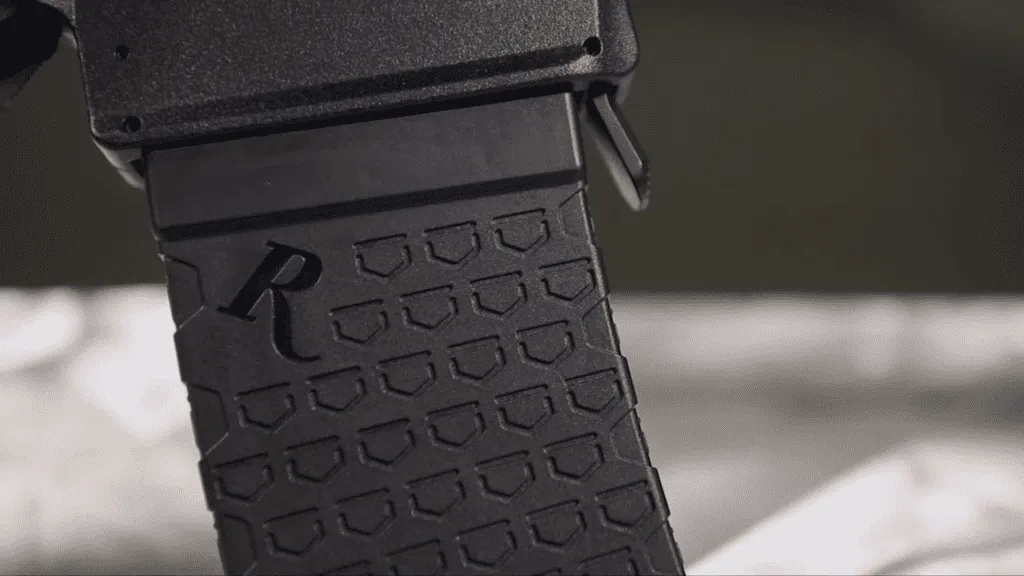 Along with the Mossberg mag-fed shotguns, the 870 DM Tactical (DM stands for "detachable magazine") might be one of the most reliable magazine-fed shotguns on the market.
With a fast pump-action, steady corn cob grips, and one of the fastest response times among high-capacity shotguns, the 870 DM Tactical is a mag-fed force to be reckoned with.
While some think sticking a magazine in a classic shotgun is just stupid, other folks just appreciate faster reloading.
Carrying additional readily-filled magazines is way better than sticking shell slots on your Picatinny rail and feeding via a tube, in my honest opinion.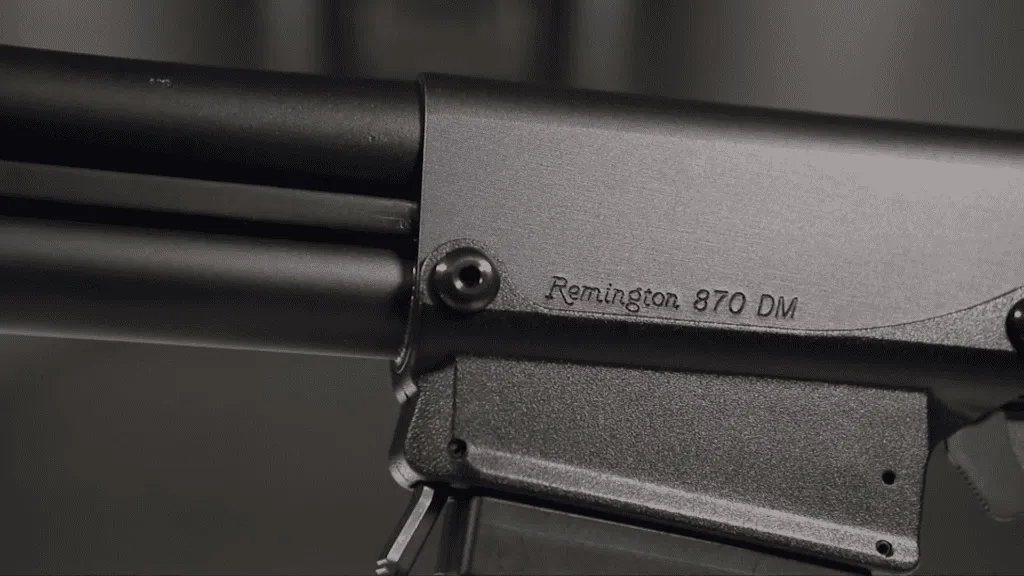 Though it weighs 7.5 pounds, it can mitigate recoil well, and the factory Remington chokes gives a nice, balanced spread in 3-inch shell spread shooting.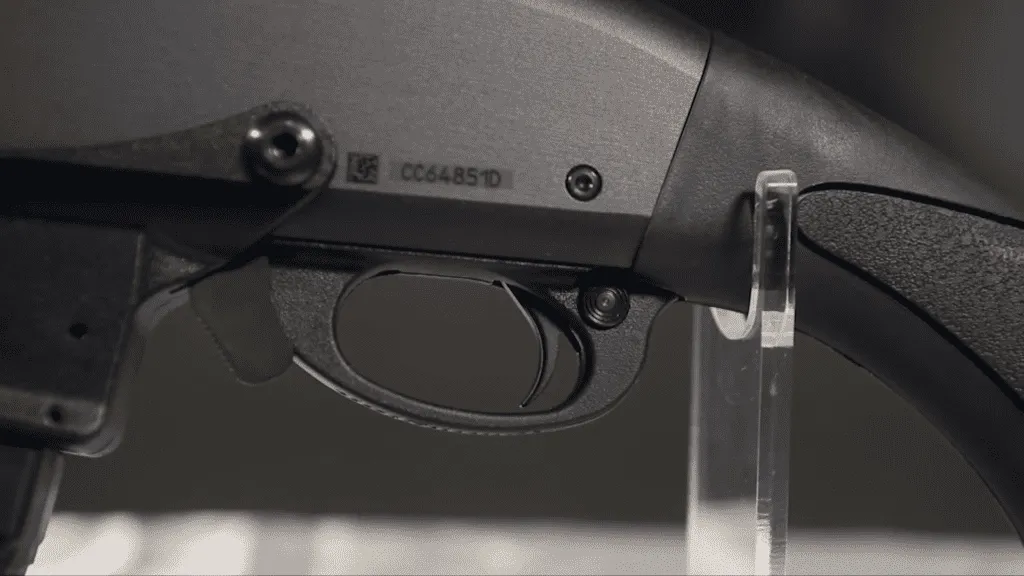 The Magpul furniture offers a stable and comfortable shooting, though some might find the grips aggressive for their taste.
Best Pump-Action Bullpup Shotgun – Kel-Tec KSG

Specifications:
| | |
| --- | --- |
| Gauge and Action | 12-gauge pump-action |
| Magazine Capacity | 12+1 rounds (8+1; 14+1 also available) |
| Magazine Type | Select-feed 3-inch, dual magazines |
| Barrel Length | 18.5 inches |
| Overall Length | 26.1 inches |
| Overall Weight | 7.1 pounds |
| Stock, Grips, and Finish | Black polymer; Bullpup pistol grips |
Pros
One of the most fun bullpup shotguns to shoot
Ambidextrous with its downward-ejecting ports
High round capacity
Smooth and reliable cycling
Made for very fast follow-up shots
Cons
Additional costs for NFA approval
While we're talking about high capacity and mag-feeding, there's a very fun way to shoot more shells.
Here's the Kel-Tec KSG—a select-feed, dual-mag, pump-action bullpup capable of high-capacity home defense. To own the KSG, though, you'll need an NFA approval.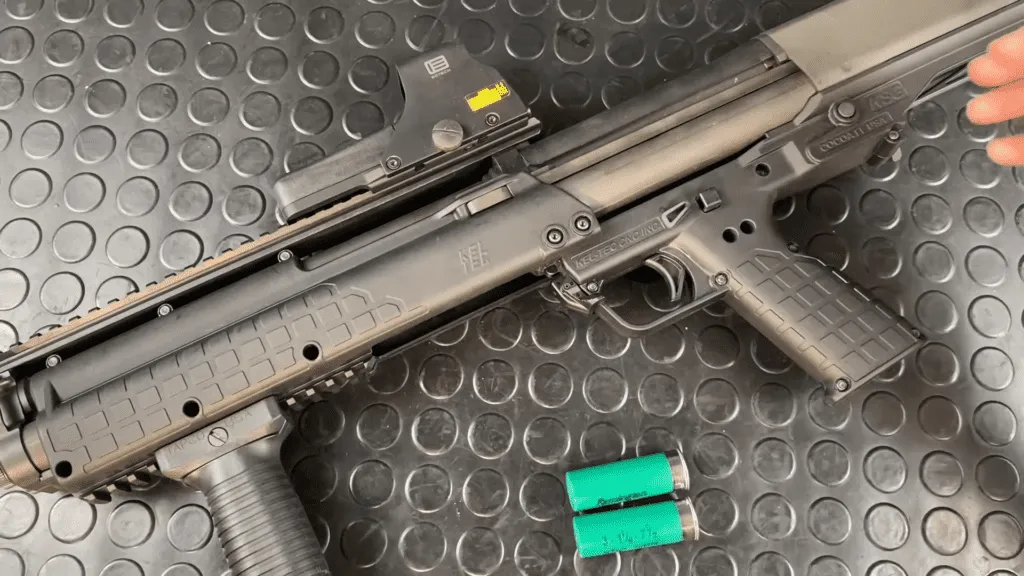 Introduced in 2011, the KSG offers you the ultimate in zombie blasting with its 12-round capacity, ambidextrous setting, and an unwavering ability to cycle all kinds of 3-inch birdshot, buckshot, or slugs.
What makes it special is the internal dual tube magazines that hold six shotshells in each tube and feed from either side.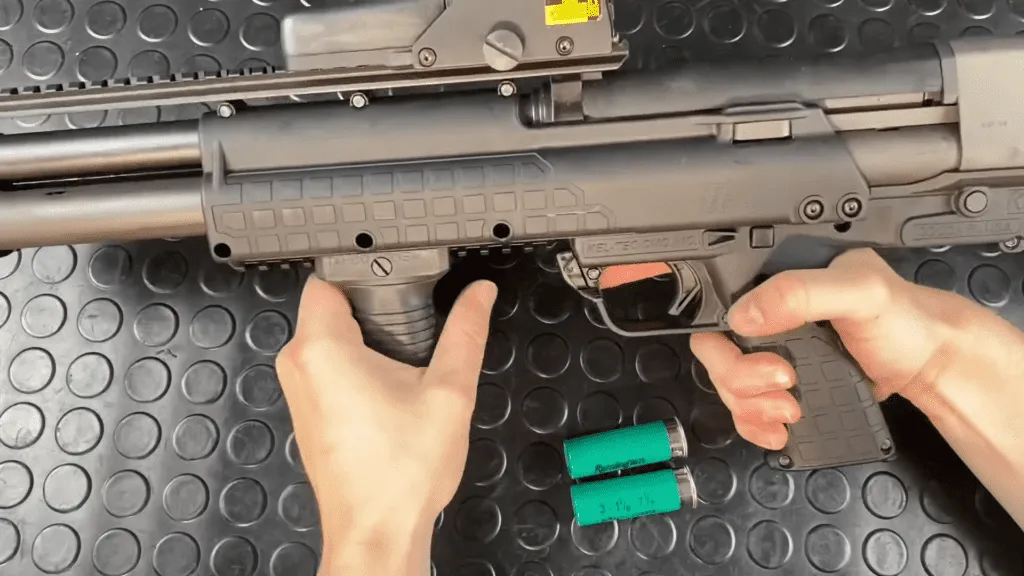 The mag capacity can be either set up in a 6+6+1 round configuration or a 7+7+1 with this 14-round model. You can select which side you'd like the shotgun to feed from with the lever behind the trigger guard.
The KSG has a massive spread, so I recommend Carlson's 12-gauge chokes, which shrink the spread into a proper shotshell diameter.
Speaking of ergonomics and controls, the Kel-Tec KSG has a solid trigger with a slide release on it, black polymer bullpup pistol grips, and an ambidextrous downward cartridge ejection port that won't make you eat shells, which is a very demanded feature, rarely found on shotguns.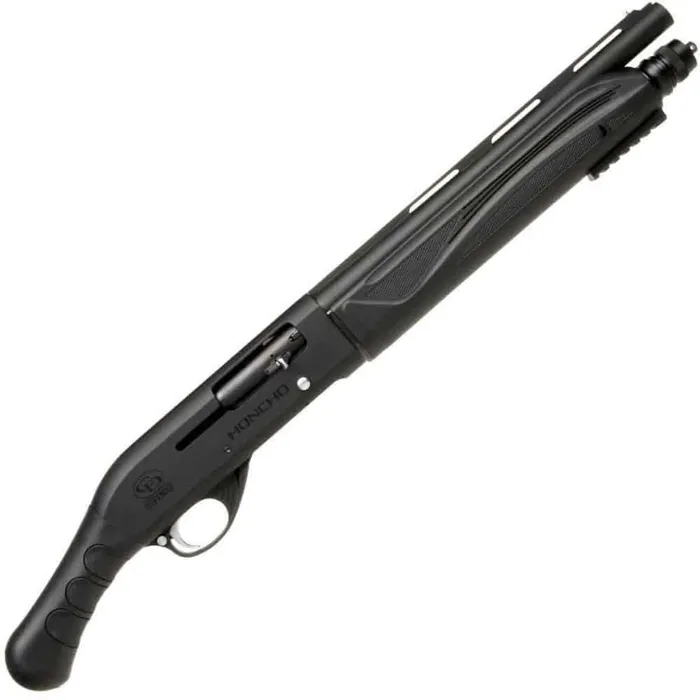 Specifications:
| | |
| --- | --- |
| Gauge and Action | 12-gauge semi-automatic; Gas-operated |
| Magazine Capacity | 4+1 |
| Magazine Type | 3″ and 2 3/4″ |
| Barrel Length | 14 inches |
| Overall Length | 27 inches |
| Overall Weight | 5.3 pounds |
| Stock, Grips, and Finish | Black synthetic bird's head |
Pros
Durable aluminum receiver and steel barrel
Just as reliable but better priced than Mossberg shotguns
Ergonomic grip grooves
Uses Benelli chokes with a balanced 7-yard spread
Cheaper than the V3 TAC-13 and TAC-14
Multiple model types are available
Cons
Finger grooves might not fit everyone's palms
The Charles Daly Defense Chiappa Honcho Semi-Auto shotgun is quite the mouthful, but it's one of those overlooked shotguns that can compete with the Mossbergs.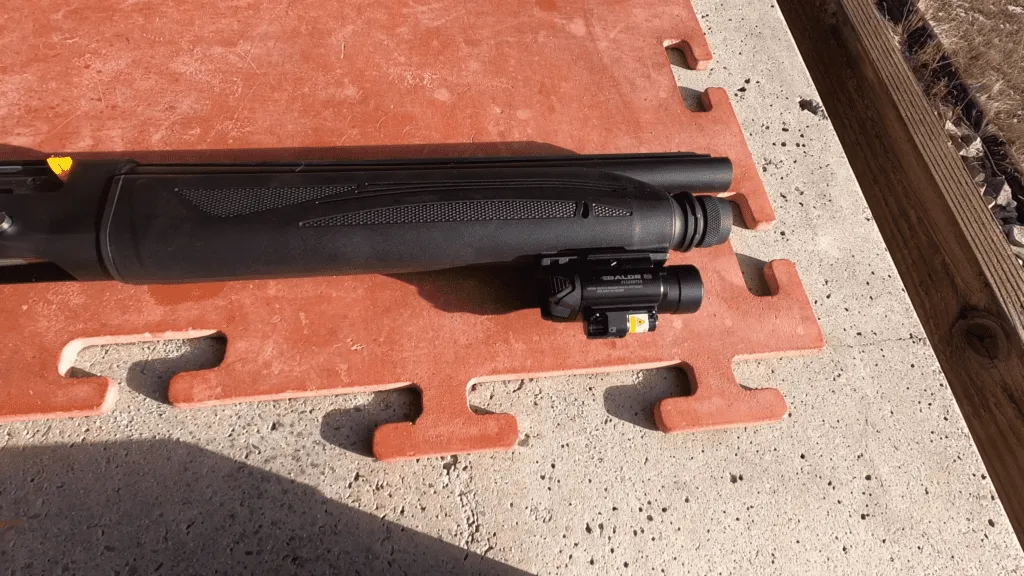 Introduced in 2019, this semi-auto Honcho has a very comfy bird's head grip with unique contours; three finger grooves that fit medium-sized hands. Additionally, it has a polymer handguard with textures for better handling.
Much like your standard semi-auto shotgun, there's a sling swivel at the end of the magazine tube and rails under the fore-end for your lights and optics. The stock bead front sights are alright, but you can go for lasers that work well in the 10-yard range.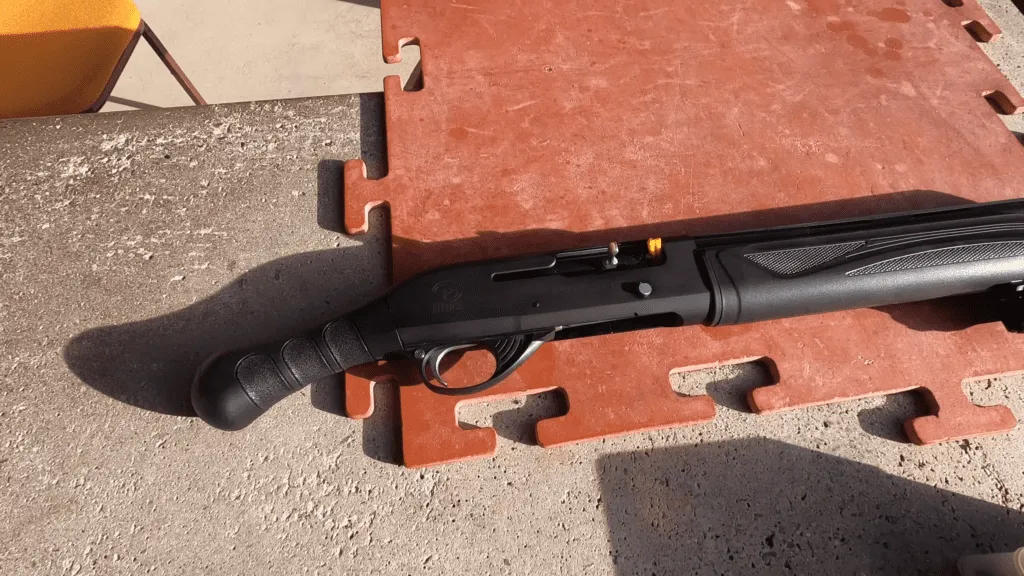 As for cycling, the "head" Honcho eats 3-inch shotshells. You can also check out the pump-action model, the spring-assisted mag-fed model, or the .410 bore model, which is also great for self-defense.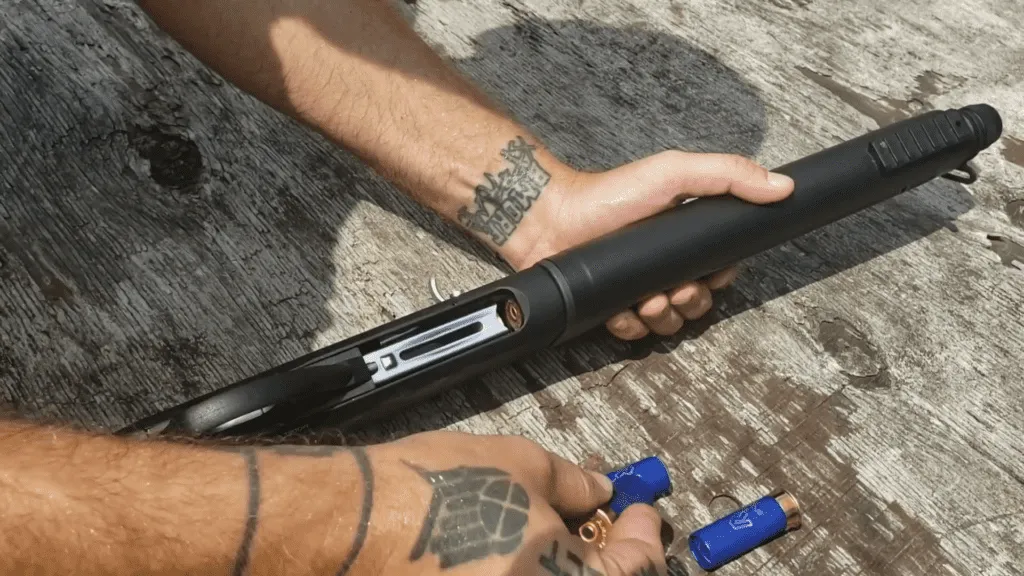 Honorable Mentions
Here are some alternative shotguns that didn't make the list due to categorization but are nonetheless excellent shotties for home defense and close-quarter combat.
Best Short-Barreled Lever-Action Firearm – Henry Axe .410

Specifications:
| | |
| --- | --- |
| Gauge and Action | .410 lever-action |
| Magazine Capacity | 5+1 |
| Magazine Type | 2.5 inches |
| Barrel Length | 15.1 inches |
| Overall Length | 26 inches |
| Overall Weight | 5.75 pounds |
| Stock, Grips, and Finish | American Walnut stock, ever, N/A |
Pros
Henry Arms quality
Classic aesthetics and walnut stock
Ergonomic and can be used as a truck gun or survival shotgun
Threaded to accept Inverter-style chokes
Comes with chokes and swivel studs
Drilled and tapped receiver for optics
Cons
Lever-action isn't as viable as semi-auto or pump-action
Only 2.5-inch shell compatibility
A short-barreled lever-action shotgun? You bet.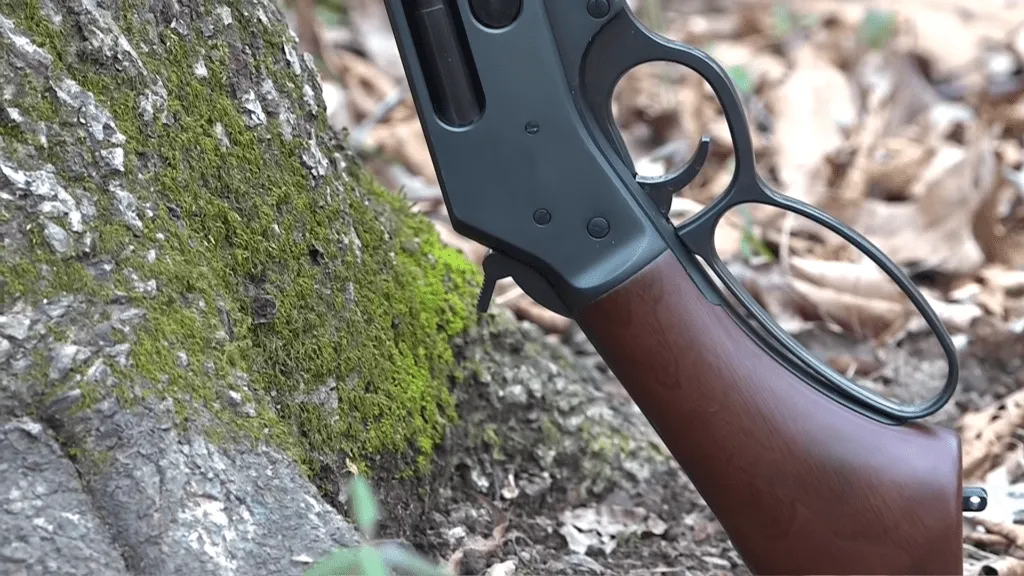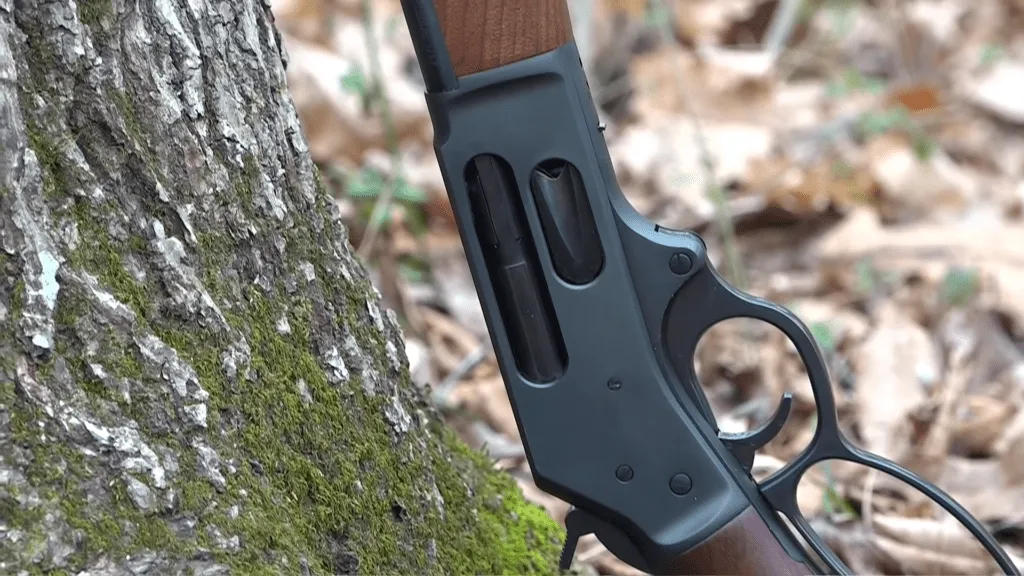 The Henry Axe .410 lever-action gun gives you more than just a legacy aesthetic for your living room. With a 2.5-inch shotshell cycling, 26-inch length, and 5-round capacity, it's powerful enough for the guest room, under the desk of the liquor cabinet.
You might recognize this as a  'Mare's Leg' rifle, only it's for .410 shotshells. This bore has low recoil, and it's perfect if you don't like swollen palms and aching wrists. The lever action is smooth, and loading is easy with the side gate.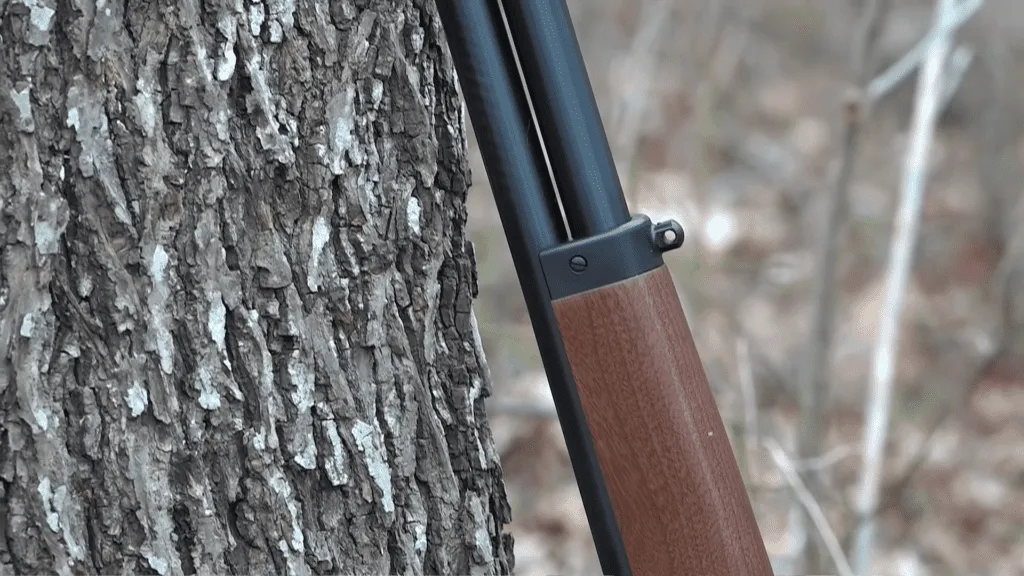 Although the 16-inch smooth bore barrel isn't powerful for ranges over 15 yards, it's threaded for Invector-style chokes for a controlled pattern of your shot.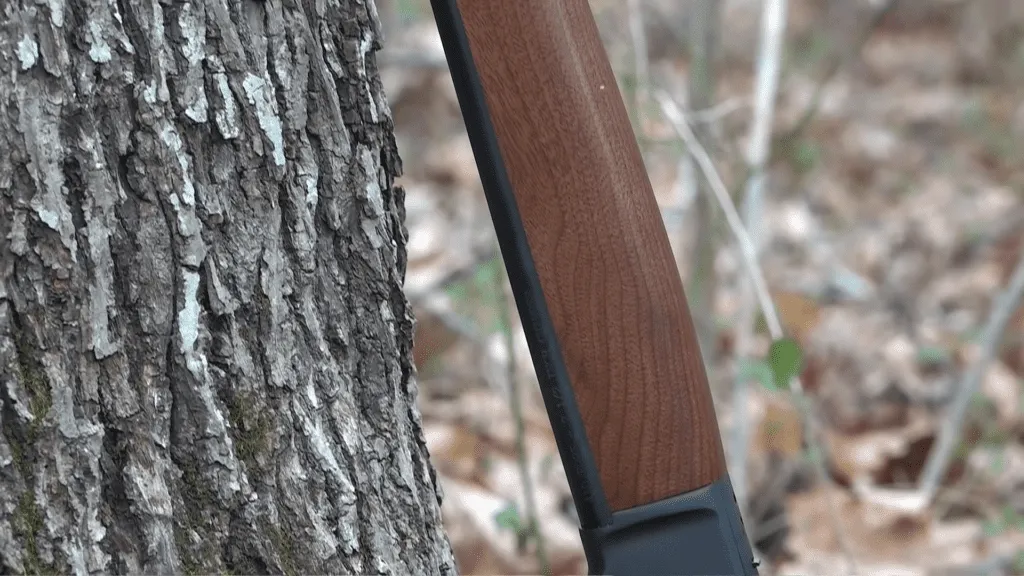 Best Semi-Automatic Bullpup Shotgun – IWI Tavor TS12

Specifications:
| | |
| --- | --- |
| Gauge and Action | 12-gauge semi-automaticn |
| Magazine Capacity | 15+1 round capacity; 4+1 also available |
| Magazine Type | 3 inches; 2.75 inches |
| Barrel Length | 18.5 inches |
| Overall Length | 28.25 inches |
| Overall Weight | 8.8 pounds |
| Stock, Grips, and Finish | Fixed bullpup pistol grip; Black, synthetic stock |
Pros
Impeccable bullpup design
Top shelf internal parts
Very reliable gas-regulated cycling
High round capacity
Full-length Picatinny rail
Ambidextrous controls and ejection port
Low recoil
Cons
Expensive
One of the heaviest shotguns on the market
Unconventional short-barreled firearm
Much like the KSG, the IWI Tavor TS12 is a hefty bullpup with a massive price tag that's reserved only for the most serious gun enthusiasts or if you're a YouTube reviewer.
With the threaded barrel, 4 QD swivel points, Picatinny rail, and M-LOK forend, you can customize it to no end. I recommend adding some lights and optics or a choke of your choice.
Although it's a polymer construction, it's heavy, so the recoil is surprisingly minimal. Disassembly is also surprisingly easy and without tools.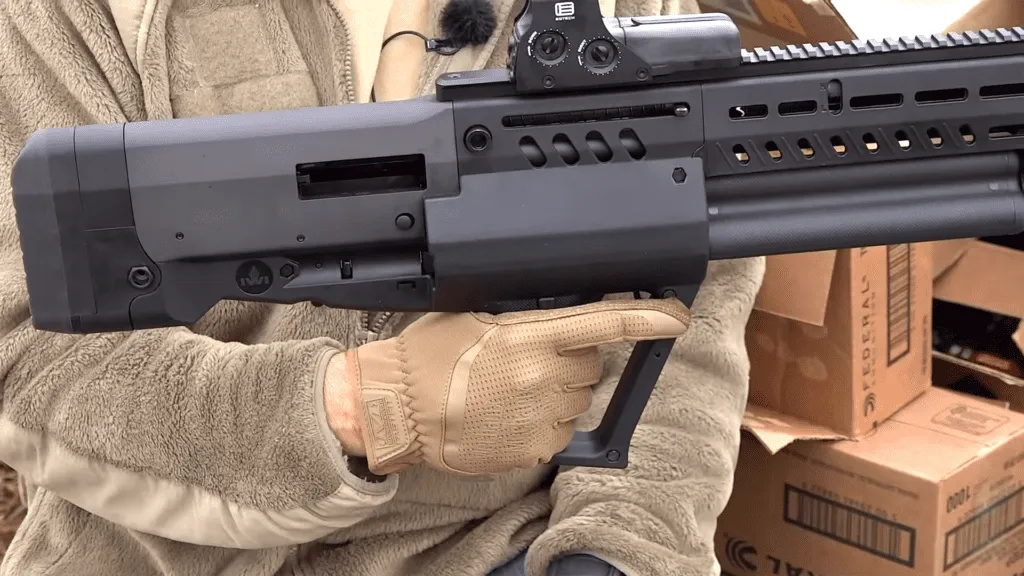 What's so amazing is that this semi-automatic bullpup shotgun is built with ambidextrous controls and a gas-regulated system that cycles with a left or right-side configuration.
When you set the tube into position, it loads subsequent rounds between the left and right sides, as the spent shells are conveniently unloaded on a tray. It's an amazing, unique design that allows a very fast semi-auto shotgun action.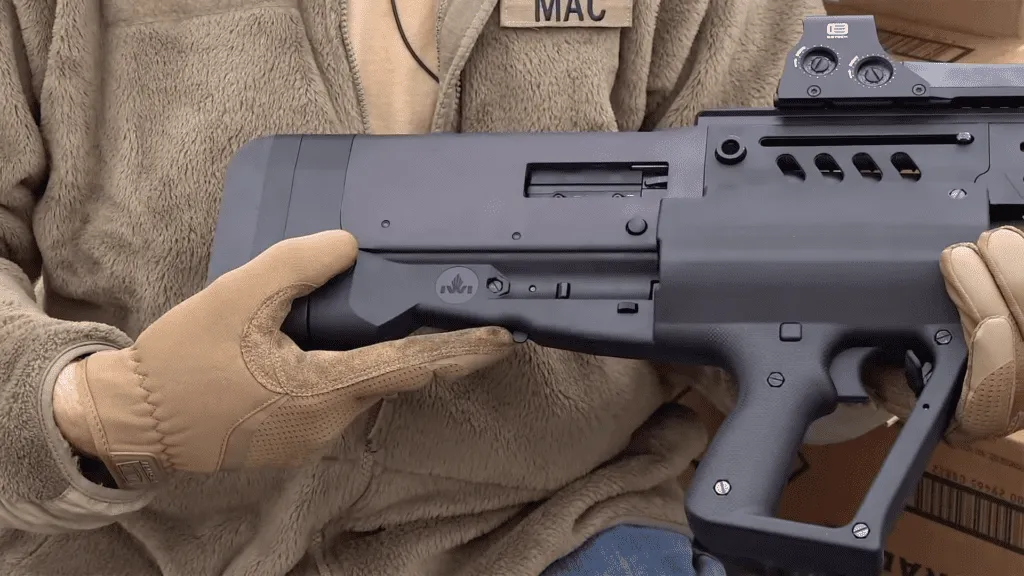 For a price, you get a unique, Israeli-made, short-barreled shotgun that, although heavy, offers unmatched shotshell firepower.
Buyer's Guide for Short-Barreled Shotguns
Besides the barrel length and grips, some might think it's easy to pick out a model when looking for a short-barreled shotgun.
But, there are many factors to consider like purpose, action system, modularity, weight, ergonomics, accessorizing, etc.
If you want to pick out a short-barreled shotgun for yourself, here's a nifty buyer's guide.
Barrel Length, Tax Stamps, and the Law
To answer the "why in the world would I need a short-barrel shotgun?" question, we'll have to take a look at the shot load and barrel length.
You see, short-barrel shotguns come very naturally because shotshells perform well with a 12- to 14-inch barrel acceleration.
Besides added maneuverability in close-quarter combat, they're ideal for the defensive 10-yard range.
Standard semi-automatic shotguns with an 18.5-inch barrel length are better suited for deer hunting and clay shooting. Then, you got unique shotguns like the Kel-Tec KSG that evaded the tax stamp with a 26.1-inch barrel.
In most states, it's illegal to carry a firearm that has a barrel shorter than 18 inches and an overall length of less than 26 inches. Always check your state laws before purchasing short-barreled firearms.
Size, Weight, and Balance
Shotguns are generally heavy, but short-barreled ones can really give you the tactical edge you need with a lightweight frame.
Some shorties can reach up to 8 pounds, but the average really depends on the usage and purpose. Keep in mind that these short-barreled firearms can't be shouldered like an AR-15 rifle, so you really need to figure out whether or not you're ready for single-hand handling.
Personally, I think that gauging a 12-gauge shotgun's weight comes down to how it really feels unloaded. If it's only slightly heavy for your hand, think of how heavy it can be with +5 shotshells, so keep that in mind.
Most of these shotguns that I mentioned have a more compact frame that sacrifices accuracy and a controlled spread for more maneuverability. Longer shotguns are more balanced and accurate, but they lack the tactical advantages for home defense.
Shot Spread
One of the most crucial factors to consider when buying a short-barreled shotgun is the way how your shells spread. For a home defense scenario, having a controlled spread and a concentrated radius is key.
Depending on how wide your hallways are, you need to know how much that Mossberg 590 Shockwave spreads. The barrel length and choke greatly dictate how the round spreads.
It's important to know that your shells spread between 1/3rd of an inch to 1 inch per yard, and this usually depends on the choke type and the shotshell wad.
Patterning your shotgun is also important. Test out multiple shell shots, chokes, and barrel lengths if you want this to work.
For example, if you live in a massive mansion with 10-yard long hallways, the average spread would be 1.5-inch average, while the largest would be around 3 inches.
The line of sight won't be as important as the other factors, but we still need to dispel the myth of "you don't have to aim your shotgun." That's plain wrong.
Pump-Action vs. Semi-Automatic Shotguns
Whether it's pump-action or semi-automatic shotguns, there's no "best option for home defense," and it's totally different if you're a hunter. But when home defense is in question, you need to make sure you're comfortable with the cycling method of your choice.
Semi-automatic shotguns use internal spring-loaded parts that offer the fastest firing rate.
They are based on generally two cycling methods: inertia (or a recoil-operated system that uses kinetic energy from the recoil to cycle) and the gas-operated system (uses the gas from the barrel to cycle ammo). The latter has more parts and is heavier but arguably a little bit more reliable.
The Benelli M4 Tactical utilizes the ARGO system, which is definitely state-of-the-art semi-auto reliability, and that's why the price is so high.
Pump-action shotguns need you to pull the corn cob forend to cock, eject, and load a new shell in the chamber. A semi-auto might be fast, but most folks swear that there's nothing like the "chk-chk" sound of the pump-action shotgun.
Both are reliable methods. Remember that for close range, a 12-gauge shotgun with a 2 ¾-inch or 3-inch shells buckshot is more than enough to stop an assailant in their tracks at a 5-yard range.
Conclusion
Ever since the Ithaca Auto & Burglar, Doc Holiday's "Street Howitzer" (the sawn-off double-barrel in the Gunfight at the O.K. Corral), and many other iconic shotties, short-barreled shotguns have been recognized as an important subcategory of firearms.
If you're planning on snagging your very own Street Howitzer, keep in mind how comfortable the grips are, whether or not you're a pump-action or semi-auto fanatic, and if you truly require this unique maneuverability for home defense.
Personally, you can't go wrong with the Mossberg Shockwave's reliability, handling, and overall shotshell performance and cycling with an attractive price tag.
The Benelli M4, Mossberg 590 Tactical, and the Remington 870 DM Tactical all offer a tactical edge for self-defense.
Then you have the Remington V3 TAC-13, which is on an entirely different level of non-regulated semi-automatic fury.
While these shorties are not built for long ranges, they can be immensely powerful in close-quarter combat, and they offer maneuverability not found in other niche firearms.
That being said, they're not for everyone. Even with the comfort and stability of the bird's head/pistol/Raptor grips, they can be unforgiving to your wrist and palms.
But hey, who wouldn't want to try out a short-barreled gun single-handed?
Stay safe, shoot straight.
Explore more