Best Shoulder Holsters: A Buyer's Guide [2023]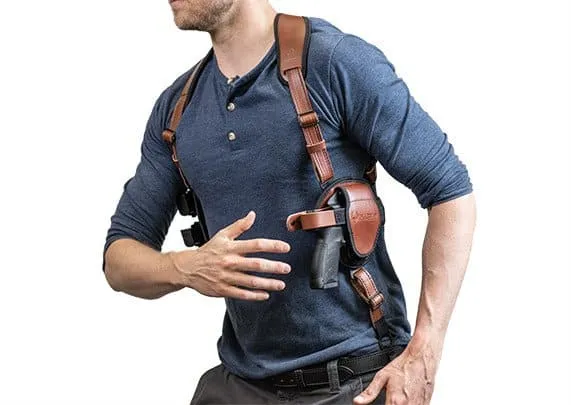 Best Shoulder Holsters: A Buyer's Guide [2023]
Featured Image – Alien Gear Shoulder Holster
If you're planning on taking a weapon with you, either concealed or open-carry,  getting a shoulder holster might be a good idea. Depending on your circumstances for carrying a firearm, the benefits of a shoulder holster are manifold.
In this article, we'll show you some of the best shoulder holsters available on the market so you can find which one fits your needs.
Best Shoulder Holsters
Touting itself as one of the most imitated shoulder holster systems out there, the Galco Miami Classic II Shoulder System is undoubtedly a product to take note of.
Its full-grain steer hide leather construction offers gun owners a very smooth and comfortable fit without sacrificing durability. The two horizontal magazine slots located on the side gives easy access when you need to reload quickly.
The holster is fully modular, and additional accessories can be bought separately depending on your needs. One of the excellent characteristics of the Galco Miami Classic II is the amount of customization that it offers its users. The independent spider harness, along with Galco's patented swivel backplate, allows each strap to move independently, giving you a better fit.
Adjusting the straps does take a bit of fiddling and can't be done easily on the fly. You'll also need to break-in the holster as the straps may be a bit stiff at first. You'll also have trouble accommodating red dot optic attachments, so keep that in mind before purchasing this holster.
Pros
Full-grain steer hide leather
Includes two horizontal magazine slots
Fully modular
Independent spider harness with patented backplate
Cons
It can't accommodate red dot optics
Adjustment takes a bit of fiddling
Back straps can be stiff at first
If you're a fan of larger guns like the .44 Magnum or the Desert Eagle, then the Bianchi X15 is worth a quick look. It was primarily designed to comfortably carry medium and large firearms while still providing comfort for the user.
The long vertical shoulder holster is made from full-grain cowhide leather, offering a relatively soft fit. Don't be fooled, though, as this holster is built to last. Its very durable construction is evident the moment you take this out of the box.
Do take note that it may take a bit of breaking-in before you can get used to the feel of the Bianchi X15, but that's usually true for most shoulder holsters. Also, as it's made with medium and long guns in mind, you'll have to wear longer clothing if you want to keep this holster concealed.
The dual spring retention system in the holster itself keeps your gun snug and secure. The fully adjustable harness can accommodate chests of up to 48 inches, and the flexible shoulder strap has a bit of give for further comfort. A bit of a nitpick is that it doesn't come with an ammo compartment. But all in all, this is quite a remarkable product.
Pros
Designed for larger guns
Full-grain tanned cowhide leather
Dual spring retention
Very durable
Fully adjustable harness
Cons
Can be a bit hard to conceal
Needs a bit of breaking-in
No ammo compartments
Designed for customers that want a great deal of customization in their shoulder holsters, the Alien Gear Shapeshift Shoulder Holster lives up to its name.
The fully modular holster setup allows you to adjust your weapon's orientation, the number of guns you can carry, and the two magazine holders' number and orientation. It's a very adaptable system that can be a bit of a bother to initially set up. Adjusting all the straps and compartments needs getting used to, but once you've done it once, it'll get easier along the way.
The slim leather straps make it very easy to conceal, especially if you're wearing particularly heavy clothing. And because it's fully modular, you can finely adjust weapon placement. The holster itself offers excellent passive retention, though it does include Velcro straps if you feel like you need more weapon security.
The leather itself is a nice touch, but it tends to creak a bit out of the box and needs quite a bit of breaking in before you get used to it. The Alien Gear Shapeshift Shoulder Holster is perfect for those that want more control in their weapon carrying system.
Pros
Fully modular setup
Two modular magazine compartments
Easily concealable
Great passive retention
Cons
Adjustment needs getting used to
Leather can be stiff at first
Another great shoulder holster from Galco, the Classic Lite Shoulder System for Glock, was made with this particular weapon type in mind. With Galco's penchant for creating quality products, this is an ideal holster for owners of the Glock and those similar to it.
The Classic Lite comes with the signature backplate and the spider harness that allows each of the four straps to swing independently. It's a little disappointing that the same adjustability doesn't apply to the holster orientation as it's horizontal only and can be tricky to re-holster. But that's a minor nitpick and is mainly dependent on the owner's preference.
A single magazine carrier is included in the kit, but as the Galco Classic Lite is fully modular, additional ones can be bought if you want to. The premium cut steer hide leather provides smooth but durable support. The leather itself will need a bit of breaking-in. It's a great holster to keep in mind if you have a Glock or similar weapons in your armory.
Pros
Independent spider harness with patented backplate
Fully modular
Single magazine carrier included
Premium cut steer hide leather
Cons
Orientation can't be adjusted
Can be fiddly to re-holster
Takes a bit of breaking-in
The UTG Deluxe Universal Horizontal Shoulder Holster is perfect for those that want to try out this particular gun-carrying method without investing too much.
The most significant advantage of the UTG is its price point, which is very inexpensive. Even though it's quite affordable, it still offers many features that will introduce new gun owners to the shoulder holster's advantages.
Its universal nature means that it can accommodate a wide variety of firearms, though this means that holster retention can be inconsistent. You'll need to adjust this carefully unless you want your gun to get loose.
It has a modular design, meaning that it does give users a wide variety of customization options. The UTG Deluxe comes with a dual magazine pouch right out of the box, which is great if you want to carry extra ammo with you.
The padding included with the holster is quite bulky, though, making the UTG Deluxe somewhat hard to conceal. If you're wearing baggy or bulky clothes, it is hardly noticeable. For the price, it does offer excellent value.
Pros
Quite inexpensive
Fits a wide variety of guns
Modular design
Dual magazine pouch
Cons
Universal retention isn't consistent
Not easy to conceal
Bulky design
Disadvantages of a Shoulder Holster
One of the biggest reasons that range instructors don't recommend shoulder holsters is because of the way you draw your weapon. Shoulder holsters are always removed from the opposite side. This means a left-holstered gun is drawn by the right hand. And that's why it's relatively unpopular with the range shooting crowd.
This motion causes the weapon to be, even if only for a moment, pointed to the side of the shooter. A misfire can be potentially lethal if you have people on the wrong side when it happens. If you're planning to use a firearm either for range, or sport shooting, then you're better off with a hip holster.
Another drawback is that shoulder holsters usually have the weapon's butt facing to your front. If you're involved in confrontations where there's a potential for someone to grab your gun, it isn't the most secure option. Vertical shoulder holsters are an excellent example of these, with the gun's grip and trigger facing any possible assailant.
Advantages of a Shoulder Holster
Given the shortcomings previously mentioned, are there any good reasons to get a shoulder holster? The answer is yes. There are a lot of reasons, actually.
The first is that shoulder holsters are quite comfortable, especially if you like carrying heavy guns. They're designed to evenly distribute a weapon's weight so that it can be lugged around for a long time without causing too much strain.
Another advantage is that weapon placement gives you easy access to your gun while seated. This is ideal for people that want security when driving an automobile. Shoulder holsters also keep weapons out of the way when navigating tight spaces or in scrubby environments with lots of small trees and bushes. The under-arm holster is an excellent example of this, as it prevents your gun from getting snagged by branches or machinery.
Another significant advantage is that shoulder holsters for concealed carry firearms are explicitly designed to handle a variety of handguns. They are made to comfortably secure and hide your weapon until such time that you may need it.
How to Choose the Best Shoulder Holster for You
The first thing to look for when choosing the best shoulder holster is the comfort it can offer you. This aspect is one of the shoulder holster's most significant advantages after all. 
Soft leather and suede allow for even weight distribution and a stress-free fit while still being relatively durable. More often than not, the most comfortable shoulder holster is one that's made with flexible but tough materials.
The next thing to note is the amount of adjustability and adaptability that a shoulder holster has. An ill-fitting holster will offer no benefit no matter how great the materials are. Having adjustment straps and belt hooks that can accommodate your frame would be a perfect choice.
Another characteristic to watch out for is a shoulder holster's retention. This is the ability of the holster to secure the gun in place. A Glock 19 shoulder holster, for example, will be able to handle guns of the same size. If you have larger and heavier guns than what it's made for, then there's a tendency for the weapon to be less secure.
One final thing to look for is the orientation that your gun would have on a holster. This would usually be either horizontal or vertical, but some holsters allow you to adjust it to either. This is more of a matter of preference, but if you're aiming for comfort when carrying, why not go all out?
Here are reviews of some of the best shoulder holsters currently available on the market. Take a look and see if one strikes your fancy.
Conclusion 
From the list, the clear winner is the Alien Gear Shapeshift Holster. The amount of customization and modularity that this shoulder holster offers is well worth the price. 
One of the most important things that a holster of this type should provide is the perfect fit for you. The Alien Gear Shapeshift Holster is able to do this and then some. A close second would be the Glock Miami Classic II, as it has many modular options as well, but not as much as the Alien Gear Shapeshift. If you're looking for the best shoulder holster to help you carry your firearm, then this brand is the one to beat.
Explore more