The Best Sniper Rifles On The Market In 2023: Balancing Range and Precision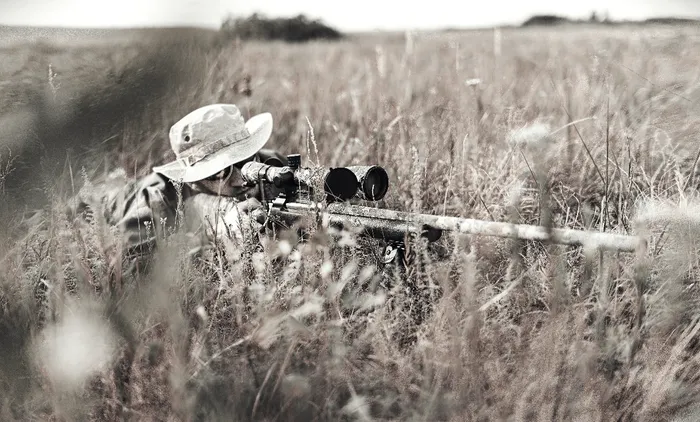 The Best Sniper Rifles On The Market In 2023: Balancing Range and Precision
Introduction
I must admit, talking about the best sniper rifles has the 12-year-old Call Of Duty-playing kid in me excited. Those hours of quick scoping didn't help me on the range, but it was fun.
Maybe you're looking for a precision rifle for the hunt. Or, maybe you want it for punching steel at 1,300 yards. If there's one thing I know for sure, it's how fun it is to hear the steel ring in the distance.
Precision shooting is a skill. There will be many rounds missed, but don't give up, especially if you're just starting out in the long-gun game.
There have been a lot of advancements in the sniping game over the past couple of years. But we'll talk about that in the Buyer's Guide.
So before I bore you to death, let's get into this list of the best sniper rifles.

Specifications
| | |
| --- | --- |
| Caliber(s) | .223 Rem, .308 Win, .260 Rem, 6.5 Creedmoor |
| Capacity | 5 and 10 Rounds |
| Weight | 6.9-11.4 Pounds |
| Length | 36.5-44.5 Inches |
| Barrel Length(s) | 16-24 Inches |
Pros & Cons
Pros
Cold hammer-forged barrel

Lightweight for a precision rifle

Relatively low price for everything you get 

Thick-walled barrel helps mitigate bending 

Two-Stage adjustable trigger

Foldable buttstock

Indicator to let you know it's cocked 

Ambidextrous magazine release
Cons
Buttstock isn't adjustable (uses spacers)

Trigger adjustment can be tricky

Magazines are stupidly expensive
The Tikka T3X Tac A1 is one of the most sought-after precision rifles on the market right now. I mean, think about it, fine shooter. For the price, what more can you want?
Sako (the maker of the Tikka T3X Tac A1) stuffed everything it could into this rifle and kept the price low. Giving new and precision shooters everything they can want or need in a rifle.
And it can hang out with rifles four times the price.
The chassis of the Tac A1 is highly modular. You can tailor this rifle like a suit from Savile Row. And there is enough picatinny on the top for night vision devices and scopes all the same.
Anyway, what makes this rifle so popular and sought-after is how well-built it is and how it caters to the precision shooter.
The adjustable two-stage trigger can be taken down to two through four pounds with a 2.5-millimeter Allen key (that isn't included) via a hex head in the magazine well. It can be kinda tricky, but I believe in you.
The bolt is extremely smooth and has an oversized bolt handle. It will definitely help your hand find the location of the bolt handle when you're trying to stay dialed in.
Lastly, there are many interchangeable parts on the Tac A1. It uses a castle nut on the buffer tube like many AR-15s, so you can change out the stock if you'd like, and the pistol grip uses a similar screw, so you can change that out as well.
Low price, has smooth shooting, and has more features than the average rifle at a higher cost.

Specifications
| | |
| --- | --- |
| Caliber | 6.5 Creedmoor, .308 Win, .300 Win Mag |
| Capacity | 4-6 Rounds |
| Weight | 9 Pounds |
| Overall Length | 42.75-44.5 Inches |
| Barrel Length | 22-24 Inches |
Pros & Cons
Pros
Comes with Scope/Bipod

Fluted/Threaded Barrel 

Some models come with a compensator

Adjustable trigger (2-7 Pounds)

Picatinny rail for optics

Oversized bolt handle for easy grasping
Cons
One shooter reported an MOA drop after 300 rounds

A potential additional cost of switching to an FFP scope
Night Train. What a badass name for a badass rifle. The Mossberg Patriot Night Train is a new edition to Mossberg's Patriot line of bolt-action rifles that caters more to precision shooting in a sniper role over hunting.
Don't worry; it hunts just fine.
The Night Train is in my Best Value spot because of how easily you can find this rifle under retail and how many goodies you get with it.
The lightning bow trigger, fluted bolt, and barrel, and the scope with the bipod is just so good it's almost hard to believe. I've already found a few that will be mine after I move to Pennsylvania.
The lightning bow trigger is amazing. With little-to-no takeup, an adjustable weight of 2-7 pounds, and a tactile break, there is nothing about it that will make you want to rip it out and throw a new one on.
The fluted bolt caters to those who live in cold weather. Water and open bolts don't always do too well together. Especially when the temperature drops below Antarctica's armpit, when the water gets in there, it can freeze, and you can miss out on the shot.
Since there is less surface area with a fluted bolt, it acts like an ice cutter, and with less room to freeze makes an easier bolt in cold weather.
You may want to change the scope since it's a Second Focal Plane, or SFP, and go over to a First Focal Plane, or FFP. SFP scopes have a reticle that changes as you move the power over.
Precision shooters use the dots to judge distance, and when you really start pushing the rifle, you can miss by a mile (sometimes literally) if your power adjustment is over just a bit.
Overall, it's a damn good rifle at a damn good price.

Specifications
| | |
| --- | --- |
| Caliber | .300 Winchester |
| Capacity | 3 Rounds |
| Weight | 6.2-6.4 Pounds |
| Overall Length | 42.6-44.5 Inches |
| Barrel Length | 22.4-24.4 Inches |
Pros & Cons
Pros
Super smooth action

Cold hammer-forged barrel 

Half MOA accuracy 

Fluted barrel
Another Tikka? Yes, they're like the Remington 700 of the modern day. Tons of aftermarket support, and they already start off really well. And I promise they haven't paid us to say nice things about them.
The T3X Superlite is what the name implies. A lightweight rifle that delivers superior performance. Tikka cuts the weight in the barrel, which is fluted, and by utilizing a light but sturdy synthetic stock.
At 6.2 pounds, shooters out there who take it on the run don't have to worry about being weighed down by their rifles. But, it does make the rifle hop when you fire the mighty .300 Winchester round.
The T3X Superlite does offer some models with a threaded barrel, but finding them in your local gun store can be a bit difficult.
The single-state adjustable trigger on the T3X Superlite is definitely worth writing home to Mom about. With tight tolerances, you become one with the rifle itself. Pulling back on the trigger is like tugging a heartstring, and you fall in love with the process itself.
And then it starts all over again.
We have a list of the best .300 Win Mag rifles here.

Specifications
| | |
| --- | --- |
| Caliber | .308 Winchester |
| Capacity | 10 Rounds |
| Weight | 9.8 Pounds |
| Overall Length | 39.25-42.75 Inches |
| Barrel Length | 20 Inches |
Pros & Cons
Pros
Cold Hammer Forged Barrel 

A hybrid muzzle brake keeps noise away from the shooter

Adjustable trigger (2.25-5 Pounds)

Works with Magpul P-Mags
Ruger has been at the forefront of firearms for the past 74 years. They have been the gifts that fathers wrap under the tree for their son or daughter's first rifle, and will continue to be for a long time to come.
The Ruger Precision is a testament to the many years of trial and error done by the well-known rifle company.
This rifle doesn't look like an ordinary Ruger. Usually, they look like the hunting rifle that Grandpa had hung up in his house. No, the Ruger Precision is a proper sniper rifle.
An externally adjustable trigger that can get down to two pounds, a free-floating handguard so your barrel harmonics aren't thrown off, and a cold hammer forged barrel are among the many pros you'll find with this rifle. There is nothing Ruger didn't look over when creating this rifle.
I heard through the grapevine that this rifle does not like anything under 168-grain ammo. Anything under that, and you start to lose your accuracy. I would suggest 175 and 195 Match ammo if you're going for accuracy.
If you want to hear the steel ring, shoot what you wish. Match ammo is expensive.
Here is a list of the best .308 rifles.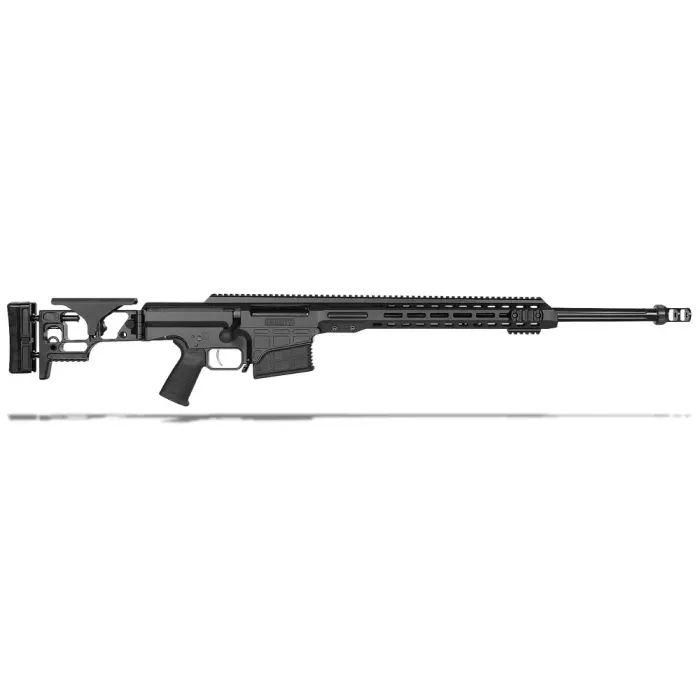 Specifications
| | |
| --- | --- |
| Caliber | .338 Lapua |
| Capacity | 10 Rounds |
| Weight | 14.5 Pounds |
| Overall Length | 49.4 Inches |
| Barrel Length | 26 Inches |
Pros & Cons
Pros
User-changeable barrel for different calibers

Foldable stock

New rifle of the U.S. Military

Monolithic upper receiver
Cons
Price 

.338 Lapua is expensive
Ahh, so you're planning on going for extreme long-range and want a round capable of flying at Mach Jesus. Not only that, but you want a rifle that has been built to do so.
Gotcha.
Well then, let's talk about the U.S. Military's new bolt-action sniper rifle that was made to punch through hell and come out of the other side: the Barrett MRAD.
MRAD stands for Multi-Role Adaptive Design for anyone who was wondering. Built to work in harsh environments and still make the receiver wonder what hit his buddy from 1,500 meters out and why he hears the shot seconds later.
The MRAD features pieces you both expect and some that you didn't even know you needed in a rifle. For one, the upper receiver is monolithic. Which means it's all one solid piece of 7000 series aluminum.
Why is that important? It keeps your scope in place since your mounts aren't tied to two different surfaces. That could cause trouble when everything up to the earth's spin matters in your shot.
But maybe you knew that you needed that.
How about bolt guides? That's something you don't always see on bolt action rifles until you get to a higher price point. The purpose of the bolt guide is to shield your bolt in harsh environments and keep the action smooth.
This rifle has gone through some pretty rigorous tests by the U.S. Military, where precision shooters were brought in from all over to aid in perfecting the platform. While that may not always mean too much, this time, it does.
We have a complete list of the best .338 Lapua rifles here.

Specifications
| | |
| --- | --- |
| Caliber | 6.5 Creedmoor |
| Capacity | 5 Rounds |
| Weight | 6.8 Pounds |
| Overall Length | 38.5 Inches |
| Barrel Length | 18 Inches |
Pros & Cons
Pros
Smooth action

Extremely lightweight for a precision rifle

Sub-MOA accuracy all day (depending on load and distance)

The trigger is crispier than burnt bacon
Cons
Some Sig Cross rifles suffered from "accidental" discharges

Works best with hand loads, which is not for everyone
If you can't figure out whether or not you want an AR-15 or a sniper rifle, you're in the right spot. 6.5 Creedmoor, as is the Sig Cross rifle, is relatively new to the game. But the pairing of the two makes for a sweet time.
As I stated above, the Sig Cross rifle is exceptionally lightweight for a precision rifle. Coming in at only 6.8 pounds with the 18-inch barrel variant, it almost rivals the weight of the Tikka T3X Superlite.
Again, great news for those of you who don't want to carry a hog around when you're out blasting at 1,000 yards.
The two-stage match trigger compliments the shooter's finger perfectly. It's crisp and satisfies the soul, and it can be adjusted to a 1.5-pound pull. It's also flat, which is something you don't see on other rifles on this list.
My only gripe with the Sig Cross rifle is how it suffered from the same issues that the Sig P320 suffered with going off when you don't want it to. NutnFancy did a video where the Cross went off without the trigger being depressed.
From what I've heard though, it's been fixed. I even contacted the Sig Sauer rep and asked him, to which he confirmed that it has been rectified.
Anyway, if you want a lightweight rifle that looks good and rings steel at 1,000+ yards, here you go.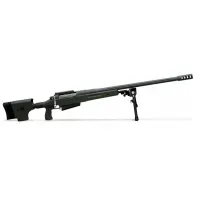 Specifications
| | |
| --- | --- |
| Caliber | .50 Caliber |
| Capacity | 5 Rounds |
| Weight | 29 Pounds |
| Overall Length | 56.5 Inches |
| Barrel Length | 29 Inches |
Pros & Cons
Pros
The longest confirmed kill came from this rifle

Fluted barrel and bolt 

Plenty of picatinny space for scopes and NV devices

Arguably the most accurate sniper rifle in the world
Cons
Expensive ASF 

Hard to find ranges that will let you punch .50 cal
Say what you want about any other rifle in the world. Whether it be Barrett, Cheyenne Tactical, or any other manufacturer in the pool of precision. No one has created a rifle more accurate than the TAC-50.
Designed to be an anti-material weapon, the TAC-50 carried its weight well when a Canadian sniper gave an ISIS machine gunner the night-night potion at 3,871 yards with his TAC-50. Giving this rifle and himself the title of owning the longest shot ever.
I definitely don't wanna be the guy that had to go confirm that. That's a 2.1-mile ruck!
The TAC-50 is what the Barrett M82 and M107 look in the mirror and aspire to be. It's the one your girlfriend tells you not to worry about, and meanwhile, you should definitely be worried.
I don't know what kind of voodoo magic McMillan performed on this rifle, but if you are looking to shoot at something a few miles away, the buck stops here.
How We Chose Our Top Picks
I played hours of Call Of Duty, and my quick scoping skills are second to none. That right there gives me all the experience to make this discussion worthwhile.
Just kidding. Just kidding.
This particular list took a lot of legwork. All of the rifles I dealt with in the Marines pass the $15k threshold or are out of production, and with many of you potentially just getting into precision rifles for the first time, I wasn't about to recommend rifles that cost that much or that you may not be able to find.
So I was damn near at a loss. But I've had the opportunity to use a few of these on the list at one point or another.
I asked armorers, fellow shooters, and many other folks in the industry who have actually played with these rifles at length.
I made sure to have premium rifles and rifles that won't break the bank,  but still do amazing in the distance and are widely available.
In the end, this list is what we boiled it down to.
Sniper Rifle Buyer's Guide
You have some questions, and I may just have some answers.
How Do I Choose A Sniper Rifle?
Let's face the facts; sniper rifles are expensive. You pay to play in the precision game, and picking too much or too little rifle for your needs can leave you feeling disappointed and out of a lot of bread.
Ask me how I know that.
When you go and choose your rifle, there are a bunch of different things you need to consider.
How far do you plan on shooting? How much money do you want to spend per round? How much do you want to spend on your rifle? And (depending on what you're using the rifle for), How much weight are you willing to carry around?
And that's just scratching the surface.
I would start by considering your level of expertise. As someone who has always got into hobbies and bought the most expensive tool I can find (and then got out of that hobby), you should start with a rifle you can learn on.
Or you can skip that and go for something that you can buy once and take all the way up, like the Tikka T3X Tac A1 (which is why it's my overall best pick).
If you're a professional who is punching steel at a grand regularly, and you want to go further, then you have to look at a round that travels flatter for a longer distance, like .338 Lapua or .408 Cheytac.
And you professionals who are already used to spending big money on ammo, my hats off to you.
What Is The Best Round For Distance?
Shooting at a distance requires a round that is aerodynamically sound, powerful, and can hold off being affected by gravity and wind.
There are plenty of rounds that work well in this area. Precision shooting has been around since the Ancient Egyptians were figuring out how to stab someone from afar.
If you want a list, here you go.
6.5 Creedmoor
300 PRC
300 Winchester Magnum
.308 Winchester
.338 Lapua Magnum
7.62x54R
.224 Valkyrie
408 Cheytac
50 BMG
Now I'll do a short description of each.
6.5 Creedmoor
Made by Hornady, the 6.5 Creedmoor is a relatively new round that has gained immense popularity. It can punch out to 1,000 yards pretty easily with minimal recoil and works well in smaller rifles. That's why SOCOM has chosen the 6.5 Creedmoor in their new rifles.
.300 PRC
PRC stands for Precision Rifle Cartridge, is also made by Hornady, and is meant to take attributes from .338 Lapua and .300 Winchester Magnum. Don't worry; it's not as punishing as .338 Lapua. This round is good out to 1,500 yards.
.300 Winchester Magnum
This round has been around for quite a while and has been in service by snipers in many Law Enforcement agencies for years. It was also used by Chris Kyle, one of the best snipers known to man next to Carlos Hathcock. And heavier grains are known for getting out to 1,500 yards.
.308 Winchester
Also known as 7.62×51, the .308 Winchester replaced the .30-06 after the Korean War and is used in hunting middle-sized game all over. Its high stopping power and accuracy, matched with it's ability to punch out to 1,000 yards with the right load, made it extremely popular among shooters.
.338 Lapua
Oh, so you want to shoot out to a mile… I got you. Well, you can get there with .338 Lapua. In the precision shooter world, .338 Lapua is considered an Extreme Long Range cartridge. And was developed with both the .300 Winchester Magnum and 50 BMG in mind. It is a bit punishing and expensive, but you'll get to where you're going.
7.62x54R
Developed for the Mosin Nagant in 1891, the 7.62x54R does not share the same reputation as other Russian rounds of being inaccurate. Most of us know this round from the Dragunov or the PKP, but when you load it well, you will find this accurate to be good out to 800-1,000 yards.
.224 Valkyrie
SHOT Show 2018 gave rise to a round that would shock many who didn't believe that an AR-15 could stretch its legs out to 1,300 yards, then entered the Valkyrie. Produced by Federal Ammo, the .224 Valkyrie matches the 6.5 Grendel and 6.5 Creedmoor in terms of performance. How is that for a .22 caliber round?
.408 Cheytac
Take an extremely long-range cartridge and put it on steroids. That's what you get with the .408 Cheytac. Developed by John Taylor and William Wordman as a bridge between the .338 Lapua and .50 BMG, the .408 Cheytac delivers punishing power and deadly accuracy out to 2,200 yards. It's an expensive round, as are the rifles chambered in .408 Cheytac.
.50 BMG
Needs no introduction. Developed in 1921 by John Moses Browning as a round dedicated to punching through light armor vehicles, the .50 BMG is well known by many as the hardest punching round in a rifle or machine gun. The .50 BMG currently holds the record for the longest shot ever. That shot was 4.4 Miles by a few friends in Wyoming out of a Frankenstein rifle.
FAQs
What Sniper Rifle Has The Best Range?
The McMillan Tac 50 has set the longest shot record of all time at 4.4 miles by the Nomad Long Range Team.
What Sniper Do Navy SEALs Use?
Navy SEALs use the Barrett MRAD in .338 Lapua.
What Is The Range For A .50 Caliber Sniper Rifle?
Officially, it's 1.1 miles. But there have been two instances where snipers have stretched the legs of the .50 out way further than that. So it's up to the shooter.
Conclusion
There are almost 4,000 words in this article, and if you've read this long, I admire your dedication. Anyway, what do you think about our list of rifles here? Indeed, some other rifles should be on the list, and you can tell me below.
If you're just getting into shooting or are a seasoned professional, the Tikka T3X Tac A1 should be on your list. I promise it will tickle all of your fancies and more.
See you on the range, fine shooter.
Explore more